Choosing the best stroller for Disney is almost as important as choosing your hotel. You'll be walking miles every day if you plan on visiting the parks. And it's just not the time for your stroller to fail on you. With all the different stroller models out there, which is the right one? After many visits to Disney with kids and a variety of different strollers, we've compiled a list of our favorite strollers for Disney. Plus, all of these strollers meet the Disney size requirements.
1. The Workhorse
If you want the durability, we recommend a BOB jogging stroller. This go-getter has lasted us through two kids, many family vacations, and across rocky terrain. And she's still going strong. If you want the stroller brand that you can put to work, get a BOB stroller. They are a bit on the pricey side, but they last forever. Aside from its resilience, these strollers have all the bells and whistles you could want: an adjustable handlebar, seat recline, water resistant canopy, padded seat.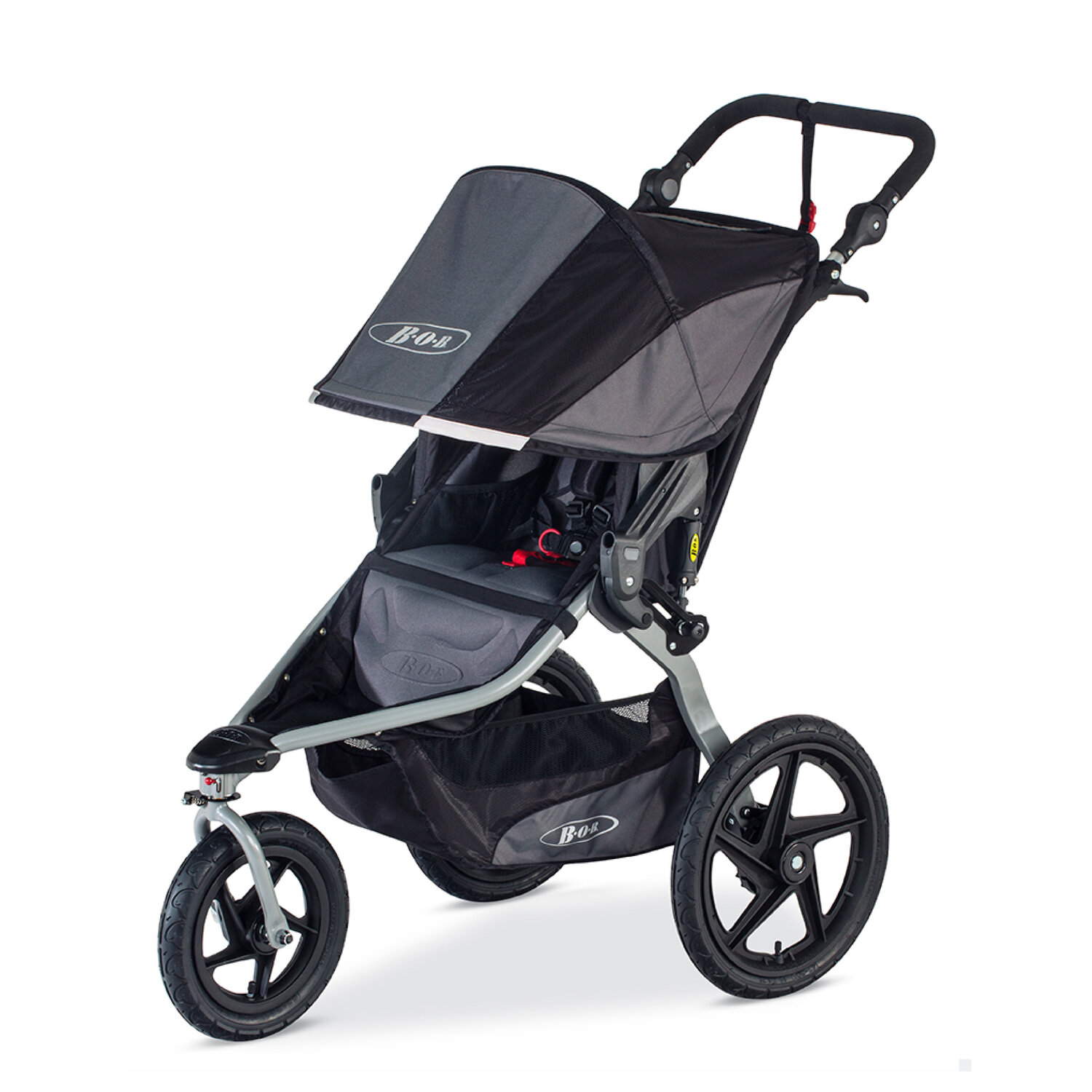 My personal reason why I think it's one of the best stroller for Disney is all the storage place. When you go to Disney, you'll probably be bringing a lot of stuff (and likely coming home with a lot of stuff). BOB strollers have a ton of storage space. It's big enough for all those extra things you're bringing into the park with you. And it can save your back from carrying it all. It's also the stroller we often use in the airport because you can pile so much onto it.
The one drawback is that it's bulky. It folds down, but still takes up quite a bit of room. If you're flying, definitely get a stroller gate check bag. It'll make your life a lot easier (and protect your stroller).
2. The Umbrella Option
I get it – big and bulky may not be the best choice for you. And in that case, you are possibly looking for something easy and light to get you by. This is especially true if you have older, but still stroller aged kids, who may not be sitting in a stroller the entire time. An umbrella stroller travels light and is a convenient option for packing.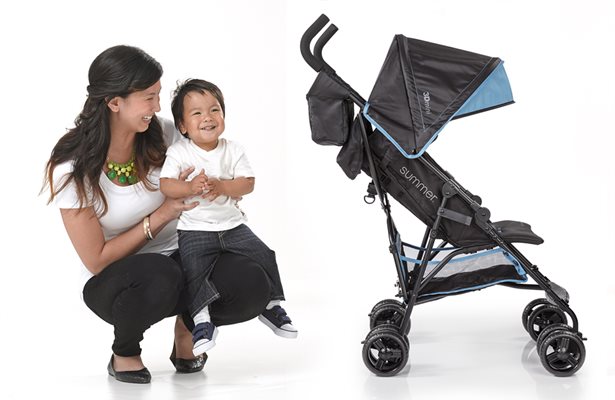 The cost and portability are the major benefits here. Umbrella strollers are known for being very affordable. And they are super easy to tote around – especially if you have a 3-5 year old that maybe doesn't need the stroller 100% of the time. But what you save in cost, you'll give up in a couple other ways. These strollers aren't the most comfortable (to push or sit in) and there isn't usually much storage space. Many of them aren't as durable either (but some of the fancier umbrella strollers are better in that department).
The Summer Infant 3D Mini Convenience Stroller is one of the better choices out there because it has some nicer features like compact fold, recline, and a bigger canopy.
This is where you'll need to decide what's most important to you and how much you think you'll use the stroller.
3. The Stroller for 2
When bringing a double stroller, you have to bit a little more careful as Disney has size guidelines. Make sure your stroller is no bigger than than 31″ (79cm) in width and 52″ (132cm) in length and you'll be good. If you have more than one child in tow, the double stroller keeps the stroller count at one, but offers seating for two.
The benefit is that you only need one stroller and one person to push. Plus, a ton of storage space. On the flipside, double strollers are some of the bulkiest. And can be more difficult to maneuver.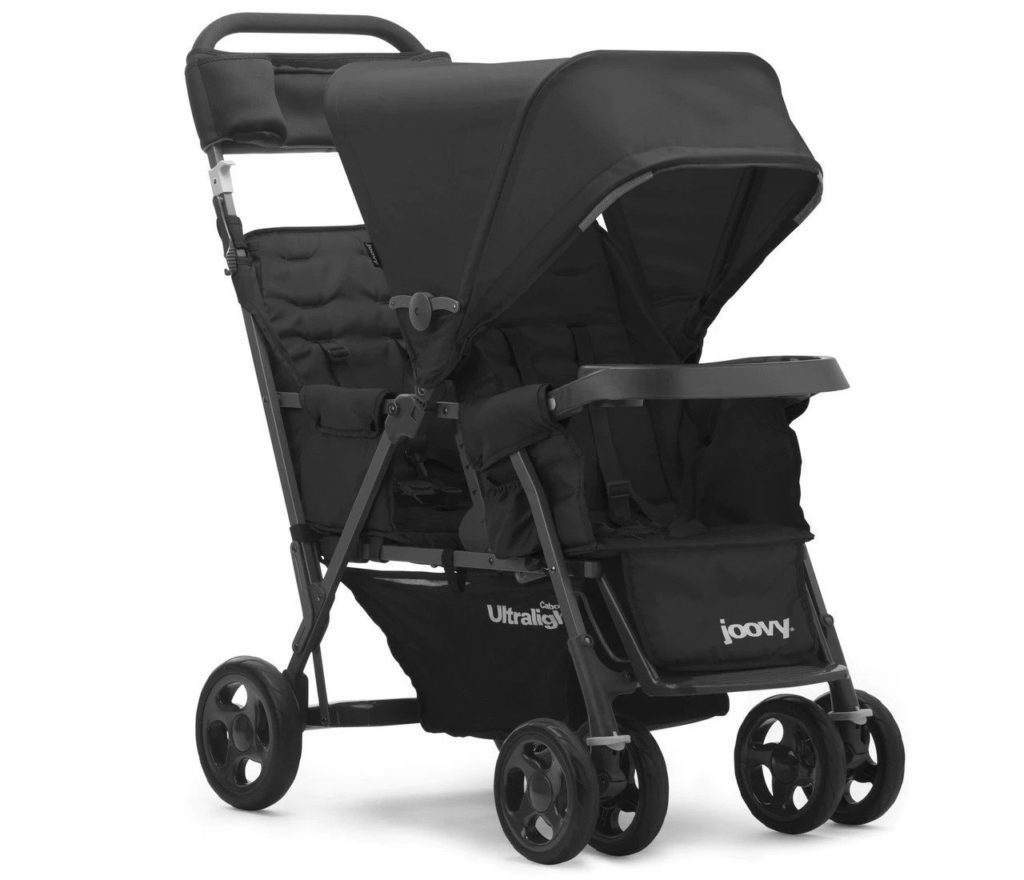 My recommendation here would be to go with a tandem stroller (one child behind the other) rather than side-by-side. With some many people wandering the walkways, it can be hard to navigate a side-by-side stroller through the crowds.
Our pick is the Joovy Caboose Too. The front seat can hold a child 3 months to 45 pounds and the rear seat can hold a child 6 months to 45 pounds. Both seats offer recline and there's also a stand-on option for older kids. One of the best features is that the universal car seat adapter comes included. For a lot of strollers, you'll have to buy this separately.
This is a great option if you have more than one kid because there are many different configurations. And even if you think one child is too old for a stroller, try carrying them home after the parade. You'll be glad you have an extra stroller spot.
4. The Disney Super Fan
For the hardcore Disney fans, why stop at the stroller. Disney makes their own line of strollers and Disney is the perfect place to show it off. There are actually two different options we recommend:
Let's Go Mickey Teeny Ultra Compact Stroller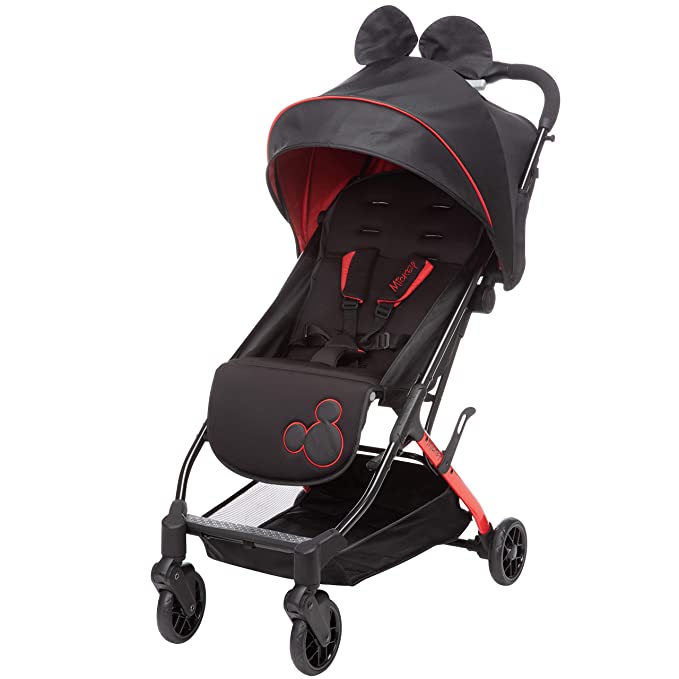 This Let's Go Mickey Stroller is compact, but also comfortable. It has the nice padded handlebar and a large canopy with UVA/UVB protection. It has decent storage and an attachable cup holder. And as any Disney Park goer would need – a flip flop friendly brake. It also comes in Let's Go Minnie.
Pink Minnie Umbrella Stroller with Basket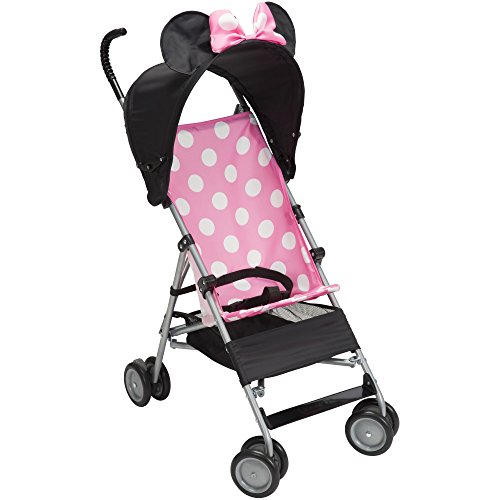 If you want even more lightweight and cost effective without giving up the cutesy Disney design, check out the Minnie umbrella stroller. Not as much storage, but it's lightweight, compact, and can seat a child up to 40 pounds.
5. The Frequent Traveler
One of our favorite strollers, and the one we use most often for travel is the GB Pockit. If you travel often, it will change your life. At one time it was lightest stroller on the market – the whole thing weighs just 10 pounds. And probably the best feature is that it folds and fits under the seat on an airplane. No need to worry about checking and potential damage because you can bring it with you on board.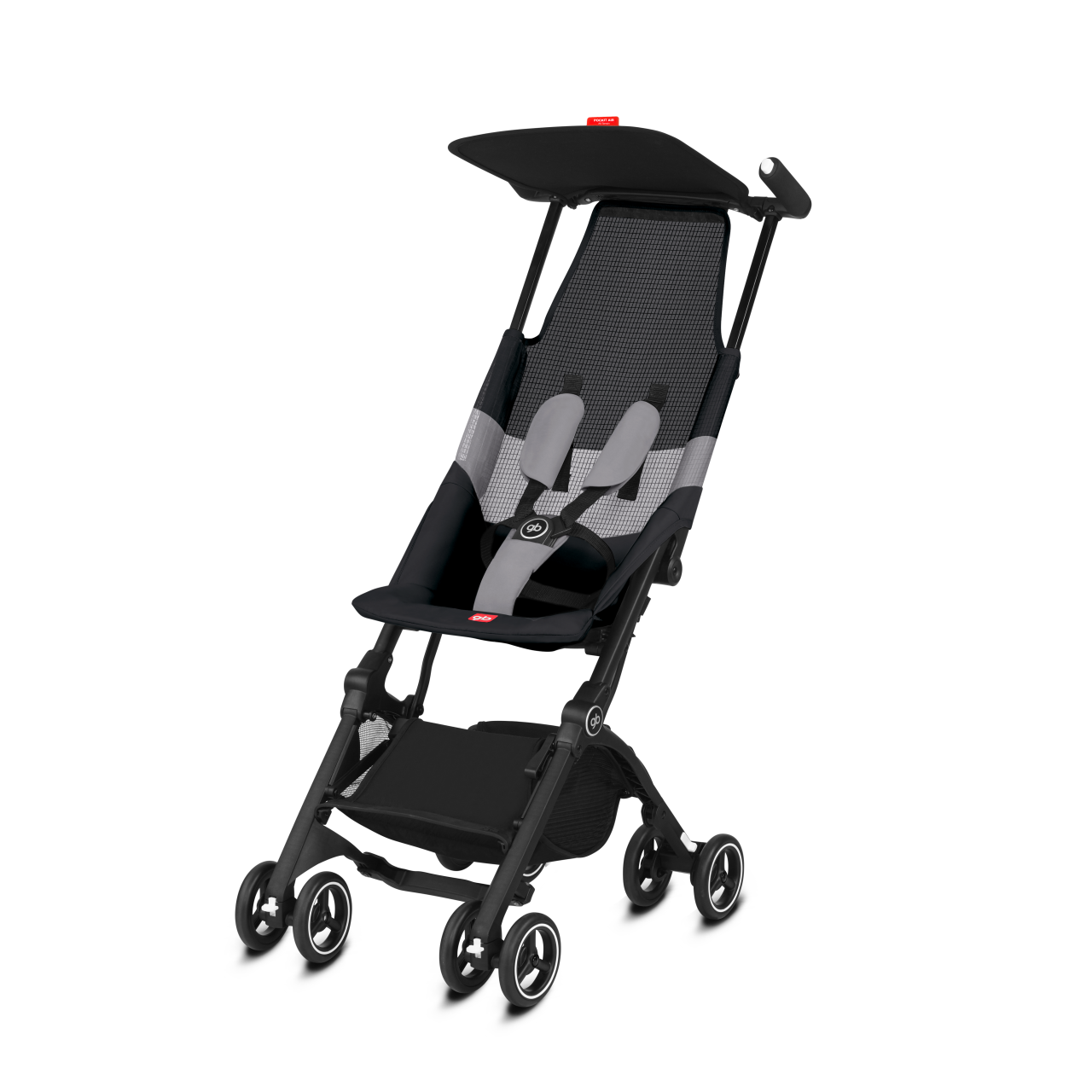 Of course there are drawbacks to every stroller and this one lacks some durability. Thats the compromise for getting super lightweight and compact. But speaking from personal experience, I can say ours has been put through the ringer and is still in great condition. It has become our go to stroller when flying anywhere and it has persisted.
6. The In-betweener
When you don't need the most durable stroller on the market. Or the most lightweight. Or the most compact. When you want something middle of the road that can also give you decent bang for the buck. The Graco FastAction Jogger LX is your answer. It's pretty durable, comfortable, and has plenty of storage space – without a $500 price tag. It's a solid option when you want a little of everything.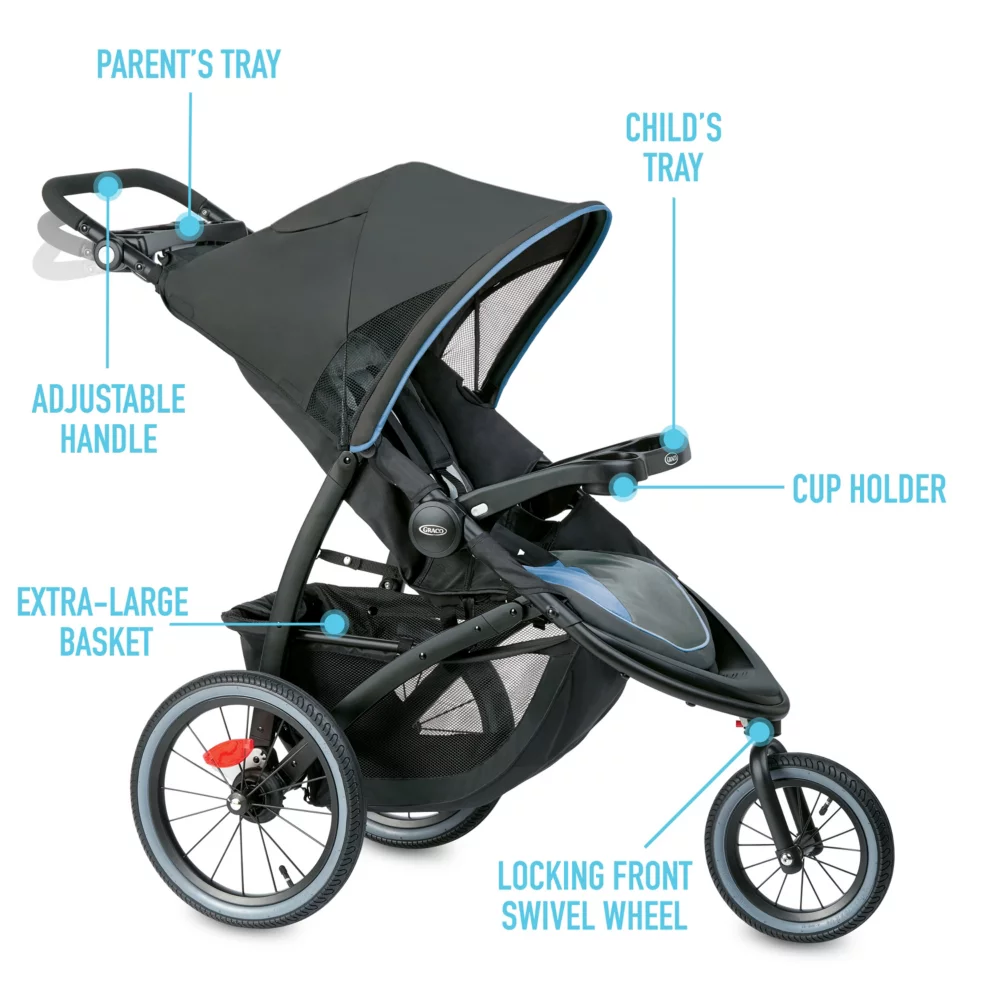 So where does it fall short? It's not the most lightweight and it's still fairly bulky. So toting it around may not seem super appealing. Our Graco stroller also wasn't the longest lasting. Even the GB Pockit has lasted longer. But it's still a solid choice when you want something more durable, but you don't want to spend a boatload of money for it.
7. The Reverse Model
The Jeep Unlimited Reversible Handle stroller is similar to #6 on our list, except with a unique feature. It offers a reversible handlebar. Your child can ride parent facing or forward facing. It's a good option for a stroller that can grow with your baby. And it's perfect for Disney because you'll have flexibility.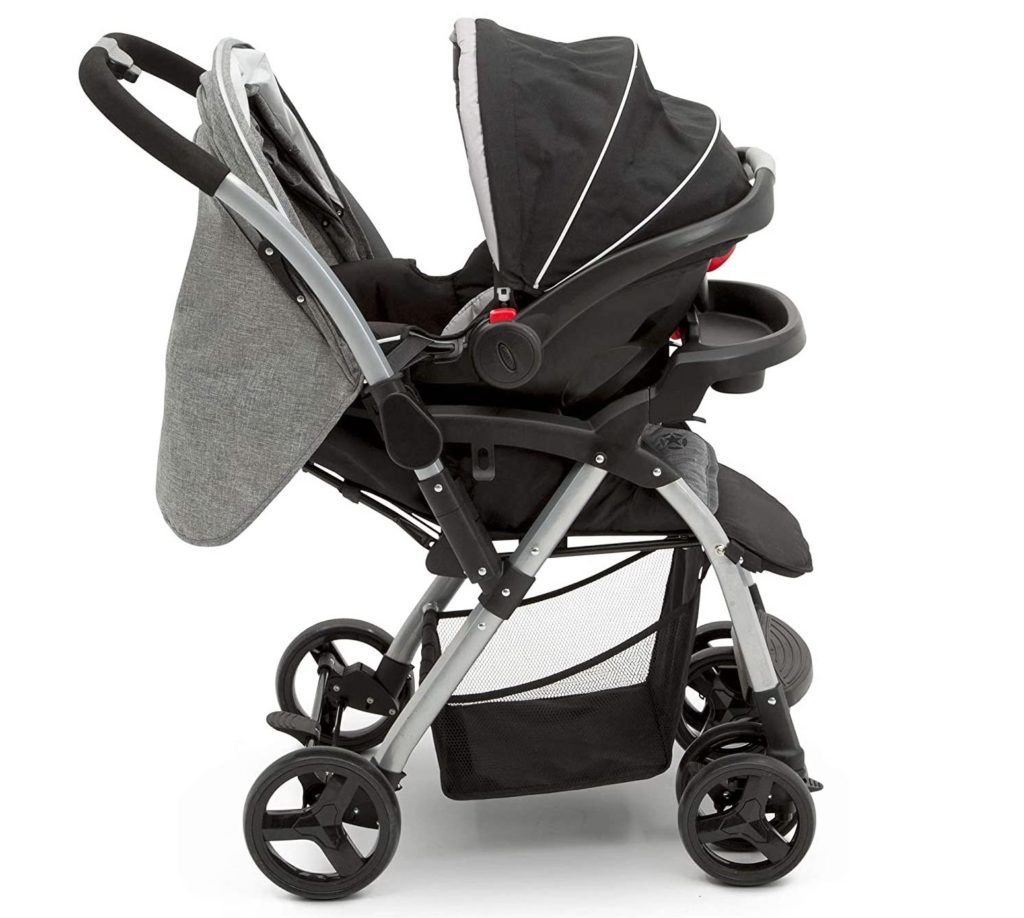 It's also great for Disney because it's comfortable, smooth, and offers and extendable canopy with UPF 50+. The canopy is actually something to strongly consider when choosing the right stroller to bring because that Florida sun is strong.
It can fit kids up to 50 pounds, but keep in mind, it's not the most compact. It weighs about 20 pounds and is fairly bulky, so think about whether weight is important to you.
8. The Configurable
One second your kid wants to stand. Then they want to sit. The Baby Trend Sit N Stand Ultra Stroller is perfect for its flexibility. It can be configured in all kinds of different ways. You can have two kids sitting in stroller seats, one in a stroller seat and one standing, or you could even have two infants. And everything in between. This one is best when you don't really know what you need or how the day is going to play out and you want options.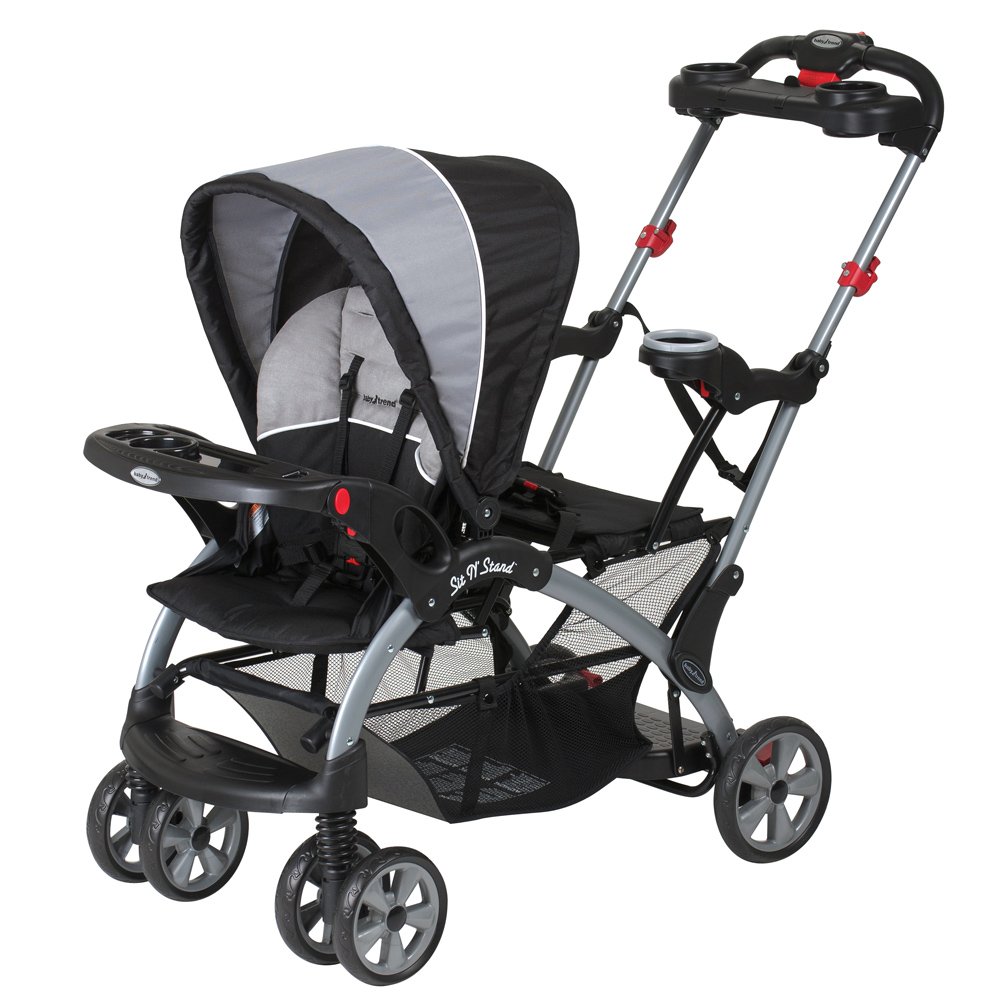 It has a large storage basket for all your theme park goodies and it can accommodate two children up to 50 pounds each. The smaller price tag also makes it a steal. One thing to note – if you plan to use this for two children without car seats, the back seat isn't the most comfortable. It may not be the cushiest option if both kids plans on sitting in it all day. But it's good for in and out rides.
9. The one for older kids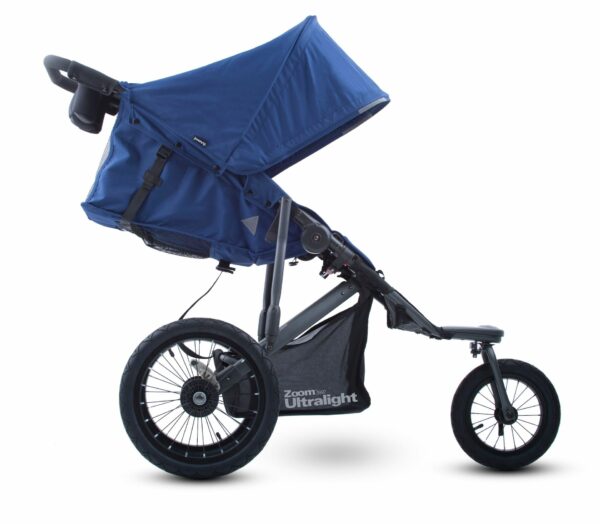 If you are well past the baby stage and you want to bring along something for an older child. Maybe you have a 4, 5, 6 year old. The Joovy Zoom Ultralight is perfect. It can fit up to 75 pounds so it's a truly great choice for older kids. It has large tires, which makes pushing it around all day a breeze. And it has an extra large canopy to protect against the Florida sun. And when you're not at Disney, it's great on rugged terrains.
What are some of the negatives? It comes in at a higher price point – typically around $340. And even though "lightweight" is in the name, there are many lighter weight options out there. But if you need something that will keep you moving when your child is too tired to walk, give this one a go.
10. The Modern Stroller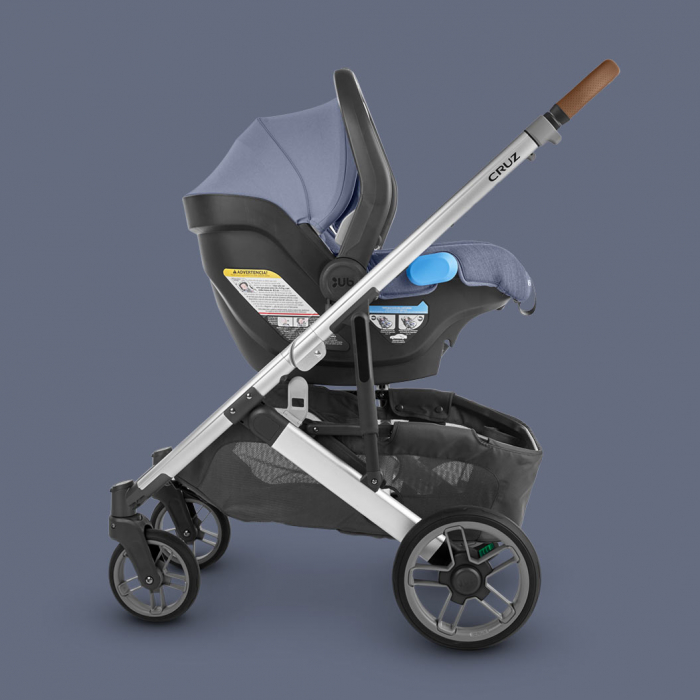 UPPAbaby is known for being one of the luxury (i.e bougie) stroller brands. And the Cruz V2 Stroller comes with many bells and whistles that you won't find with other strollers. It's made from high quality materials and with a spring system that is supposed to soften the ride for your kiddo. It has an extendable zip out canopy and a reversible, full-size toddler seat. The weight limit is 50 lbs so it will last you awhile. It also has one of the best reclines on the market at 180°. It's a stroller that's built to last.
The biggest deterrent of this stroller is the price tag. It usually runs around $700 and its the most expensive stroller on this list. Full disclosure: we've never owned this stroller, but other parents rave about it as being the best stroller out there. Many say its completely worth the high price. They claim the suspension system is great and its much easier to push than most. So it's worth looking into.
Just don't be upset if your child drops a Mickey Bar all over it.
The Stroller Not to Bring
Wagons are not permitted in Disney Parks, so opt for one of the other options instead. This also extends to stroller wagons. The policy was created to ease congestion in the parks and allow for a better flow of guests. Wagons tend to clog up pathways, so the wagon rule allows for a nicer experience for all.
Bonus option
If you don't want to shell out the money for a stroller or deal with the hassle of bringing one, Disney offers an alternative option. Stroller rental is available throughout all Disney Parks and extends to Disney Springs. You can rent a single or double stroller and the price varies depending if you rent daily for the length of your stay. The current daily rental rate is $15 for a single stroller and $31 for a double stroller. If instead you want to rent for the full length of your stay, it will cost $13/day for a single stroller and $27/day for a double stroller. The weight limit is recommended at 50 pounds.
No matter whether you rent or buy, there are a variety of options for your Disney vacation. These are our picks for the 10 best strollers for Disney, but the best stroller is the one that works best for your family.
What's your go-to stroller for family vacations?
Check out these other great reads
11 Best Backpacks for Traveling with Toddlers
Tri-Circle-D Ranch Pony Rides at Disney's Fort Wilderness
Best Travel Toys for Toddlers on Planes
Tokyo DisneySea Review: Is it the Best Disney Park in the World?