As self-proclaimed aviation geeks, we often sit in our backyard wondering what plane just flew over our house. Are they going to Cancun? London? Indianapolis? Sometimes you just need to know. There's nothing wrong with that. Luckily, there is an easy way to identify all those planes flying over your head. And you can even make a game out of it (more on that later).
Flightradar24
Flightradar24 is a live plane tracking app. You can follow air traffic from any location in the world. Which means you can open the app and see a live view of all the planes flying over your house. Or if you're vacationing in Costa Rica, find out what plane is flying above you on the beach. It can even be used when you're sitting at home wondering what's landing in Tahiti.
How to use Flightradar24 to identify planes
Luckily, it takes seconds. Download the Flightradar24 app. Open it up and click the location tracking arrow to move the map to your current location. You should see a plane (or many depending on your location).
Zoom in or out to narrow/expand your field. Here are two different views depending on the level of detail you want.
Once you see a little moving plane, click on it. All the nerdy flight data should pop up. You'll see origin/destination, flight number, airline, departure/arrival times, speed. All the facts you never knew you needed.
The plane icons will move as the app follows every route in real-time. So you could follow a flight all the way from Chicago to Tokyo if you really wanted.
Related: Anyone Can Fly Standby Now – Here's How
3D View
One of the coolest features: viewing flights in 3D. Yes, you can follow flights while seeing what pilots see. It's realistic and fun to experiment with different airport approaches. Here are two examples:
The first is out of Chicago. And the second is approaching Honolulu.
With the free version of Flightradar24, you'll get 3 free 3D sessions a month. You'll need the paid version for unlimited 3D views.
Use your phone's camera
If you want to take your experience to the next level, AR is the answer. Open the app, click the AR button, and it will automatically open up your camera. From here you can point your phone at the sky and voila! When your phone captures a plane, it will instantly identify it.
It also makes for a good conversation starter.
"Hey I wonder where that plane is going".
"Well, let me tell you".
Make it a game
Other than viewing flight data, is there anything else you can do with the Flightradar24 app?
Well, you can click on an airport to get quick arrival and departure information. That's a nice feature.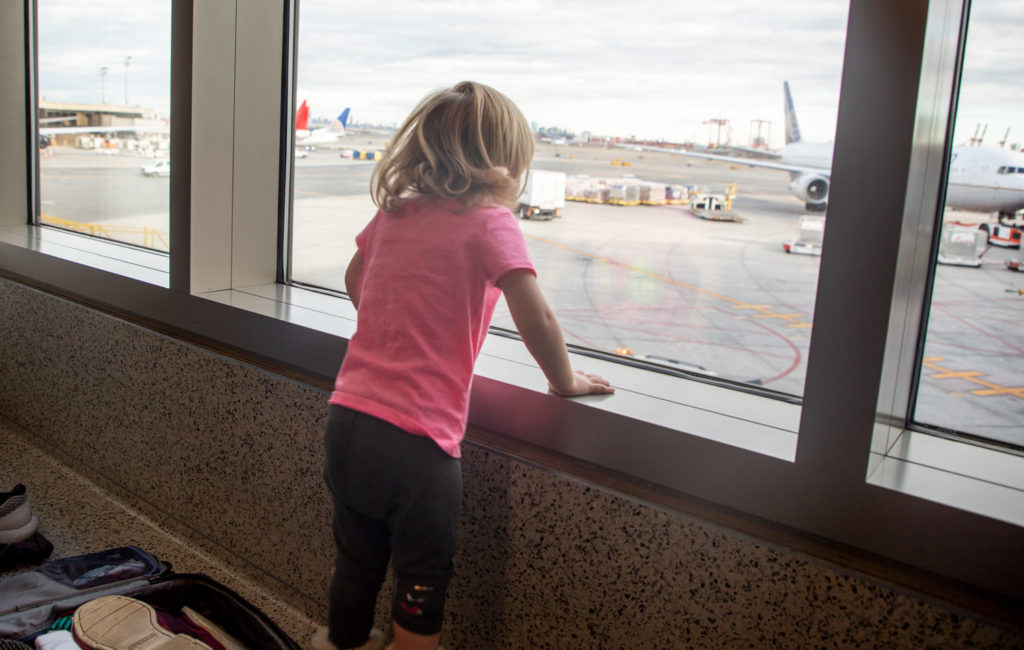 Or you could embrace your inner aviation geek and make a game out of it. Spot a plane. Try to guess where it's headed or coming from. Guess the carrier. And then check the app to crown a winner. We do it when we're relaxing on the patio outside. The kids even love to try their hand at guessing. It's fun to get the whole fam involved.
Does it cost anything to use?
There is a free version of Flightradar24, which unlike many free apps, you can actually do most everything you want. It includes all the live flight tracking you want plus a limited amount of 3D. You'll just contend with all the obnoxious ads.
On the other hand, if you're all in on the app, you can pay $10/year and get the added features. No ads, unlimited 3D, alerts. But if your main goal is to figure out what plane just flew over your house, the free plane should be plenty sufficient.
You can also access all the data from the Flightradar24 website if you aren't keen on giving up phone real estate.
Where are your favorite places to go plane spotting?
You may also like
✈ The Ultimate Guide to Flying with a Buddy Pass
✈ The Best Family Travel Credit Card