Spoiler alert: visiting Yellowstone in September can be an unforgettable experience. The type of experience you'll talk about for years to come. Though, this is probably where I should add an asterisk and mention that Yellowstone is so incredible, it's probably really great during other months of the year also. But there are some reasons why you should consider visiting Yellowstone in September (or any other month in fall for that matter). And we're going to lay out all the important considerations if you're debating a trip to Yellowstone in September: weather, crowds, where to stay, wildlife, road closures, and whether it's overall a good time to make your first trip here.
The weather: is it cold?
Arguably the biggest factor as you consider visiting Yellowstone in September: what's the weather like? And the best answer to that question is "it's unpredictable". Probably not the most satisfying answer, but it's the correct one. It can be sunny and warm every day. It can be cloudy and cold every day. But the most likely scenario is that it will be a mixed bag. This is the weather we were welcomed with: on the day we arrived it was 70°F. And that night, it dropped to 17°F and snowed! That's pretty typical for the area and if like us, you are coming via RV, it's worth considering.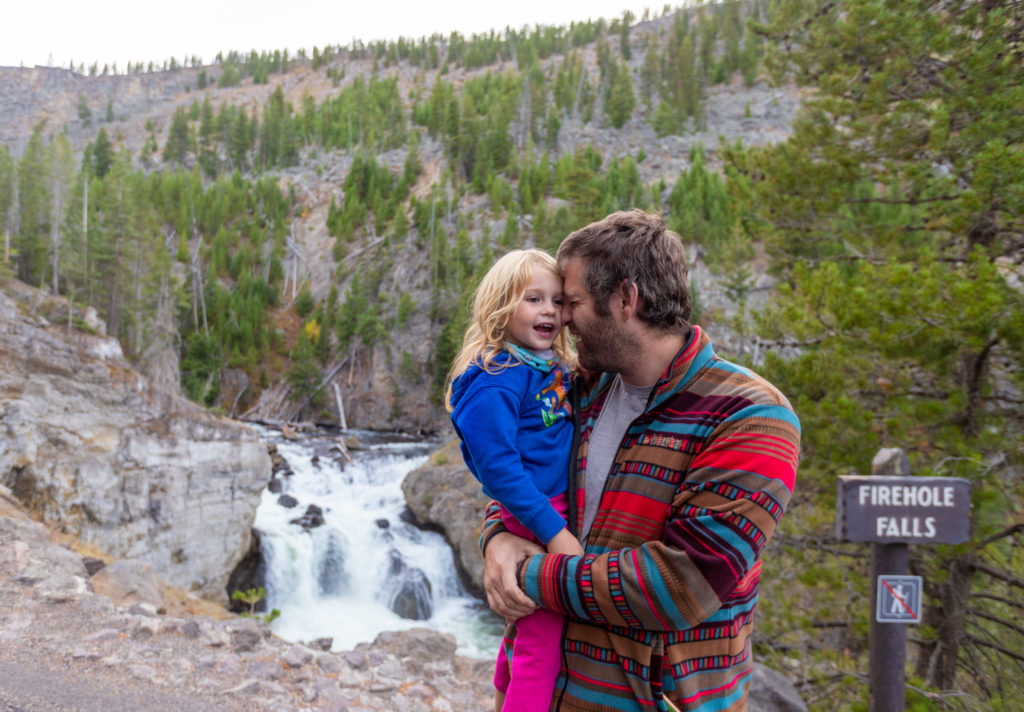 The weather was our biggest concern about traveling to Yellowstone in September because we didn't feel super comfortable pulling a travel trailer over mountain grades in the snow. BUT during the entire month of September, on average, the total snow accumulation is only 1.3″. That's pretty low compared to the annual average of 193.7″. Normally what happens (and this is what happened in our case) is that the temp drops and it snows, but because the weather varies so much, it gets warmer and the snow doesn't stick. Hence, warm days followed by cold days and vice versa.
While the average high in September is 61.5°F, if you don't particularly like the idea of visiting Yellowstone during colder weather, it's probably going to be more enjoyable for you during the summer months. And that's only because it's too predictable to know how the weather will swing while you're there. However, if you are ok with some unpredictability and potential for cold days, you will be rewarded in other areas like…
The crowds: heavy or light?
This is one of the biggest reasons to visit Yellowstone in September. Given most of the tourism to Yellowstone National Park takes place in the summer months, crowds thin out a little bit in September. While we were there, you could easily find a seat on one of the benches surrounding Old Faithful (which is likely not the case in the summer). And the boardwalks were very light – no lines or throngs of people. It's worth mentioning that our visit coincided with the covid-19 pandemic, after parks had reopened for several months. While crowds were light for us, some of this was likely due to social distancing and attendance being down. So keep in mind any pictures you see from our September visit may not be entirely indicative of September crowds during a normal year.
That said, knowing the weather is unpredictable, you're likely to see less in the way of crowds. Here are some pictures of what crowds are typically like if you visit Yellowstone in the summer.
To see what the crowds were like when we visited Yellowstone in September, check out our Old Faithful video. Here are some pictures of what crowds were like during our September visit.
The wildlife: what can you expect to see?
Depending on what you are hoping to see, September is a great time to spot wildlife in Yellowstone. I will not that wildlife can be present in Yellowstone throughout the entire year, so this is not to say that there are only certain months that you'll see wildlife. But there are two times out of the year that wildlife sightings are known to be just a little bit better. One is in the Spring, which is when you'll see baby bison, baby elk, baby bears throughout the valleys. It's also a great time for bear spotting. And then bears and other animals head up toward high elevation starting in June/July, until…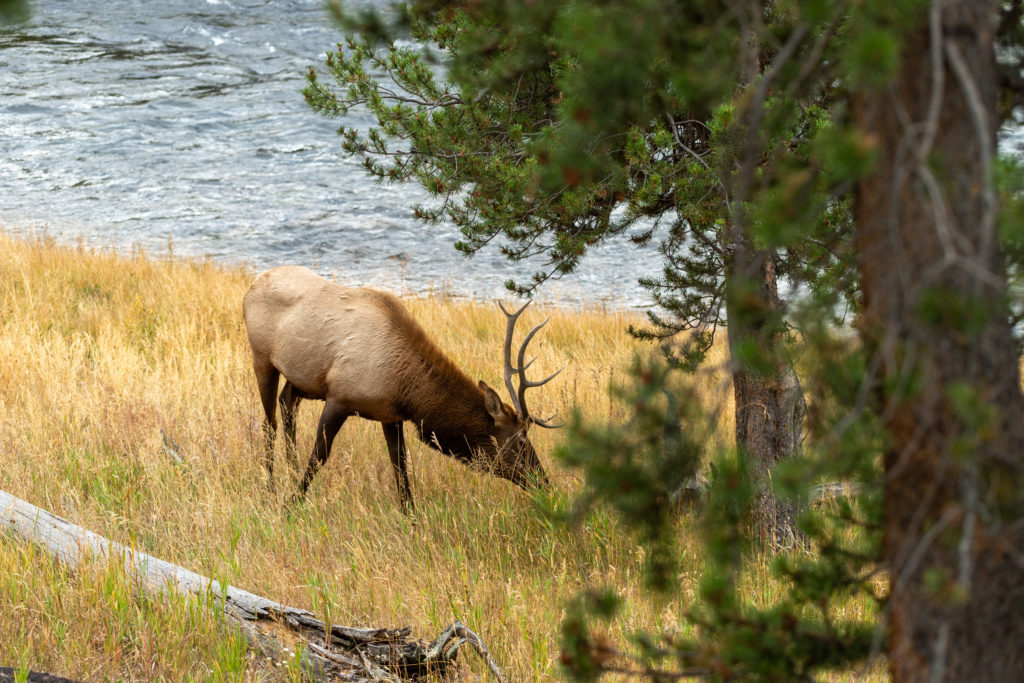 The Elk Rut
Throughout September, animals start to come down toward lower elevation and can be seen throughout the valleys. For elk specifically, the mating season occurs in the fall. And the more formal name for it is a "rut". And it's actually very interesting to learn about because it's not your classic one elk meets another elk and the two fall in love. There is an actual process to it and if you want to learn about the five different stages, Visit Estes Park does a really good job of breaking it all down. But for our purposes, this matters because elk are more active during elk rut, which means you'll have a better chance of spotting them. Plus, they sometimes make a really loud, cool sound called a "bugle" and it's fascinating to hear in person.
The roads: what's closed?
Because snowfall can occur in September (though it doesn't usually stick), roads begin to shut down. They close roads for safety due to the danger driving through mountain passes with tight turns when snow does start to accumulate. It may not sound like a huge deal, but it's worth considering depending on how you plan on coming into the Yellowstone area. If you are planning on driving in from the east for example and the road is closed, it could add some serious time to your drive if you need to find an alternate route. Most roads don't close down until late September/October.
While the dates change every year, here were the road closure dates when we took our trip to give you an idea:
November 2 – April 16: Mammoth Hot Springs to Old Faithful, Madison Junction to West Entrance, Norris to Canyon Village
November 2 – May 7: Canyon Village to Lake Village, East Entrance to Lake Village (Sylvan Pass)
November 2 – May 14: South Entrance to West Thumb, Lake Village to West Thumb, West Thumb to Old Faithful (Craig Pass), Tower Junction to Tower Fall
October 13 – May 28: Beartooth Highway
If you're visiting Yellowstone in September, these dates shouldn't impact you (unless you decide to make a month of it). But worth noting in case you end up taking a trip later on in the fall. You can find the most up-to-date road closures on the NPS website.
The sleeping options: where can you stay?
Yellowstone is full of places to stay, so you will have plenty of options to consider. And the good news is if you visit Yellowstone in September, the availability may be higher than it is in the summer. Many places book up far in advance during the summer – even a year out! But if you are looking at a September date, you may have a little more time to work with. Here are a few options to consider: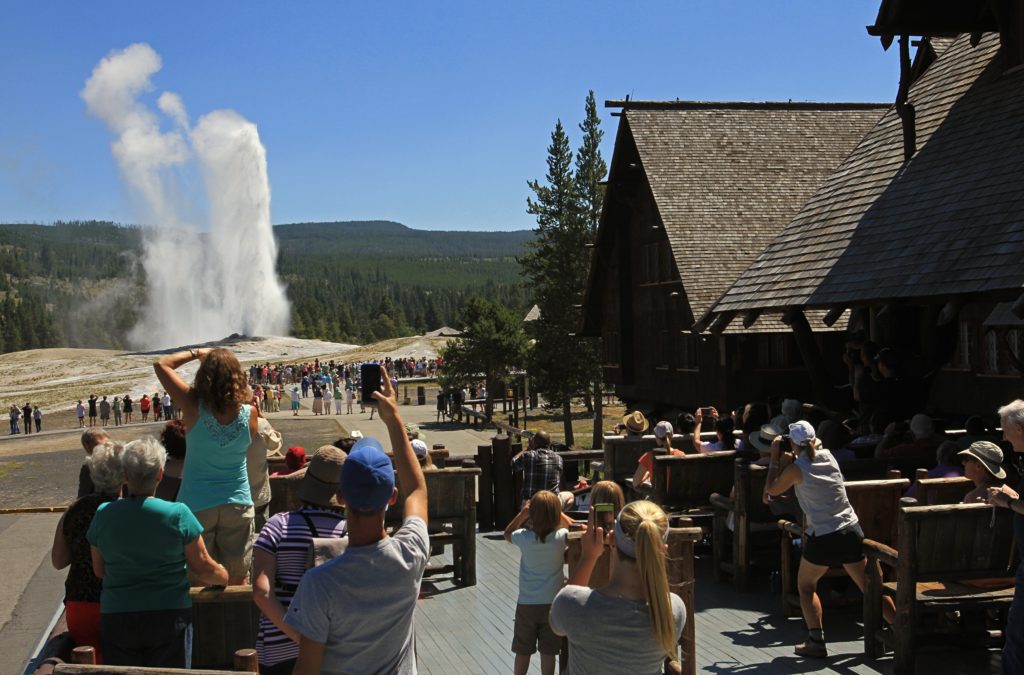 One of the most popular lodging options in and around Yellowstone – Old Faithful Inn. This one definitely fills up in advance, so it's a good idea to book it as soon as you know your dates. But if you're planning your trip to Yellowstone in September, they may have better availability since crowds are typically lower. It's very historic, built in 1903-1904, and it's considered the largest log structure in the world. There's a full-service restaurant, lounge, snack bar, gift shop, daily tours, and often live music in the lobby. There are 327 rooms (some suites) and the inn is open from early May until mid-October. It's the only place you can stay in Yellowstone and have a view of Old Faithful right outside your front door.
Camping inside Yellowstone National Park
If you are coming equipped with an RV or tent, Yellowstone has 5 reservable campgrounds within the park. There are 7 others, but keep in mind these are first come, first serve. On the NPS website, the open dates are listed so you can see which campground are open during your dates. You can also use this website to check the day of your arrival to see which first come first serve campgrounds are full or still have available sites. Keep in mind, a lot of these campgrounds close in September so you may be limited if you visit late September. And only Fishing Bridge RV Park offers water, sewer, and electric hookups for RVs.
Camping in West Yellowstone
This is the option we chose as it's close to the west entrance of Yellowstone. West Yellowstone has hotels, cabins, and campgrounds. Plus, there is a really cute downtown area, which makes it a convenient place to enjoy a meal. We can recommend the Wild West Pizzeria & Saloon and went there twice. Oops.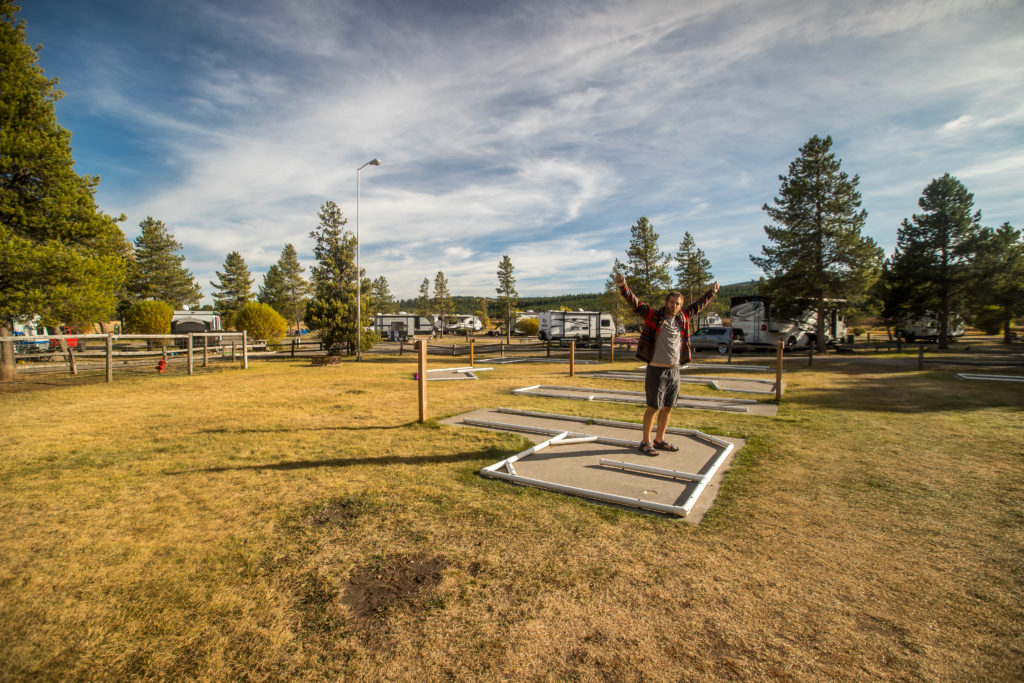 We ended up staying at the KOA West Gate with our RV, but they also have tent sites and cabins. It allowed us to have the electric/ water hookups, but still be close to Yellowstone. It's 6 miles from the west entrance and took us about 45 minutes to get to Old Faithful (including a buffalo traffic jam!)
Would we recommend visiting Yellowstone in September?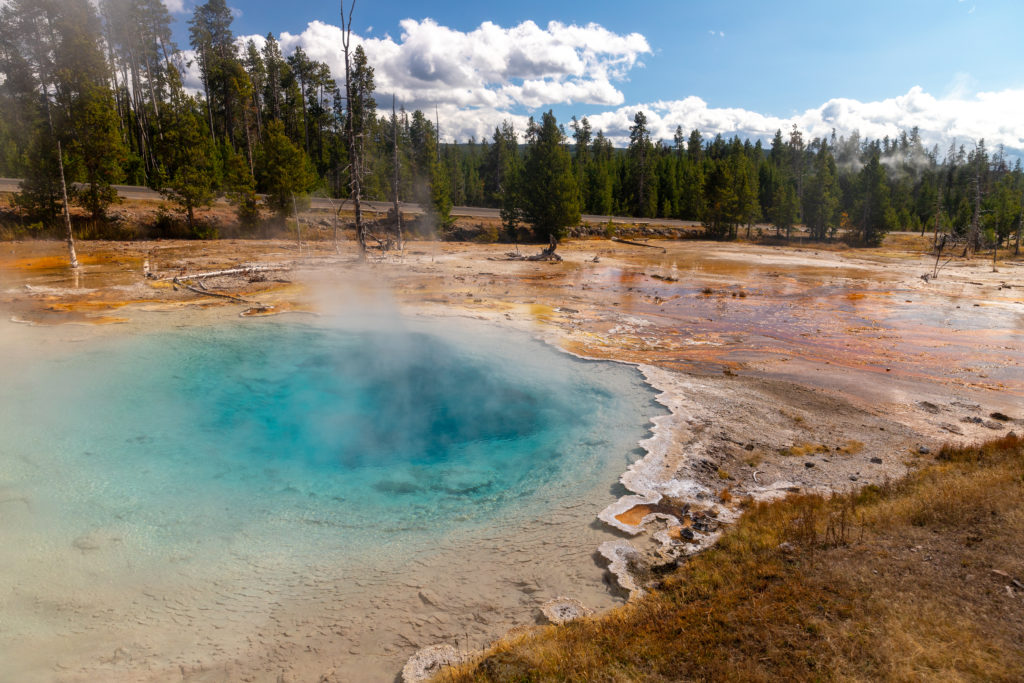 Without a doubt. The colors are gorgeous. The wildlife viewing is once-in-a-lifetime. The lack of crowds means you aren't wasting your time trying to find a parking spot (and also leads to some dreamy pictures). We would hands down visit Yellowstone in September again. The weather left a little to be desired. But as someone who doesn't particularly love cold weather, it was well worth it. The benefits outweighed the costs on this one. And you know, at least we weren't out there sweating buckets. And if you're looking for more, you could consider hitting Grand Teton while you're there!
[grid_plus name="RV Grid"]