Pony rides at Walt Disney World – who knew. During our recent visit to Orlando, I was looking for kid friendly, affordable things to do near Disney. We love stumbling upon activities at the Disney resorts because it gives us a chance to check out different properties. And the Tri-Circle-D Ranch pony rides at Disney's Fort Wilderness are the perfect activity for those days you need some down time from the parks.
Where can you ride horses at Disney World?
Fitting with the rustic theme, Disney has beautiful stables located at its Fort Wilderness property. You can find Tri-Circle-D Ranch near Pioneer Hall. If you're staying on property, you can enjoy a leisurely walk. We were not staying at Fort Wilderness, so we took the bus. Check out this handy Disney transportation guide to find the best way to get there. We took a bus from Disney Springs. If in doubt, ask the bus driver which stop will take you to Circle-D-Ranch. The bus stop is directly across from the ranch. Taking a bus is probably the best option unless you have a car since you can get the bus from almost every hotel and park within Disney World.
Is Circle-D-Ranch open to guests not staying at Fort Wilderness?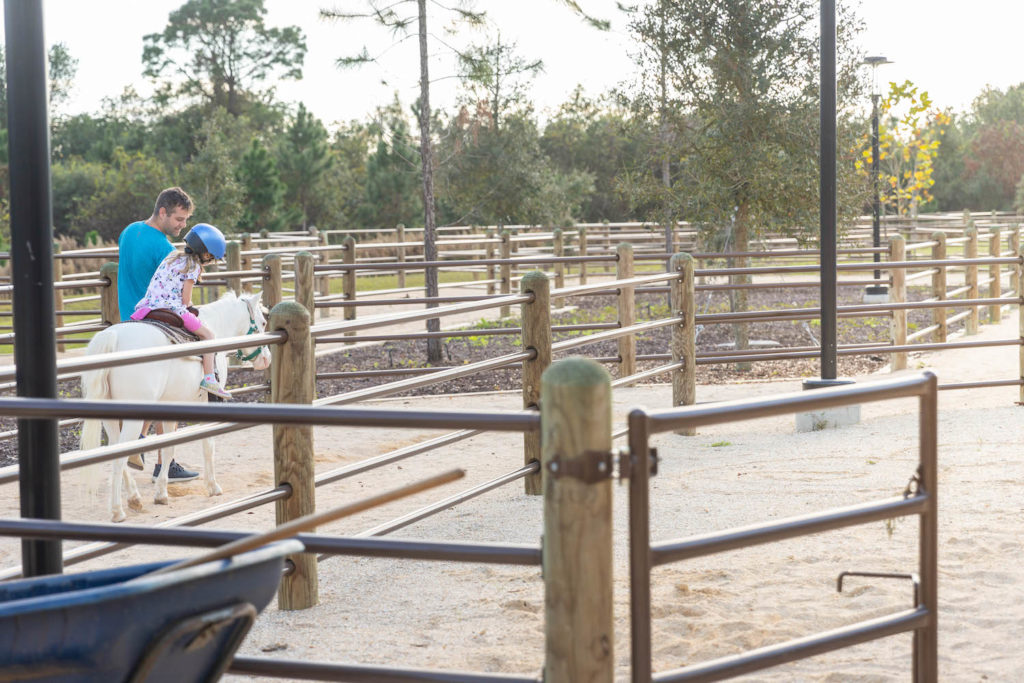 Yes – you do not have to be a guest at Fort Wilderness to participate in the Tri-Circle-D Ranch pony rides. In fact, you don't have to be a guest at any Disney property to visit the stables and go on a pony ride. This is a hidden gem at Disney for keeping kids entertained at a low price.
How much do pony rides cost at Circle-D-Ranch?
Pony rides at Circle-D-Ranch are affordable. You'll pay $8 per guest. And the only requirements are that kids are at least 2 years old, under 80 pounds, and no taller than 48 inches.
For bigger kids, Tri-Circle-D Ranch also offers horse back riding. It lasts longer – about 45 minutes. And the price tag is higher. You'll pay $55 per guest for this experience. Kids need to be at least 9 years old, over 48 inches tall, and less than 250 pounds. Also, don't forget the closed toe shoes!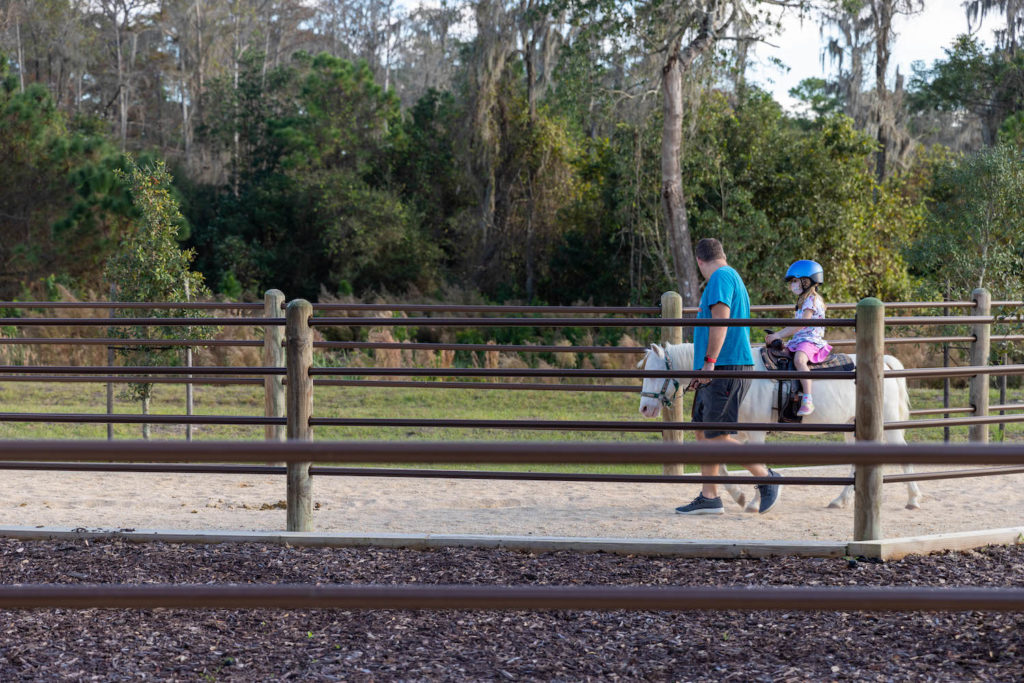 If you want something a little more leisurely for the whole family, you can book a carriage ride. Carriages fit up to 4 adults or 2 adults and 3 kids. They last 25 minutes and cost $55 per carriage. It's actually not a bad deal when you think about how much most things cost at Disney. Sidenote: if you're near Disney's Port Orleans, they also offer carriage rides.
Do I need a reservation for Circle-D-Ranch?
Yes and no. It depends on which activity you choose. If you want to do the pony rides, you do not need a reservation. It's available on a walk-in basis. While we were there, we waited only about 15 minutes.
If you prefer the horseback riding or carriage ride, you can make a reservation in advance. You'd just call (407) WDW-PLAY (939-7529) and set up your time/date. The horseback riding may also be available for walk ups depending on availability.
What is the pony ride experience like at Fort Wilderness?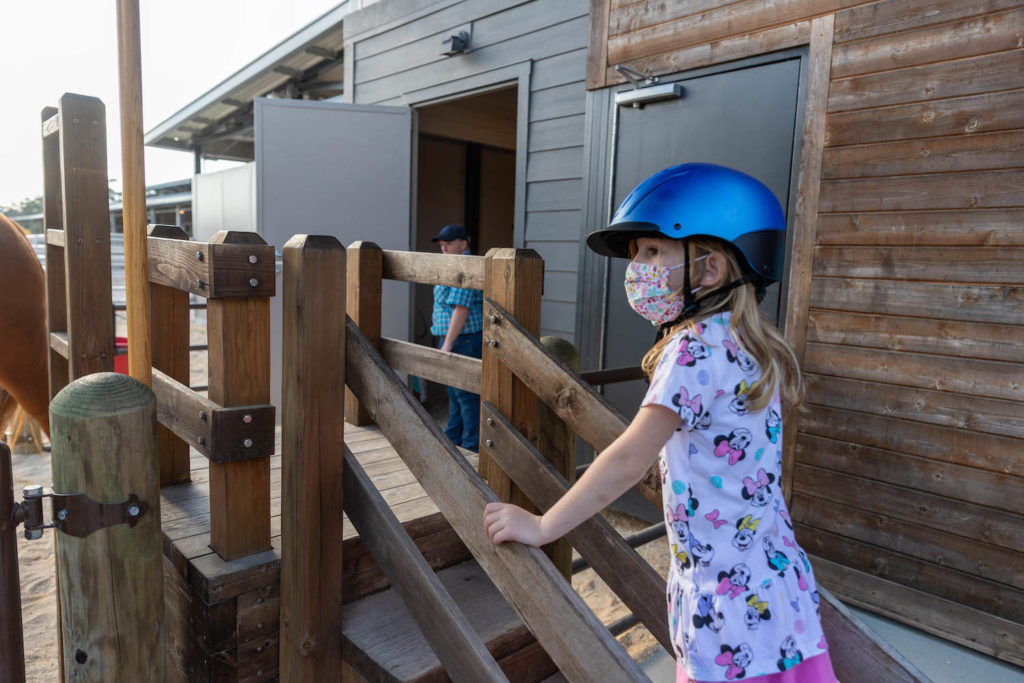 Tri-Circle-D Ranch pony rides start off by getting your little one outfitted in the proper gear – a helmet. The staff will then pick out a horse. I'm not sure if they ever allow you to choose the pony or just pick for you so they all are equally rotated. They picked for us. There's a staircase your child can use to climb onto the pony. And a parent is required to walk and help guide the pony. Parents do not need to pay a separate fee.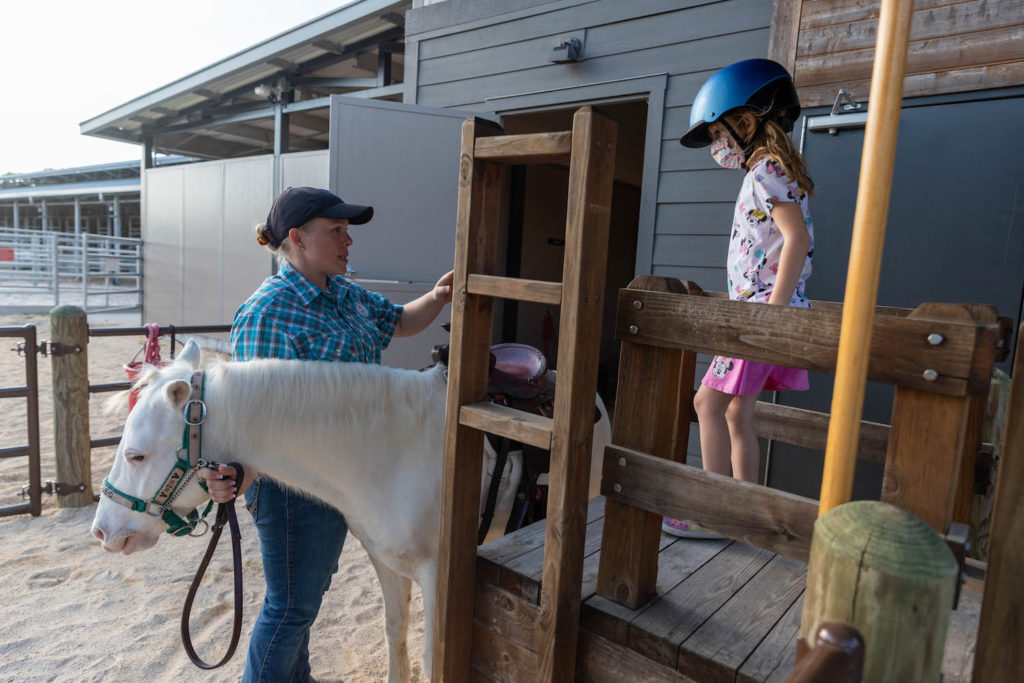 We were allowed to ride the loop two times and it took probably 10 – 15 minutes. You can stop and take pictures. The horse was also super gentle and friendly. Our 5-year-old loved the experience and talked about it all day. I highly recommend it for kids around this age, especially given the low price point.
Our 2-year-old was just old enough, but was a little too nervous to participate. He preferred to play in the dirt by the stables. Maybe next time!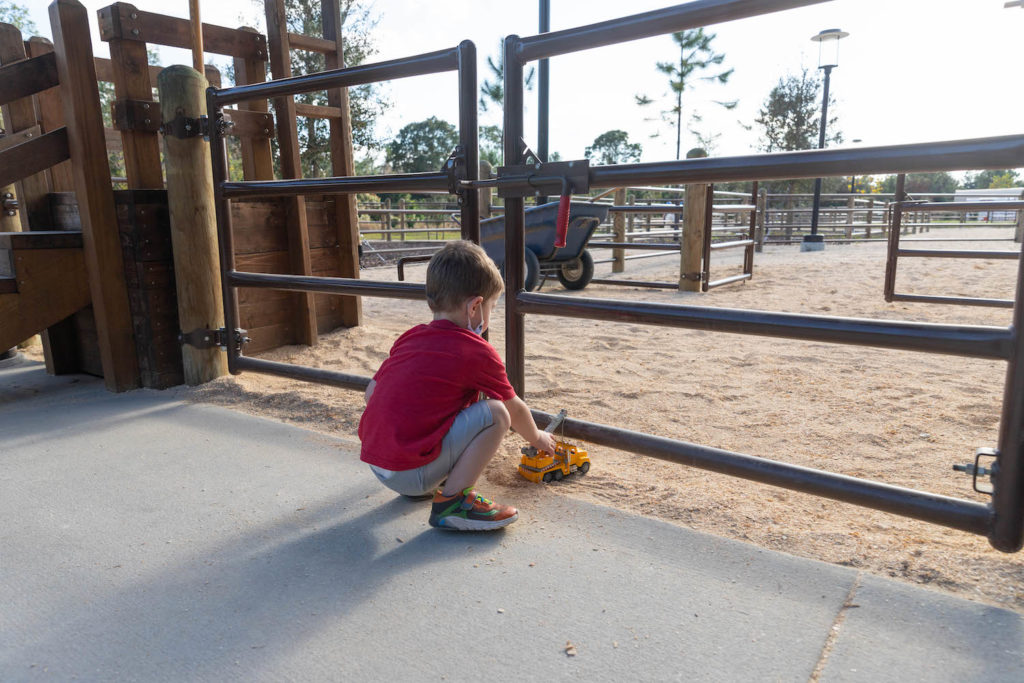 Other free activities at Circle-D-Ranch
After your pony ride, we recommend walking around the stables. They are gorgeous! You can see all the names for each horse. And you can see Cinderella's carriage while pressing a button that plays a little song. Sometimes they refer to the horses as Cinderella's horses, so it's fun to tell the kids that they are meeting Cinderella's horses. It definitely adds to the experience and makes it even more special.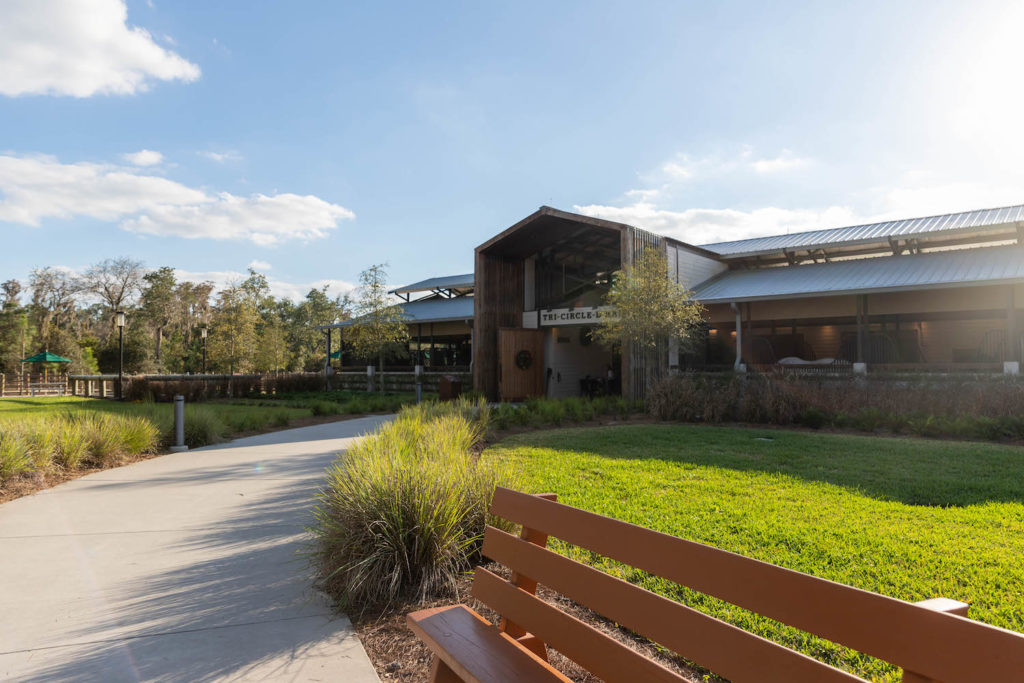 Trail's End Restaurant
While you're here, I highly recommend a stop at Whispering Canyon Cafe. It's located in Disney's Fort Wilderness Lodge. We've been here twice and loved it both times. It has a western theme that's really fun for kids and the waitstaff is hilarious. There's definitely a fun twist to the experience.
They offer breakfast, lunch, and dinner. Breakfast consists of all the usual suspects and you can either get an entree or an all-you-can-eat skillet. We tried both The Heritage and The Carnivore and they were amazing! The biscuits and gravy, ribs, ribs, and brisket were incredible. The kids got macaroni and cheese as we were bordering on lunch. But they also have the classic mickey waffles and an all you can eat skillet among other things. Lunch and breakfast have a similar menu.
The other time we came, it was for dinner. We had the all-you-can-eat pig skillet. Another excellent choice. The prices are also reasonable, especially for an all-you-can-eat meal. If you decide to pay a visit, just make sure to make a reservation in advance.
Is Circle-D-Ranch worth it?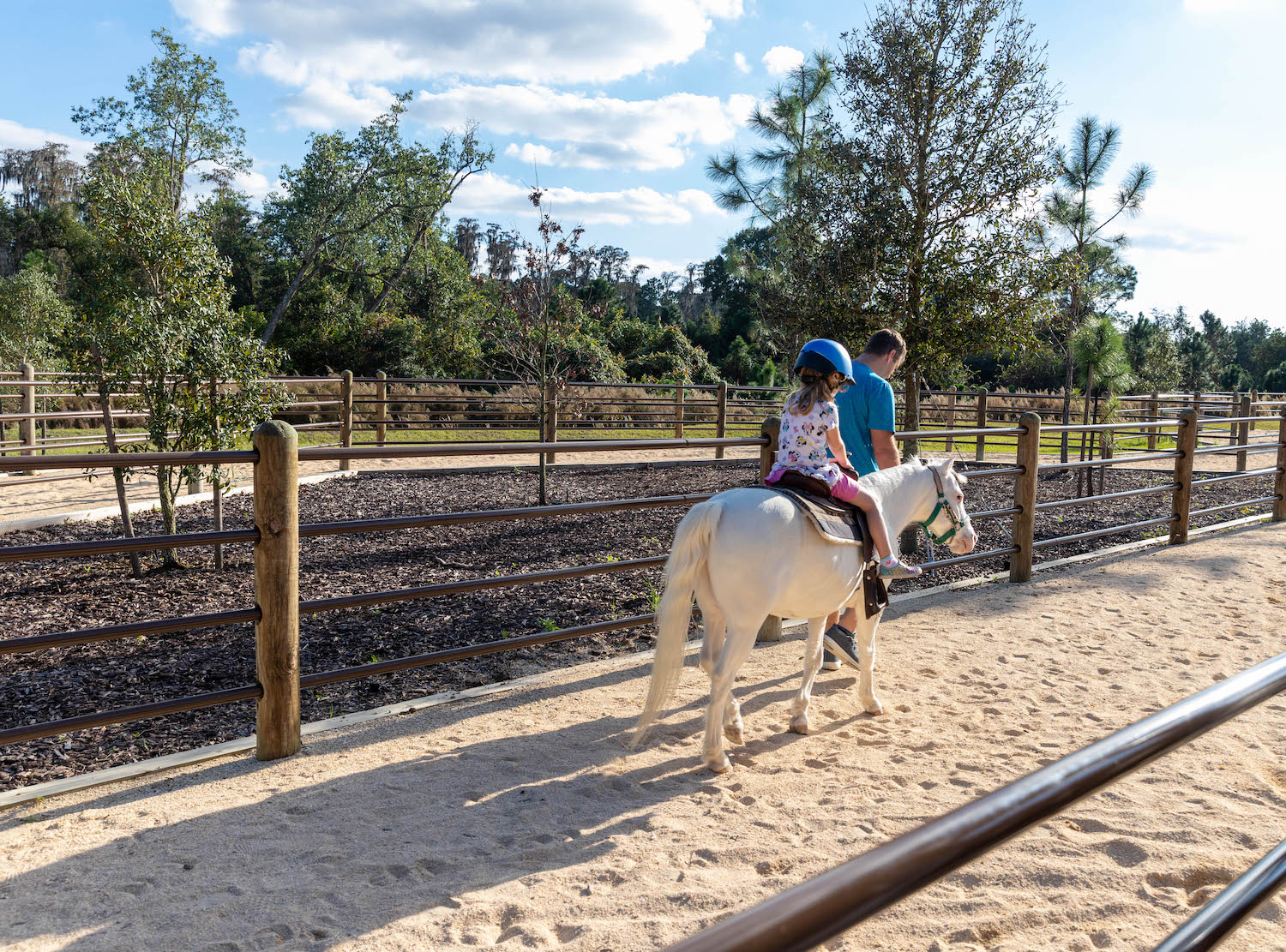 Yes, we loved it! It was one of the highlights for our daughter. It's also a nice, easy activity when you want to take a break from the parks. And let's face it, not everything is this affordable at Disney. If you are looking for something to keep the kids entertained without shelling out a lot of money, this is an excellent option!
What are you most excited for with a trip to Disney?
Check out these other great reads:
11 Best Backpacks for Traveling with Toddlers
Is Tokyo DisneySea the Best Disney Park?
15 Best Travel Toys for Toddlers on Planes