I can't tell you how many times I've either personally received this question or stumbled across it on family travel groups. Hawaiian vacations aren't exactly known for being friendly on the wallet. So naturally, parents want to know when is the best time to visit with a little one in tow. Is Hawaii worth it with a baby? What about toddlers? We're sharing our experience and tips to help you decide: traveling to Hawaii with a baby vs. toddler. Which is right for you?
We'll also share some recommendations from other parents who have traveled to Hawaii with a baby or a toddler. And this will give you a larger picture of what you can expect.
Flying to Hawaii with a baby or toddler
With as many flights as we've been on, we have experience ranging from short half hour flights all the way up to long 14 hour journeys. And we've done the long haul trips when our kids were 3 months to 4 years old. And everything in between.
What is the best age to fly with kids?
Trips to Hawaii are typically classified as long haul. Unless maybe you're flying from California. Our flight from Chicago to Honolulu was just under 9 hours. And if you've never flown that long with young kids before you may be wondering what it's like.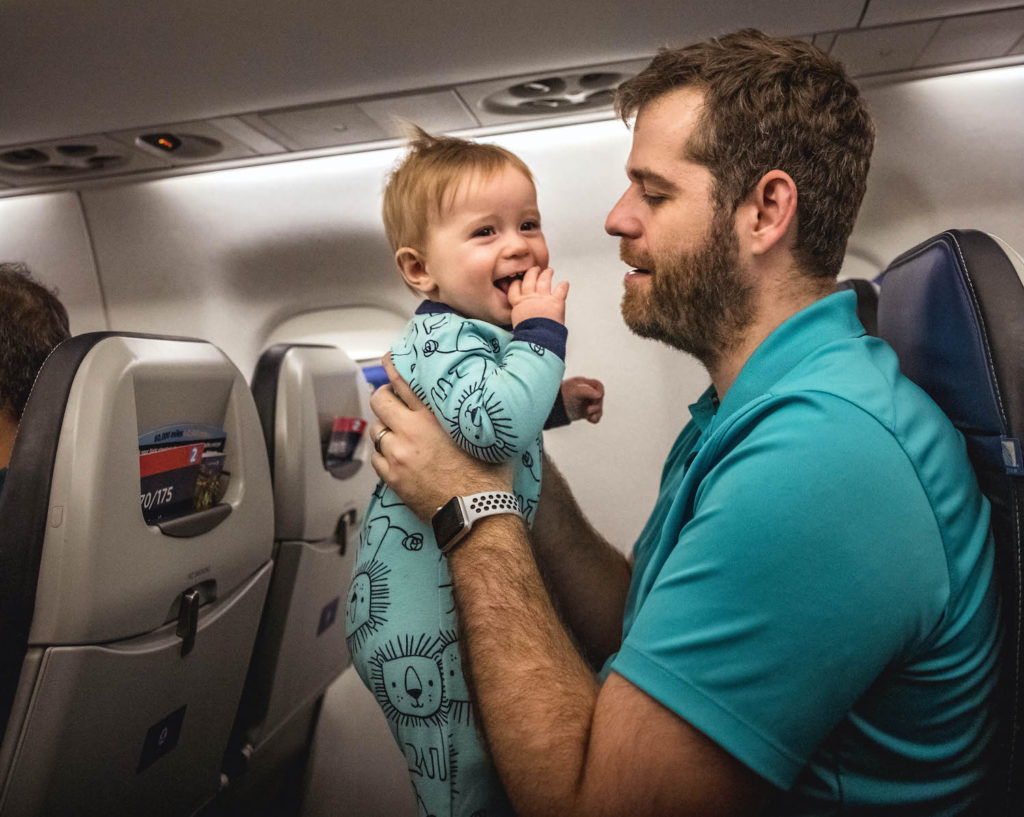 Infants
It's a common misconception that the infant age is the worst time to fly. It's truly one of the best ages. Many parents are worried their baby will cry the entire time and they'll meet the fiery stares of other passengers. But in our experience, newborns tend to sleep a lot – like majority of the flight. Plus, you don't need to pack all the food and snacks. It's breast or bottle. Pretty basic.
Related: Help your toddler sleep on the plane by avoiding these mistakes
1-2 year olds
This is generally the most challenging time to fly with kids. That's not to say it's impossible. Babies are learning to walk and sitting in an airplane seat isn't their top priority.
You'll likely be wandering up and down the aisles. And your baby probably won't stay entertained too long. Short attention span and all. This is also when you have to think about baby food and what meals look like for a long haul flight.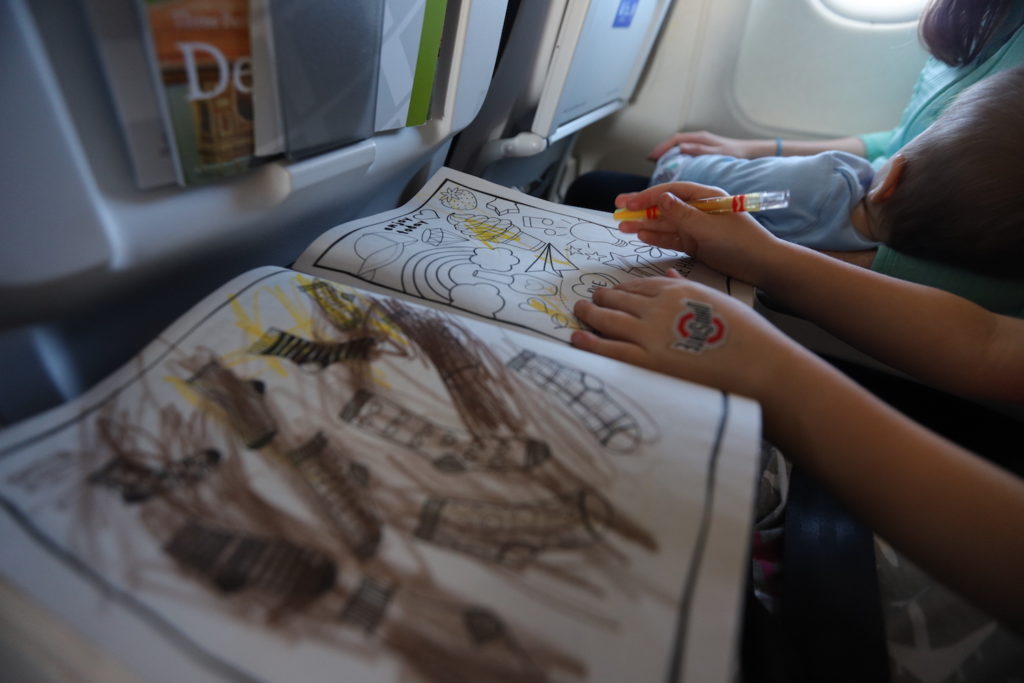 Toddlers
After the 2 year mark, flying tends to get easier again. While your toddler may be squirmy, he/she will have a longer attention span. Bring a few travel toys and snacks, plus a cuddly blanket for them to settle in. You'll be good to go.
Activities in Hawaii for Babies vs. Toddlers
Another question that's probably on your mind: how kid-friendly is Hawaii? Will your baby or toddler have anything to do? This one really comes down to what style vacation you are looking for.
Activities in Hawaii for Babies
To be quite honest, there isn't a ton to report here. And that can actually be a good thing! If you're traveling to Hawaii with a baby, you'll probably be spending your days at the beach. It's the perfect spot to let them run (or crawl) around and explore. It's an open field! And that generally means you're in for a more relaxing vacation spent on the sand.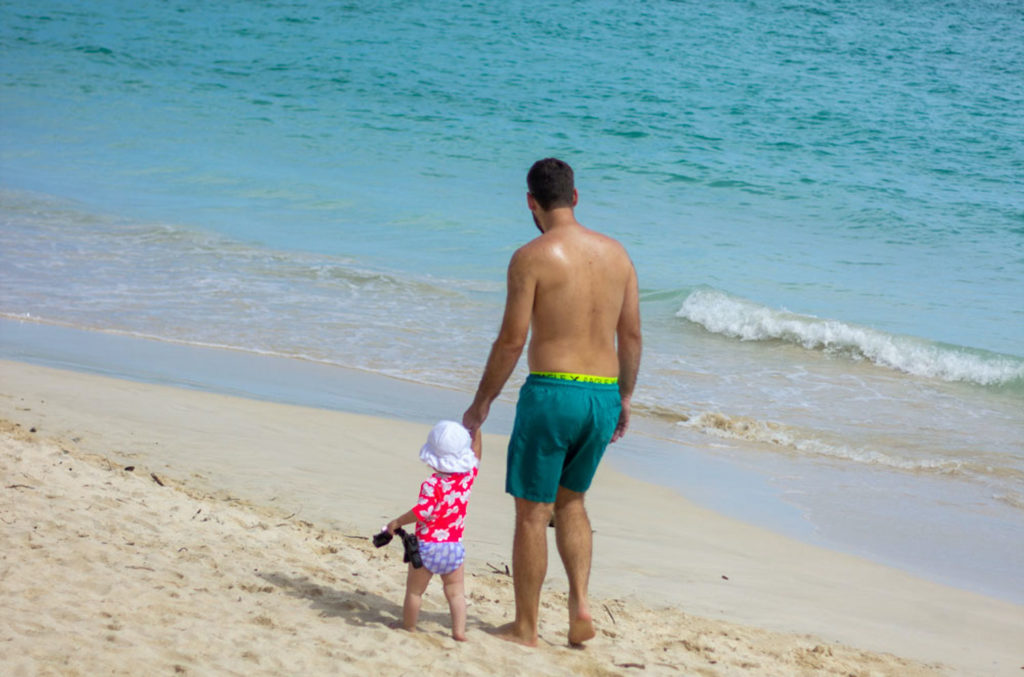 You can certainly partake in other activities with a baby – hikes or historical sights like Pearl Harbor. Just keep in mind older babies will probably get bored of their stroller and want to run around. Speaking from experience on this one.
Activities in Hawaii for Toddlers
Toddler vacations tend to be a bit more active. There are plenty of hikes throughout Hawaii suited to toddlers. The Dole Pineapple Plantation is also a must. There are countless ocean activities. Plus, the famous Disney Aulani resort. You'll have plenty to keep you moving. If you want to stay busy, you'll enjoy visiting Hawaii with a toddler.
Luaus with babies vs. toddlers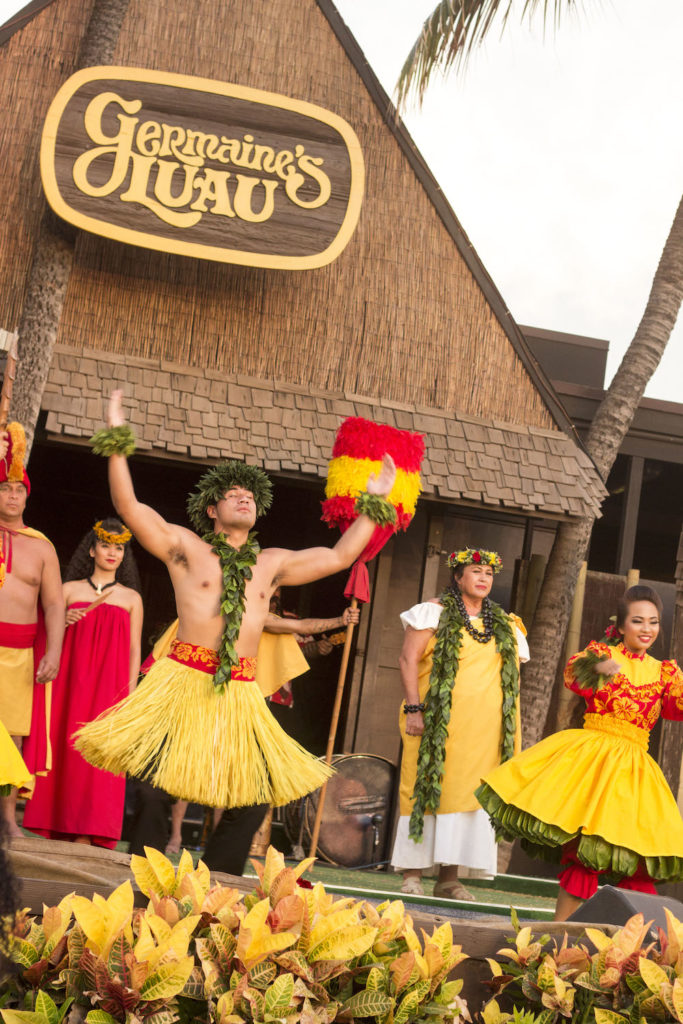 One of the classic Hawaiian activities is of course the luau. If you have a child under 3, chances are you'll get a free pass. But with most luaus, 4 years and up will pay for the luau experience.
You'll save money by bringing a baby or toddler, but also think about the full experience. Many times kids are invited to participate in luau activities (aside from the eating of course). At Germaine's Luau, our 1-year-old was invited on stage with other kids to do a little hula. It can add to the memories if your little one is old enough to participate in the full experience. You can view and book all kinds of luau experiences using Viator.
Routines when traveling with a baby or toddler
We've been long-time advocates that the key to traveling with kids is flexibility. If you're willing to adjust routines, you'll set yourself up for success. Travel inherently requires some level of spontaneity from kids (and even adults for that matter).
Sleep, naps, and time changes
If you're traveling to Hawaii from the Continental U.S., you can expect a time change between 2-5 hours. In baby time, that can be significant. But it's also manageable.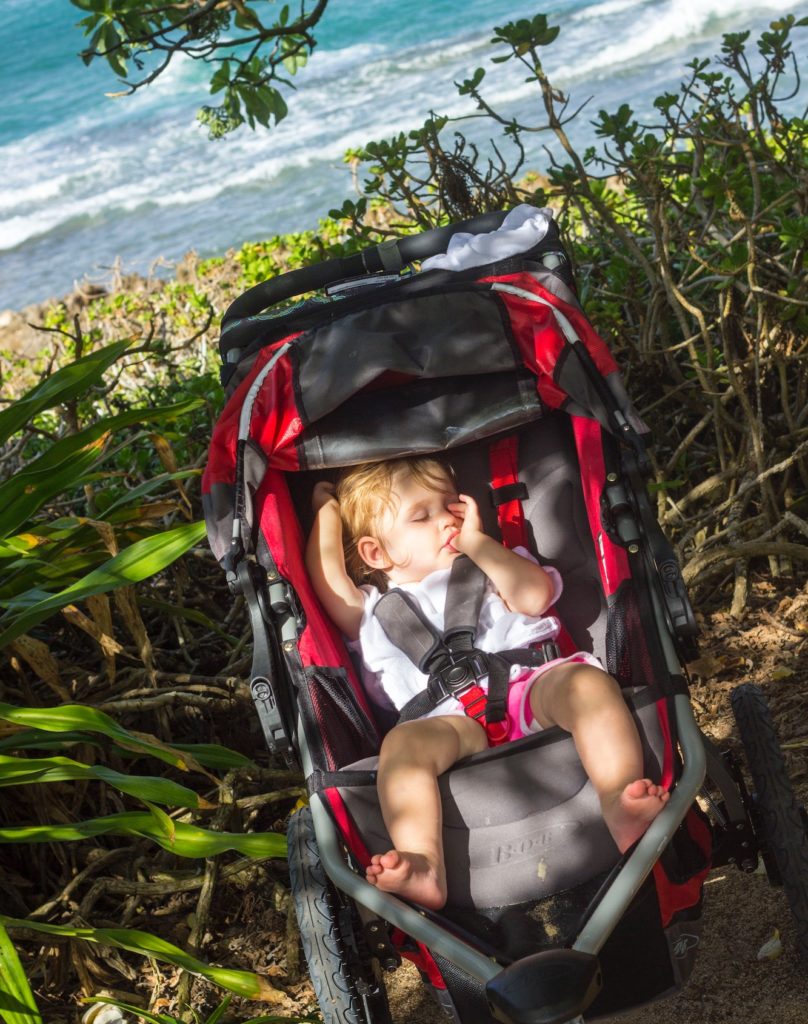 The important consideration here for traveling to Hawaii with a baby vs. a toddler – jet lag isn't necessarily an age thing. It's more personality based. Is your baby or toddler a good sleeper? Are they generally pretty adaptable?
Related: 15 Best Travel Toys for Toddlers, According to Frequent Flyers
When we traveled to Hawaii with a 1-year-old, she cried at night in the hotel and most nights she refused the crib. But she was also a terrible sleeper, to begin with. I don't say that to scare you out of going.
Just set your expectations in advance based on your child's habits. They'll sleep when they are tired. Whether in bed or on the beach. If the idea of fluctuating sleep and missing naps isn't your idea of a vacation, you may enjoy traveling with an older toddler better.
Also to bust a common myth, most children can quickly get back to their normal routines when returning home. Especially when the vacation is a week or less in length.
Meals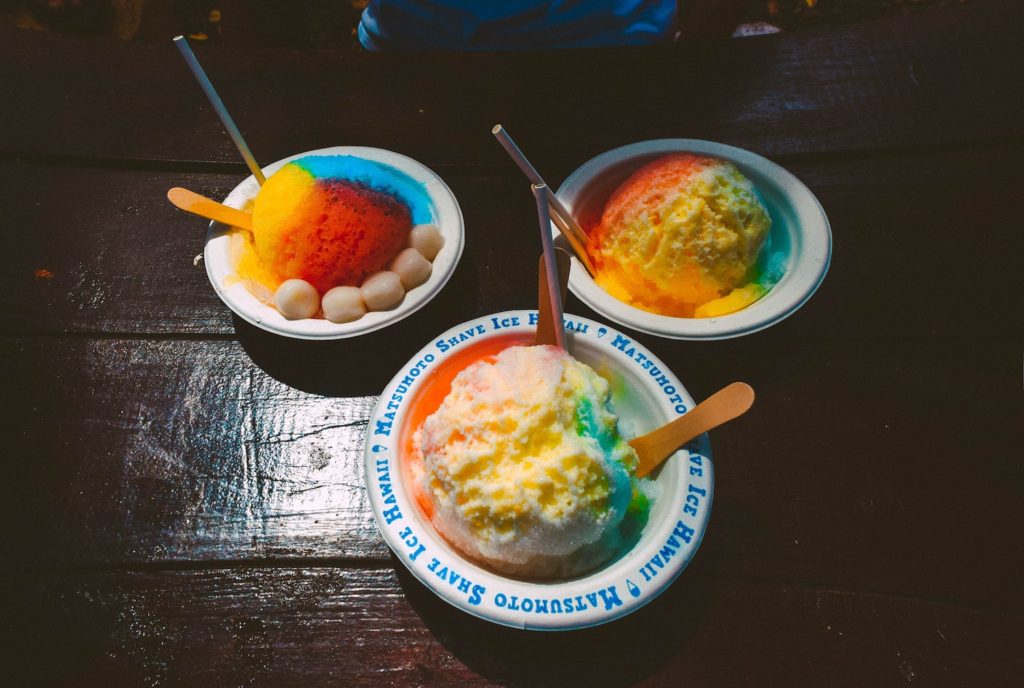 Hawaii is filled with kid-friendly food. And you'll find a variety to meet every toddler's palate. It also helps that most restaurants here have kids' menus. If you're in the Waikiki area, Duke's is a great choice for kids. They have a fancier indoor area, but the beachside spots are more casual and perfect for kids.
For babies, you'll probably bring your own baby food with you. And they require regular breast or bottle feedings. For that reason, their mealtimes are a bit more work. But it's absolutely doable.
Potty training
This falls more into the toddler category than baby, but many parents dread going on vacation when their little one is potty training. There's really no easy way around this one. Just come prepared and you'll be fine. But it's another important factor in our traveling to Hawaii with a baby vs. toddler analysis.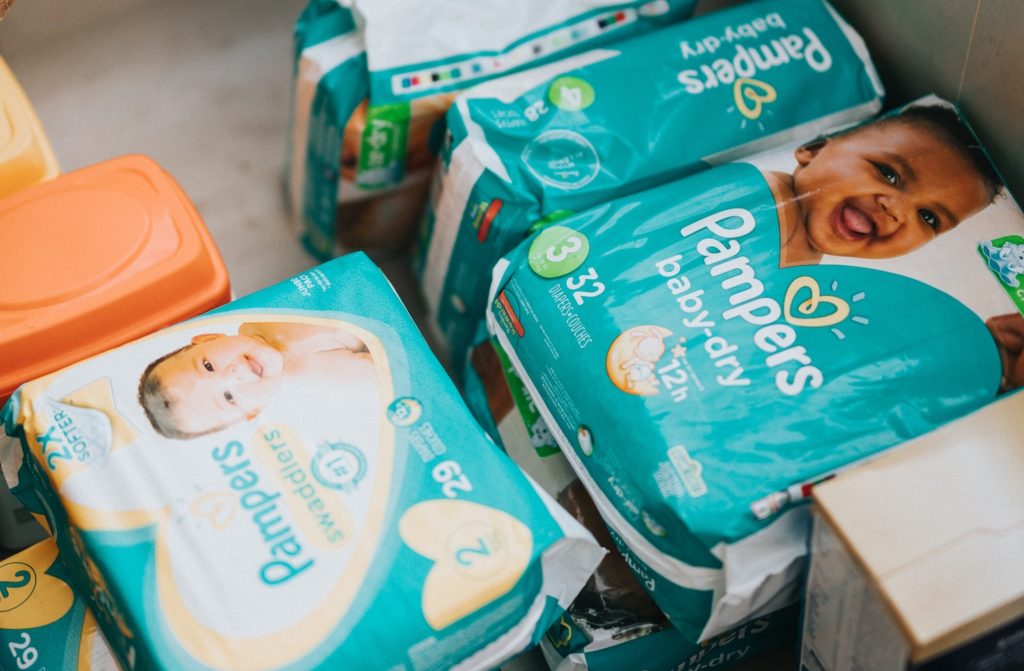 Here are a few tips:
Make frequent potty breaks – don't ask your toddler if they want to use the potty or rely solely on them. Otherwise, you'll be given 30 seconds' notice. Every so often, let them know it's time for a potty break.
Use training pants – if you're worried about accidents while out and about, training pants can save the day. They'll keep your kiddo's clothes dry but still help transition them into potty life.
Wet Bags – these are a must for traveling to Hawaii with a baby (or a toddler). Use it for wet swimsuits, clothes, toys, pacifiers, and even diapers. It will make your life a whole lot easier.
Will my baby or toddler remember the trip to Hawaii?
There's a lot of bad advice out there discouraging parents from traveling with kids – because kids won't remember it. Does this tip the scales when considering whether you should travel to Hawaii with a baby vs. a toddler? Will they remember the trip at either age? Probably not. Some data shows kids begin forming detailed memories around preschool age (and adult-like memory around age 6 or 7). Of course, as parents we can't wait to create memorable experiences for our little ones. But that's not the only purpose of travel at any age.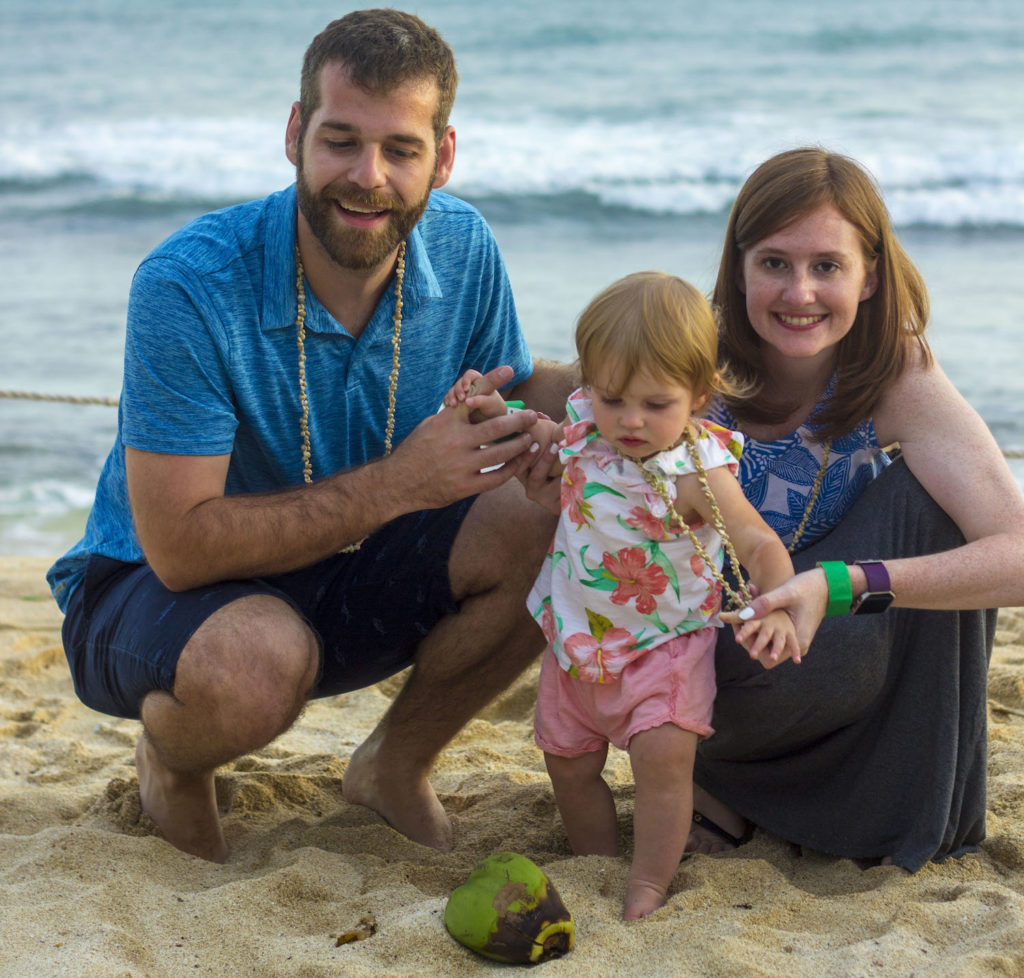 Benefits of traveling with babies and toddlers
Routines aren't the end all be all. Yes, they have their place at home. Routines can be beneficial in reinforcing positive habits. But it's good to break from the routines every once in a while. You'll be teaching your baby or toddler flexibility and adapting to environments at a young age. An essential lifelong skill that you'll be thankful for later.
The stories. There's a lot of research out there that shows memories form through the simple act of storytelling. You probably have examples of this in your own life. You may not remember, but you've heard the story so many times, it becomes a memory. Kids are the same – tell them a story enough, and they'll remember it forever. Also, it's not just about them. The memories are for you, too. Our daughter could barely talk, and yet, she can talk to us about this trip like she went last week.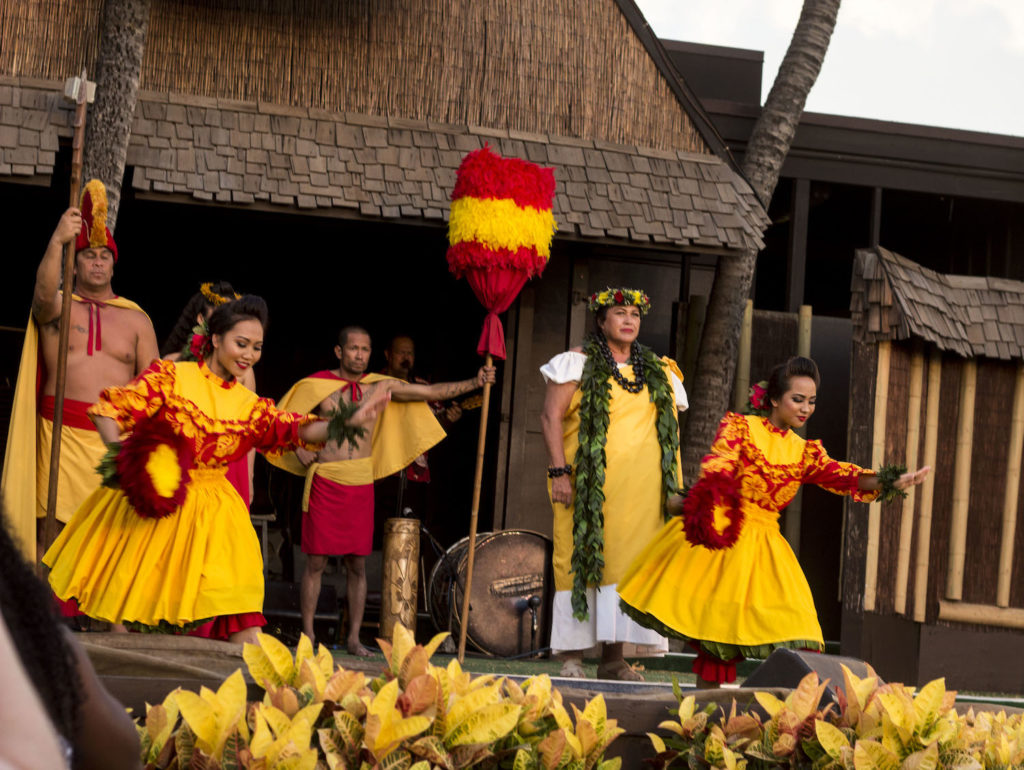 Trying new things. The more you encourage trying new foods, new activities, new cultures, the more your kids will embrace it. While our kids still like a nice bowl of mac n cheese, they've tried sushi, curry, empanadas, and all kinds of other things. If you encourage curiosity at a young age, they'll grow up wanting to try new things.
Family bonding time. Time goes way too fast. It's cliche, I know. Before you know it, your baby will no longer be a baby. Or your toddler no longer a toddler. If you're on the fence, do it. Spend time with them doing something you're really excited about. Being on vacation means more quality time with your kids because you're largely free from distractions. Whereas at home, you're often multi-tasking.
Other parents weigh in
We've gone through many of the logistics to help you decide if traveling is right for you, with a baby or a toddler. We didn't want to leave only our thoughts because every family is different. So we did a little digging. When asked "Traveling to Hawaii with a 4-month-old or 1-year-old, which is better?", here's what parents had to say:
| | | |
| --- | --- | --- |
| Leave baby home | Travel with baby <1 | Travel with toddler >1 |
| 33% | 17% | 50% |
The parents included here have traveled to Hawaii with a baby or toddler (in some cases both ages) or left their little one at home with a relative. And this is what they'd recommend to others. The good news: most parents recommend taking the trip rather than leaving your little one at home with the grandparents. But it still varies quite a bit. And this comes down to personal preference. Vacations with babies and toddlers are very different from vacations as a couple. From our experience, it's about adjusting to the new normal.
Here are some of the specific comments from parents:
Babies are easier to travel with – once they start moving, travel becomes more challenging
We left the kids with Grandma so we didn't have to change our schedules
We traveled with a baby under 1-year-old and a 17-month-old toddler. The baby wanted to put everything in her mouth. The toddler loved playing on the beach.
We didn't want to deal with the flight and all the stuff we'd have to bring
15-months-old was the perfect age
At 1-year-old flying was not an issue and our little one slept the entire time
At 17 months old, the trip was much more fun than 5-months-old, but the travel over was more challenging
We took our 1-year-old and had no problem traveling at that age
An interesting takeaway from these comments: most of the parents who opted to bring their child (whether a baby or a toddler) had an enjoyable trip. The parents who left their children at home were worried about schedules, other people on the plane, and how much they'd need to bring.
Make the best decision for your family, but know, parents who take the leap are usually left with a positive experience.
What's the verdict? Hawaii with a baby vs. a toddler. Who wins?
There are really two directions to this question. Which is easier vs. which is better?
If we're going by ease – I'd give the edge to toddlers (1-3 years old). There's always going to be that person out there that says "I traveled with my baby and it was the best age I could ever imagine". Sure, yes. That's why I have to include this asterisk that explains it widely depends on your baby or toddler.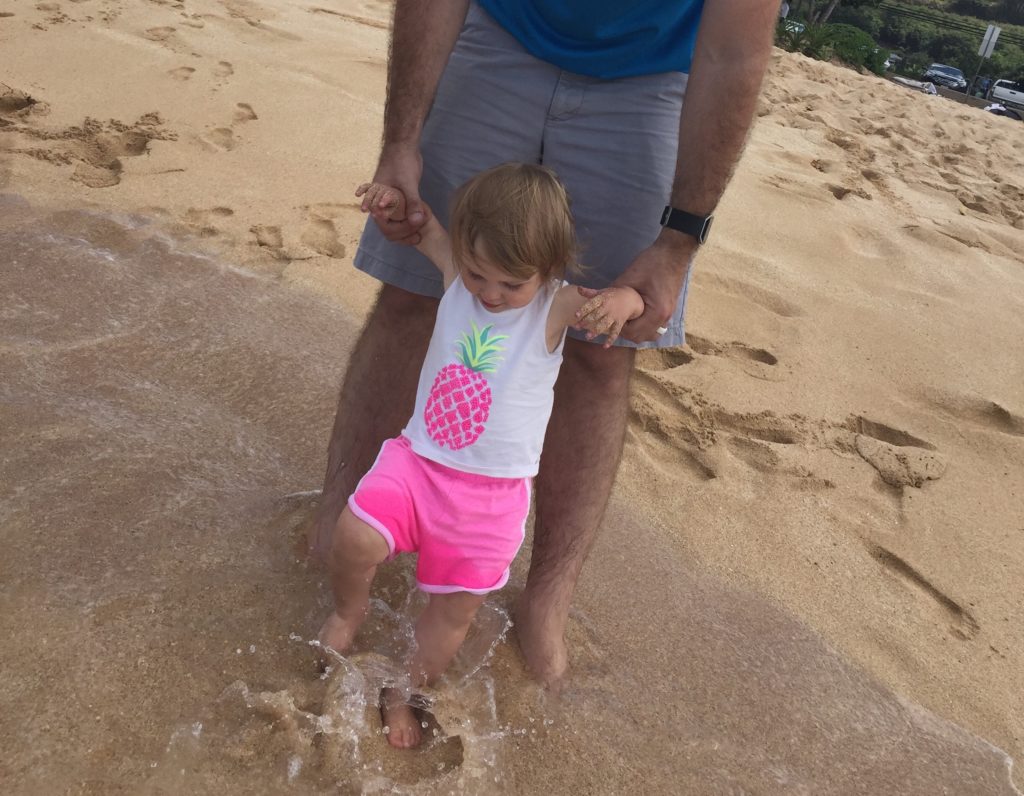 Maybe your baby is a champion sleeper. Or hikes all over the world with you in a baby carrier. In those cases, you'll probably love Hawaii with a baby. But in general, toddlers can participate in more of the activities and are better at adapting to jet lag. However, there's also the other part of the equation.
Is traveling to Hawaii better with a baby vs. a toddler?
If you have the time to visit Hawaii – do it. No matter if you have a baby or toddler. It's time you'll never get back and if you wait for the perfect time, you'll probably never go. There's always something – sleep worries, potty training, school activities, etc. If your baby doesn't sleep, you'll still have a great time. If your baby cries on the plane, you'll still have a great time.
We took our 3-month-old baby to Japan and it was one of the best decisions we've ever made. Sure, he didn't sleep for the first few days. But now we have the memory of strolling around a Japanese 7-Eleven at 4 am while businessmen were making their way to work.
Are you planning a trip to Hawaii with a baby or toddler?
Let us know!
You may also like:
✈ Help Your Toddler Sleep on the Plane by Avoiding These Mistakes
✈ Tips for Flying with a Newborn Like a Pro
✈ Strategies for Stress Free Travel with Children