For those unfamiliar with Disney in Japan, there are actually TWO Disney parks: Tokyo DisneySea and Tokyo Disneyland (both are situated right next to each other just outside the busiest parts of Tokyo). When we were planning our trip to Japan, we knew we had to visit a Disney Park. We only had time for one and originally we were going to check out Disneyland because it has the castle and princesses and just seemed more like the typical Magic Kingdom experience. But after doing more research, many people claimed Tokyo DisneySea to be a super unique experience, making it one of the best Disney park, if not THE best Disney park, in the world. So naturally, we had to decide for ourselves.
Sidenote: we'll be doing a separate post on the planning and how to get to DisneySea, but for the purposes of this post, we're just going to share our DisneySea review with you. Check out some of our other Japan posts, too!
Tokyo DisneySea Park Map and Layout
First things first, the place is called Tokyo DisneySea, but that doesn't tell you much about how it is actually laid out. We found a lot of similarities to Epcot, so if you've been to that park and enjoyed it, you'll probably be a fan of DisneySea. The main difference is that instead of countries as in the World Showcase at Epcot, DisneySea has ports. And there are seven of them: Mediterranean Harbor, American Waterfront, Port Discovery, Lost River Delta, Mermaid Lagoon, Arabian Coast, and Mysterious Island. Each port has it's own themed rides, shops, food, characters, etc. And the park is well laid out in a circle so you can hop from port to port (it's layout also makes it super doable to cover all areas of the park in one day). So this kind of leads us to the next point, which is….
Theming & Characters at DisneySea
In our opinion, this is what DisneySea excels at. The theming of each of the ports and the characters interactions blew us away! In terms of theming, you really felt like you were at the actual port in that part of the world because they covered every detail. Whereas with EPCOT, the change from country to country is a little abrupt, it's much more seamless at DisneySea. Don't get us wrong, we love Epcot.
But the theming at DisneySea beats it in our minds. For example, in the Mediterranean they have a gelato shop, next to bridge that runs over a little river where they do gondola rides. And the gondolas don't run on a track. You have an actual gondolier (apparently that'd the official term for a gondola driver) who also sings during your ride. You can see more of this experience in our video, but they just crushed it with the theming on this ride.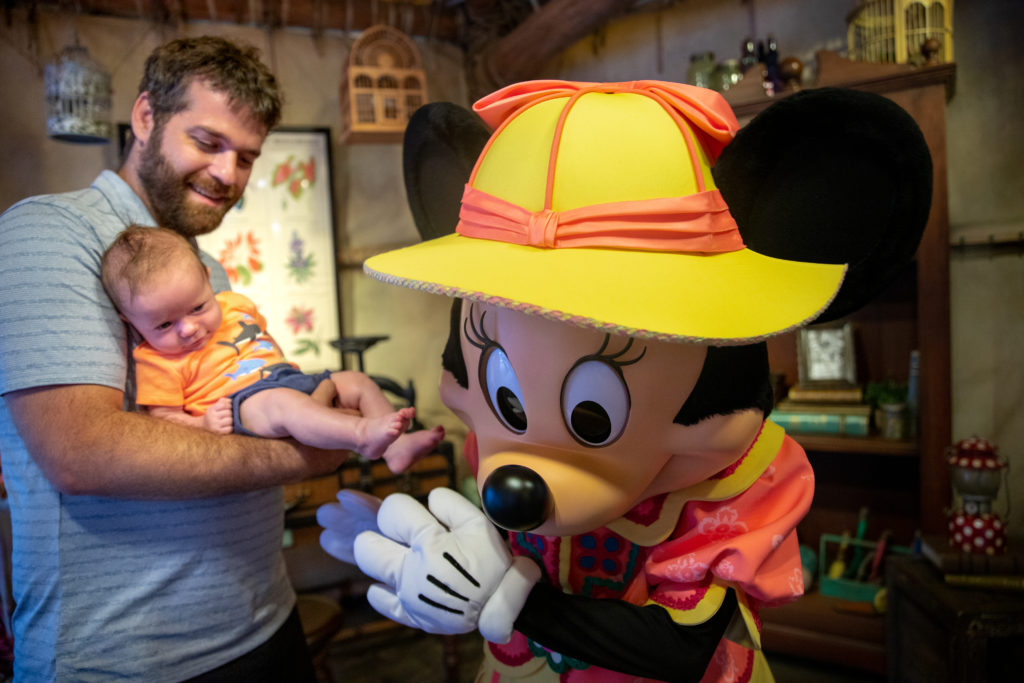 When it comes to characters, this was also part of the experience that exceeded our expectations. You can find Mickey, Minnie, and Donald back in Lost River Delta. One downside is that you have to individually wait for each character – you can't stand in a line to see them all at once. But even though we waited 40 minutes to just meet Minnie, she spent time with the kiddos and there was a lot of great one-on-one interaction. You can't beat it! There are also characters that just roam the park and interact with you so you don't have to wait in line.
Check out the video for more about our run-in with some monkeys. If you want great character experience, this park is for you.
Tokyo DisneySea Rides
Of course the rides are a big part of the park experience, so we definitely want to touch on that. One thing to note: we travel with young kids (a 3-month-old and 3-year-old). So we don't do a lot of the larger/thrill rides. They do have parent swap if you are interested in riding some of the larger rides that your children cannot ride. You just have to inform the cast member before you get in line that you would like to use this service. Tokyo DisneySea also has a suggested itinerary on their website for families with younger children, which is pretty handy! And if you want to experience shorter lines, they also offer single rider lines for select attractions. So as mentioned, we can't comment on all rides and attractions, but here are a couple we went on:
Nemo & Friends Searider:
A great choice for little ones. It's one of those motion simulator type rides and Olivia LOVED it! Not too jerky or rough. She was cheering the whole time. The story is in Japanese, but you can follow along fairly easily just by watching on the screen. And they offer FastPass.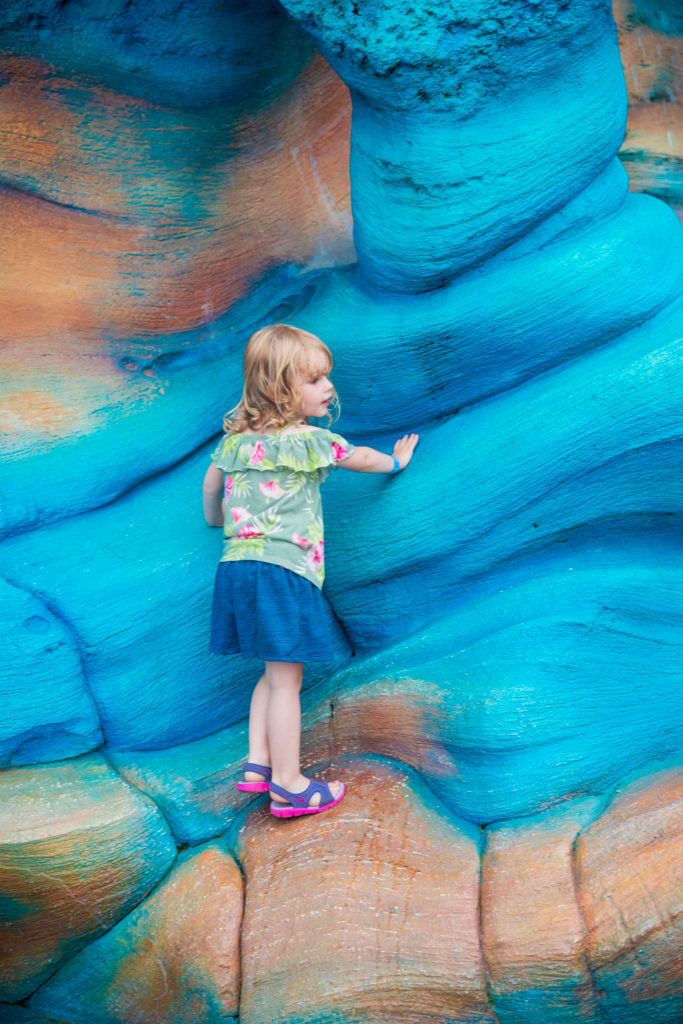 Venetian Gondolas:
You board a gondola that fits probably 10-15 people. And as mentioned earlier, these do not operate off a track and instead, you have gondeliers guiding you through the water. It's pretty tame and a great choice for little kids. You paddle out the the big lake and even though narration was in Japanese (and singing in Italian), you didn't really need it.
Jasmine's Magic Carpet Ride:
If you've ever experienced Dumbo or the Aladdin ride at Magic Kingdom in Orlando, this is pretty much identical. You can move your carpet up and down with a little controller, which Olivia loved. Probably geared a little bit more to younger kids.
King Triton's Concert:
While not a ride, we thought this was worth mentioning as it was one of our favorite experiences. Located in the Mermaid Lagoon, this is essentially the Little Mermaid show. It's a huge theater, the theming and props are top notch, and all the characters are suspended while flying around the crowd. Another that's in Japanese, but it's all the Little Mermaid songs, so you essentially knew what they were saying. Don't miss this one!
Also, note that each day a few of the rides are closed. This is different than Magic Kingdom where you don't typically see that many rides down. You can check the calendar to see what will be closed on the day you are visiting.
The FastPass
Just like the U.S. parks, DisneySea offers you the chance to receive a FastPass that gives you a block of time to come back to the ride to experience a shorter wait. There is no app that we know of to book fastpasses. Each of the FastPass eligible rides requires you to go to a machine located near that ride to receive your ticket. And just like in the U.S., once you've used your FastPass, you're eligible to get another. On busy days, the waits for these machines (especially Toy Story Mania) are likely very long, so we'd recommend going to your first choice ride as soon as you get to the park. It was a low crowd day for us, so we didn't have to wait long for our FastPass.
Food at Tokyo DisneySea: Amazing
DisneySea food was one of our absolute favorite things about this park. There are SO many unique options that we ended up snacking all day and doing a little bit of a crawl. We won't go into extreme detail because we covered everything that we ate in our video, but a couple things we wanted to mention.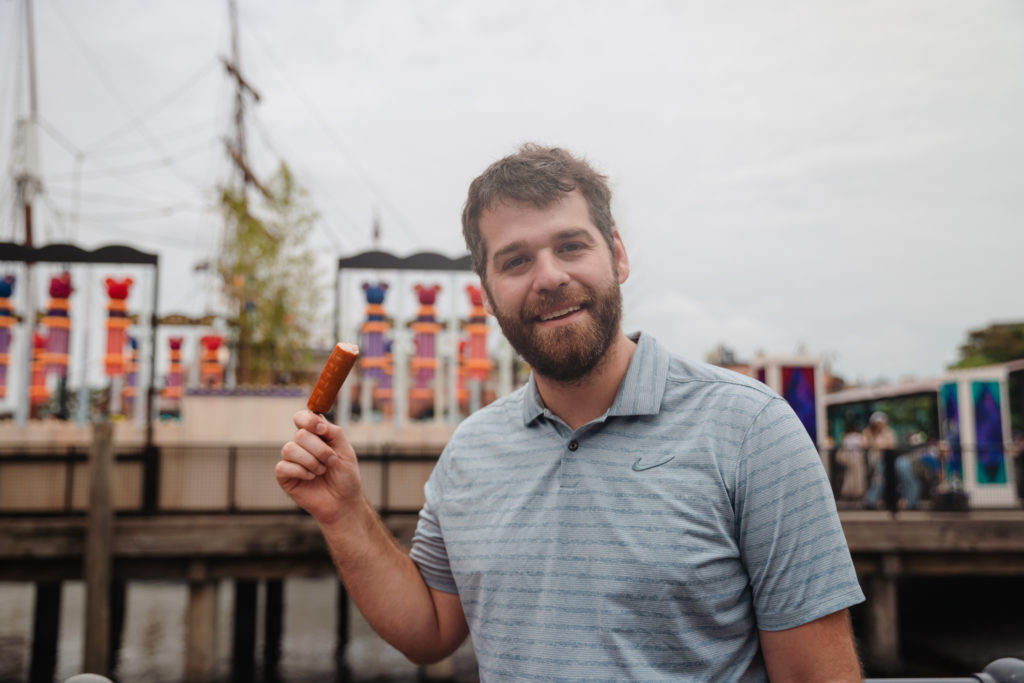 Food prices are pretty reasonable at DisneySea. Here's where there's an asterisk. We didn't do sit down restaurants and can't comment on that. But the grab and go items were priced around 500 yen (~ $5 USD) which we thought was super reasonable for a Disney Park. There are also lots of cute items that you can only get at DisneySea, like the green alien mochi (yum!) and seashell sea salt ice cream. The food here is an experience in itself and is super kid-friendly. Come hungry! And be on the lookout for the limited edition food and beverage items. They always have certain items you can only get at certain times throughout the year, so look for those. Hint: the popcorn and churro flavors are constantly changing and it's fun to walk around and just look at the different flavors.
And the Disney Crowds?
Ok before we go, one note on crowds. We went on a Friday in July. And we thought the crowds were super reasonable. We used this crowd calendar, which is in Japanese, but you can use Google Translate (you're welcome :)). Our date showed as yellow, a not so busy day and we found it to be pretty accurate. Check your date before you go to maximize the amount you can do.
So is it the best Disney Park?
In some ways, we think it beats all other Disney Parks (at least the ones we've been to). The theming and character experiences blew us away. We didn't experience all the thrill rides so it's tough to comment on that, but you probably have a few more options at the U.S. parks. The grab-and-go food was amazing, and rivals the food at EPCOT. If you're looking for a sit-down meal, the Orlando parks probably have the edge just due to the sheer amount of them and more resort food options. So it really comes down to what you're looking for and what parts you enjoy the most. All we can say is, if you have the chance to go – do it! You won't regret it. That and we're always around for any questions. Just drop us a comment or shoot us an email.