Portland, Oregon is outdoorsy, energetic, and artsy. There's something for everyone in this city. So how do you narrow it down if you have only 3 days to explore PDX? It can be done and we have the perfect Portland itinerary for first-timers. Covering everything from parks to food, and even a brewery or two, here's to an epic weekend in the Pacific Northwest.
Before we get into all the things to do and see, what's the best way to get around this city?
Do you need a car to get around Portland?
No, you don't need a car to get around Portland. The city is accessible through transit, biking, or walking. Of course, you can always rent a car and go at it that way, if you prefer. If you choose public transportation in Portland, you can travel by lightrail, streetcar, or bus. Each has its advantages and no matter where you're headed, one of these three methods will almost always get you there.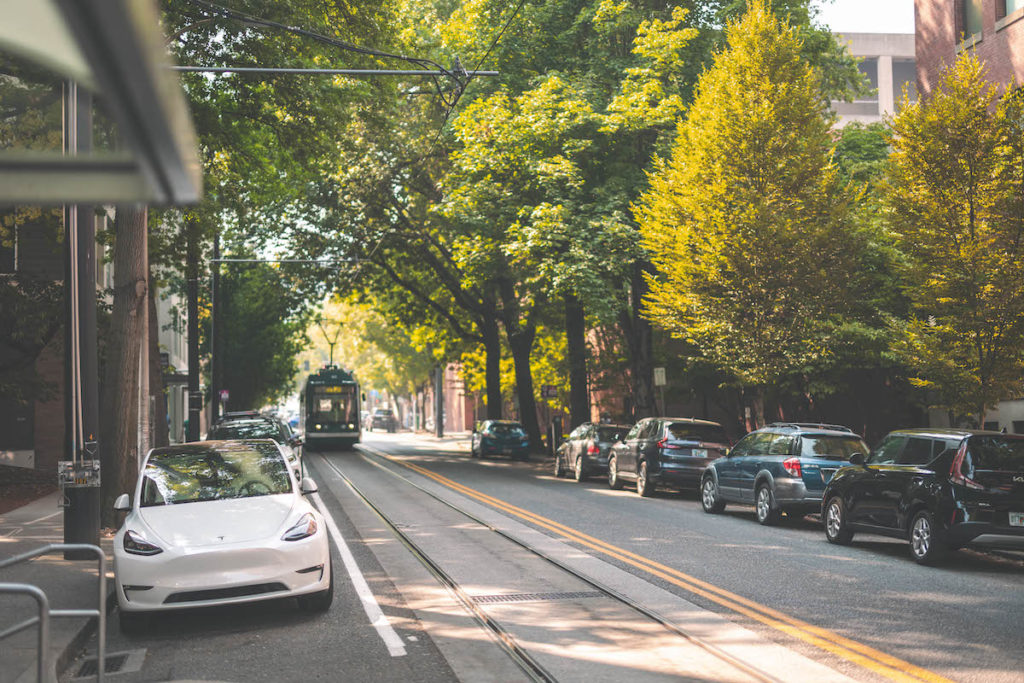 Is Portland Kid Friendly?
Portland is very kid friendly. As an outdoorsy city, you'll find plenty of parks and playgrounds. You'll also have a selection of museums, Oregon Zoo, Oaks Amusement Park, and a variety of sweet treats. And, our 3 day Portland itinerary is full of additional kid friendly activities.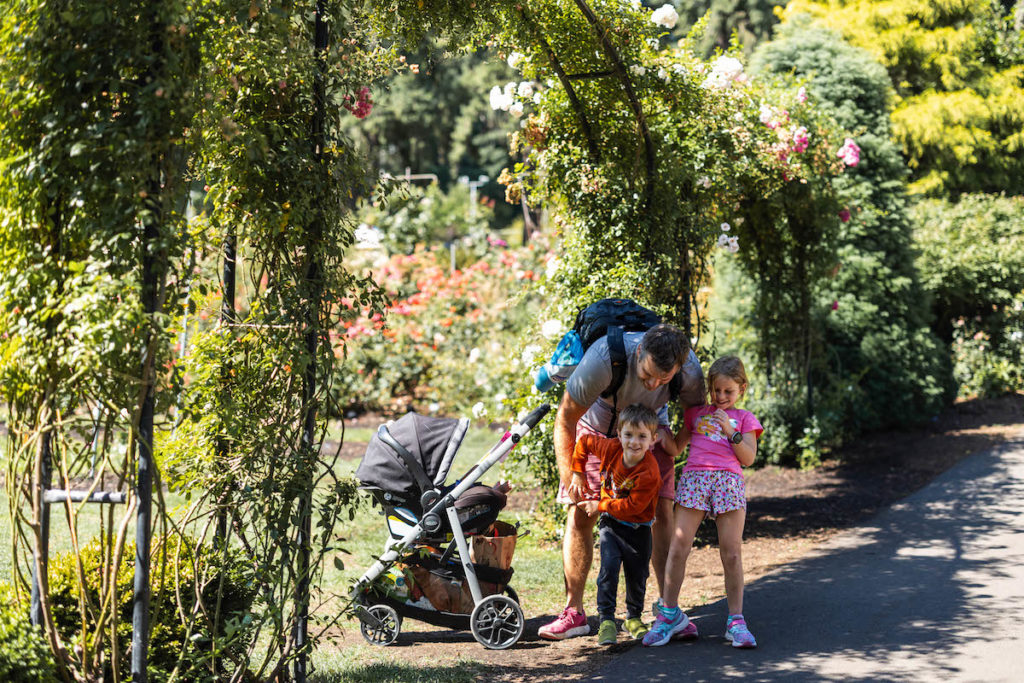 How to Spend 3 Days in Portland Oregon
When we travel, we love to have themes for our day. And this trip was no different. We'll get into that, but first I wanted to mention our strategy if you find yourself with more than 3 days in Portland. If we are going to be spending more than just a weekend in a city, we typically use the first day to get the lay of the land. No firm plans – just get to know the local transportation, ask a local for a restaurant recommendation, and stroll around for a super relaxed first day.
But when you have limited time in the destination, you may want to be more strategic about how you spend your time. Here are the highlights for our 3-day Portland itinerary.
Day 1
Voodoo Doughnut
Powell's City of Books
Salt & Straw
Bike Tour
Luc Lac
Day 2
Washington Park and the International Rose Test Garden
Breakside Brewery
Cartside Food Cart Pod
Day 3
Sesame Donut
Westmoreland Park
Ruse Brewing
Hawthorne Asylum
Day 1: All About Downtown
It's your first day, so it only makes sense to explore the heart of the city. Let's dive into some of the most popular places downtown.
Morning: Voodoo Doughnut and Powell's City of Books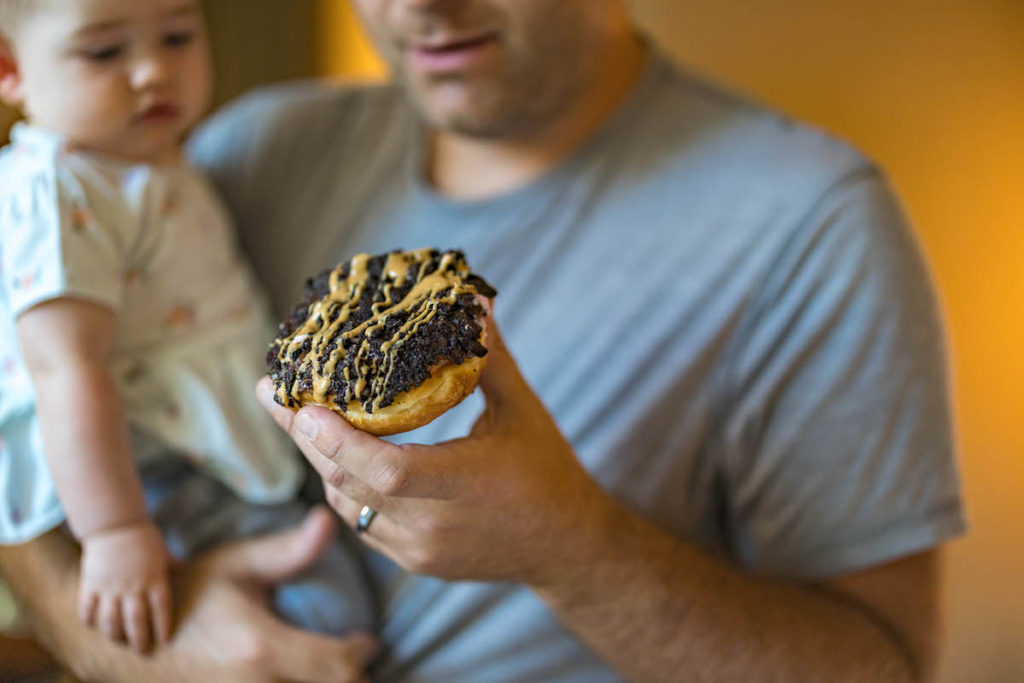 Voodoo Doughnut is a Portland institution, and a must for any tourist. Given how synonymous doughnuts are with Portland, you'll hear locals weighing in on their favorites. Everyone has an opinion. But Voodoo Doughnut has long been iconic and something every Portland visitor should try at least once. If you're on the fence, we wrote a whole post on our favorite, must try flavors at Voodoo Doughnut. Also, go early and you may not have to wait your entire morning in Portland's longest line. We recommend the Old Town location.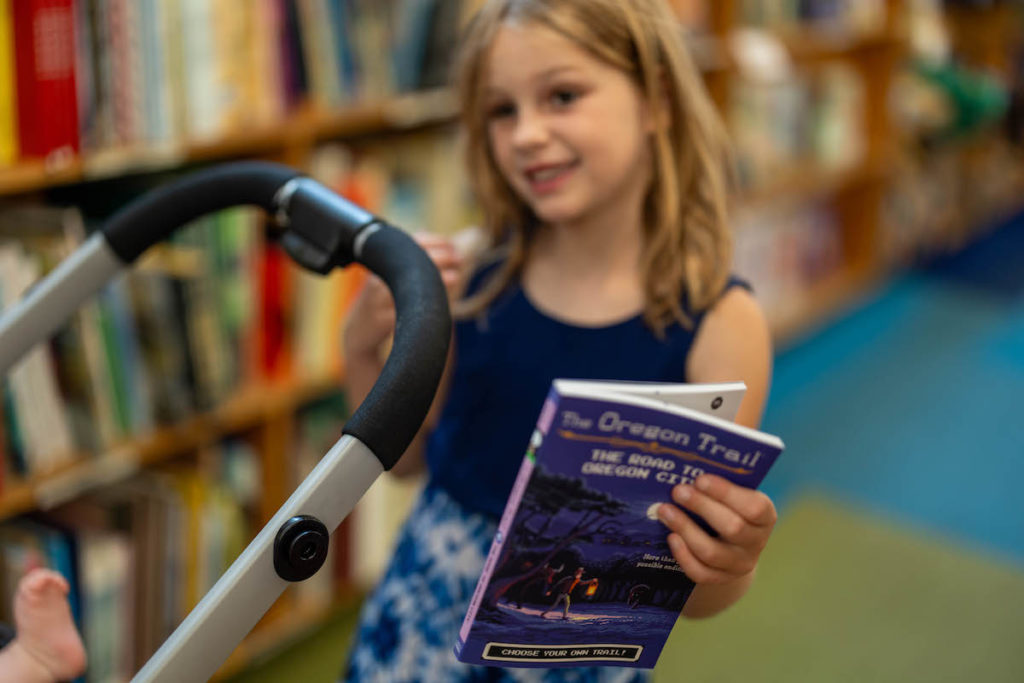 After a morning of doughnuts (and excellent coffee), head to Powell's City of Books nearby. If you haven't already heard of this place, you may be wondering why a bookstore is on your list of must-visit places in Portland. Powell's is no ordinary bookstore. It's actually the largest used and new bookstore in the world, occupying a full city block. It's home to about a million books (really), has nine color-coded rooms, and over 3,500 different sections.
Afternoon: Salt & Straw and Bike Tour
Biking is one of this city's preferred modes of transport, and one of the best ways to sightsee. Embark on a bike tour around downtown Portland to see some of the greatest hits. It's a great way to see a lot in a short amount of time. And the tour takes you by some beautiful waterfront stops.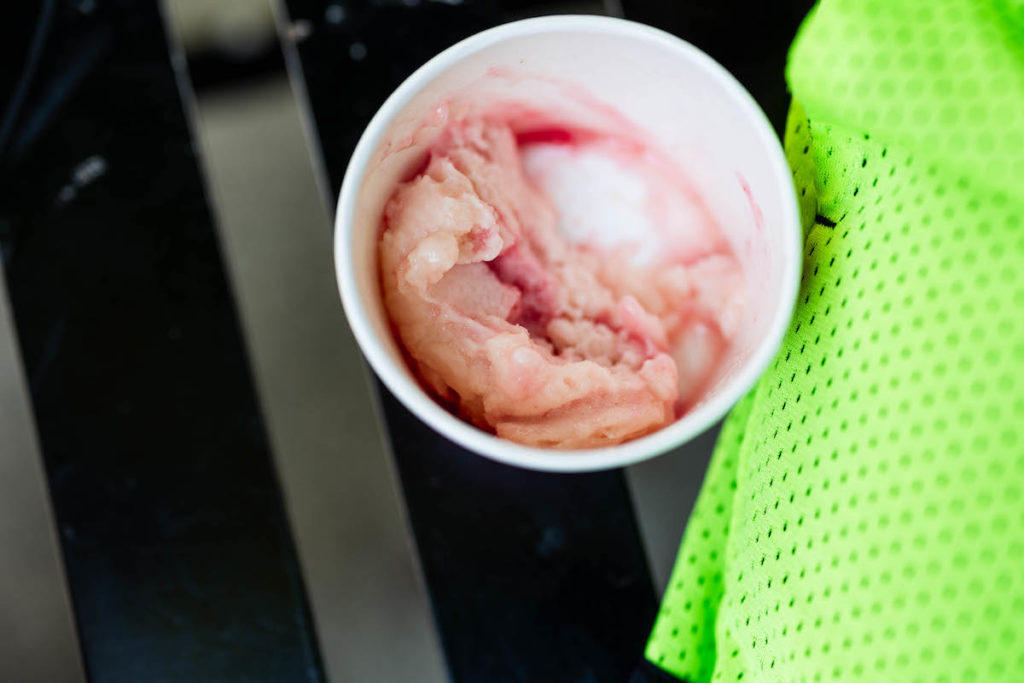 At this point, you've certainly earned one of Portland's most famous scoops of ice cream. There are multiple Salt & Straw shops, but you'll find the downtown location on 23rd street. And once there, you can pick from any of the unique flavors like Strawberry Honey Balsamic w/ Black Pepper or Pear & Blue Cheese. Check out some of the seasonal and limited time flavors as well. In the fall they have their Scoops & Skulls Series with flavors like Jack o' Lantern Pumpkin Bread and Don Bugito's Creepy Crawly Critters. Check all the wonderfully delicious Salt & Straw flavors before you visit.
Evening
What's more Portland than Vietnamese food? Ok, this isn't what most people associate with Portland. But I challenge you to try something different because Portland has a fantastic food scene. At the recommendation of our hotel, we ventured over to downtown's Luc Lac. And when we got there, the giant line told us we made the right decision. Both locals and tourists love this spot. It's family friendly and laid back.
Day 2: Outdoorsy Fun
We've made it to day 2, which we're calling our outdoor/nature day. Very Portland. For real, this city is jam packed with hiking, parks, biking, and all the outdoor feels you could want. Sidenote: if rain is in the forecast (Pacific Northwest after all), you'd do well to flip flop day 2 and day 3.
Morning
Grab a coffee from one of the popular Portland institutions, like Less and More Coffee or Deadstock Coffee Roasters. It's a great way to start your morning before heading to the first stop on today's list.
Washington Park is where you'll be spending much of the day. It's a massive park and you don't want to restrict yourself to only an hour or two here. It's about two miles west of the downtown area and easy to get to with the MAX light rail. Because the park is so huge, there's a free shuttle that runs throughout with stops near all the popular locations. We didn't know about it until we got there and wish we'd have known sooner. It makes your day much more efficient to hit everything.
As one of the country's largest urban parks, there is plenty to do and see. Check out the full list of Washington Park activities, but here are some of our favorite spots:
International Rose Test Garden: There are many gardens throughout the park, but this one is a must. It's home to over 10,000 rose bushes and 610 varieties. And its used to test new rose varieties. Fun fact: during World War, hybridists sent roses from all over the world to Portland for testing. Make sure you visit May – October when roses are most likely in bloom. Bonus points: it's free!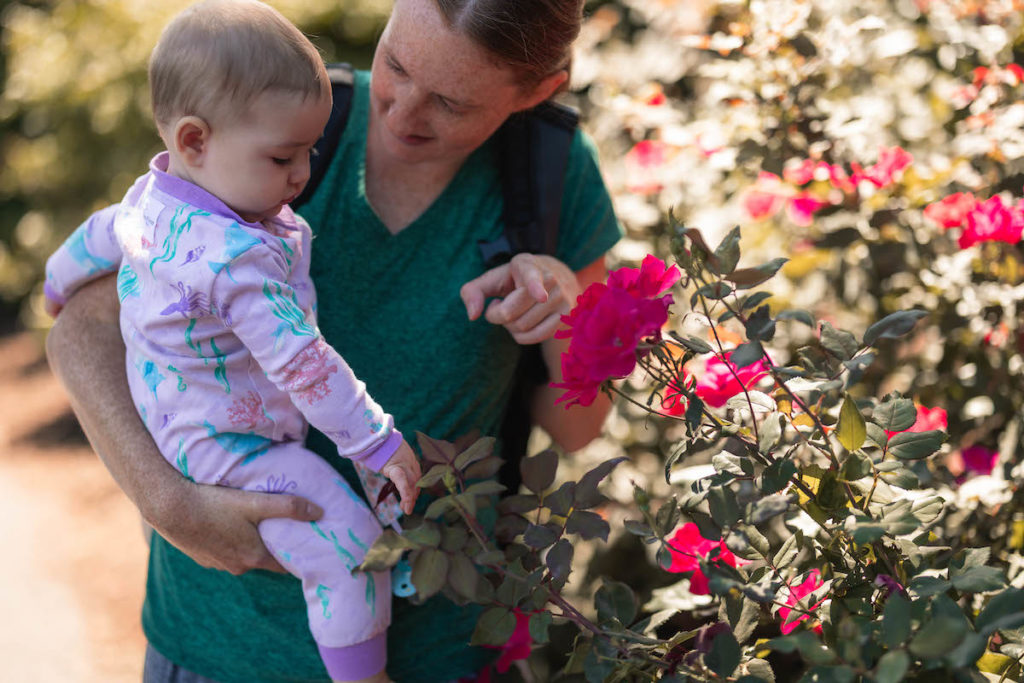 Hoyt Arboretum: aka a tree museum. Another free-to-enter area, Hoyt Arboretum is full of trails for a nice urban hike. If you are coming to this city for a dose of nature, this is a great spot to check that off.
Portland Japanese Garden: This one requires a fee, so keep that in mind before you visit. Once inside, you'll be transported to Japan with a variety of gardens such as the sand and stone garden, and the tea gardens.
Rose Garden Playground: If you are coming with littles, make sure to stop by the Rose Garden Playground. It's a large play area where they can go nuts for awhile.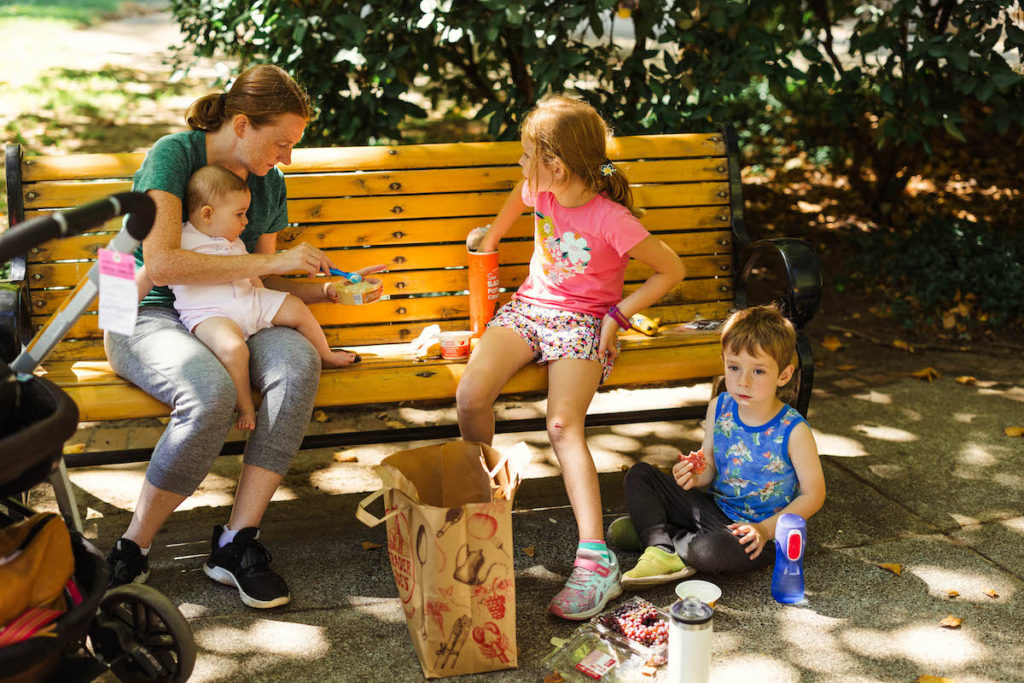 Afternoon
Washington Park will likely flow into the afternoon. And I highly recommend packing a lunch for a picnic. We stopped at nearby Trader Joes, where we picked up a bunch of goodies, but you could also grab a sando from Tanaka and take it over to the park with you.
After you finish up at the park, it's time for a break. You've probably been doing a lot of walking, so treat yourself to a nice cold brew. Portland is known for its breweries and there are so many great places to explore. One of our favorites was Breakside Brewery. Keep your outdoorsy day going by sitting outside on the patio. Make sure you try the Black and Tan 22 and pair it with a side of dirty fries. Indulgent, yes, but you did just walk around a park all morning.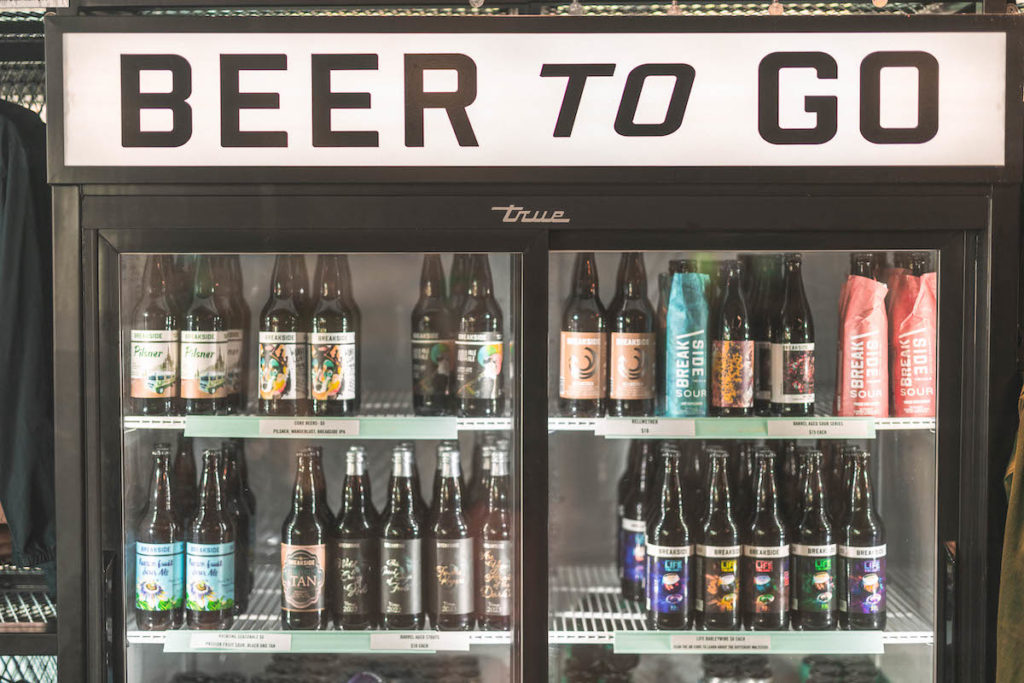 Evening
For dinner tonight, continue the outdoor fun by dining at one of Portland's food cart pods. There are so many great ones out there. Head to one of the newer options like Cartside. Here you can get everything from Mexican to Thai. They have Schwarma food cart and even one specializing in mac n cheese. And here's where you can try the popular Midcity Smashburger. You can also select a beer or cocktail from their extensive list. It's a bit off the beaten path, but well worth the trek and accessible by rail.
Day 3: Foodie Day
Portland is a food city. So why not devote an entire day to food? That's what day 3 is all about. So hopefully you consider yourself a foodie. It not, there's no time like the present.
Morning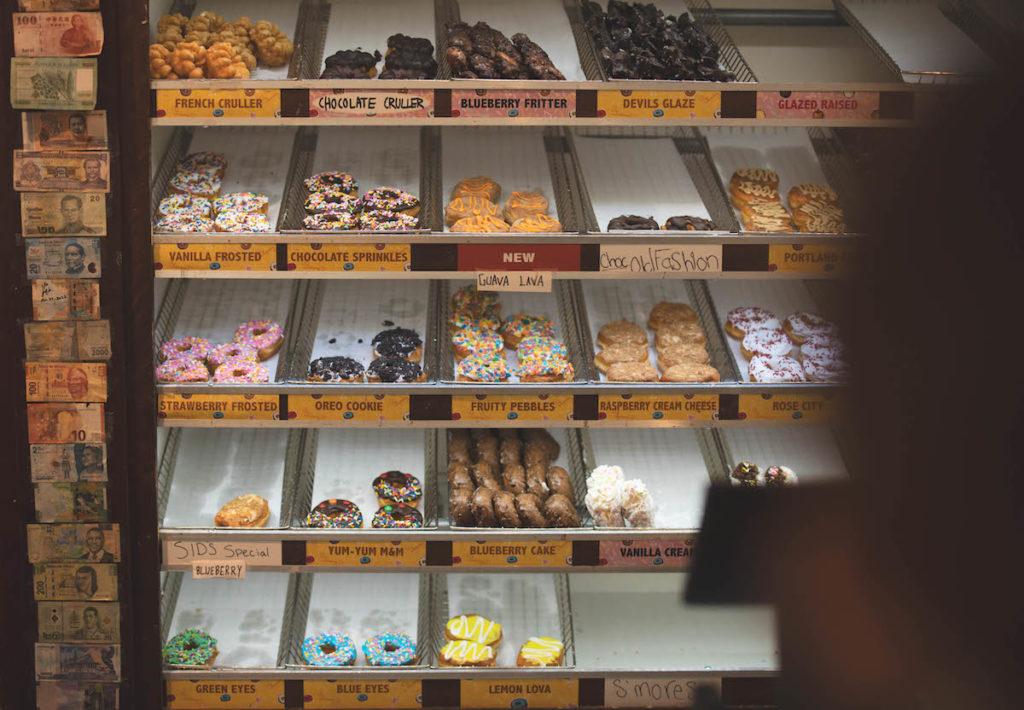 It's time to try out another doughnut shop. Voodoo Doughnut is the one that's always talked about. But Portland has so many. Our suggestion: a doughnut crawl. Yes, DIY your own or try out an official doughnut tour. Either way, Seasame Donut should be on your list. In fact, if you do the doughnut tour, that's where it starts. Sesame Donut is known for their namesake sesame doughnuts. But we also recommend you try out the Portland Cream – it's creamy, maple-y, and so, so delicious.
Afternoon
We're cheating a little bit because we can't just eat all day (or can we?). After a doughnut, or ten, head to Westmoreland Park just outside the downtown area. Another spot that is easily accessible via public transportation. It's an under-the-radar kinda park with a natural playground. If you have kids, you'll love it here for the unique playground experience. Even without kids, it's a cute little place to walk around and admire the creek, which is focused on salmon restoration.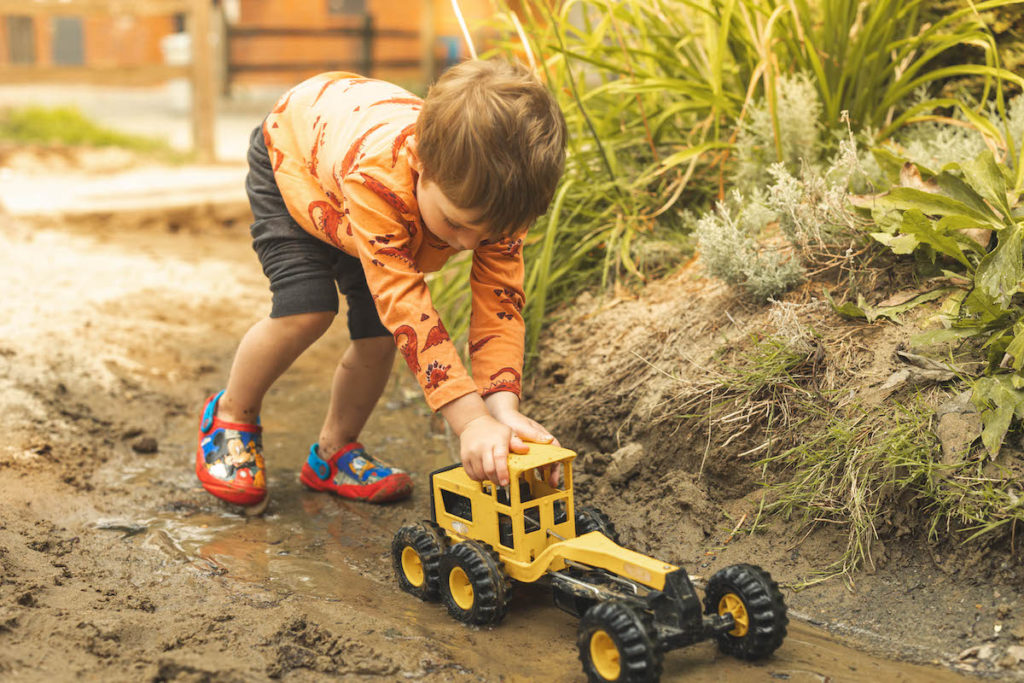 Other park options in the area for a little nature time: Laurelhurst Park and Mt Tabor Park.
When it's time for lunch (and drinks of course) head to Ruse Brewing. It's a family-friendly brewery with delicious small batch, craft beers. You can't go wrong with a hazy IPA (Portland loves a good hazy IPA). Or for something different, try a smoothie ale. Yes, it tastes like an actual smoothie. And for dinner, they serve up delicious Detroit-style pizza. There are even a few arcade games to keep the kids busy.
Evening
To round out your foodie day, it's time for another of Portland's finest food cart pods. Tonight's feature: Hawthorne Asylum. A visit to Hawthorne Asylum is visiting 10+ unique restaurants all in one spot. Some of the cart options include Rollin Fresh (sushi burritos), Dr Philly Cheesesteak, Black Dagger PDX (drinks), Tall Boy Fish & Chips, Smaaken Waffles (waffle sandwiches), Bobablastic, and Abu Omar Gyros.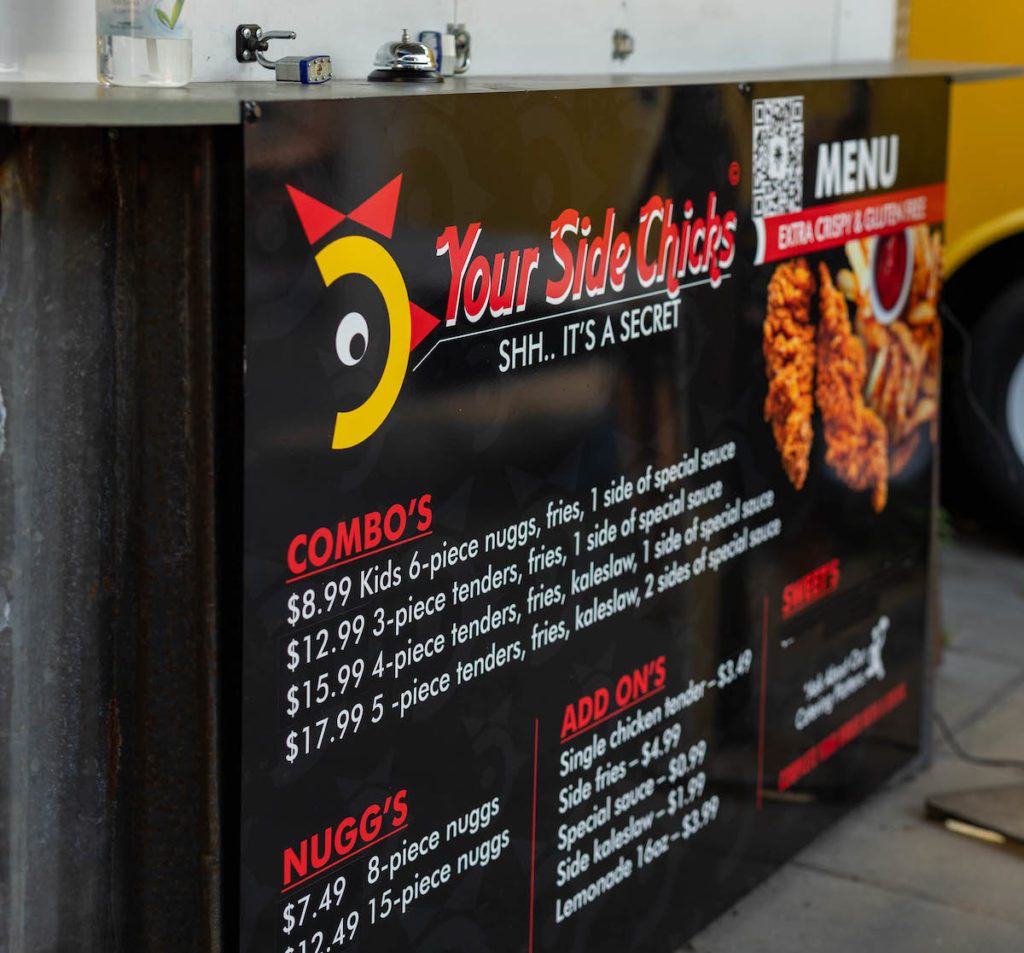 It gets pretty crowded at peak meal times, so plan your visit accordingly. The wait for the waffles was 45 minutes when we visited. And if you can't decide, do what we did. Get a cheesesteak for dinner and a sushi burrito to eat back at the hotel.
Where to stay in Downtown Portland with Kids?
The Porter in Downtown Portland is our pick for a convenient location, stylish property, and family-friendly amenities. They offer a selection of rooms and suites in varying sizes. And with kids, we love the option of having a king-size bed and sofa bed. There's also an attached part grocery, part coffee shop. And probably our favorite feature: the indoor pool. You'll be able to use it year-round and it has a whirlpool, sauna, and steam room. It's a great place to start and end your day.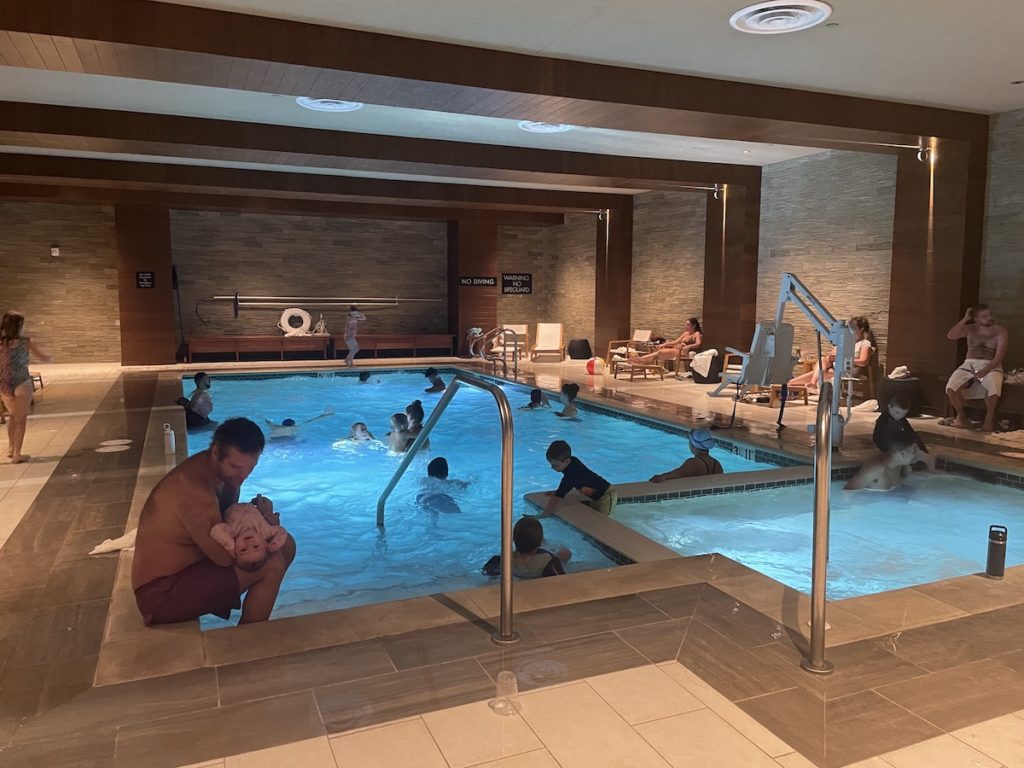 Is 3 days Enough in Portland?
You could have months in Portland and still not see and do everything. However, 3 days will give you enough time to experience some of the most popular activities Portland has to offer. Spending 3 days in Portland, you'll have the opportunity to compare donuts and see who comes out on top. You'll have plenty of time to hop from food cart to food cart. And you can visit all the nature highlights the city has to offer.
Our 3-day itinerary is just a starting point. It's meant for you to add, move, subtract – use it as a guide and then make it your own! Portland has so much to offer whether it's your first time or 100th. Figure out which activities interest you most and go from there.
Tell us about your plans! What are you most excited to do?
You may also like:
14 Best Places To Visit In January In The USA
Princess Pacific Coastal Cruise: Best Cruise For First Timers
10 Vacations For Animal Lovers In The U.S.
Best Things To Do In Grand Teton National Park With Kids (Including Our Favorite Hike)