Are you traveling to Osaka with kids? And are you looking for something to get into? Well, look no further. We're here to tell you what there is to do in Osaka with kids in tow. Hint: there is a TON to see and do. And there is at least one thing to avoid.
Is Visiting Osaka with Kids Worth the Hassle?
Osaka is an amazing city in Japan. It's a major port city about 3 hours by bullet train from Tokyo, so it's totally accessible to your family. It's known for the Osaka Castle, vibrant street food scene, modern architecture, historic shrines, and cherry blossoms. But as far as Osaka with kids? It's perhaps one of the best-kept secrets in Japan.
#1: Conveyor Belt Sushi
Depending on your kid(s) age(s), this one might be more for the parents than the kids. But we can tell you first hand, our 3-year-old was amazed at all the food just rolling by. And our infant, well, he was just happy to be watching things move. Olivia delighted in the shrimp, eggs, and soup while Mom and Dad devoured basically everything else.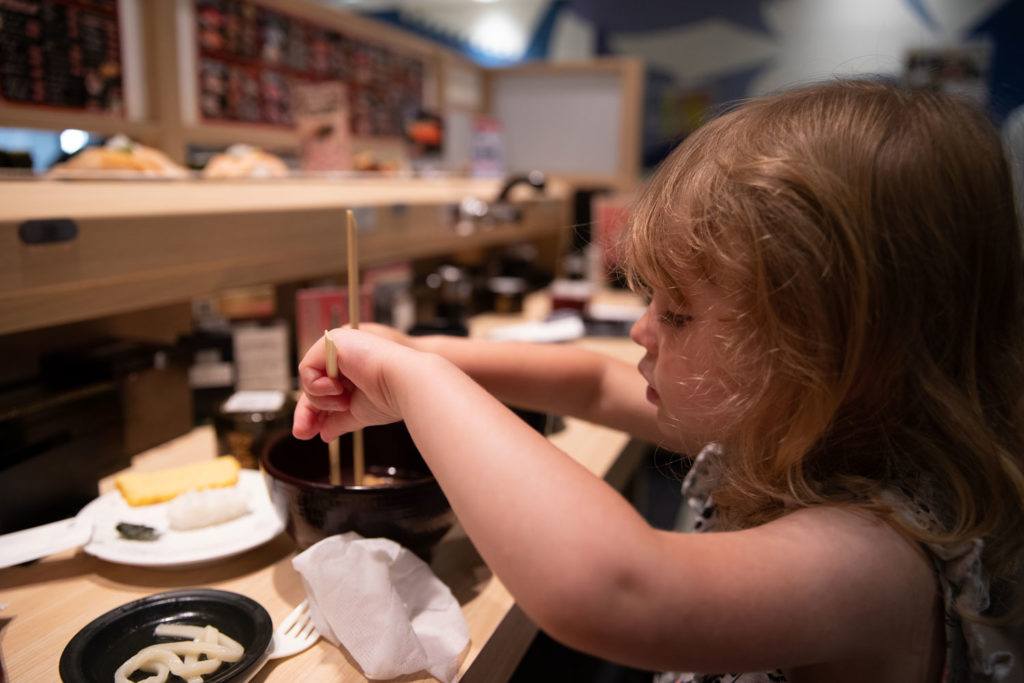 Conveyor belt sushi is a great thing for kids for several reasons: there's no waiting, it's meant to be quick, it's fascinating, and it's extremely efficient! Seriously, you roll (lol) up in your strollers, take your seat at the counter, and start grabbing rolls. They're all tiny plates (and you just pay by the plate based on color) and you grab a piece or set as they roll by! So in that way, it's super efficient – you're letting your kids experiment with new things without risking an entire meal on it. Plus, you just go until you are full.
There is nothing quite like automated, conveyor belt sushi around. The parade of food is just so mesmerizing. It's hard not to get excited about it, especially for the little ones.
#2: Osaka Castle (and the HUGE Park)
Osaka Castle is one of the most famous landmarks and parks in all of Japan – so naturally you can't go to Osaka with kids and NOT visit. Unfortunately for us, the castle portion was closed because of the G20 Summit. So we only got to visit the park. Which, don't get us wrong… that was the best part for Olivia.
Osaka Castle is a 5-story Japanese castle sitting in the center of a park that's almost a square kilometer. There's a moat around the building, and a forest as well. All that to say: it's huge. You could spend hours exploring the green space, walking the trails, and of course touring the castle itself.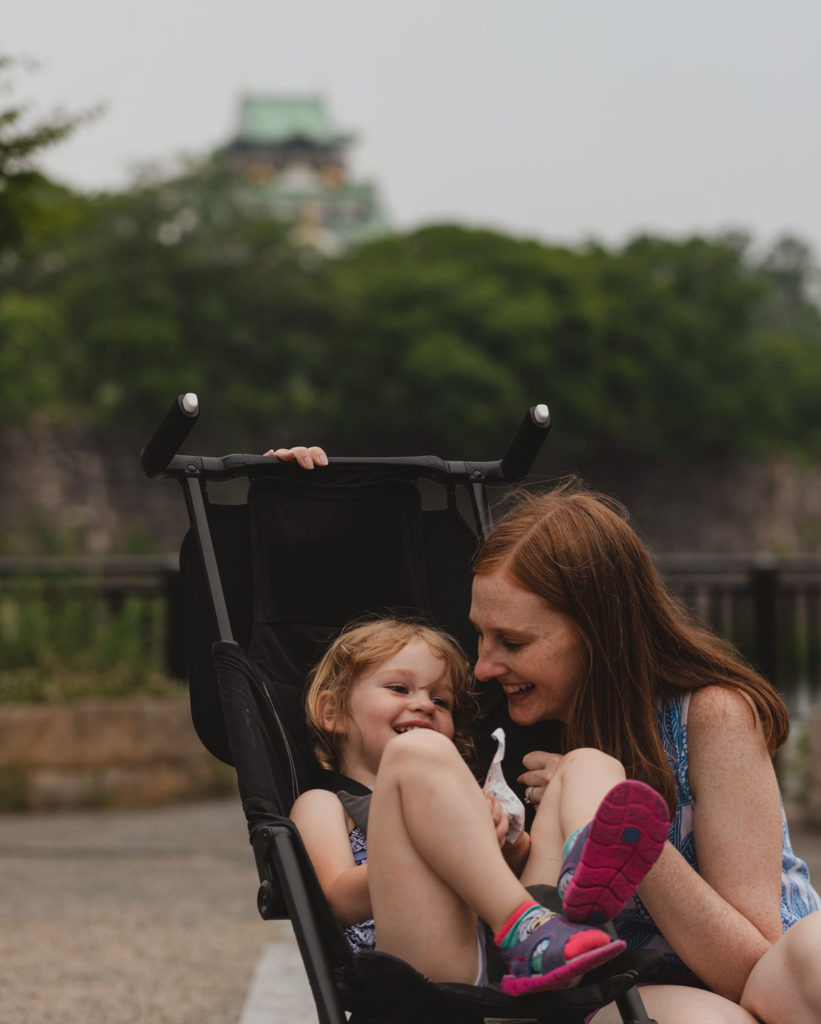 At the main entrance, there is a giant playground that we parked ourselves at. Slides, walls to climb, rope bridges, you name it. In honesty, this is one of our favorite parks/green spaces we've visited. It rivals Maggie Daley Park here in Chicago and Hyde Park in London, at least in the context of entertaining kids.
#3: Osaka Aquarium Kaiyukan
We. Love. Aquariums. And this is a great one to visit! It was a very interesting design, to say the least. They marched you up the stairs to the VERY top of the building and you take a meandering path down. You spiral down around a big center tank that is just huge. So big, in fact, that it's home to some giant rays and a whale shark! And don't worry if stairs aren't your thing (or if you have stroller) because there is a secret path to get to elevators. And the staff is SO nice and helpful.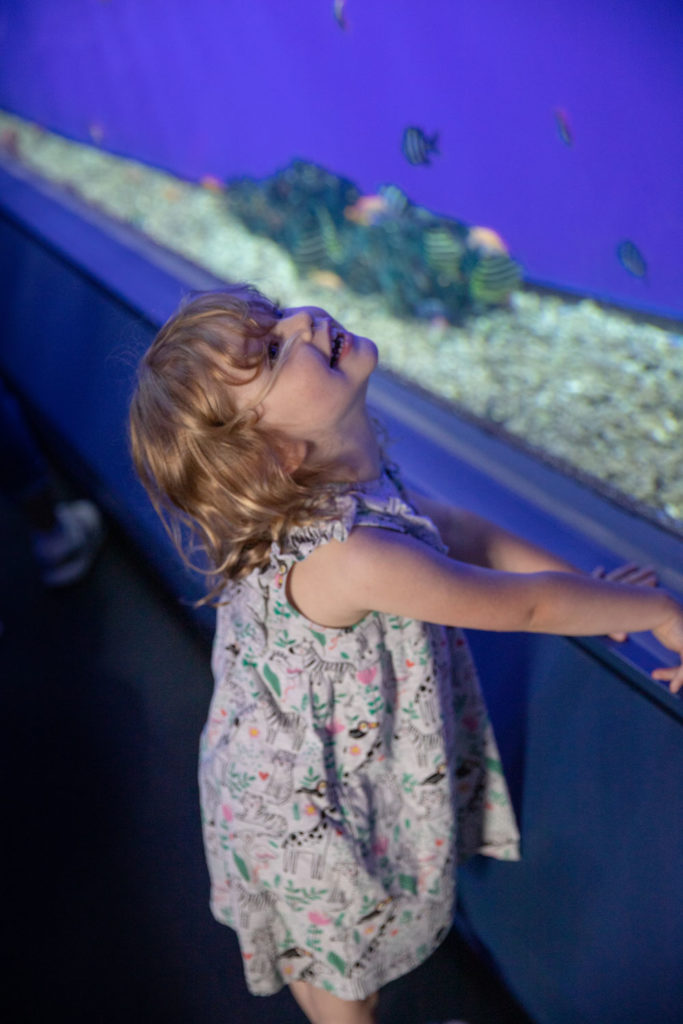 When you reach the end, there's a great interactive kids space complete with all the Finding Nemo "characters" and a petting tank with rays and baby sharks. It's such an interesting experience, to say the least.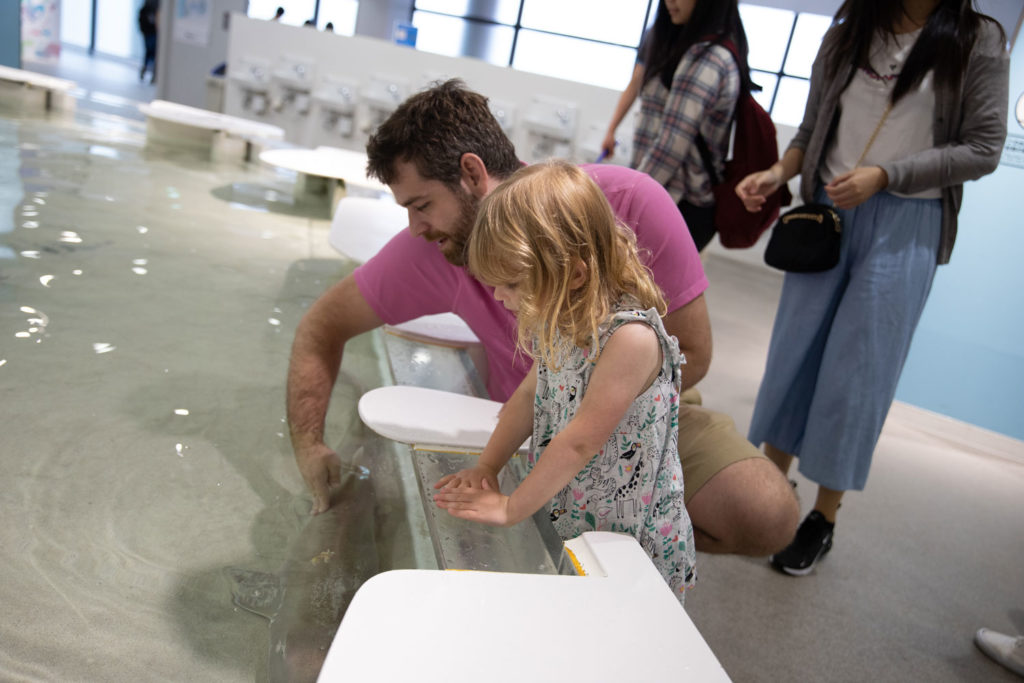 #4: Dotonbori (and the GIANT CRAB)
Dotonbori is an area of Osaka that is home to tons of restaurants, shops, and really anything you could want to do. It's super busy and crowded and amazing to watch. You're surrounded by modern neon lights and buildings as well as traditional shrines and food. It's a confluence of new and old.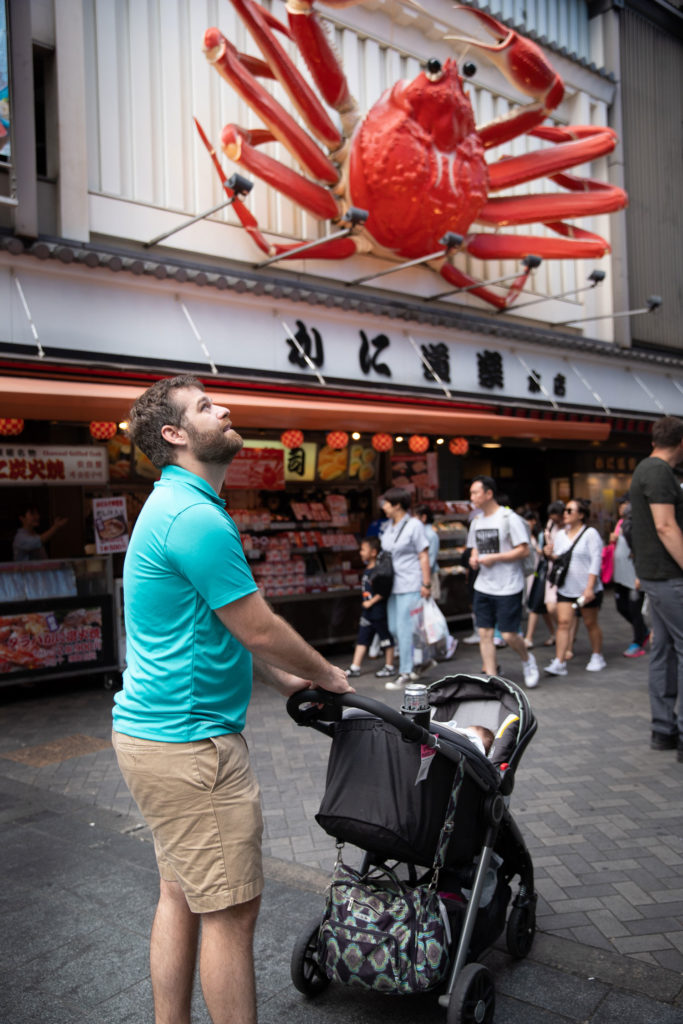 This is the area where we ate the most – many, many restaurants are worth checking out. Even some conveyor belt sushi! And don't forget to take your picture with the giant crab climbing the buildings! Your kids will certainly get a kick out of it.
#5: Visit All the Shrines
No visit to Osaka is complete without visiting shrines. There are so many of them that they're impossible to miss. The traditions and beauty are not to be understated. Shrines are great to explore with families because they're generally big open spaces that are generally enclosed but still outside. And that means one thing: kids get to move around a bit more freely. Get out their wiggles, stretch their legs, and see buildings like they've not seen at home.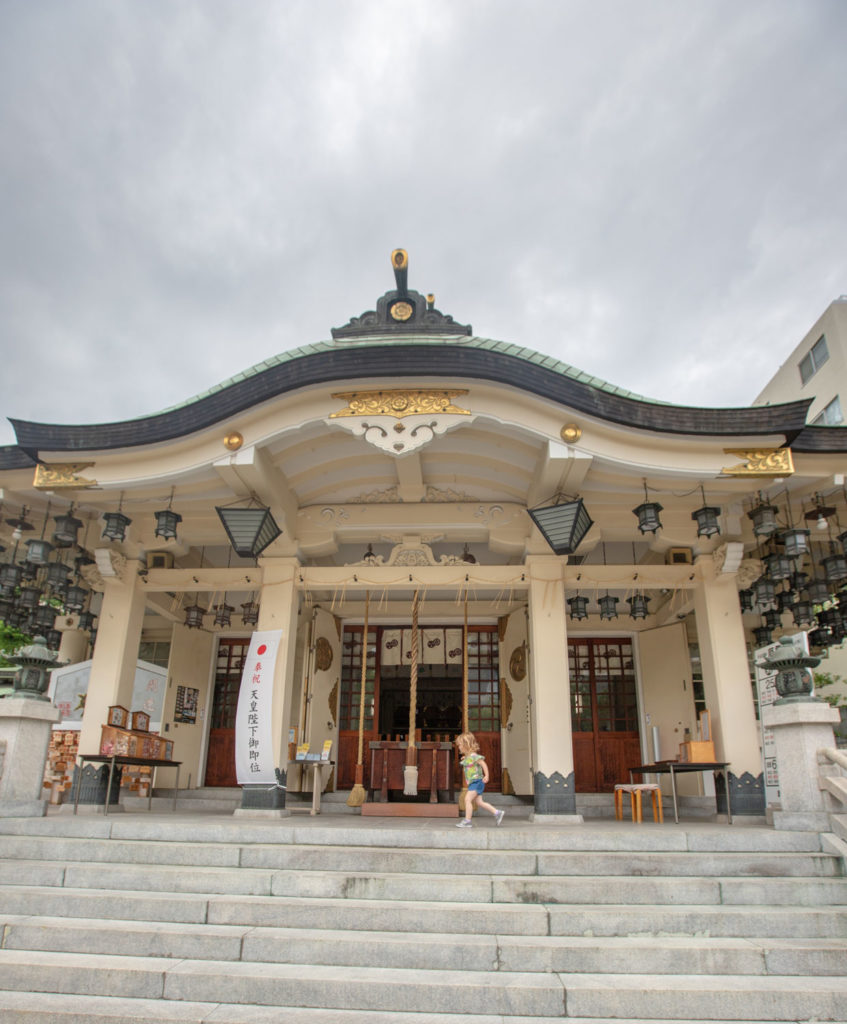 Aquariums, restaurants, parks, and such are great experiences to be sure, but when we travel, we absolutely love the cultural experiences. We try to visit many historical sites, churches, etc to really experience what makes a city tick. We hope to instill that in our kids, and maybe you can too!
What to Skip when Visiting Osaka with Kids
The Osaka Zoo. Seriously, turn around. Don't pass go, do not collect $200. We love zoos (generally) because most zoos support conservation and education. They help animals thrive. But this one? No. The cages were gross, it was hot and crowded. The animals were so sad and did not look healthy. We left after about 20 minutes because we couldn't handle it. So do yourself a favor and visit the Children's Museum instead. It'll save you from a half hour of heartbreak.
Don't Skip Osaka with Kids!
Like we mentioned, Osaka is a hidden gem for family travel. It's a huge city with big city life and perks. But there are many things even the littlest travelers can get excited about.
---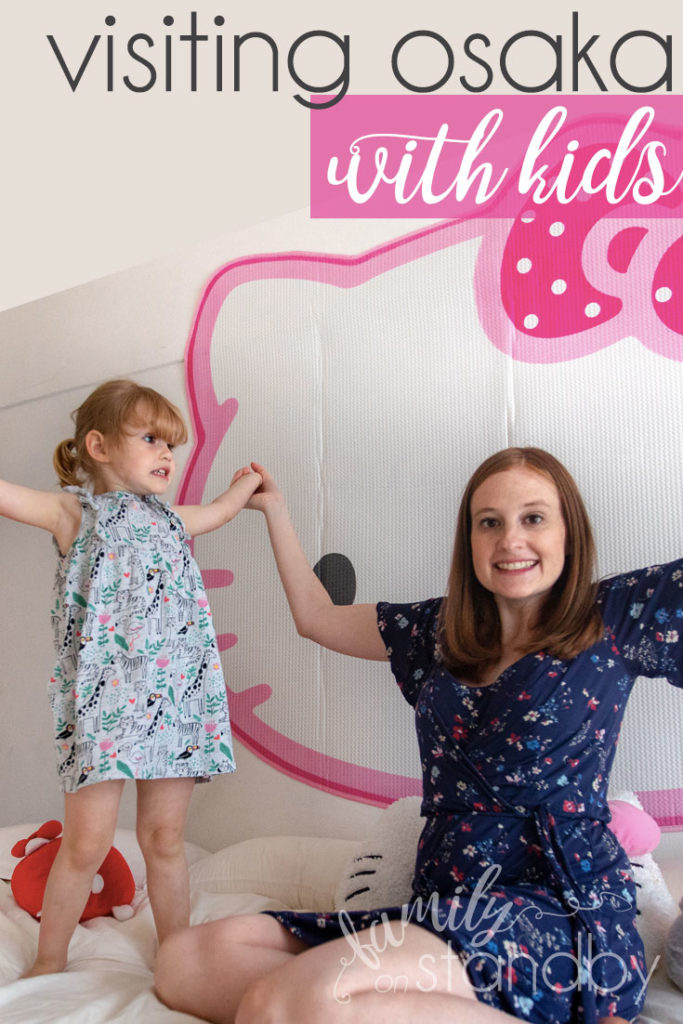 ---
More ways to follow: