Before we left for our family vacation to Japan, we searched high and low for Kyoto food tours. Bonus points if they were kid friendly. Spoiler alert: there's actually a TON to do in Kyoto with children. But one of the things we came across and were most excited for was a family friendly food tour with Magical Trip.
Why We Love Food Tours
We love food tours for a couple reasons. The most obvious is because, well, we love food. More specifically, we love experiencing new foods. And we love exposing our kids to new foods. We also love food tours because it's a great way to get to know the local culture. Often there is a history behind certain foods or other unique aspects that are important to its people. And you can sample many of these popular foods in a short amount of time – another major perk! Which is why we set out to see if we could do a Kyoto food tour with kids.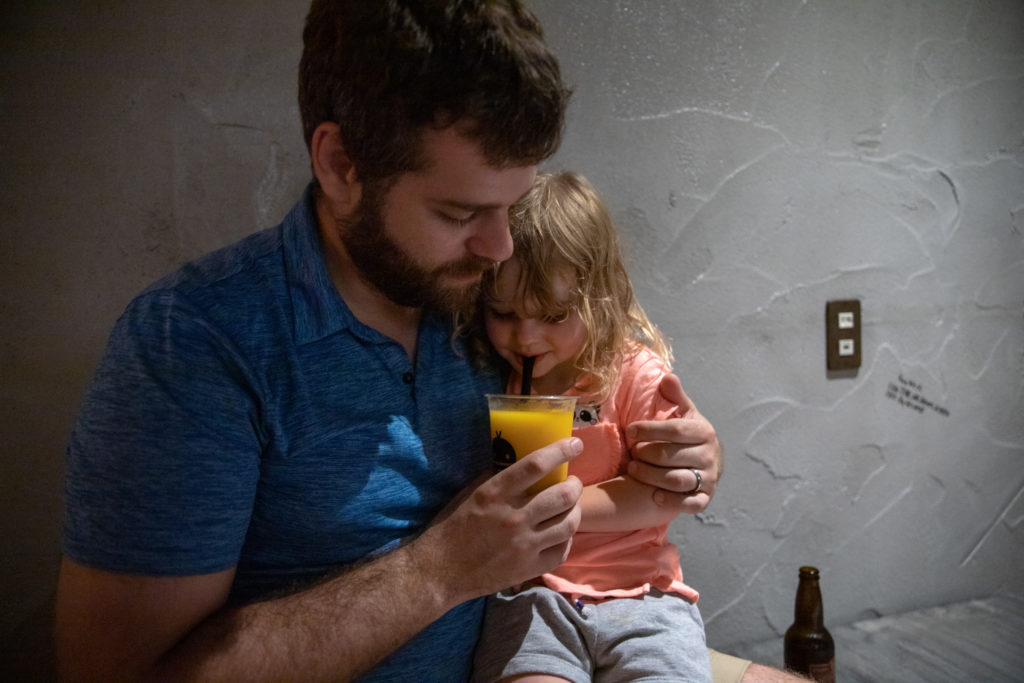 For us, scheduling food tours can be tricky because we have two young kids and we never know how they are going to act on a food tour. Especially when we're on a group tour with other folks, it can sometimes give us a little bit of anxiety knowing we can't be flexible with stops or that other participants may not be entirely thrilled with kids running around. That's why we were super excited when we came across Magical Trip during our research. They offer a Kyoto Night Foodie Tour and the awesome part is that it says right on their website that it's "A family-friendly experience for travelers interested in Kyoto's local foods". Ok, we're sold.
What's Magical Trip?
So clearly we couldn't turn down that experience. Two of our very favorite things – kid friendly activity and food! Let me tell you a little about what you get and then we'll tell you more about our experience. First things first, their website does an excellent job of detailing everything you get. There are reviews, pricing, amount of time involved, english speaking guide, group size, pricing, and what's included among other things. You can see the tour is 3 hours (the perfect length for kids) and includes enough for a full dinner.
We also liked that they tell you that you'll have an english speaking guide. You can read all about it on their website, but the amount of information is just great. They even offer info on the guides and videos (see our video below!). Moral to the story the Magical Trip website is great and it'll let you know exactly what you're getting with the Kyoto Night Foodie Tour. Now, on to our experience.
With this tour specifically, you get 3 restaurants, 3 drinks, and 3 hours with a local guide. This is the part where we add an asterisk that each tour is different, but this is what was included on the Kyoto food tour. So what did we do and was this Kyoto food tour good for kids? In short, yes, it's great for kids (and if you're more of a visual person, you can see the whole experience in our video). But let's get in to some of the details.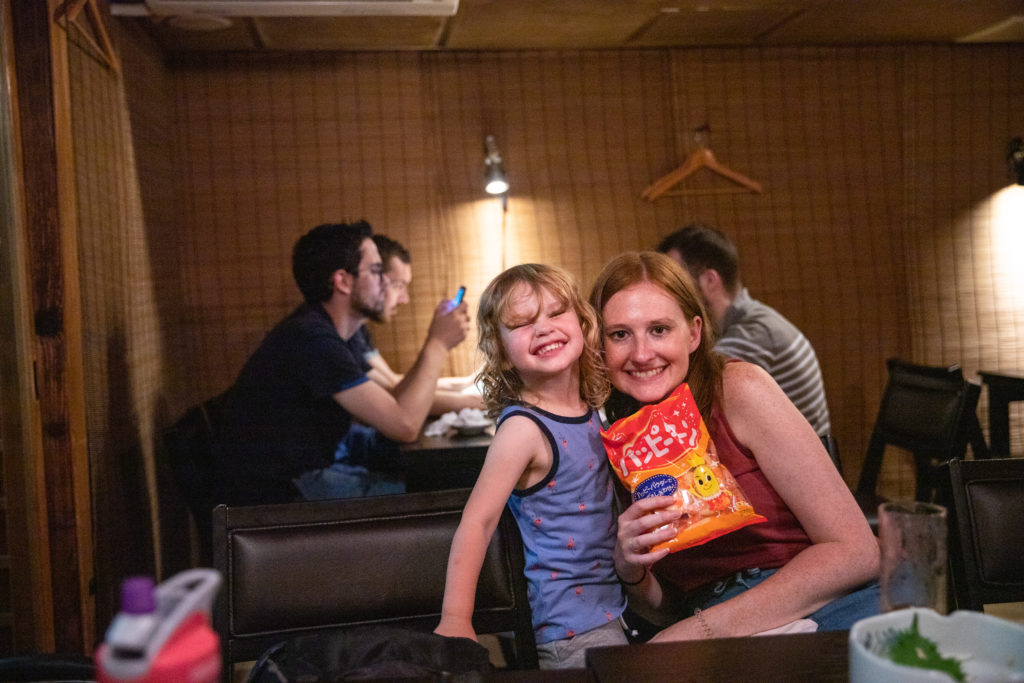 The Gion District
When you're looking for Kyoto food tours, make sure it includes a stop in the Gion District. This was our first stop and it was just beautiful with such a laid back, traditional feel. Random sidenote: you'll also learn some of the history on the way to each of the restaurants. We learned all about teahouses in Gion. Once we got to the first restaurant, we took off our shoes and sat at a traditional table over tatami mats. They give you a menu and you can pick two food dishes + one drink. The plum wine is just fantastic – highly recommend.
We each tried to get something different and there were all kinds of different foods so everyone, including kids, would have options. To give you an idea they offered the traditional Kyoto dishes like oden, tofu skin, and obanzai. As well as fried fish, chicken, sashimi, and a few others things. The food was fantastic and our toddler loved it – especially the oden stew/soup and chicken. It was a really cool look at some of the must eat foods in Kyoto.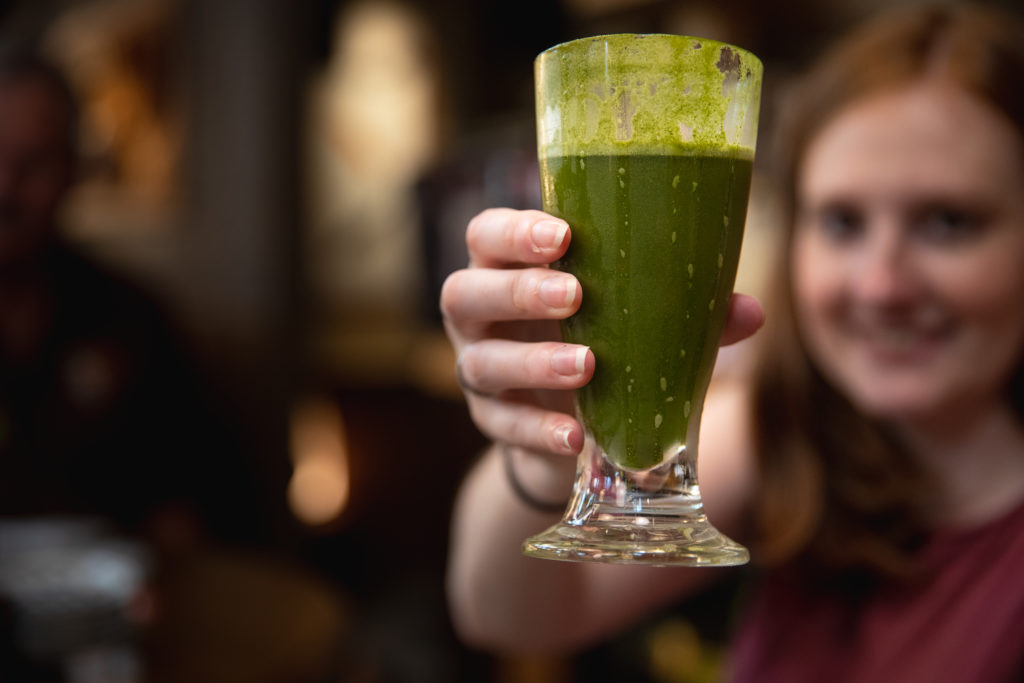 Next Up: Pontocho
Next, we journeyed over to the Pontocho area, which is super lively and fun! Each of the restaurants is pretty close and about a 10 minute walk (with strollers!) in between. This second restaurant seemed more busy and had a little more energy to it, whereas the first was pretty laid back. Here, it was all about tempura. You could select one drink and one tempura item, though each of the tempura dishes had multiple pieces. For drinks, two of the choices were matcha beer and a matcha sake cocktail.
Kids were not left out and had the choice of non-alcoholic beverages. They even had ginger ale, which was fun for our toddler. The matcha beer is something you have to try. It's just so unique and while we all agreed one was pretty much our max, it's a really cool experience. And of course, as you'd expect, the tempura was delicious.
And Now for Dessert!
Ok, now for the last place. We weren't entirely sure what to expect after we were really full, but we ended at a little dessert place/cafe/bar. I don't full know how to describe it because they offered dessert, coffee, and craft beer. A little something for everyone! We ordered a variety – some craft beer, some espresso, and a delicious smoothie for the little one. It was really fun and had such a great vibe. We got to chill on couches which was perfect for kids, and the smoothie was so tasty – we kind of wish we'd ordered that for ourselves. OH, and they had matcha cheesecake. Yum yum!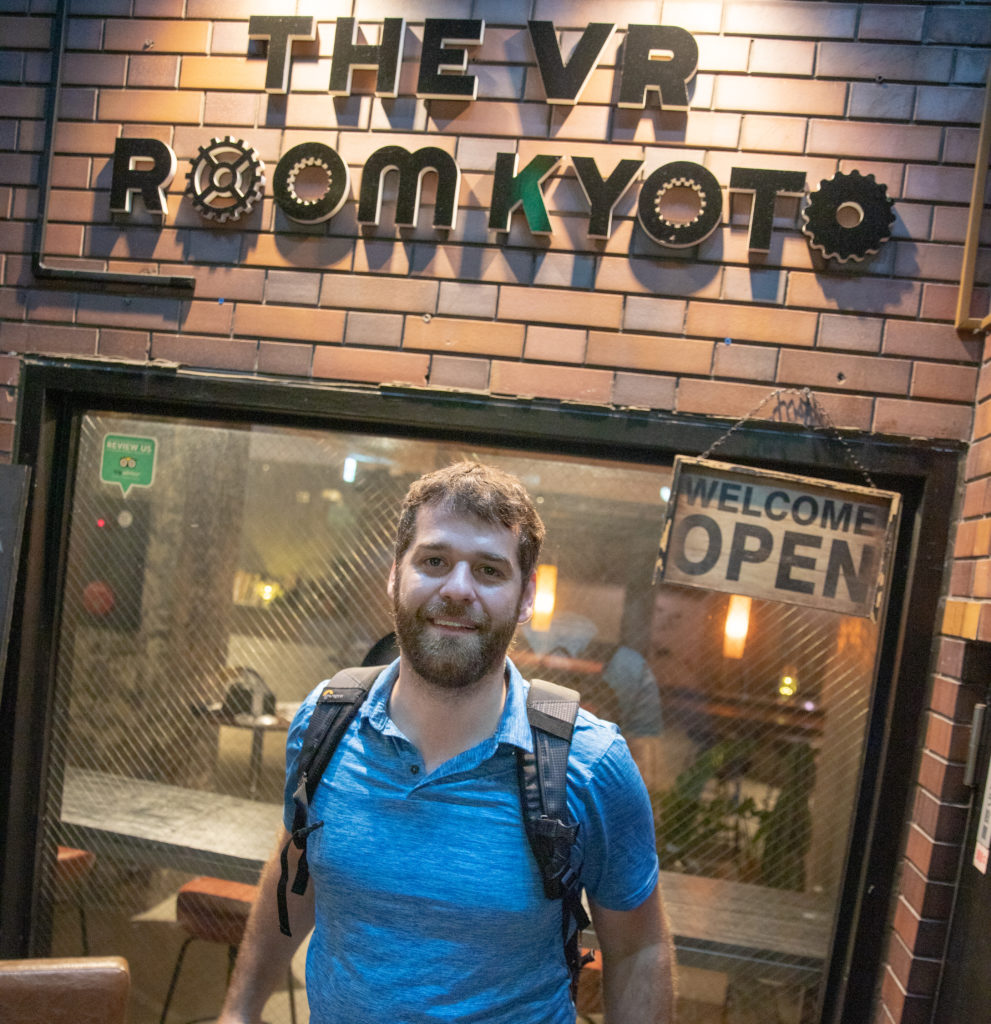 After that, we parted ways and made the journey home. A little about our guide – her name is Saki and she was fantastic! She was so great with the kids, stayed a little (way!) longer than the three hours, and was super knowledgeable about Kyoto. She even offered some ideas of things to do in Tokyo with kids, which is where we were headed next. We love you, Saki!
She was totally a local – born and raised in Kyoto – through and through. And she took us around as if we were her best friends visiting her home city for the first time. It was super cool.
Have You Done Any Kyoto Food Tours?
We are always trying to find ways to do food tour with kids and were searching everywhere for things to do in Kyoto with kids, so we wanted to share our experience to maybe help other families. Check out the video and let us know if you've ever done a tour with Magical Trip, or even just a different food tour with kids. We want to hear about all your experiences (and get some ideas of tours we can do in the future).
Full disclosure, Magical Trip gave us the tour for free, but otherwise no compensation was given. All the opinions are ours with no outside influence. Any links from us are just links for convenience – no compensation for us!
For more on Kyoto with kids: