Voodoo Doughnut is the wacky, punkish bakery that has taken Portland by storm. Its quirkiness has prompted a cult-like following. Is the hype worth it? Are the doughnuts as good as they say?
From their signature Voodoo Doll donut to the bacon-covered Maple Bar, each treat is crafted to be a flavor and visual sensation. Some critics argue that the long lines and Instagram frenzy surrounding Voodoo Doughnut is unjustifiable. Others claim the extreme toppings make this iconic doughnut shop worth the wait.
So which is it? Whether you're a tourist or a Portland native, we've got a pros and cons list to help you decide if it's a must or a must-skip.
How Long Has Voodoo Doughnut Been Around?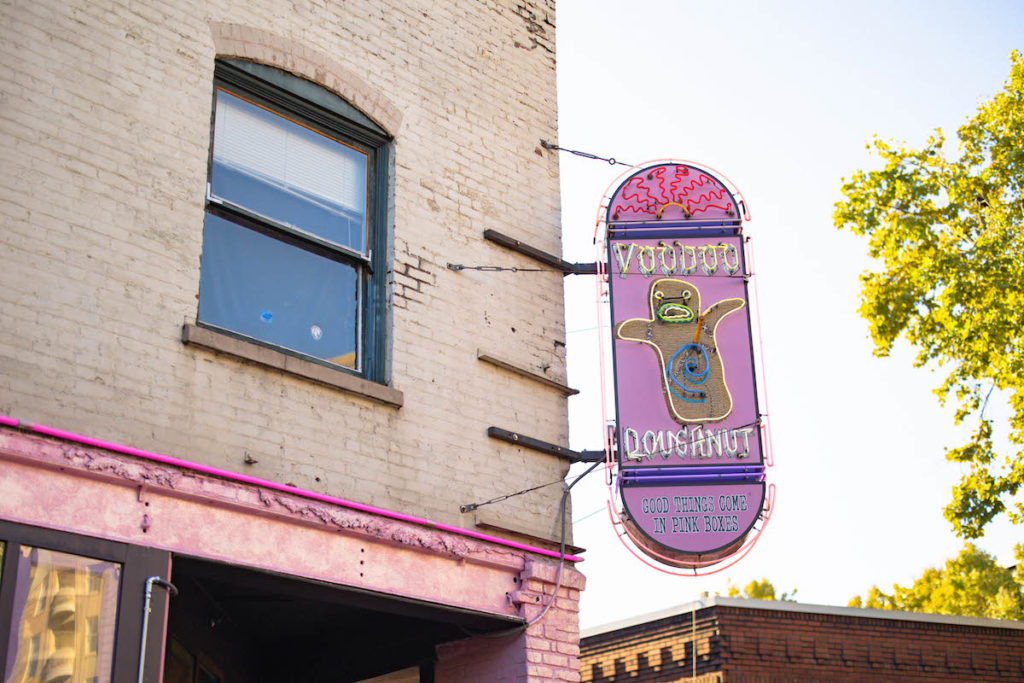 Voodoo Doughnut was founded in 2003 by friends Kenneth "Cat Daddy" Pogson and Tres Shannon, who wanted to create a unique and unconventional doughnut experience. Their vision became a reality when they opened the first Voodoo Donuts location in downtown Portland.
From the beginning, Voodoo Donuts stood out from traditional donut shops. The menu featured unusual flavors and Instagram-worthy designs that quickly captured the attention of locals and tourists. As word spread about their innovative and flavorful creations, Voodoo Doughnuts became a must-visit destination for any doughnut enthusiast.
Since the first shop opened in Portland, Voodoo Doughnut has expanded across the country. If you aren't in the Portland area you can also find shops in Colorado, Texas, Florida, California, Arizona, and throughout Oregon. But if you want the original experience, make sure to seek out the location in Portland's Old Town.
Voodoo Doughnut Best and Most Unique Flavors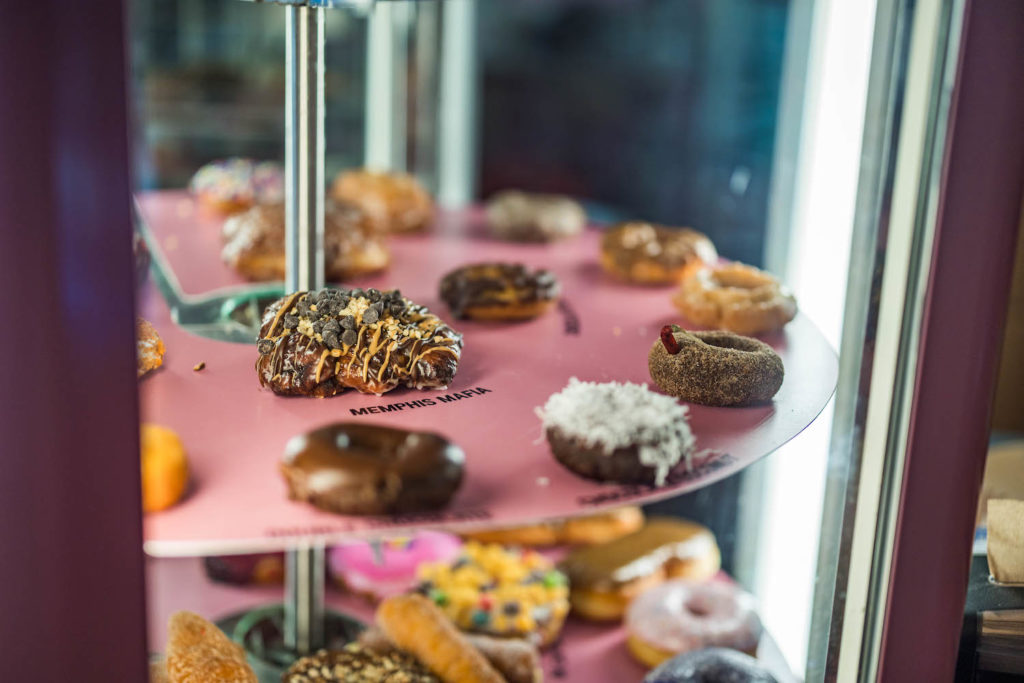 One of the main reasons why Voodoo Doughnut has gained such a devoted following is the wide selection of creative flavors. They of course offer the classics: glazed old-fashioned, buttermilk bar, and sprinkle cake for example. But they've also introduced more adventurous options like Viscous Hibiscus, Mango Tango, and Grape Ape. Whatever your jam, there's something for you. Probably literally even jam.
One thing that sets Voodoo Doughnut apart is their willingness to experiment with unexpected combinations. The Memphis Mafia for example is an everything-but-the-kitchen-sink kind of concoction full of fried dough, banana chunks, cinnamon, glaze, chocolate chips, peanuts, and chocolate and peanut butter drizzle. Voodoo is known for its range of wild doughnut toppings.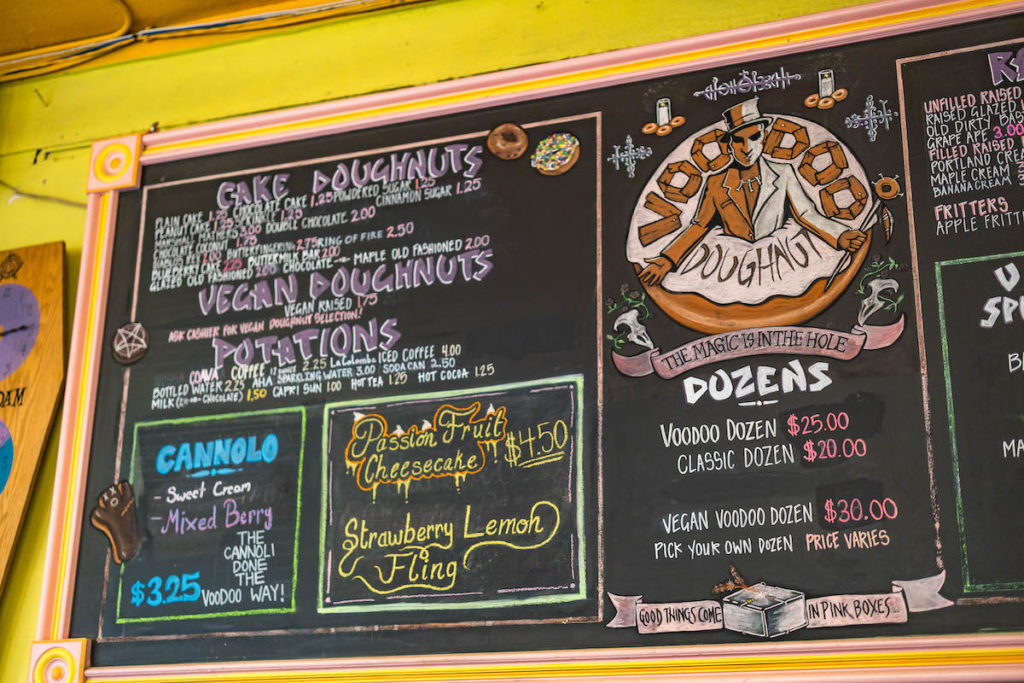 Here are some of the other creations on the more unique side: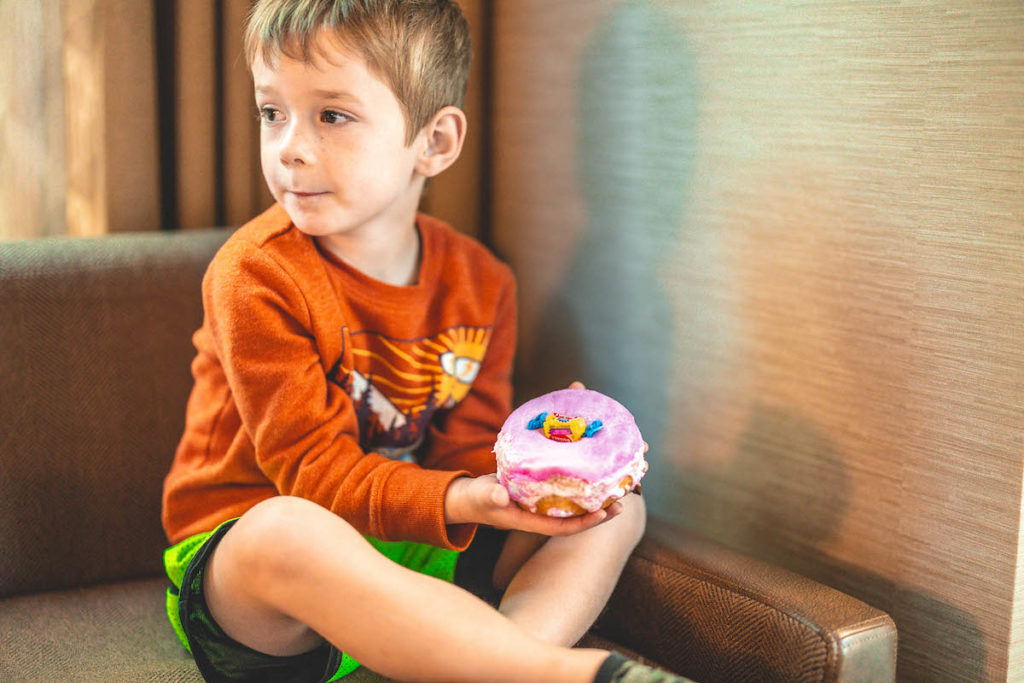 And we of course can't leave off the iconic Voodoo Doll donut. Shaped like a voodoo doll with a pretzel stake through the heart – yes it screams "signature doughnut". It's also filled with raspberry jelly and topped with a layer of chocolate frosting.
The Iconic Pink Box
When you think of Voodoo Doughnut, it's hard not to picture their iconic pink boxes. Ok, I actually didn't know these were a thing until we visited. But soon after our inaugural visit, they became instantly recognizable when passing someone on the street with one. So what's the story here?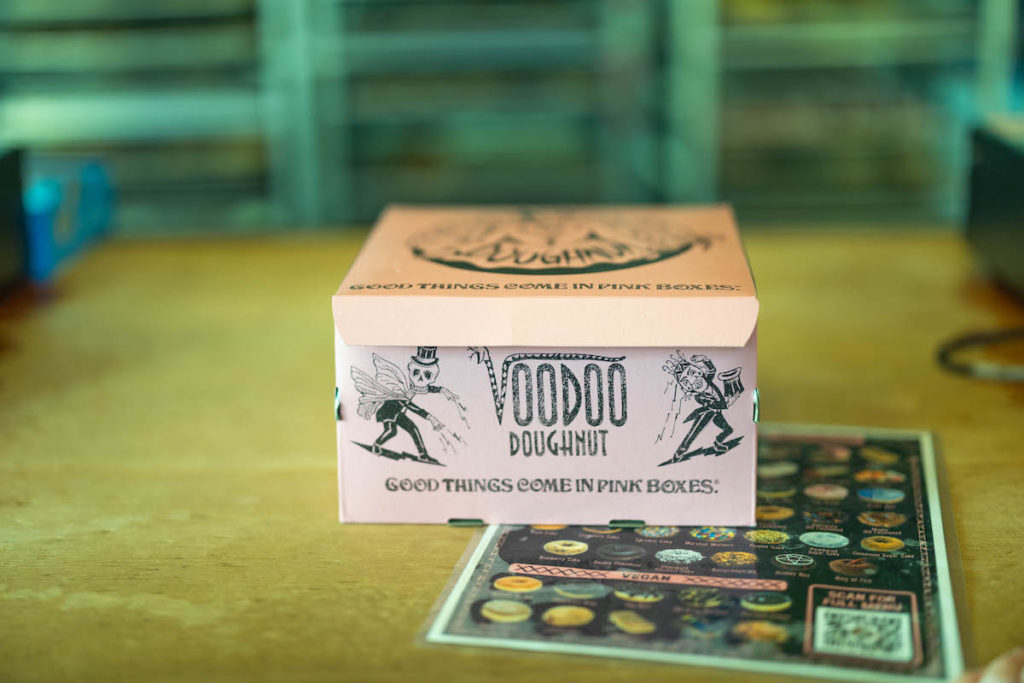 The pink boxes were chosen by the founders to stand out and add a whimsical touch. They wanted customers to feel like they were receiving a special gift. Tiffany has their blue boxes and Voodoo Doughnut has pink boxes.
So when you see someone strolling around town with a bright pink box, you know they are about to experience something magical (or already experienced something magical and decided they needed more of that in their life).
Lines and Wait Times
When we visited, we were jet lagged and up at the crack of dawn. So we arrived when it opened and were basically first in line. Lines are pretty much an expectation at Voodoo Doughnuts – especially if you plan on visiting the original location. To avoid lines, try visiting during off-peak hours. They only let a few people in at a time (for the Old Town location at least) so this is part of the reason lines build quickly. Also, Voodoo Doughnut has become a must for tourists, so this is another reason for longer lines.
The wait is totally worth it, but something to keep in mind. If you are expecting to run in for a quick doughnut and cup of coffee, you may be in for a longer wait.
Comparing Voodoo Doughnut to other donut shops in Portland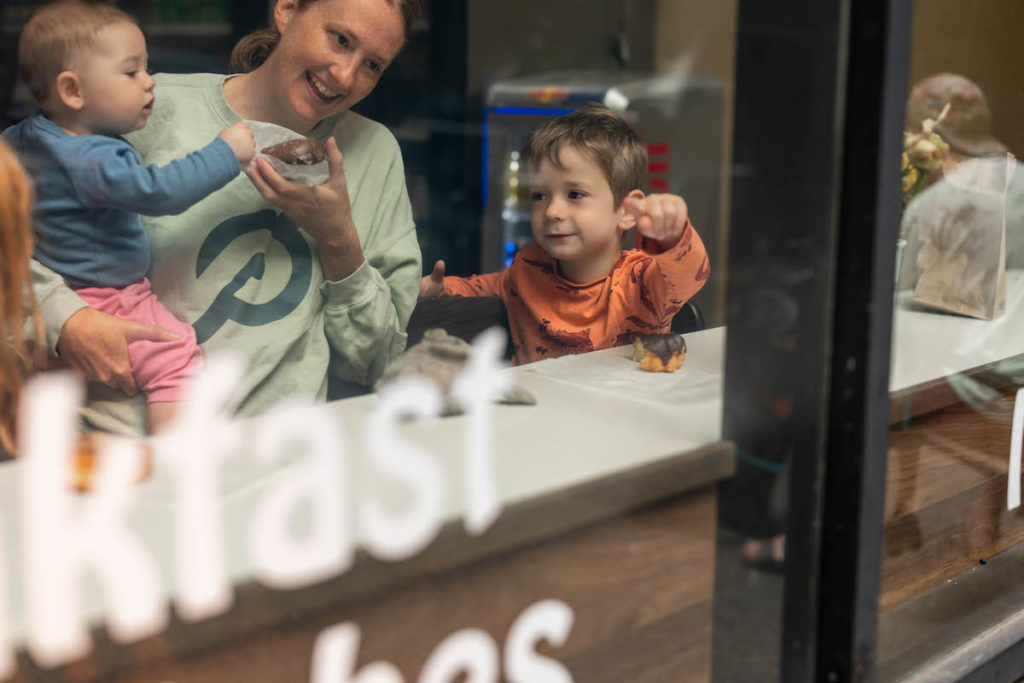 Portland is no stranger to great donut shops. When visiting the city, grabbing a doughnut, or two, or ten should be on your list of activities. And during the course of your research, you'll probably come across Voodoo Doughnut as one of the most popular. But there are SO many great doughnut shops in Portland. How does Voodoo Doughnut stack up against all the others?
Well, Voodoo Doughnut is at the forefront when it comes to creativity. Bold flavors, artistic designs, and original combinations set it apart from more traditional donut shops. And if tradition is your thing, I highly recommend visiting Sesame Donuts. They are another popular spot in Portland and they drill down on a fresh, high-quality treat. Plus, their coffee is great, too. When we visited they threw in a couple of free Sesame Donuts for us to try while we were being indecisive. Excellent service is a focus here, along with consistently delicious donuts.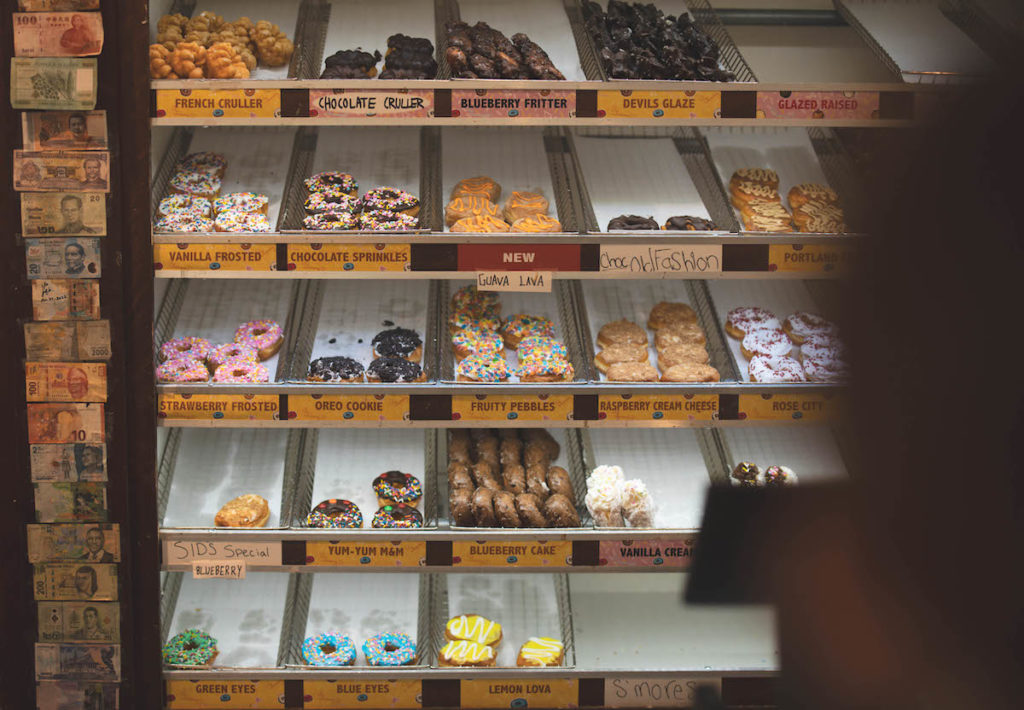 If you're looking for that unconventional style, another option is Blue Star Donuts. With flavors like Blueberry Bourbon Basil, Crispity Crunchity Maple Bar, White Chocolate Cherry Creme Brulee, and Orange Olive Oil, you have something on equal grounds as Voodoo Doughnuts. Which is better? Well, that's a matter of opinion. Some prefer Voodoo, some prefer Blue Star. Ultimately, it comes down to personal taste and what you're looking for in a donut. You pretty much can't go wrong either way, and really, why not just try them both?
Some other highly-rated options that many claim to be equivalent (or in some minds better) to Voodoo Doughnut are Coco Donuts, Pips Original Doughnuts, and Doe Donuts.
Take a Doughnut Tour
If you are overwhelmed with options and wish there was a way to try them all, or at least make a dent, go on a doughnut tour. You could of course DIY this yourself, or take an official tour with a group. Viator offers the only Underground Donut Tour. We saw the tour during our stop at Sesame Donuts, and I only wish we had known about it sooner. They hit many of the popular spots including Sesame Donuts, Coco Donuts, Blue Star Donuts, and of course, Voodoo Doughnut.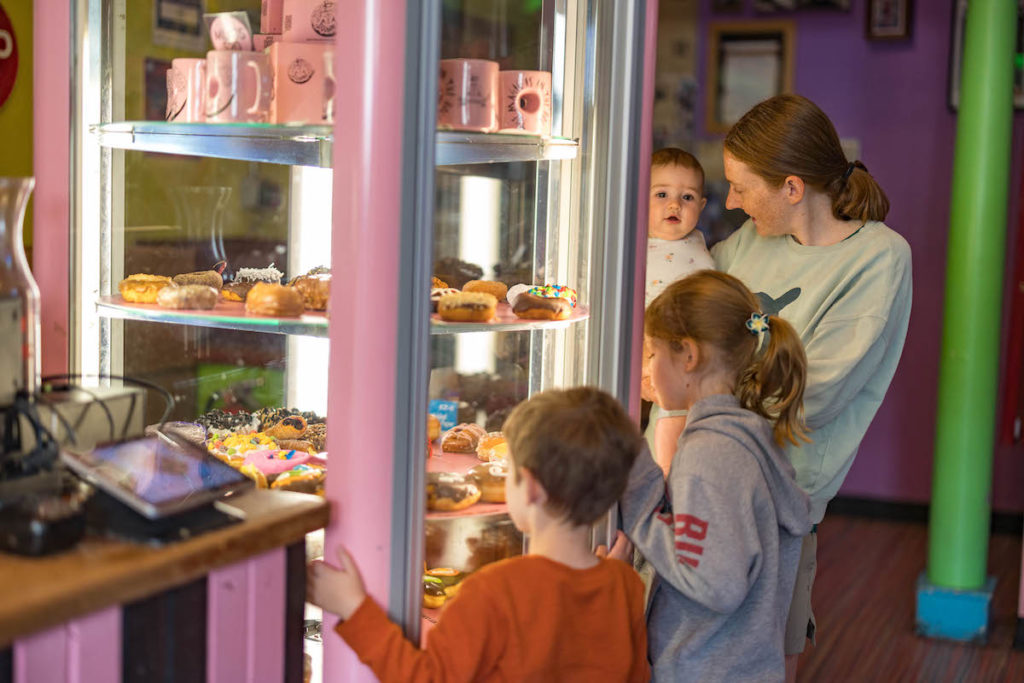 And as you would expect, samples a plenty. Now if you want to ditch the walking and add a bike, and coffee, you can try their Doughnuts and Coffee Bike Tour.
Is Voodoo Doughnut worth the hype?
I've told you all about it, but what's the consensus here? Is it a tourist trap? Are you wasting your time? Will you experience the best doughnut you've ever tasted in your life?
Honestly, you're probably sitting somewhere in the middle. Voodoo Doughnut is worth the hype for the experience – the pink box, the indulgent flavors, and the whimsical ambiance. The creativity used to concoct all their doughnuts is reason enough to visit. As a completely impartial judge, I've had worse doughnuts and I've also had some on par with Voodoo (I'm looking at you Gourdoughs).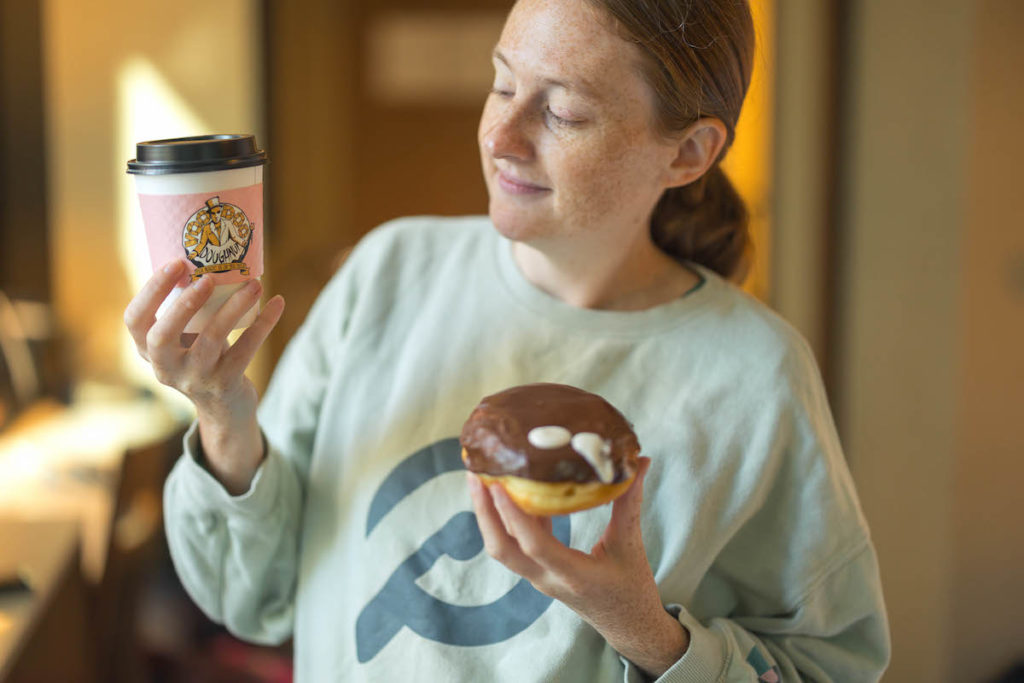 Our kids tried the Voodoo Bubble and they were a bit indifferent. I think they liked the sparkly pink color and appeal of the bubble gum sitting atop more than the actual taste. I had the popular Portland Cream, and boy howdy was it a tasty treat. Highly recommend! Nick tried the Old Dirty Bastard – chocolate frosting, chocolate cookies, and peanut butter drizzle. Yes, we had it for breakfast, but let's be clear, there was nothing breakfast about that. It was extremely indulgent, but oh so worth it.
As I mentioned earlier, whether it's worth the hype is subjective. I do believe you should try it at least once. The imaginative flavors and designs are a big part of the experience. It's like eating a science experiment – but one that hasn't gone wrong. Whether it's the best donut you've ever eaten in your life, maybe, maybe not. But you can fully count on a very, very delicious treat at the very least.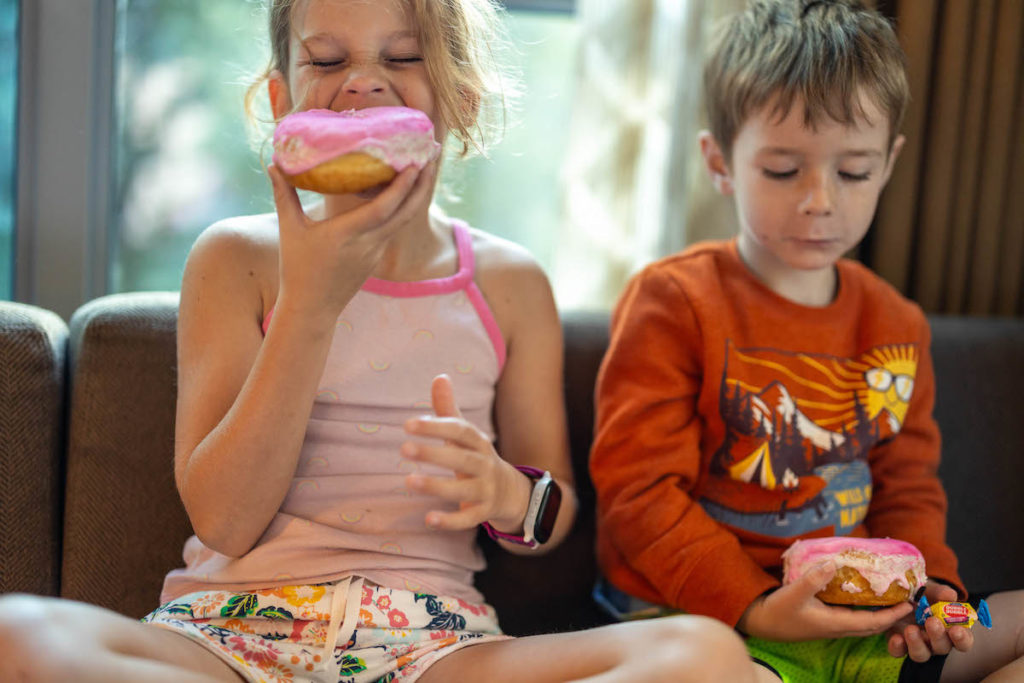 And what else are you doing with your life if not spending 20 minutes deciding which type of donut to get?
We're on the hunt for the best donut out there. What's your current fav? Let us know so we can visit!
You may also like:
Fun Places to Eat in Nashville: All the Famous Food
5 Best Lobster Rolls in Maine (with Prices)
15 Fast & Easy Camping Meals for Kids (That the Entire Family Will Love)