If you're considering a family vacation, a Disney Cruise may be on the short list. But is it worth the investment? Should you wait until the kids are older? We asked ourselves the same questions. And then one day we decided to jump. We took a Disney Cruise when our kids were 3-years-old and 6-years-old. And it was worth every cent.
Disney magic and personalized service
A Disney Cruise is more than just a vacation – it's a magical experience that will stay with your family for years to come. From the moment you step on board, you'll feel pampered. Cast members call you (and your kids) by name when they come to clean your room. Waitstaff in the dining room will entertain the kids with games, jokes, and origami. Characters take the time to chat with your kiddos during meet and greets.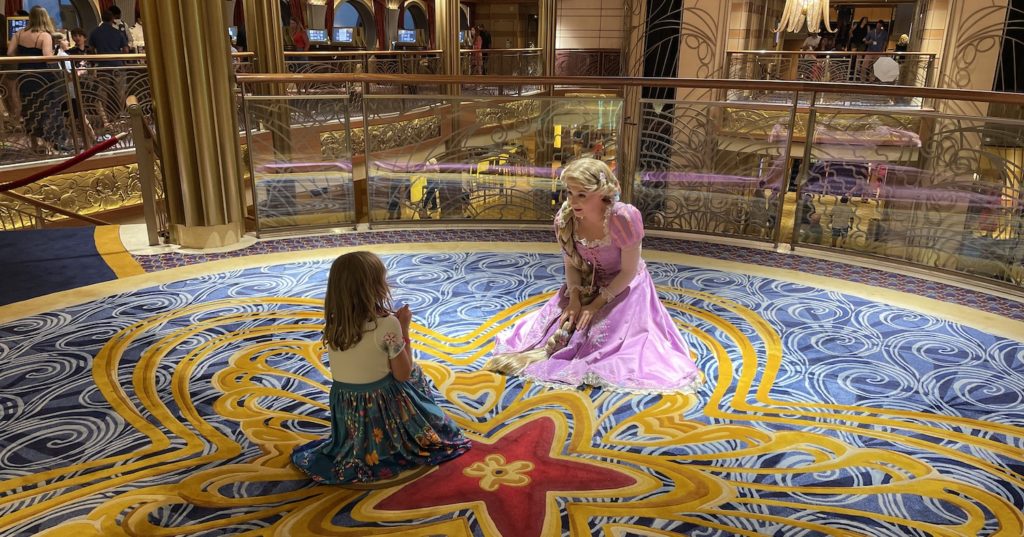 There are so many magical moments you just won't find on other cruise ships. The service and personalized experience you get with Disney is phenomenal.
Kids activities for every age group
One of the biggest reasons why a Disney Cruise is worth the investment is the entertainment geared toward kids. There are character meets (every age group from babies to older adults going up for a photo opp). The shows, which can be hit or miss on cruises, are so well done on Disney. There are candy stores, slime-making classes, and Disney movie screenings. And then there are scheduled family-friendly activities like trivia games and dance parties so everyone can come together for some fun.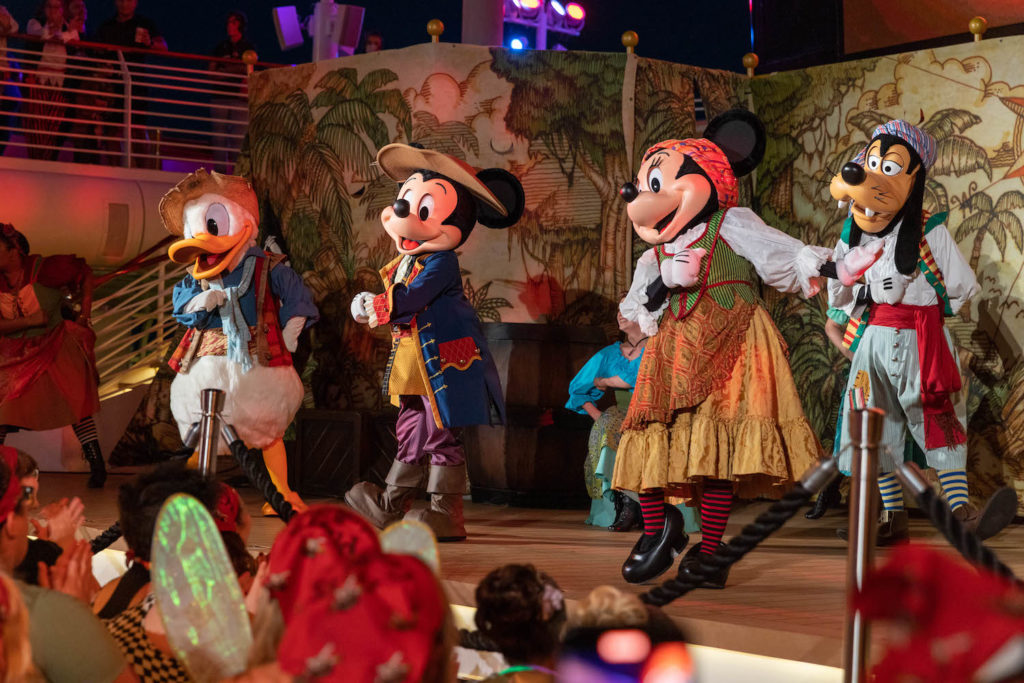 On other cruise lines, many of the activities are geared toward older kids. On Disney, that's not the case. They make sure every kid is having fun – from the youngest to the oldest. You'll find a full list of activities in your Navigator app. But to list a few you may find: pajamas parties, scavenger hunts, sing-a-longs, learn to sketch at Animator's Studio, and cookie making.
Theming of outdoor space is next level
When it comes to outdoor activities, there's quite a bit to report on. There are themed pools – we had a Donald Duck pool and a Mickey pool. Our kids loved them, and they are super functional with both shallow and deeper areas. There's a water coaster for kids tall enough to ride. And for younger ones, they have a splash zone. On the Disney Dream it is Nemo themed and full of sprayers and slides.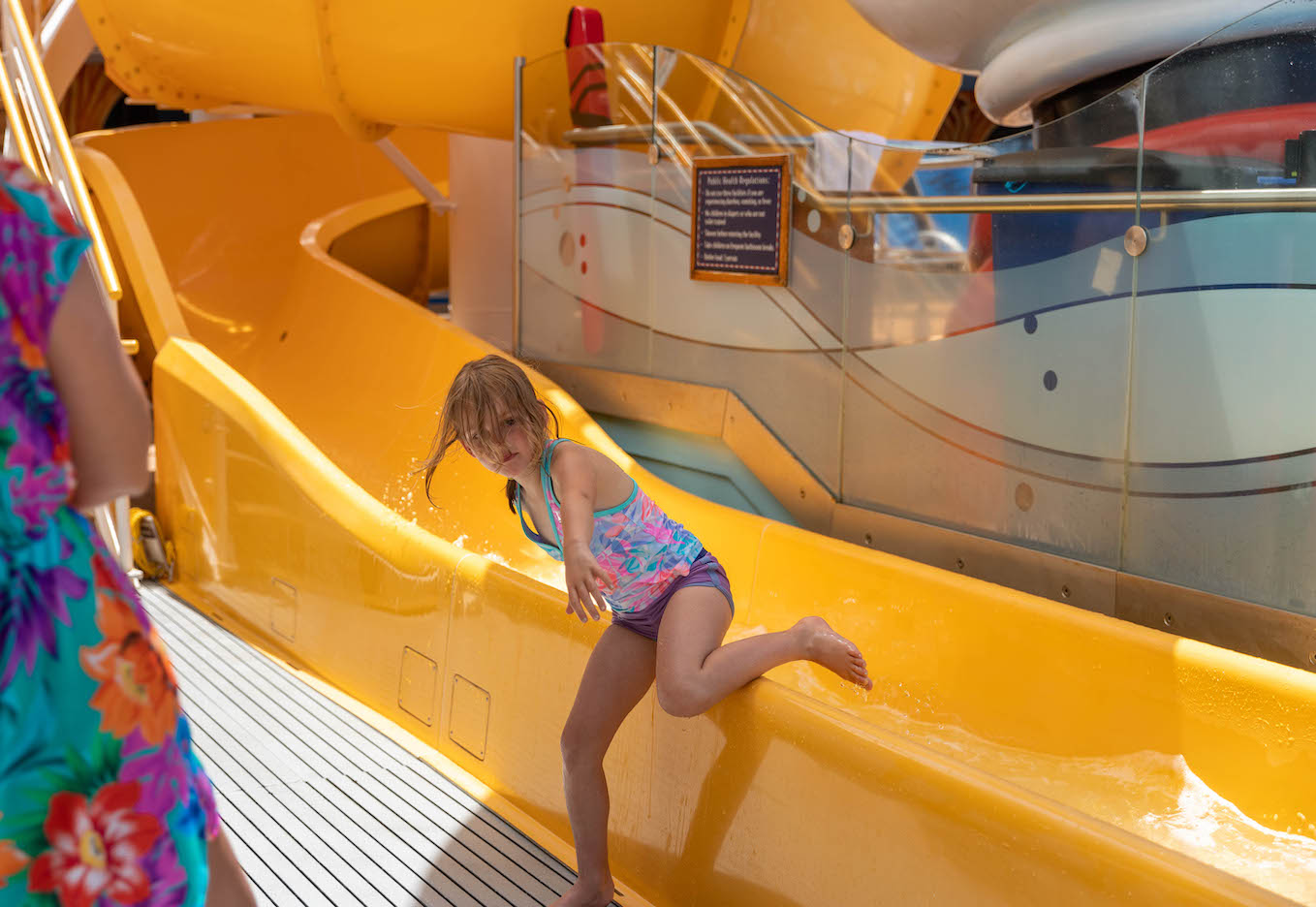 It's refreshing to know you have options. Outdoor life extends beyond a simple pool on a Disney Cruise. And when you have young kids they'll want to stay outside all day because they can bounce around the different areas. Either that or the conveniently located ice cream machine on the pool deck.
Kids actually want to go to the kids club
Maybe it's just us, but our kids never want to stay at the kids club. And that means no kid free time – sorry kiddos, even parents need a break on vacation. But wait for it…our kids LOVED the kids club on the Disney Cruise. The theming is outstanding and there are all kinds of activities: movies, art projects, dance floors, playgrounds. Some areas are geared toward a specific age group, with areas for every age.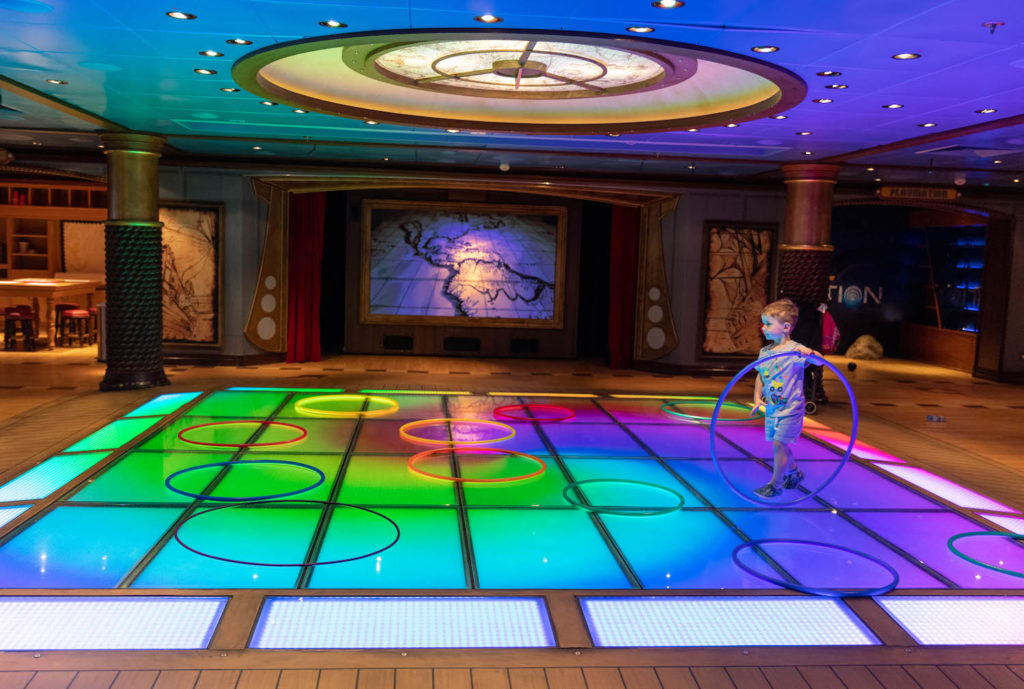 The theming is really what sets the kids club apart from other cruise lines. Every ship is slightly different, but you'll probably have some combination of Toy Story, Pixie Hollow, Star Wars, Marvel, or Frozen themed rooms. You may actually have to pull your kids away.
And when the kids head to the kids club, adults can relax at the spa or the adults only pool.
The Dining experience is exceptional
Yes, the food is great. But to be honest, that's not the star of the show here. What makes the Disney Cruise dining experience special is the rotational dining.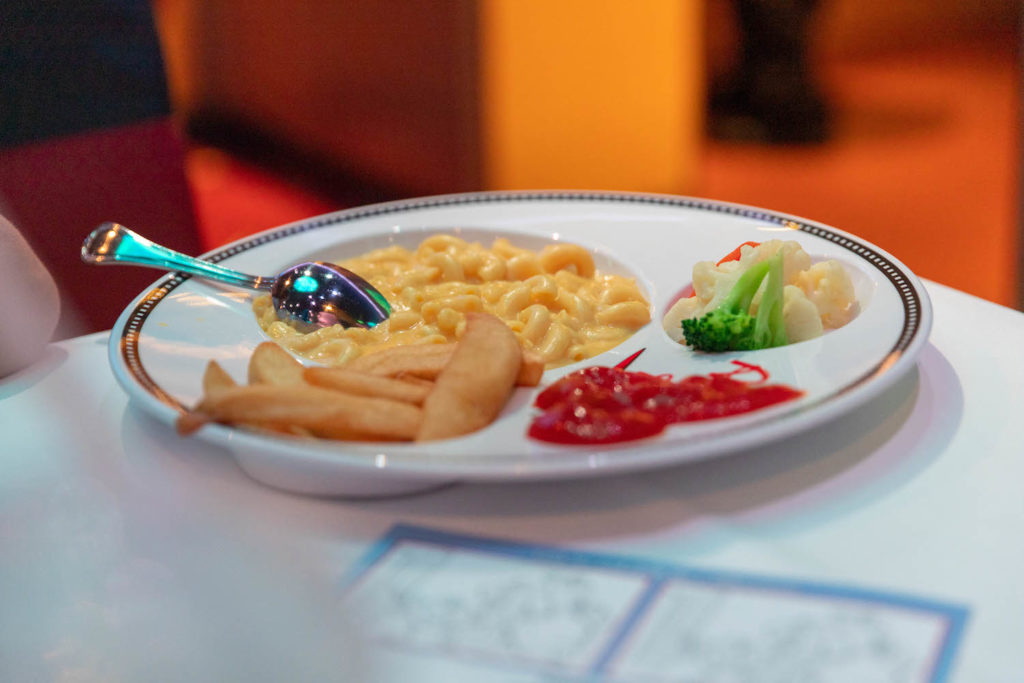 With rotational dining, you get to experience different restaurants each night while your servers follow you to each one. They get to know your preferences and make personalized recommendations. If they notice your kiddo likes the fruit bowl, they'll start bringing one every night. If your kids laugh at the squeaker toy, they'll do it again the next night.
Rotational dining means you get a different restaurant (and theming) every night. It breaks up the repetition of going to the same place, but still allows you and your kids to build rapport with your waitstaff.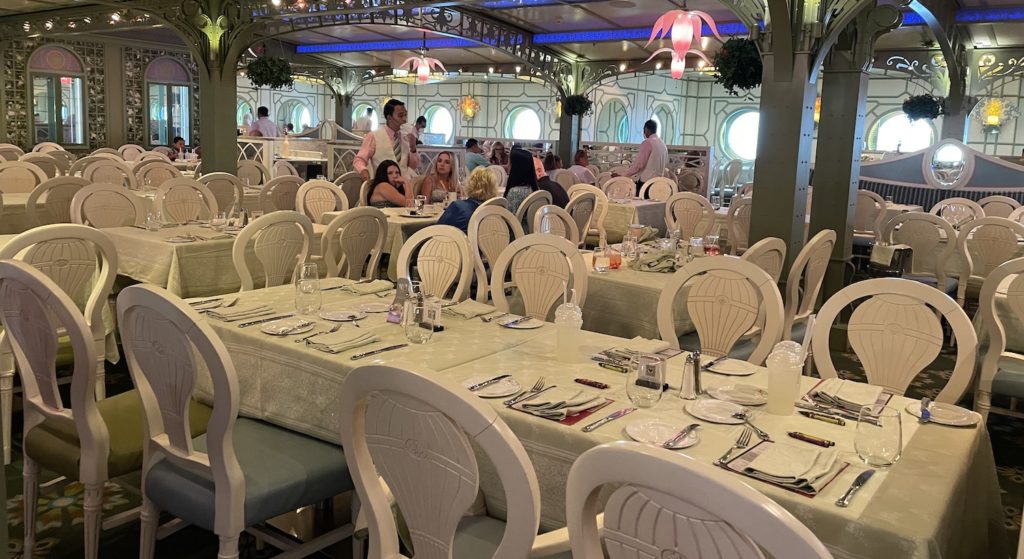 Along with rotational dining, you'll also have the opportunity to partake in theme nights. Other cruise lines also have the occasional theme night, but they are often more adult focused (80s, white night, etc.). On a Disney Cruise, you'll transform into a buccaneer for pirate night. You may also have a Pixar or Marvel day at sea or a Freeze the Night Away Frozen theme, depending on ship. Theme nights with Disney appeal to kids, so the whole family will want to participate.
For some additional magic, you can even book Royal Tea. You'll be treated to snacks, tea, and some special princess appearances.
Bibbidi Bobbidi Boutique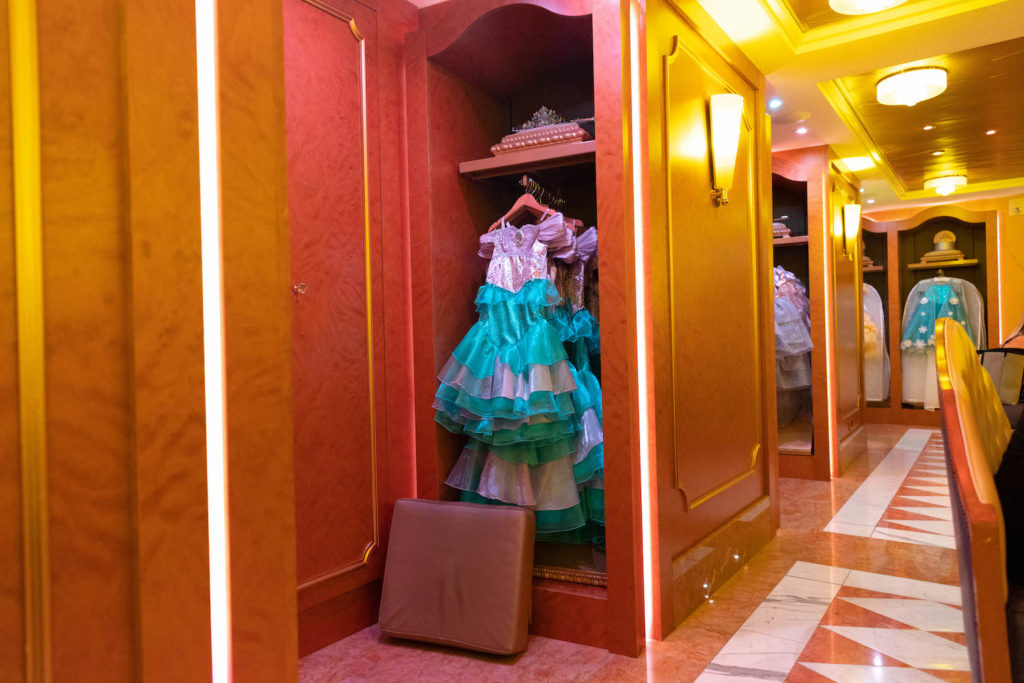 You may be familiar with this kid favorite salon if you've visited a Disney park. But did you know there's a boutique at sea? It's not the cheapest cruise activity, but it's a truly magical experience for kids. Most salons will offer kid treatments like manicures and pedicures, but the Bibbidi Bobbidi Boutique is designed specifically for kids.
The fairy-godmothers-in-training are amazing in their interactions. There's glitter, fun hairdos, nail polish, makeup. It's just a whole thing. And our daughter was living her best life. That alone is something she always talks about. And an experience you can't get on other cruise lines. To see the experience in action (and for some money saving tips) we filmed the whole process.
It's not just princesses. There's also an option to transform into Prince Charming. And there were a lot of adorable Prince Charmings walking around our ship.
They understand kids
One major reason a Disney Cruise is worth it with young kids…is that they understand young kids. Cast members encounter kids all the time and they learn how to interact with them. Everyone you meet will know how to talk to your kiddos and make them smile. That's not to say other cruise lines don't know how to interact with younger kids, it's just an area Disney focuses heavily on. Here's a couple examples from our cruise: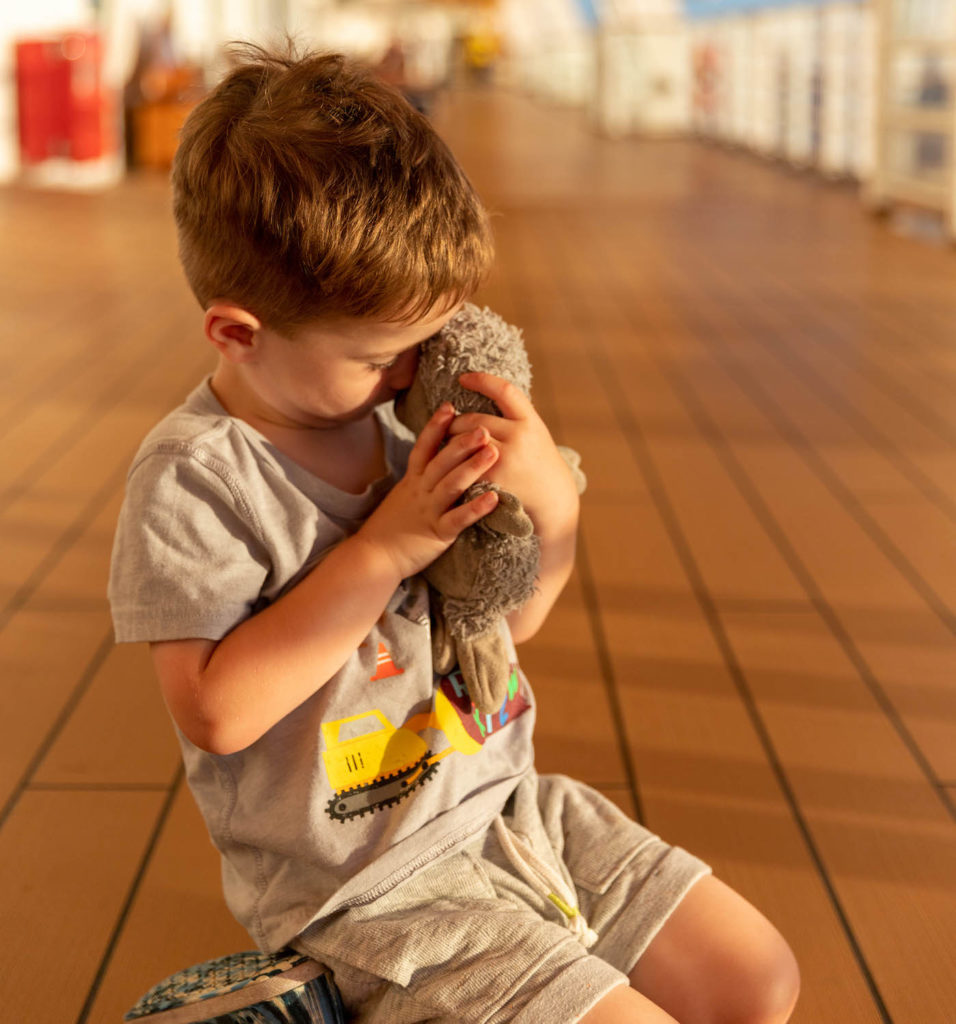 We lost a dingy stuffed animal our 3-year-old carries around everywhere. Cast members were looking everywhere to help us find it. One helpful cast member found it and they notified us so it could make a safe return. They've been around kids enough to know when you find a seedy stuffed animal on the floor, it must belong to some distraught child. Also, pro tip: sew in an AirTag so you never lose the thing again.
We just missed Belle on her way out. She saw our kiddos, pulled them aside, sat them in the royal chair, and chatted for a few minutes. It's those special moments that can mean everything to a little one.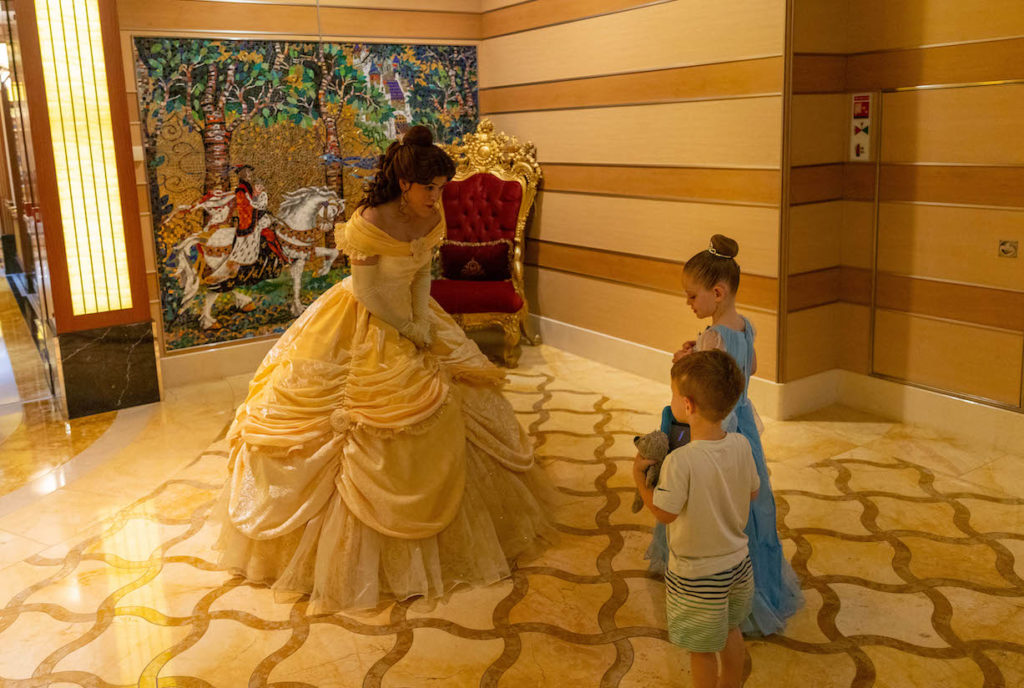 It may not sound like much, but to a kid it could end up being the highlight of their vacation. And it's these small touches your kids will remember.
Is a Disney Cruise worth it for the cost?
It's always going to depend on your family and budget. Disney Cruises are expensive, but there are so many extras you won't find on other cruise lines. If you are somewhere in the middle trying to make a decision, I recommend asking yourself these questions:
Does your family love Disney? I contend you don't have to be a Disney fanatic to enjoy a Disney Cruise. But it's easier to justify the cost if you are fully immersing yourself in everything Disney. If your kids don't care about Disney characters or themed restaurants, it may be worth looking at other kid friendly cruise lines like Royal Caribbean or Carnival. That's not to say they won't have fun, but is it worth paying double if they are indifferent to the Disney thing?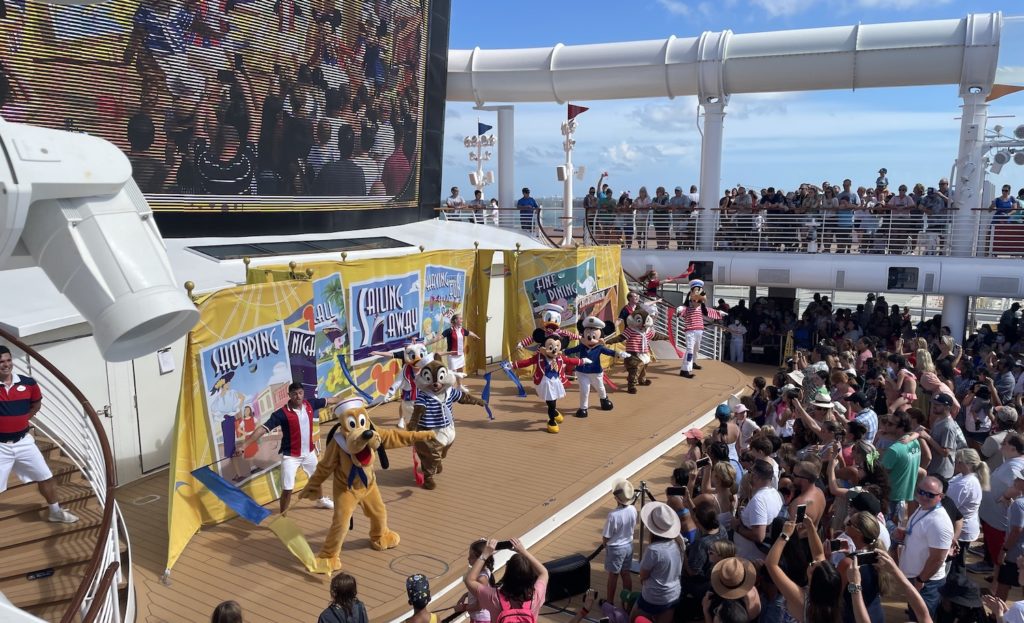 Do you have a specific cabin type in mind? If ship activities are more important than cabin type, Disney may be a good option for you. But if you are set on a balcony for instance, this can significantly add to the cost. A balcony on another cruise line could be wildly different in price than the cost on Disney.
How many guests do you have? Disney Cruise Line is one of the few that can accommodate families of 4 and 5. If you need space for more than 3, Disney is a good option based on the variety of rooms. It could save on costs vs. reserving two rooms on a different cruise line.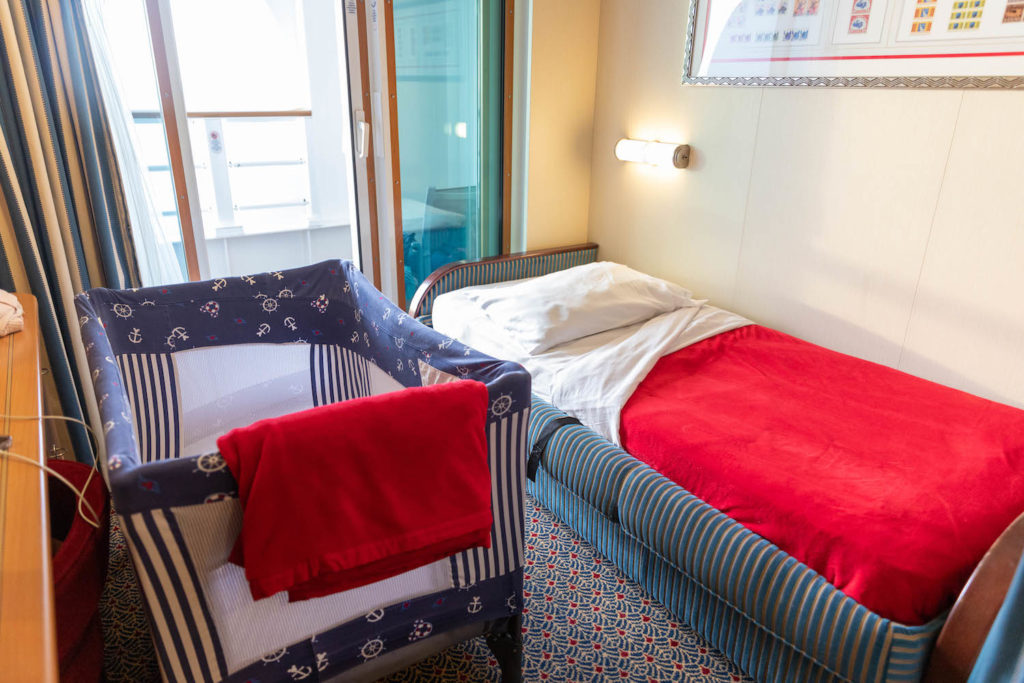 What details are important to you? Do you want all the extra touches like rotational dining, top notch kids clubs, and entertainment directed at families? Or are the ports more important and all the extras are really just…extra? If you aren't in to all the details a Disney Cruise provides, you can save a lot of money sailing through a different cruise line. But if you know, for instance, that a visit to Castaway Cay is important, Disney is your answer.
How much do you want to pay? There's more to this than how much can you afford. But rather, how much do you want to pay for your cruise. In some cases you could take two cruises for the price of one Disney Cruise. Or you could reserve a suite on another cruise line for the price of Disney's interior cabin. Think about how much you value the Disney experience and if that outweighs the costs.
How many days is enough for Disney cruise?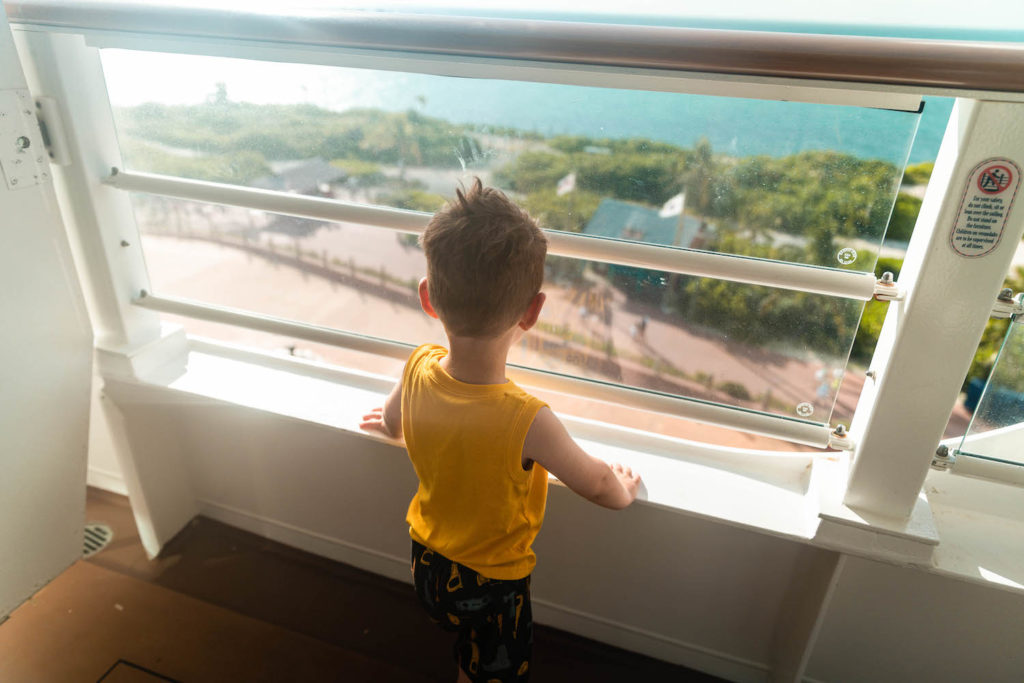 So you've made the decision to book your dream Cruise, but how many nights is enough? If you want the best value while getting the full experience, I'd suggest a 4 or 5-night Disney Cruise. This will allow you the time to unpack and relax. You'll also have the opportunity to try all the rotational dining restaurants. With a 3-night cruise you may feel rushed to squeeze in all the activities. And with a 7-night cruise you're going to have the higher price tag. So somewhere in the middle at 4 or 5 nights is the perfect amount.
But of course, it's a very personal decision. If your budget is best suited for a 3-night cruise or you want to splurge on a 7-night cruise, there are no losers here. You'll receive the same service, attention to detail, and memorable moments no matter how long your cruise.
You may also like: