If you're an airline employee or know someone who is, you may be eligible for industry discounts on on hotels, all-inclusive resorts, flights, and cruises. ID90 is one of our favorite travel sites to help you get the most of your travel benefits. It's very easy to use and the extensive discounts make it the ultimate resource for those in the airline industry. So how does it work?
What is ID90 and how does it work?
ID90 is a travel platform that offers exclusive discounts and deals on flights, hotels, car rentals, and more to airline employees, and their friends and families. It's similar to other online travel agencies like Expedia, TripAdvisor, and Booking.com, except that it offers even deeper discounts for those connected with an airline.
To access the discounts, airline employees create an account and provide proof of their affiliation with the airline. Once verified, they can search and book travel at discounted rates. For friends and family, you'll need a special link provided by your airline friend or family member. From there, you can sign up and you're ready to roll right away. ID90 also offers a mobile app for easy access to travel deals if you prefer to go that route.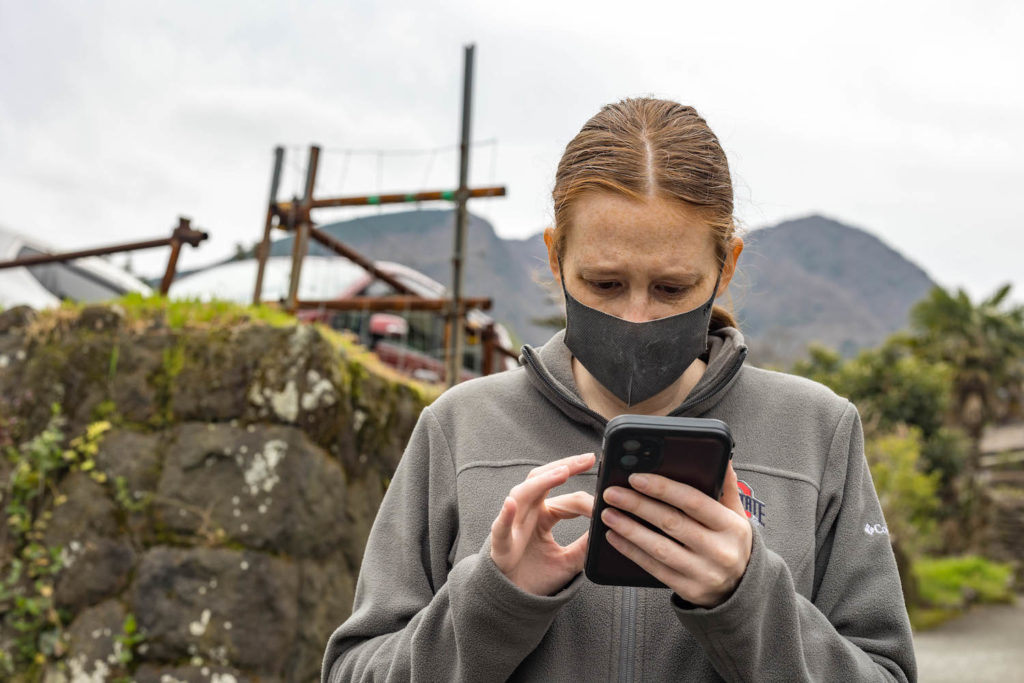 How to sign up for ID90 and access travel deals
Signing up for ID90 is easy and only takes a few minutes. Depending on whether you are the airline employee, or the friend or family member of the airline employee, your process may look a bit different
Airline employee
Visit the ID90 Travel website and click on the "Sign Up" button. You'll create an account by providing your airline, employee number, company email address, and a password.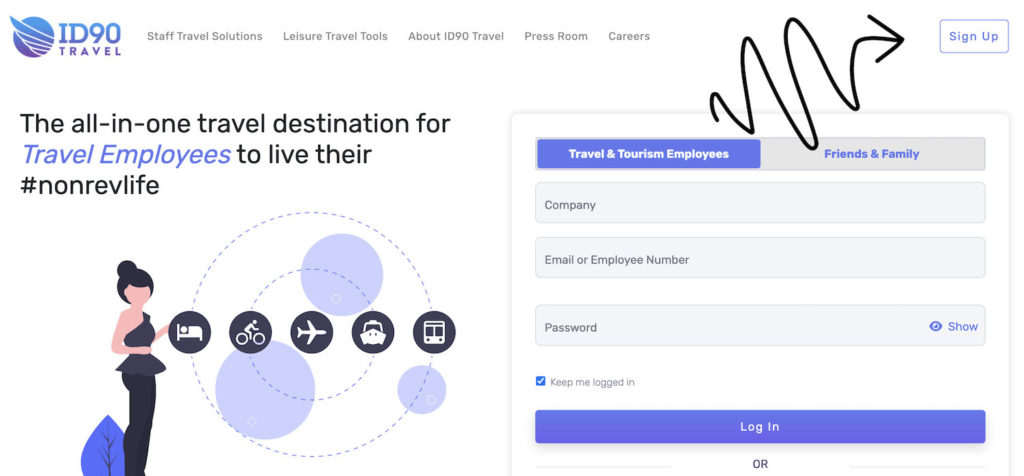 Once your account is verified, you are off to the races and can start searching for deals. Once you have your account, download the ID90 mobile app and you login to search there as well.
Friend or family member of airline employee
You'll need a special link to sign up. If you don't have one, use our ID90 friends invite link. You'll get a special $10 credit to apply to your first booking. Using the invite link, all you'll need to provide is your email and a password to use. Remember to use the friends and family tab when signing in. And that's it! You create an account and right away you have access to search all the industry discounts.

How to refer your own friends and family
If you are the airline employee and you want to give access to your own friends and family, there is an easy way to create your own referral link. All you need to do is sign in and click the "invite friends" button at the top of the page. You'll see different options to share your own sign up link: email invite, QR code, Facebook, or link. Use these options to invite friends and family, and keep track of sign-ups through this page.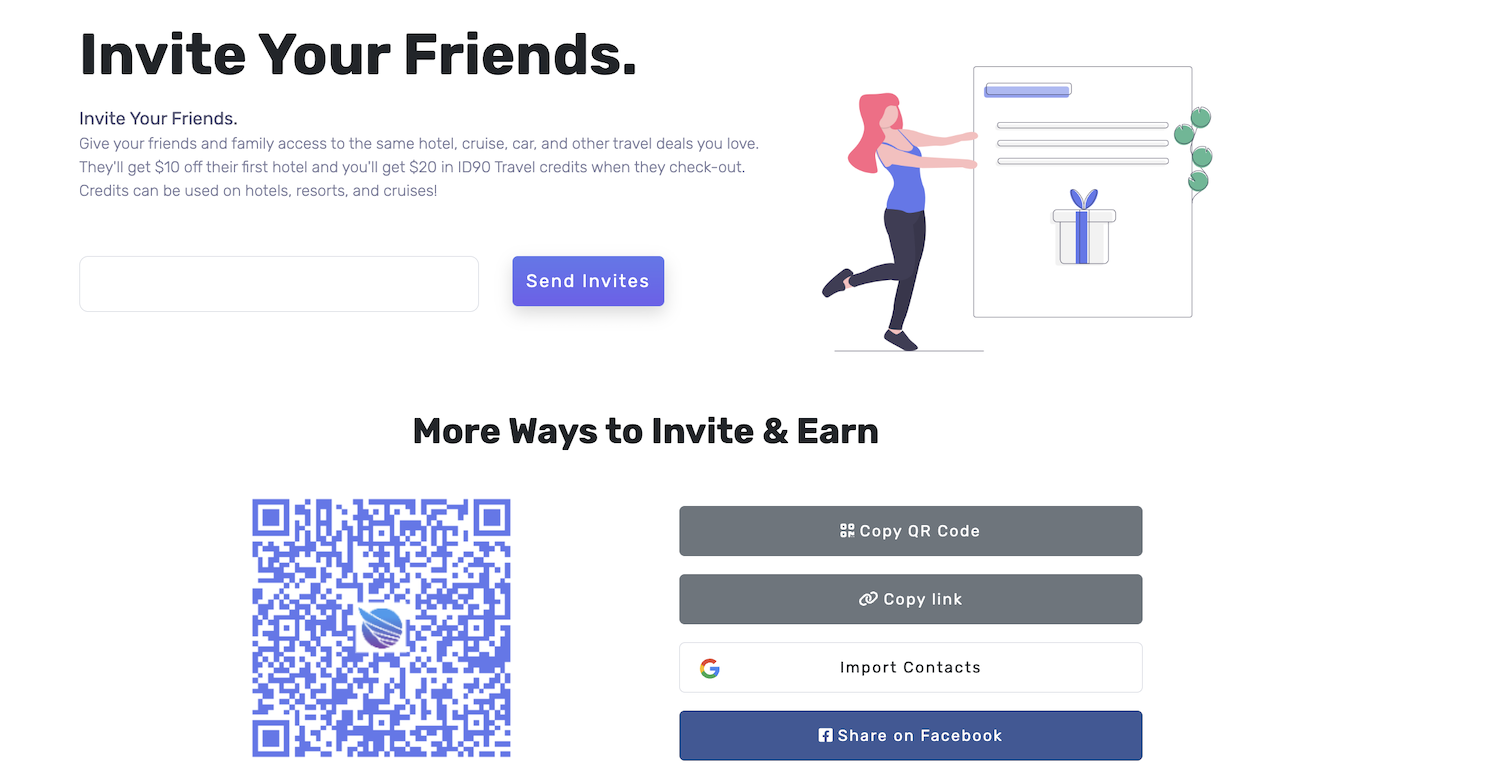 Tips for using ID90 to find the best deals
ID90 works just like any other booking site. You enter your dates, destination, and number of travelers. From there you can search through all the options and book on the spot. Here are some strategies to find the best rates:
Super Savers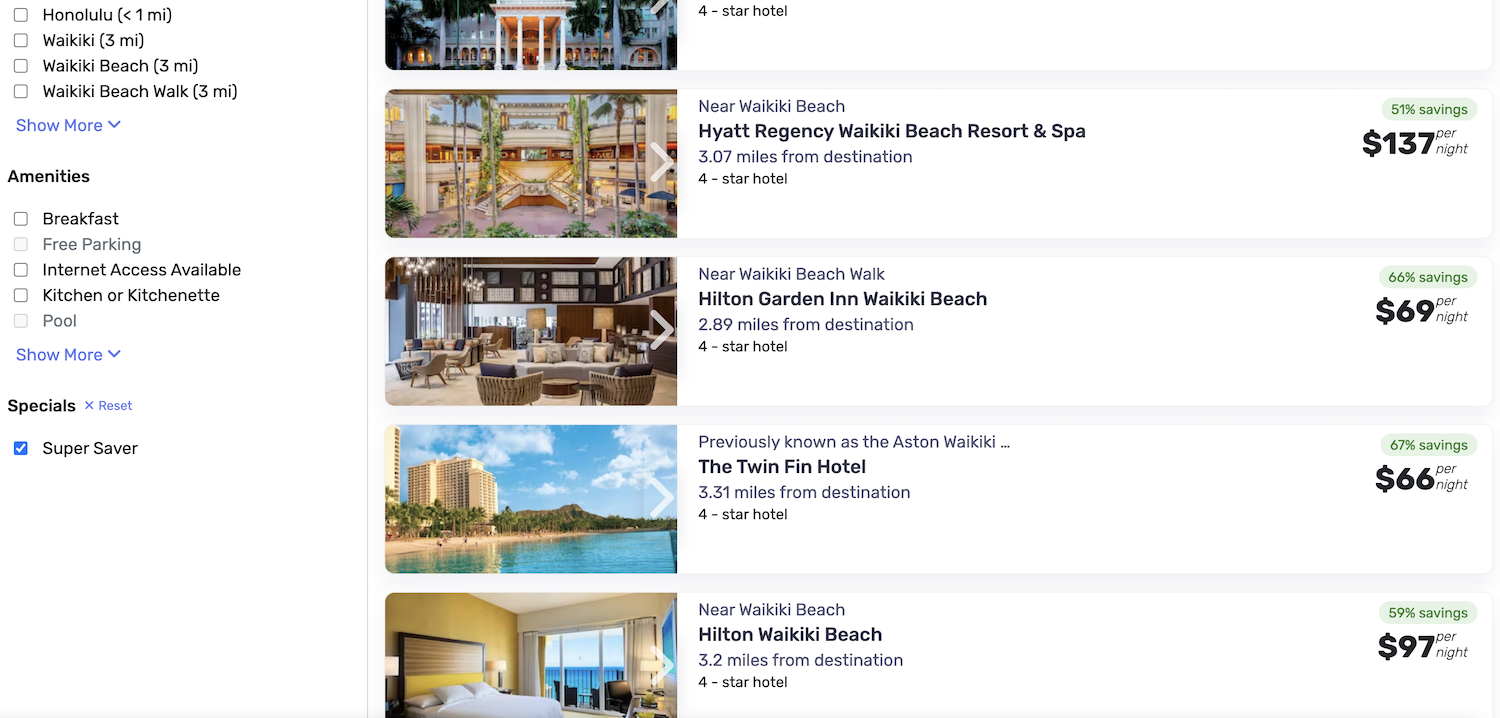 When you're searching, you'll have the ability to filter Super Saver rates. Selecting this option will show you results with the highest savings. Use this option if you are flexible and looking for the best deal. Sometimes you'll also have an "exclusive rate" filter option as well. Use both to your advantage!
All inclusive rates
ID90 offers a special all-inclusive section. You can also use the "All Inclusive" slider to filter just all inclusive hotels. Once you activate the all inclusive filter, change the "Sort By" dropdown to "Price low to high". All inclusive rates typically include the room, food, and drinks. These rooms are some of the largest we've ever stayed in. And searching this way can help you find all inclusive deals at a great price.
Be flexible with dates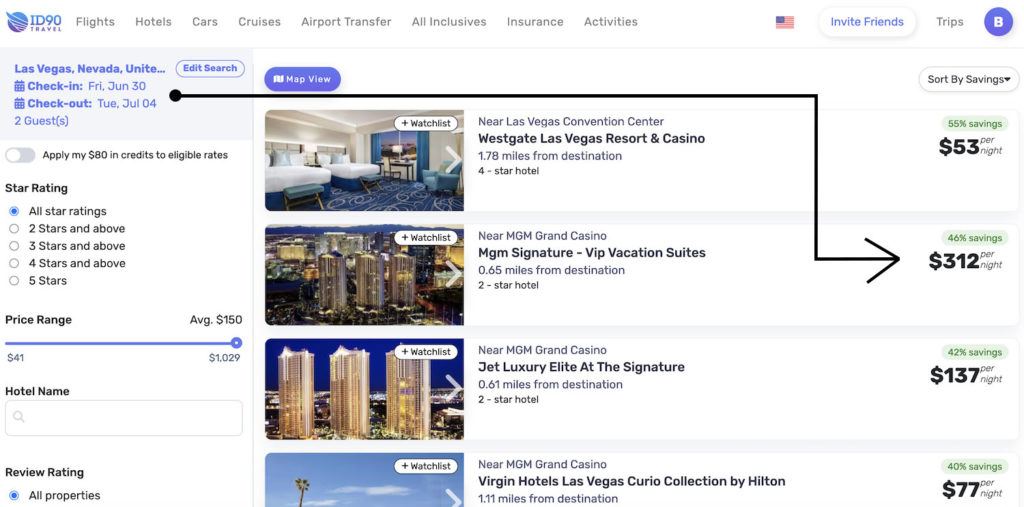 As with any booking site, you'll find the best rates if you play around with the dates. Keep trying different date combinations to get your price down. Sometimes even changing by a day or two can give drastic results in price. Or hotels with the best discounts may be sold out on your original search dates. Changing the dates will allow different hotel options to appear.
Sort by savings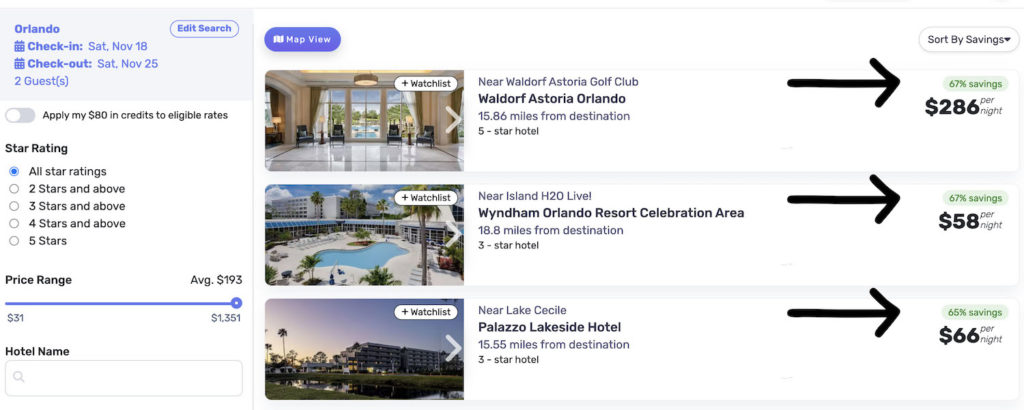 By default, your search will display what ID90 recommends. However, if you're looking for a good deal, change the sort filter to "Savings". Then you'll see hotels with the biggest discounts at the top of the list. And this is where your airline discount really kicks in as you see some of these huge deals.
Can airline employees book travel for friends and family?
Yes, if you are an airline employee, you can use ID90 to book travel for your friends and family. All you need to do is book like you normally would, except ensure their name is on the reservation when make the booking. ID90 also calls this out on their website if you need some added reassurance. Cruises operate a little differently. You may need to do a little extra digging to find out if you can book a cruise cabin for friends and family.
Does the employee need to be with the friend or family member at check-in?
No – the great thing about using ID90 is it allows family and friends to travel without the employee. If you are an airline employee, you can relax knowing you won't have to do anything extra for your friends and family. They check-in like any normal guest, regardless of whether you book for them or they book themselves.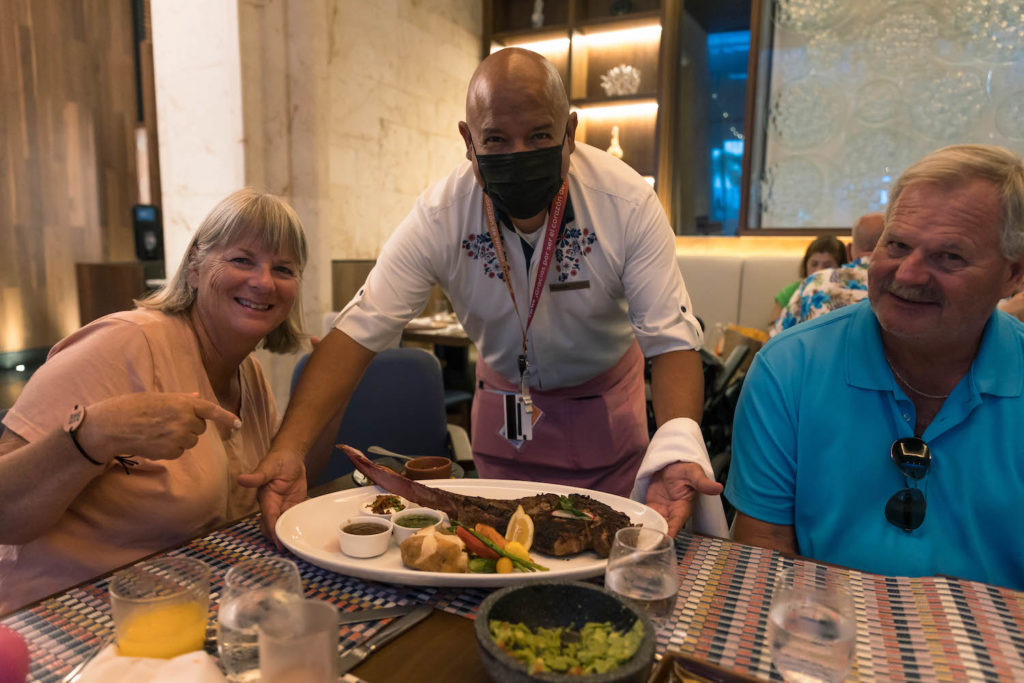 If you are the friend or family member, you'll have peace of mind knowing you won't be requested to show an airline ID or the airline employee in person. It's reassuring to know you can book the discounted rates without all the red tape.
"Hotel bookings made through ID90 Travel do not require airline badges to be shown upon check-in."
ID90 member rewards
Another nice feature of ID90 is the rewards program. Here's how it works:
Book a hotel or all-inclusive stay
After your visit in complete, the total spent will count toward future travel credit
The amount of travel credit earned through the program depends on your reward level and the amount spent. This chart will give you an idea of how much you can earn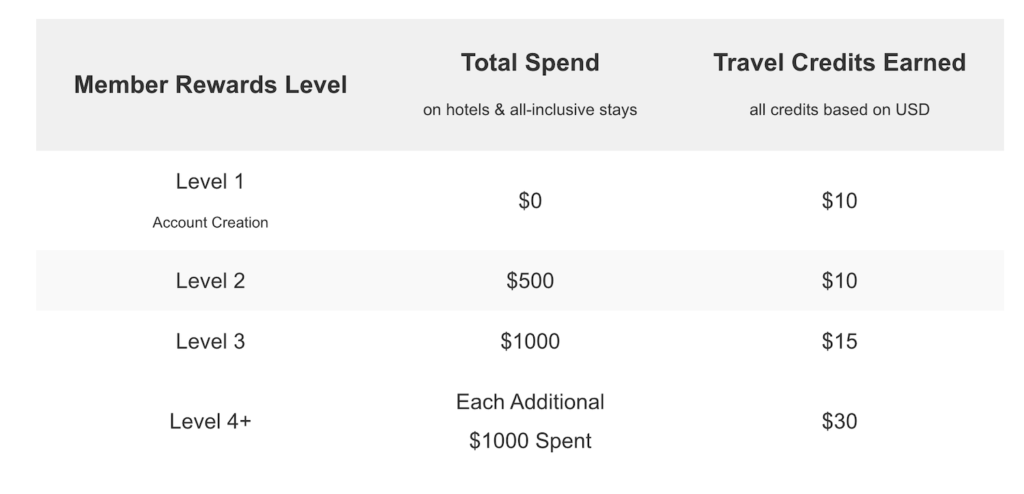 Travel credits can be used on hotel, all-inclusive resort, and cruise bookings. For all the details, check out the ID90 member rewards page.
How much can I save with ID90?
We've been using ID90 for several years and the rates are almost always lower than online travel agencies. But to show you the potential savings, here are a few examples:
* for consistency we used 2 adults and the same dates (August 6th – August 13th) for all searches
Dreams Royal Beach Punta Cana
Hyatt Place Nashville Downtown
Park Grand London Kensington
Whenever we do price comparisons, ID90 regularly comes out on top. It is always worth checking and the savings can be a gamechanger.
How do you typically book travel? Let us know in the comments.
You may also like: