Maybe you've heard the luggage horror stories. Suitcases and electronics (even guitars) getting banged up as they make their way through airport baggage handling. It's natural to be concerned about shipping your stroller off, only to have it returned all dinged up. And while baggage handling damage to strollers isn't super common, there are steps you can take to protect your stroller when flying. And also make airport security easier with a stroller. After 100+ flights with kids and strollers, this is our best advice.
1. Counter check or gate check?
Checking your stroller, you really have two options:
check it at the counter before security
check it when you get to your gate
So which is the right one? And which will reduce the odds of your stroller getting dinged up?
Gate check your stroller
Neither option will completely eliminate the possibility your stroller will make it out unscathed. At the same time, it's not as common as you might think. People talk about it often, which makes it seem more common than it actually is. As I mentioned before, our stroller has been on 100+ flights. And it still works just fine.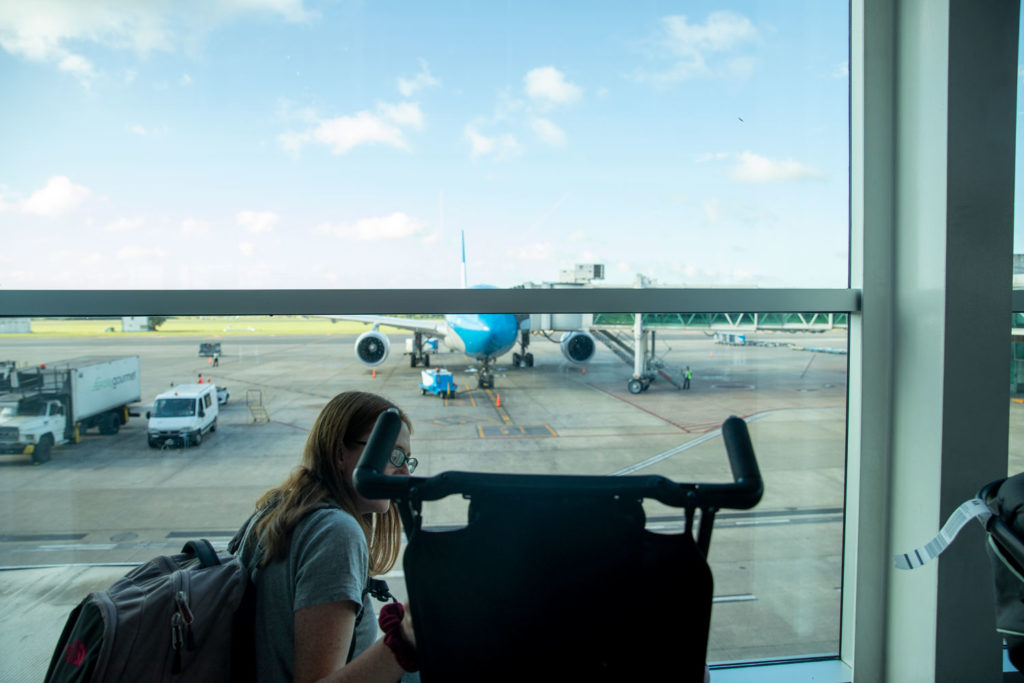 At the same time, you probably don't want to just throw it on the plane and cross your fingers. There are a few steps that you should take.
One of those – gate checking.
Here's how gate checking works:
Check any bags you want before security, except the stroller.
Take the stroller with you through security and all the way to the gate.
At the gate, the agent will give you a tag to place on your stroller (or put it on for you). Just tell them you want to gate-check your stroller.
When you board, drop your stroller off at the end of the jet bridge, before getting on the plane
The baggage handler takes your stroller directly to the plane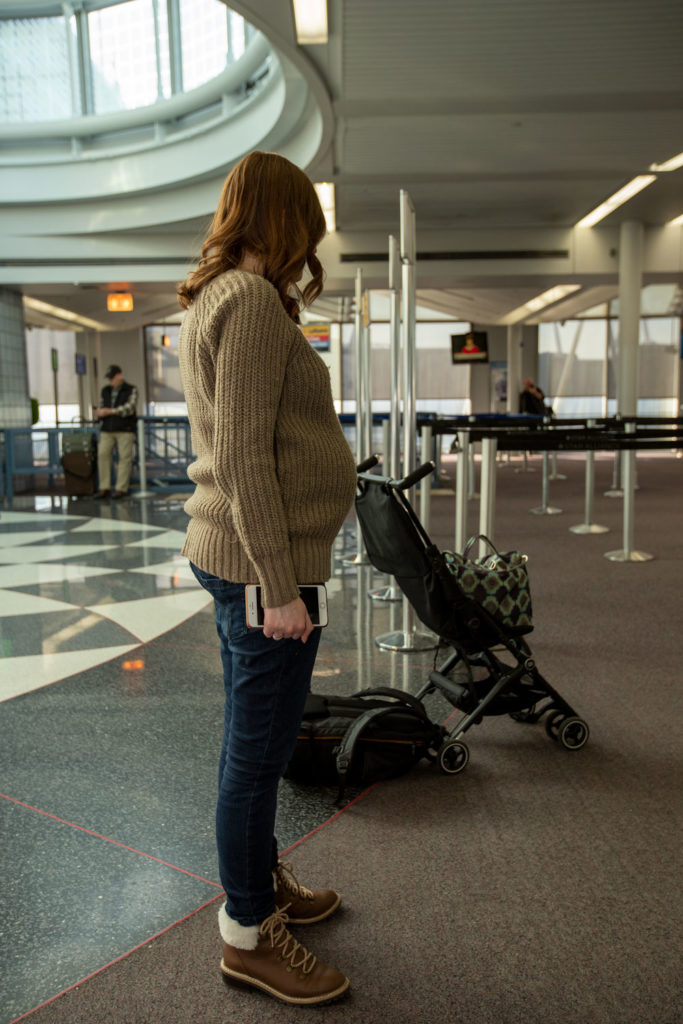 It's the best option because it requires the least amount of travel through baggage handling. When you counter-check a stroller, it touches a few additional hands along the way.
Plus, when you get off the plane, the stroller will be delivered to you on the jet bridge – you don't have to go to baggage claim to get it. Though, it may take a couple of minutes before it's delivered to you on the jet bridge.
Keep in mind: the gate check policy is different for every airline. American, Delta, and United all allow gate checking strollers (as long as they are collapsable). But American's policy states if you have a stroller and car seat, only 1 can be checked at the gate.
2. You need a stroller bag when flying
I mean, you don't need the bag. But… you should get the bag. How does a stroller bag protect your stroller when flying? It won't protect your stroller from bumps and bruises. And that's not the intent.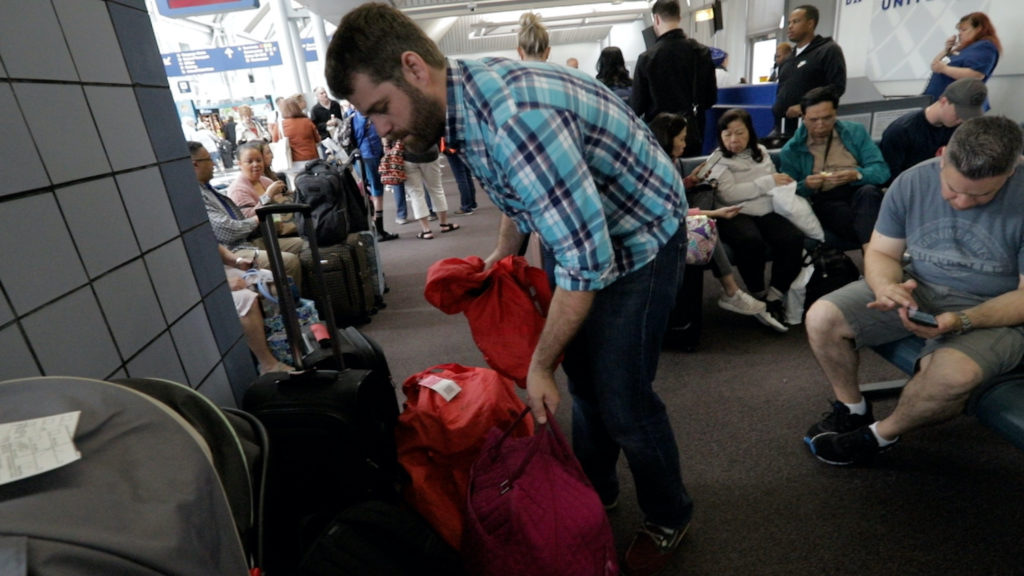 The biggest reason for getting a stroller bag is they keep your stroller clean and dry. Your stroller is being handled. It's going outside. And it may fold down in separate pieces like our BOB. If that's the case, you need to keep all the pieces together.
The best stroller bag for gate checking
Stroller bags are pretty affordable and we'd recommend this stroller gate check bag for its low price. It'll meet your needs and you don't have to spend a fortune on it. It may get scuffed up and if you travel frequently, you may need to replace it over time. But that's kinda the point? Your stroller bag gets scuffed up instead of your stroller.
Sidenote: they also recently came out with a Disney stroller bag and if you're anything like me, you can't get enough of the Disney baby stuff.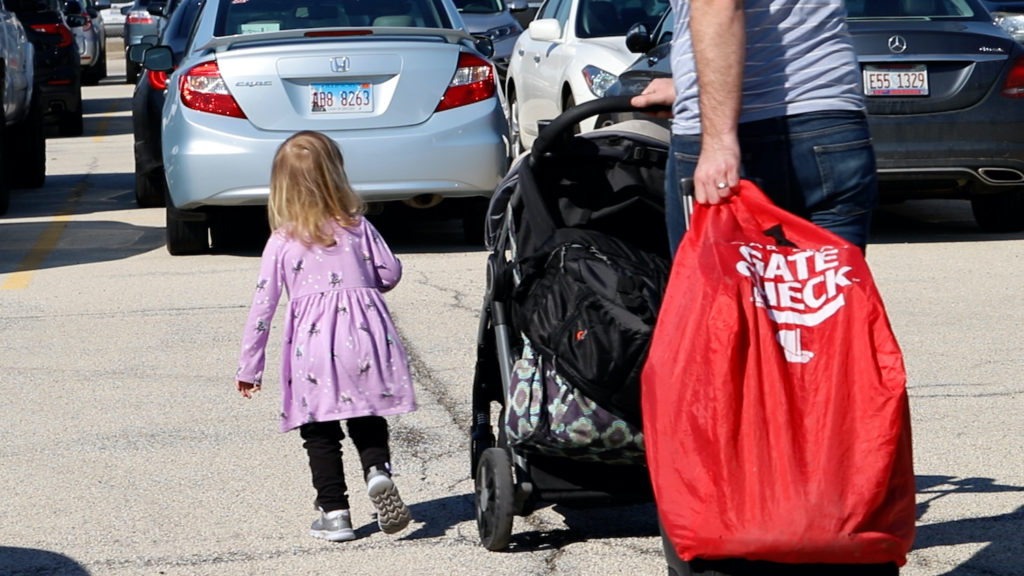 The padded stroller bag
If you prefer a more durable option, you can always opt for the padded stroller bag. The J.L. Childress Stroller Travel Bag is a good choice. And it fits both single and double strollers.
3. Remove accessories and all stored items
Sounds obvious, right? But I can't tell you how many times we've forgotten to remove items we have stored in the bottom of the stroller. Seriously. We once put our passports in it and STRAIGHT FORGOT. Talk about a nerve-racking flight. If you have a stroller bag, you may luck out. Then again, you may not realize you left something in there and it falls out when you pull out the stroller.
Double check that you've removed all items from the stroller before you check it. Nobody wants to deal with a toddler that just lost their favorite blankie. Or a missing passport.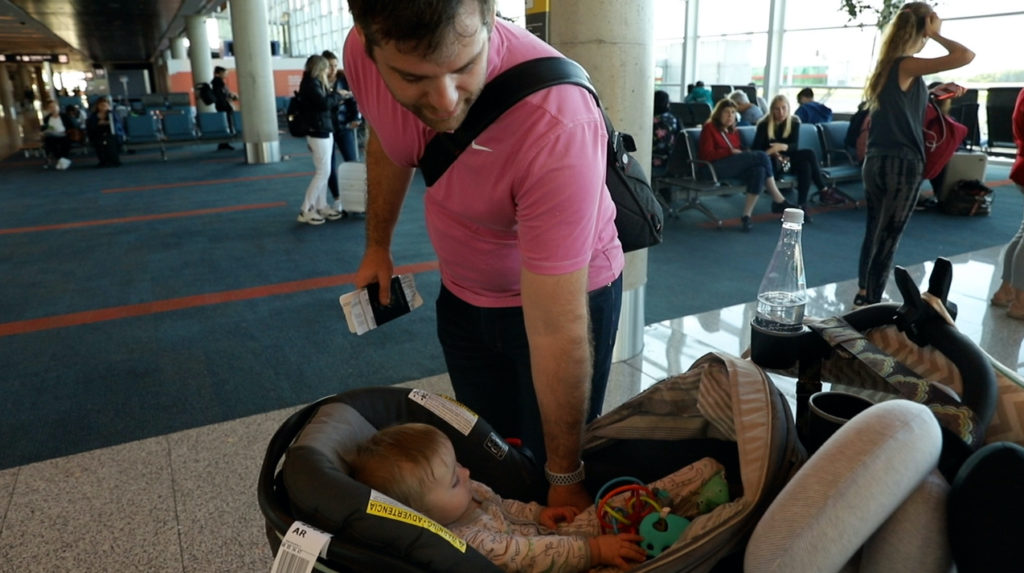 This also applies to stroller accessories, like cup holders and trays. While we've never sustained any real damage to our stroller, we've lost cup holders on multiple occasions. Take them off and store them to avoid meeting the same fate.
Taking a stroller through airport security
If you're planning to gate check your stroller, you'll need to take it through airport security. And it's really not as painful as it sounds. Some people get nervous going through security – thinking they have too much to worry about already. But taking a stroller through security is actually pretty easy.
Here are a few tips:
Make sure your child doesn't fall asleep in the stroller before going through security. The early morning flights. The sleepy kids. Been there. But you'll have to get them out when you go through security, so try to keep them awake. Or be okay waking them up.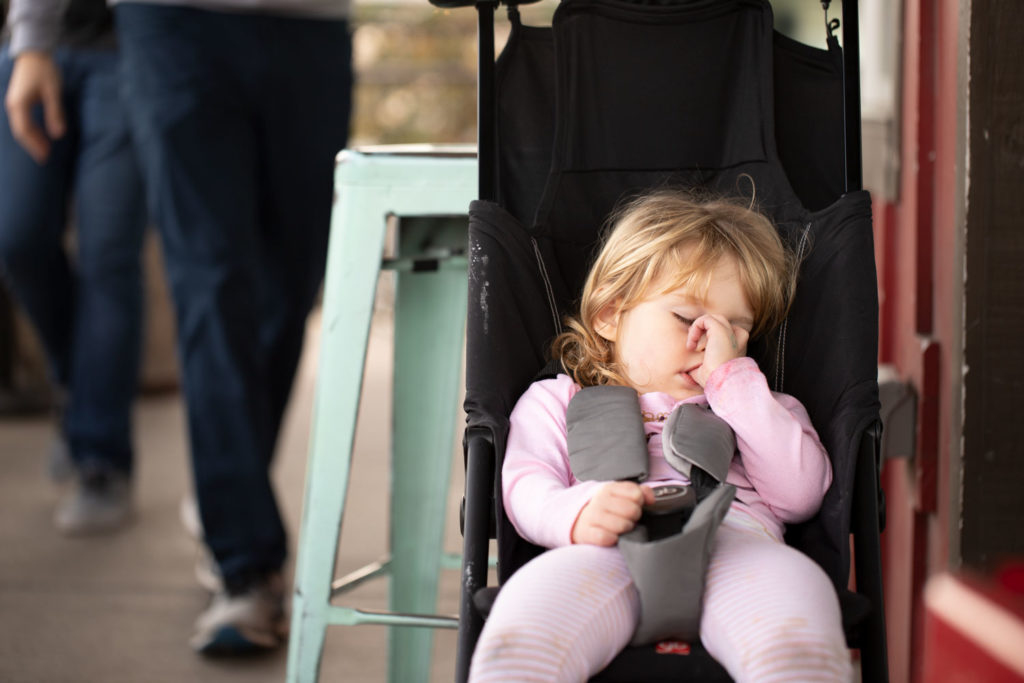 Use a baby carrier if you have a tiny one. You can't roll your kid through security in a stroller, but you can keep them in a baby carrier. It's a good option if they're still small. We've always used the Boba wrap and it works great. I even use it as a blanket sometimes when the plane is cold.
Take all items out. You'll be directed to remove everything from the stroller before it goes through security. Plan ahead and keep only the essentials in there.
Don't forget the cups. Formula, breast milk, and juice are allowed in quantities greater than 3.4 oz. But they undergo an additional screening. If you forget to take them out of the stroller, they'll have to screen your stroller a second time.
Do strollers go through x-ray?
This one can vary depending on the size of your stroller. If your stroller folds small enough to fit through the x-ray, it'll go through the x-ray machine with everything else. If it's too big to fit through the x-ray, it'll be manually inspected.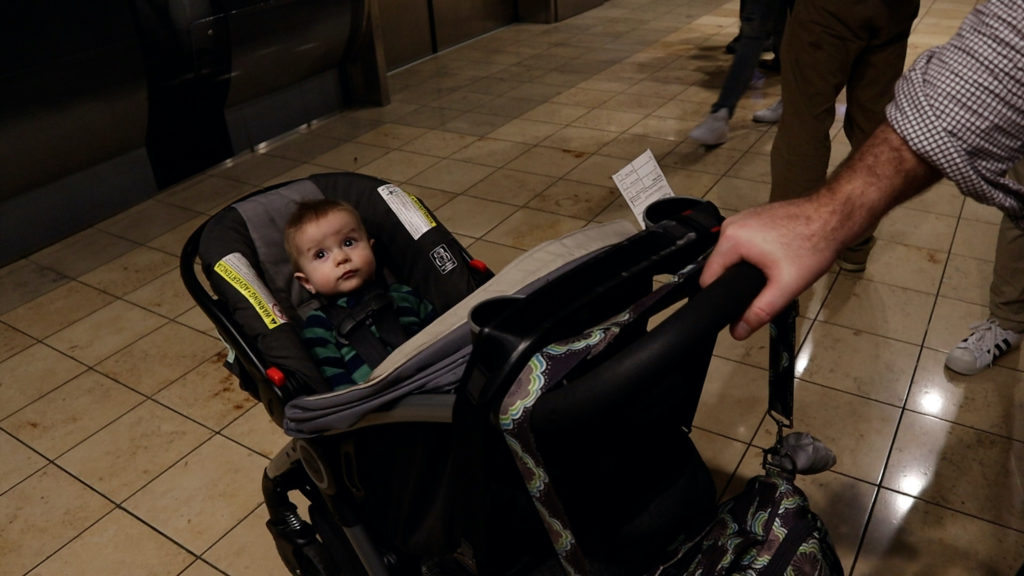 Normally a TSA agent will tell you what you need to do. If it looks like it'll fit, go ahead and fold it up and send it through. They'll let you know if it's too big.
If it's too big to fit through the x-ray, you'll leave it unfolded. A TSA agent will take it and do a manual inspection. They'll return it to you on the other side of security.
Taking a stroller through the airport
Gate checking can help protect your stroller when flying. But there are other benefits to pushing your stroller through the airport.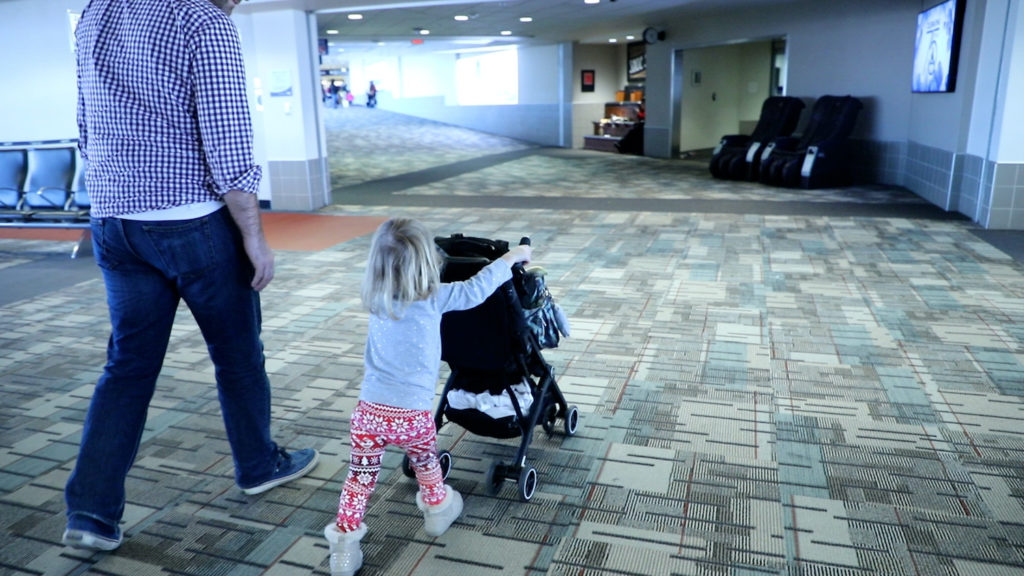 It makes navigating to your gate easier if your little one is secure. Just make sure to let them burn off some energy before boarding if you want your toddler to sleep on the plane.
You can pile things on your stroller or hang them from the stroller to make walking around the airport easier.
Can you bring your stroller on the plane?
You cannot beat the gb Pockit for convenience. It fits under the seat in front of you and truly is a game changer. But this is another instance of checking the airline policy. If you're bringing a compact stroller on board, make sure it's accepted by the airline.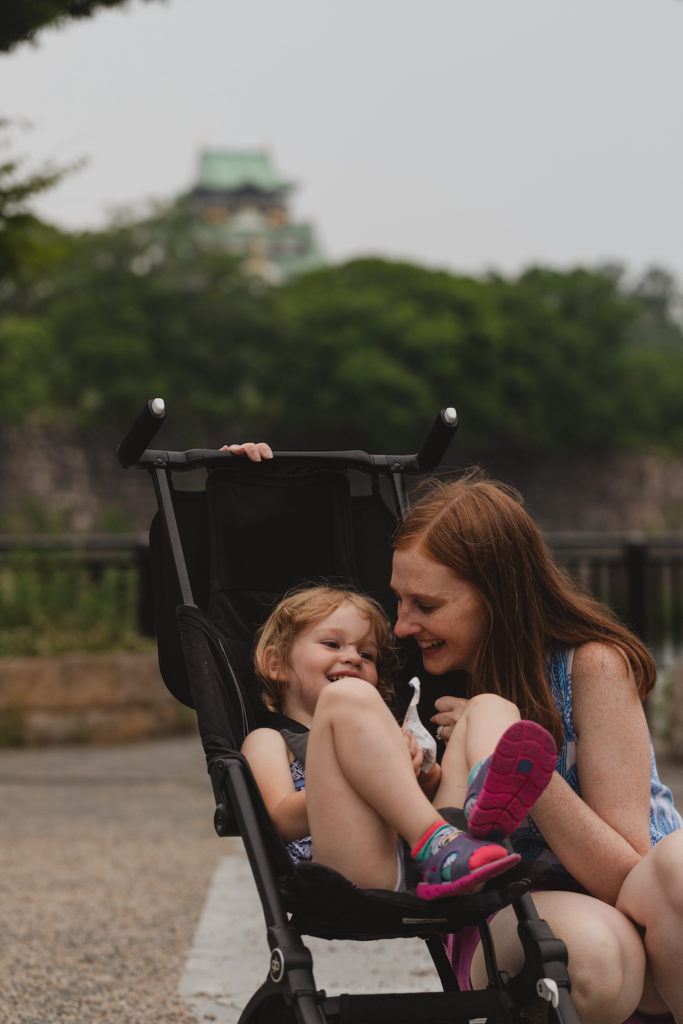 For most airlines, these strollers will be compact enough to fit in the overhead bin space:
If you have a compact stroller not on the list, check with the airline. Most policies say you can bring it on board if it meets the airline's carry-on bag size guidelines.
Bringing a compact stroller with you on board can lighten your load. When you're already dragging a bunch of bags through the airport, a bulky stroller can add to the stress.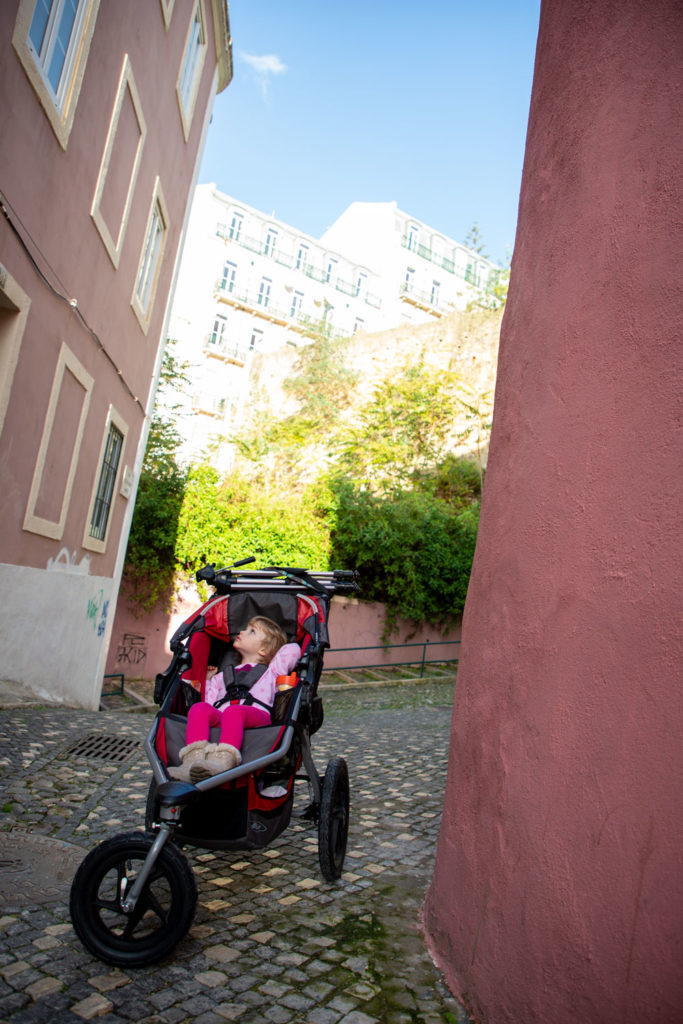 The downside to a compact stroller is they aren't the most durable strollers on the market – due to their compact size. We have put our gb Pockit through the ringer and its survived just fine, but if you need heavy duty, there may be other options better suited to your needs.
The Doona goes from car seat to stroller in a snap. And a lot of people praise it for it's multi-functional convenience.
What if you implement these steps and the stroller still ends up damaged?
Rest easy because according to the U.S. Department of Transportation, the airline is required to compensate you for damage. Before you throw all caution to the wind, it's worth noting, it may require some back and forth with the airline. It's not always the quickest process.
Another important note – they don't cover fair wear and tear. That's why, it's important to get a stroller bag to protect from minor injuries. And they are not required to cover anything resulting from improper packing. So do your due diligence to protect your stroller, and should it wind up damaged, you'll be covered.
Airlines are required to cover things like wheel, handle, and strap damage (in addition to other stroller components).
Traveling with a stroller isn't as bad as it sounds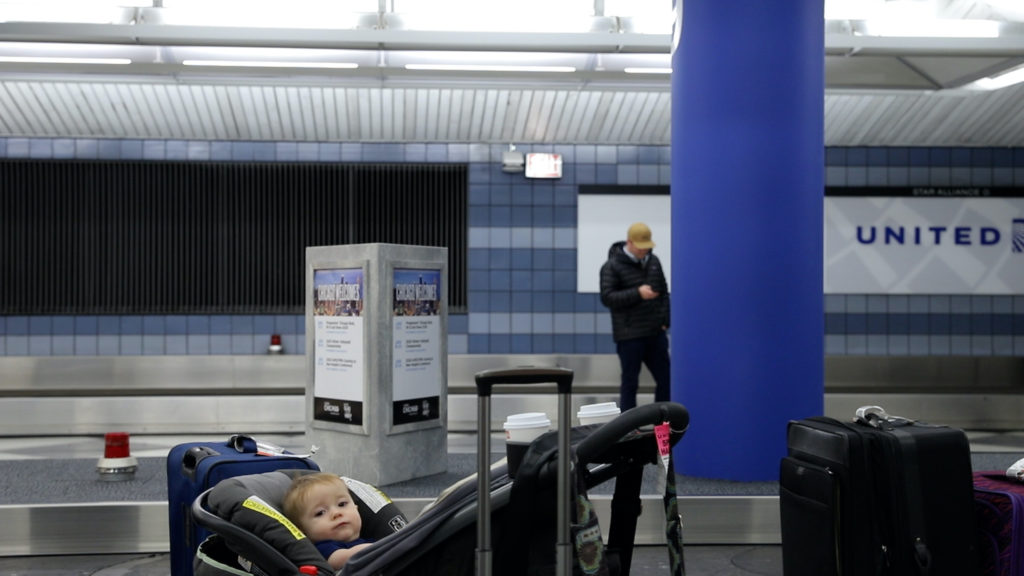 Some parents worry that lugging a stroller or car seat to the airport will be a huge hassle. And to some extent, yes it's extra weight. But with compact strollers and convenient stroller bags, it's easier now more than ever. So don't give in to the fear.
These tips will not only help you protect your stroller when flying, but also make travel day a breeze.
What stroller do you plan to use for your travels?
You may also like:
✈ Best Travel Toys for Toddlers on Planes
✈ Flying with a Newborn: Know Before You Go
✈ Tips for Flying While Pregnant