Staying at a traditional ryokan in Japan is one of the most memorable experiences. And Tokinoyu Setsugetsuka Hot Spring Resort offers a variety of amenities to immerse yourself in Japanese culture. Located in the mountains about 50 miles from Tokyo, this luxurious ryokan provides a peaceful atmosphere and beautiful views. At Tokinoyu Setsugetsuka, you'll find a range of amenities: private open-air baths and traditional Japanese-style rooms. The resort also offers all-inclusive style meals where breakfast and dinner will be included in your stay. We stayed here with kids and grandparents and will walk through the entire stay.
Location and Accessibility
Tokinoyu Setsugetsuka is located in the hot springs town of Hakone, Japan. The resort is accessible by train or car, with the nearest train station being Yudanaka Station. From there, it's just a 15-minute bus ride to the resort. If you're driving, the resort offers free parking. The location of the resort feels secluded, as it is surrounded by mountains and the town of Hakone is very small compared to nearby Tokyo.
How long is the train from Tokyo to Hakone?
The journey from Tokyo to Hakone will take around 2 hours, depending on where you are staying in Tokyo. It will also take a few different trains, so keep that in mind if you are bringing a lot of luggage with you. One of the easiest and fastest ways to get to Hakone is to first take a local train to Shinjuku station. From there, hop on the Yamanote line toward Shinagawa. Get off at Shinagawa and find the Tokaido-Sanyo Shinkansen train.
This train will take you a majority of the distance and you'll hop off at the Odawara station. From Odawara station, board the Hakone Tozan Railway for the remainder of the journey. Hakone Tozan Railway is an incredibly scenic, unique experience. It uses traditional switchbacks to get up the mountain and even though it's a short distance, plan for about 20 minutes as it takes a while to ascend the mountain. When you reach Gora station, your journey will come to an end and it's a < 5-minute walk to the ryokan.
What Room Types Are Offered?
Tokinoyu Setsugetsuka offers a variety of accommodations to suit different needs. All rooms are spacious and comfortable, with amenities you would expect from a luxury resort. Here's a breakdown of the room types:
Traditional Japanese-style Mixed with Western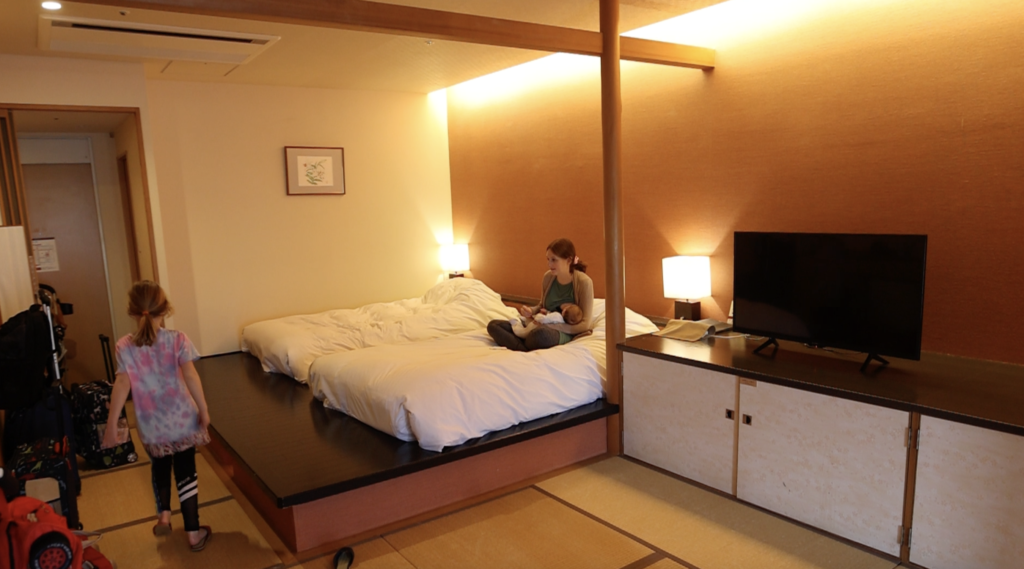 A bed that mixes Japanese and Western comfort
Relaxing tatami room
Shoji screens
Shower room
Toilet room
Tatami futon mats (self-service laying)
Open-air bath
Western-style
Comfortable beds
Modern furnishings
Combined shower/toilet room
Open-air bath
Features of every room include a tea and matcha set, tv, free Wi-Fi, safe, refrigerator, hairdryer, and slippers in varying sizes.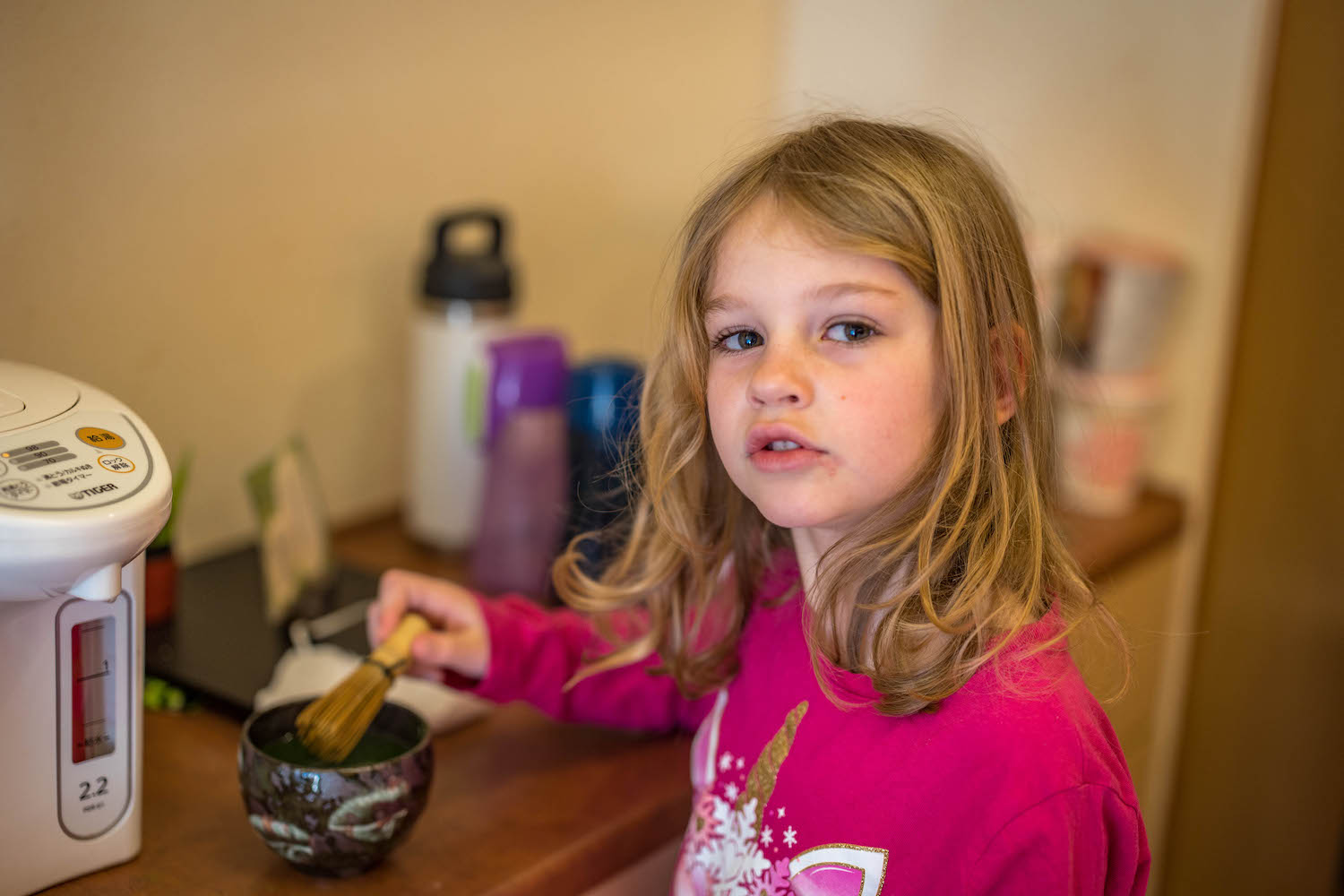 Also, when you arrive there will be a basket for every person in the room. The basket contains items to take with you to the onsen: bath towel, face towel, and slippers.
What the traditional/western room is like
We loved the traditional-western style room. It has tons of room and you get the Japanese culture mixed with some western comforts. Our room had a nice big, western-style bed that mom and dad used. And the kids used the traditional tatami mats to sleep on. The tatami mats are self-service, so we made the kids' beds every night. They have a comfortable mattress and are good size (big enough for adults if you have multiple adults in the room). It was a new experience for the kids and they loved it.
We also loved the separate shower room and open-air bath. We used the open-air bath multiple times during our stay. We had a picturesque view and the water is hot. It uses natural Wakashi hot water and is overall a relaxing experience. The open-air bath sets this resort apart from others in the area with the private bath attached to the room, which doesn't seem to be common in many ryokan hotels.
If you are bringing kids or other family members, the room size at this resort is great. It's incredibly spacious, traditional, and full of amenities. There are touches of luxury everywhere!
We only used the matcha set once, but love this feature. We typically got our coffee and tea downstairs as it's free and already prepared, but you can always use the in-room set, too!
Hot Springs Facilities and Resort Amenities
The hot springs at Tokinoyu Setsugetsuka are one of the main attractions. They offer a range of different baths, each with its own unique properties and benefits. The baths are fed by mineral-rich water, which is sourced from the nearby hot springs. The water is believed to have healing properties and is said to be good for the skin, muscles, and joints.
The hot springs facilities at the resort include both indoor and outdoor baths, as well as private open-air baths. The outdoor baths offer gorgeous views and are surrounded by trees. It's a large area with stone seating and the water is warm. The indoor baths are perfect for those seeking a more traditional experience. There are several baths from ice cold to hot, and you can try them all.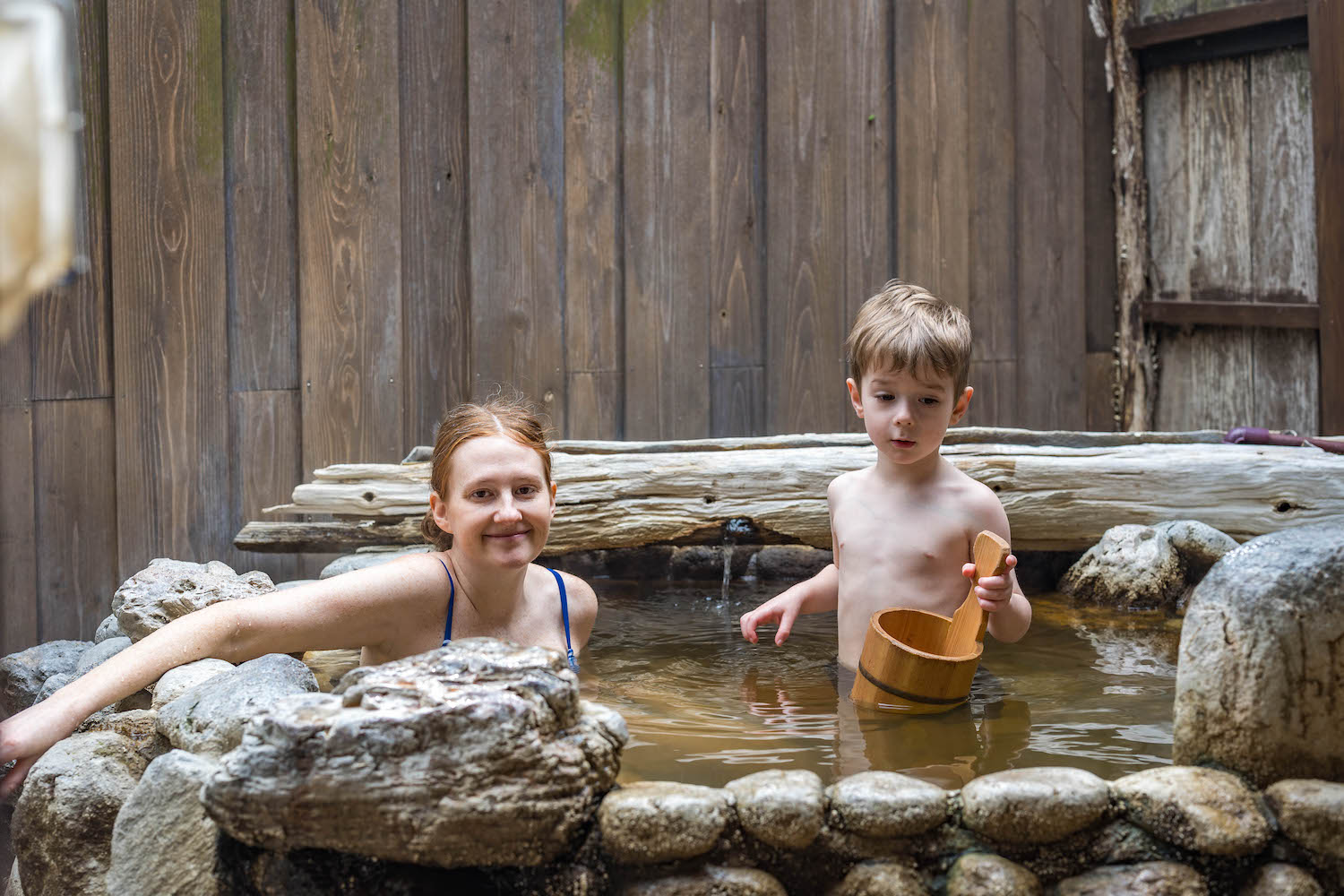 The private open-air baths are ideal for couples, families, or individuals looking for a more secluded experience. Each of these private open-air baths is different. They are all first come, first serve and are free to use. When you enter the private onsen, it will illuminate a lantern at the entrance of the path. When a lantern is lit, it signals to others that a particular bath is already in use. The suggested time is 40 minutes so other guests have time to experience these baths.
Other onsen amenities
In addition to the hot springs, the resort also offers a range of amenities, including a sauna, a relaxation room, and a massage service. All are a great way to relax and unwind after a long day of activities. One of our favorite features was the complimentary popsicles and drinks near the onsen entrances. They are an excellent way to cool down after a hot bath.
Dining Experiences at Tokinoyu Setsugetsuka
The dining experiences at Tokinoyu Setsugetsuka are not to be missed. The food is made using the freshest local ingredients. Some resort packages are all-inclusive. With ours, we received breakfast and dinner daily. The restaurants are very traditional multi-course, so I recommend checking this option out!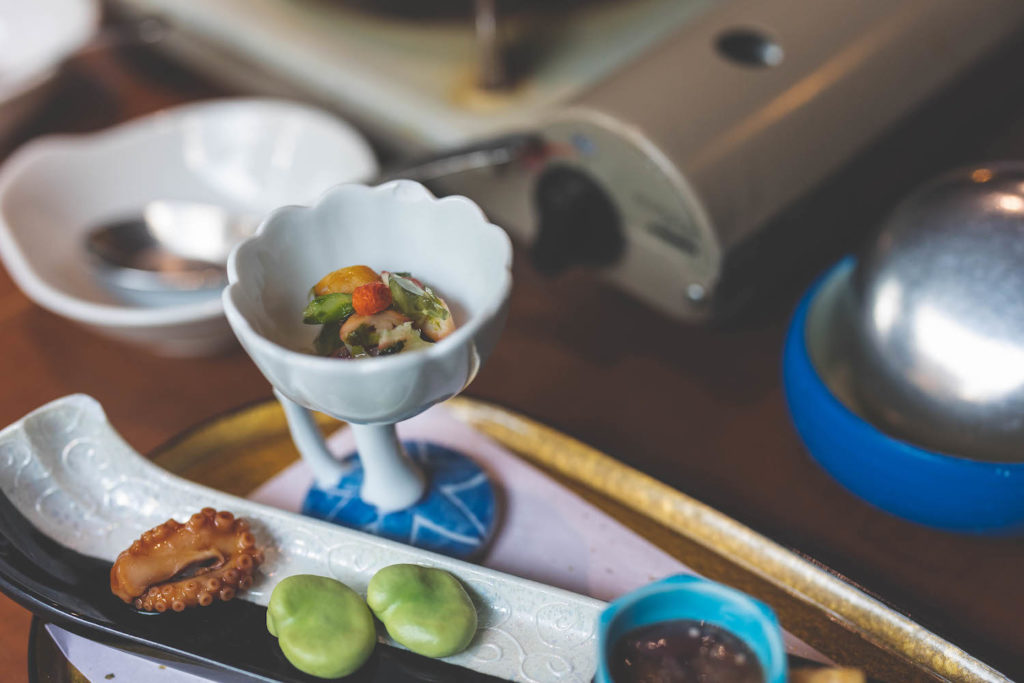 The resort offers two restaurant options for dinner. One of the highlights of the dining experience at the ryokan is the kaiseki dinner. Kaiseki is a traditional Japanese multi-course dinner that features a variety of different dishes, each of which is beautifully presented. The kaiseki dinner at Tokinoyu Setsugetsuka is a true culinary experience. The other restaurant, Fugetsu, is equally amazing. Fugetsu is a shabu shabu beef and sushi experience. It had some of the best food we've ever eaten! And cooking your own meat is a hands-on experience. We tried both places and I would go back to either in a heartbeat.
Breakfast is also very traditional and if you are used to Western-style breakfasts, it will be very different. The breakfast menu is set and they give you items like whole fish, rice, miso soup, and natto (fermented soybeans). It's often what we'd think of when we think of lunch or dinner, but was certainly fun to live like a local.
Unique resort amenities
Aside from the onsen and dining facilities, the ryokan offers other traditional touches. Here are some of our favorites that add to the experience:
Yukata shop – every guest can rent a Yukata and wear it around the resort (and to dinner!). They offer different sizes for both men and women, and they even have kid sizes. They are free to use during your stay and they come in a variety of patterns and colors. Our kids loved getting dressed for dinner each night in their Yukata. We looked around in nearby shops, but couldn't find these to buy and take home – only rent.
Souvenir shop – so many cute souvenirs to bring home. We bought cups that are likely meant for tea or matcha, but we use them regularly for espresso. Eek we're coffee drinkers. The kids also found some small toys. And the prices were very reasonable. They also sell snacks and drinks.
Coffee/Tea/Ramen – They have a "Resting place" room where they offer self-serve coffee and tea throughout the day. There are some tables if you want to stay. And in the evenings they have free ramen service. Yum! It was late though – around 10 pm or so at night.
Garden – there are little walkways that lead to the onsen areas. They are beautiful and great for a nice, relaxing stroll.
Amenity kits – the lobby has small amenities you made need throughout your stay. There is a basket that includes things like toothbrushes, hair ties, hair brushes, and soap.
Is Hakone worth visiting?
If you're looking to experience hot springs in Japan, Hakone is definitely worth visiting. Hakone is known for its hot springs and you'll also get some pretty amazing views. Plus, it's a fairly quick trip from Tokyo and easily accessible via train. Hakone is especially worth visiting if you are looking for a relaxing, secluded addition to your trip, especially after visiting bustling Tokyo.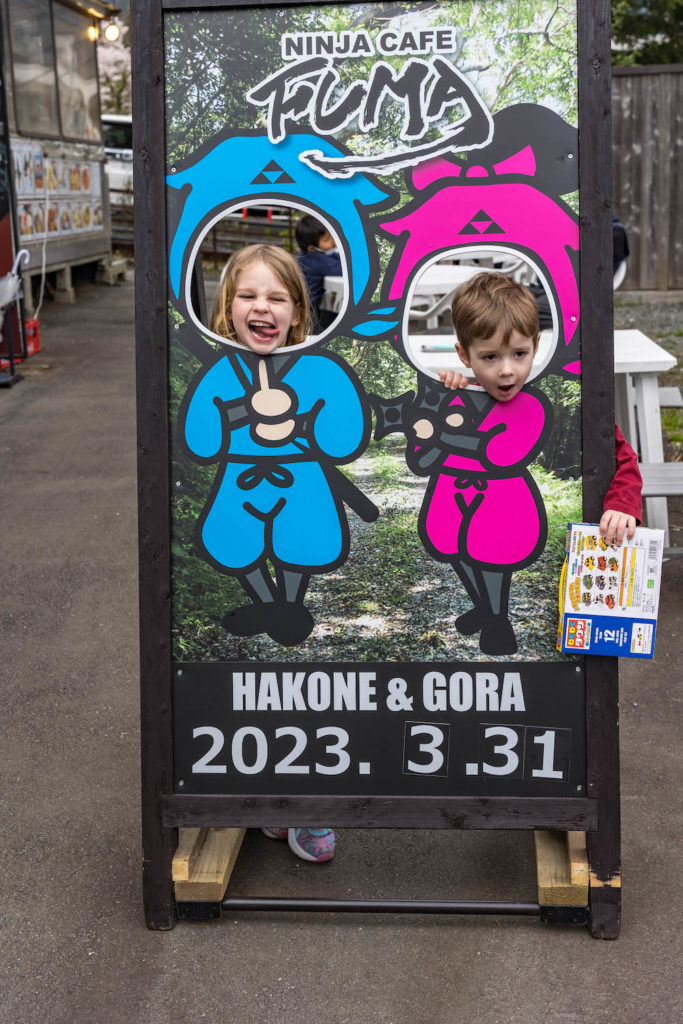 In addition to the hot springs and the resort's amenities, there are plenty of activities in the surrounding area of Hakone. The town of Yamanouchi is known for its skiing and snowboarding if you travel in the winter months. We also loved strolling around town and trying local restaurants. A few other places in the area worth checking out:
One great way to get around Hakone is by purchasing the Freepass. This pass allows you unlimited rides on 8 transportation systems, including the Hakone Tozan Line, Hakone Ropeway, and a scenic pirate ship.
Onsen Culture, Etiquette, and FAQs
Onsen culture is an important part of the Japanese lifestyle, and it's always a good idea to understand the etiquette before visiting. The first thing to note is that you must be completely naked when entering the hot springs. This may be uncomfortable for some Western visitors, but it's a common part of the experience. We did see some guests enter the onsen in bathing suits, but it's pretty rare to see. Use your own discretion on how you want to approach.
It's also important to note that you should wash your body thoroughly before entering the onsen, as it's considered rude to bring any dirt or soap into the water.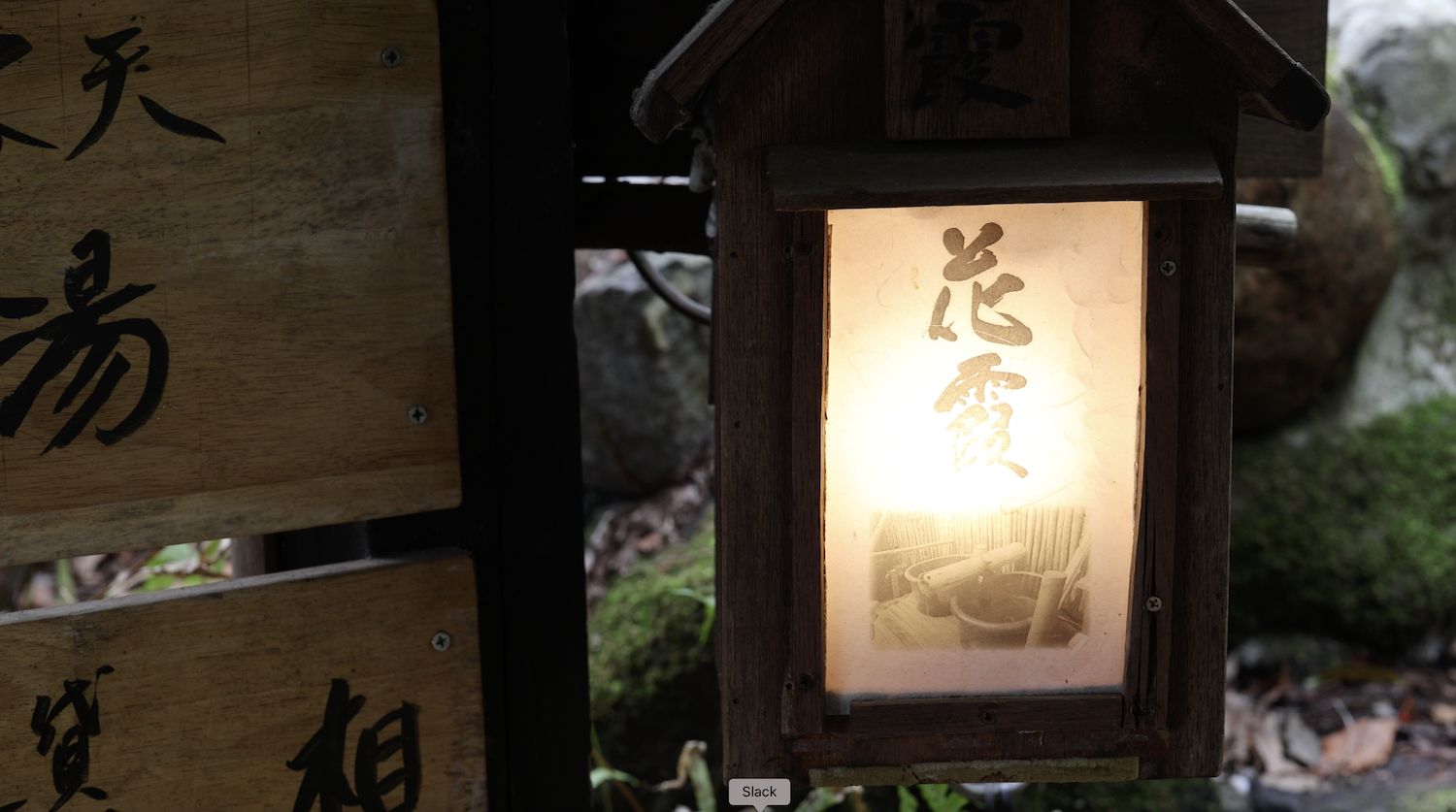 Another important aspect of onsen etiquette is to be respectful of others. This means keeping your voice down, not splashing water, and not bringing any food or drinks in. It's also important to note that tattoos are generally not allowed in hot springs, as they are associated with the yakuza, or Japanese mafia. If you have a tattoo, you may be asked to cover it up or not enter the hot springs at all.
Do you wear clothes in an onsen?
Traditionally, clothes are not to be worn in an onsen. Locals are very accustomed to entering the onsen naked and it's an important part of the onsen culture. We did see some guests enter the onsen in bathing suits, but it's pretty rare to see. Use your own discretion on how you want to approach, but we recommend sticking to local customs.
To help ease any fears you may have, the experience is to preserve the cleanliness of the onsen. Clothes, shoes, etc. are considered dirty to bring inside the onsen, and by removing them, you create a very hygienic space. It's not about checking people out in their birthday suits – it's a safe zone where you can go to relax and bathe in beneficial minerals. This is also the reason why you want to clean yourself before entering the onsen – to preserve its clean integrity.
There are lockers outside the onsen to store your belongings and undress before entering. Some modern onsens may allow clothing, so if this is important to you, be sure to do your research before arriving.
Can I go to an onsen with tattoos?
To be on the safe side, consider covering your tattoo before entering a Japanese onsen. Historically, tattoos have not been allowed in onsens due to their ties with the Yakuza, or Japanese mafia. As a foreigner, you may have a little more leeway as rules regarding tattoos have been relaxed for some nonsense. But because it's a hairy subject and one that could potentially offend locals with different customs, contact the onsen in advance or have a backup plan if you are asked to cover up your tattoo.
Can couples go to an onsen together?
Generally speaking, no. Most onsens are split with male and female areas. You can use the onsen with members of your same sex, but if you are traveling with someone of a different gender, you will be directed to separate areas. The one caveat is that some onsens have separate areas and then areas where everyone can use. For example, we went to one of these in Tokyo called Niwa no Yu. Here there are areas you'll enter without clothes and then one big mixed-gender pool where you can wear a swimsuit.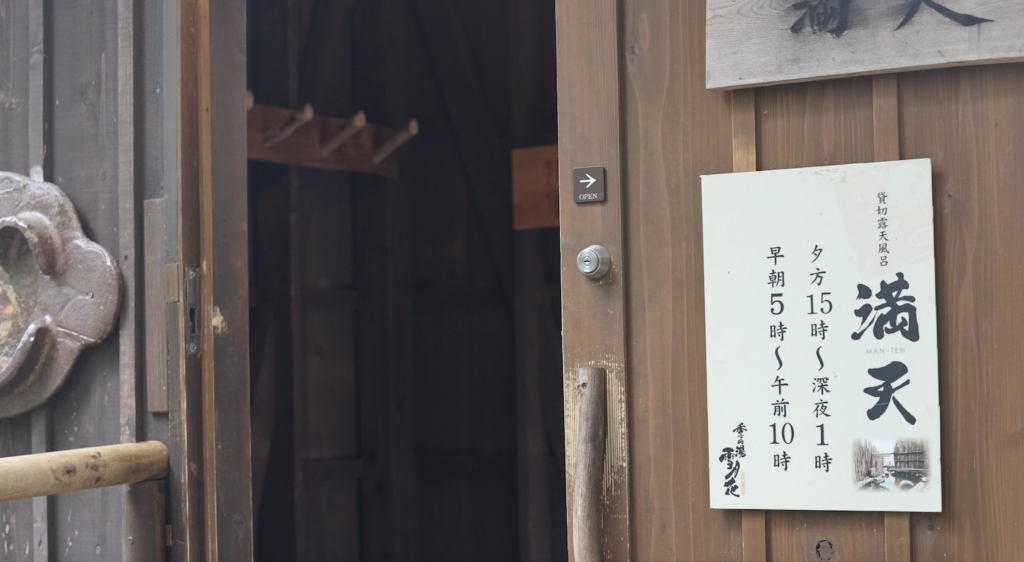 The other option is to find onsens with private baths. As we've outlined here, the Tokinoyu Setsugetsuka has several outdoor baths that are private, along with one in your room. These can be a great way to have a couples' onsen experience.
Will I feel awkward visiting an onsen hotel as a foreigner?
If you are considering visiting an onsen and you are not a local, you may be nervous about what to expect. I've now been to onsens on two separate occasions. The first time, I was very nervous. The second time, my 6-year-old went with me and she was very nervous. On both occasions, once we entered the onsen we felt very comfortable and safe. We immediately picked up on the culture and how everyone is focused solely on their own relaxing experience.
Can kids go to an onsen?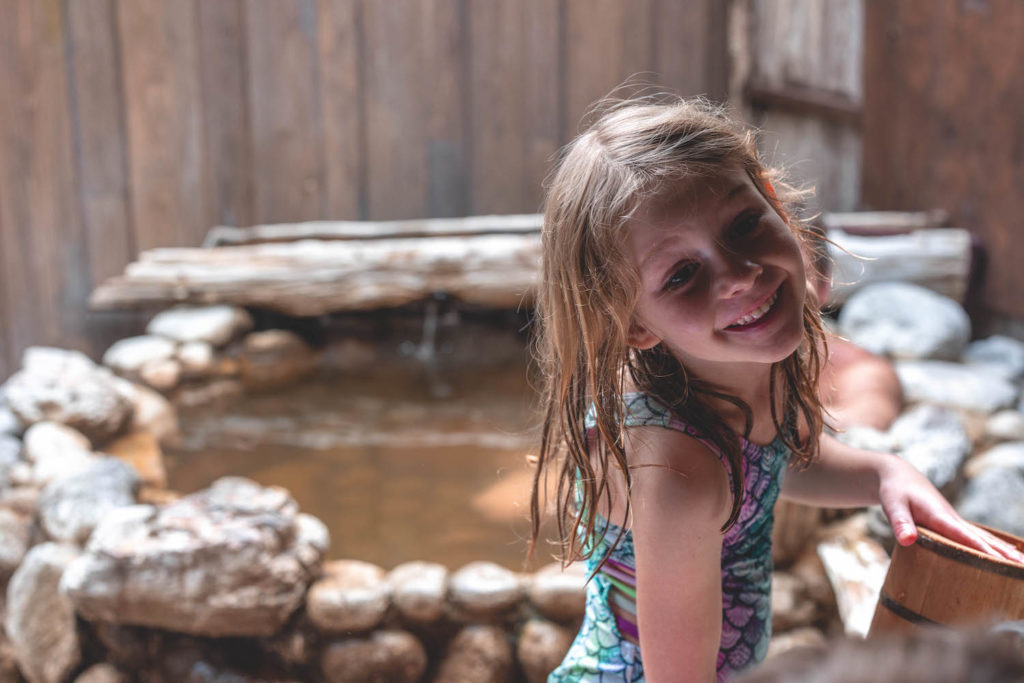 Yes! Unless explicitly stated, onsens do not have a minimum age requirement. And if you are bringing younger children with you, know that mixed gender is considered acceptable. If you're wondering what constitutes a young child, 7-year-old and younger is commonly considered a good cutoff. Another consideration is diaper-aged children. As onsens maintain optimal cleanliness, consider if your kiddo is potty trained.
Would we recommend Tokinoyu Setsugetsuka?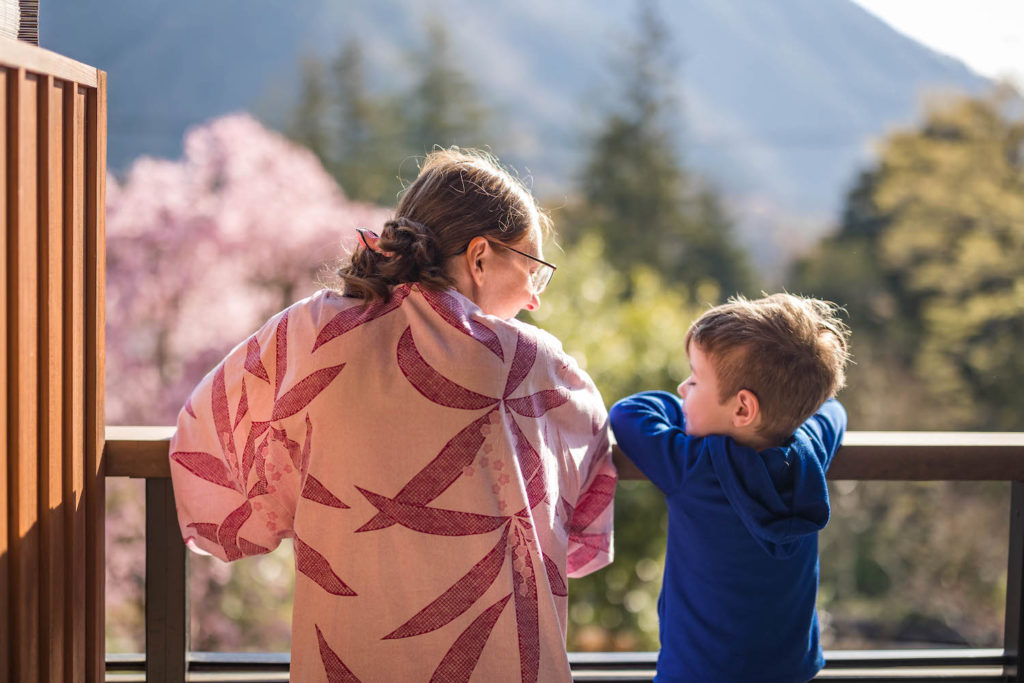 Yes, in a heartbeat. If you want a true cultural experience, this place is for you. If you want relaxation, this place is for you. And if you want luxury, this place is for you. It was well worth the trek out from Tokyo and the type of place where you'll create lasting memories. If you're looking for an onsen hotel in Hakone, I can't recommend Tokinoyu Setsugetsuka enough.
You may also like: