One of our biggest influences is Anthony Bourdain. He says, "I think food, culture, people and landscape are all absolutely inseparable" and we are so on board with that. Food is culture. And one of the best ways to immerse yourself in a new culture is to take a cooking lesson. Almost every new city we visit, we look for cooking class or food tour opportunities. They are led by locals and you'll learn so much about a place while tasting some delicious, authentic food. And the best part – cooking classes are a great activity for kids. During our recent trip to Mexico City, we were recommended a family cooking class at Aura Cocina Mexicana.
"I think food, culture, people and landscape are all absolutely inseparable."

Anthony Bourdain
Types of Cooking Classes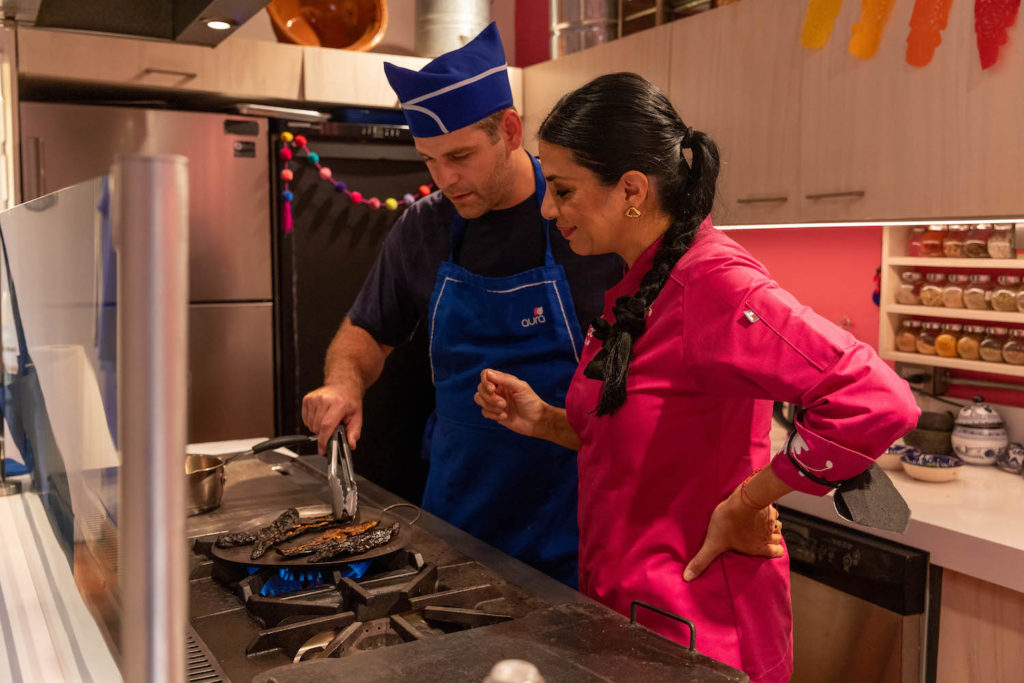 The good news is that if there's a particular skill you want to master, you'll find it. There are three main Mexican cooking classes you can choose from: Authentic Mexican (sope, salsas, mole, etc.), Mastering Mexican Salsas, and Mexican Street Tacos. Being the taco lovers we are, we went with the Mexican Street Taco Class – and it did not disappoint (more on that to come).
Online Cooking Classes at Aura Cocina Mexicana
Hopefully you can attend in person because the in person classes are such an immersive, hands on experience you'll never forget. But the next best thing if you can't make it to the in person kitchen, is an online cooking class with Aura Cocina. They do many of these classes, especially for groups looking for a unique experience. And you'll have even more options that include Mexican Fiesta and Mexican Churros.
No matter what you are looking for, you'll find a class to fit your needs, so keep that in mind after you read about our experience, but you may want something a little bit different.
Aura Cocina Kitchen and Chef

The cooking school is centrally located and easy to find. We took an Uber straight there. And once you step inside Aura Cocina, everything is beautifully set up: the table, plates, silverware, decor, and drinks are even ready to be poured the second you step inside.
I was expecting a large commercial kitchen type place, but I was actually happily surprised with a smaller, more intimate setting that was beautifully decorated. It was like cooking in a local's home rather than a massive cooking school.
Chef Graciela Montaño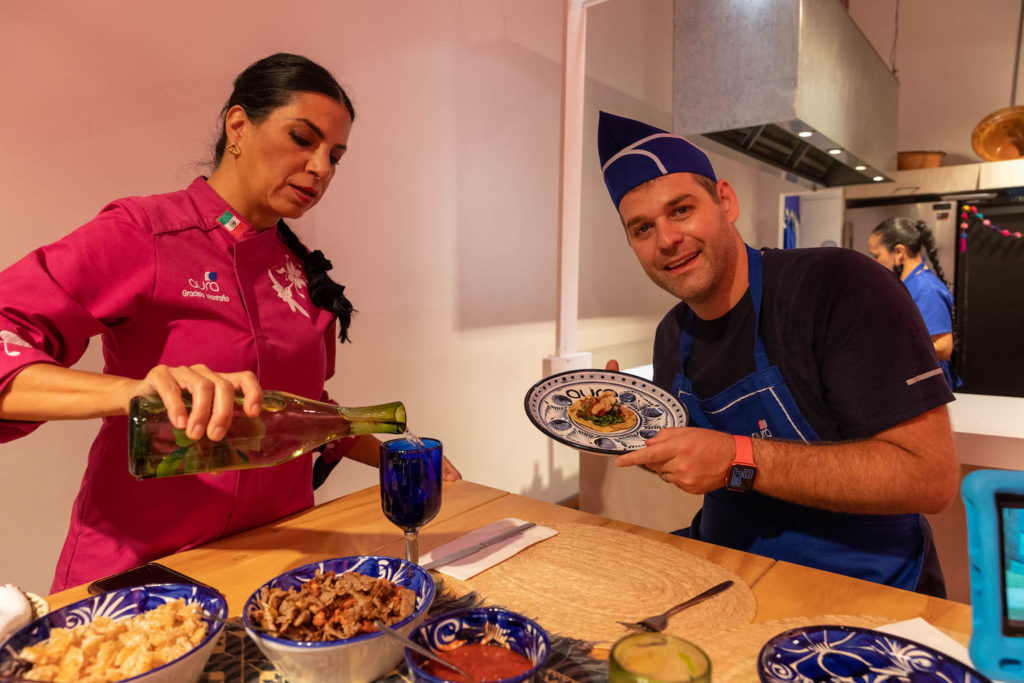 Chef Graciela Montaño is incredibly knowledgeable about ingredients and the history of Mexican cuisine. Ask her anything and she'll provide an in depth answer or a story. She and her assistant were super patient, considering we had two active kids running around. And she knew exactly which tasks would be great for kids. She very clearly has a passion for not only cooking, but also teaching.
How the family cooking class is structured
For the taco class, you'll start off with a refreshing, seasonal "agua fresca" and an appetizer of tortilla chips and guacamole. Your apron and taquero hat will be waiting for you at your seat. And while you munch on some snacks, you can do a brief introduction of yourself and/or your family while learning about what you'll be cooking. They have this introduction time when cooking with kids and large groups. Then it's off to the races.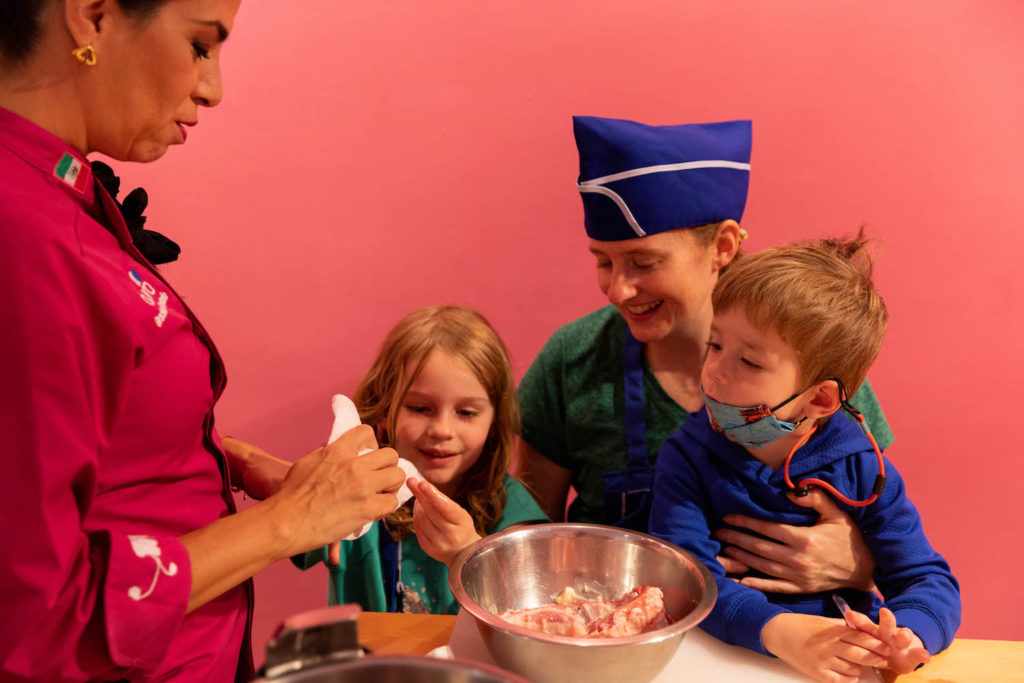 How much cooking will you be doing?
There are a variety of steps and you help with everything along the way. Chef Graciela ensures everyone is always involved. We diced chile peppers and then helped our 3-year-old and 6-year-old dice up some veggies. Olivia (our 6-year-old) even made the tortillas with the help of chef while us adults cooked some of the meat. It was much more interactive than I anticipated, especially for the kids.
What will you cook?
In the street taco class we prepared a variety of items:
Salsa that will rock your world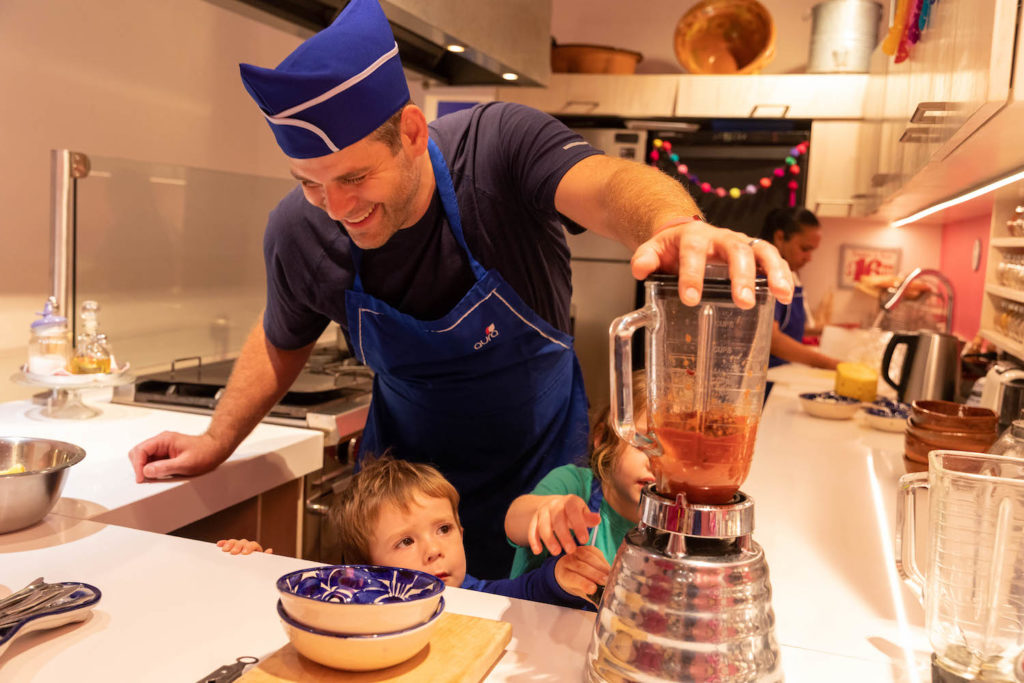 You'll get to prepare three different salsas. One was spicy – though we were asked how spicy we wanted to go for the first two and of course, we went spicy spicy. And the third was a mild mango salsa to accommodate the kids. Both were extremely delicious. And what I loved most is that they are prepared according to your taste. You'll learn how to cut the chile peppers, the different types, and how much to put in for your optimal spice level.
Fun fact, each salsa is tailored to a specific type of taco. So typically you wouldn't mix and match salsas and meat. It was so interesting to learn about this part of the culture.
Tortillas… oh the tortillas
We made fresh tortillas and they may have been the highlight of the experience. Though I'm a bit biased as it was the part I was looking forward to most. Everyone got involved and you'll immediately want to pick up one of these tortilla presses when you get home so you can recreate – the store bought ones will never do after you learn how to make them.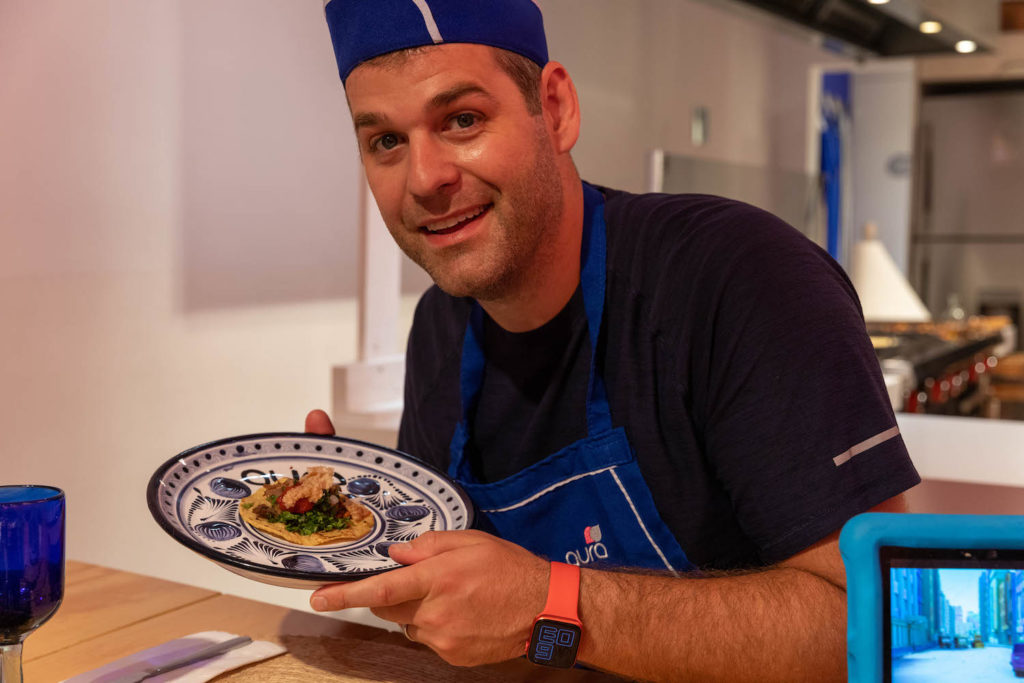 Chef Graciela explains which areas of Mexico eat corn tortillas and which eat flour. Mexico City consumes corn tortillas so that's what we made. She'll also explain to you about the corn masa and why it matters which kind you use – it's unique to the area and they use a special kind. Though she'll also help with what to look for if you want to buy corn masa back home to make on your own.
The process of making the tortillas is loads of fun and the perfect task for all ages. And spoiler alert – they turned out amazing!
Traditional meats cooked simply and beautifully
When you come to visit Mexico City, you probably want to experience as many different types of tacos as possible. Because, why not? So when you take a cooking class at Aura Cocina, you'll learn three different types of tacos. Oh and we also learned Mexicans eat different tacos at different times of the day. Barbacoa for example are breakfast tacos.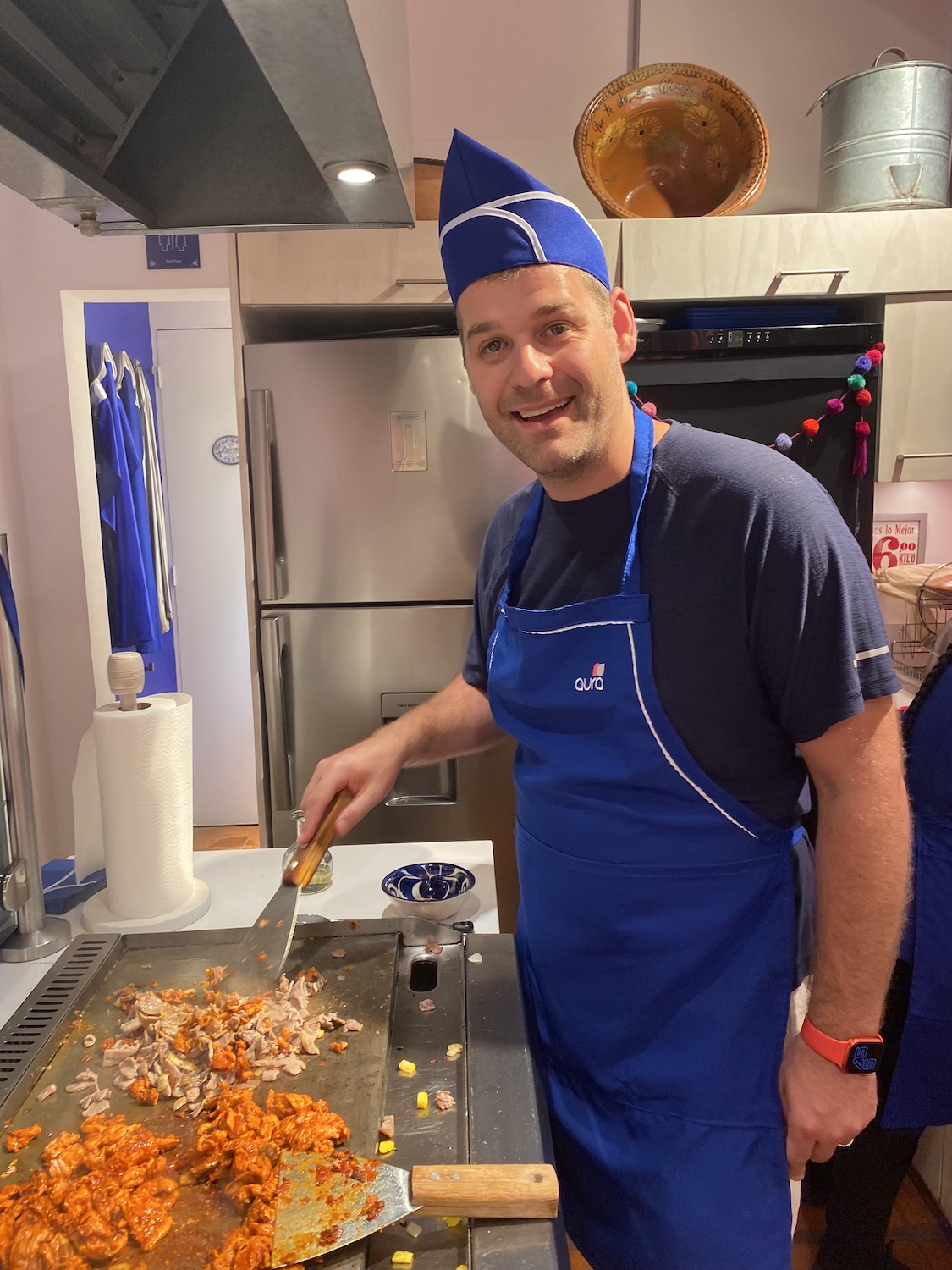 Tacos al Pastor is what many people seek when they visit Mexico City. And this recipe was exceptional. You'll make an authentic adobo sauce with a variety of spices and chiles. You'll have the chance to marinate the pork and then cook it until all the flavors come out. And then you'll get to do a taste test topped with pineapple, cilantro, onion, and lime drops. It was probably my favorite taco. The flavors were super fresh and the touch of pineapple made it a lovable choice with the kids.
Tacos Barbacoa is made from either lamb or beef short ribs. This was a fun one to make because we got to cook it with banana leaves. And it didn't take too many ingredients, so it's a great one to learn for home. It takes a little longer to cook so we started it first.
Tacos Campechanos was the last taco and the one we didn't have as much familiarity. It's made with beef cecina and shredded longaniza. And then topped with chicharron. I have to admit, I've never been one to munch on chicharron, but on these tacos I couldn't get enough. I think I ate the most of these because it was simple and flavorful at the same time. And I loved the little crunch on top.
And who can forget the beverages?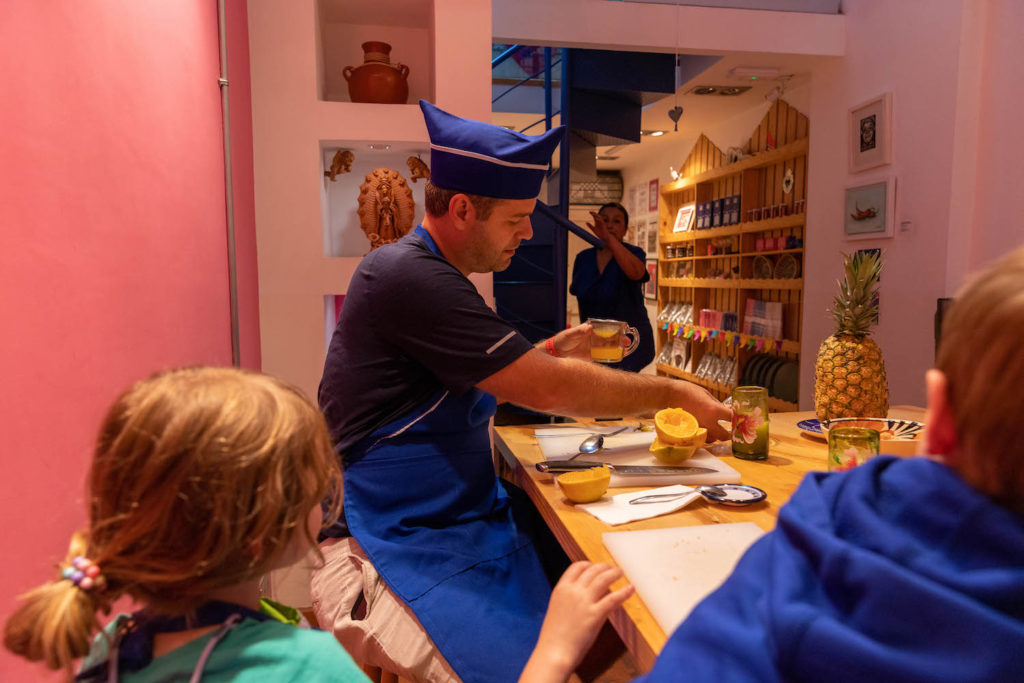 While enjoying our dinner, we were offered the choice between mezcal, Mexican craft beer, or Mexican wine. As I am currently pregnant, I couldn't participate in this part, but Nick had the mezcal and said it was delightful (his exact words I think were "game changer"). We're not normally mezcal drinkers, shown in our videos from Mexico previously, but this may have opened a whole new world!
And just when you think you're done… dessert
We were stuffed. The cooking class started in the evening and it was definitely enough for a full dinner. We could have kept eating more (and at this moment, I'm wishing I could). But we saved a little room for dessert. After everyone finished up dinner, they brought out corn bread for everyone. The cake was called Pan de Elote and it was similar to a corn bread. And if that wasn't enough, we were treated to a water-based Mexican hot chocolate. They even had little candies that they offered the kids (which of course they loved).
My plans to grab churros after the cooking class came to a halt as we were so full. If you have any doubts about whether you'll have enough to eat, you will!
Would We Choose Aura Cocina Again?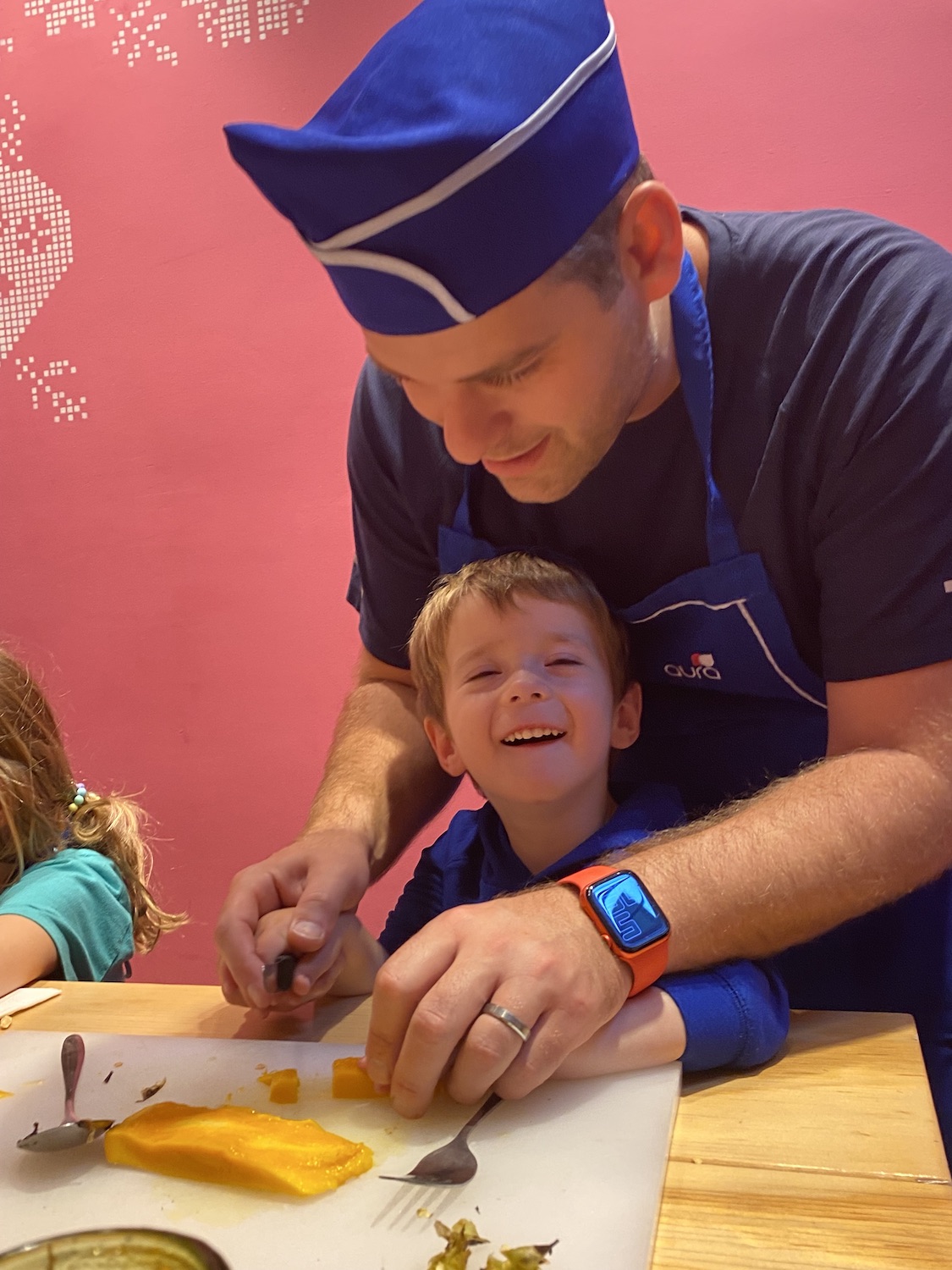 Mexico City has a pretty large selection of cooking classes and food tours. And we always try to go on one in every city we visit. They are engaging for kids. They allow you to learn and ask questions about the culture. And they involve food, which keeps the kids happy. We love museums and cultural sites, but I recommend filling those activities in with a food or cooking class as something interactive for the whole family. Especially in a culinary powerhouse like Mexico City.
When I was doing research on family friendly tours and classes, I came across that seemed to cater more to adults. We chose Aura Cocina Mexicana after reading reviews about how they personalize their classes to each group. If you are a group of friends without kids, your class will be different than a family with kids. For instance, we chose to have our class expedited a bit to cater to the shorter attention spans of kids. Even when the kids started running around a bit, we always felt welcome, and that's a huge reason I'd recommend this place. Other than the incredible food we were able to experience, it's the kindness and customized experience you'll get.
After you leave, they'll send you all the recipes so you don't have to worry about taking notes. And it's probably the best souvenir you can come away with. If you're looking for a family cooking class in Mexico City, we had the best experience at Aura Cocina and can't recommend it enough.
What Mexican dish do you most want to learn?
Check out these other great reads:
Review of the Grand Fiesta Americana Coral Beach in Cancun
Riviera Maya or Cancun: Which All-Inclusive is Right For You?
Greeking.me Food Tours in Athens