Let me start out by saying if you're looking for a Dreams Jade Riviera Cancun review, you've come to the right place. This article will be that. Our focus is on traveling with kids and all the wonderful places you can bring your kids, so we will also be highlighting what makes the Dreams Jade Resort a good option for the entire family. Let's break this down and in each area we'll be discussing what you can expect if you have kids in tow.
The Room
This is the first area we'll cover in our review of the Dreams Jade Riviera Cancun because frankly, this was our top priority. We traveled with a 3 year old and 6 month old, which meant room size and amenities were of high importance. Plus, we wanted space – as much of it as we could get. We found small rooms and rooms that seemed to cater to families. And the Dreams Jade Resort was the latter. I think it's important to point out that even the lowest category rooms (which is what we went with) are large Junior Suites. So you don't need to shell out extra cash to get an extravagant suite that will meet the needs of your family.
The room itself is super modern and very, very clean. Like I mean we had to request no cleaning products one day because the cleaning smell got to be a little overpowering (personal preference). We had two double beds with a large living area and plenty of space to spread out. They provided us with a crib last minute – yay! In fact, if you use the app you can request a crib or a variety of other amenities right from your phone. And that was such a fun perk.
Our room came with a balcony, and unfortunately, mosquitos to go with it. We definitely gave it a pass, though, because we came during rainy season, so it's to be expected. And we know this is obviously nature and as the hotel is located essentially in the jungle, you gotta sort of expect it. The hotel does what they can with sprays, but just know coming into it, you may want to plan on a mosquito-y environment and bring a little extra bug spray.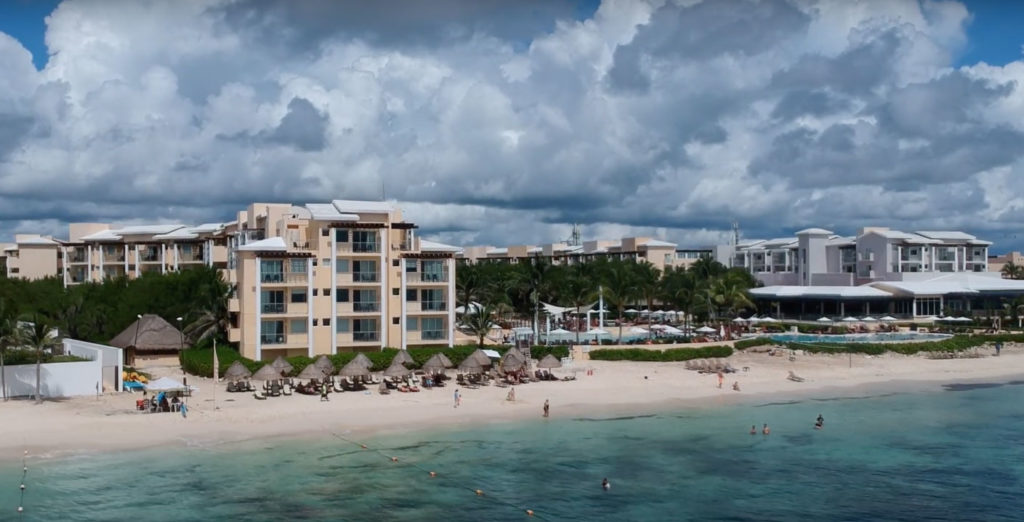 The last thing to say about this room is that the bathroom was HUGE. I mean massive. And as a family traveling with kids, you care about things like the size of the bathroom. It had a giant jacuzzi bathtub (with an excellent view I might add) and a separate shower and toilet. It also had dual sinks and was probably the same size as the bed/living room. If we ever had unlimited funds and space to redesign our bathroom, we would want it to look like this.
So the takeaways here are that the room is super clean and it's perfect for families without spending lots of money on a suite. You will love all the space and the ease of requesting amenities for the little ones. One note: watch carefully because the floor can be really slippery!
The Activities
We stayed at the Dreams Jade Riviera Cancun for about 4 days and we never left the resort the whole time. It was amazing. But that brings up the question – were there enough activities to fill our time? Here are some of the different activities at the resort and then we'll let you know if we thought it was enough for the time we spent there.
The Beach
this one is pretty obvious. There is a beach. If you're looking for the prettiest beach in Cancun/Riviera Maya, this probably isn't it. There was a bit of seaweed and rocks, but we have no complaints. It was clear and pretty and swimmable. They have a little section surrounded by rocks so the water doesn't get too rough. And the sand was super soft. The beach was a little on the small side, but there weren't that many people out there. Though we were traveling at an off peak time so keep that in mind.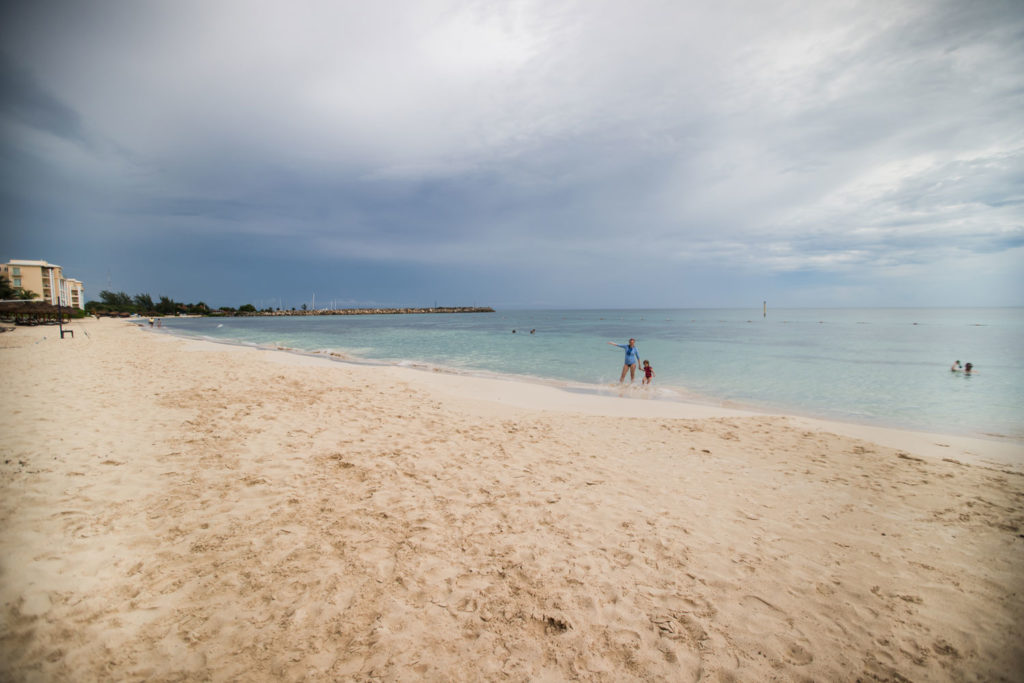 The Pool
three pools and all of them are very nice. The main pool had a swim-up bar and all the activities took place there. It didn't seem overly rowdy, though some folks were having a good time. At peak times of the year I can imagine it gets pretty hoppin. There is also a shallow pool for kids right next to the main pool. No slides or water features, which was the one thing we wished this resort had when compared to some of the other kid-friendly resorts, but the room was more important to us so we were ok with it. There was also a third pool, but we never went to it so we can't comment on that one.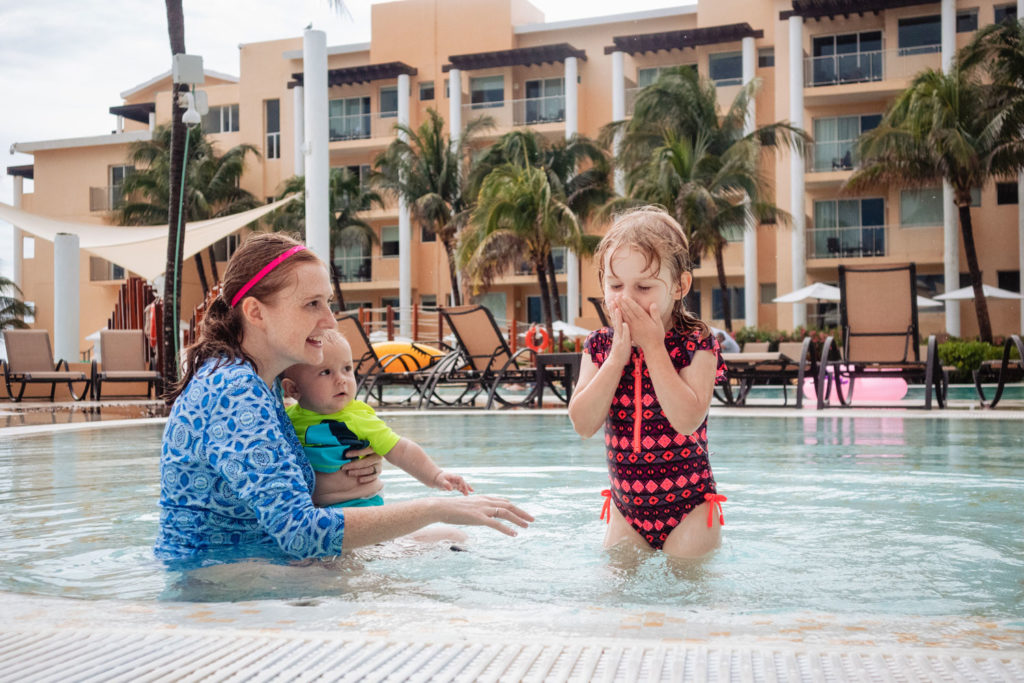 The Shows
We went to a couple so we can comment on these. The fire show was really cool and fun for the kids, but it got rained out, which was out of the resort's control, but there was no backup plan in the case of rain. We also saw the traditional Mexican show. A very cool one for kids, but keep in mind, a lot of these shows are on the later side, so if you have kids that go to bed early, it may be took late for them. Our kids were falling asleep during the shows.
The Kids Club
This was the first real experience we had with a kids club. We had a quasi-experience on our cruise, but with a one year old, it wasn't a true "drop your kids off alone" type deal. Kids aged 3-12 can access the Explorer's Club aka kids club. And it's open from 9am – 10pm. There is also a club specifically for teens 13-17. You can view the schedule ahead of time and drop your kids off for just the activities they want to do. We had Olivia eat all her meals with us, but you check a box when you register if you want them to eat lunch or dinner at the kids club.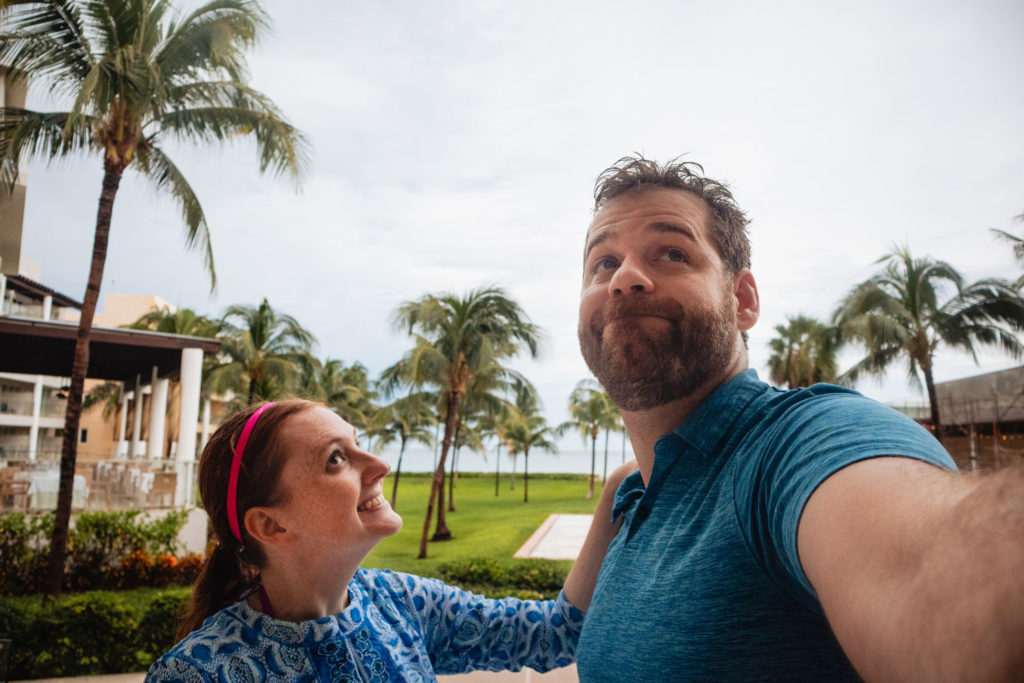 Activities ranged from movie night with popcorn, to arts and crafts, and even a bungee trampoline. There was something for everyone and lots of kids in there for your little ones to make new friends. We found that Olivia preferred to hang out with us, but liked to drop in there once or twice a day if there was a fun activity going on – like face painting! She was on the younger side though, so I imagine slightly older kids may like to spend more time there.
Overall, we felt between the pool and the beach, we didn't need to leave the resort. It all depends what kind of vacation you're looking for. If you want adventure, you may want to stop by by the concierge and look into different excursions. We have done many excursions in the area with past visits (zip lining is a must if you like that sort of thing), but this trip was all about relaxation for us. So we were content just eating and soaking in the sun and the pool and beach. Whenever we felt like we wanted to do something a little more active or engaging, we'd look at the schedule and participate in the various games like cornhole or watching cooking lessons. If you want a slower-paced vacation, just hanging out at the resort will be perfect for you.
Food and Drinks at Dreams Jade
Obviously food needs its own dedicated category because if you're going all inclusive, you'll probably do a fair amount of eating. In terms of the variety and quality, we can't complain. Everything we ate was wonderful and we never felt like we were repeating the same things. They have Asian, French, Mexican, Italian, and mediterranean dinner options as well as some casual grill and buffet options (plus room service at no extra cost). The variety was more than enough for us. And they had kid menus, which was a major win. The kids menu had your typical burgers, hot dog, pasta, chicken nuggets, etc. If you have a picky eater, you should be just fine.
One thing to note that isn't exclusive to the Dreams Jade Review Cancun is why we love an all inclusive vacation. If you're out to dinner at an all inclusive and your kids get tired, have tantrums, or any number of things that lead to a less than ideal dining experience, you are just a quick hike away from your room. You meal has already been paid for in the price of your room and you don't have a long transit home. It's really such a perk when you are traveling with kids.
From the drink side, there are many bars across the resort and they even make fun little mocktails for kids. We also loved the coffee house and visited it daily for yummy treats and our caffeine fix.
How does Dreams Jade Compare to Other Resorts we've Visited in the Area?
We've been fortunate to visit the Cancun/Riviera Maya area many times over the years. We've stayed in many beautiful hotels including other AM Resorts and Riu hotel brands. If beach or high energy is the most important thing to you, we recommend looking at the Cancun Hotel zone. The beaches are just gorgeous and there is a lot going on in the way of activities. If you want a more secluded adults only experience, we loved Secrets Maroma and Secrets Silversands. But here's why we'd suggest staying at the Now Jade Riviera Cancun:
It's a really great option for kids. It's part of the AM Resorts brand and they have different hotels for different types of travelers. Now Resorts and Dreams Resorts are both marketed toward families. You'll find many activities and amenities that cater to families (kid's club, kid pools, etc.)
It's affordable. Of course it depends what time of year you are traveling, but we always noticed the prices a little lower than a lot of the other resorts we looked at including Panama Jack, Riu, Palace Resorts, and Iberostar. It's a little off the beaten track which helps keep prices lower.
Large rooms. When we were researching, we wanted space for us to spread out without having to upgrade to an expensive room. All the rooms at the Now Jade are large! This is one of the best reasons to book if you want that extra space.
Laid back vibe. This is not marketed as a party hotel. It caters to families, couples, groups, etc. that want a chill atmosphere. It's in a slightly more remote location of Puerto Morelos, which gives it a very relaxing type vibe.
Variety. Whether you have picky kids or you just want to switch things up every night, you'll have plenty of dining options and activities to choose from each day. We loved the variety at this place. In fact, we didn't even make it to all the restaurants during our time there.
There are a few reasons you may want to look at another resort. If you're looking at being walking distance to things outside the resort, you want a more party atmosphere, want a couple only experience, or if beach is the most important thing to you. Also, if you don't want to be around mosquitos. Because there were quite a lot of them.
Our Favorite Travel Gear for Kids on Plane Rides:
Is it time to book the Dreams Jade for your family?
If you are planning a trip here or thinking about it, especially with kids, the staff goes above and beyond and the place is immaculate. It was truly a luxury experience and such a relaxing vacation. Let us know if you have any questions, we'd love to talk!
You may also like:
Riviera Maya or Cancun: Which is Right for You?
The Best of Buenos Aires with Kids