I see this question posted all the time on social media. Disney Cruise vs. Disney World: which is better? Which is cheaper? Which will give me the best Disney experience? While it's largely dependent on your own priorities, vacation style, and budget, there are some differences that can help you decide.
Disney World or Disney Cruise: What to consider
At a high level, you'll want to start thinking about the type of vacation you are looking for. Toss Disney aside for a minute and answer some of these questions:
What kind of budget are you working with?
Do I want a relaxing trip or a more active one?
What are the ages of everyone in your group?
Do you want to stay in one location or visit many?
Do you prefer a hands off vacation or do you want to plan many activities?
And then a bonus Disney question:
Just how into the full Disney experience are you? (aka do you want to meet every character?)
Answering these questions will likely point you in the direction of Disney World or Disney Cruise Line. But let's break it down a bit further.
1. What's your budget?
This may be the single biggest factor most people consider when choosing Disney World over a cruise or vice versa. They are very different price points, but here's generally what you can expect.
Disney World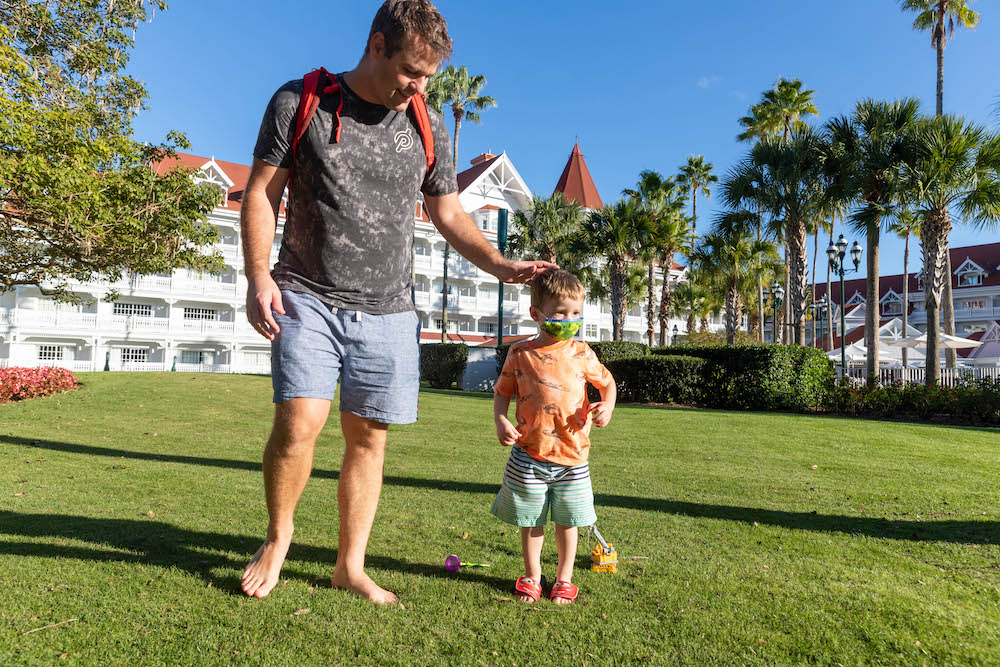 The thing about a Disney World vacation is that the price tag can vary wildly. You can do it on a budget, but you could also spend the equivalent of a second mortgage. It truly depends on your style. The important thing here is that it's a sliding scale and there is a Disney World vacation to fit everyone. You can pitch a tent at Disney's Fort Wilderness, stay in a moderately priced resort, or splurge on a bungalow at Disney's Polynesian Resort. All for very different dollar amounts. The same holds true with park visits. You can keep your costs down by visiting one or two parks and spending extra days at the pool. Or you could buy a 7 day park hopper.
The key takeaway with Disney World is that it fits a variety of budgets.
Disney Cruise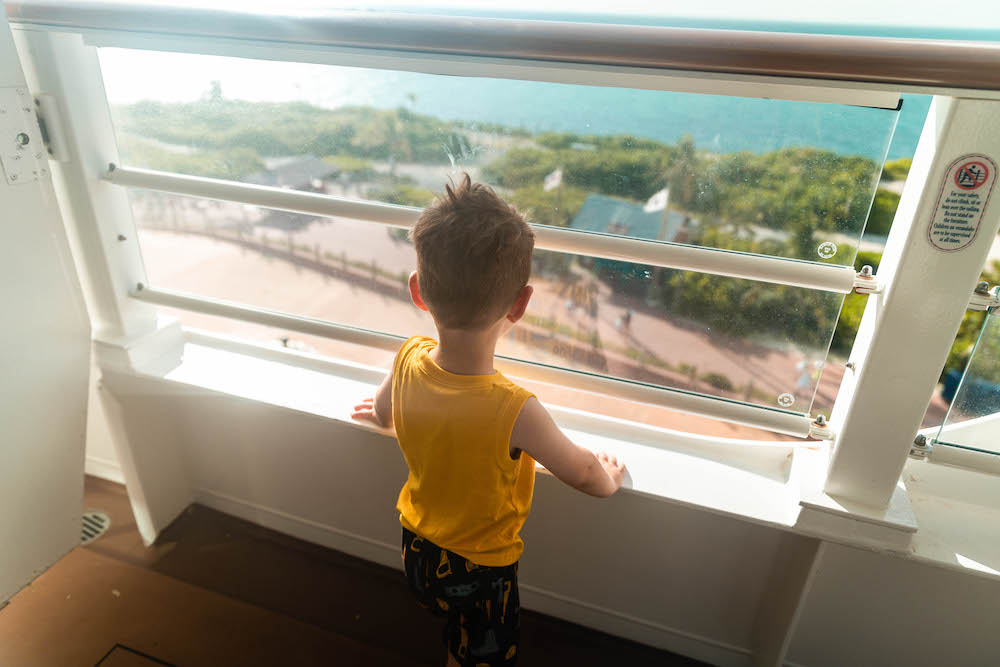 Yes, to some degree a Disney Cruise caters to varying budgets. The number of nights you choose, the itinerary, and of course the staterooms offered (interior, oceanview, balcony, etc.). But unlike Disney World, you have less to work with in terms of budget. In most cases, the base interior room is still going to be quite expensive. The one exception is if you are lucky (and flexible) enough to snag a last minute deal. But in general, Disney Cruises aren't known for being friendly on the wallet.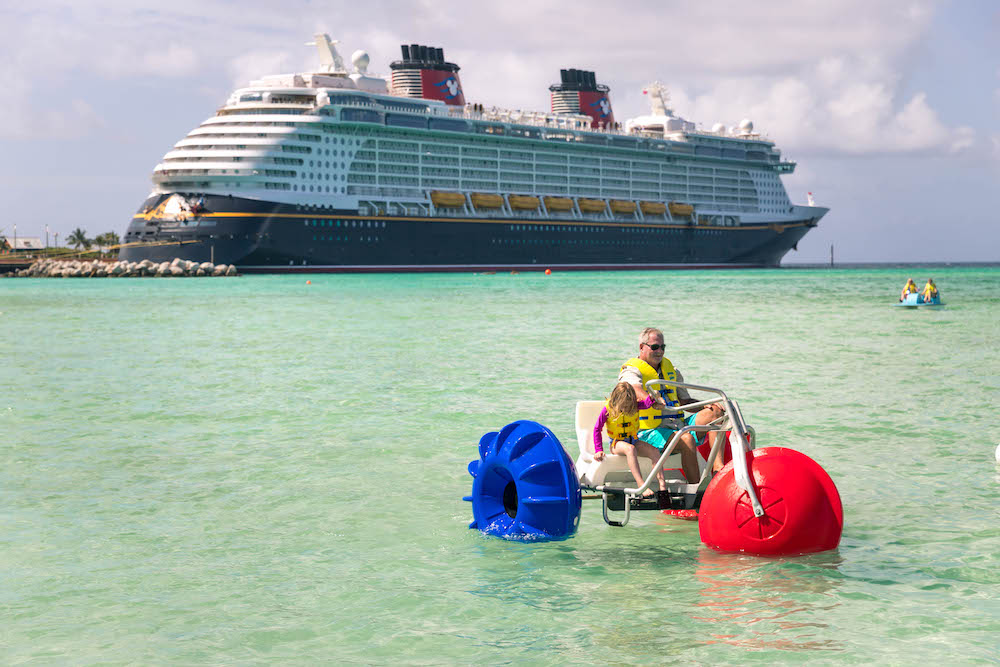 Bottom line
If you want to control costs: Disney World
If you want to pay upfront and not worry about spending: Disney Cruise
2. Relaxing or Active?
Here's where vacation style comes into play. Do you want to spend most days chilling by a pool or beach? Do you want maintain a packed schedule of activities? Your answer will help you decide between cruise and Disney World.
Disney World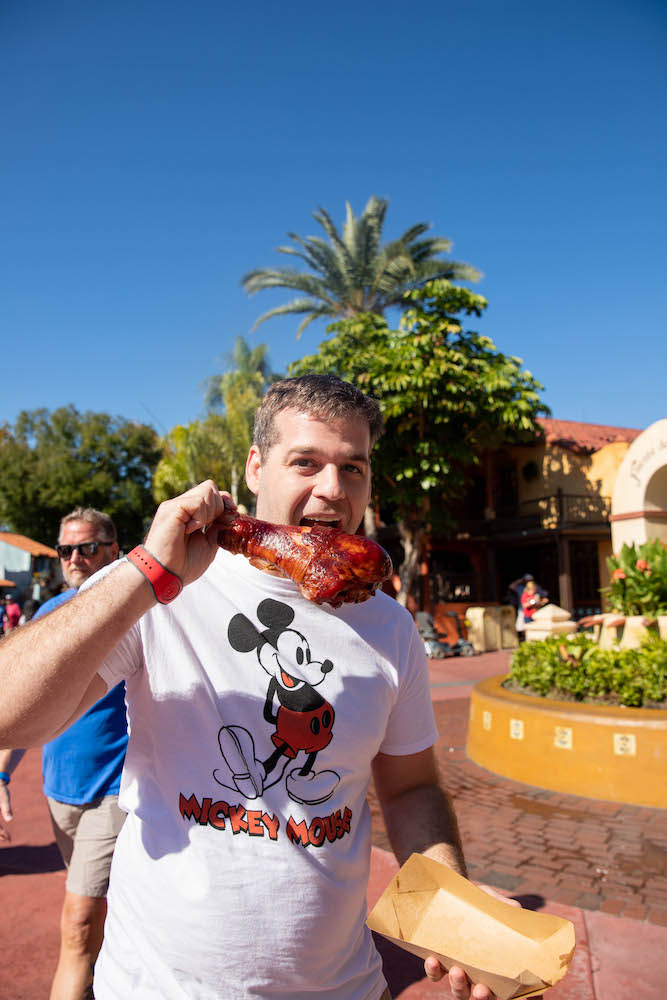 Can you do a Disney World vacation without lots of walking and running from place to place? Of course. You can certainly take it easy with spa visits and laid back pool days. But let's face it – most people are running around Magic Kingdom trying to cover as much ground as possible. You can expect your days to be filled with parades, rides, characters, and mickey shaped foods. Typically your day runs from the early morning until you and/or your kids are falling asleep at night during the fireworks show. It's not what comes to mind when one thinks relaxation.
Disney Cruise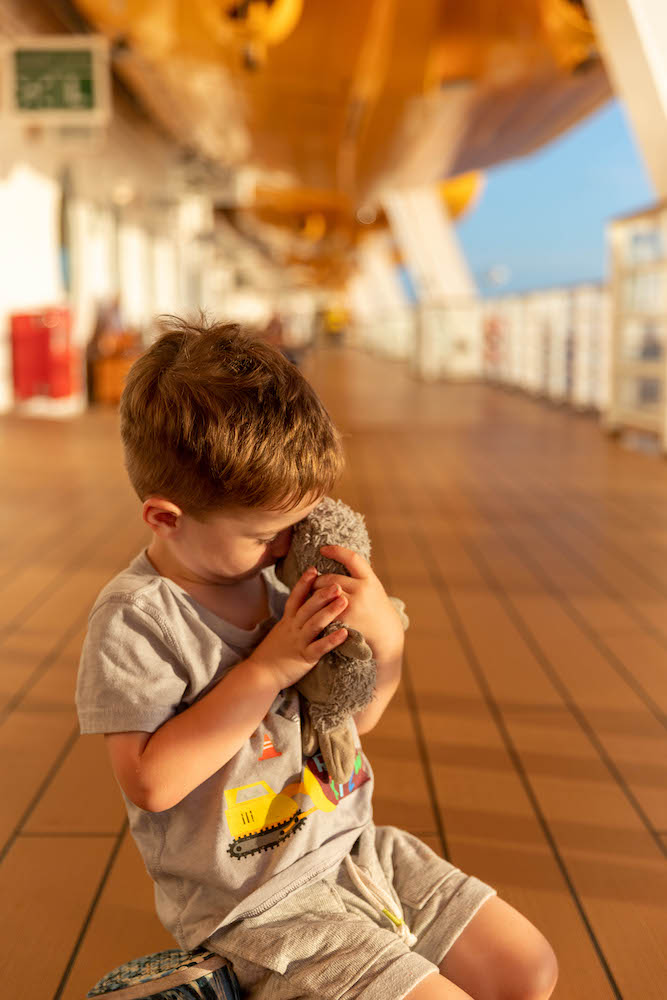 Cruises can also be packed with activities, but they tend to be a bit more relaxing. Days are often filled playing at the pool or exploring beaches and water parks on port days. There's not a ton of walking since you are confined to a ship most days. That doesn't mean going on a Disney Cruise will be boring. There are scheduled activities, interactive meals, port excursions, sports, kids clubs, bars, and all kinds of other things. But when comparing a Disney Cruise vs Disney World, the cruise tends to operate at a slower pace.
You'll also encounter less crowds on a cruise. Sure, the pool may get packed some days. But in general if you aren't a crowd person, a cruise may be the better choice for you.
Bottom Line
If you want to keep yourself busy: Disney World
If you are looking for laid back vibes: Disney Cruise
3. Ages of all trip goers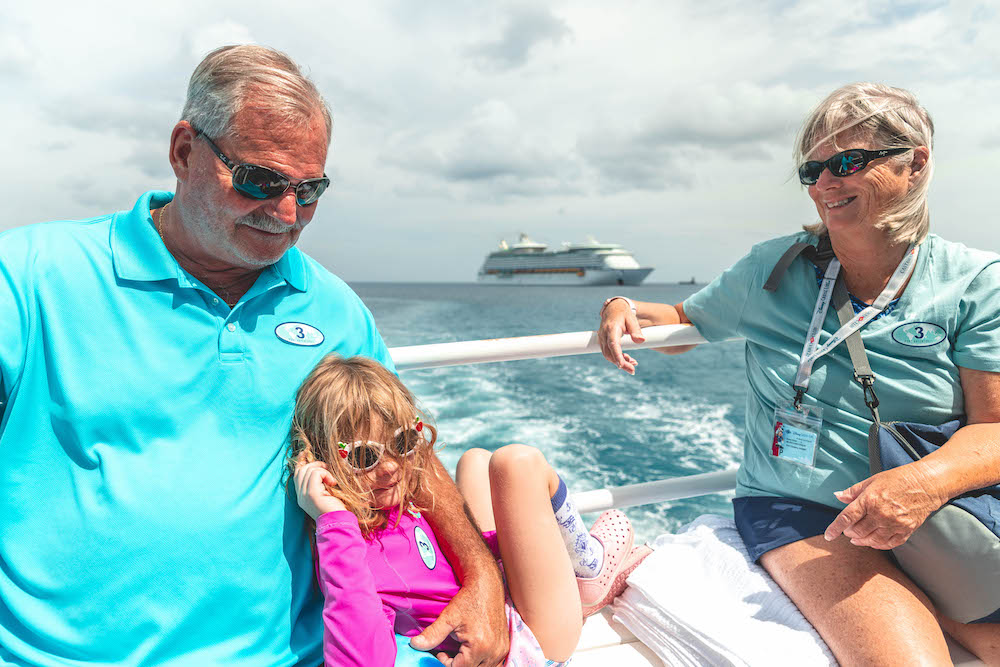 No matter your age, there's a pretty solid chance you'll have fun on either a Disney Cruise or a trip to Disney World. Here's where I'm not really going to compare because I truly feel there is something for every age at Disney World or on a Disney Cruise. We've taken a baby on a cruise and to Disney World and had a blast. We've gone to Disney World with grandparents and on a Disney Cruise. They thoroughly enjoyed both. Ages aren't going to make or break your decision – that's a matter of vacation style. There's no real winner or loser here.
4. Stay put or explore?
We're probably stating the obvious here, but on cruises you can visit multiple destinations in one trip. At Disney World you can't (unless of course you count traveling around the world at Epcot).
Disney World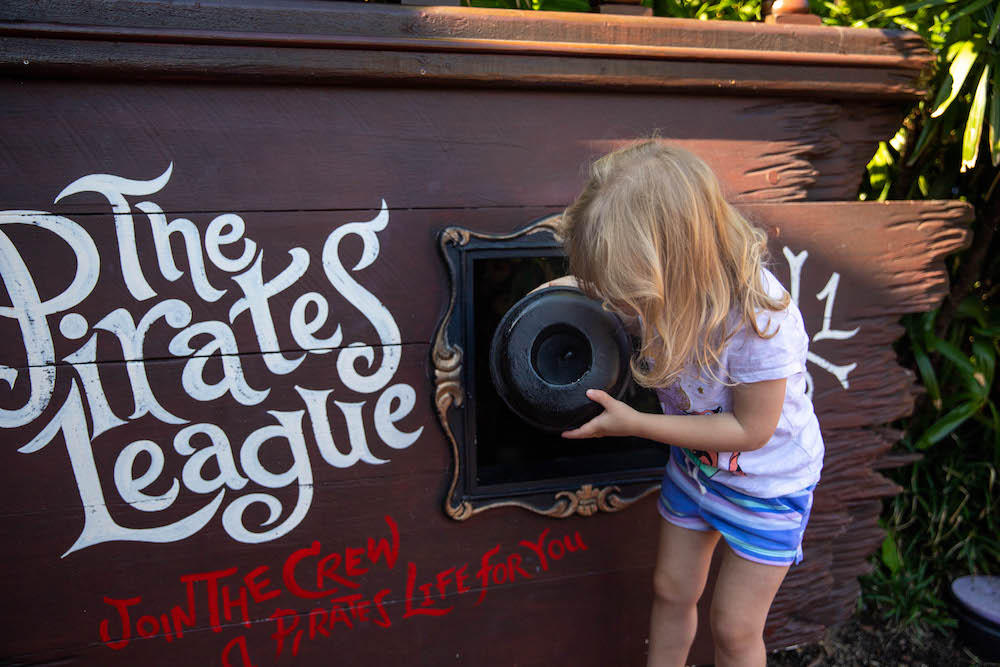 You may not be traveling to different countries or cities, but you'll be able to travel around to different parks. You could visit all 4 and get a totally different experience at each. But unlike a cruise, you'll be pretty confined to Orlando (the city beautiful as the mayor likes to say). Are you good with staying roughly in the same area or do you want to get out and explore different destinations?
Disney Cruise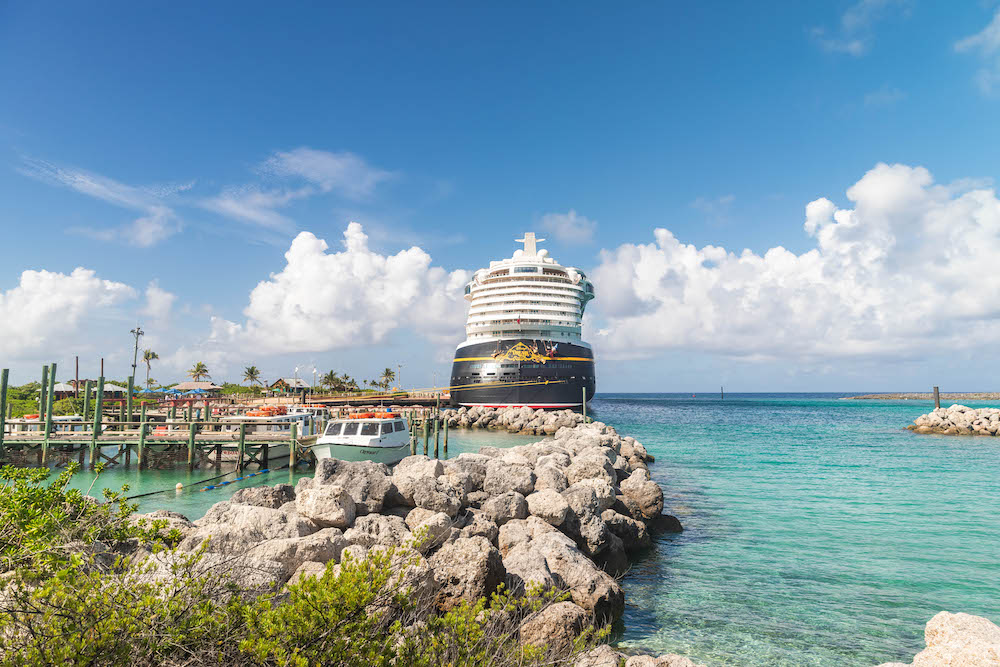 Caribbean, Europe, Australia, New Zealand, Hawaii. Not only do you have your pick of destinations, but you'll also have the opportunity to explore multiple port stops within your itinerary. If you want to explore beyond one city, the cruise option may be your best bet. It allows you to visit multiple places in a single trip. When people opt for a cruise, this is usually one of the biggest reasons why.
Bottom line
If you don't really care about visiting different cities or islands: Disney World
If you want to check off as many different places as possible (or you want to visit someone other than Orlando): Disney Cruise
5. How much planning do you want to do?
The planning process for Disney World vs. Disney Cruise couldn't be more different. And as you can probably guess…
Disney World
There's a reason there are so many social media groups, reddit threads, and YouTube channels for planning a Disney World vacation.
Insert shameless plug for our YouTube channel here
And people ask literally everything. From the standard to the obscure. If you want a list of every Disney restaurant that doesn't use soybean oil, well we can provide that as our daughter was allergic until she was a year old. We scoured the endless mountains of information on the subject.
People spend years planning a trip to Disney World. Some travel agents specialize exclusively in Disney World vacations. So ok, you get the point. There's planning involved.
Disney Cruise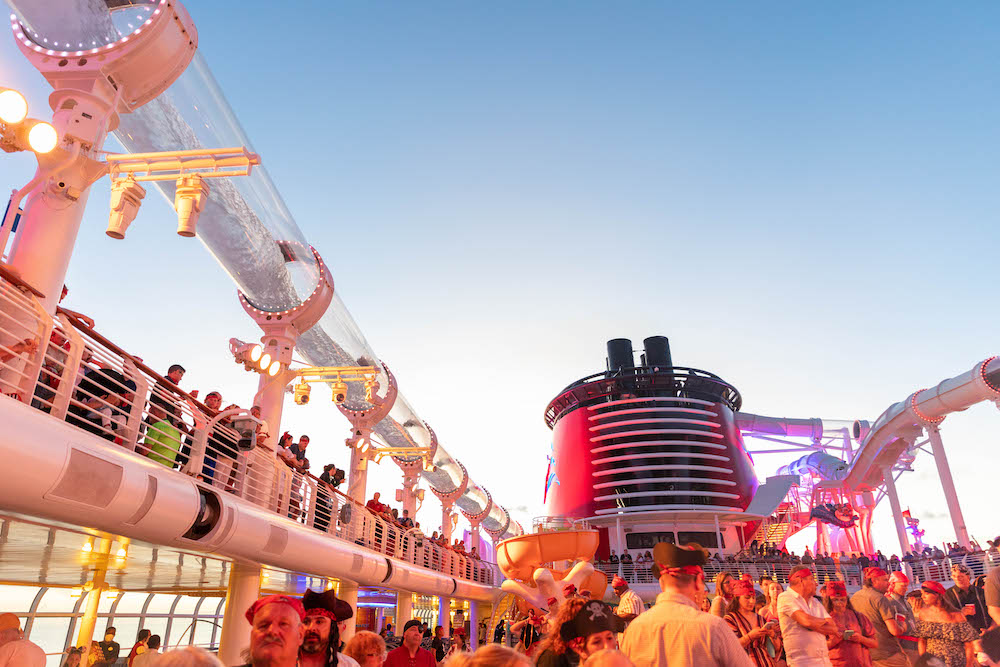 To a certain extent, a Disney Cruise also involves planning. There are room types, shore excursions, and activities onboard that require reservations. There is some planning, but for the most part all you need to plan is making it to the ship on time. Your dining rotation is pre-determined so you wont need to think about where and when to eat. Everything is right there onboard so there is far less planning and running around.
Bottom line
If you want to plan every detail: Disney World
If planning isn't really your thing: Disney Cruise
6. How important are character encounters?
No Disney vacation is complete without meeting your favorite movie friends. And luckily, you'll find multiple character experiences at Disney World and on a Disney Cruise.
Disney World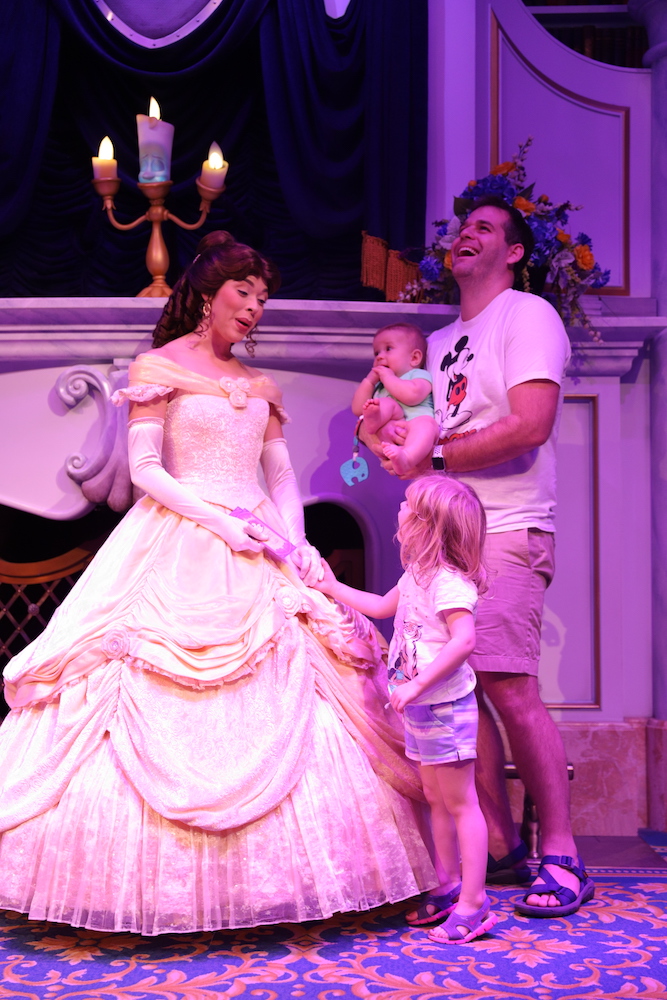 The Holy Grail of Disney characters. On an average day you'll have the opportunity to meet 30+ characters. From Mickey and his pals to all the princesses, you can meet the whole crew. Disney World is the place to go if characters are important to you. One thing to note: lines can be super long, especially for the more popular characters.
Disney Cruise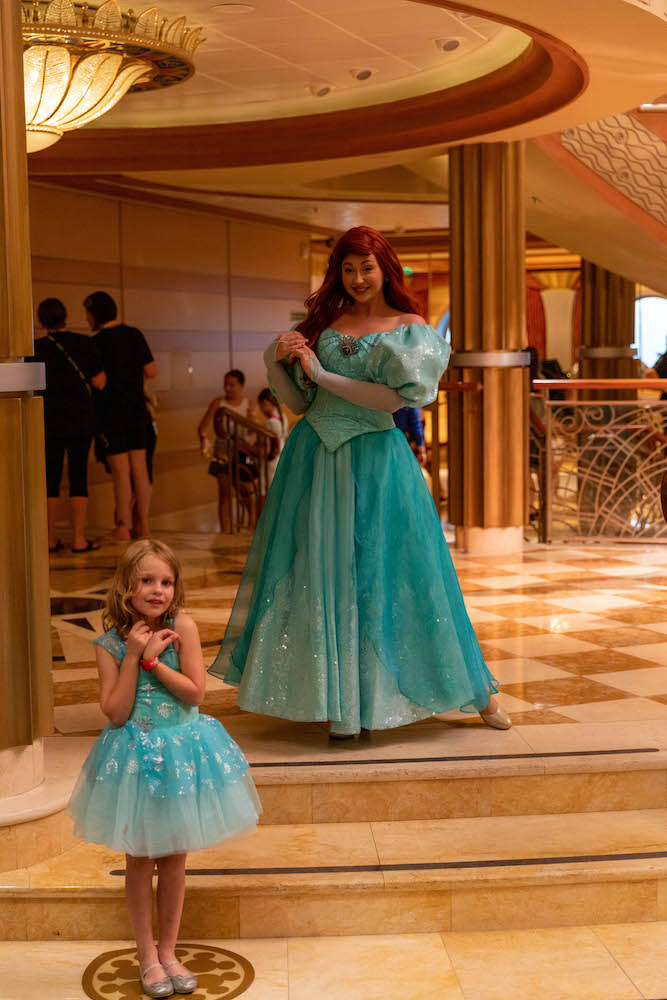 Here lines are shorter. One day we even walked right up to Ariel with no wait. That's a major benefit to sailing with Disney. Compared to Disney World, you'll spend less time standing in line. But you'll also have less characters to meet. For example, if your kiddo dreams of meeting Anna and Elsa, not all Disney sailing have Anna and Elsa onboard. Characters tend to make multiple appearances, but you may or may not be able to meet your favorite.
Mickey and friends will be on every sailing.
Bottom line
If meeting many characters is important to you: Disney World
If you don't need to meet every character in the Disney universe: Disney Cruise
Still can't decide?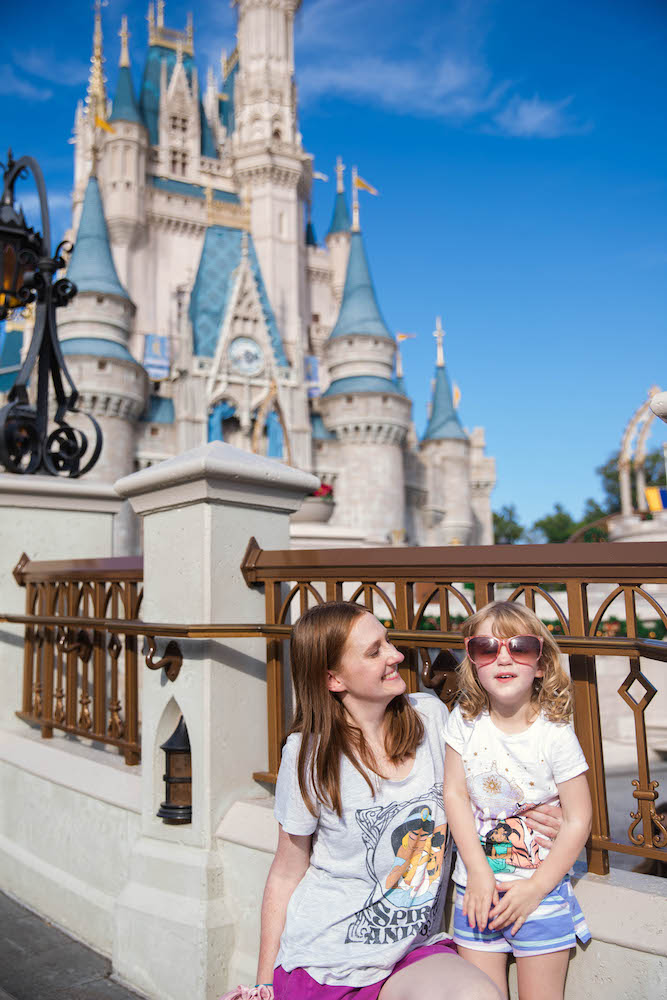 You've made it through this list and hopefully now you're leaning one way or the other. But what if you're still split? Luckily, there's another option for you!
Disney Land and Sea Vacation Packages
Fear not – there is a way you can have it all. With a Disney Land and Sea Package, you'll spend part of your trip on the cruise and part at Disney World.
The way it works is that you'll book your cruise and extend your vacation with days at Disney World either before or after. You could also DIY this type of itinerary, but booking through Disney makes the planning pretty easy. They even offer transportation between Disney hotels and Port Canaveral (about an hour from Disney World).
It's a great option if you want the benefits of both a Disney World and Disney Cruise vacation.
Now tell us…
Is the idea of a Disney Cruise vs Disney World more appealing to you?
YOU MAY ALSO LIKE:
Formal Night on a Disney Cruise: A Classroom for Kids Dining Etiquette
Which of These 10 Best Strollers for Disney Is Right for You?
Tri-Circle-D Ranch Pony Rides at Disney's Fort Wilderness Resort
11 (Kid-Approved) Best Backpacks for Traveling With Toddlers