When you're dreaming up vacation options that overlap with pregnancy, cruising might land toward the top of the list. Relaxation comes to mind. And you'll almost always find something that appeals to those pregnancy cravings. But like anything else, cruising while pregnant requires some additional planning.
Before we dive in to some of our tips, let's start with a basic question most expectant mamas want to know:
Is It Safe to Go on a Cruise While Pregnant?
Yes, in most cases it is completely safe to cruise while pregnant. That said, it's always best to check with your doctor. They can guide you on any precautions you may need to take specific to your pregnancy. And if you have any pregnancy complications, you can talk through the risks. Once you're given the green light, there are some additional considerations while planning your cruise.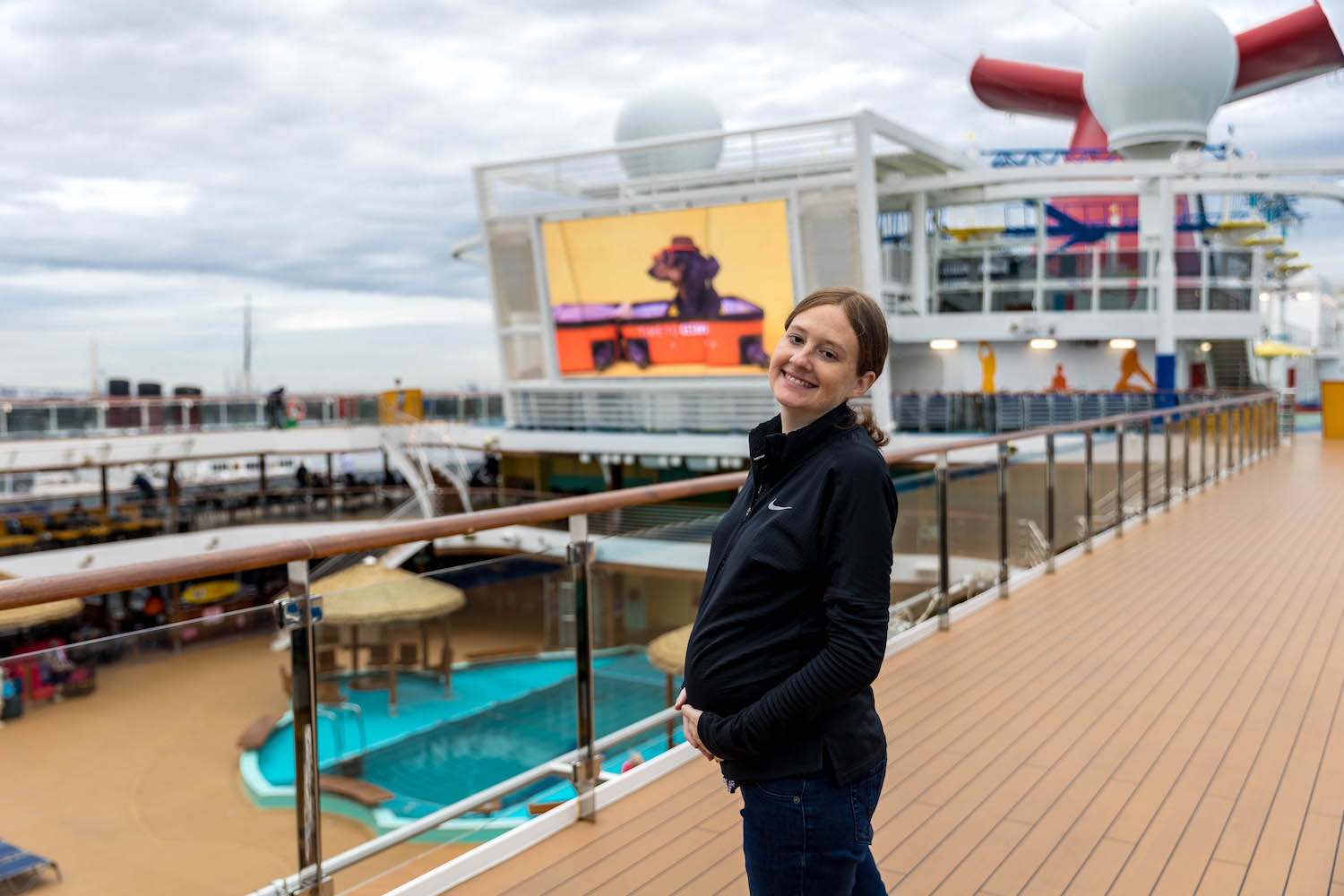 What Are the Rules for Pregnant People on Cruise Ships?
The biggest rule for cruising while pregnant comes down to timing. Because cruise ships lack the medical equipment to treat many emergency situations, most cruise lines will not allow women to sail beyond 24 weeks. Why can you cruise before 24 weeks, but not after? Most health experts agree the risk for pregnancy complications increases after the 24 weeks. This includes preterm labor. If you were to deliver your baby at (or after) 24 weeks, it has a chance of survival and will need adequate medical facilities not found on cruise ships.
Do You Have to Tell a Cruise Line You're Pregnant?
Cruise lines vary on their pregnancy policies. Some cruise lines will want you to bring a doctor's note saying you are fit for travel, not beyond 24 weeks pregnant, and are not experiencing any complications. Other cruise lines simply want you to fill out a questionnaire saying you are not more than 23 weeks pregnant. Honestly, no matter the policy, it's never a bad idea to bring along a note from your doctor just in case.
It can be a bit of a grey area as cruise lines may not be able to tell just by looking at you. I was just within the cutoff when we sailed Carnival, 23 weeks, and they never asked for a doctor's note. Depending how early in your pregnancy and if you have a baby bump, informing your cruise line is on the honor system.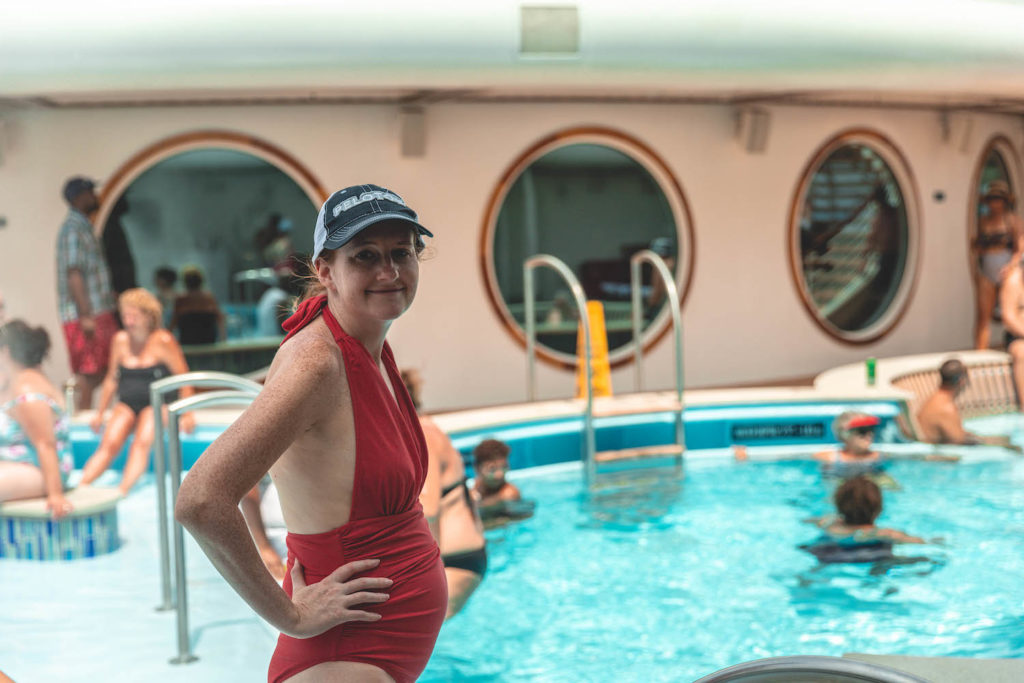 And I would never suggest that some soon-to-be-mamas try to sneak aboard after the 24 week mark, but in case the thought entered your mind, the cutoff is there to protect you. I know, I too would have loved to sail into my third trimester. As tempting as it may be, just read some of the horror stories out there of pregnant women trying to hide their pregnancy from cruise lines. Also if they find out, you can be denied boarding or kicked off without compensation.
Note: even with a letter from your doctor, you will not be permitted to sail after 23 weeks. The doctor's note is only to provide proof you are fit to travel up to 24 weeks.
and now for some tips…
1. Check health and disease information in port cities before booking
You may not need to be worried about mosquitos on an Alaskan cruise, but you will if you're sailing somewhere warm. You can find destination specific information on the CDC's health site for travelers. It will give you a list of recommended vaccines and diseases for that destination. Some diseases like Zika or Dengue could impact your pregnancy, so make sure to do some research and discuss with your doctor.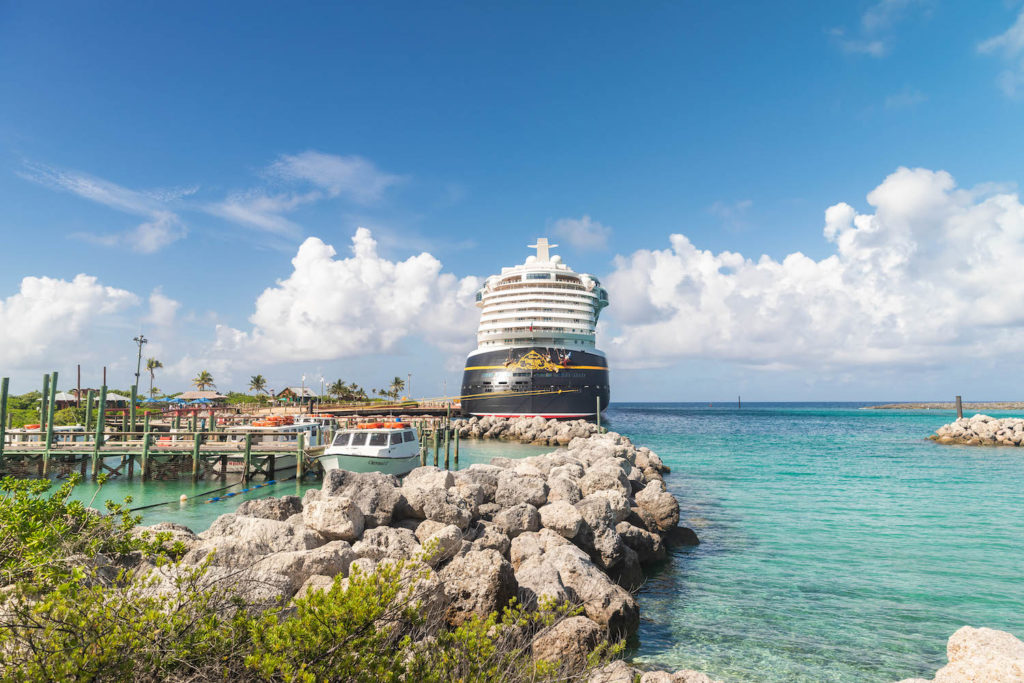 If you are traveling to an area with disease spread through big bites, make sure to bring bug spray with you. Your doctor may consider the risk low, but advise you to take extra precaution. And you may want to avoid any jungle type excursions where mosquitos can be much worse.
2. Determine what foods are off limits
You see Mahi Mahi on the menu, it looks delicious, and you want to order it. But how much mercury does it contain? Ideally you'd just Google it, but you're at sea with no phone reception. You're better off planning ahead and figuring out what you can/can't eat ahead of time. Some doctors want you to stay under a certain amount of mercury (and seafood varies in the amount of mercury it contains). And some doctors want you to avoid unpasteurized cheeses and deli meats (like what you might find at a buffet). I know I sound like a broken record here, but best to ask your doctor if you're unsure what on your "off limits" list.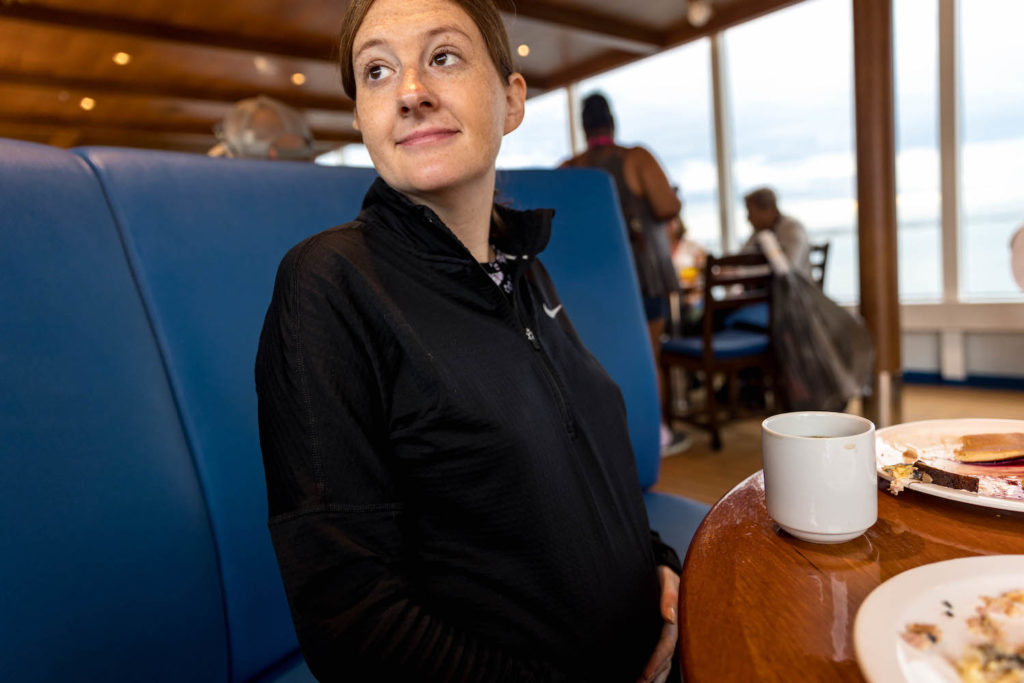 If you aren't sure if that cheese is unpasteurized or not, just ask. Cruise lines deal with all kinds of food allergies and special requests, so they are ready for these types of questions. In fact, tell your waiter on the first night, and they can steer you in the right direction.
3. Make a List of Safe Medications and Pack Your Own
Similar to foods that are off limits, consider what medications are off limits. You may have any number of ailments during your pregnancy – aches, pains, and nausea being some of the most common. Tylenol is typically your first, and safest, line of defense for pain. But what if you have tummy troubles? Is it safe to take Pepto Bismol? Or all the sudden your allergies flare up. Can you take Claritin? Make a list of safe medications in the event you need them.
I'd also suggest packing some of your own. What I'm not recommending is packing a full on pharmacy for every unlikely ailment that could happen. Cruise ships have shops you can buy medication or you can find convenience stores when you stop at port. But in the event the ship sells out of Tylenol and you don't feel comfortable taking something else, you'll have your own supply. It just helps to set your mind at ease.
4. Get the wifi package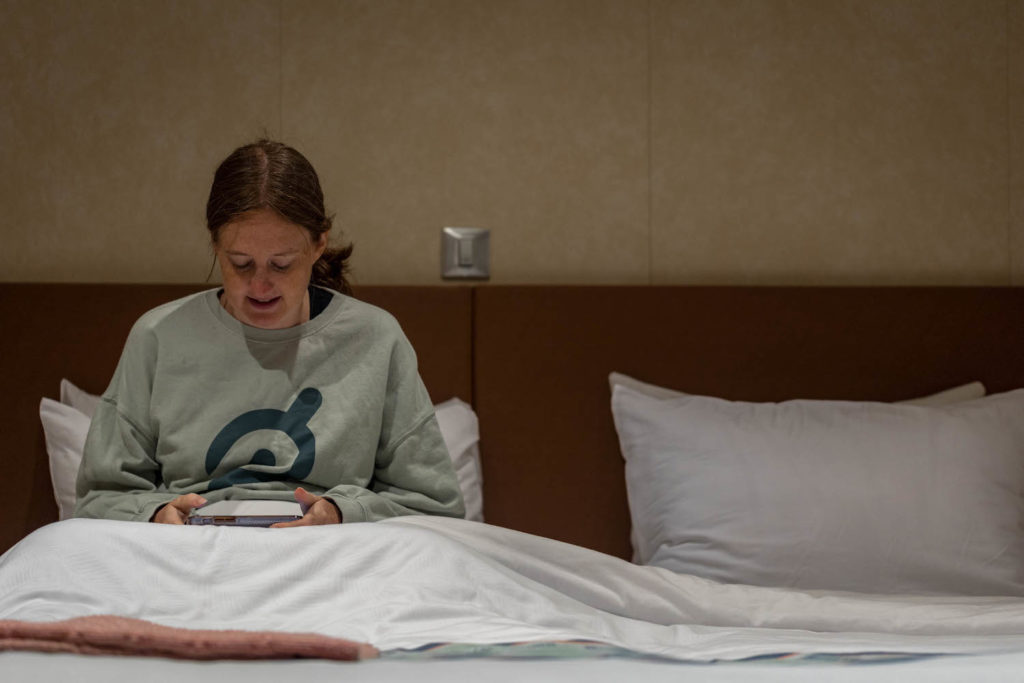 When you're pregnant, you want to Google anything and everything. How many cups of coffee can I have? Can I go in a hot tub while pregnant? Is it ok to walk around Grand Cayman if it's 95 degrees outside? Do yourself a favor and just get the internet package. Nothing puts a damper on a babymoon like stressing about something and not being able to get an answer. It may be silly and it may be wildly expensive, but it will save you the stress.
I am generally in favor of unplugging during a cruise, but pregnancy is one time where I feel the internet package is worth it. Plus, some packages will allow you to video chat, which puts your doctor within reach if the need should arise. I just think of it as a step in self care.
5. Think about your spa options
Speaking of self care, there's no better time to visit the spa than when you're pregnant. Except cruise lines have policies about what treatments you can book when you're pregnant. For instance, on Disney you can't receive massage services in your first trimester. Every cruise line is different so check the policy in advance.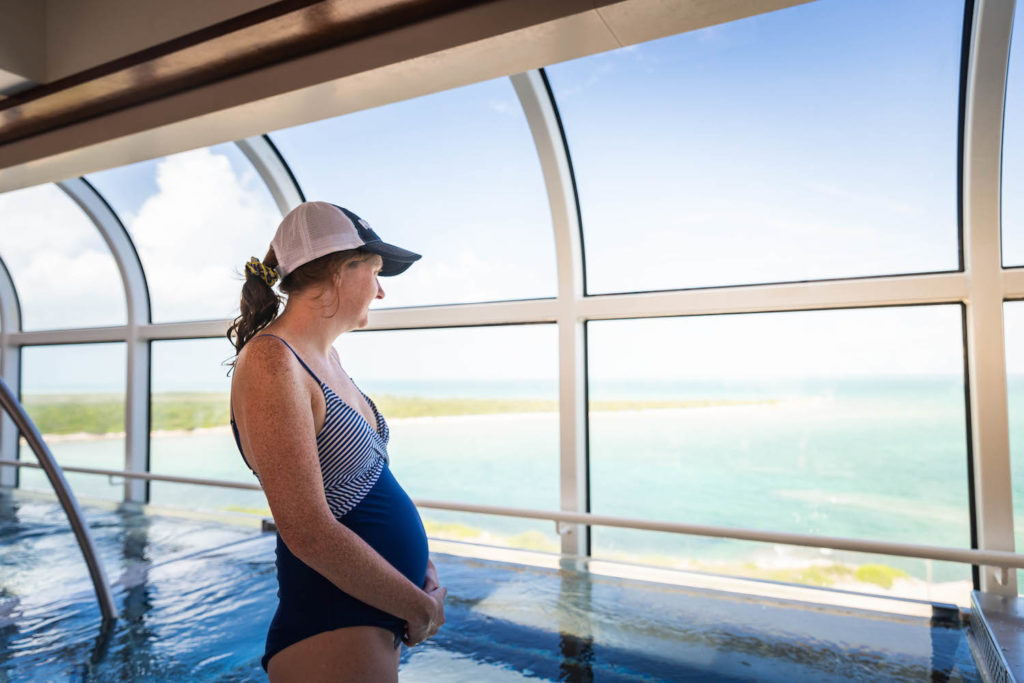 This may also be a great time to book a spa cabin. Many cruise lines now offer special cabins with unlimited access to spa facilities. Carnival offers Cloud 9 Spa staterooms, which give you unlimited use of the Thermal Suite facilities within the spa and special discounts. This can be a worthwhile splurge when you're pregnant. Especially when there are so many restrictions during pregnancy, do a little something for yourself.
6. Book flexible or purchase travel insurance
Just as it's a time to treat yourself, it's also a time to cover yourself. With pregnancy, you never know what may arise. Severe morning sickness. A pregnancy related complication. A nasty case of the flu. Not super fun to think about, but best to prepare ahead of time. We don't typically purchase travel insurance, but this could be a scenario that warrants it.
When it comes to flexible booking, always look for free cancellation for peace of mind. This isn't quite as easy to do for cruises as it is hotels, but some cruise lines are more flexible than others. Look for rates that allow you to put down a deposit and pay later. These will generally allow cancellation if it's before final payment is due.
For instance, Princess Cruises will refund your deposit if you cancel 45 day or more before your cruise, for cruises five days or less (57 days for cruises six days or more. And MSC offers a Fantastica experience, which allows one free cruise change. So if you wind up with morning sickness, you can always switch your date without cancelling entirely.
Can You Cancel a Cruise Due to Pregnancy?
There's some grey area on whether you can cancel a cruise if you find out you're pregnant. And this is because most cruise lines don't publish their policy on this scenario. However, most cruise lines will try to find a solution, be it a cancellation or change.
Royal Caribbean mentions on their website:
All guests are required to fill out a Public Health Questionnaire prior to arrival or at the pier attesting that they are not more than 23 weeks pregnant. If you have already booked a cruise or cruise tour and do not meet this requirement, please contact your Travel Advisor or call us at (866) 562-7625 and request a Resolution Agent.
This is one example where a cruise line will try to work with you. Keep in mind this generally applies if you book a cruise before you find out you're pregnant. You should cover yourself when you book and you already know you're pregnant as you'll be subject to the standard policy.
7. Load up on Sunscreen and Water
Sunburns are rough under normal circumstances. But during pregnancy, they can have additional consequences. The burn itself is unlikely to harm your baby, but it can cause dehydration. And dehydration can lead to complications like preterm labor. Choose a sunscreen made with zinc and bring a generous amount with you.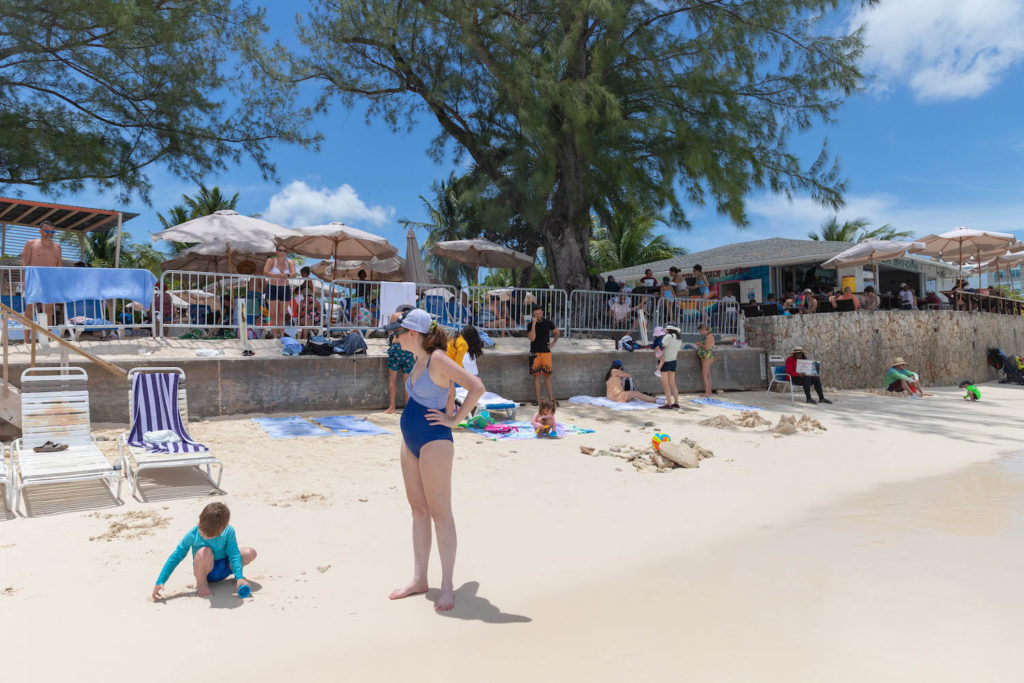 It's also a good idea to stick to the shade as much as possible. That way you can avoid overheating too much, which can also cause dehydration. Luckily, cruise ships are often equipped with plenty of shade.
Also, make sure to drink plenty of water – which you've probably heard already a thousand times from your dcotor. Cruise ships have complimentary water dispensers everywhere so you'll never be far from a water source. Typically the water cups provided are quite small, so we like to bring our Yeti water bottles. Of all the water bottles we've tested, it keeps water cold for a shocking amount of time. And that means less going back for refills.
8. Comfort Is Key
Hey, if you want to wear those high heels to dinner, you do you. But I wouldn't suggest it. If you're newly pregnant (or not yet pregnant) and planning a cruise, you likely don't have the aches and pains. But that doesn't mean they aren't coming. I recommend planning ahead even if you feel full of energy now.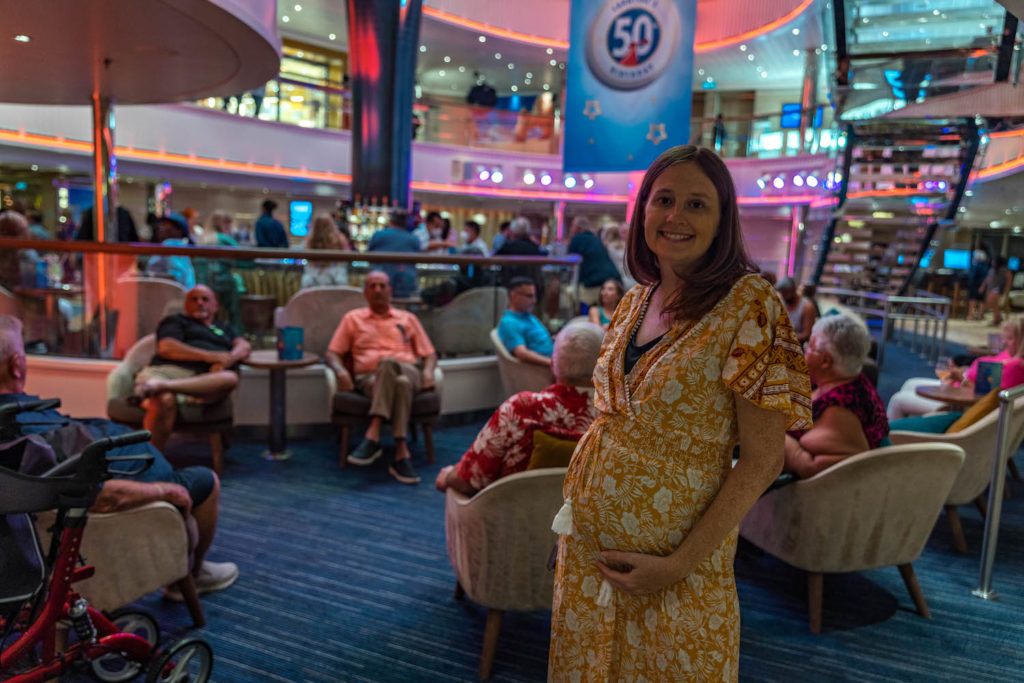 You can still look cute in loose dresses or flowy tank tops, but keep it comfortable. And aside from the pain heels can cause, it's safer to wear sandals. Ships can sway in rough waters and it may be difficult to keep your balance (been there). Now imagine trying to walk while the ship is rocking and you're wearing heels. Eek!
9. Get the Drink Package (But the Right One)
You don't have to completely miss out on poolside cocktails. Yes, most ships will offer drink packages with alcohol and packages with soda. But some cruise lines offer an in between option – packages with non alcoholic cocktails.
Royal Caribbean, for example, offers a Refreshment Package. It still gives you unlimited soda, water, juices, and premium coffee and teas, but it also gives you non-alcoholic cocktails. So you can sit poolside and sip on a virgin daiquiri. It's a special treat for yourself, without paying the full alcohol package price.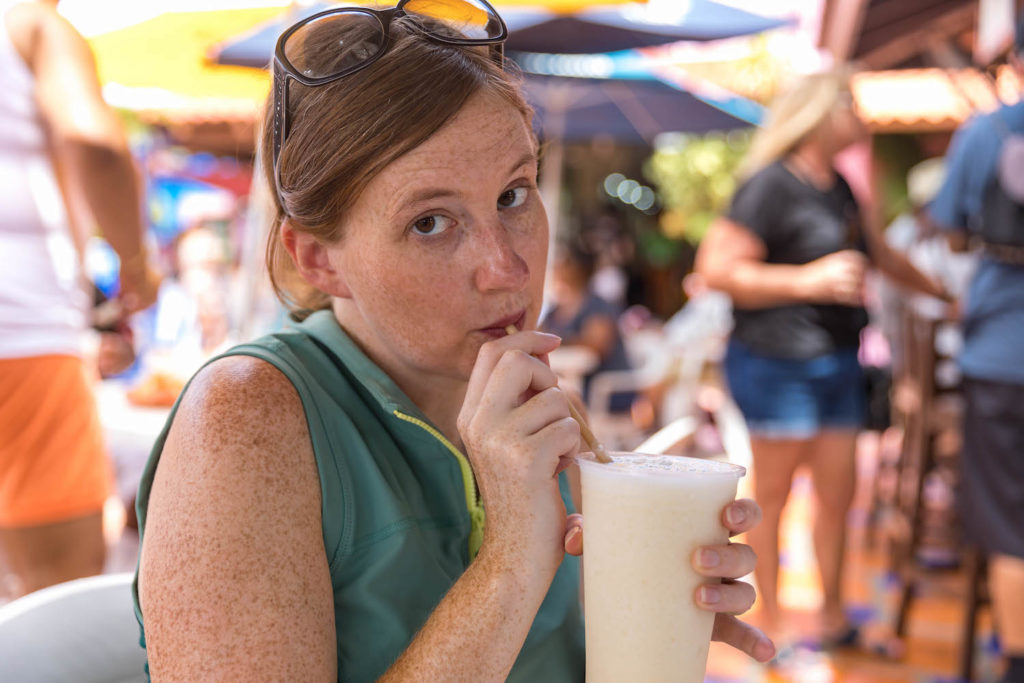 The best part is others 18+ in your room can purchase the alcohol package without you also purchasing it. Normally cruise lines have policies that everyone in the room must purchase the alcohol package. But pregnancy is generally an exception to this policy.
10. Bring Hand Sanitizer and Use It Religiously
When some people think of cruise ships, they think norovirus. The good news is that outbreaks aren't as common as they may seem. Still, it's a good idea to ramp up the hygiene practices to protect yourself from illness. Not only norovirus, but covid, colds, flu, etc. Cruise ships generally mean tighter quarters, which allows illness to travel just a bit quicker. Bring hand sanitizer and use it as much as possible to lower your chances for one of these icky viruses.
Can You Fully Enjoy Cruising While Pregnant?
Yes – absolutely! There are some extra steps in the planning process. But it's also a great time to feel pampered without any guilt whatsoever. Cruising during pregnancy is generally pretty relaxing. Take naps. Indulge in a fancy dinner every night. Bask in the warmth. No dishes. No laundry. Just a good ol' fashioned vacation. And you deserve it. You're growing a human after all.
You may also like: