We had been wanting to travel to South America for so, so long. And we finally got the chance! But it took quite a bit of planning because we weren't exactly sure which South American city would be the best for kids. We loved the idea of Buenos Aires. The vibrance. The food. The culture. But our biggest question was "Is Buenos Aires safe to take kids?". There are so many opinions about which South American countries are the safest and we did a ton of research. So after having been there and experiencing it first hand, we wanted to break it down in case you are having some of the same questions.
Why We Chose Buenos Aires Out of All South American Cities
We knew we wanted to go somewhere in South America. We wanted to cross the continent off our list, all the different cultures are super interesting, and it's their summer when it's our winter. So we were sold. But then a lot of research went in to choosing a city to visit.
We used this peace index just to get a basic idea of what countries in South America seem to be safer than others. And I guess this is the part of this article where we include the disclaimer that big cities are just that. Big cities. And every big city has its drawbacks. We also don't buy too much into everything the media shows about a place. We like to do our own research and gather firsthand experiences from the people that have actually traveled to these destinations (kind of like what we're doing with this article!). But at a high level, we use this website to get a general idea of the current state of safeness. Argentina is just behind Chile, Uruguay, and Ecuador on this list.
Above and beyond this list, we did some additional research on other people who have visited and what they thought to get some real accounts of recent experiences. Most people had generally positive experiences and talked about taking the usual precautions of any big city. More on our experience plus some safety tips below.
Why We Chose to Visit Buenos Aires with Kids
Many of the things Buenos Aires is famous for (wine, tango, art) could seem better suited to a more grown up audience. But we love introducing our kids to new cultures and experiences. So we did our research to find out if there were kid friendly things to do in Buenos Aires. It turns out, there's a lot!
There are SO many outdoor activities and while the weather turned against us on our trip (see when vacation plans fail video), we were still able to hit some of the local parks and pools. Recoleta Cemetery is also a super cool place to walk around. Yes, it sounds a little crazy, but trust us, it's something you have to see while you're there.
The food and pricing was another big draw for us. Some of the best steaks you've ever eaten for around $10-12. Yes please! They also specialize in pizza, ice cream, pasta, and empanadas, making Buenos Aires with kids a dream for parents trying to navigate getting little ones to eat in international territory.
We could go on and on, but want to touch more on whether we felt safe in Buenos Aires with our kids.
How Safe we Felt Compared to Other Cities We've Visited
To summarize it in one quick sentence: we had a great time and would absolutely go back again with our kids. Just like many of the stories we heard from others who had visited, Buenos Aires is generally speaking a pretty safe place. Of course you will hear negative experiences here and there, but those one off stories will happen in every major city.
Most of the time we felt completely safe, though we were typically back in our Airbnb before dark or took Ubers back if it was already dark. We also stayed in Palermo Hollywood, which was a really nice residential area and experiences could vary based on where you stay.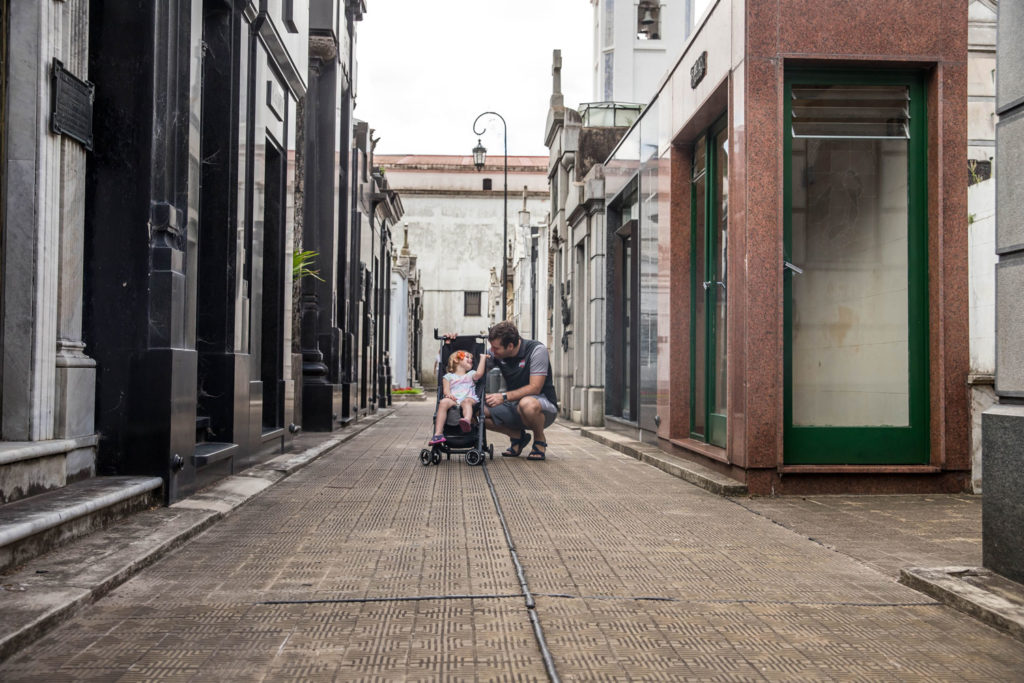 The one thing we noticed is that you have to be on the lookout a little bit more when it comes to pickpocketing than some of the other cities we've visited. We didn't have bad experiences with this, but were warned by locals that getting items stolen is common, especially at night. Making sure you're alert is an easy way around this. After a local told me to not have my phone casually out at night, I quickly became a little more cognizant of what I was carrying around. And that's really the only way we had to adjust in terms of safety. Though we do want to mention one neighborhood specifically.
Should I Take My Kids to La Boca?
If you're thinking of traveling to Buenos Aires, you'll likely come across La Boca in your trip planning. It's a neighborhood outside the main city center and it's known for being colorful and rich in culture. There are many places to eat and watch tango. But you'll likely hear mixed feelings on safety here.
We did a lot of research and made the decision to go – and we're so glad we did! You can watch our video all about our day in La Boca. In our experience, you'll want to make sure you keep your valuables tucked away. At first we had our camera out and we felt a little uncomfortable walking around like that. But we were also on the outskirts of the main tourist area. If you stick to the main tourist areas, we'd highly recommend the experience. It's so incredibly unique. But don't venture too much outside of El Caminito if you're unsure about going. And stick to going during the day rather than nighttime if you can. We also lost phone reception so be prepared (a local told us not to take Uber in this area specifically, but to take a taxi back to our the city center instead).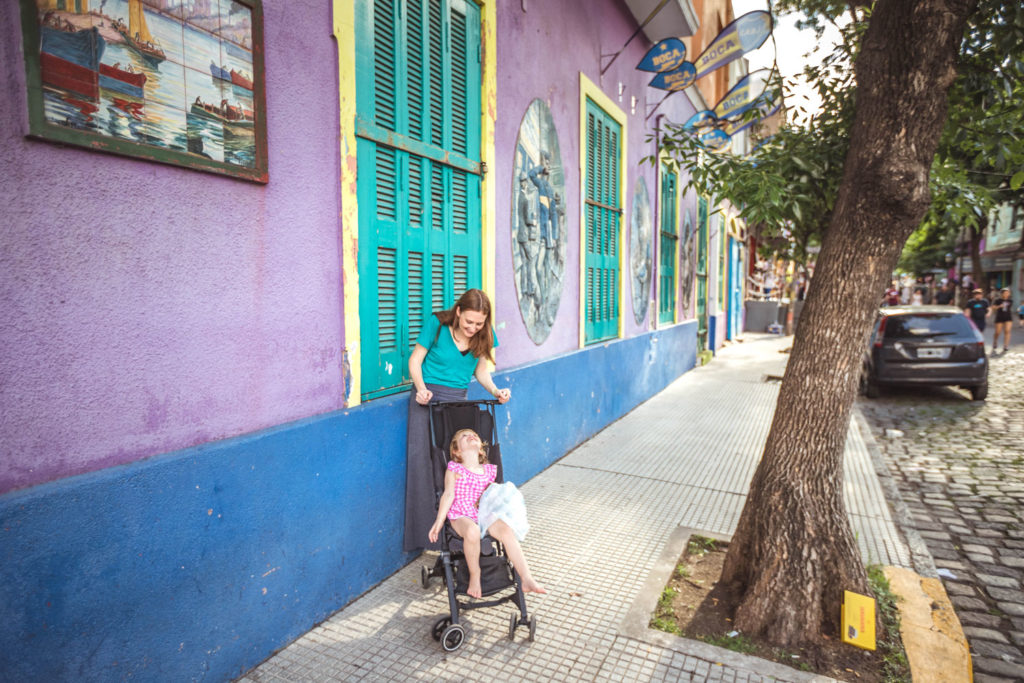 Some quick tips on staying safe in Buenos Aires
You'll notice many of these tips are best practices for staying safe in any city. In our opinion, you have to be a little more aware of your surroundings in Buenos Aires than other major cities because of the pickpocketing. And the caveat is that everyone's experience will be different. But if you take the proper precautions, you'll get to experience a beautiful, culture rich city full of some of the nicest people (did we mention that yet?).
Keep your phone in your pocket when you're outside
While Buenos Aires is just like any big city where robberies happen, phones are a common target here. And typically this takes the form of tourists just casually browsing their phone on the street and someone could come by and swipe it out of your hand. So just be alert and put it away when you're outside and you don't need it.
Be vigilant of bikes and motorcycles
A common practice here for pickpockets is to ride by on a bike or motorcycle and grab backpacks, phones, purses, etc. and ride off. We were warned about this tactic so just be aware with bikes and motorcyclists around. Same goes for sitting at a restaurant outside. Keep your phone/valuables in your hand or bag at all times; don't leave it sitting on the table.
Research neighborhoods in advance
We hesitate to say to stick to the tourist areas because we're all for living local and exploring off the beaten track. In general, there are many safe neighborhoods to explore outside of the main Recoleta tourist zone. Just do your research upfront to make sure the ones you are planning to visit are good to go. We stayed in the Palermo Hollywood neighborhood and loved all the parks around. Super great for kids!
Know the address of your hotel or Airbnb
We used a taxi to get back from La Boca and we told the taxi driver Recoleta Cemetery as we thought it would be an easy, famous landmark. He didn't know how to get there and asked for an address. We recommend jotting your address down so you can give it to your driver if they need it.
Have some cash on hand
Quite a few places didn't accept cash. Especially small cafe, street food, or local restaurants off the main tourists streets. Carry some cash on you in case you encounter one of these places so you don't get stuck.
Are you thinking of traveling to Buenos Aires with kids? We'd love to answer any of your questions and hear about your experiences.