Given its many scenic spots and activities, how do you determine the best things to do in Grand Teton National Park with kids? When planning our long road trip out west, we found Grand Teton is often overshadowed by nearby Yellowstone. But after visiting both, I have to say, if you can visit both – visit both! Grand Teton National Park is absolutely stunning. And if you're debating whether there is enough to keep your little ones busy, we can assure you, they will be plenty entertained. There really is something for everyone here. And while some of your research may lead you to other equally amazing spots, our list is specifically designed for family friendly things to do in Grand Teton. If your family can successfully complete a 10 mile hike, that's impressive, but you won't find those types of activities on this list (mostly because that's not us and we don't have the credentials to talk about it).
1. Schwabacher Landing
If I'm being honest, this was a last minute add to our day and we were so, so glad we came across it. Located on the Snake River, it pretty much has it all. But here's a brief list of why we love this place: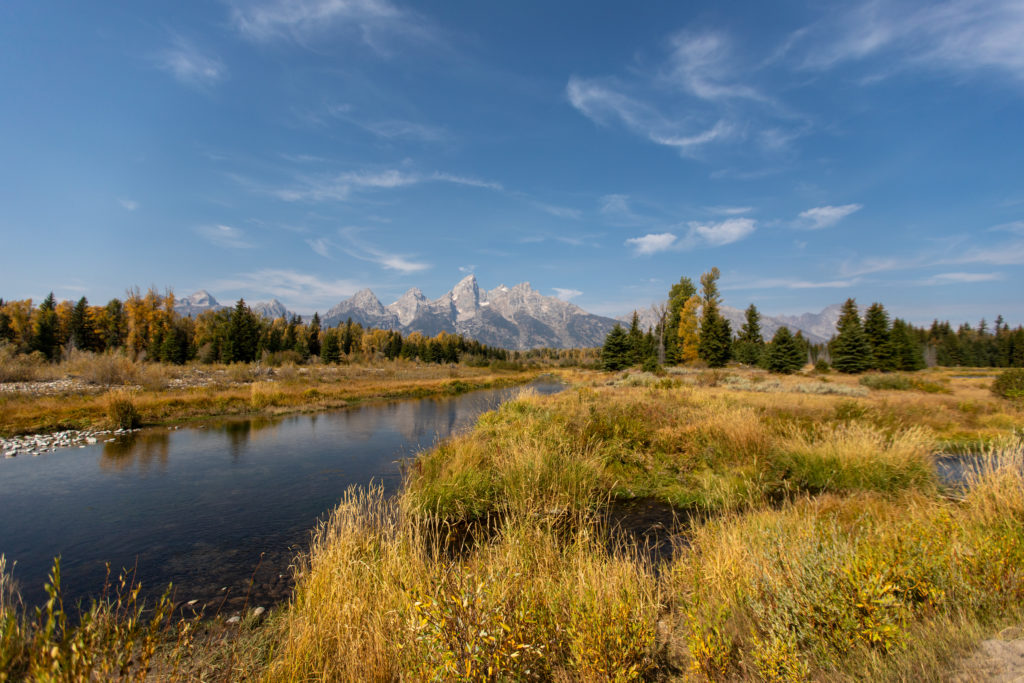 It has the most beautiful view and is right by the parking lot – one of the things we quickly realized visiting National Parks is that hikes fall into one of two categories: hikes near the parking lot and really long hikes. This one falls into the first category. And while we're all about family hikes, it makes it hard to squeeze multiple things into one day if you are limited with your time. But Schwabacher's Landing has the most incredible view – steps from the parking lots.
There is a little stream for youngsters to play in the water – it was a little chilly when we visited in September, but that didn't stop our kiddos from taking off their shoes and skipping rocks in the stream.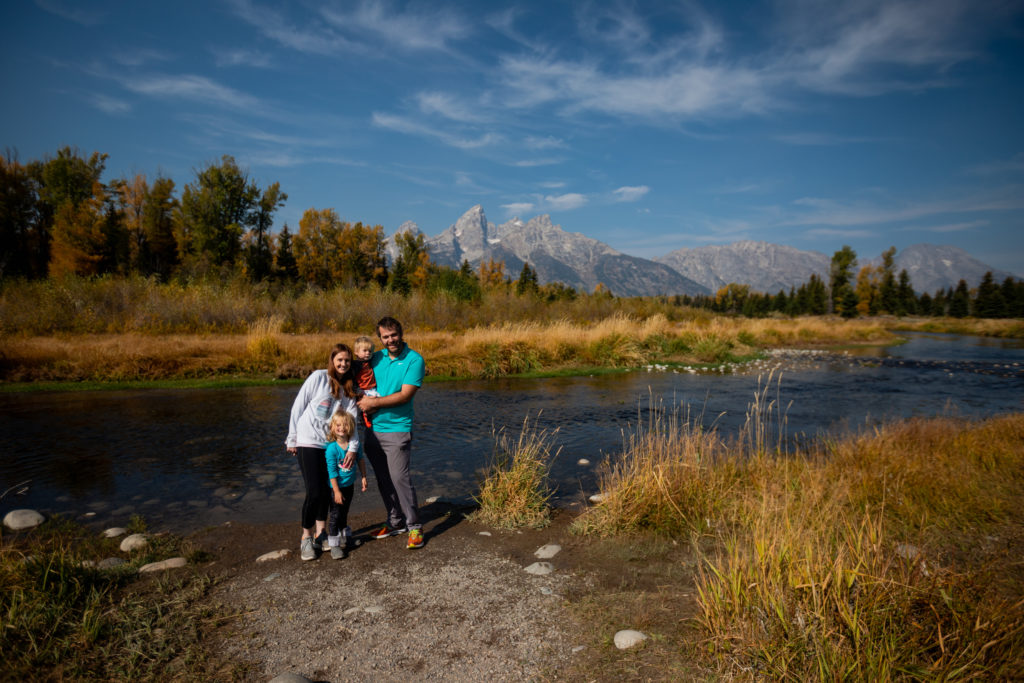 One of the best photo spots in Grand Teton – whether you want one for the gram or just for your vacation album, this place has the most perfect view of the Teton Mountains. Frame worthy!
It has short, kid friendly trails – the paths are easy for young kids to run around without getting into trouble – meaning no large drop-offs or steep jagged climbs.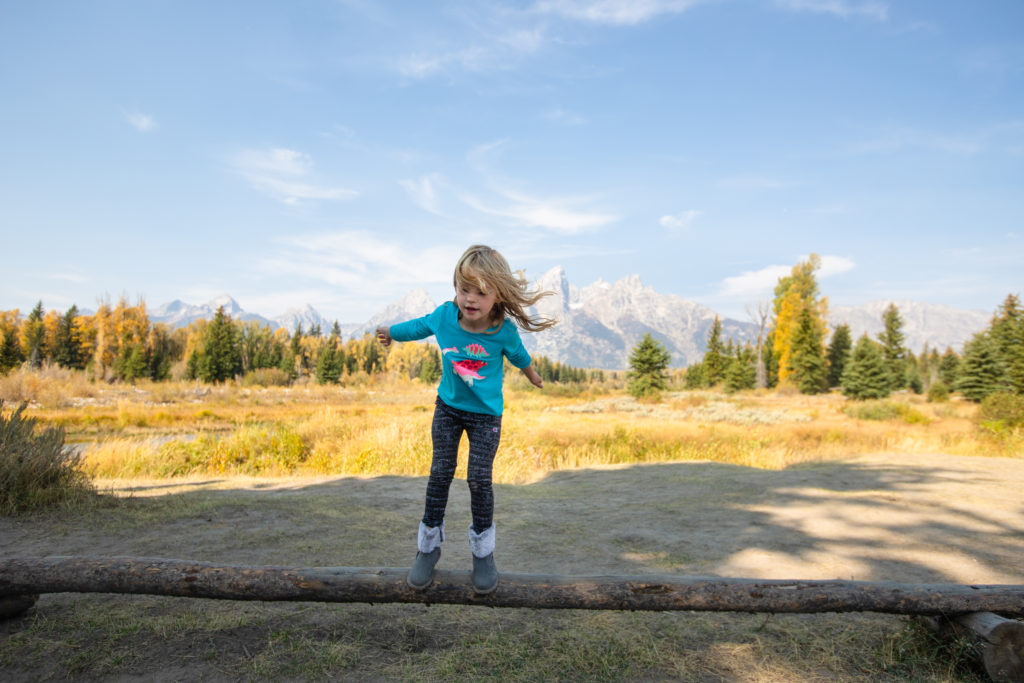 It's on the way to Jenny Lake – Jenny Lake will likely be on your itinerary and this is conveniently on the way
Which brings me to our next must see in Grand Teton
2. Jenny Lake and Moose Ponds Trail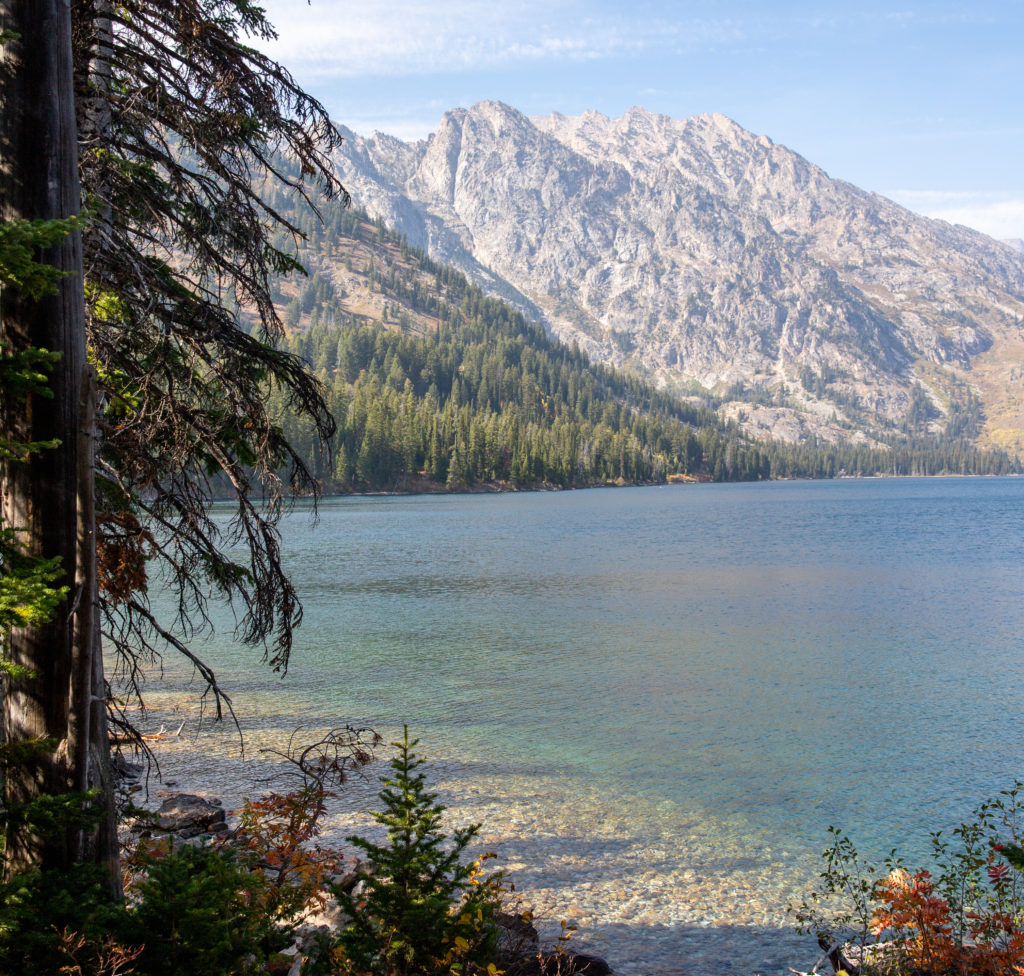 On your quest to find the best things to do in Grand Teton National Park with kids, you've likely come across this one. Jenny Lake is one of the most popular spots in Grand Teton, and for good reason. The lake itself is beautiful! This could actually be broken out into multiple activities and you could easily spend a whole day here. One of the cool things you can do is take a ferry to expedite your journey to Hidden Falls or Inspiration Point (you can also walk them, but they are quite long with kids). We opted not to do the ferry as we wanted to hit multiple spots during our day in Grand Teton. And instead we recommend two other activities: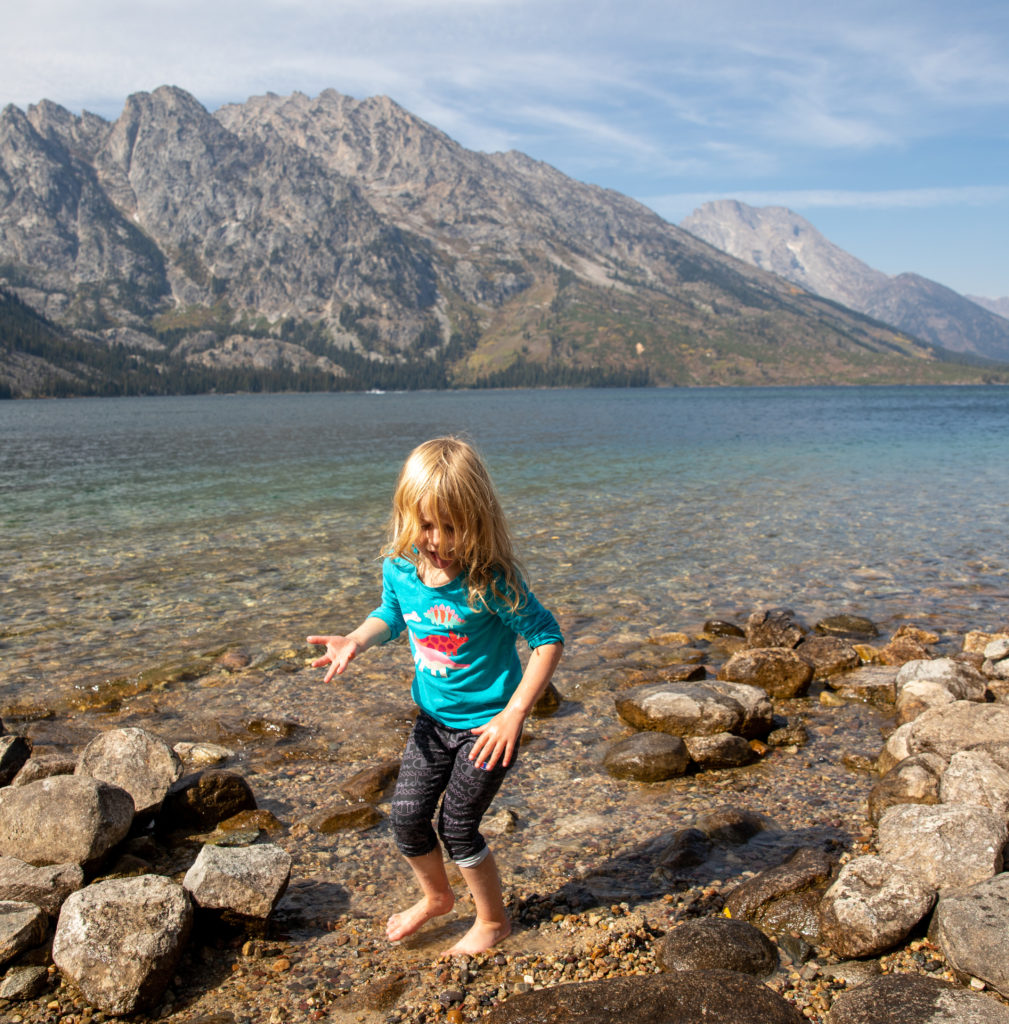 Play around in the water – right off the parking lot, before you get going on any of the trails, there is this little beach area (I hesitate to call it that because it's mostly rocks) and your kids can run around in the shallow water. It's another one of those "can't miss Grand Teton views". Skips rocks, picnic, play in the water, watch chipmunks run by, or just sit and take in the view. It's a really cute spot and worth the stop.
Moose Ponds Trail – this was a really great family friendly hike if you want something a little longer than just a few steps from the parking lot. It's about 3 miles roundtrip (you can shorten it a bit if you park at the boat launch area) and it's questionably stroller accessible. And by that, I mean we took our more durable BOB stroller and aside from some rocks, it made it 95% of the way to Moose Ponds. At that point, there were lots of rocks and we switched to the carrier.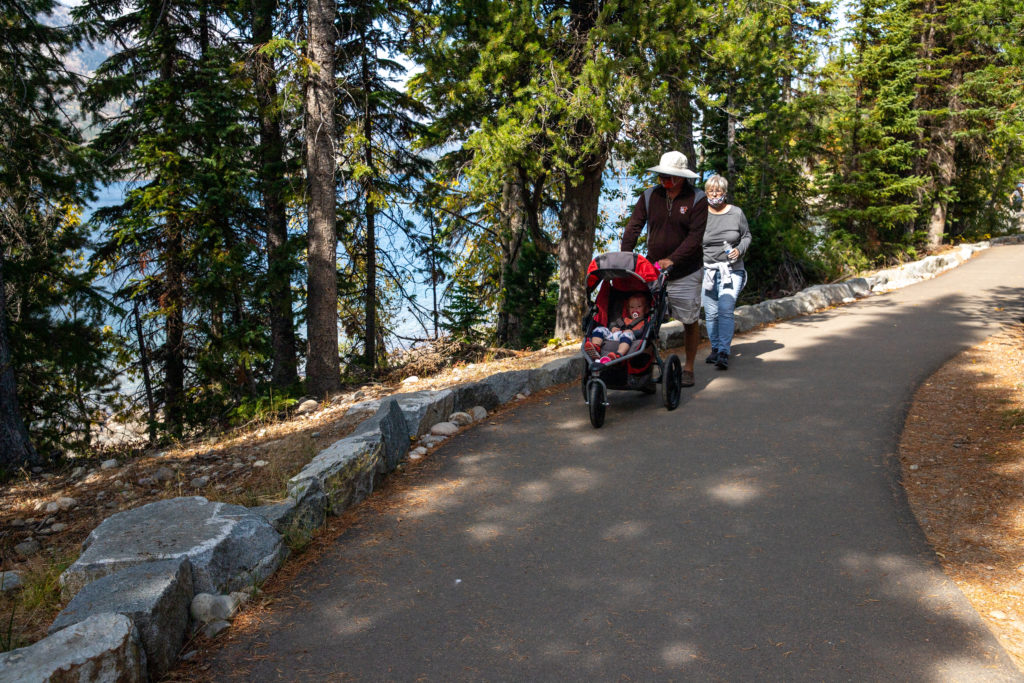 Another note – we actually thought we missed the trail and were instead headed to the nearby 7 mile trail. Nope, turns out it just takes longer with toddlers that stop every 2 seconds. If you think its not well marked, eventually you'll find a sign for Moose Ponds and you'll be rewarded with a cool view.
3. Stop in Moose for Lunch
If you're spending all day in Grand Teton, you're bound to get hungry at some point. And while a picnic is a perfectly acceptable, and cost saving, we have another option that doubles as an activity for kids. One of the best things to do in Grand Teton National Park with kids and also one of the most fun because, well, you get to eat.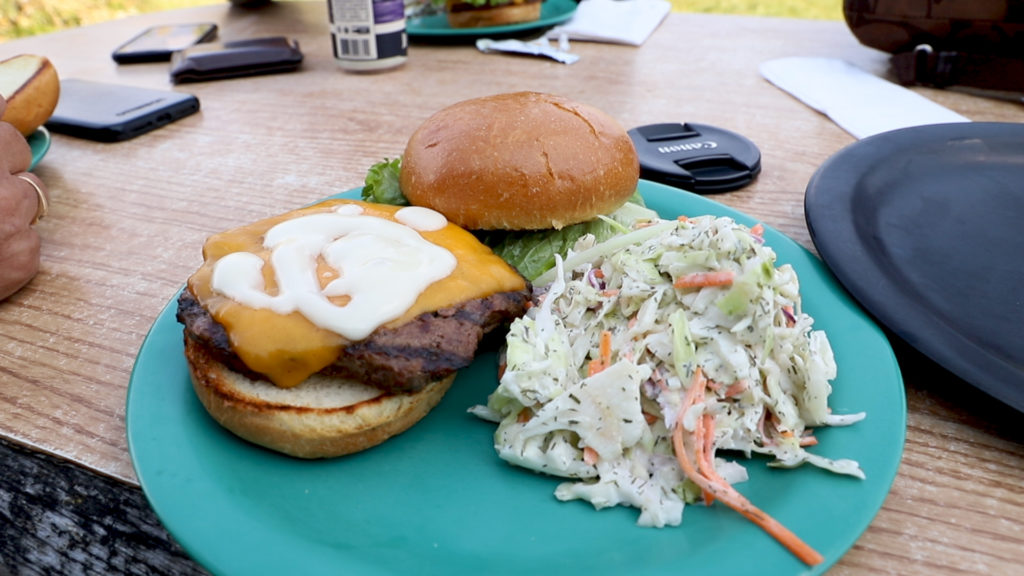 When you make a stop in Moose, there are a couple dining options and a few shops. But given you're in Wyoming, you may as well take in a chuckwagon lunch. We had the classic buffalo burger and a pulled pork sandwich. To be honest, the pulled pork was a little better in our opinion. But what you're really paying for here is the view and atmosphere. It's beautiful.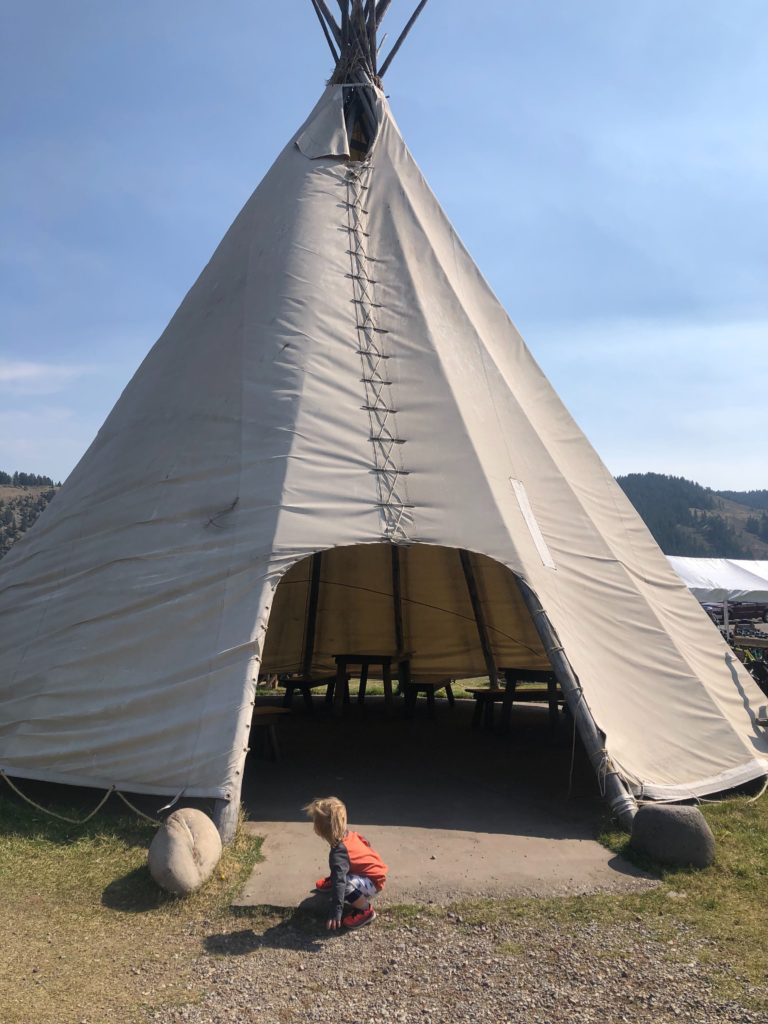 You can even dine in a teepee. This place has been around since 1948 and you can even grab a cold beer or glass of wine (Jenny Lake Lager was amazing!). It's worth the stop for a convenient breakfast or lunch on your way in to the park and fun western scenery for the kids.
4. Mormon Row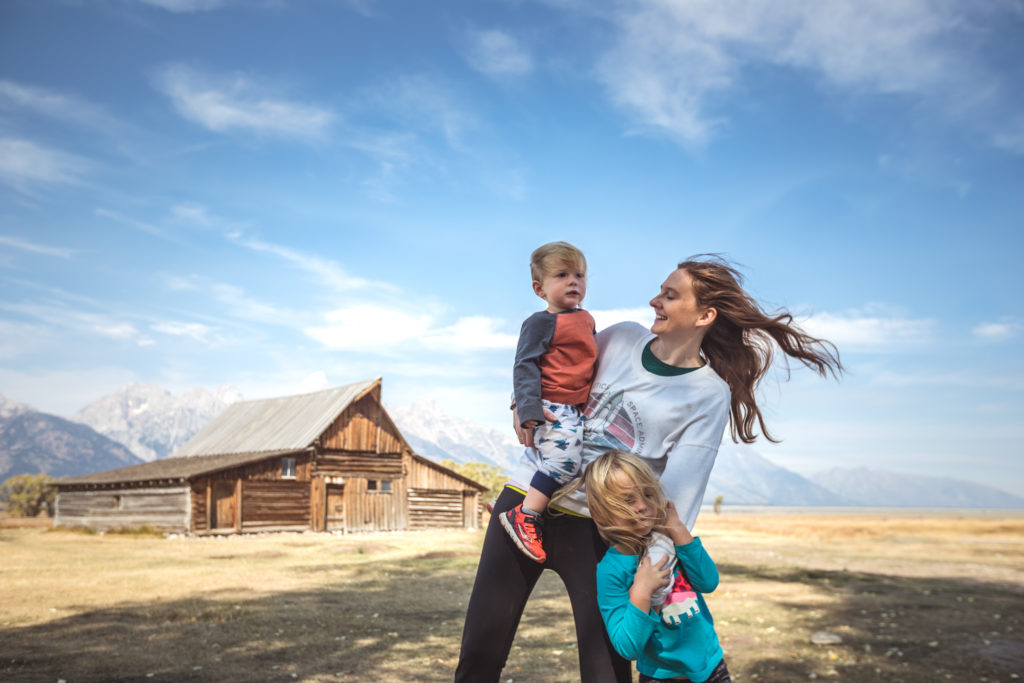 You'll probably recognize Mormon Row for it being the site of the most photographed barn in the world. The dreamy pictures you'll get here alone make it one of the best things to do in Grand Teton with kids, but it's more than that. It was established by Mormon settlers in the 1890's, so it's also a very historic place to visit. There were 27 homesteads and several different barns that were part of the original community.
But one in particular, the T.A. Moulton Barn, is considered by many photographers as the best to snap your family's photo. Most likely because of the stunning mountain backdrop behind the barn. It makes for a dreamy scene and a cool place to capture your fall family photo.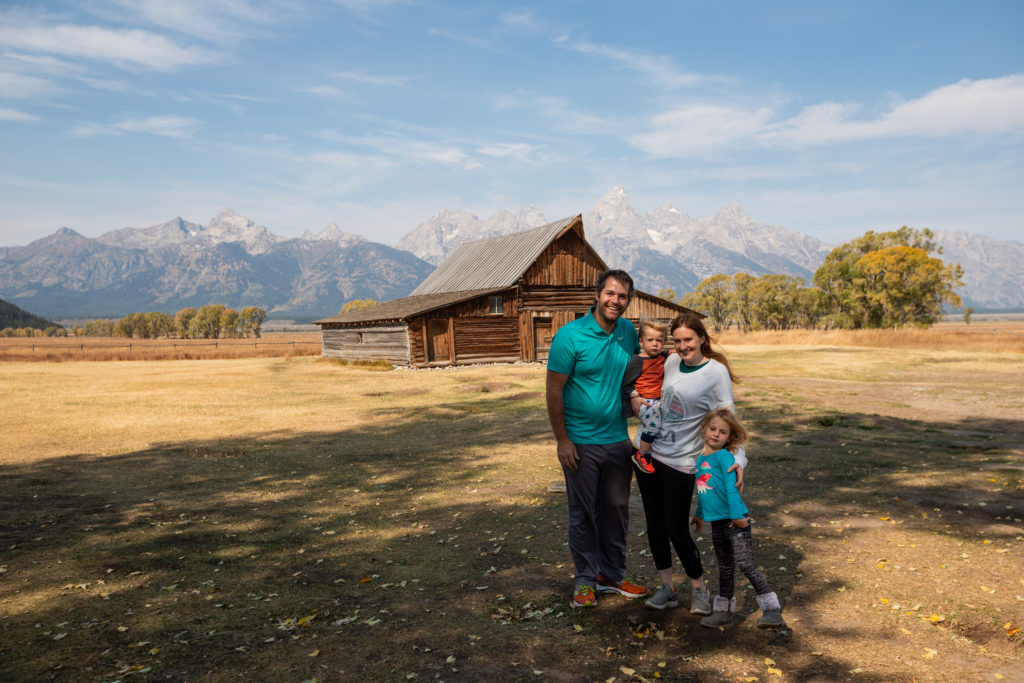 Outside of the photography, it's also a great spot for finding wildlife, which is why we recommend checking it out. We didn't have much luck spotting wildlife when we visited, but we've heard this is one of the best areas to spot moose, elk, deer, and bison. Either way, it's a great spot to let the little ones roam free for awhile. And likely a perfectly framed new photo to hang on your wall at home. By the way, we're all for the candid family photos.
5. The Drive
It may not seem the most appealing idea if you've been road tripping nonstop to stay in the car. But Grand Teton offers some of the most insanely beautiful drives. And you can catch some really gorgeous sights from the car. What we discovered during our time in Grand Teton National Park is that there are plenty of stop off areas while driving around. Locate a few views you find fascinating during your drive, and stop off to take in some views. It's an especially unique experience if you stop to watch a sunset.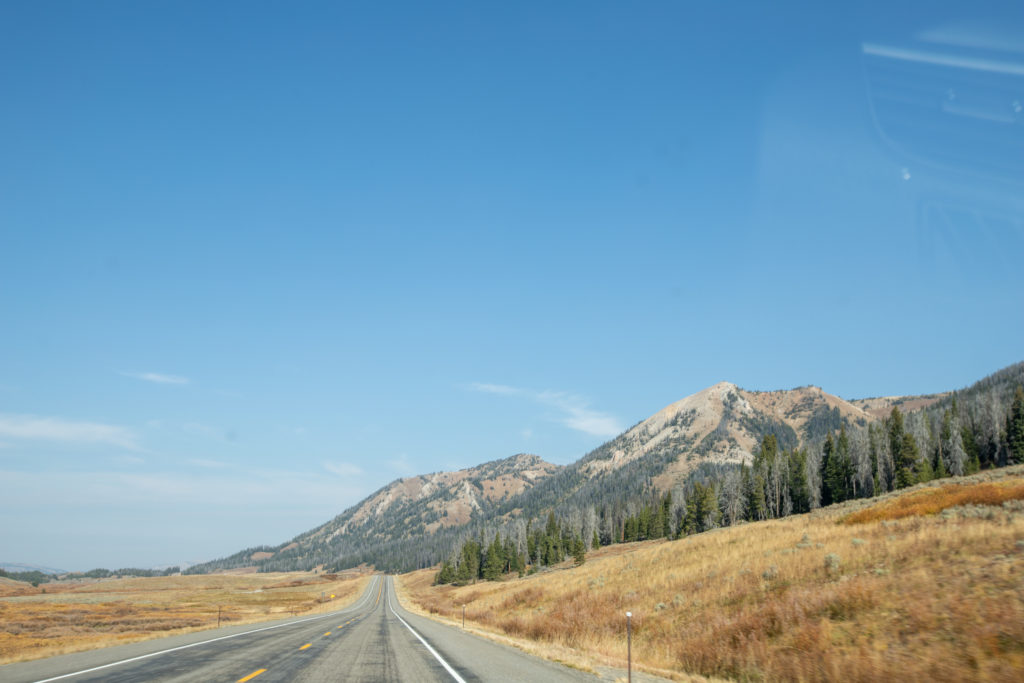 Plus, if you have a little, little one who needs some sleepy time, it's a great way to sightsee while the kiddos nap. And when you're in it for the long run, naps are always a good idea.
Be Flexible
This is our motto for every trip we take and it's no different when visiting Grand Teton. We had a packed itinerary on the day we chose to visit and found we stayed and wandered longer than we anticipated. If you're traveling with kids, chances are you won't be winning any speed competitions. Especially if you're hiking. So pick a few must sees and be flexible in the event you see a gorgeous view and you want to stop.
Hopefully this provides you some inspiration on the best things to do in Grand Teton National Park with kids, but as long as you have a cool view and places to roam, you really can't go wrong. I'll be the first to admit, we definitely underestimated it.
More Road Trip with Kids:
7 Tips to Help You Prepare for Your Fall Camping Trip
9 Questions to Ask Before Buying an RV for the First Time
9 Best Family RV Trips for Kids Who Love Being Outdoors
25 Camping Essentials for Kids (and What Not To Bring Camping)