The Grand Fiesta Americana Coral Beach has long been a fixture of Cancun's famed hotel zone. The iconic building had previously operated under a non-all-inclusive model, but paying for food and drinks here may be a thing of the past. Recently, Grand Fiesta Americana Coral Beach introduced a new all-inclusive plan. And we jumped at the chance to try it out firsthand. After 5 nights here, we've learned a thing or two that may help you decide whether this resort is right for you. We'll go through it all in this Grand Fiesta Americana Coral Beach Cancun review.
The location and vibe
First up, where is this place? You already know it's in Cancun, but beach location matters here. Grand Fiesta Americana is located in the hotel zone, which is sometimes referred to as the "7" (aptly named for its shape). The hotel is at the very corner.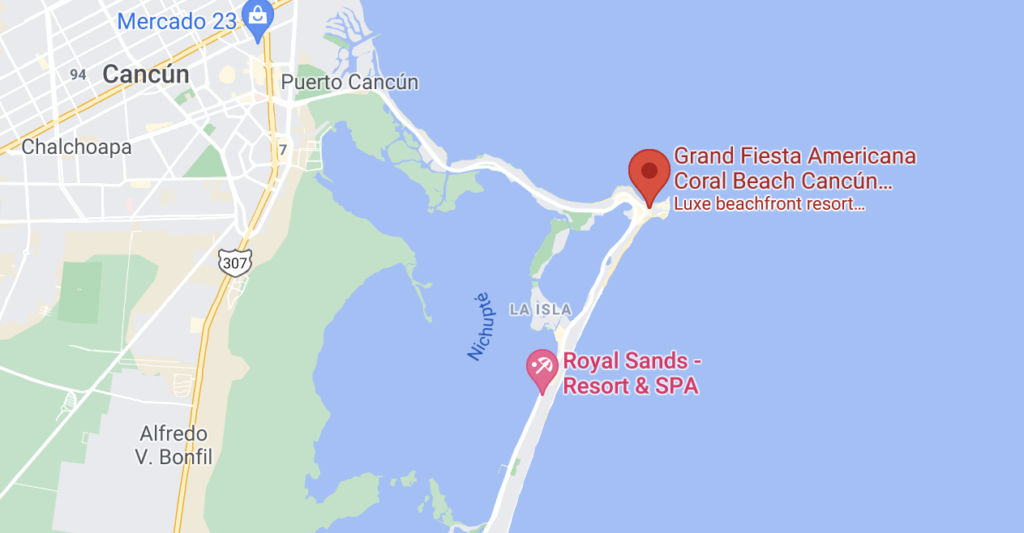 It's convenient location means it's in walking distance to bars and restaurants. As well as access to a large grocery store directly across the street (in case you leave something at home). The hotel is also 23.5 km or roughly 30 minutes away from Cancun International Airport. If you choose to stay in nearby Riviera Maya, expect the drive from the airport to take up to an hour or more. One of the benefits to staying in Cancun means quicker airport transfer times.
Is this a party resort?
One of the biggest factors when choosing a hotel in Cancun is finding the right vibe for your trip. The Grand Fiesta Americana Coral Beach has a little something for everyone. During our stay we saw families, couples, some babymooners, friend groups. There were some partiers, but I have to say, when you compare this resort to others in the area (we've stayed at a few different ones), this is not a big party resort. You'll certainly find entertainment if you visit the main pool, but it's by no means over-the-top. So if you're looking to stay in Cancun without raging every night, this may be the hotel for you.
What's included at Grand Fiesta Americana Coral Beach?
Previously, the Grand Fiesta Americana Coral Beach was not a full all-inclusive resort. That policy has since changed and now they offer all-inclusive packages. Here are some of the amenities you can expect with an all-inclusive stay: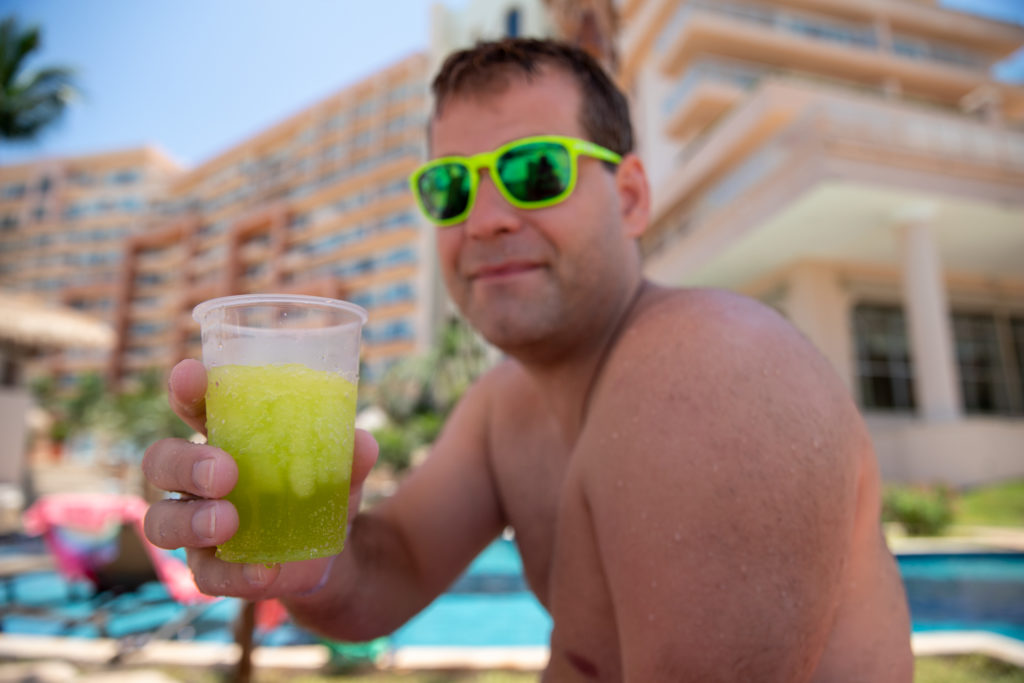 Unlimited meals and snacks including a la carte and buffet (a surcharge of 1000.00 pesos per person applies to only the Le Basilic restaurant)
Unlimited beverages including soft drinks, juices, beer, wine, and spirits as well as coffee drinks from the cafe (alcohol currently served 11am – 3am)
24/7 room service
Complimentary mini bar with soda, juice, beer, and snacks (refilled daily)
Daily entertainment and activities
Complimentary wifi
Twice daily housekeeping including nightly turn down service
Use of the fitness center and kids club
During our stay, they were also offering 2 complimentary roundtrip ferry tickets to Isla Mujeres. Find the full list of amenities on the Grand Fiesta Americana Coral Beach hotel website.
And now for a closer look at some of the hotel features:
All rooms are ocean view or ocean front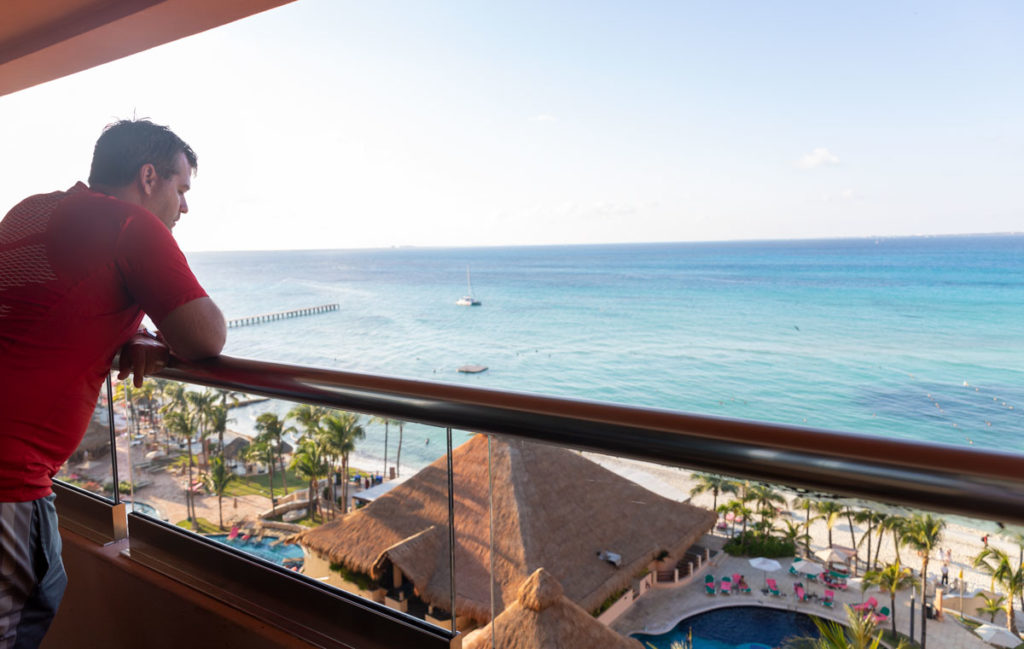 Originally we had booked an ocean-view room with two queen beds, which is the lowest room category. We loved this because even the base room features an ocean view – no worrying about views of parking lots! When we arrived, they upgraded us to an oceanfront king room based on availability.
Related: Check out our room tour on YouTube!
There isn't an enormous difference between the two – you can see the ocean from both. But with the ocean view you may have some partially obstructed views. Oceanfront tends to be a little more front and center. But you can't go wrong either way so we recommend checking the price difference between the two and deciding from there.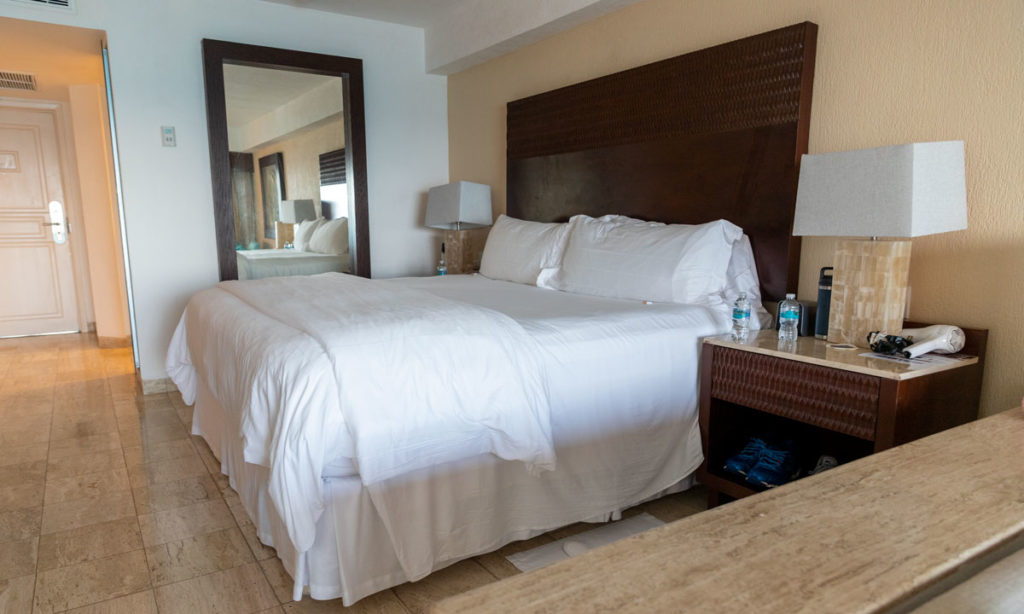 In terms of amenities, you can get the full rundown on the hotel website, but here are some of our favorite features:
Your choice between one king bed or two queen beds
Housekeeping two times a day (nightly turndown service is awesome and yes, pillow chocolates)
The complimentary mini-bar is very convenient (has water, beer, juice, and soda) and is refilled every day
The bathroom features a huge countertop, a large shower, and tons of toiletries (the downside is no bathtub if you have kids)
Balconies with all room types (is it just us or does morning coffee taste better while sitting on the balcony watching the waves)
Large rooms feature separate living areas, tables, and tv with many English channels – perfect if you are bringing kids and need some downtime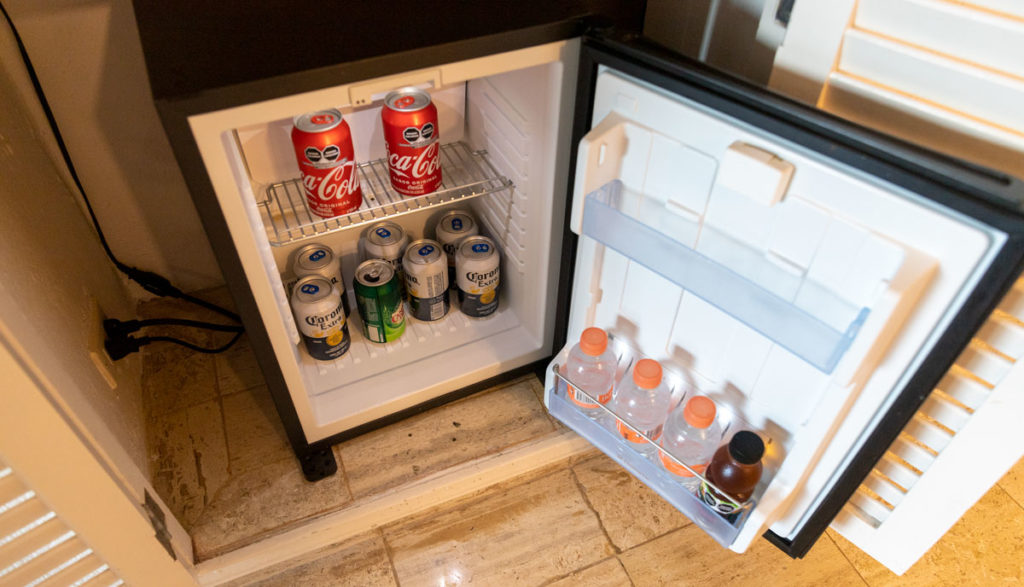 The Infinite Experience
If you're looking for the next level of luxury, the Grand Fiesta Americana Coral Beach infinite experience is an option for you. Here are a few of the extras you'll receive if you choose this package:
Access to exclusive areas of the resort (private lounge, VIP check-in, exclusive concierge)
Access to secluded sun deck & bar, and adults-only beach club
The more expansive selection of snacks and beverages for the in-room mini-bar (along with a spirit of your choice)
Priority booking for restaurant reservations throughout the resort
30-minute wave runner rental
Two hydrotherapy treatments at the Gem Spa
Four hours of babysitting until 10:30 pm (per stay)
Choice of two personalized resort experiences if staying 3 nights or more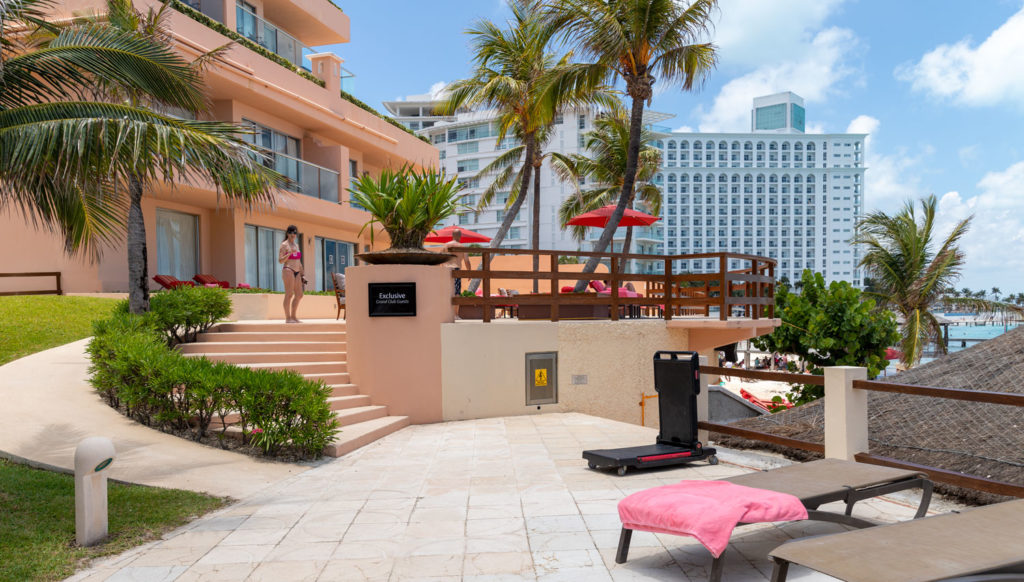 We've heard mixed things when it comes to the Infinite Club experience. Some love all the extras. But we've also heard accounts that it wasn't worth the extra money. There also seems to be quite a bit of feedback out there that all the infinite amenities aren't well organized. You may have to talk with the resort staff to ensure you receive all the benefits you're entitled to with this package. Ultimately, the price difference is pretty significant. And if you're looking for a top-of-the-line experience, it may be worth it for you.
Related: Riviera Maya or Cancun – Which All-Inclusive is Right For You?
How's the food?
The food at the Grand Fiesta Americana Coral Beach is one area that sets this place apart from other all-inclusives. We've stayed at many all-inclusive resorts over the years and food has been spotty – ranging from questionable to amazing depending on the hotel. This place had some of the best food (if not the best) we've ever had while staying at an all-inclusive resort. Creative and high-quality. And this is one of the things people always worry about. How good can the food really be?
Restaurants
You'll be able to select from several different restaurants. Some require reservations and some don't. If you want to secure optimal seating times, be sure to make your reservations early (ideally soon after checking in). Some of the restaurants you can choose from include:
La Joya Mexican – highly recommend this place. The ambiance is unique and upscale. There are mariachis to serenade you while you eat (or play happy birthday). And the food is incredibly creative. For the adventurous, try the tacos with grasshoppers. Or for the more traditional, give the mole a try. This is a can't miss!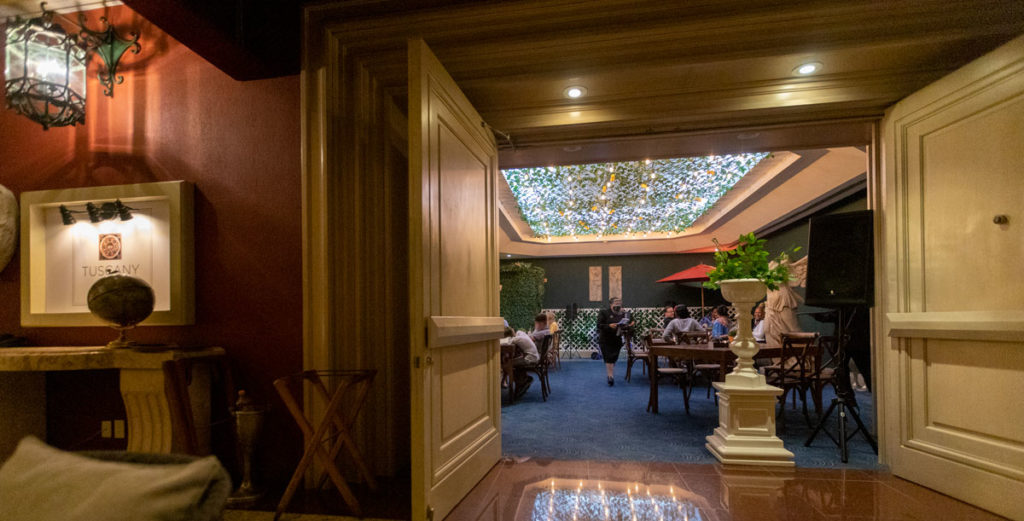 Tuscany Trattoria – we ate here twice it was so good. Beware: some of the portions are larger than you'll find at other restaurants. We were always stuffed when we left. But they had the most delicious pasta dishes (try the ravioli!) and perfectly prepared meats (the veal was a big hit with our group).
Isla Contoy – This is the place to come if you want the outdoor dining experience and to get your fill of seafood. Everything is super fresh and we even came here a couple of times for lunch.
Vina del Mar – this is the one buffet restaurant offered at the restaurant. You can come for breakfast, lunch, or dinner. We enjoyed most of our breakfasts here and loved the selection. They offered made-to-order omelets, fresh fruit, cheeses, pancakes, smoothies, tacos, and a bunch of other tasty items. We made a video about it if you want to see the offerings. We didn't actually visit for lunch or dinner because there were too many other options we wanted to try.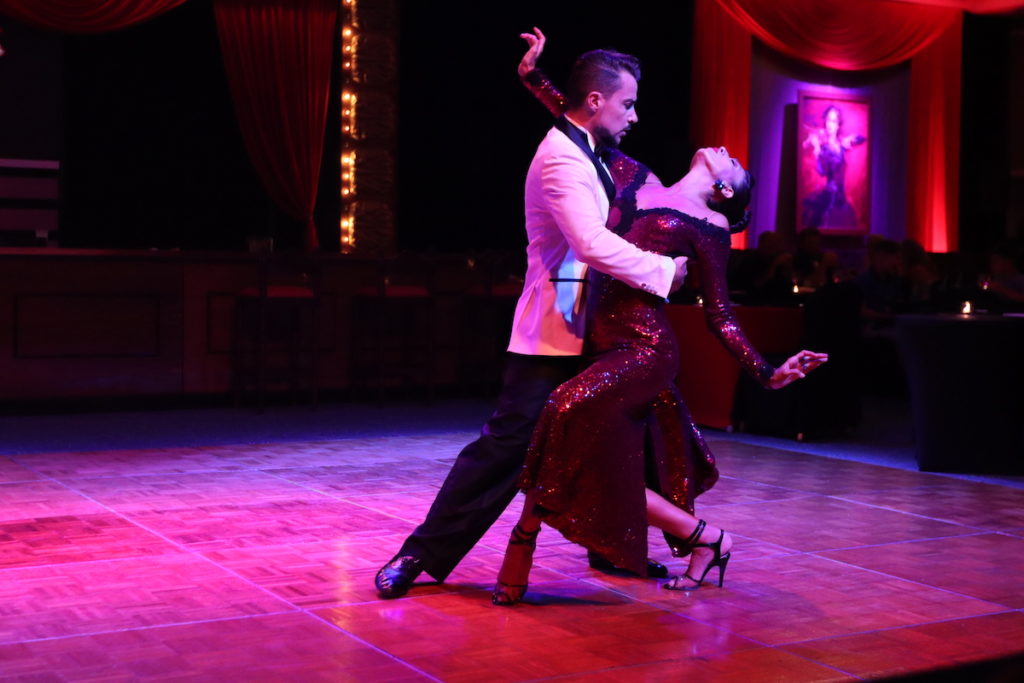 Havanna Club – they only offer this dinner/show on certain nights, so be sure to book early to make sure you get a seat. The food is wonderful and it's an experience. You'll be treated to a tango show that lasts throughout your dinner. The dinner is a set menu, so check it out in advance. It consists of things like charcuterie, empanadas, flavorful dipping sauces, soup, and a big ol' plate of grilled meats. Oh, and you can't forget the dessert. I had flan. This is another can't miss for the entertainment that comes with a mouth-watering dinner.
Le Basilic – this French restaurant costs extra unless you have a package that includes it. We actually didn't visit this place. I've heard great things, but to be honest, all the other restaurants were so great that we didn't see the need of spending the extra money.
Coral Cafe: the resort coffee shop. We always stopped in for fun coffee lattes and at night they do flaming coffee. They also have grab-and-go sandwiches and sweets.
Room service: quicker than what we've experienced at other resorts. I loved that aspect. And the menu is pretty comprehensive. We only used it for breakfast. But you can also use room service for lunch, dinner, or even a late-night snack. It's complimentary with your all-inclusive plan.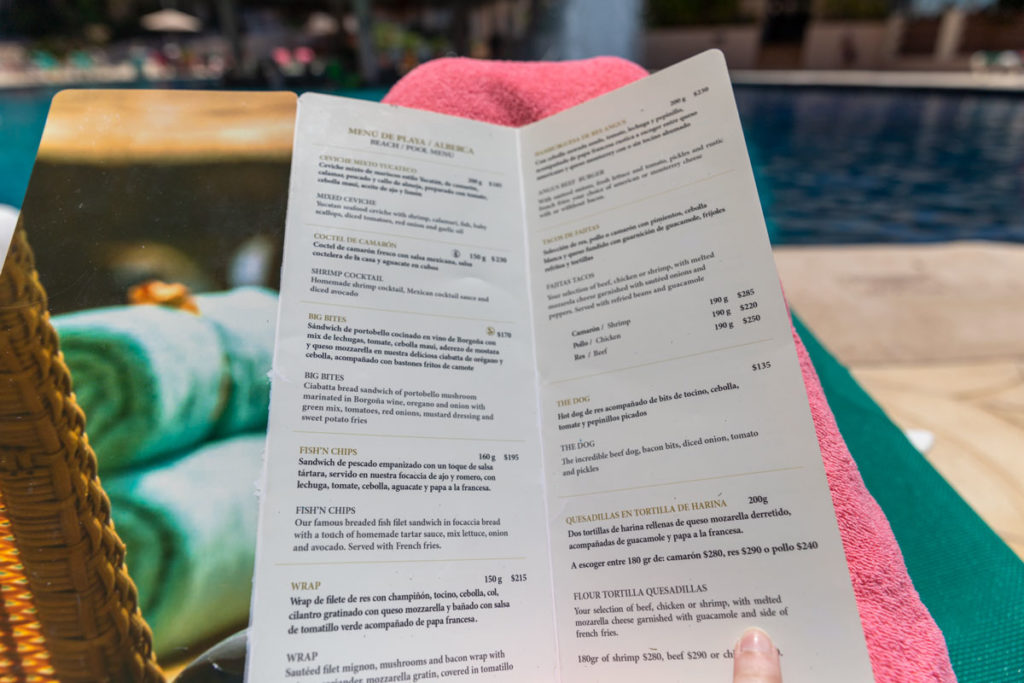 Pool/beach service: staff will come around and ask if you want a drink or food while you're sitting out at the pool or beach. There are a lot of choices on the menu. Pretty much any drink you can think of. And things like tacos, hot dogs, burgers, quesadillas, sandwiches, salads, ceviche, and a variety of sides on the lunch menu. It's quick and easy for a day spent outside.
Bars
There are a few different bars spread throughout the resort. When you're outside, you'll likely be spending your time at the swim-up and pool bars if you want a drink. Though staff will regularly come around no matter where you're parked. And in the evenings, the lobby bar is the main hangout. There are both indoor and outdoor sections depending on your taste. There's also a sports bar, which we never checked out.
There are fairly limited bar options, but we found it fine for our needs. We didn't feel like we needed a different spot every night or anything.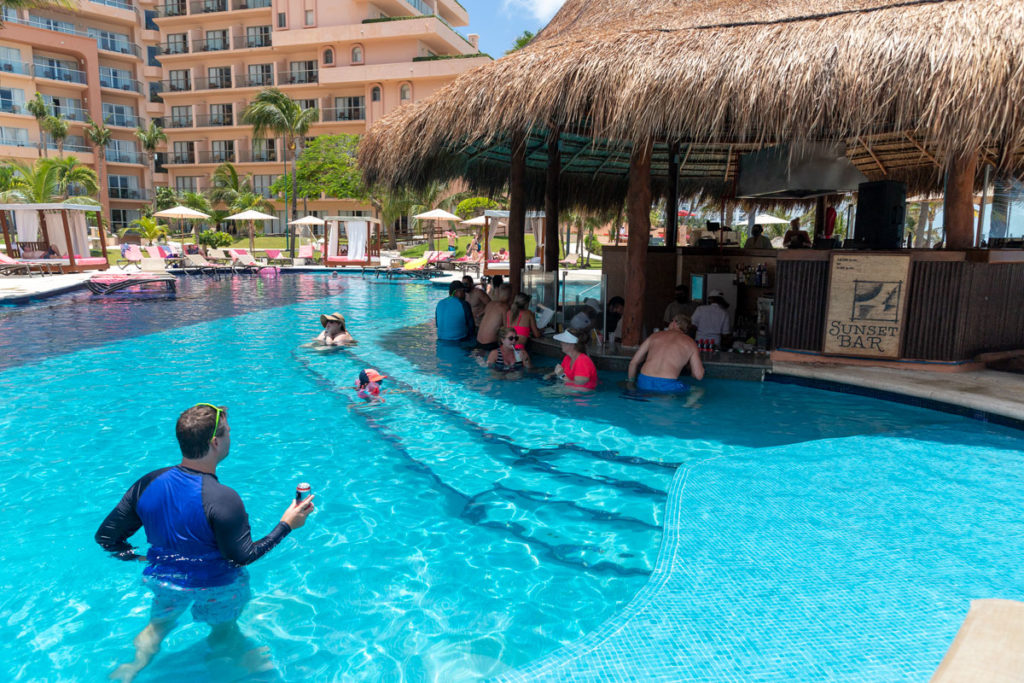 Tipping
This question always gets asked when people are coming to an all-inclusive resort. Technically, tips aren't required with an all-inclusive package. But that doesn't mean you shouldn't tip for great service. The workers here bust their butts to create the most relaxing vacation possible, so they deserve any tips you can give. We always gave some to beach/pool servers, restaurant servers, housekeeping, room service, and any other touchpoints.
We've always had great service with all the places we've stayed in Mexico, but this is an area where Grand Fiesta Americana excels. I talk more about it in our resort pool day video. But all the staff is constantly asking what more they can do and if you need anything. Their focus on feedback is what creates the atmosphere for optimal service.
Pool and Beach
When you're staying at an all-inclusive resort, unless you're doing excursions, you'll likely be spending most of your time here. So naturally, you want the right ambiance. As mentioned earlier, this is not the party palace. There are certainly people having a good time, but this is one of the quieter resorts in the Cancun hotel zone.
Pools with different vibes
There are multiple pools here and each is just a little bit different. Again, we made a whole video on the pool scene. But to give you an overview, there's a pool that families and kids seemed to hang out at. These sections had shallow pools for the littlest ones. There's a quiet, relaxing section that was pretty quiet. There's an activities pool which is where a lot of the action seems to take place. And then there's one that was a mix. So depending on the vibe you want, there will be a pool for you.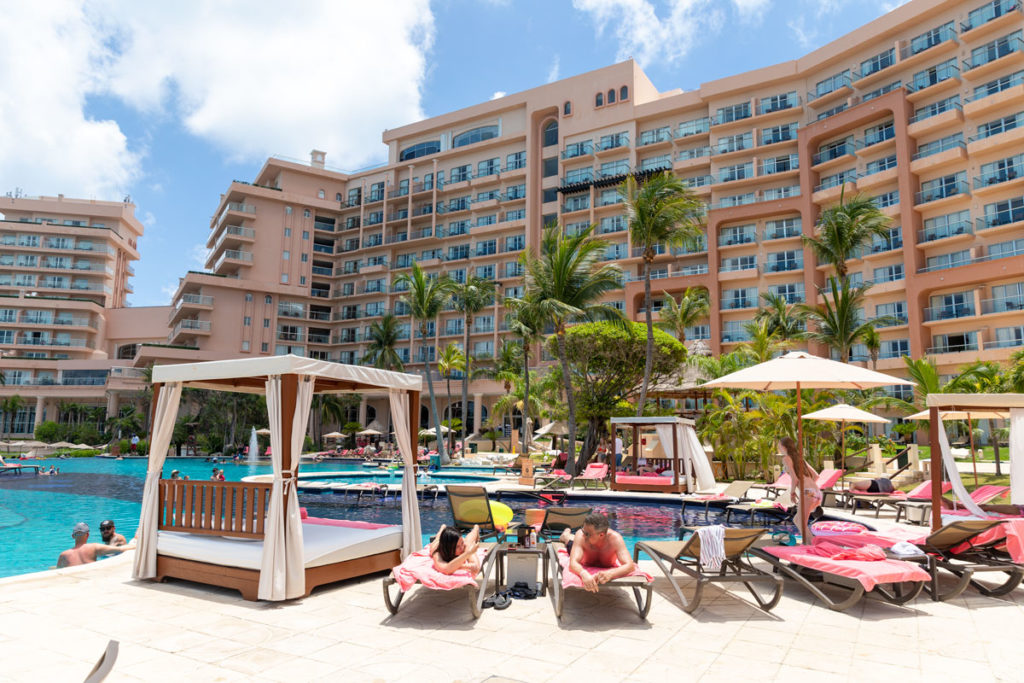 There are a couple different swim-up bars. And staff will come around and serve drinks as well. We loved the infinity pool. And there are all kinds of ledges so you can put your chair in and lounge. No complaints when it came to the pool.
Ok, one, but this is more of a guest thing than a resort thing. There is a towel game here. If you haven't heard of the towel game before, let me give you an overview. Basically in the early morning hours, guests will come down to the pool, put a towel down on some lounge chairs, and then leave. We aren't a fan of this strategy because it makes it hard to find chairs. We fall into the "don't reserve a chair unless you're actually staying" camp.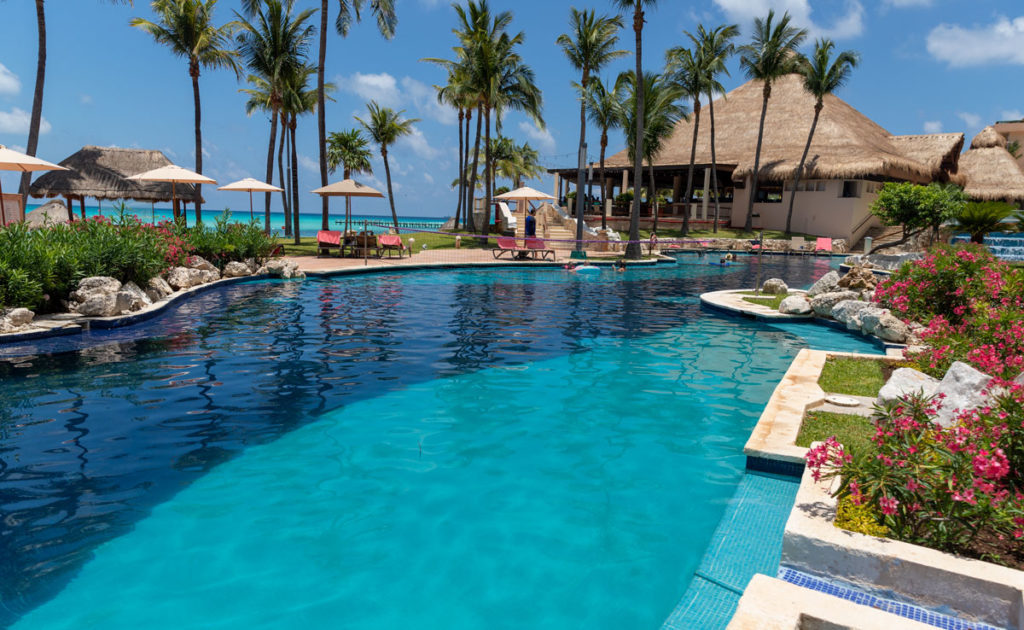 That said, this is something we've seen at pretty much every resort. So you won't escape it. But there are so many loungers outside, you should be no trouble securing one somewhere.
How nice is the beach?
You're in Mexico, so this is a known factor. There is seaweed. Depending on the time of year, it may be low or there may be a lot. This is just a fact of beaches in the Yucatan peninsula.
However, this is one of the best beaches in the area. It's located right in the corner of the hotel zone, referred to as the "7" due to its shape. This section is known to have one of the best stretches of beach in the area (also apparent based on the other luxury properties next door). The seaweed is a bit better than what you'd find in the Riviera Maya regions from our experience.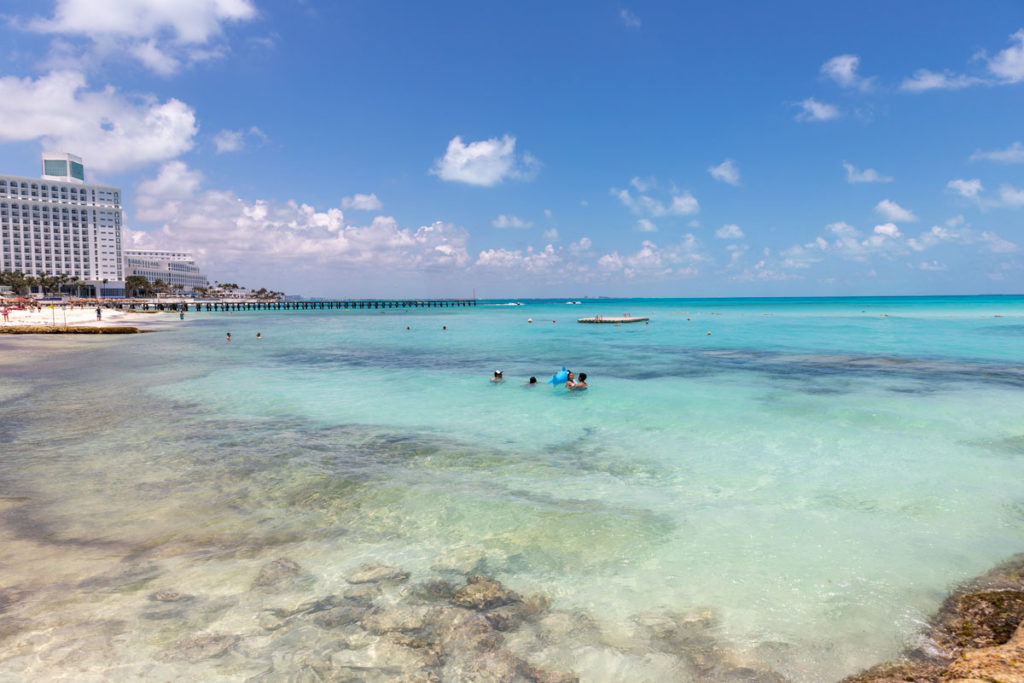 The beach isn't the largest, but that's typical of hotels in the crowded hotel zone. If you're looking for larger beach areas, you'll likely find them more in the Riviera Maya region.
Other amenities
So I've covered all the basics, but what are some of the extras?
Kidz Coral Club – this was a couples' vacation for us, so the kids stayed at home. But all the accounts I heard of the kids club, its top notch. The theming is really fun and there is a full waterpark for little ones to enjoy. Kids from 3-12 can participate.
GEM Spa – We took a look at the spa menu but didn't get a chance to visit. One thing that was a little disappointing is that unless you purchase a spa treatment, you can't access the hydrotherapy (unless you have a package that includes it). Spa prices are steep, like your typical resort. We would have liked to purchase a day pass to the hydrotherapy area but weren't able to do it.
Water Sports – kayaks, paddleboards, jet skis. They have a marina area next to the beach where you can rent various toys.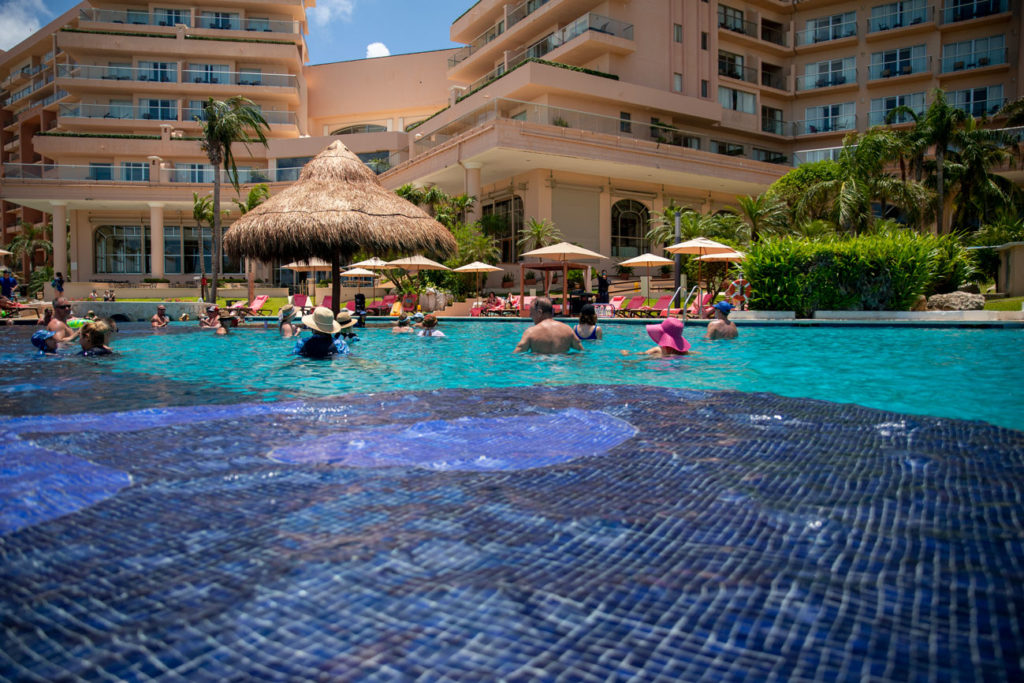 Entertainment – we were traveling while the resort was still recovering from COVID so activities were at a minimum. This resort does offer daytime activities, but it's definitely on the quieter side when you compare it to some of the other places in the hotel zone. They had water volleyball, water workout, and trivia to name a few.
In the evening, the resort remains fairly quiet. There were some shows with dinner, but not a regular theater show like some other resorts. We typically hung out at the lobby bar as that seemed to be the only place for nighttime entertainment after dinner. Adding more nighttime entertainment options is one area I feel could be improved at the Grand Fiesta in Cancun.
Is it a place for kids?
During our trip to Grand Fiesta Americana Coral Beach, we did not have our two kids. I did, however, see many families with kids of all ages. There seemed to be a lot of young kids. The pools cater to families and the kids club with waterslides is also a great option. I recommend packing some water toys to bring with you – we saw lots of families doing this! There is also a grocery store directly across the street and you can purchase water toys there.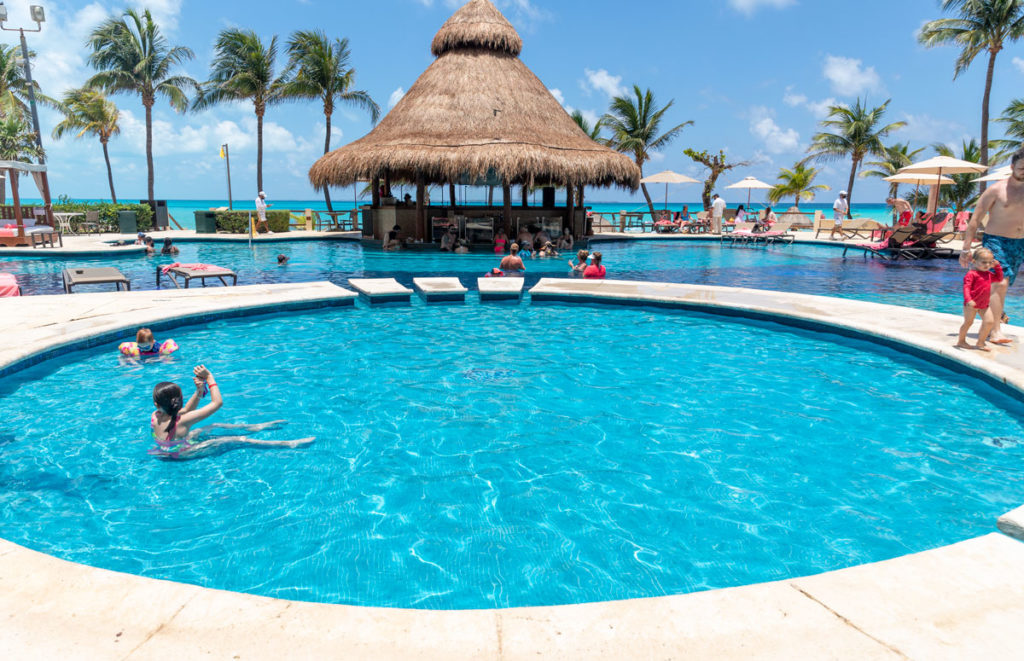 In terms of food, there were plenty of options our kids would have enjoyed. I don't think you'll have trouble finding kid-friendly options for even the pickiest eaters.
There are not a lot of activities or entertainment for kids in the evening outside of the kids club. During our last trip to Mexico, we brought a couple of toys and games for our kids to play in the lobby before bed.
If you want to stay in Cancun and bring the kids, I highly recommend this place. It's much quieter and more family-friendly than many of the other "party" resorts you'll find in the area.
If you're looking for a resort outside the hotel zone, check out our review for the Now Jade resort in Puerto Morelos. Another great option for families (and excellent service!).
How much will a stay here cost?
One of the biggest downfalls to the Grand Fiesta Americana Coral Beach is that it is pricey. If you stay on an off-peak weekend, prices may run around $500 – $600/night. A peak weekend could run about $700/night. Choosing infinite club rooms will also cost considerably more than standard rooms. So it's certainly not the cheapest option. But I will say it is equivalent in price to the other luxury properties out there. And you can definitely tell the difference when it comes to service and quality. They always go the extra mile here.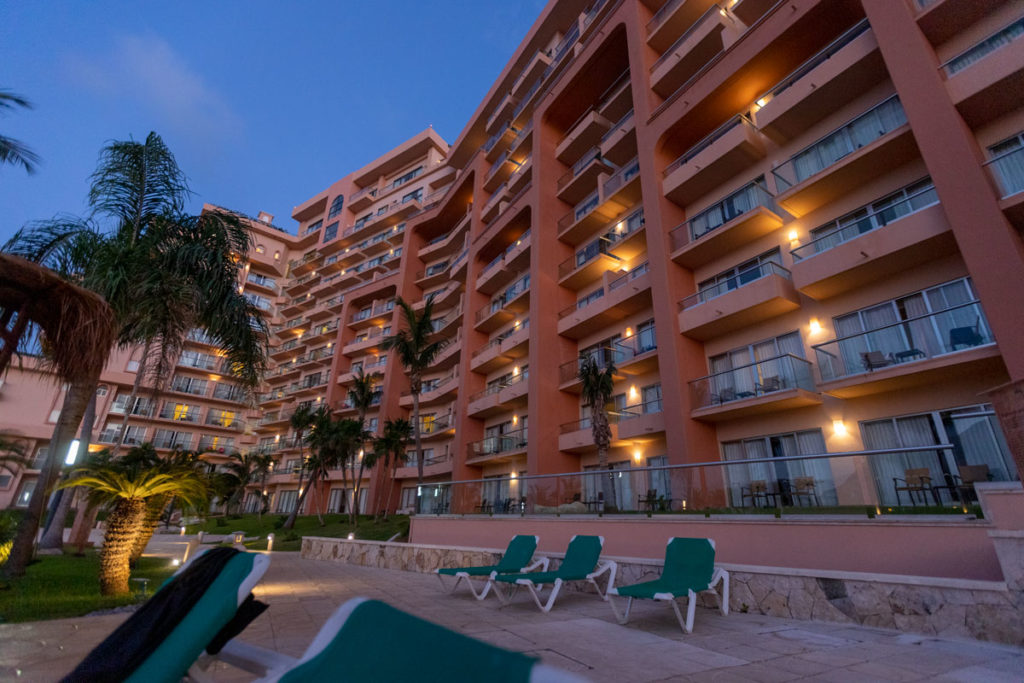 Would we come back? In a heartbeat! This is truly a luxury vacation. Everything from the food to the service and everything in between. It surpassed all expectations we had set. And I would recommend Grand Fiesta Americana Coral Beach to anyone looking for the ultimate all-inclusive experience.
Have you ever stayed at an all-inclusive resort? We'd love to hear your resort stories!
You may also like:
How to Protect Your Stroller When Flying
10 Vacation for Animal Lovers in the U.S.
15 Best Travel Toys for Toddlers on Planes, According to Frequent Flyers