As an airline employee, it's a personal goal to find as many ridiculous travel challenges as possible. The latest: stay at three different Las Vegas hotels in three days. Of course, it helps when they are part of the American Express Fine Hotels & Resorts program. Now if you're looking for the best Amex FHR Las Vegas property, we have three for you to consider. Everything from possible upgrades to food options and where we would stay again. Let's begin.
What is the American Express Fine Hotels and Resorts Program?
If you're new here – a quick rundown on the Amex Fine Hotels and Resorts program, or FHR as it's also known. It allows eligible card members to book hotels at some pretty fancy resorts worldwide. But not only can you book these places, you'll also get some swanky benefits. It's pretty simple – Amex has an easy booking widget on their website so you can search and book hotels on the spot.
What are the benefits booking an Amex FHR property?
Every property may have slightly different benefits, but here's what you can typically expect:
Noon check-in (when available) when the standard check-in time is 3PM or 4PM for most hotels
Guaranteed 4 pm late check-out which means no rushing around in the morning to pack and hustle outta there
Room upgrade upon arrival (when available) which doesn't always happen, but it does most of the time. The anticipation alone of whether you'll get an upgrade is worth it.
Complimentary breakfast for two and it can vary where you have it. Sometimes it's room service, sometimes it's at a restaurant, sometimes you get your pick of multiple options.
Complimentary Wi-Fi If a property has a mandatory Wi-Fi fee, you'll receive a daily credit for internet access at check out. This typically happens when the resort charges an amenity fee.
Experience credit One of the best perks – you'll get an experience credit of at least $100 to be used toward purchases like food or spa visits. It varies by property what you can use it on.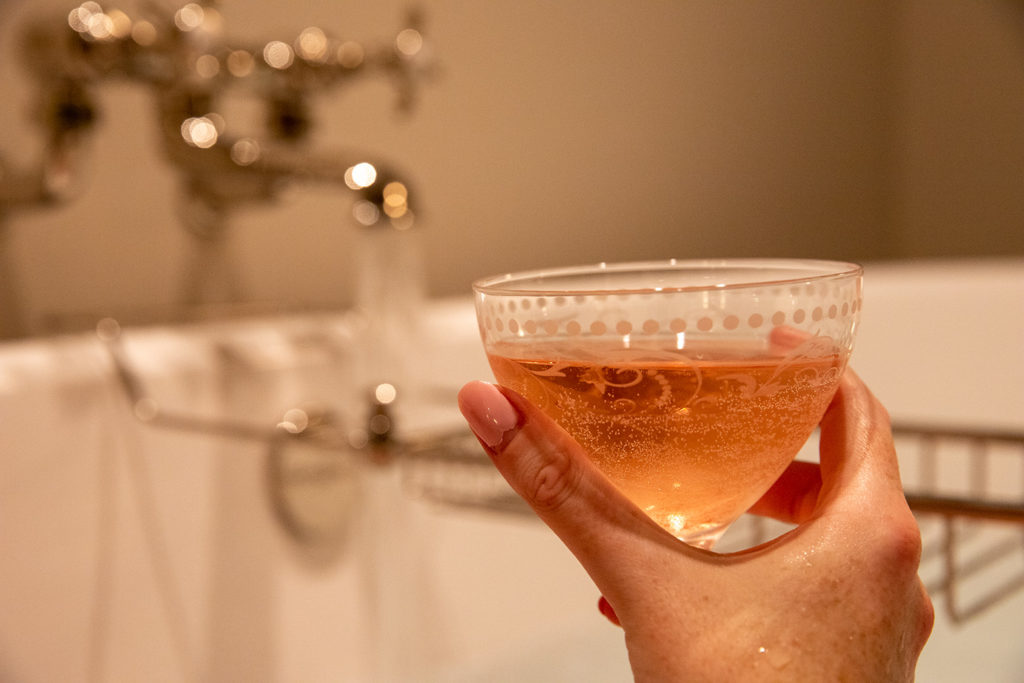 Who is eligible for Fine Hotels & Resorts rates?
In order to book these Amex deals, you'll need to have one of the following credit cards:
The Platinum Card.
The Business Platinum Card.
The Corporate Platinum Card.
The Centurion Card.
If you book with one of these cards, you'll get all the fun Amex FHR benefits. The cool thing is you can book up to three rooms for a stay under your card so you can bring friends or family along and they also get the perks.
If you're thinking of getting the Amex Platinum, consider using our link! Same cost for you (and same the sign-up bonus of 80,000 points!) and we get a kickback for points.
Ok, onward to our Amex FHR Las Vegas experiment.
NoMad Las Vegas
If you are looking for an ultra sophisticated, luxury hotel, NoMad may be for you. Its positioned central strip – by New York New York and Aria. And it's actually a hotel within a hotel (which seems kind of common in Las Vegas). What that means is that NoMad is a section within the Park MGM hotel. While Park MGM is light, fun, and energetic, NoMad has a dark, library feel to it. Here's the run down on our experience:
Grande Suite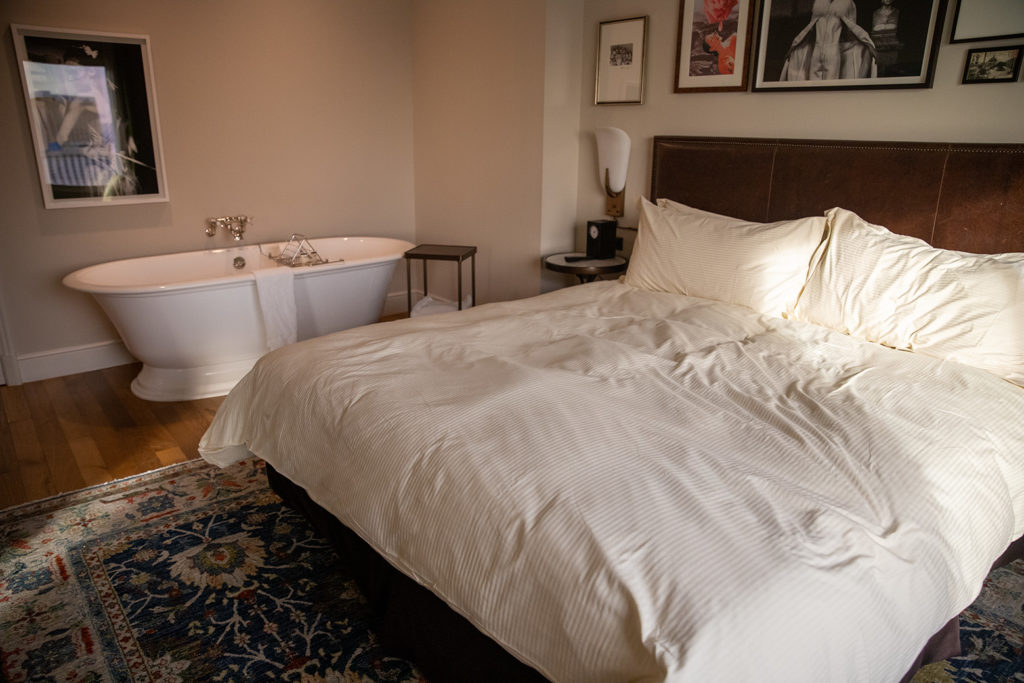 We had originally booked the Classic King room and upon check-in we were upgraded two levels to the Grande Suite. And this was easily one of the nicest rooms we have ever stayed in. The room is huge – with a separate sitting room. The bedroom has a king bed, a freestanding pedestal tub, and a large bathroom with a walk in shower. We did a full tour of the room in our video, which really does it more justice.
While you aren't always guaranteed this type of upgrade, you're more likely to get it if you stay on a weekday (we stayed on a Monday). That said, even the Classic King room is gorgeous. And there are many different room types that could be potential upgrade options.
As an added touch when you check-in, they ask if you want bath salts to use during your stay. Just another luxurious touch to the pedestal tub.
Amex Benefits
The upgrade was one of the Amex benefits we received as part of the FHR program. But what other benefits can you expect? You'll have the option for daily breakfast for 2 every morning of your stay. Because Nomad doesn't have its own breakfast, you can use the breakfast credit at Park MGM, or more specifically Primrose. You'll have up to $30 each to use on breakfast, which can include food and drink items (they make a mean latte).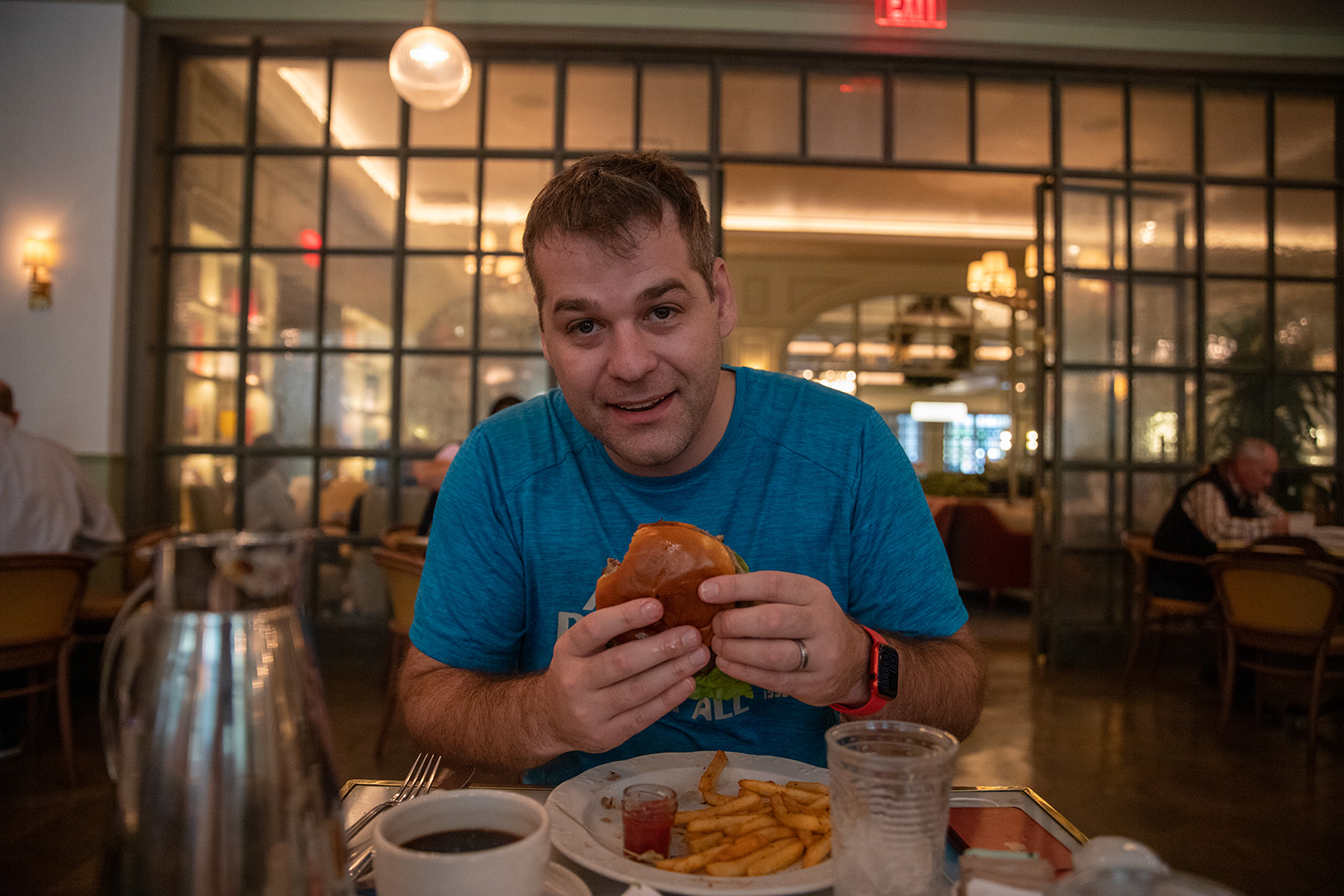 You'll also get noon check-in, when available and late check-in guaranteed at 4pm. And one of the biggest draws to the FHR program, the $100 food and beverage credit. While staying at MGM properties (Nomad is MGM) you'll be able to use the credit at over 100 different affiliated restaurants. Check out the full list of MGM participating outlets that are part of the FHR program. The nice thing is the credit doesn't have to be used at the specific property you are staying at. You can pick from any bar or restaurant on the list.
We chose to use our credit at the NoMad Library Restaurant and it was amazing. It has the same sophisticated, dark vibe and the food is upscale. We easily blew through the full $100 during our meal there.
Delano
On a similar note as the NoMad, Delano is a hotel within a hotel. It's actually part of Mandalay Bay, which is one of the largest resort complexes in Las Vegas. Mandalay Bay is located at the south end of the strip. It's within walking distance to central strip, but it's a bit of a hike. There is a tram station at Mandalay Bay with stops at Excalibur and Luxor. And Delano is an all suites resort, which is quite nice because you'll be guaranteed space even if you don't get an upgrade.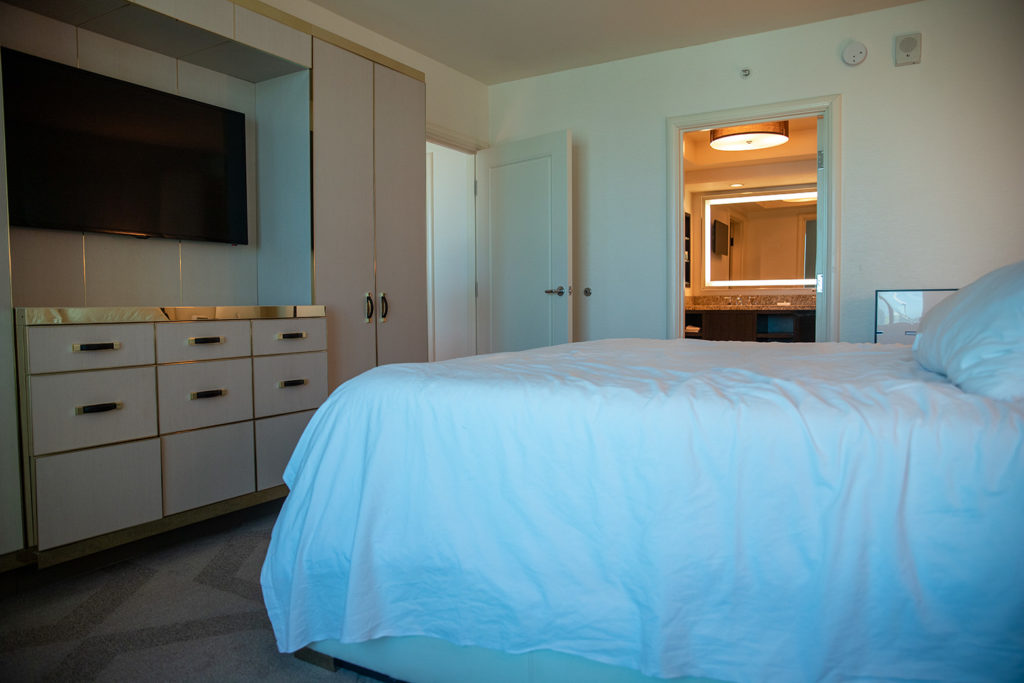 Sidenote: these rooms are perfect with kids if you want more space than what you'd get at Mandalay Bay (but still want the pool scene of Mandalay Bay).
Stay Well Delano Strip View King Suite
We booked the standard King Suite and were upgraded to a strip view plus the stay well amenities. What you can expect with this room is a separate living area with plenty of seating. The living area is fully separated from the bedroom and the bedroom is bright and airy. We opted for the king bed, but they also have suites with two queen beds. The bedrooms have floor to ceilings windows. And the suite has a large bathroom, with a separate tub and shower. It's plenty of room to spread out no matter if you're one person or a family of 5.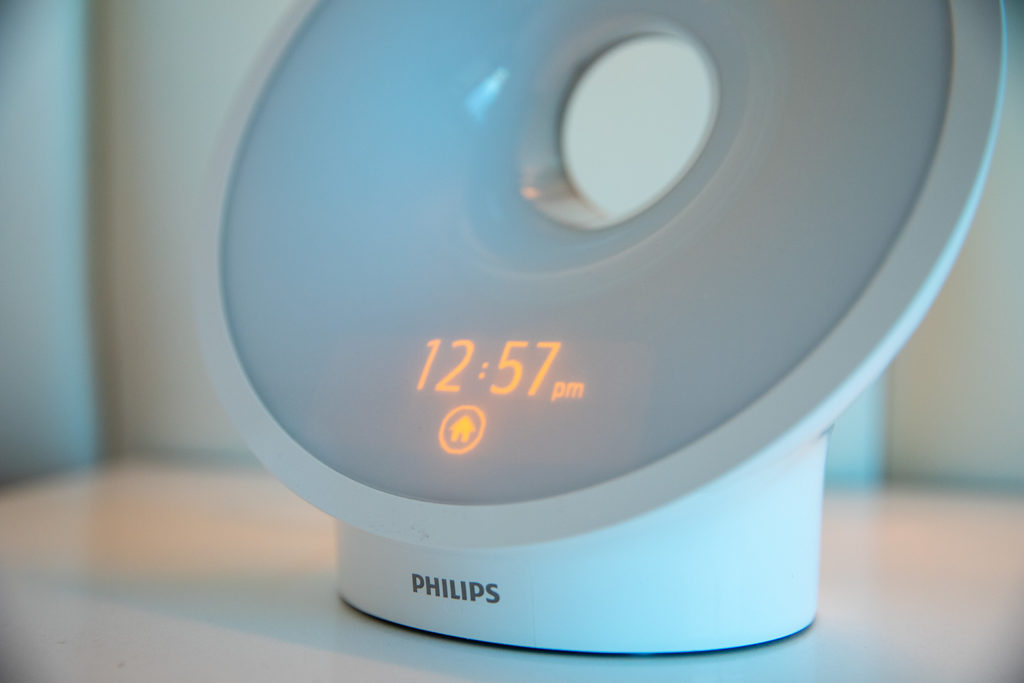 And we were upgraded to the Stay Well room, which includes extra amenities like an air purifier, shower infuser, and a natural light clock.
Amex Benefits
Like all other FHR properties, with the Amex Platinum, you'll received noon check-in when available and late 4pm check-out, guaranteed. As Delano is an MGM resort, you'll also get the $100 dining credit to use during your stay for any of the MGM properties on the participating list. This time we chose to spend our credits at Best Friend. It's not in the Delano/Mandalay Bay sear (interestingly enough it's part of Park MGM, where we stayed at NoMad), but holy smokes is it delicious. I HIGHLY encourage you to try this place – and you get $100 credit, so what do you have to lose?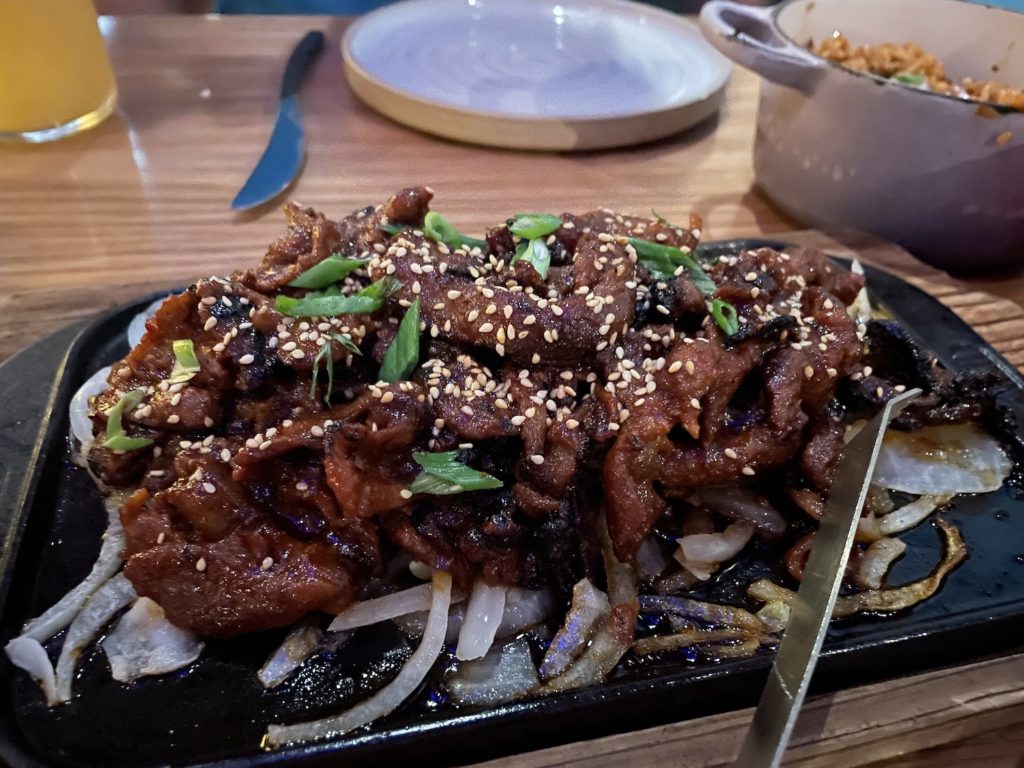 When it comes to breakfast, you have a couple options. Della's Kitchen is your sit down option, but unfortunately it was closed when we were there (not open on Tuesday and Wednesday). So instead we had our breakfast at 3940 Coffee and Tea. And let me just tell you, it wasn't exactly easy to get to $60 here. You can get several items and some pretty tasty coffee beverages.
Bellagio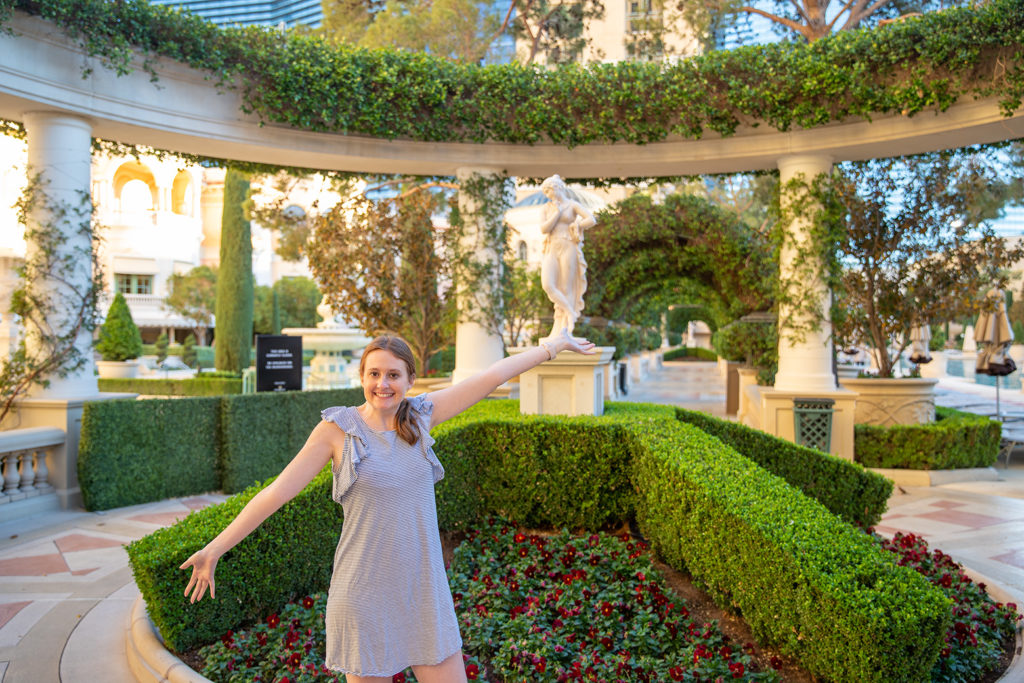 The last place we stayed was the Bellagio. We've always wanted to stay here as the iconic fountains are synonymous with Las Vegas. And the location can't be beat. You are right in the middle of everything, which means no long walks back to your hotel at the end of the evening. We had a strip view and a full view of Caesars Palace next door. It was a wild night of quoting "Is this the real Caesars Palace" and debating why Caesars Palace does't have an apostrophe.
Fountain View King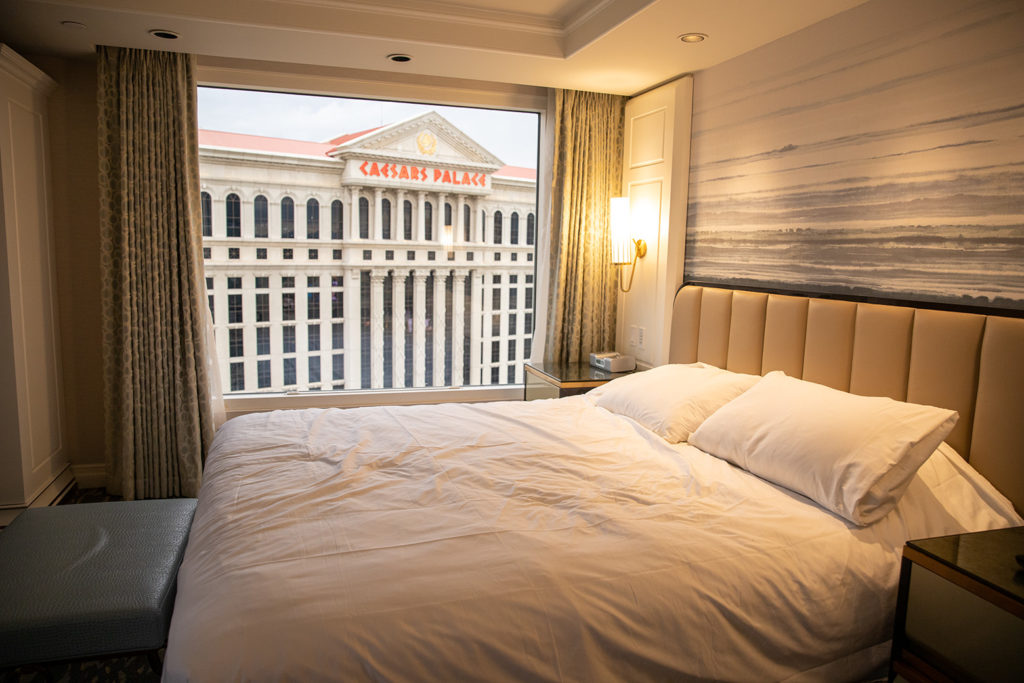 We booked a Resort King and ended up being upgraded to a Fountain View King, which also happened to be a corner room. The room is exactly what comes to mind when you think of Vegas. There are views all around the room, a super comfy king bed, and a huge bathroom. The bathroom has a separate tub (with a view) and shower. The room also has a giant tv and small table area.
Amex Benefits
Same story as the other two resorts: noon check-in when available, guaranteed late 4pm check-out, complimentary breakfast, and $100 dining credit. We enjoyed a lovely breakfast at Sadelle's Café, which has a casual, yet chic, atmosphere. Also, the fact that this place offers caviar for breakfast just speaks to what you expect from a Bellagio restaurant.
And for our dining credit, we hit the Bellagio buffet for lunch. I'm always in favor of a good Vegas buffet and the Bellagio did not disappoint – plenty of options for every taste.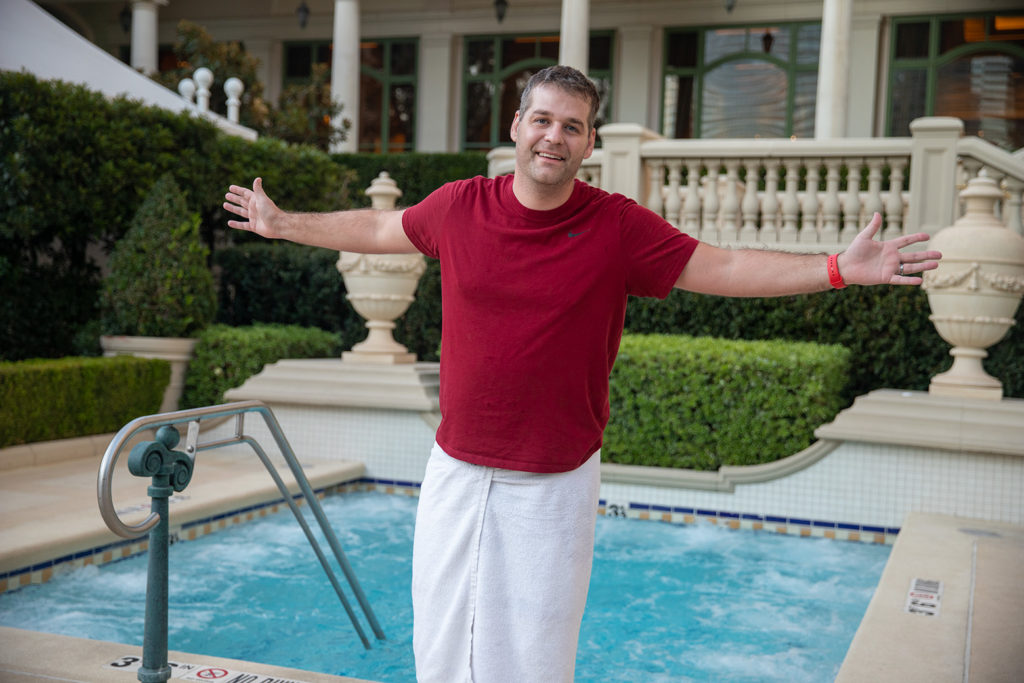 The pools were great at all hotels, but I especially love the theming at Bellagio. It had an upscale, secluded vibe going on. If you stay here, don't miss the pool scene.
Which Amex FHR Las Vegas hotel would we book again?
We loved each of these hotels for different reasons. With the $100 credit and other benefits, booking through Amex as part of the FHR program is such a great deal. Keep in mind, during certain times of the year the pricing is quite a bit higher. You just need to search different dates to find those gems. Also, some Las Vegas hotels offer $100 spa credit instead of dining credit. So whichever your preference, check the hotel in advance. All on this list offered the $100 dining credit from the list of participating MGM bars and restaurants.
If we had to pick just one, which was our favorite? I would love to stay at the NoMad again. It has such a sleek, unique vibe and the room felt so luxurious. However, if we were bringing the kids next time, I may opt for the Delano room because it's an all suites resort. I love the guarantee of space. Really it comes down to the vibe you are going for. Or do like us and stay at all three! We see you, Amex FHR Las Vegas, we see you. This is a trip worth repeating.
What's your favorite FHR property? Let us know!
You may also like: