Sometimes planning your Disney Cruise is almost as fun as actually going on it. With so many activities to choose from, how do you decide? One of those special experiences is the Bibbidi Bobbidi Boutique. This magical salon offers makeovers for kids, transforming them into their favorite Disney characters with costumes, hairstyles, and makeup. So, is the price tag worth it? Let's walk through the full experience.
What is the Bibbidi Bobbidi Boutique?
The Bibbidi Bobbidi Boutique is a kid-friendly salon located on Disney Cruise ships and in Disney Parks. It offers a full makeover experience, allowing kiddos to become their favorite prince or princess (or even pirate). The experience is designed to make kids part of the Disney magic and to give them their special moment. It's more than your typical visit to the salon to get your nails done. Kids will be assigned a Fairy-Godmother-in-Training who will pamper your little one with hairstyling, makeup, and nails. And in true Disney fashion, there are sparkles and magic wands along the way.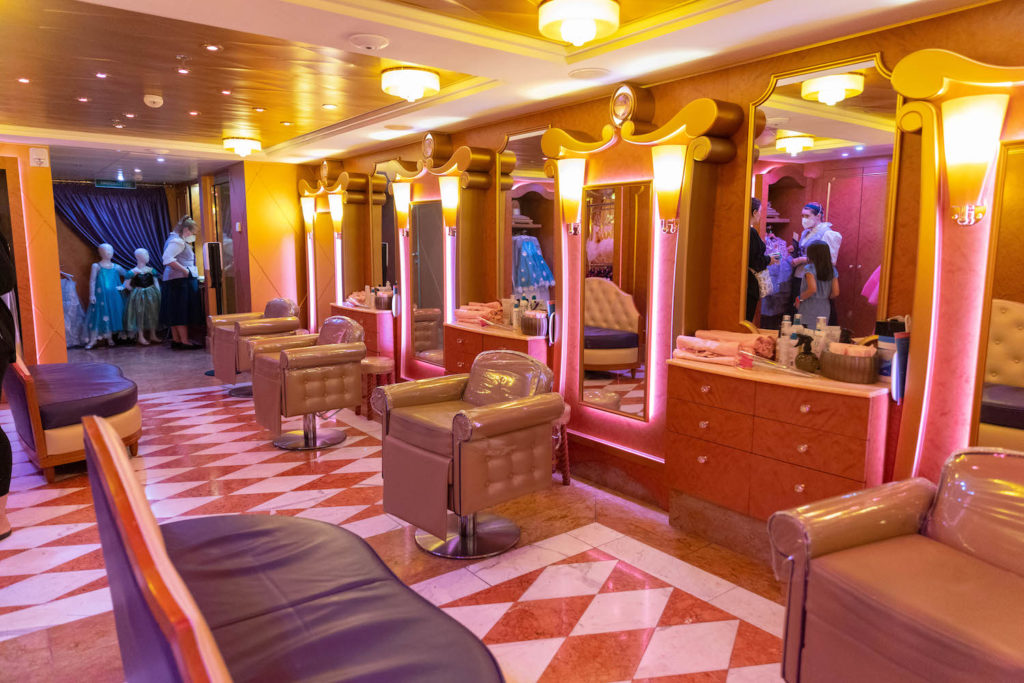 What is included in the makeover?
The Bibbidi Bobbidi Boutique offers a variety of makeovers for kids, including princess, knight, and pirate transformations. There are quite a few packages to choose from, so you'll be able to pick the one that best fits your needs. Here's a breakdown of what you'll get depending on the package you select.
Deluxe Carriage Package – $99.95
Hairstyling
Shimmering makeup and face gem
Princess sash and cinch sack
Nail polish
Bibbidi Bobbidi Boutique T-shirt
Castle Package – $199.95
Hairstyling
Shimmering makeup and face gem
Princess necklace, sash, and cinch sack
Nail polish
Disney Princess gown of your choice
Coordinating accessories
Disney Frozen Package – $179.95
Anna/Elsa hairstyling with a braided hairpiece
Anna/Elsa gown
Sparkling snowflake hair accessories
Face gem
Princess sash and cinch sack
Nail polish
Olaf ornament
Princess Signature Package – $450
Hairstyling
Shimmering makeup and face gem
Princess sash and cinch sack
Nail polish
Disney Princess gown made with heirloom-quality fabrics—and featuring intricate design details that tell the story of the princess
High-quality crystal tiara with box
Organza garment bag and satin hanger
Royal Knight Costume Package – $99.95
Knight costume
Knight backpack
Hairstyling with gel
Mighty sword and shield
Confetti
Captain Costume Package – $119.95
Hairstyling with gel and confetti
Captain cinch sack
Autograph book and pen
Captain costume and hat
Pirate Costume (Youth) – $199.95
Choice of pirate costume
Makeup application
Cinch bag
Accessories
Swashbuckle – $99.95
Pirate vest and waist belt
Makeup application
Cinch bag
Accessories
Pirate Makeup and Accessories – $59.95
Makeup application
Cinch bag
Accessories
* Pirate packages are only available on Pirate Night
How much does Bibbidi Bobbidi Boutique cost on a cruise ship?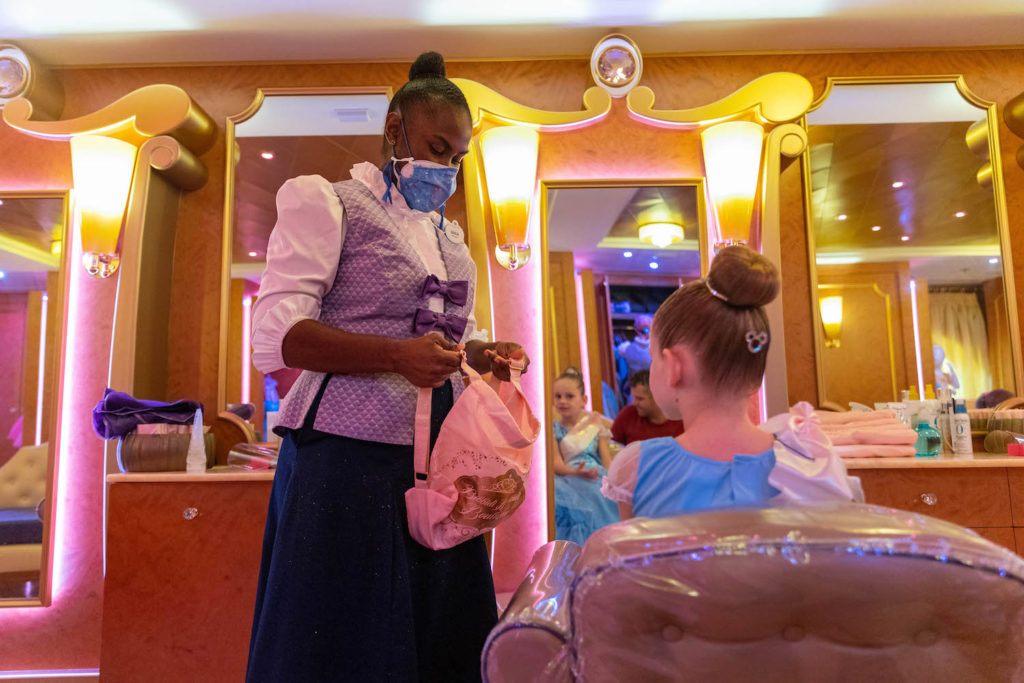 Pricing ranges from $59.95 to $450 depending on the specific package you select. This is a pretty wide range, giving you options to personalize the experience to your budget. Keep in mind the pricing and package offerings may differ based on your ship. The costumes are also frequently updated. For instance, Disney Wish recently added a new Ariel costume and Little Mermaid experience. The easiest way to explore pricing applicable to your ship is through "My Reservations", under Onboard Fun. Here you can view pricing and make a reservation.
How to save money on Bibbidi Bobbidi Boutique
The easiest way to save money on your Bibbidi Bobbidi Boutique experience is by purchasing your outfit ahead of time. Packages that include a costume cost significantly more, when instead, you can buy somewhere like Amazon or Target for much cheaper and bring the costume with you.
Here are some of our favorite costumes to bring on your Disney Cruise: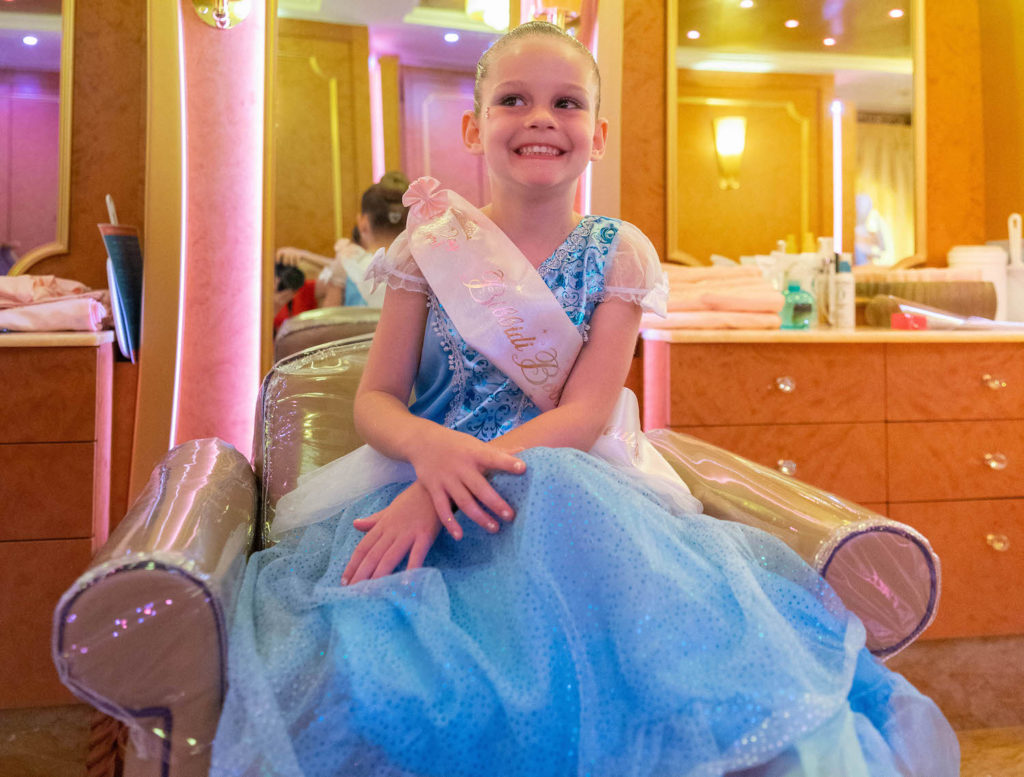 The knight and captain packages are only offered with costumes, so this trick doesn't work as well with those options. But if you choose one of the princess or pirate packages, you can reserve without the costume. The costume can add $100 or more to the cost, so this can save you significantly.
Honestly, you could even bring one of the Disney Fantasy Nightgowns for the makeover and then your kiddo has pajamas after the fact. We saw these all over the ship.
We opted to bring our own costume and chose the Deluxe Carriage Package, so that's what we'll review here. But first…
Do you have to make reservations for Bibbidi Bobbidi Boutique?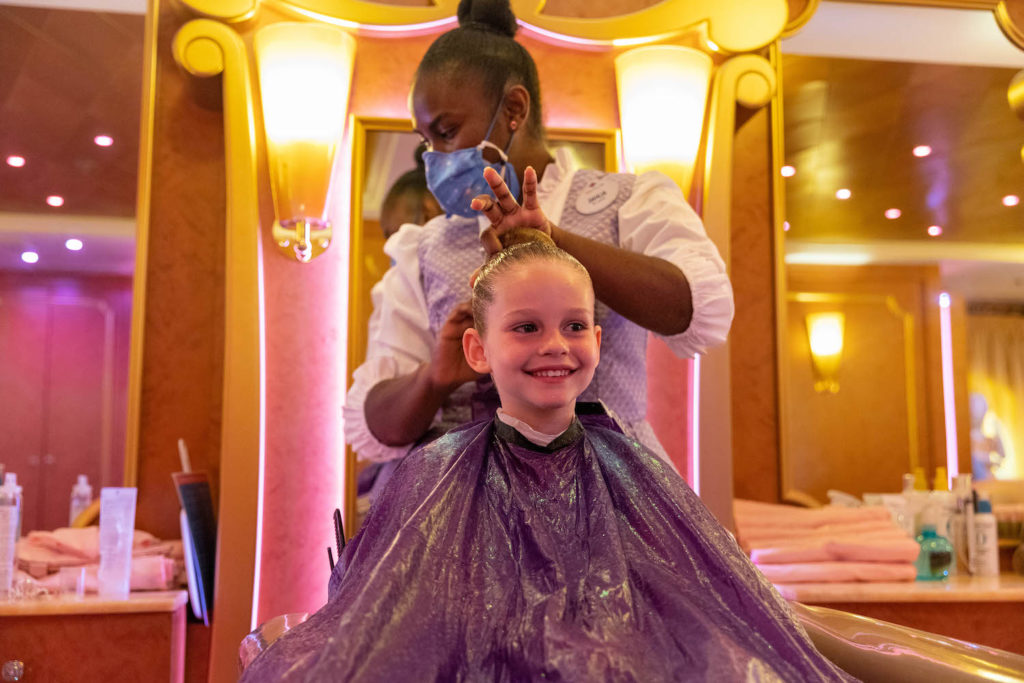 You don't need to make advance reservations for Bibbidi Bobbidi Boutique, but it is highly encouraged. On cruise ships, there are a limited number of appointments available and they do tend to fill up fast. To make reservations in advance of your cruise, visit My Reservations online and Bibbidi Bobbidi Boutique will be listed under Onboard Fun. Activities can be booked according to the following membership levels:
| | |
| --- | --- |
| First-Time Guests | 75 days prior to sail date |
| Silver Castaway Club Member | 90 days prior to sail date |
| Gold Castaway Club Member | 105 days prior to sail date |
| Platinum Castaway Club Member | 120 days prior to sail date |
| Pearl Castaway Club Member | 123 days prior to sail date |
| Concierge Guests | 123 days prior to sail date |
To give you some context, we were first-time guests and went to reserve a Bibbidi Bobbidi Boutique appointment right when our booking window opened. There were still appointments available, but not our ideal times. We ended up booking a 4 PM appointment on a port day. Other options included super early in the morning or late at night. Because these appointments are first come, first served, try to book as early as possible.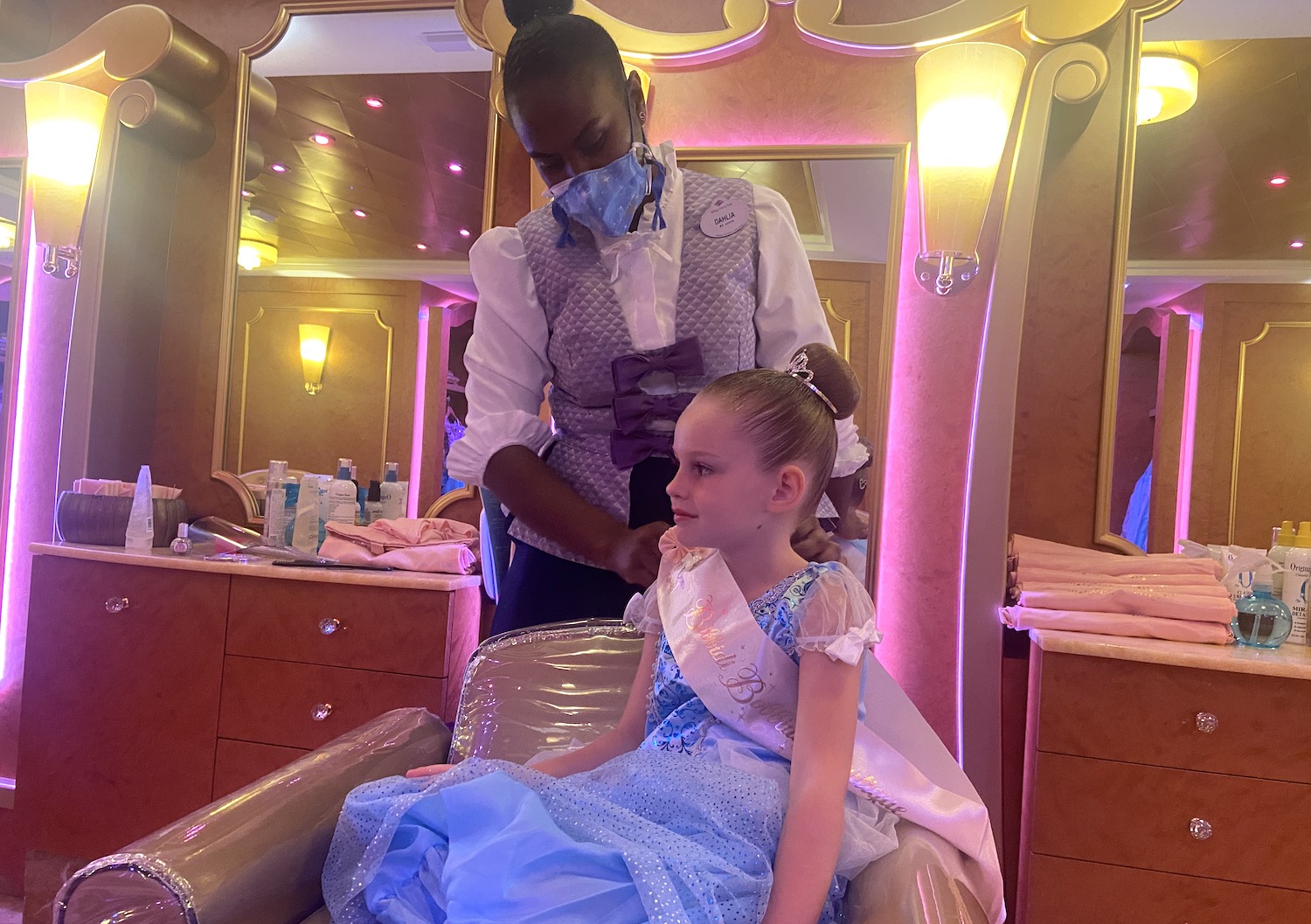 If it's time to sail and you haven't made a reservation, don't be discouraged. You can still book on board at the Bibbidi Bobbidi Boutique. Cancellations do happen so you may luck out and snag an appointment. If you've already booked, but aren't happy with your time, you can also use this method to try and switch to a different time.
If you are on the fence, know that there is no cancellation fee if you cancel 24 hours prior to your appointment time.
Deluxe Carriage Package
We made an appointment for the Deluxe Carriage Package. This package does not include a costume so we bought one in advance and hid it in our suitcase. A little before the appointment, we got it out as a surprise and that added to the special day. If you are weighing whether to bring your own or let your kiddo pick one out, surprising them with a new dress can create that special moment without the high price tag.
I had my daughter wear her new costume to the appointment, and this is what we saw a lot of people doing. The appointment takes about an hour and once you arrive here's the general flow:
Arrival and Check-in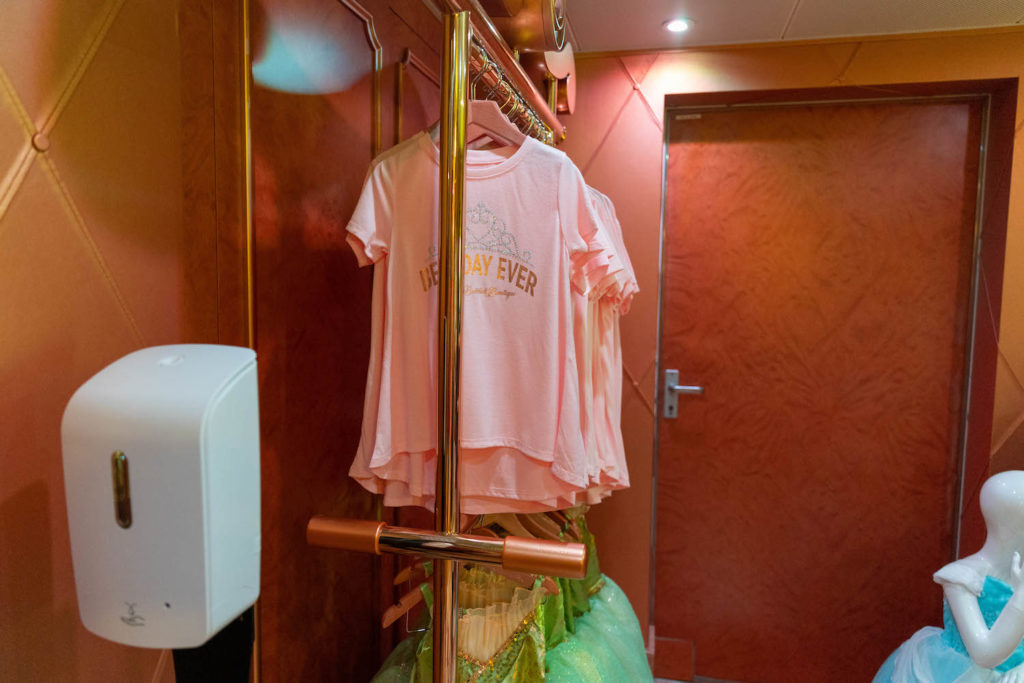 Once you arrive at your appointment time, you'll check in at the front desk and they'll confirm the package you selected. From there, you'll meet your Fairy Godmother Apprentice (or Fairy-Godmother-in-Training). Your Fairy-Godmother-in-Training will surprise your child with their included goodies (ours included a cinch bag with a few items and a t-shirt).
Sidenote: they have some dress-up shoes on display at check-in, available for purchase. We forgot to bring shoes and our daughter wanted them so bad. Learn from our mistakes and bring your own dress up shoes! Before heading into the salon area, you'll pick out a t-shirt in your child's size. Then you'll make your way into the salon.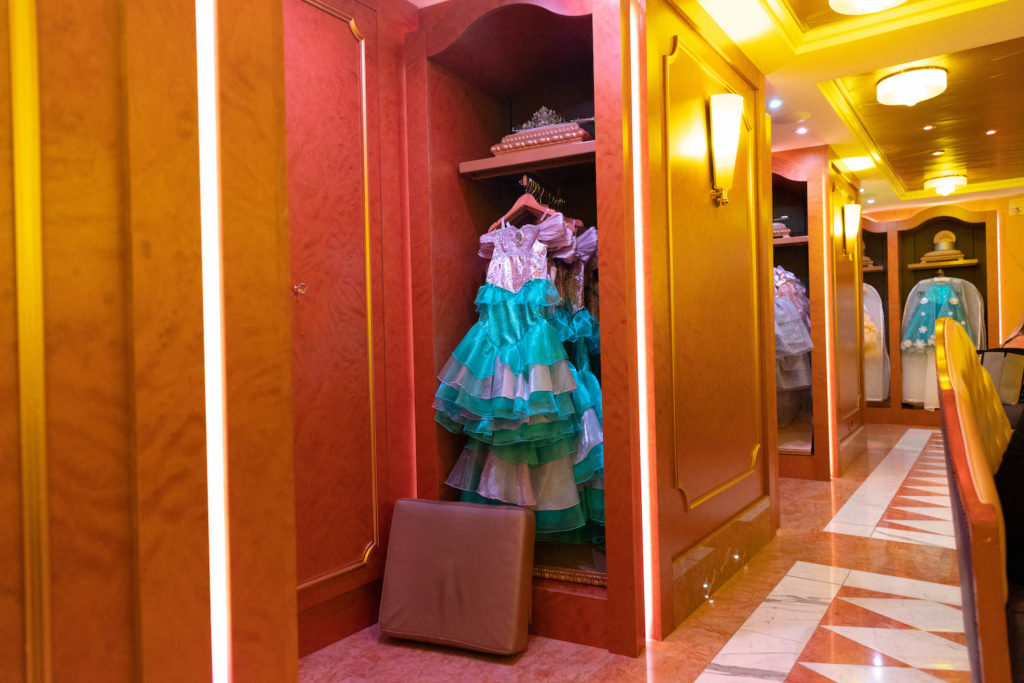 Hairstyling
Your Fairy-Godmother-in-Training will show your child to their royal throne (AKA chair). This is likely when you'd pick out a costume if you chose that option. All the costumes are on display throughout the salon. Parents (or whoever is accompanying them) also get a royal couch to sit on, which is another fun touch.
When your kiddo sits down, you'll get to pick out a hairstyle from a list. There are pictures so your child can visualize. On our cruise, there were three main options:
Enchanted: a bun with your choice of tiara or bow in pink, blue, yellow, or white
Fantasy: a bun with extra curly hair and flowers
Pixie Magic: a long, colorful ponytail with a flower halo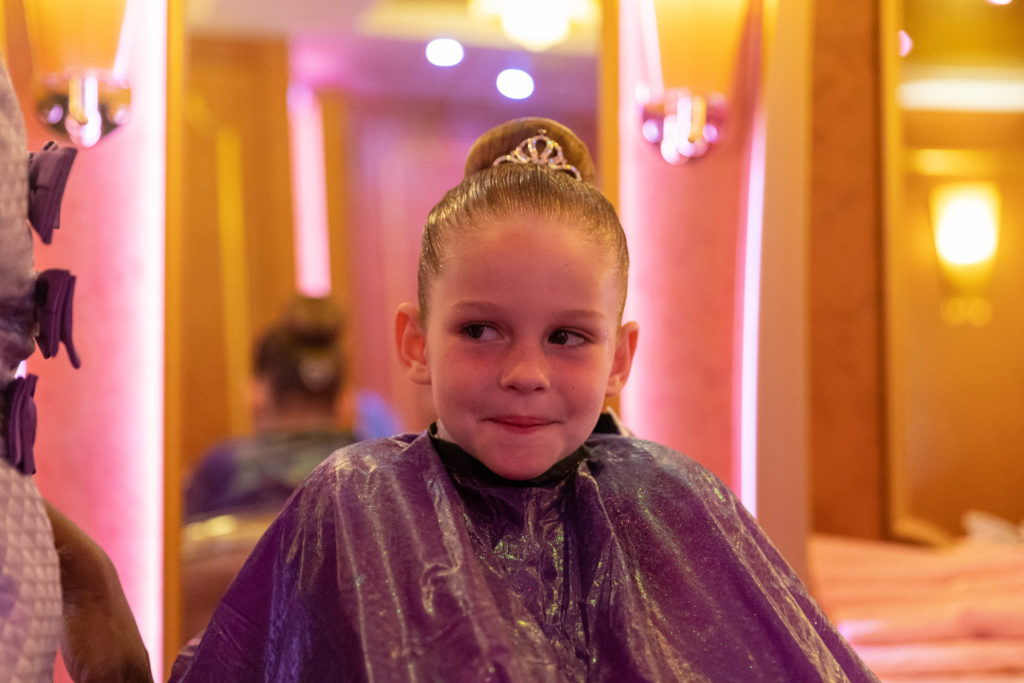 We saw a lot of kids getting the Pixie Magic style, but Olivia opted for the Enchanted style, which is very classic. I think it was the tiara that sold her. One note – the tiara is actually a small hairpiece, not a full-blown tiara. And in the back of the hair, they apply a little Mickey gem.
Kids will get a super sparkly cape to wear during the styling. For the bun hairstyle, they use one of the spongy donut buns to make it nice and big. We took it home afterward and used it for a dance recital. During the hairstyling, they use a shiny hair spray to keep the style in place all day (and of course for character pictures).
Nails and Makeup
After the hairstyling comes the nails. You don't pick your polish. Instead, they give all kids a sparkly polish, which will match any outfit. You also get to take the rest of the bottle home with you. The nail polish takes just a few minutes, but is a nice touch to the "spa day".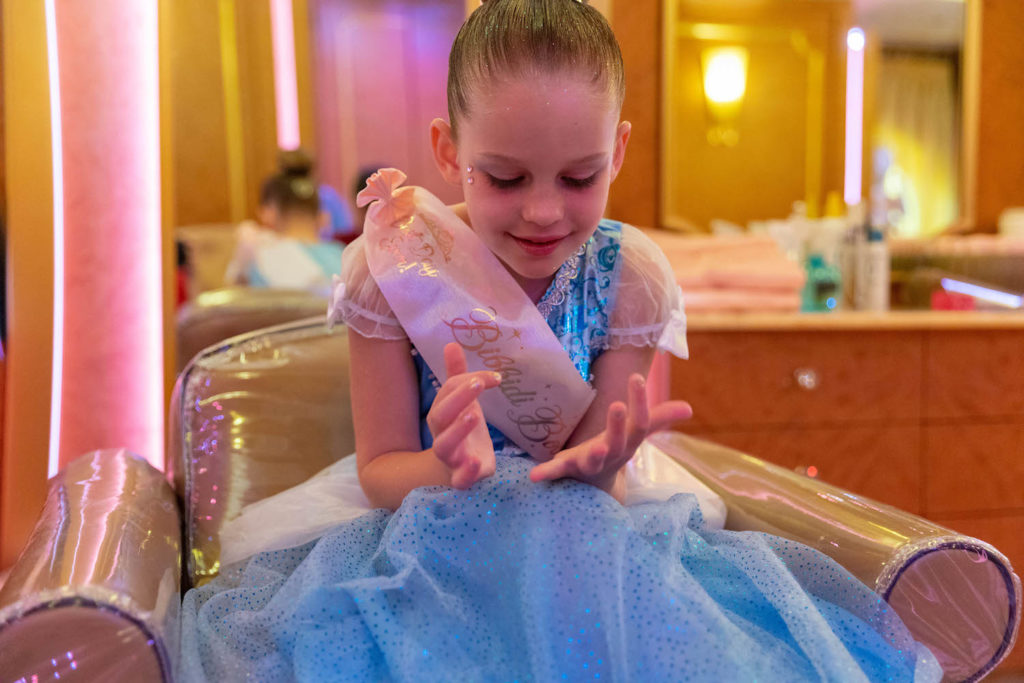 For makeup, they use a compact with eye shadow, lip gloss, and a blush. For eye shadow, your little one can pick one or two colors for them to use. They then apply the lip gloss and blush. Again, they put the remainder of the makeup in your bag to take home. As a final touch, they apply a face gem.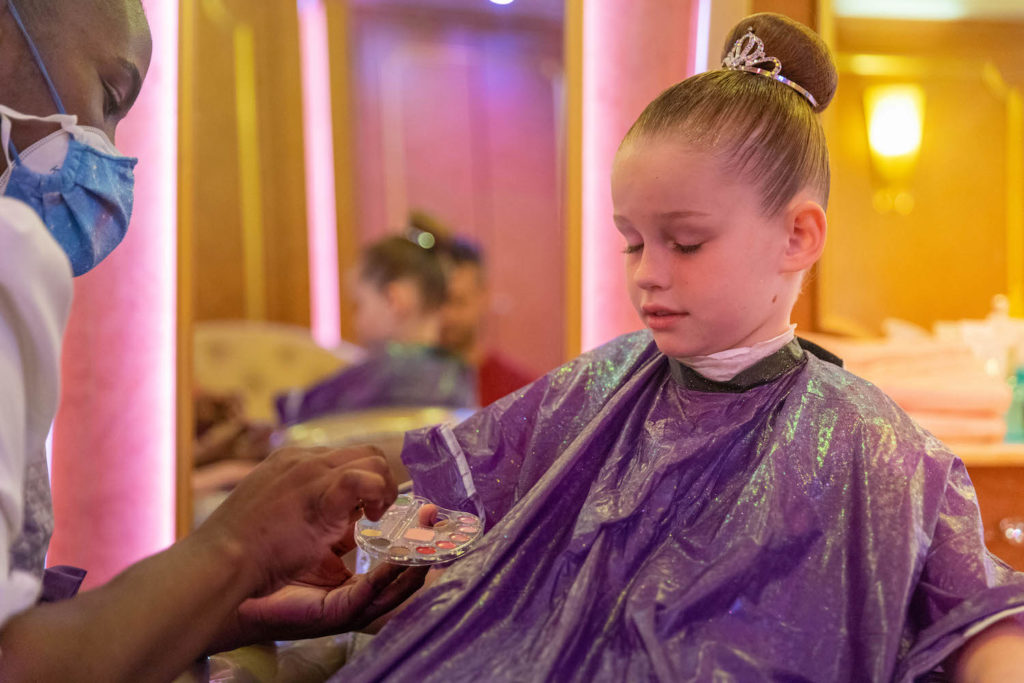 The Wishes
After hair, makeup, and nails are finished, it's wish time. They'll go over the rules, first. And they aren't rules in the typical sense. More like funny things to add to the magic. For instance, rule #2 is no wishing to turn your brother into a frog. After they go through the rules, it's time for pixie dust.
They'll give your kiddo something to keep the glitter off their clothes and face. Then they wave the wand and sprinkle pixie dust all over the hair. Afterward, they'll put a sash over your child's costume to wear. Just another little touch to make them feel prince or princessy.
The Reveal
In true Disney fashion, there's a bibbidy bobbidi boo, and then reveal. It's actually really cute, and as a parent, so fun to watch their little face light up when they see the finished product.
If you want to see the whole process in action, we also made a video during our visit.
And that's it. What you do from there is totally up to you. But we have a few ideas to make the experience even more special.
Get the most out of your Disney Cruise Bibbidi Bobbidi Boutique experience
A lot of the experience is in the makeover itself. But there are some things you can do to enhance the experience.
Character meet and greets
Characters come out every day throughout the voyage. After you finish up at the boutique, it's the perfect time for those photo ops. Character meet and greets happen throughout the day, but there are usually a lot just before dinner service. This is when we went out and got some pictures.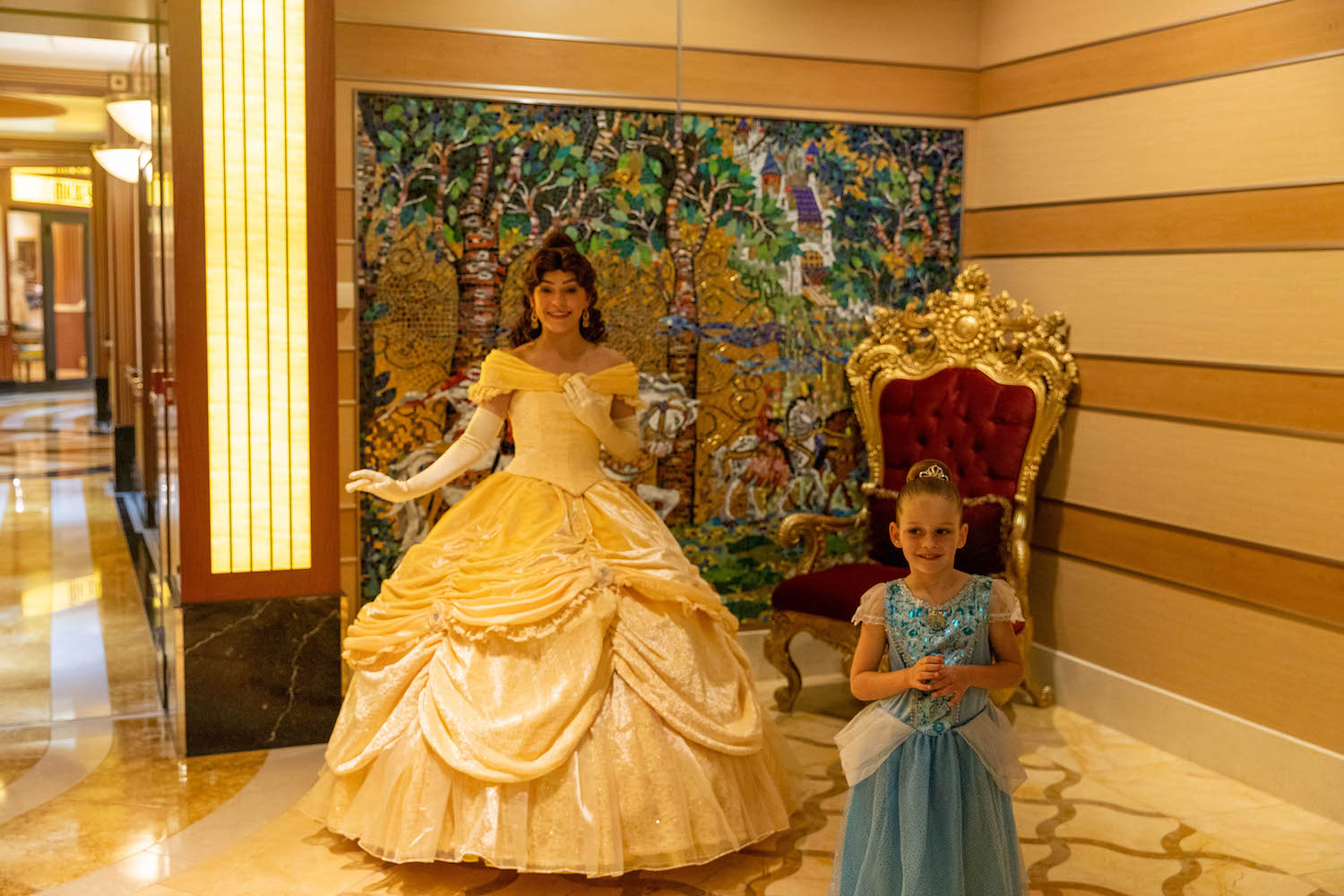 Not only is it fun for your kids to show off their costumes to a favorite Disney character, but the pictures will also give you memories to look back on. Plus, characters love to gush over kids' makeovers. If you're looking for that special Disney magic, this is one way to get there.
Formal night or pirate night
Disney does a few different theme nights throughout each cruise. These themes may be different depending on the itinerary and the number of sailing nights. We highly suggest booking on a formal night for an extra special experience. This is when guests tend to get a little more dressed up and even the characters get dressed up. Make it a whole day by giving your child a makeover and then going to a fancy dinner. Doing a makeover on formal night just adds to the whole experience.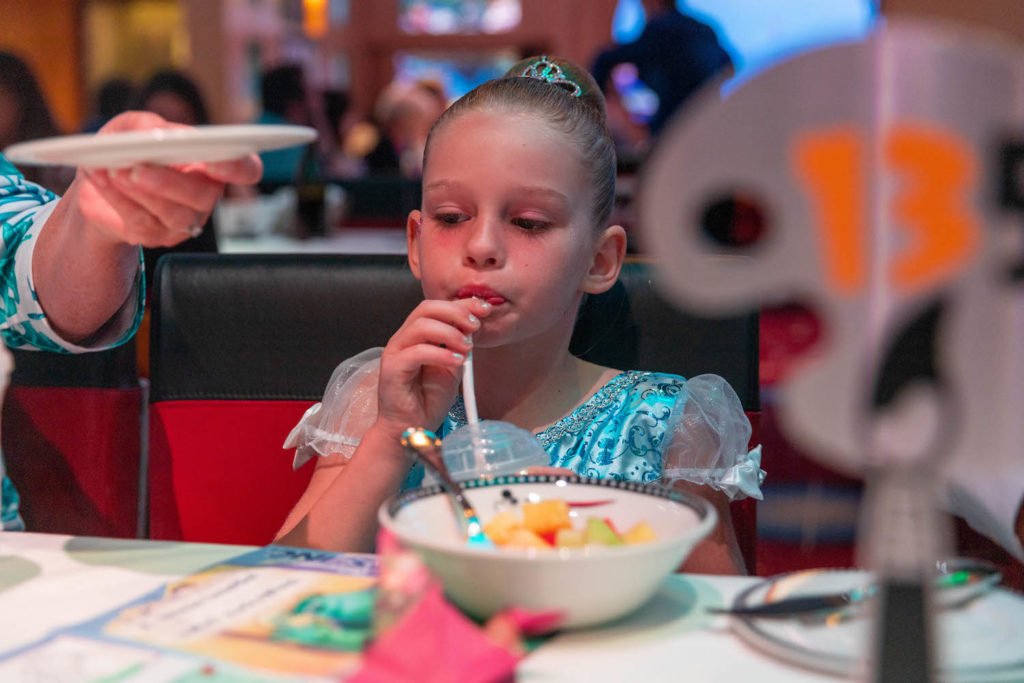 If you want the pirate makeover, you can only get it on Pirate Night. But if this is of interest to you, it can add to the Pirate Night experience. It's another way to create an entire day of magic for your kiddo.
Photo session
You can wait for the characters to come out for your photo sesh. It's also fun to walk around the ship and take some pictures. Use the grand staircase as your backdrop. Head outside and get some snaps with the ocean in the background. Or look for special, little areas throughout the ship. We walked by a little window and it made for the perfect photo opportunity. It's fun for kids to walk around, showing off their makeover, while getting some pictures in the process.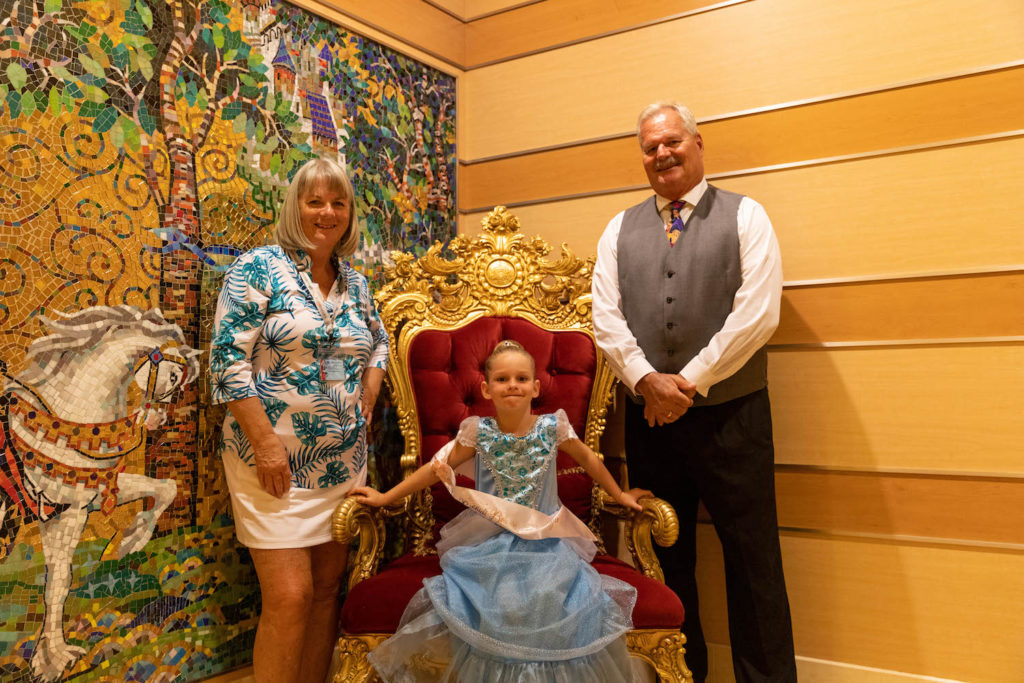 Disney Cruise Bibbidi Bobbidi Boutique FAQs
Q: Can adults participate in the Bibbidi Bobbidi Boutique?
A: The Bibbidi Bobbidi Boutique caters to children between the ages of 3 and 12. However, there are select adult packages available for special occasions like Pirate Night. The pirate packages are open to anyone, 3 years and up.
Q: How long does the Bibbidi Bobbidi Boutique makeover process take?
A: The duration of the Bibbidi Bobbidi Boutique experience will vary depending on the chosen package and the individual selections. Typically it will take about 1 hour, but certain packages may be as short as a half hour.
Q: Is it necessary to tip the Fairy Godmothers-in-Training at the Bibbidi Bobbidi Boutique?
A: While tipping is not required or expected, if you feel that the Fairy Godmothers-in-Training provided exceptional service and made your child's experience truly magical, they are always appreciated. A good rule is to think about it as if you were going to the salon or spa back home (or even yourself on the cruise ship). There is no standard amount, but $10 – $20 is generally a good amount (or 10-15% of the total cost of the service).
Q: Can I take photos during the Bibbidi Bobbidi Boutique experience?
A: Yes, photos and video is A-OK. Disney Cruise Line Photographers are also available to capture professional photos, which can be purchased separately. We saw pretty much every guest taking pictures during their appointment, so snap away.
Q: Is the Bibbidi Bobbidi Boutique open daily on Disney Cruise Line ships?
A: Yes, the Bibbidi Bobbidi Boutique is typically open daily on Disney Cruise Line ships. However, appointments get booked quickly, so it's best to make a reservation as early as possible to secure your preferred date and time.
Is the Disney Cruise Bibbidi Bobbidi Boutique Worth It?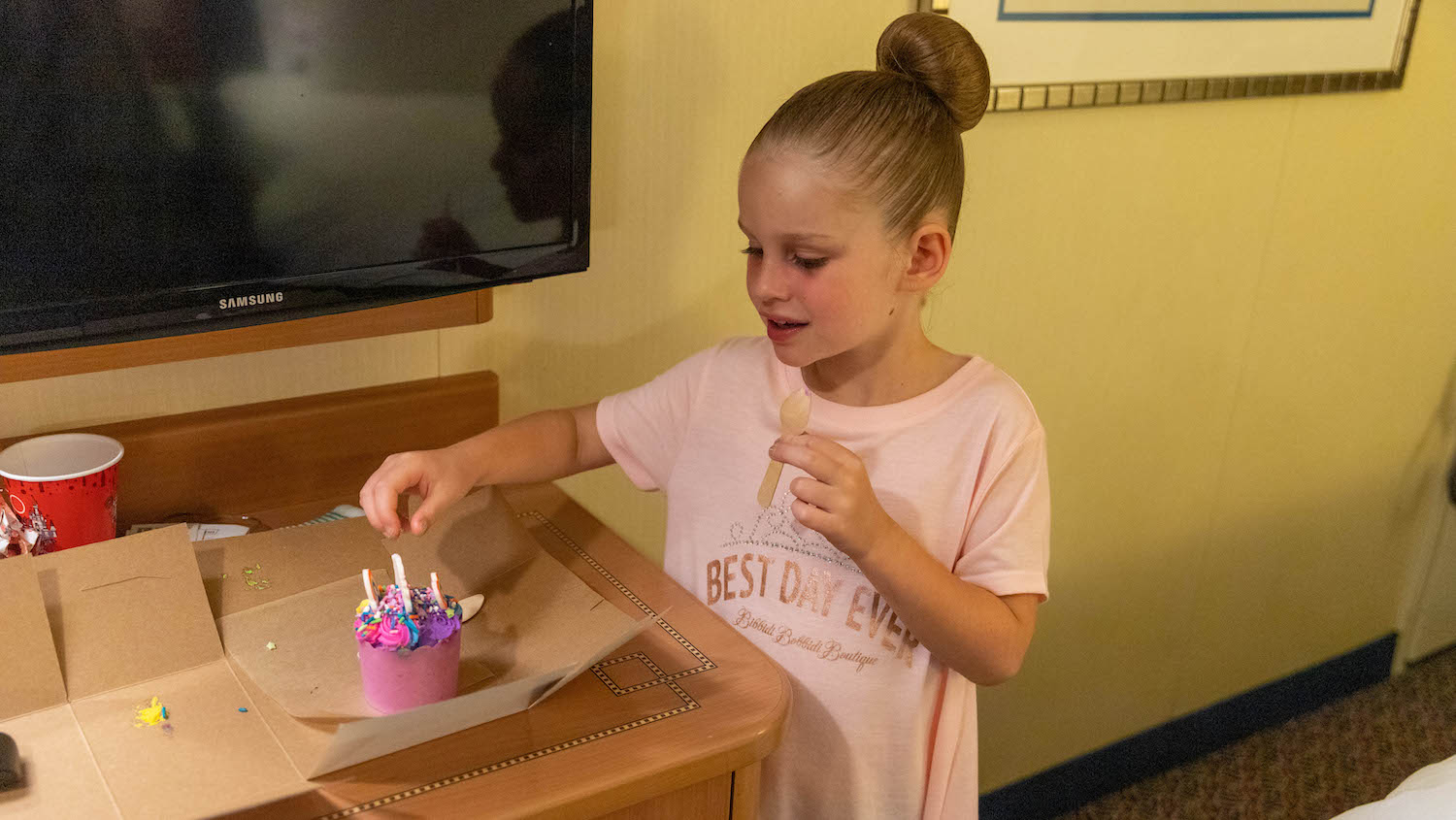 For a magical experience your kids will always remember, yes, the Disney Cruise Bibbidi Bobbidi Boutique is worth it. It does have a high price tag on top of the already pricey cruise fare. And this can deter some guests. But there are ways to save some money (purchasing your costume in advance). Before we made our daughter an appointment, I was really on the fence about whether it'd be worth the money. Ultimately we made a reservation and I'd do it again in a heartbeat. Here's why I think it's worth the cost:
Fairy-Godmothers-in-Training are AMAZING – they tell a story just like any other character you'd meet. They know and reference other movies and characters. They talk about how long they train for (ours has been going to school for 1,000 years). They are great with kids. And they provide a magical experience. This is one part of the visit I wasn't expecting. I figured it would be like any other salon. But this is a magical salon, and the fairy godmothers in training ensure kids always feel that magic. The video we created above shows some of our amazing fairy godmother in training.
It's so customizable – boys, girls, your choice of hairstyle, your choice of costume, and even down to choosing colors. The fact that almost every step is personalized keeps kids engaged.
You get some extras to take home – nothing too wild, but for the roughly $100 we paid, we left carrying some swag. Olivia was gifted a princess bag, which she now uses as a dance bag. And she got a t-shirt, which is actually great quality. It's so soft it can be worn during the day or as a sleep shirt. Plus, you bring the makeup and nail polish home with you. And the hair accessories can also be re-used. As I mentioned earlier, we use the donut bun for dance recitals. For Disney, the amount of extras you get for the price is pretty good.
It adds to the vacation memories – seeing your child's face light up during the reveal is something you never forgot. I don't know how many times I can use the word magical, but that's exactly what it is. Olivia still talks about it all the time and loves looking at pictures from that day. Given all the activities you can add to your cruise, I'd put this one at the top.
You may also like: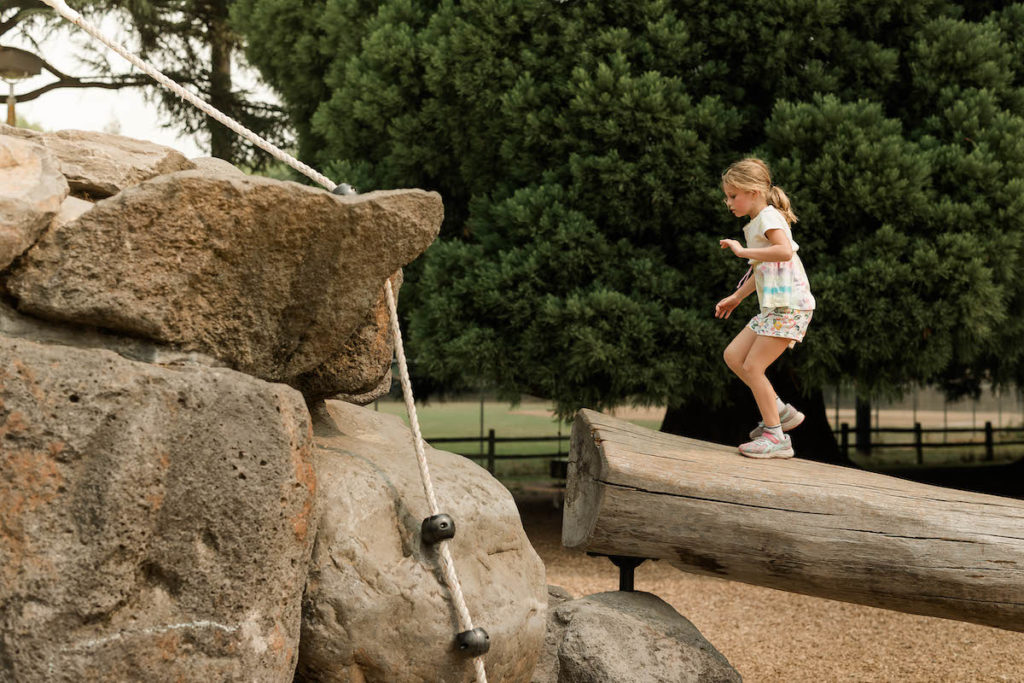 Vibrant culture, world-famous donuts, and a deep appreciation for nature. Portland is often praised for…