It's simple, right? You take one of these "Which RV is right for me?" quizzes. It pops out an answer and you're good to go. But odds are, you already know that's not the reality. In fact, buying an RV for the first time is not as simple as you imagine it to be (if you're anything like us). And this is mostly for one simple reason: there's just too damn much out there. Every floor plan, style, feature, or size you can think of. So when you first get started searching for your perfect camper, the options can be very overwhelming. We've been there and that's why we put together this handy guide of 8 questions to ask before buying your first RV or Travel Trailer. Because knowing what you want will save you HOURS in the buying process.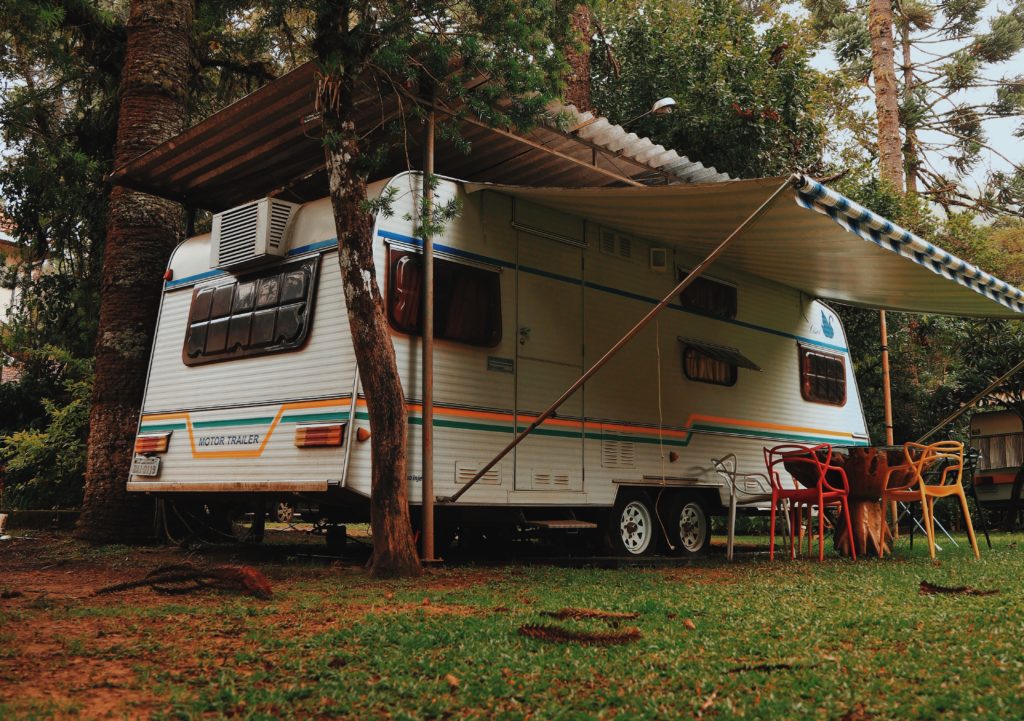 1. Will you be moving around a lot or staying put in one spot?
Before buying your first RV, it's important to think about where you'll be using it the most. Do you see yourself remaining stationary at a seasonal campground for the full camping season? Or do you plan on doing a long road trip across the country hitting every National Park on the way? Maybe you want to try full-time camper life. Or a little bit of everything. Knowing the answer to this question can help you find the perfect RV and here's why: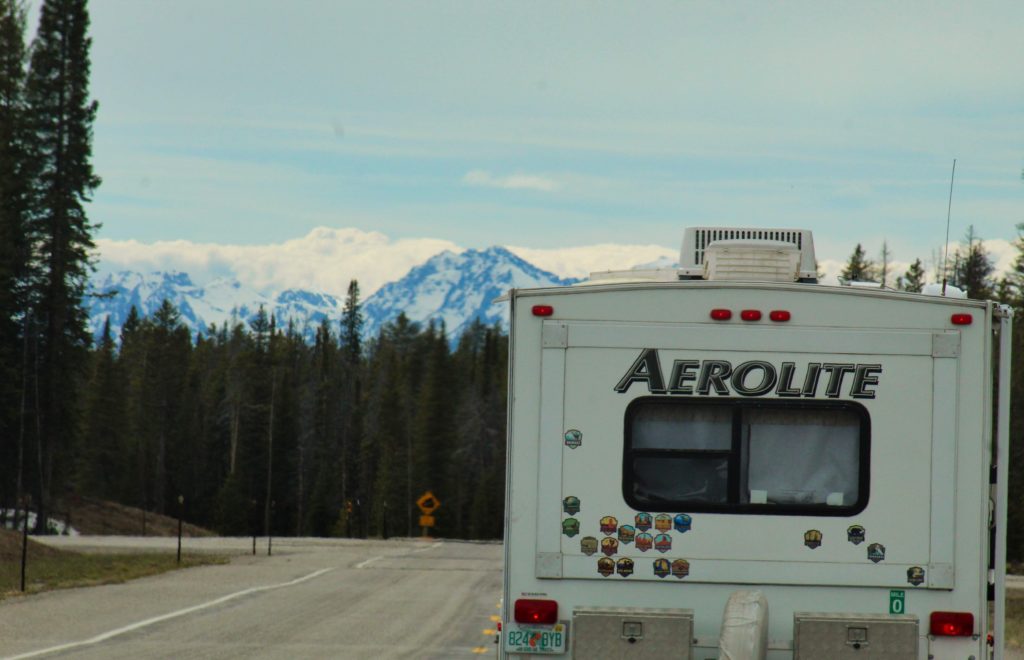 If you plan on road tripping with your camper, you may want to look at options with built in driving capabilities or potentially a newer model that you'll feel more confident in it's dependability.
If you don't plan on doing much driving with it, you may want to opt for a bigger model or save some money and fix up an older model.
This will likely bring up more questions that you'll then need to answer, but this is a good place to start so you can narrow down options that won't meet your usage needs.
2. What weight are you capable of towing?
This doesn't come into play quite as much if you are getting an RV or camper van with driving capabilities (but there are still things you'll need to consider with weight either way). This is another good question to ask yourself right from the start because it should narrow down your options considerably. If you are planning to tow with an SUV, you'll need to look at the towing capacity of your vehicle. If you don't know it, you can look up your towing capacity using your VIN. But don't stop at that number. There are other calculations you'll need to take into account. And this guide to calculating your towing capacity can help. We recommend spending a good amount of time doing these calculations because it's defeating to find your perfect camper only to find out you are incapable of towing it. Many SUVs will require you to get a smaller RV.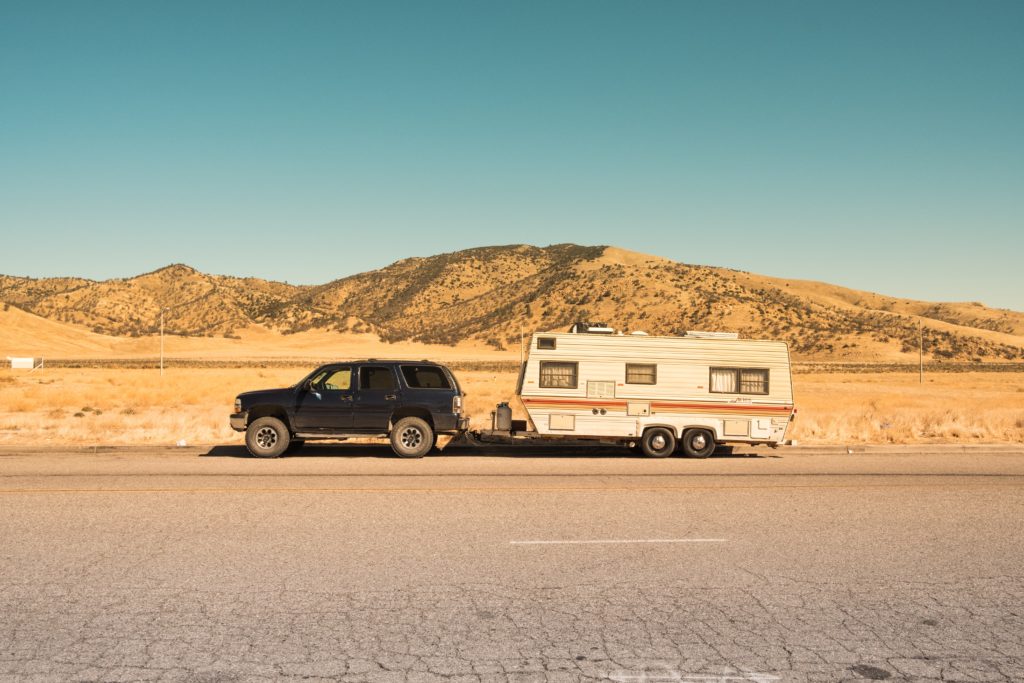 And if you think you're completely exempt by choosing an RV that doesn't require towing, not so fast. Every vehicle has a max payload so you'll want to make sure whatever you plan on bringing aboard fits within the payload capacity.
3. What's your budget?
RV prices can range based on a number of factors. The obvious – are you buying old or new? And how old or new? But also by type. If you want to buy a converted sprinter van for a taste at van life, you could be looking into the 100k and up range. The same goes for a large motorhome. Whereas a small travel trailer or pop up camper could be in the under 20k range. And fifth wheels may be somewhere in between.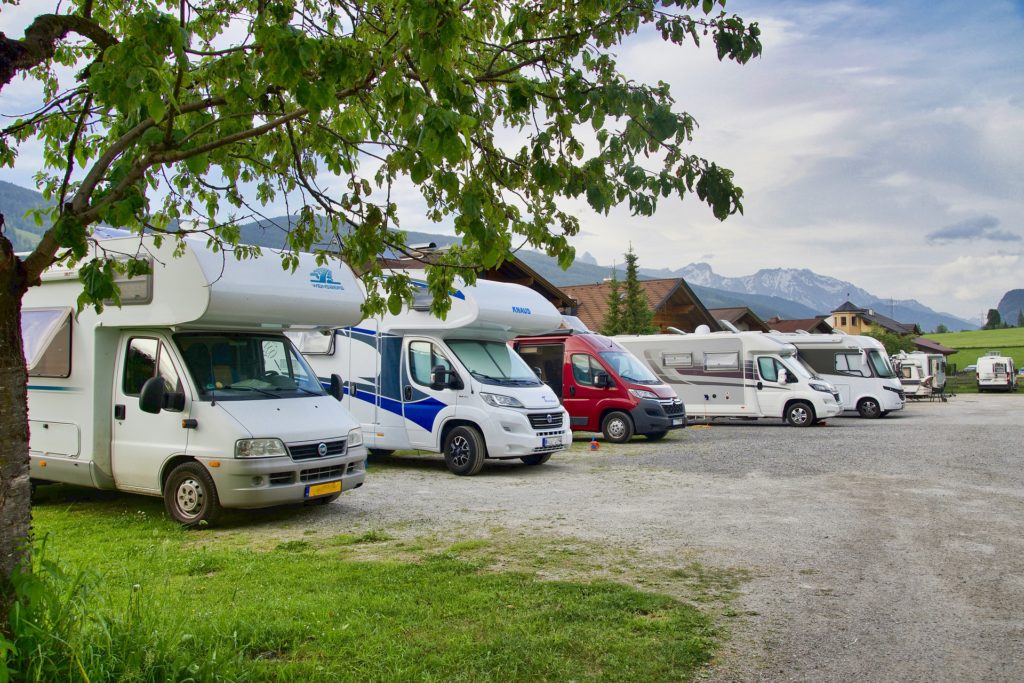 If you're considering used over new, the prices could vary wildly depending what condition the RV is in. If you go this route, make sure when you do a walkthrough, you look for signs of mold, water damage, soft floors, or corrosion as these could be expensive fixes. It's likely you'll also have to buy new tires too. So make sure to add all these estimated renovation costs into your budget.
4. How much space will meet your needs?
One of the most important questions to ask when buying an RV for the first time is how much room do I need? And here's where you'll factor in a few things:
How many people will be living the RV regularly
How many beds you need
Do you want a separate bedroom
Do you plan on doing a lot of cooking and need a full kitchen
Will you be hanging out a lot inside and need a living area
How much storage will you need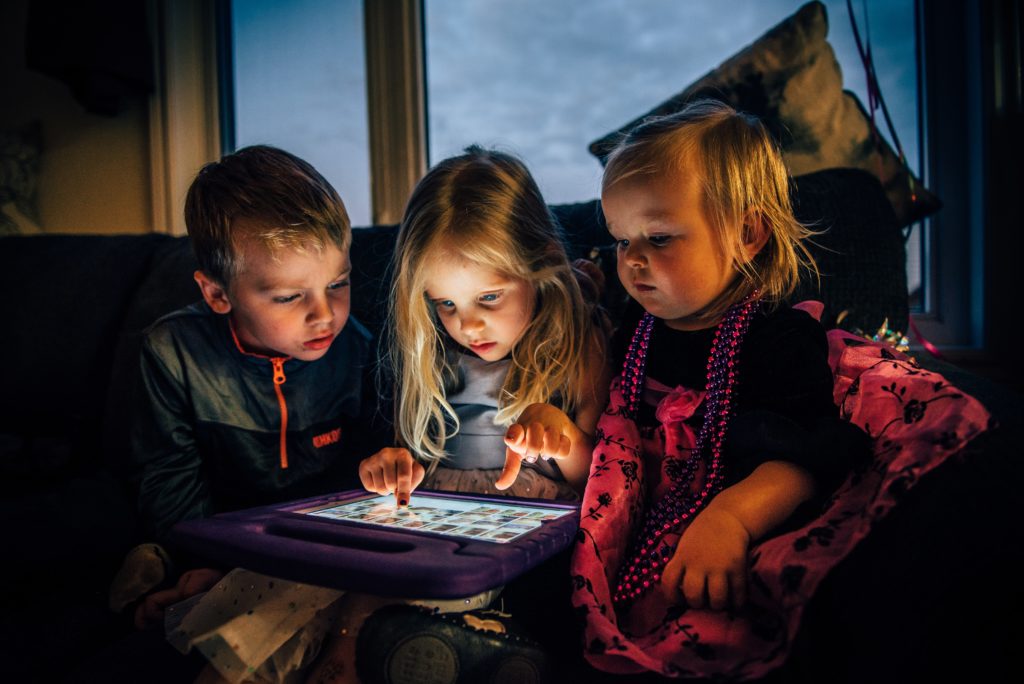 This list could go on and on. And most people that have been RVing for awhile will generally fall into two camps: my RV is too big and I want to downsize or my RV is too small and I want to upgrade. It all goes back to #1 on our list. How frequently do you plan on traveling with it vs. parking it and not moving it much. This will help you weigh in on size. And once you know what kind of space you're looking at, your search results should narrow considerably.
5. What features and floorplans are highest on your wish list?
Once you've determined the amount of space you'll need, the fun really begins. This is without a doubt the most exiting question you'll get to answer. Here's where you figure out what features you can't live without (or really don't want to live without, rather). These could be basic like a couch, a fridge, or even being able to fully stand up in your shower without hitting your head. Or they could be things that aren't quite as common like an oven, an outdoor kitchen, or a fireplace. Think about the features that are most important to you. If you get stuck, make a prioritized list and the top 3 on it are you must haves.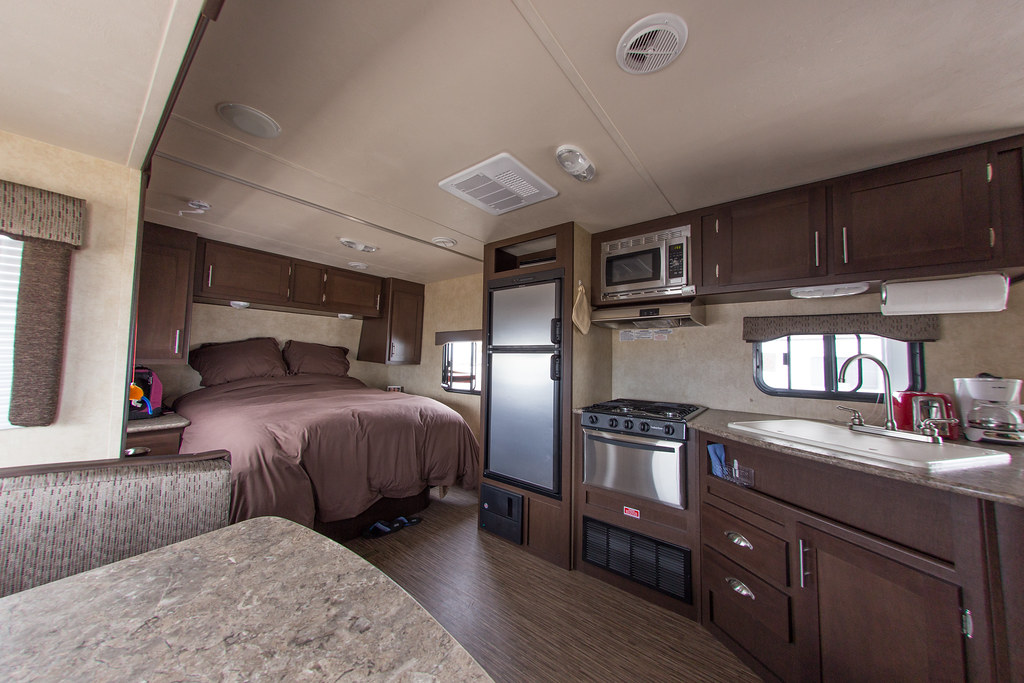 And on a similar note, floorplans can also play a big role in your first time RV buying quest. Something that was really important to us was a bunkhouse, so the kids could have their own space during the day without having to convert the table or sofa every time. If you know you want a separate bedroom or you need a sofa in your RV – look at floorplans in advance so you have an idea of what will work for you. When we first started looking, we had no clue what floorplan we wanted. And when we narrowed it down to those with bunkhouses, it helped our buying process a ridiculous amount.
6. What kind of camper are you?
I'm talkin' the difference between "I plan to camp at Jellystone so my kids have lots of activities at the campsite" vs. "I'm going off grid and boondocking". This is important because it will affect a) the size you'll want to consider and b) the water/electricity needs of your camper. A lot of modern campgrounds will be able to fit most sized RVs, but some national and state parks may only allow smaller RVs. So factor which campgrounds you'll frequent most into your decision making process. Also, are you a roughing it/close to nature kind of camper or more of a glamper?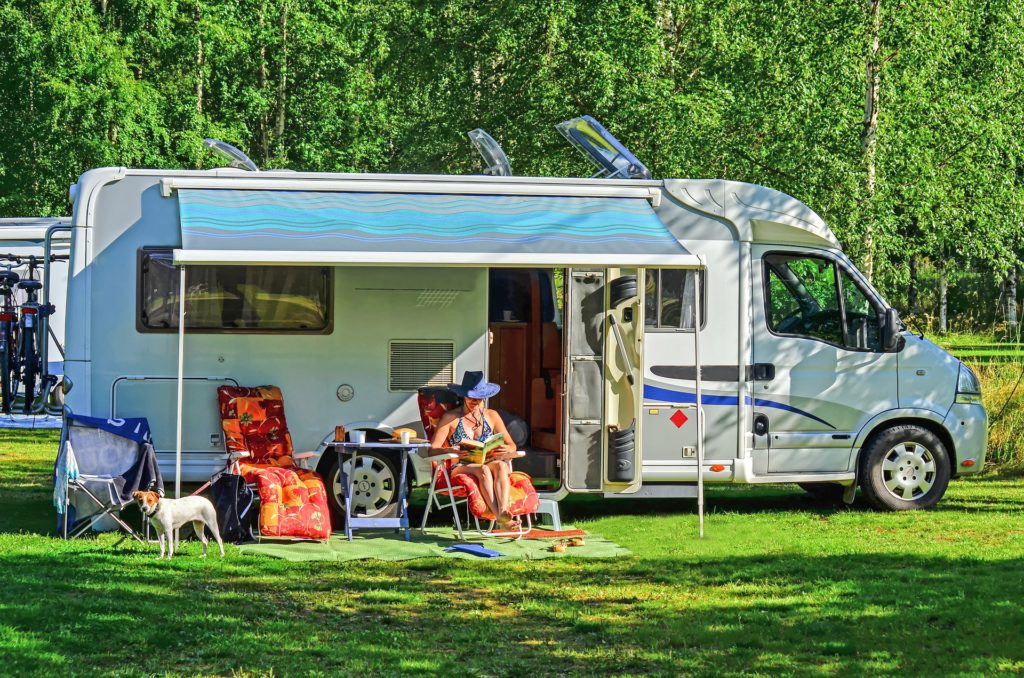 In terms of water/electric, when you find a style RV you like, check to see how it runs. What can you power off electric vs. propane? This will be important because if you plan on doing a lot of boondocking or camping without water/electric hookups, you'll need to know what you run from propane alone and if you'll need to invest in a generator.
7. What does your RV future look like?
If you were to look into a crystal ball, where do you see yourself as an RV owner? Are you getting ready to sell it because you only wanted it for a couple years? Did you have young kids and they've grown up a bit and now you want more space? Take some time now to think about where you are now and what your future goals are with the RV. If you're testing the waters and don't know exactly what you want long term, maybe a used RV or a new, smaller RV will be right for you given their more affordable price points. If you want to RV full time or you have a big family, maybe you cut out all the in between steps and just get the big model right off the bat. Think about your long term RV goals as they can help shape the process of buying an RV for the first time.
8. How much time can you devote to making it your own?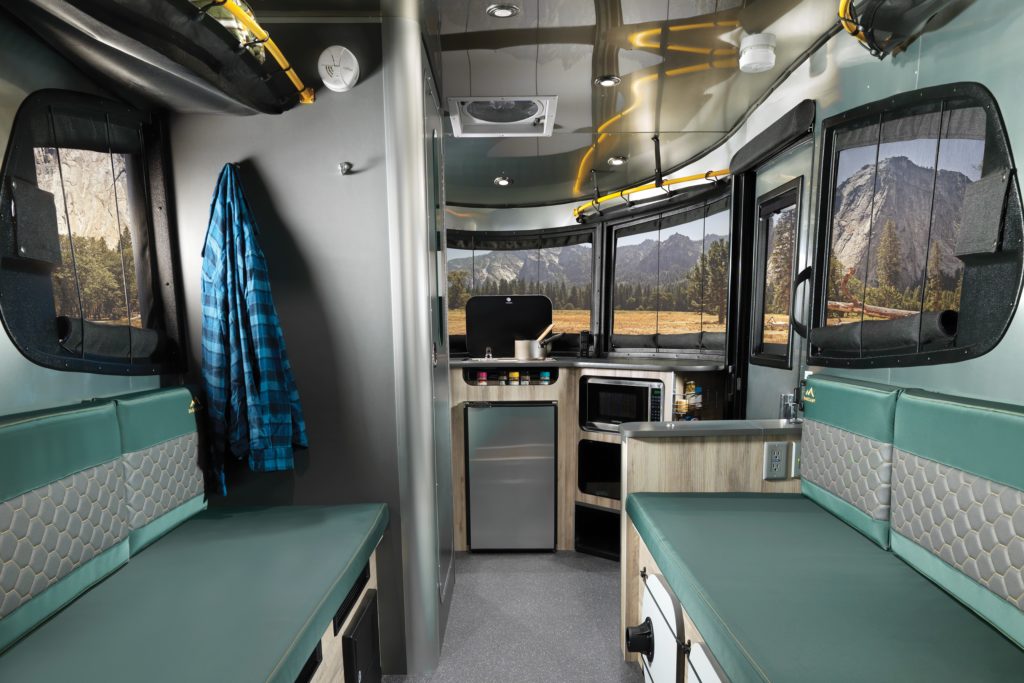 If you're buying used, it could take a lot of upfront time to renovate it. Depending on how old you go, you may end up tearing up a lot of it and redoing things. Things like flooring, carpentry, and fabrics are all areas you will quickly become acquainted with. Plus, expect the unexpected because something you didn't plan for is bound to come up. But if you do choose to renovate a used camper, you really have the freedom to dream up your own RV style.
On the other hand, if you buy new, you can still add some personality to it, but you're less likely to make major structural changes. For us, we loved the idea of renovating a used camper. But with a one-year old and four-year old at home we just didn't have the time to dedicate to a big project like that (and still get on the road in a reasonable amount of time). For us, we wanted to simplify the process of buying an RV for the first time, so we went new (but hope to renovate a used camper someday when the kids are older). For you, maybe it's used, maybe it's new. So decide how much time you want to put in and if you're proficient with a hammer.
9. How are you most comfortable getting from point A to point B?
This comes down to – are you comfortable towing a travel trailer? And if so, what size would you feel comfortable with? If you plan on traveling the country and the thought of towing a 40′ camper gives you anxiety, a smaller trailer may be a better option. On the flip side, if your car doesn't have the tow capacity and you don't want to buy a new one, or you don't feel comfortable towing, an RV with built in driving may suit you. In this case, narrow your search to camper vans or motorhomes.
How to start the search process
Now that you've asked (and hopefully answered) these questions before buying an RV for the first time, you can get started with the search process. You should have a pretty clear vision of what you want at this point and that will serve you well for the rest of the first time RV buying process. We were just in information overload until we narrowed down our pool of options. Luckily you no longer have to sit by your computer with a blank stare, and instead you can get to work. Here were some of the places we recommend searching for RVs:
RV Trader – we used this most often as it has inventory from RV dealers all over. You can search by make, model, distance to you, sleeping capacity, year, length, weight. Plus a lot of other filters you can use to weed out the search results you don't want.
Facebook Marketplace – this was where we went most often when searching used RVs. Lots of options added daily and the added benefit of seeing what available around you.
Craigslist – similar to Facebook Marketplace, a good way to search used campers.
Camping World – one of the bigger RV dealerships with locations all across the country.
Google Maps – we'd go to Google Maps and just type in RV dealerships nearby. Find some in your area and visit their websites for inventory. Or go check them out in person to walk through and confirm what you want
While it can be an overwhelming process, if you ask yourself these questions before buying your first RV, the process will become so much easier. But take time to enjoy it – because it's actually a ton of fun to search through all the features and layouts! And you'll be one step closer to making memories in your new home on wheels.
Once you have that RV and you start planning your dream first trip, check out this article on Best Family RV Trips for destination advice
If you aren't quite sure on RV life, and you want to try tent life first, we wrote all about our experience tent camping with kids