When it comes to summer adventures, having the right footwear is essential, especially for kids who love to play in the water. As an airline family (and parents of kids that love to climb everything), durability is key. Our on-the-go lifestyle has led to an extensive search for the best kids' water shoes.
No matter if you're traveling or playing in the backyard, the goal is the same: multi-purpose shoes that transition kids from water play to playground play. Our list is ever-evolving as new shoes come out. But for now, these are 10 of the best water shoes for kids, loved by parents and us. Also, we've tried all shoes on this list – no recommending shoes just because they're popular.
Why do kids need water shoes?
Kids' water shoes have the style factor: cute colors, patterns, and characters. But there is a greater purpose, beyond the trendy designs. Whether your kiddo is playing in the sand, water, or any type of rugged environment, water shoes provide much-needed protection against sharp objects, hot surfaces, or slippery rocks. They also offer traction, preventing slips and falls that could lead to injuries.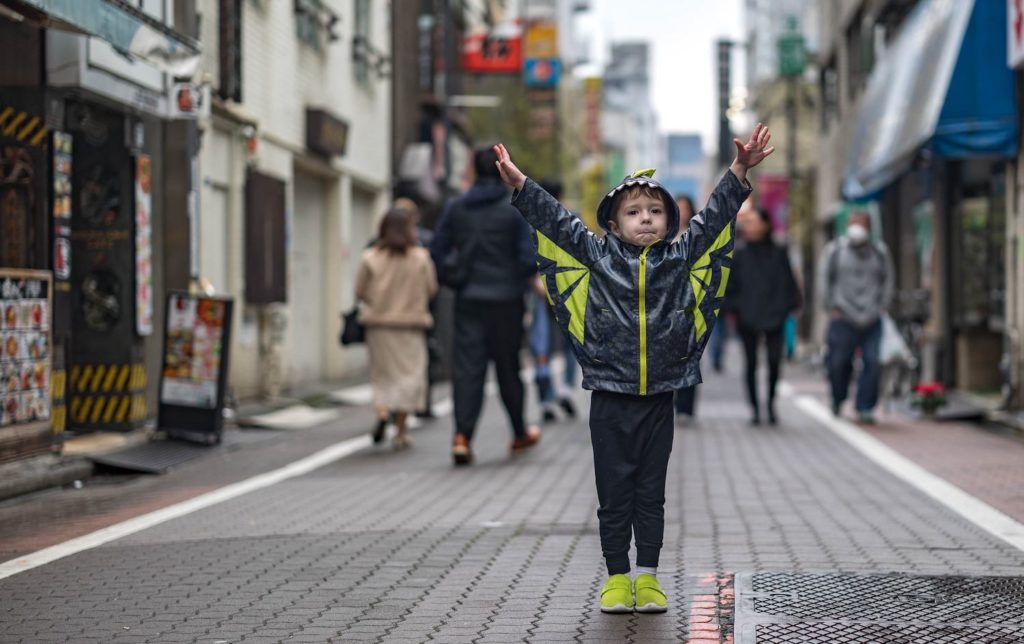 Many kids' water shoes also transition out of the water and are great for everyday wear. You'll find shoes on this list that can be worn hiking, on the playground, or even just running around the backyard. We especially love these water shoes for travel because they can handle all types of adventures.
The best water shoes have these features
We've made the mistake of purchasing a pair of water shoes based solely on the cute factor. But all that does is lead to blisters and tears. So consider some of the important features before making a purchase:
1. Nike Sunray Adjust 5 V2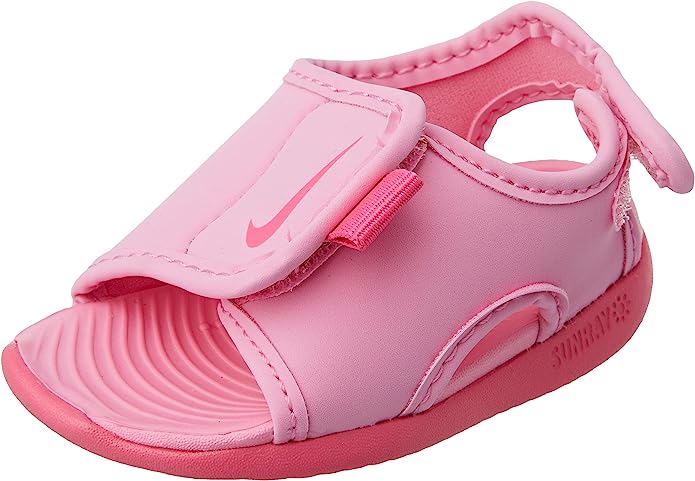 Nike used to make a different version of this shoe and our 2-year-old wore them until her feet were hanging off the ends. They were squishy soft and durable. That exact style was discontinued, but this is very close to it.
One thing to note: not all Nike Sunray sandals are created equal. Some don't have the soft foam on the back strap, but the Sunray Adjust 5 V2 does. They dry super quickly and last forever (or at least until their feet no longer fit in them and you have to throw them away when they're not looking).
2. Cat & Jack Austen Slip-On Water Shoes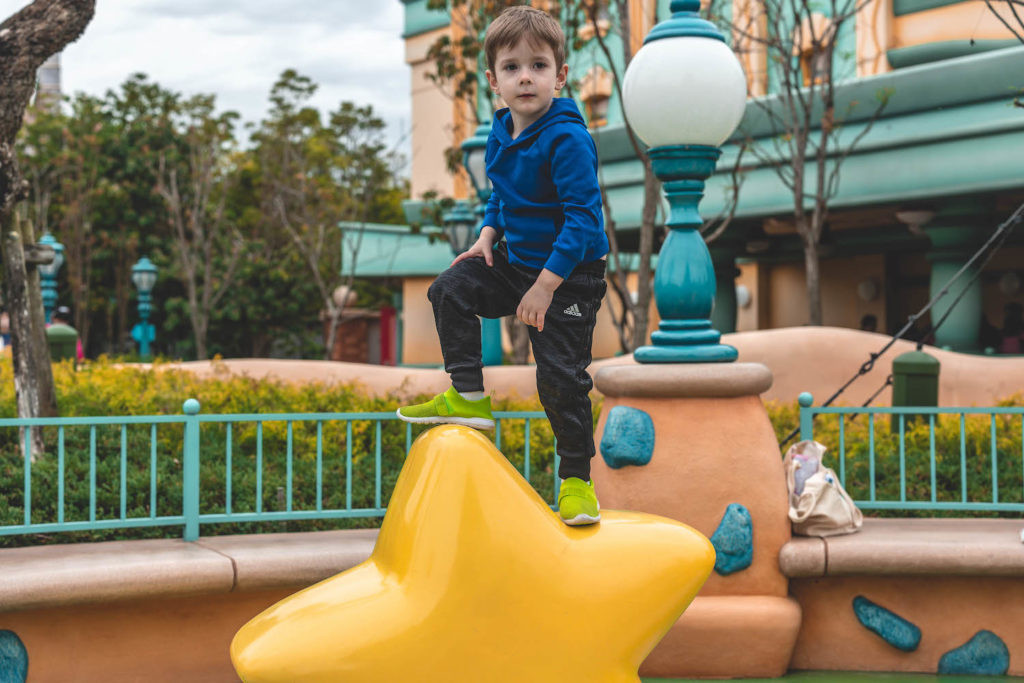 When you can combine water shoes and sneakers, you have a winner on your hands. These shoes were a more recent find for us, but we love them for their price and softness. Target sells these under its Cat & Jack brand and as such, they come in a variety of colors. Naturally, we went with the bright lime green. Our 4-year-old wears these all day, every day – to preschool, the pool, travel, wherever. One of the reasons I love these shoes is that they are so easy for our preschooler to slip on. If you have younger kids, it is a game-changer when they start to put their own shoes on.
They say "water shoes" and they do work great in the water. But they also work as an everyday shoe for kids. Plus, we've never had to worry about blisters with these. At this price, you can't go wrong. As a side note, they get rave reviews on Target's website.
3. Native Shoes Jefferson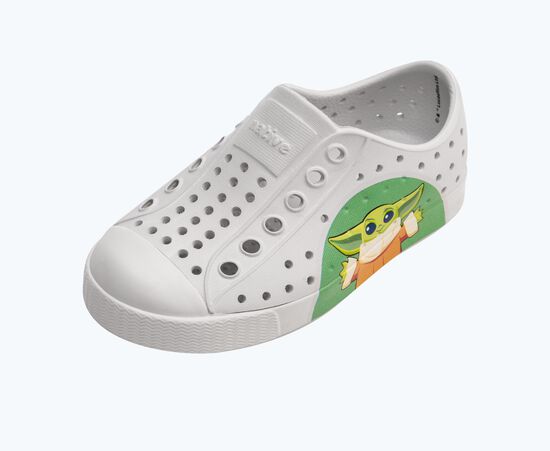 Quite possibly the most famous kids' water shoe on the list, the Native Shoes Jefferson style is popular for a reason. These shoes are very lightweight and come in a variety of fun patterns and colors. It took us a while to buy into the Native brand given the higher price point, but grudgingly we shelled out the money. And I must say, they are worth the hype. Kids love them for the fun patterns (they also come in Disney designs). And parents love them for their durability and ability for kids to wear them everywhere.
The #1 reason I love these shoes is that they are incredibly easy to keep clean. Our kids have quite literally dragged them through the mud, and after a little water, good as new. Yes, they aren't the cheapest shoe on the list. But because they are good for everyday wear, you essentially only need one pair of shoes instead of many. An investment for sure, but your kiddo will likely outgrow them before any wear and tear destroys them.
4. Crocs Classic Clogs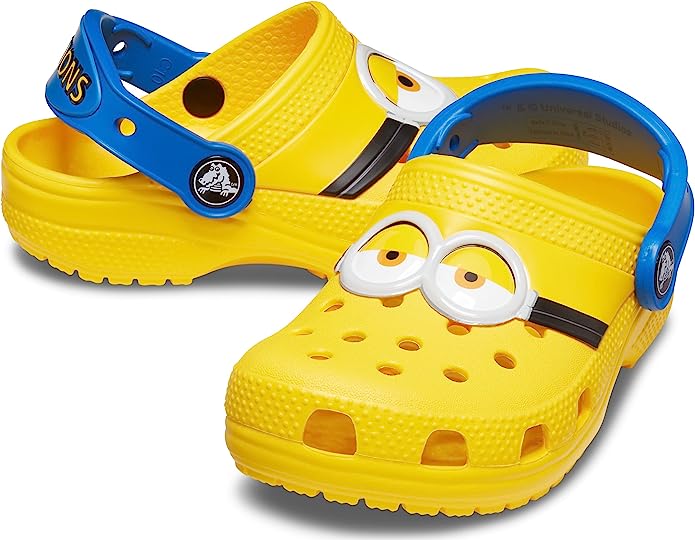 You can't talk water shoes without mentioning the Crocs Classic Clog. Crocs have been around for some time and they come in just about every color and pattern imaginable. Adults and kids love them due to their quality. I wouldn't hesitate to say they are the most durable shoe on this list. Take them camping, to the playground, or a water park, these shoes can withstand any environment.
We have kids that are rough on shoes. Our 4-year-old will literally put his feet on the ground to stop his bike instead of braking. And it destroys his shoes. So Crocs have become one of my go-to's because they will hold up against any kind of outdoor play.
They are also breathable and the water just rolls right off – no waiting for them to dry. There's a reason you see every kid wearing these in the summer months. They are so versatile and great for water play. Crocs also come in just about any design you can think of – from Minions to Tie Dye.
I haven't explored this path yet, but they even make charms for your Crocs. I guess that's one way to entice your kids to put their shoes on.
5. Adidas Altaswim & Adidas Altaventure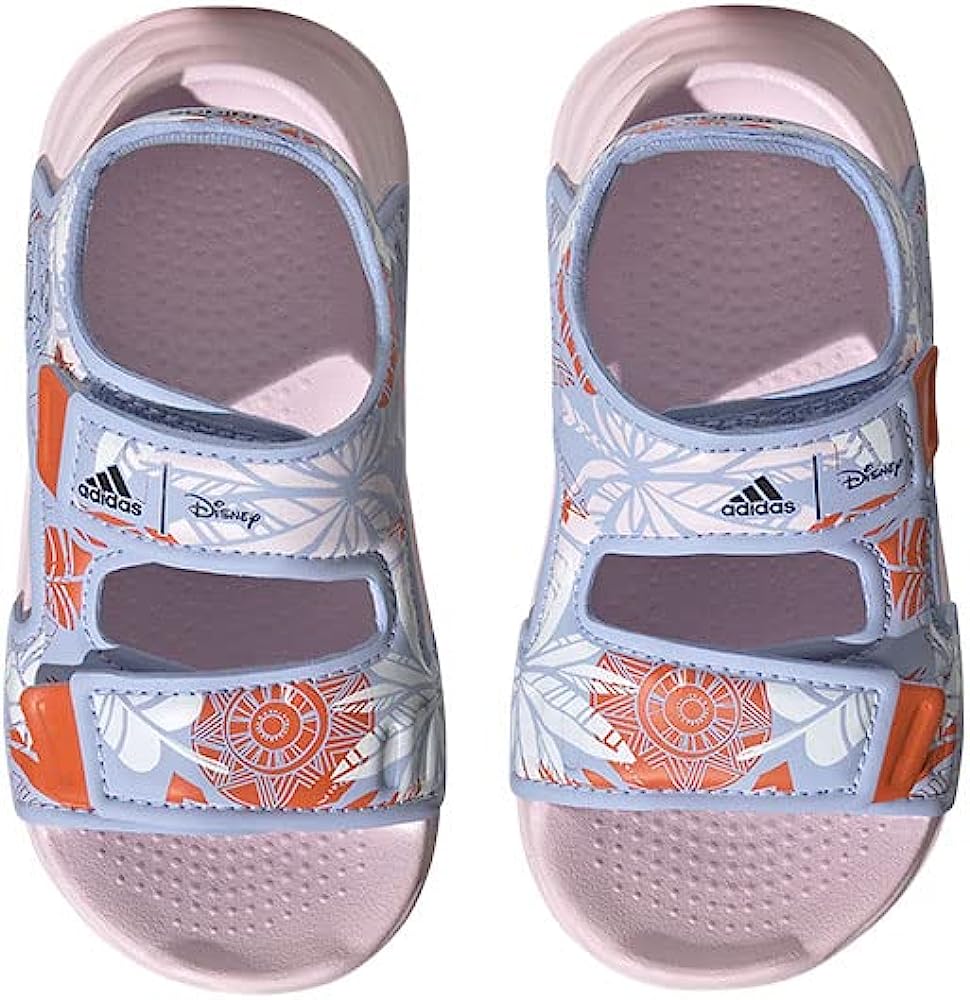 I'm cheating a bit here and including a bonus shoe. They are really very similar except one is closed-toe and one is not. Adidas is most commonly known for their slides (which make great water shoes for older kids), but they also offer some excellent swim shoe options for younger kids. Both shoes are easy to get on and off, but they have straps to keep them secure.
The Altaswim is open-toe and dries super fast. The Altaventure is the one we have and it's a closed-toe shoe, always made for swimming. This is one of the newer water shoes we've tried and I have to say, I'm in love with the prints. Like many others on this list, they also partner with Disney to provide your favorite character swim sandals (and even Lego-branded ones), which is a selling point for the kids. We actually have the Moana sandals, but I think the Finding Nemo closed toe are so darn adorable. They all have a sporty look and design, which is great for active kids.
6. Cat & Jack Jese Slip-On Water Shoes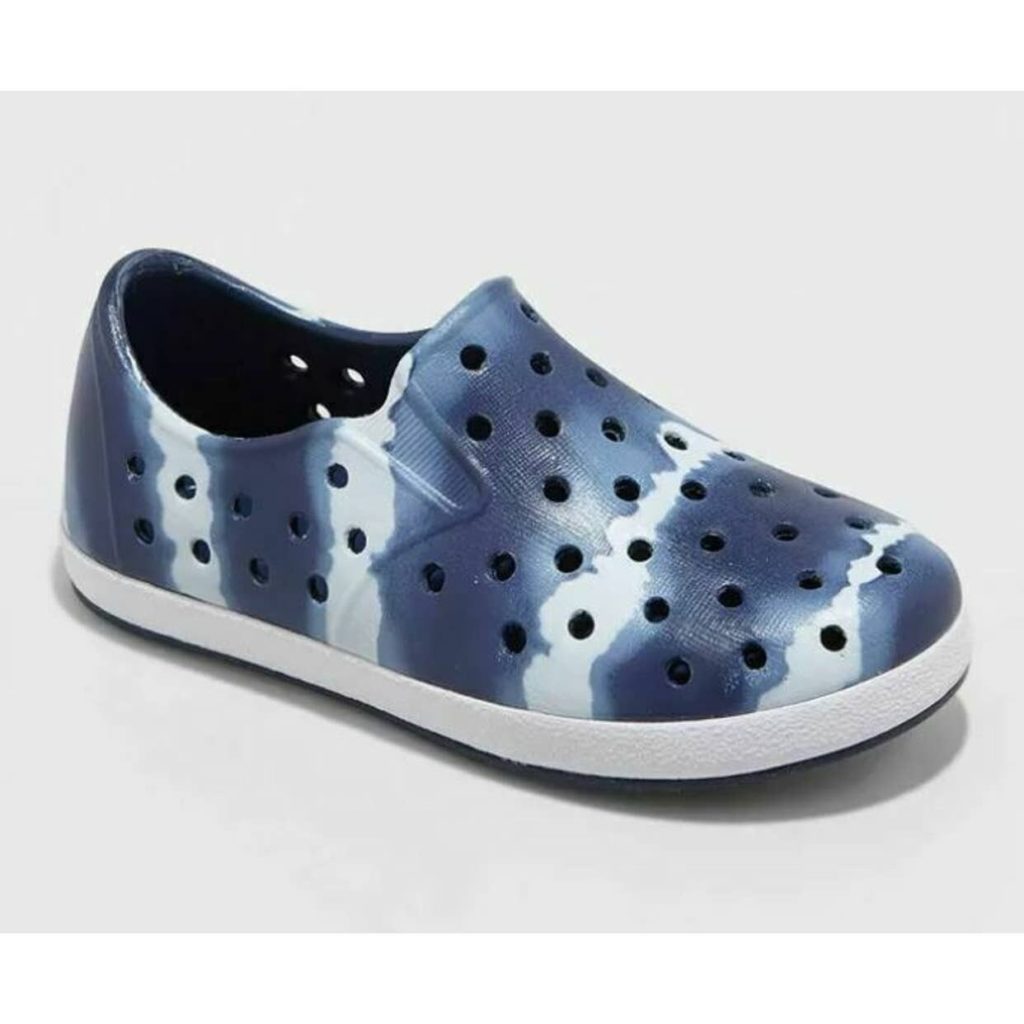 Before we switched over to Natives, I bought so many pairs of these very similar target favorites. The Cat & Jack Slip-On Water Shoes have the same look as the Native shoes. I've found them not quite as durable as the Natives shoe, but they get the job done. They are just as easy to clean, comfortable, and low priced. They are generally sold for $12.99 in a variety of colors. So if you aren't sure your kiddo will like these types of shoes, it's a very affordable shoe to test out.
They are so multi-purpose that my 4-year-old wears these in the winter with socks. Chicago winters, kids. He loves them that much. Another perk is for little ones with fast-growing feet, you don't always want to invest in a more expensive shoe that they'll outgrow in one season. That's where these come in. When they outgrow them, they are affordable enough to replace with a larger pair.
One caveat is that they only make them in toddler sizes. I want so much for Target to make these in older kid sizes, but they just don't.
7. Teva Hurricane Drift Sandal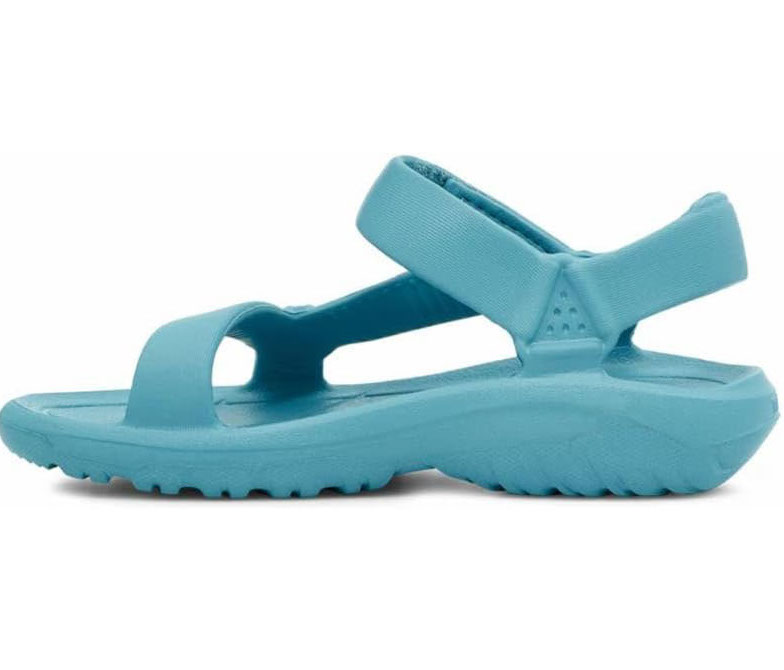 We actually bought the adult Hurricane sandals before we bought the kid's Teva Hurricane Drift Sandals. I loved the quality of mine so much that I bought both kids are pair. Teva does also make a version of the Hurricane XLT 2 for youth.
The selling point for these sandals is that they are workhorses. If you are camping, hiking, or in any type of rugged environment, these shoes are designed to be supportive and durable. They dry quickly, have comfortable cushioning, and are great for all kinds of environments (water, uneven surfaces, playgrounds). Especially if you're going to a rocky kind of beach or lake, these are the perfect sandal.
8. Cat & Jack Ade Slip-On Footbed Sandals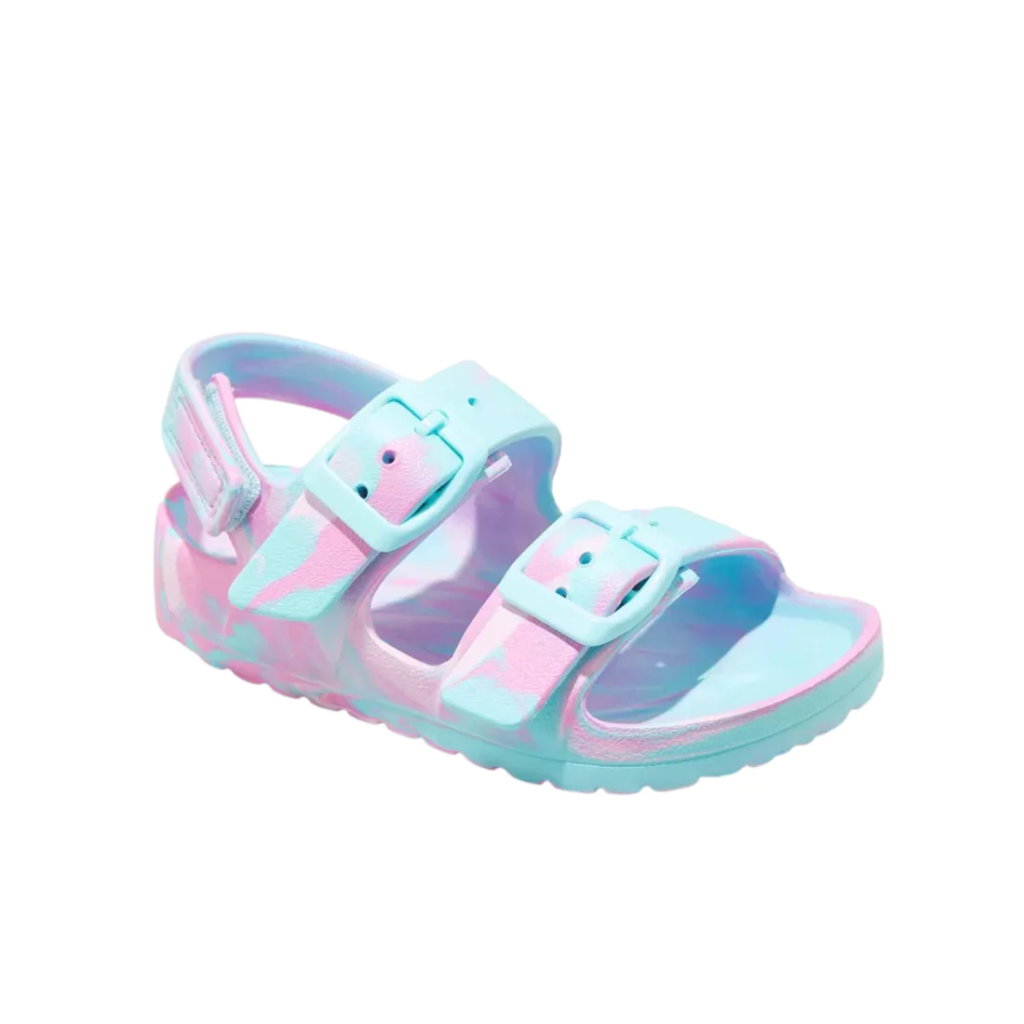 If you thought we were done with Target's Cat & Jack shoes, we are not. I think I saw just about every kid wearing these shoes last summer. Like others on the list, they are super waterproof and easily adjustable. The thing I love most about the Cat & Jack shoes at Target is how affordable they are. These are $10, have lasted us through two seasons, and are still in good shape. I'd say they are pretty good quality for being $10 and the reviews certainly reflect that.
For older kids, the Noa Slip-On Footbed Sandal comes without a strap. Both are $10, great in water, and an all-around nice summer sandal.
9. Western Chief Waterproof Eva Easies Clog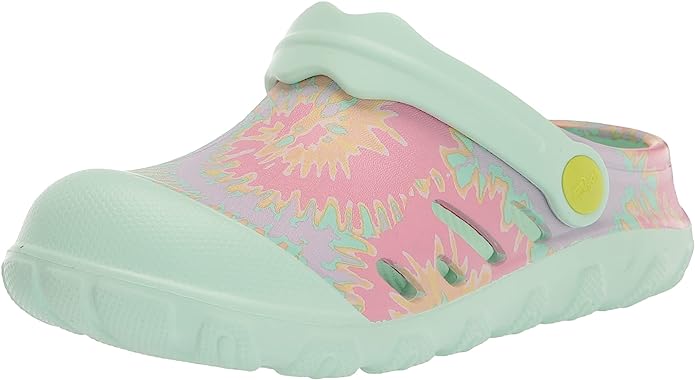 If you want a pair of clogs, but you don't want to pay for the higher-priced Crocs, these are an excellent option. We own a pair of these and a pair of Crocs, and I will say they are a quality shoe. They are just a slight step down in terms of durability, but a really solid water shoe, especially if you don't need the most rugged shoe on the market. You get the waterproof material and the pivoting strap to transition to backless shoes.
We've only had the Western Chief Easies Clog for one season so I can't speak to how long they will hold up, but they've withstood many camping trips so far. One thing with clog-style shoes like these and Crocs, you have to be careful with sizing. It took me several tries to figure out the right size to buy because clogs tend to run big. With these, I ended up getting a half size smaller and it was pretty big on my 7-year-old. I would recommend sizing at least one full size down to get the best fit.
How we chose the best water shoes for kids
Every shoe on this list has been evaluated by our team of kid testers (aka our 4-year-old and 7-year-old). Features and design are valuable, but I think it's important to look beyond what's on paper. Our kids love the outdoor life, which has led to experimenting with all kinds of water shoes. I'm just now thinking about how many types we've actually gone through – wild! But these have been our favorites for functionality, style, and comfort. And every shoe on this list is practical for not only water play but everyday wear. It helps justify the cost when your kids are wearing these shoes all day, every day. And if anything like our kids, even in the winter…(water, snow, same thing, right?).
You may also like: