Fall camping is quite possibly the best kind of camping. Ok, you pretty much can't go wrong with summer camping either, but fall camping has its advantages. And there are some differences if traditionally you've camped or RVed in the summer. We just got back from a month long fall camping trip out west and we learned a thing or two…or seven. So we're putting together our best tips to help you prepare for your fall camping trip. And don't worry, this list can apply to you whether you are RVing, tent camping, or even glamping in a cabin.
1. Choose a campground and destination geared towards fall camping
Choosing the right location and campground can really enhance your trip – especially if you have kids (more on that to come!). But it's really divided into two categories. And this is where we'd start planning your trip before you decide anything else.
Finding the right destination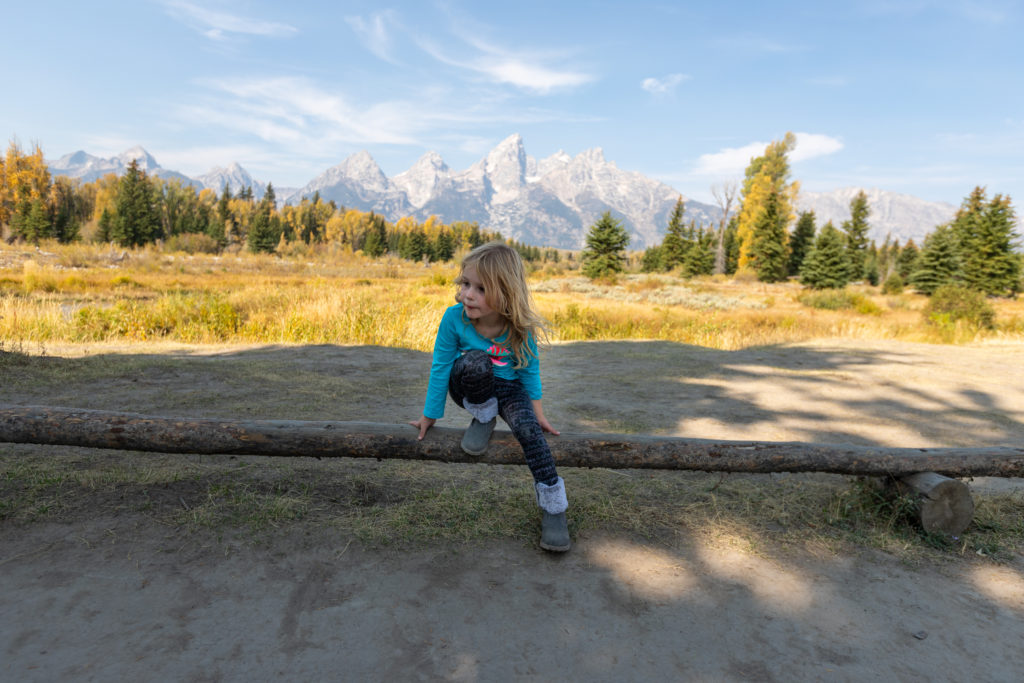 If you already know where you're heading or you want to stay local, great! In that case you can move on to the next step. But if you're still in the process of selecting that perfect fall camping destination, we recommend really digging in to climates of the areas you are considering. For instance, in late September we had some funky weather in Montana. It would be 70 degrees (fahrenheit) during the day and got down to 17 degrees during the night. But the views were GORGEOUS and we had the most amazing fall foliage while visiting. But if you're looking for more predictable weather or moderate temperatures, do some research before choosing your camping destination. We can certainly attest that Colorado was beautiful and had pretty mild temperatures – if you're looking for ideas.
Finding the right campground
The other part of this, once you have your destination, is choosing the right campground for your fall camping trip. And this really comes down to what you want most out of your time. If you want to soak up all the beautiful changing leaves, a state park campground may be right up your alley. If you have kids and want all the amenities and activities you can get, try Sun RV Resorts. We stayed at the Jellystone Park Larkspur and the kids could not have loved the activities more. Tons for them to do! You could even mix and match – camp for a week and do part in a state park and part at an RV park with amenities.
2. Figure out your plan for staying warm
If your fall camping trip takes you to Florida or somewhere that heat isn't much of an issue, this may not be a critical part of your fall camping planning process. But for many places, you'll need to determine a plan for how to stay warm. If you are RVing it may be as simple as finding a campground with hookups. It gets a little trickier if you are planning on boondocking because some campers, like ours, have heat powered by electric hookups. So in our case, we had no heat when not connected to electric. In that case, you can look into using a generator or bring lots of blankets (that's what we did!).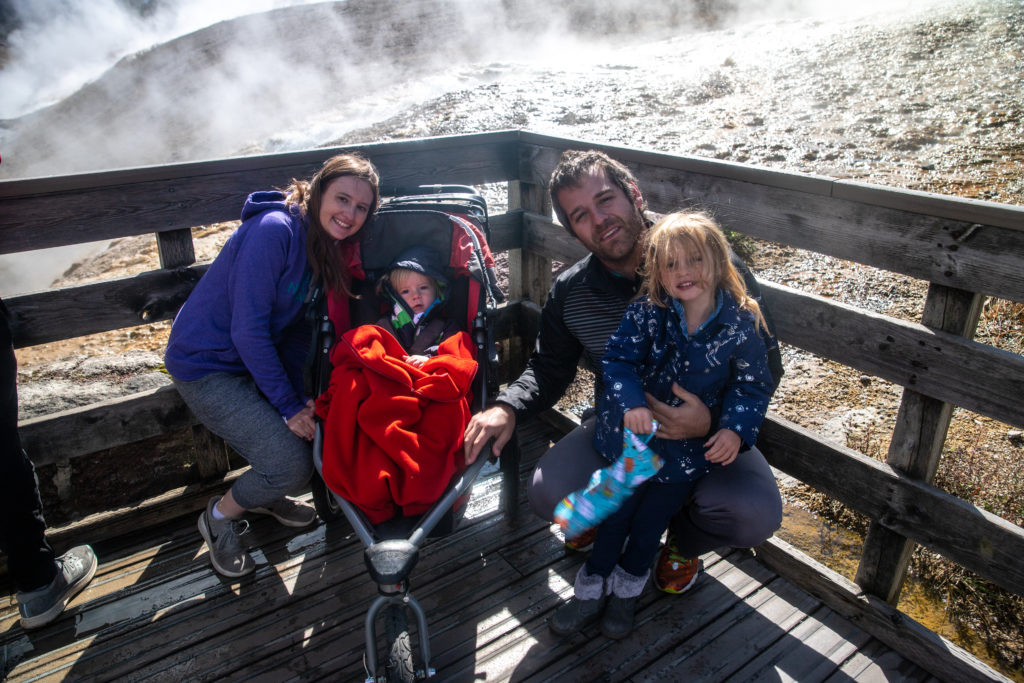 For tent camping, if you are expecting low temperatures, one option could be a tent safe propane heater. Or a temperature rated sleeping bag. And using a sleeping pad rather than an air mattress can help retain heat. But aside from those, one must is a tarp under your tent. If there's one thing worse than being cold, it's being cold AND wet.
For cabin camping, you are pretty well set as long as your cabin has heat. But be sure to bring warm clothes for when you step outside!
3. Use an instant pot for an easy way to cook chilly weather meals
If we gave you a list for top RV must haves, an instant pot would undoubtably be on it. This is one of our biggest fall camping tips and luckily a fairly easy one. In all honesty, we used this thing to cook at least 70% of out meals. We don't have an oven in our RV. And using the instant pot was much easier (for cleanup especially) than using our stove. As long as you have electric, no matter if RV, tent, or cabin camping – you can use an instant pot for some tasty fall meals. One of our favorites was chili. We kind of frankenstein-ed our own version (protip: add chorizo to your chili), but this Delish Instant Pot Chili recipe is a good one to use. For real though, you can make just about anything in the instant pot. So whatever your favorite fall meal, type it into Google and I'm sure you'll find an instant pot recipe for it.
4. Plan fall camping trips around holidays
If you have the option to travel near a fall holiday, do it! The most obvious one is Halloween. Many campgrounds are still open for the month of October and Halloween themed camping can be so fun. We visited Jellystone Park Larkspur during one of the Halloween weekends.
They had tons of themed activities like decorating spooky treats, planting magic pumpkins, bobbing for worms (of the gummy variety), campground trick or treating, a site decorating contest, and DIY donuts. It truly added to the fall camping experience and the kids had a blast! Even if not camping at a Jellystone park specifically, many campgrounds have some variation of Halloween activities.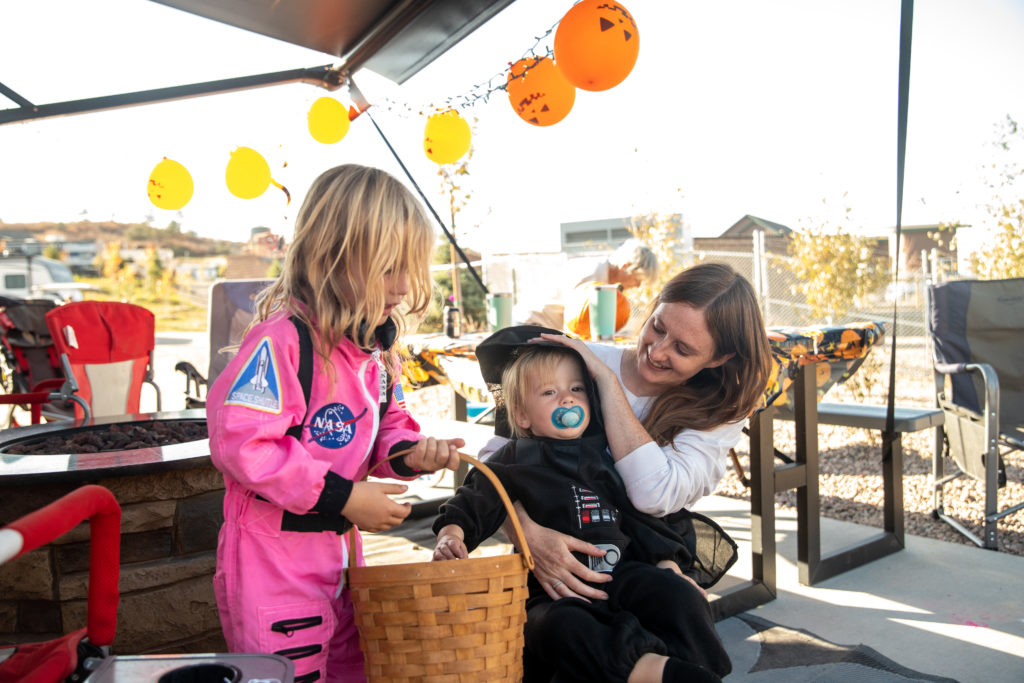 Aside from Halloween, Thanksgiving would be another fun holiday to celebrate via campground. Preparing an entire feast at your site, now that's a delicious way to celebrate (and a fun challenge)!
5. Bring layers…and then bring more
Ensuring that you've packed the right clothing can make or break your fall camping experience. Maybe you check the weather and it shows sunny and 70s all weekend, so you only pack one sweatshirt. But you get to your campsite and its rainy and cold every day. Fall weather is notorious for changing on a dime in many places, so even if it looks super nice outside, bring enough layers to keep your comfortable. You may get rained on or dirty or your toddler spills syrup all over you. You'll be very glad for that extra change of clothes.
But on the flipside, you may see chilly weather on the horizon and be surprised with warmer temps. So pack layers and you'll be covered from all angles!
6. If using a camper, make sure it's fall camping ready
One fall camping tip that often goes overlooked is making sure your RV is well prepared. If you are anything like us, at first we were thinking about all the impacts on us (clothes, heat, where the best leaf peeping is), but you may not think about the more technical side. We already mentioned the heat and that's a big one with fall RV camping. Once you know how to get heat to your RV, there are a couple other fall camping tips you'll want to consider.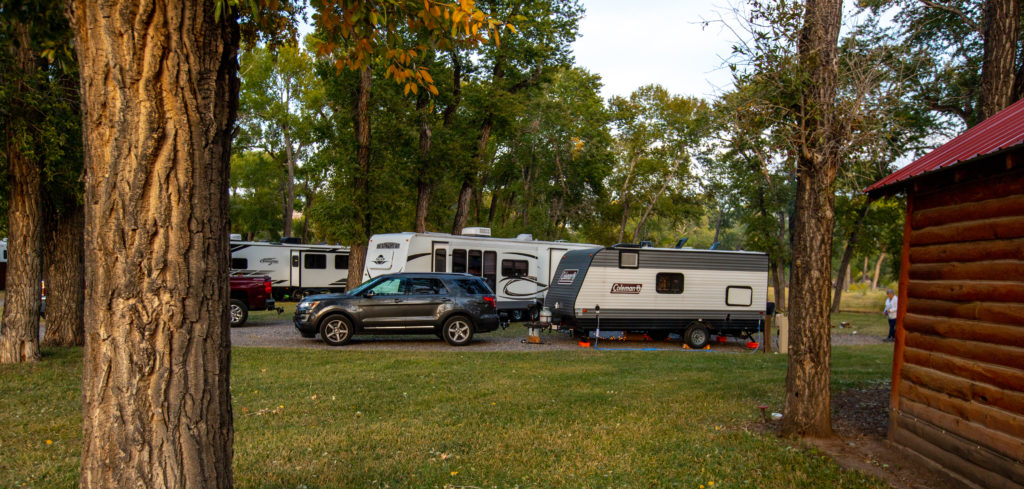 Check all the seals in your RV to make sure they are in tip top shape and the cold air can't get in. Bringing some caulk with you is also a good idea (even when not camping in the fall)
Use additional curtains, rugs, blankets, and other cozy gear to add extra warmth inside
In some cases, temperatures can get below freezing in the fall (it happened once or twice for us). Make sure you know how to disconnect the water and water hoses so your pipes don't freeze!
7. Consider unique camping options
When planning your fall camping trip, you're probably thinking of the more traditional campground. That's certainly a great option and the one most people are familiar with. But if you're looking for something a little different, consider one of these unique camping options to add to the fun:
Harvest Hosts: We've been in LOVE with all our Harvest Host experiences. This one will require that you own or rent an RV as one of the requirements to camp is that you have a self-contained RV. But they are some of the most memorable experiences. We've camped at wineries, breweries, and even an alpaca farm, which has made for different (but equally fun) approach to fall camping. This blog post even lists some corn mazes, pumpkin patches, cider mills, and orchards you can camp at for the ultimate fall camping.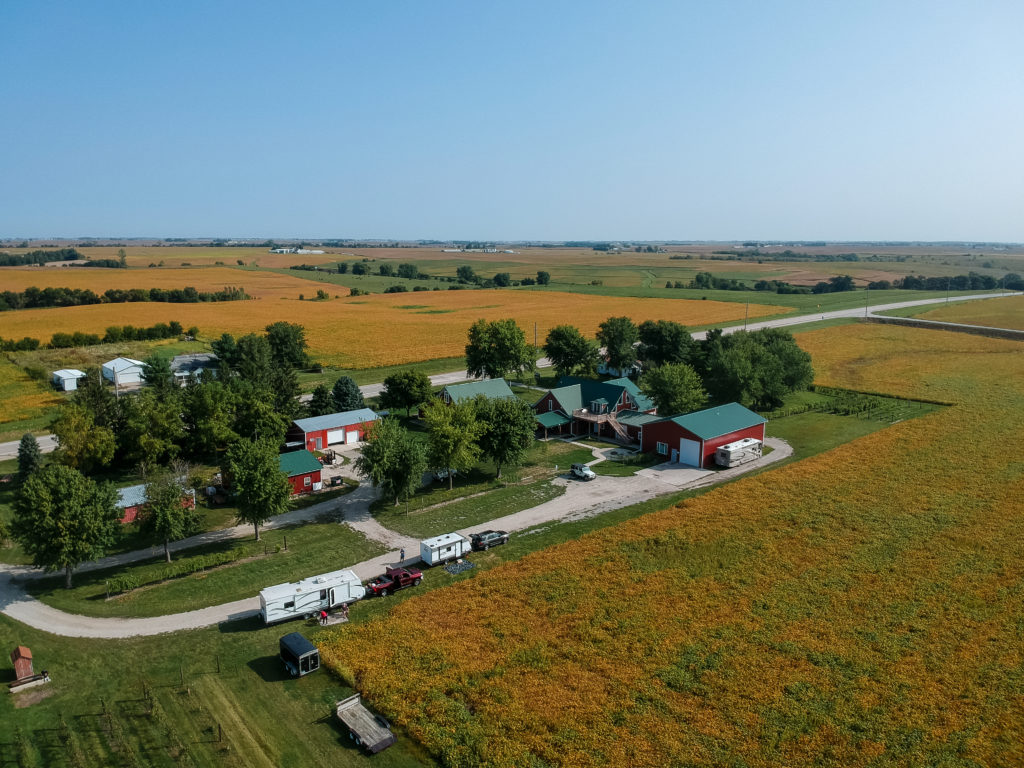 Disney's Fort Wilderness: If you want the fall camping, but you'd prefer it be more glamping style and you're a Disney fan, try Fort Wilderness. They offer several camping options. You could stay in one of the amenity rich cabins (it's Disney after all) or you can stay at the campground. If you stay at the campground they offer space for both RVs and tents. And no matter which option you choose, you'll have access to all the resort amenities: pools, archery, horseback riding, golf cart rentals, wagon rides, smores and singing over campfire, and a variety of western themed restaurants to name a few.
Find a yurt near you: Yurts are a trendy way to camp or "glamp" these days. And that means there are yurts available to rent all over the place. Look for one near you or travel to one. Like these yurts complete with hot tub in the smoky mountains (which is just gorgeous in the fall).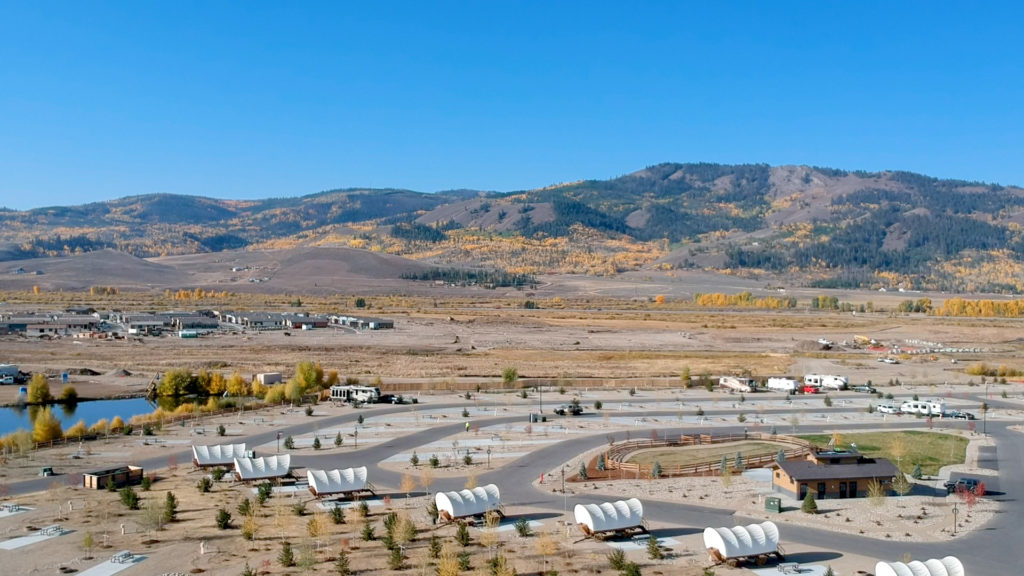 Conestoga wagons and air streams: we stayed at the River Run RV Resort in Granby, CO and while we camped in our RV (by the way here's the video of our experience), we couldn't resist feeling a little jealous of the covered wagons and air streams you could rent. They looked so fun! If you're planning a trip near Yosemite, you could also rent a yurt at Yosemite Pines. Frankly, they have wagon, air stream, and yurt options all over so check around for a fun camping experience.
Soak up all the awesomeness of fall
No matter where or how you camp, fall camping is something to be experienced. The scenery is so much different than what you'll find in the summer. Plus, cooler weather means less bugs. Less time swatting mosquitos and more time enjoying the delicious smell of apple cider warming over a campfire (we never did that, but I feel like we should have!). The reasons why you should consider a fall camping trip could go on and on, but we'll just sum them all up by saying "you won't regret it".
More family camping articles from us and our sister site Bottles & Banter:
25 Camping essentials for kids
Questions to ask before buying an RV for the first time
Best family RV trips for kids who love being outdoors
Easy camping meals that kids will love
Tent camping with toddlers for the first time