There are about a million reasons to visit London with toddlers. It's one of the most family friendly destinations we've ever been to. From the parks to the people – it is overflowing with kid friendly activities. After our recent trip, we put together our top 5 best reasons to visit London with Toddlers (or really, kids of all ages). So let's get right into it.
1: Hyde Park (and the Princess Diana Memorial Fountain)
The park scene in London is top notch. They are expansive, relaxing, and SUPER clean. Our favorite was Hyde Park because of it's convenient location as well as all the activities for kids. Our perfect day is as follows: a picnic, some running around chasing our little one, a nice nap, a visit to the fountain, walking along the lake looking at ducks. And then heading to dinner nearby because it's close to everything!
We bought some yummy cheese, meats, and bread from a nearby market and just camped out on the grass for a nice lunch. Afterward, we ran around on the huge lawn area we passed until the kiddo got tired and took a little snooze. While she was sleeping, we walked around to see what else we could find. We knew there was a fountain, but we didn't realize just how cool it would be. It's the Princess Diana Memorial Fountain and it's pretty gosh darn amazing. Kids can splash around in the water areas – we went to Hyde Park several areas for this very reason. One thing to note before you go: it gets very crowded on nice, sunny days. That didn't bother us at all, but something to know. There is also a Princess Diana Memorial Playground closer to Kensington Gardens. This was also sizable and great for kids.
2: Kid-Friendly Food in London
We've traveled to a lot of foreign countries and in some the food is a little more kid friendly than others. Disclaimer: we are not in any way discouraging the introduction of new foods. We always eat local when we travel and our 2 year old has tried many regional dishes. It's definitely important to get the kids to try new things early so they will be used to eating a variety of foods. We just mean that the ambiance is very kid friendly and we had a slightly easier time getting our toddler to try all the foods.
The ingredients are pretty kid-friendly and the food is just plain delicious. Of course, fish and chips is a well known dish that is both adult and kid-friendly. While trying fish and chips we tried shrimp and chips (equally as delicious). We also sampled steak and ale pie along with chicken and mushroom pie. Another kid friendly option, especially when served with ultra creamy mash (Battersea Pie Station is our pick!). And a must if you're there on Sunday is the ever classic Sunday Roast! Our included roast chicken, veggies, and potatoes. Yum yum! All kid friendly options and all restaurants were stroller accessible.
3: Buckingham Palace and The Queen
Buckingham Palace is iconic London. When we travel, we're all about doing local things, while mixing in some of the touristy sights. Buckingham Palace is one of those places that you just have to visit. It's located close to Hyde Park so you can easily do both in the same day. It doesn't take a lot out of your schedule, but it's amazing to see in person and you can get your awesome Buckingham Palace selfie while you're there! You can even channel your inner royal by participating in some afternoon tea after your visit to the palace (lots of places nearby that do afternoon tea).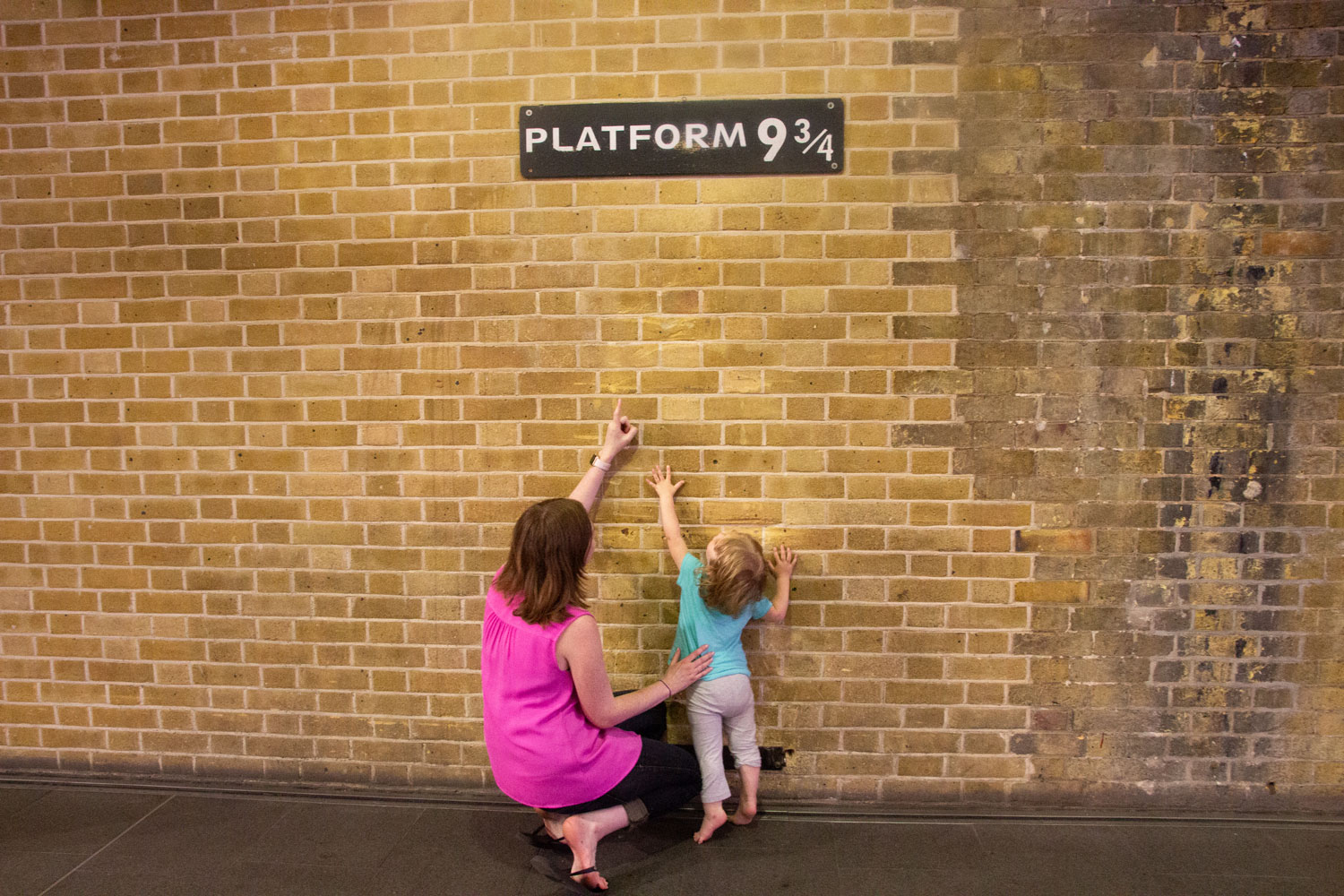 4: Paddington Station and Kings Cross Station
The tube is an experience in itself. London knows how to get you from point A to point B in a timely fashion. But kids will have so much fun hopping on the train and watching how fast it goes. And bonus points if you take the train to a kid friendly station like Paddington Station or Kings Cross. Paddington Station has, as you would expect, an entire store with Paddington swag. We got our kiddo and bear and book, and it was one of the highlights of her trip. Just check the hours before you go! We went too late the first time and it was closed, so we had to come back the next day. It's a must for kids! Plus there are some tasty food stands in the station for a quick snack (or a plethora of restaurants nearby).
King's Cross was amazing because of Harry Potter of course. If you are a Harry Potter fan, or you have a child that's a Harry Potter fan, King's Cross is a can't miss. There is a platform 9 3/4 with a Harry Potter cart that you can pose with (the pack the cart away at night). And a whole store dedicated to Harry Potter. It's definitely a neat experience!
5: They Love Kids in London
This one isn't a thing, it's just a fact. London is one of the most family friendly cities in the world – a solid reason to visit London with toddlers. There are kids everywhere. And unlike some destinations, you won't feel awkward bringing your kids into the restaurants. They let us park our stroller and welcomed us with smiling faces. We also saw lots of other families with young kids. And the parks all cater to kids with playgrounds everywhere. Plus, most hotels can provide kid-friendly accommodations with cribs if you need one. We were amazed at how many activities they have all over the city for kids. If you visit London with toddlers, you will feel super comfortable!
Looking for More About Visiting London with Toddlers?
Check out our video below to see all the kid friendly places we visited! And let us know in the comments if you've considered traveling to London with kids.