Maine is one of those destinations where you just can't leave without experiencing all the fresh seafood it has to offer. But more specifically, the lobster. You have lobster tail, lobster pasta, lobster bisque, and even lobster ice cream. The options are endless. Which is why we're helping you cut out the research time with our picks for 5 best lobster rolls in Maine.
The Clam Shack – Kennebunkport
The name of this joint may feature clams, but the lobster roll is a big draw for The Clam Shack. Located in Kennebunkport, this little shack has been dishing out fresh seafood since 1968. Its lobster roll was named one of "America's Best Lobster Rolls" by Food & Wine Magazine so you know its gotta be great. But let's get to it. Here's the breakdown:
Why we love The Clam Shack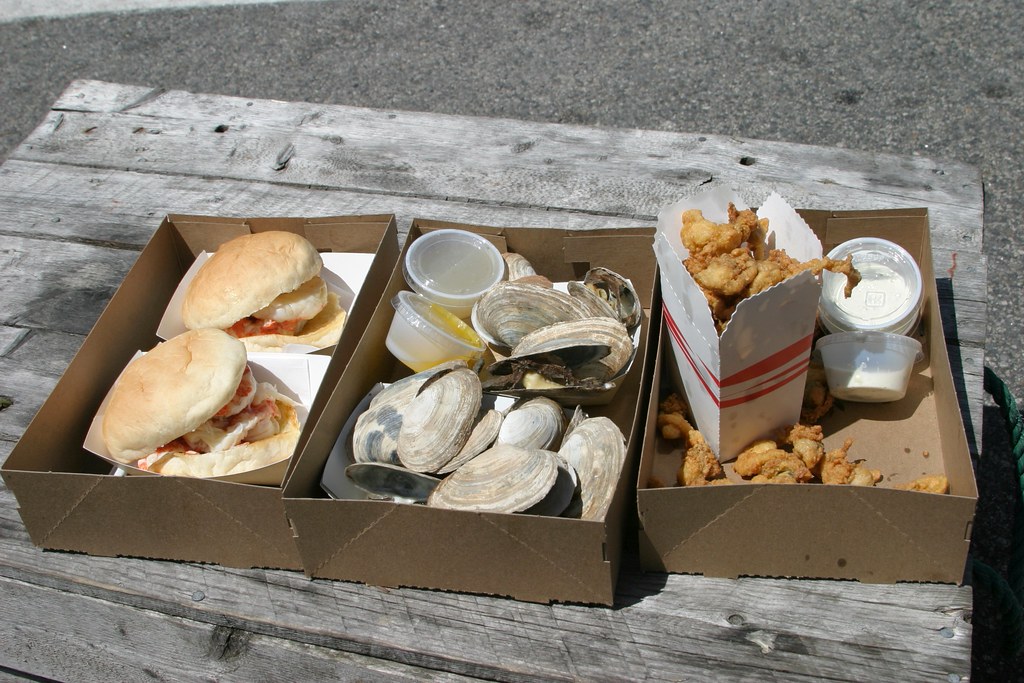 The Lobster Rolls at The Clam Shack feature 5 oz. of fresh lobster meat. In fact, they take a very serious approach to the way their lobster is handled. It never spends more than 5 minutes out of the water from boat to lobster pound. It's cooked and shucked that afternoon and boiled in ocean water. The term "frozen" is not even in the vocabulary of The Clam Shack.
The bun here, named the "Reilly Roll", is made by a local family bakery. And when it comes to the toppings, you get your choice: butter, mayo, a little (or a lot) of both? It's easy to see why this place is consistently named one of the best.
The Price
The lobster roll at The Clam Shack is on the higher end at $31.95, but the quality speaks for the cost.
The Highroller Lobster Co. – Portland
A bit newer to the scene, Highroller Lobster Co. got it start in 2015. And it came out guns blazing. What started as an unassuming food trailer has now become a brick and mortar shop. And here, you'll have the added bonus of a craft beer to wash down your lobster roll. There's a large patio and for little ones (or big ones) not interested in the famous lobster rolls, they also serve burgers, chicken sandwiches, and corn dogs.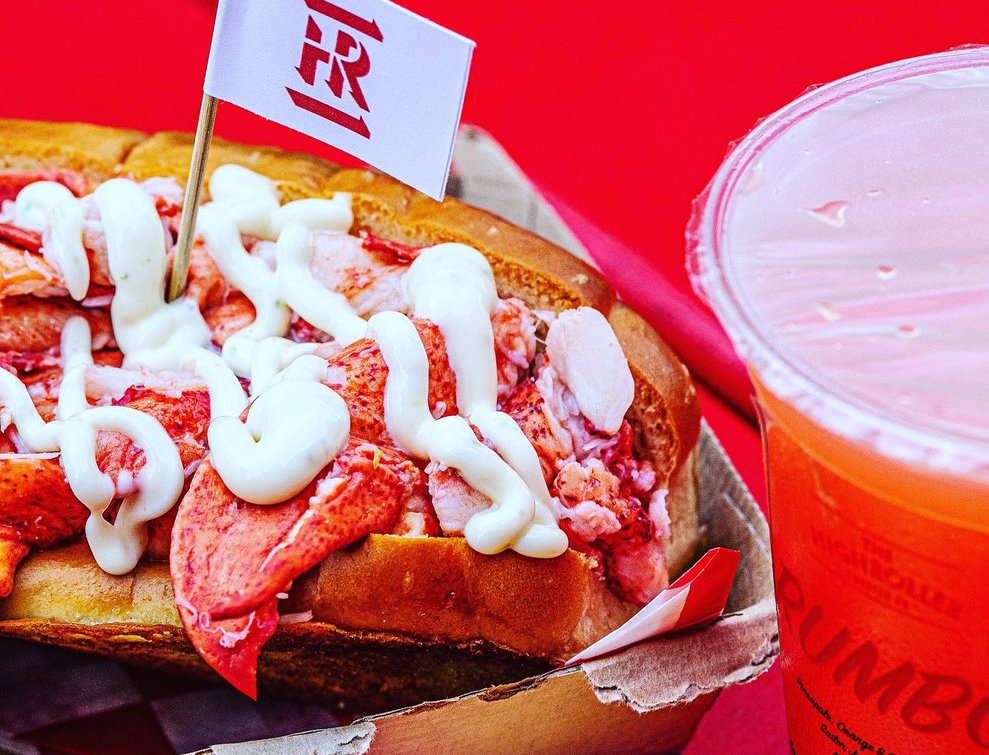 Why we love Highroller Lobster Co.
Using lobster from Ready Brothers' Seafood, this is one of the more unique rolls on our list. Some lobster rolls use the bun approach and some, like Highroller, take on a bread style. Highroller uses fresh baked brioche to hold everything together. It's then topped off with 4 oz of lobster meat, chopped romaine, and your choice of sauce. The sauces are really what makes this roll stand out from the rest. You'll have your choice of lime mayo, jalapeno mayo, charred pineapple mayo, sweet red pepper mayo, lobster infused butter, garlic mayo, sweet relish – and even more. Part of the fun is coming up with your own wacky combinations of toppings.
And if you're not feelin' the lobster roll, but still want your lobster fix, you'll also find lobster tail on a stick, lobster BLT, lobster grilled cheese, and lobster tacos. Whatever you fancy!
The Price
The lobster roll costs $27 at Highroller and includes as many different sauces as you can handle.
Thurston For Lobster – Bernard
Another OG in the lobster world, Thurston For Lobster is a great pick when you're visiting nearby Acadia National Park. They have a history that dates back to 1946. And a location right on the water. So not only will you have the delicious food, but also the fantastic view to boot.
Why we love Thurston For Lobster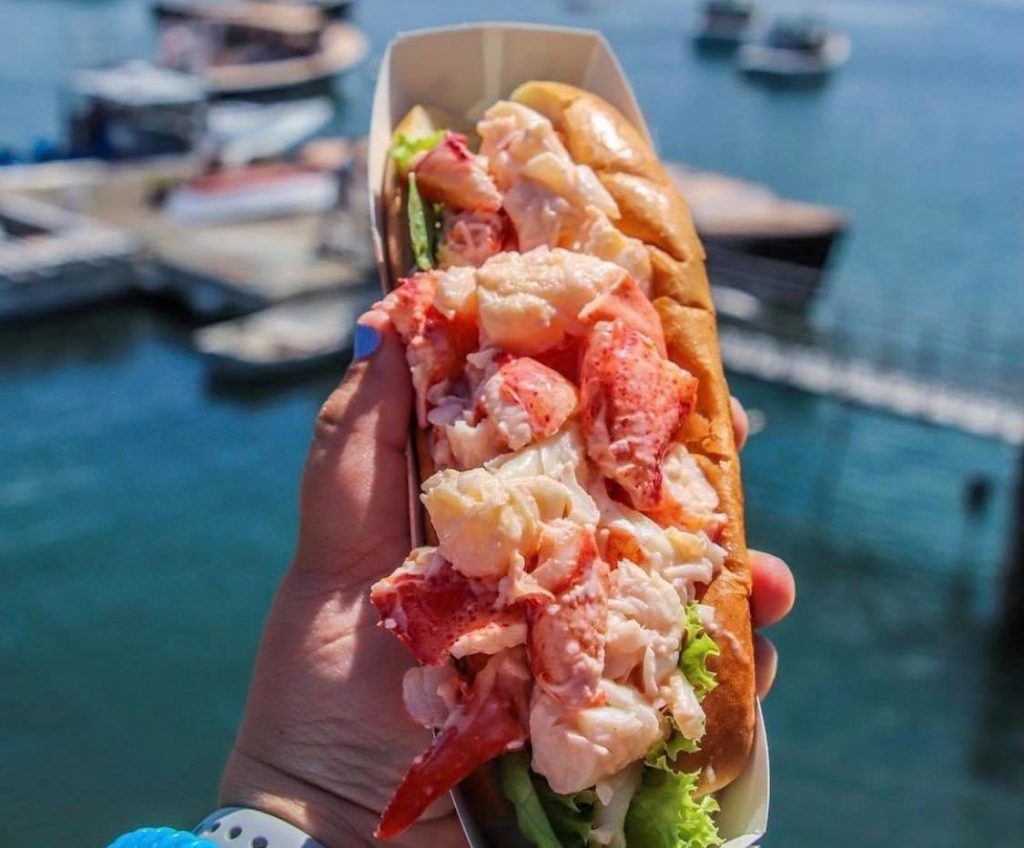 It's a bit out of the way, but one look at all the rave reviews and it's worth the trek. Thurston works with local businesses and lobstermen to bring in the freshest ingredients around. They toss claw, tail, and knuckle meat in mayo. And then it all gets piled on a bed of lettuce in a grilled bun. They operate under the premise of "no fancy stuff necessary". And instead they focus strictly on quality.
They offer two sizes depending on your appetite (or if you're willing to share). And if you want to mix things up, you can also try out their crab roll.
The Price
You'll have two options when choosing you lobster roll. The regular size is $18.49 and if you want to go big – splurge for the jumbo lobster roll, which runs $24.49.
Red's Eats – Wiscasset
You can't have a list of best lobster rolls in Maine without mentioning Red's. People come from all over the country just to bite into one of these famed sandwiches. They've been going strong for over 80 years and have built quite the loyal following. Over the years they've also been named "Maine's #1 Lobster Roll" by a number of publications. It's a bit off the beaten path from the major tourist destinations, but worth the journey.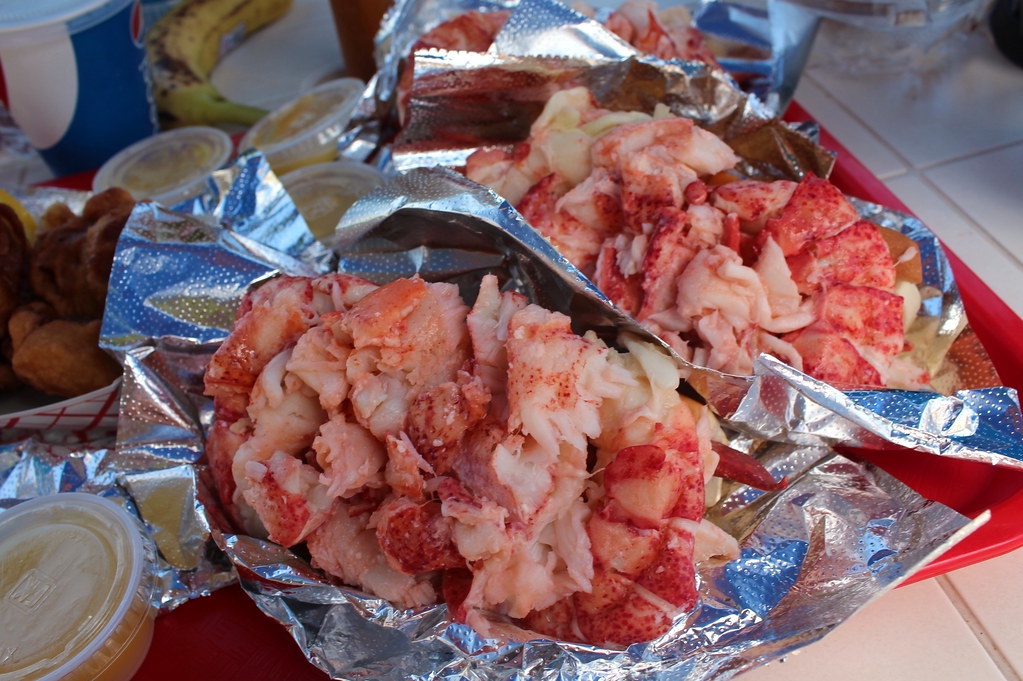 Why we love Red's Eats
There's a whole history surrounding this sandwich and the reason they serve it the way they do. Originally the roll was not served with mayo, but offered with a side of butter or mayo. And due to its popularity, it remains that way today. You also won't be disappointed in the amount of meat in this bad boy. Each roll has the meat of two claws and a whole split lobster tail. That means you'll get an entire lobster on your sandwich. Crazy!
All of the produce is delivered daily by a local shop. And the bread is brought in from a local bakery (they even offer gluten free).
In addition to the famous lobster roll, they have a whole menu of other sandwiches, sides, and kid friendly selections. Don't miss the homemade whoopie pie to round out your meal!
The Price
The lobster roll is charged at market prices – but you can expect it to fall somewhere in the $25 – $35 range. Red's has a board right outside that lists all the daily market prices.
Tracey's Seafood – Sullivan
A bit of an underdog, Tracey's serves some of the most affordable lobster rolls around. That said, they don't skimp on quality. This is another great option if you're visiting Acadia National Park. It's in a quiet little area off Route 1 (next to a campground we can totally recommend). And because it's a hidden gem, you won't have the long lines you'll find at other spots on the list.
Why we love Tracey's Seafood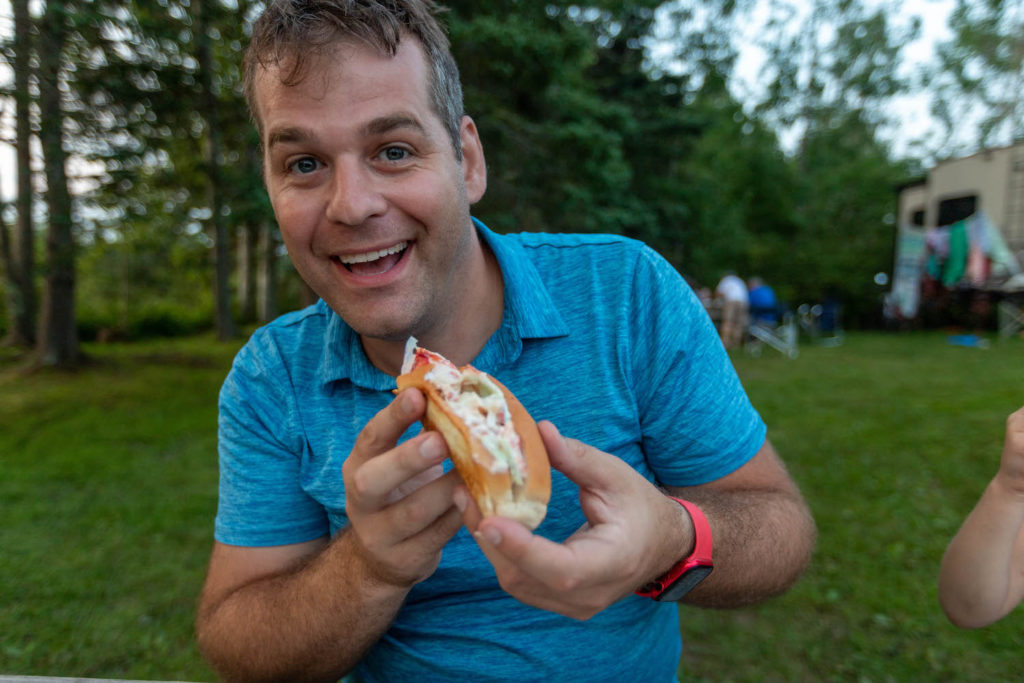 It follows the "keep it simple" principle. If you don't want to shell out $30-40 for a sandwich, go back to the basics. With Tracey's you won't get the special sauces and entire lobster. But you'll get super fresh lobster on a bun with mayo. Every roll has tail and claw meat and is served cold.
If you're bringing kids with you – this place is a great option for them. Keeping with the affordability theme, you can get other seafood rolls, fried seafood, burgers, fries, and chicken tenders all at great prices. And they have a large ice cream selection to top you off.
The Price
You'll get 2 lobster roll here for $20 – an incredible deal! Other sandwiches range from around $8 – $14.
Bob's Clam Hut – Kittery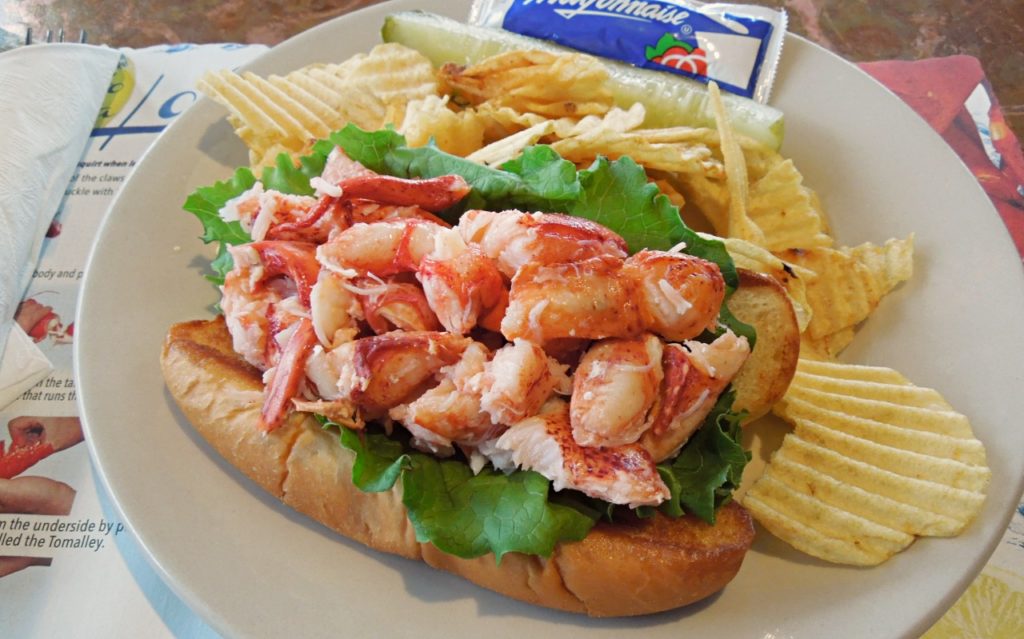 Heading a bit further south to Kittery, Maine, Bob's Clam Hut is about more than just clams. They are also well known for their mouthwatering lobster rolls. One of the perks here is that you can still enjoy these delicious sandwiches year round when other places shut down at non peak times. It's also located in the southern part of Maine, which makes it convenient to other east coast cities.
Why we love Bob's Clam Hut?
Like others on the list, Bob's lobster is as fresh as it gets. They have their lobster (and other seafood) delivered daily. And you can order your roll with hot butter or mayo – giving you the option. They also serve every roll with fries and a pickle, which is a nice touch compared to other places where you'll need to purchase your sides separately.
Even though this is a lobster roll list, if you want to pick up some clams to go with your lobster, the quality here is impeccable. You'll be getting the best of both worlds with the clam and lobster here. Just don't forget a side of their original tartar sauce, which is world famous! And if you have kids in tow, they also have a special kids menu for the youngest tots.
The Price
Lobster Rolls are sold at market price here. But you can expect the average roll to run about $25. Other seafood sandwiches and rolls run around $10-20. Check all the prices on the full menu.
Other travel food favorites:
Must Try Foods When Visiting Athens, Greece
All the Best (and Most Fun) Places to Eat in Nashville
A Magical Trip to the Kyoto Food Scene