File this under the category of good problems to have. You have a camper. You have some dreamy camper decor ideas. But you don't want to spend hours of your time to DIY and Pinterest everything. We all want that swoon-worthy, modern RV, right? The one that makes your original RV interior unrecognizable – like the picture above. Me too.
But truth be told, we have a long list of how we want to spend our time, and lengthy hours of RV renovation isn't exactly at the top. That said, maybe you want to add some personality. Just with the least amount of effort. You know, the things that take basically no time, but make an impact.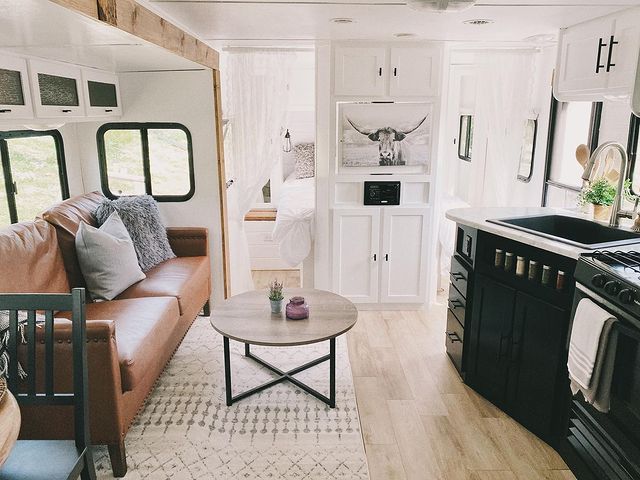 By the way, we can't take credit for all these ideas. Some were born out of our own scrappiness. But others come from our fellow RVers that have some super great ideas. Camper decor ideas too efficient not to pass along.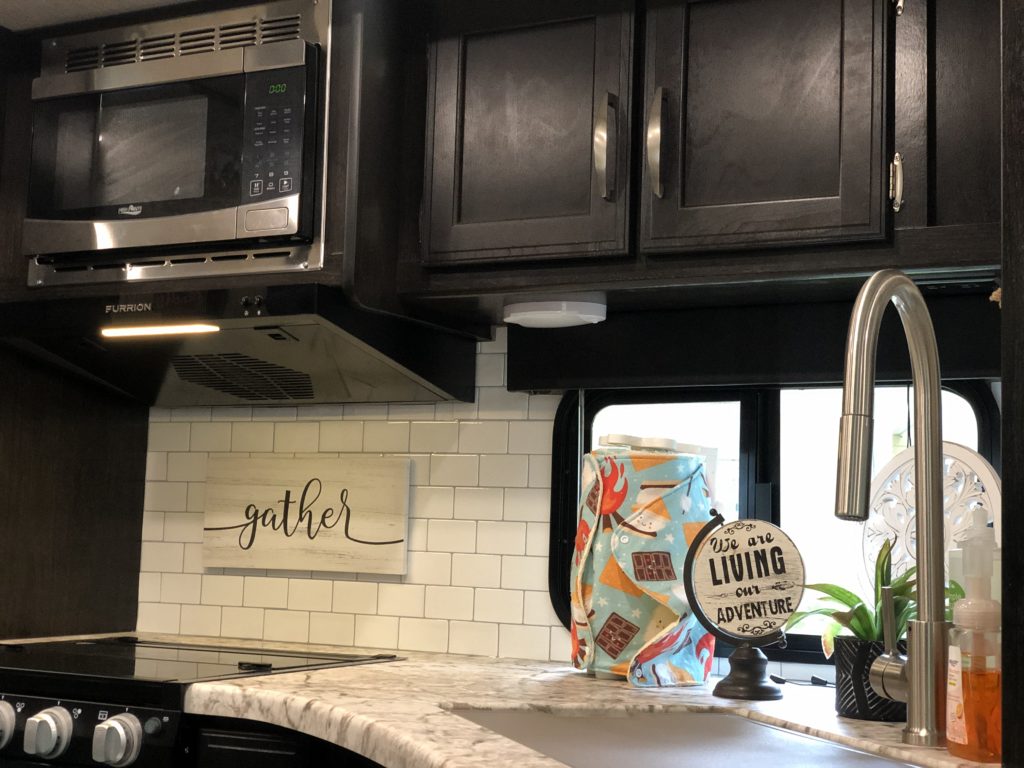 Peel and stick tile can transform a shower or kitchen in a snap. The Southern Glamper used it and whoa, does it make a difference. The before/after pictures prove how backsplash can make small RV spaces light, bright, and airy. Couldn't agree more. Peel and stick tiles are affordable, super quick to install, and make a big impact. One of the simplest upgrades you can make to your camper.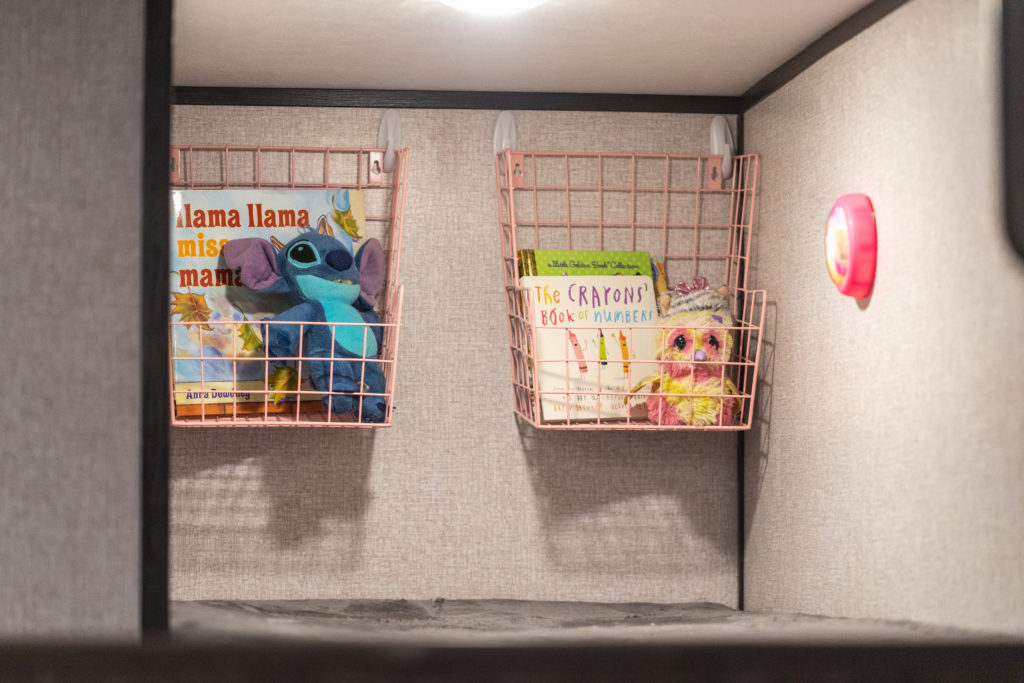 They take 2 seconds to hang and totally give off farmhouse vibes. Ground breaking, right? One of the best ways to maximize space in a tiny home is by making the most of your walls. We purchased several of these toy storage baskets and use them everywhere. Yes, they are toy storage baskets. And yes, if you have kids, they will do just that: store toys. But they also work great in the kitchen for fruit and veggie storage. Electronics storage. Keeping clutter at bay. The options are kind of endless here.
3. No Sew Cushion Covers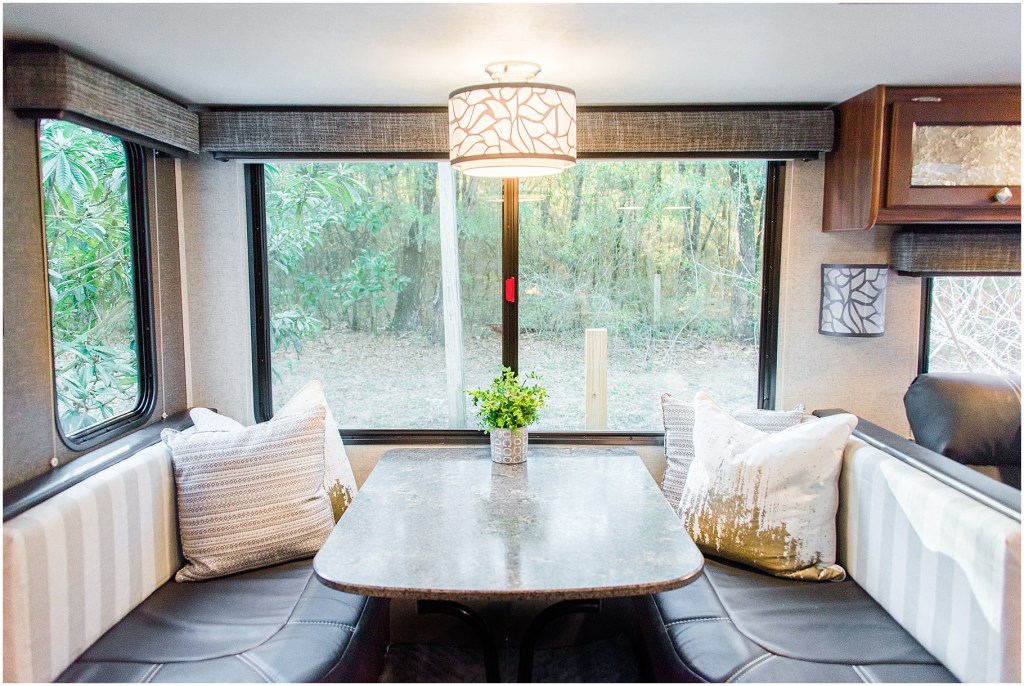 One of the biggest eyesores for your camper – likely the cushions. They always come in that standard RV brown. You can add so much personality by switching out the cushion fabric. Except, doing that is typically 1) time consuming or 2) expensive. Luckily, Married to a Mowery found a clever no sew option that you can do in minutes. Three simple items – choose your own fabric.
4. Mix and Match Colors and Patterns – But Keep Them Complementary
Adding splashes of color and dropping in some textures can make for dramatic effect. But the key is to make sure everything complements one another. The Tidbits website shows that simple color and design selections can make all the difference. Their triple bunks pack a lot of personality punch, but in a tasteful modern way. When purchasing your accessories, look for fun colors and patterns that match the rest of your decor.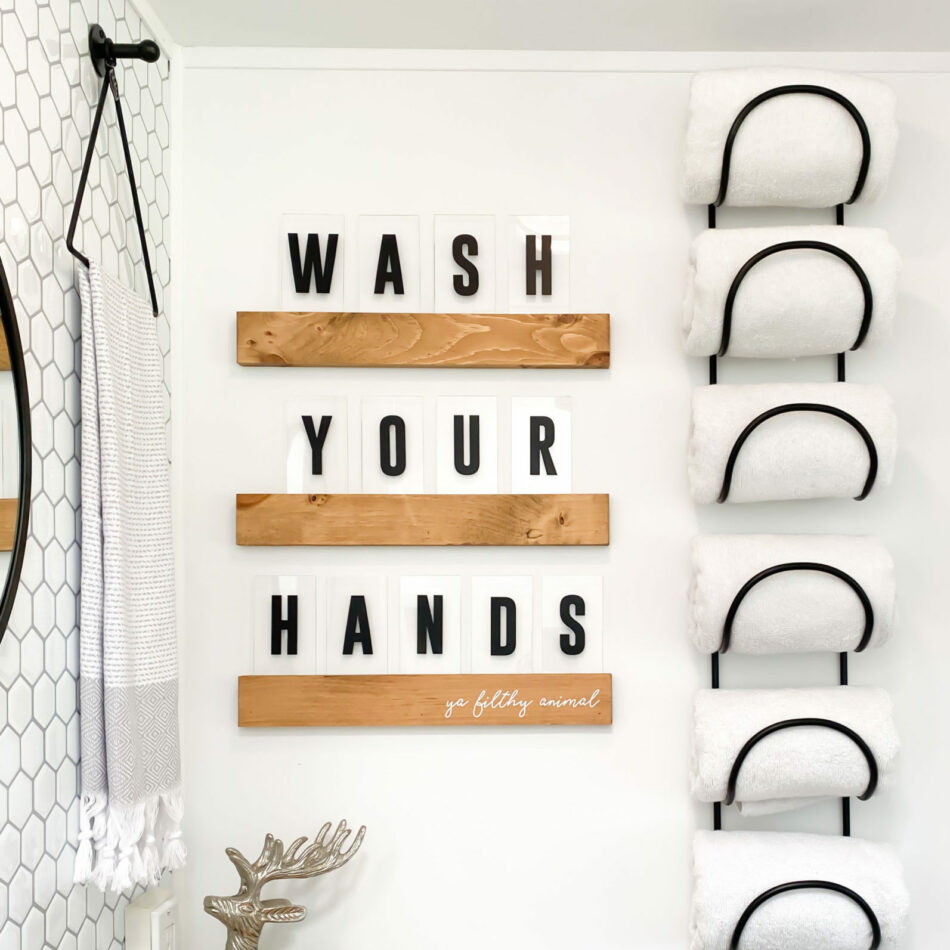 Another great way to show personality: with your words. The Happy Glamper has an awesome tutorial to make a DIY Letter Ledge. It's gorgeous, modern, and unique. If you want the fast approach, you can buy pre-made ledges and letters (or the ever classic letterboard). Change out the phrases every so often and boom – instant refresh.
6. Make Coffee Part of Your Decor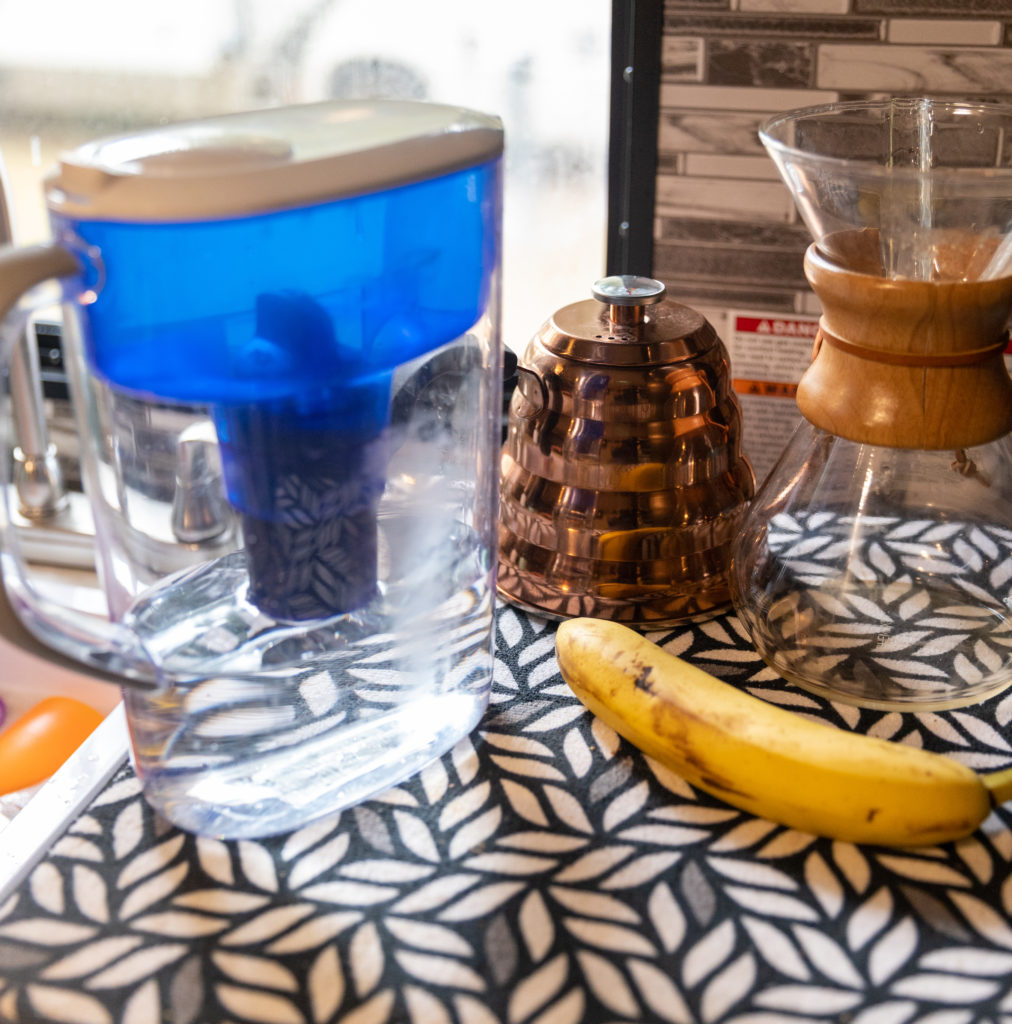 Coffeepots that aren't bulky AF. One of the camper decor ideas we applied to our own setup. We got the Chemex pour over coffeemaker. It's dual purpose – it makes coffee (the obvious), but it also looks super elegant on your countertop. It's also still functional if you're camping with no electric hookups. Just don't forget to stow it before you drive off.
7. Color Pops with Pillows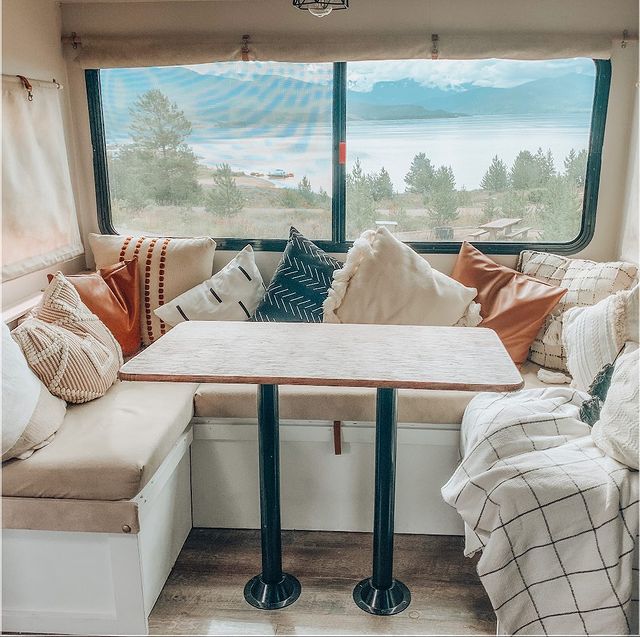 It's amazing what a simple throw pillow will do. Figure out what aesthetic you're going for and then get some throw pillows to match. @heads.east.tails.west is the perfect example of how adding some color pops and textures with your pillows can make a huge difference. Can't get enough of the mix of patterns, textures, and colors that all seem to go perfectly together.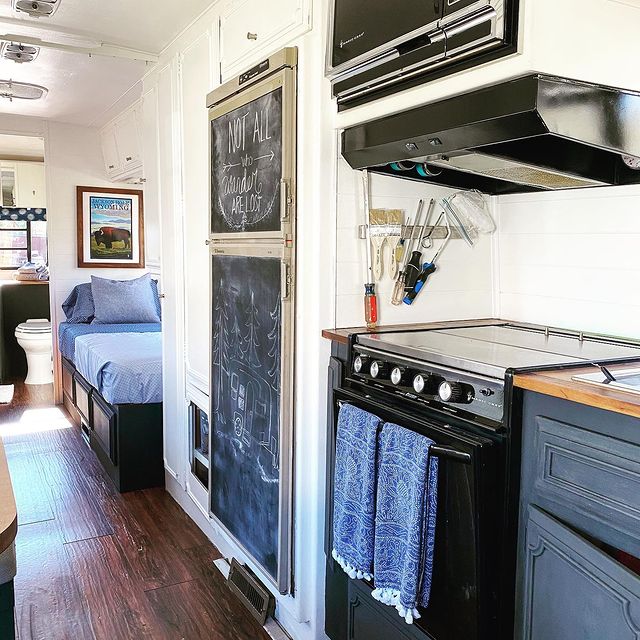 Save space by repurposing your wall for knife storage. @the.wild.fortenberrys has some enviable RV inspo, including the modern magnetic knife holder. Clever hack – they even use theirs to store tools while in use. But more importantly, magnetic knife holders are known to be a more hygienic way to store knives than the knife blocks, which can get wet and harbor bacteria.
9. Add Mirrors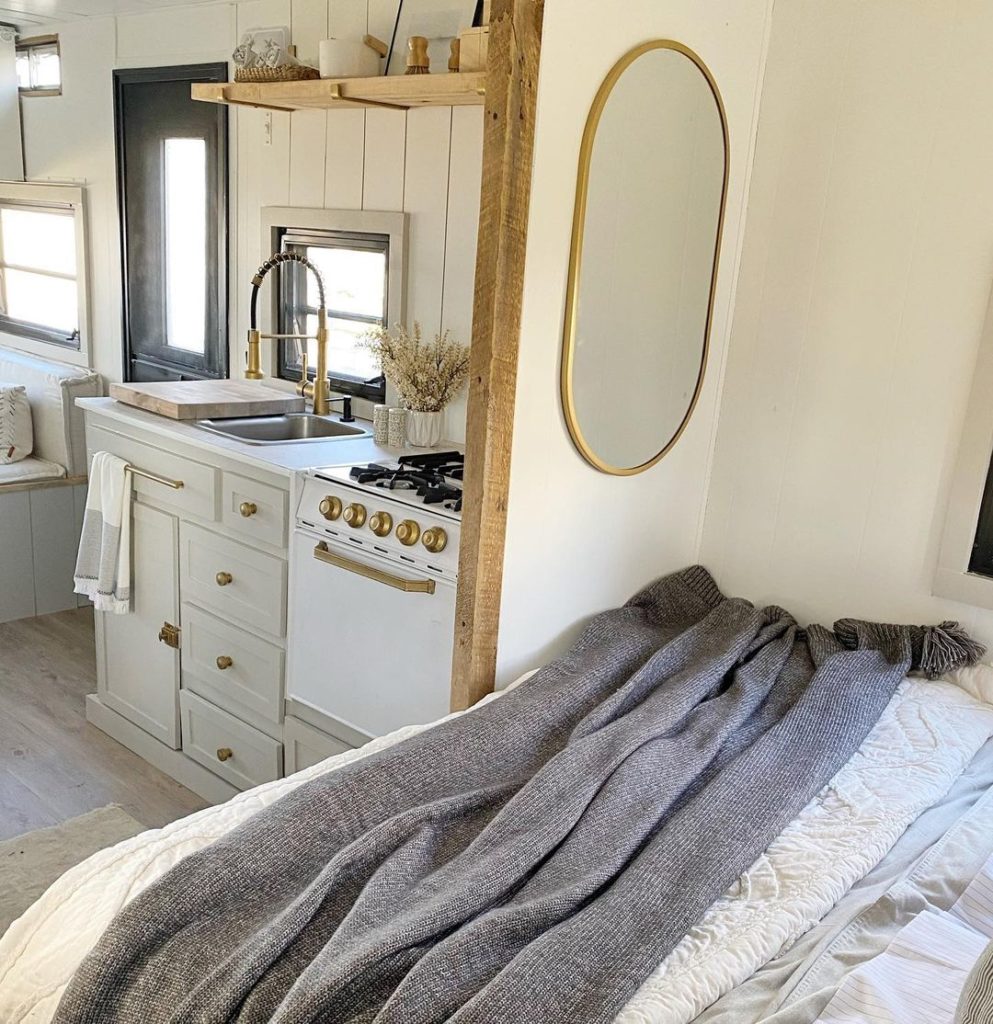 Mirrors can always make a place look fancier and they make small spaces look bigger (a major plus when you're living in a tiny home). This bedroom mirror from @prvbsthirtyonegirl has major gold vibes that blends well with the other fixtures. Plus, it utilizes space that otherwise may go to waste. If you want to spiffy a place up, add a mirror. One of the easiest RV decor ideas you can incorporate into your space. But packs a punch.
10. Hide Your Stove
Our own invention that was largely born out of the need for a cutting board (without wanting to give up space for a cutting board). We built a wooden stove cover that doubles not only as a cutting board, but extra counter space. Why waste precious space when you can capitalize on it while your stove isn't in use. It also can add to the visual appeal. Easy to make, but you can also buy one.
11. Add a Plant or Two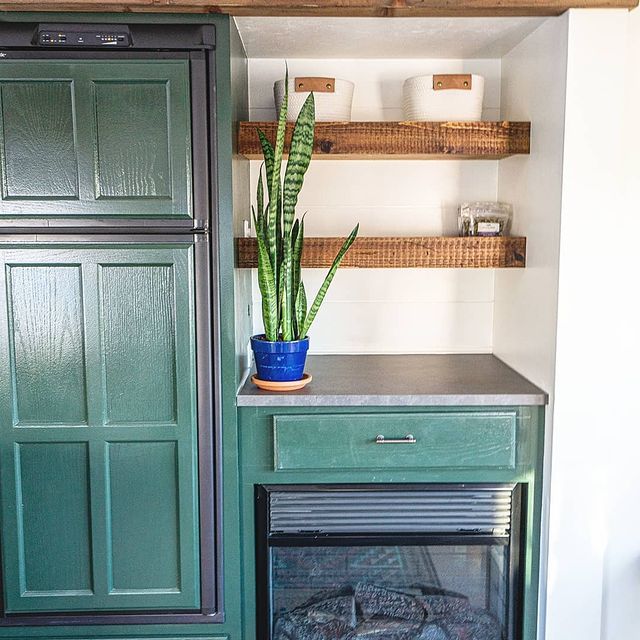 Plants can freshen up just about any space. This is a quick win if you're low on time. Buy a plant or two and it will immediately add some warmth to your tiny home. @theflippintilbys is a family of 7 living out of an RV and they crushed the decorating game. They used a snake plant to liven up their space. We're suckers for snake plants.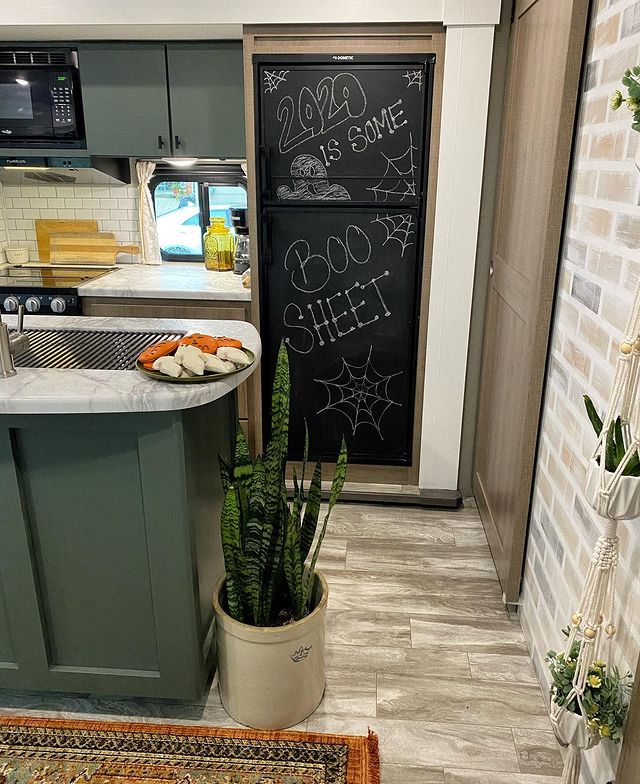 One trend that can transform an area in a hurry is a chalkboard. Flaunt your personality while showing off those rustic vibes (fitting for a camper, right?). @ourlifeonlaketime used chalkboard paint for their fridge and we're now convinced everyone should be chalkboard painting their fridges.
13. String Lighting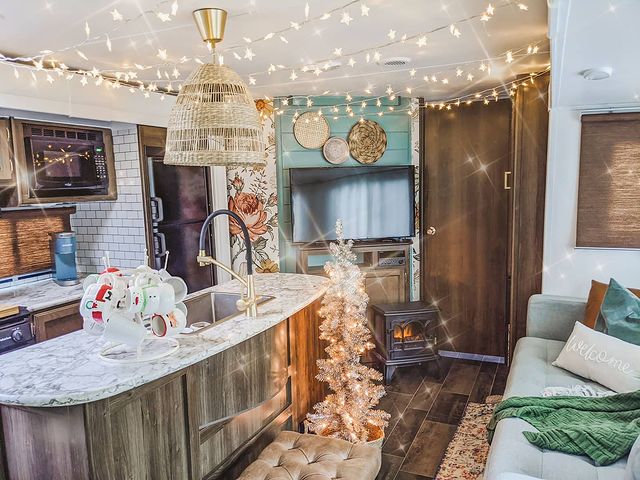 I think we can all agree those terrible lights that come standard in most RVs are…less than desirable. It may take more than a few minutes to completely change those out. But if you don't want to invest the time, get string lights or fairy lights instead. Take @purposeblog for example – their lighting game is on point and they show how string lights can be added to kick your space up a notch.
14. New Hardware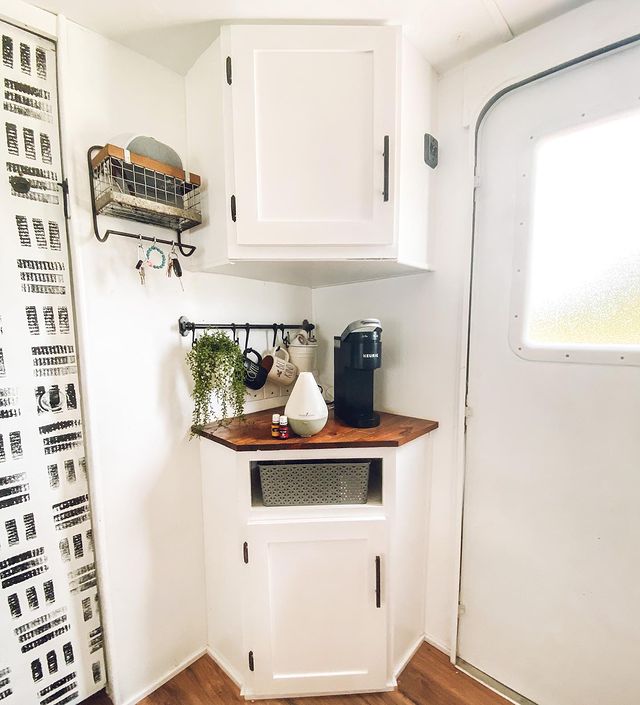 Saw this little corner coffee area from @wearethehawleys and couldn't be more in love. Their tip is to update your camper's hardware for a fast and easy camper decor idea. It will revitalize the room, making your little home modern and chic – without too much effort.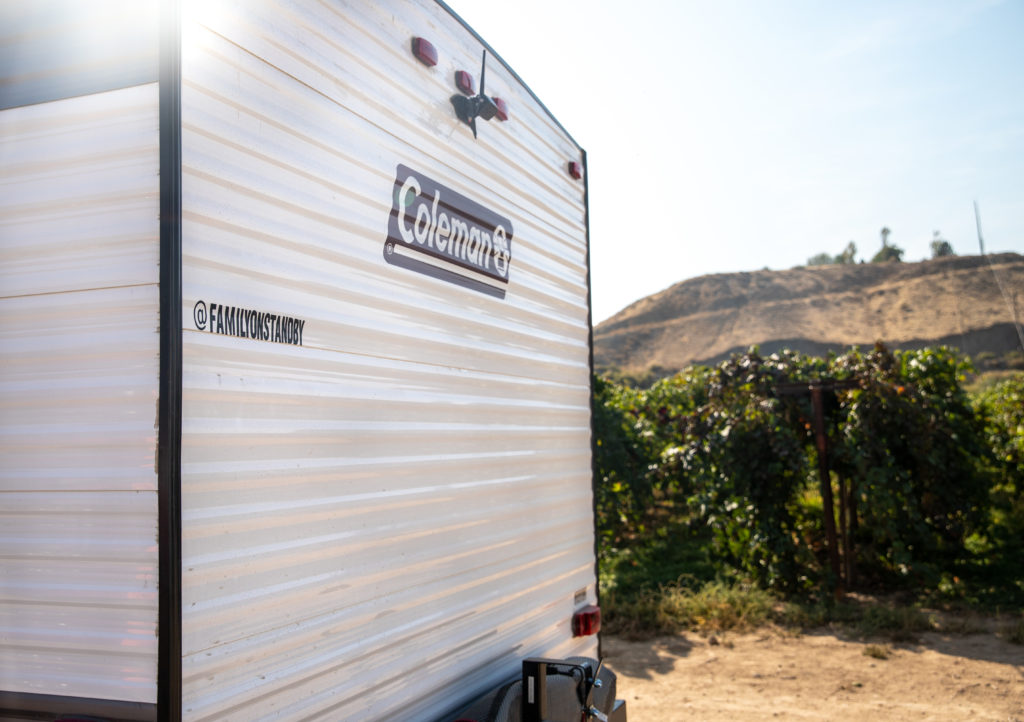 Whether you choose to post all of your adventures on social media or not, naming your camper is a rite of passage for your new home. We got some basic letter stickers and displayed our RV's name in all her glory. It's a fun personal touch and a chance to get creative. And if you do post your adventures, hit us up @familyonstandby so we can be friends. And so we can sneak a peak at all of your camper decor ideas.
Our guide to planning a cross country road trip on a budget (with our free planning download - the one we used!)
16. Stylish Window Treatments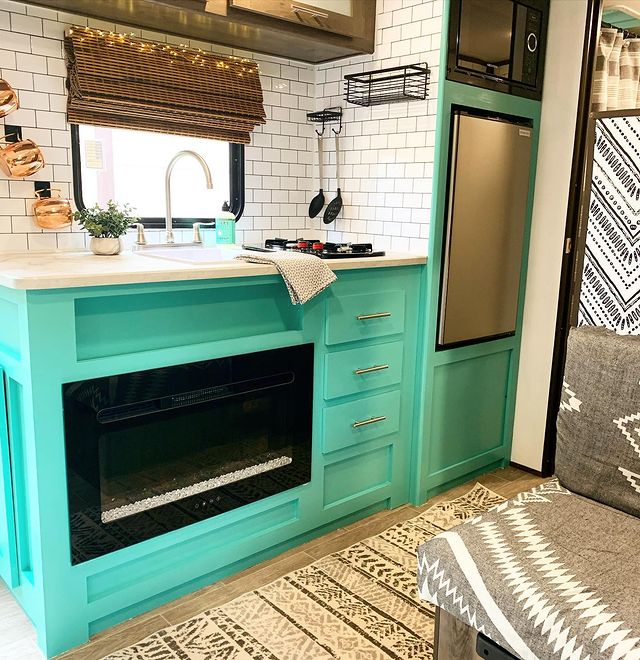 One of the biggest focal points in your camper just so happens to be one of the easiest things to change: the windows! Or rather, the window treatments. You were probably supplied with a perfectly plain shade, which means…there's a lot of room for improvement. We're partial to this window treatment from @phillyjawnsgooutdoors because 1) they have the same camper as us and 2) we can't get over how awesome it looks. But also because, their window shades totally match the aztec vibe and it all works together.
If you just can't stand those plain RV lights that come standard, but you don't have the time to switch out all the bulbs and hardware, chandelier to the rescue. We came across this DIY yarn chandelier from @rv.family.reno. It disguises the original lighting and adds a little glamour to your setup. But if you're not totally keen on DIYing your own chandelier, you can always buy a similar one on Etsy – making this one of the faster camper decor ideas.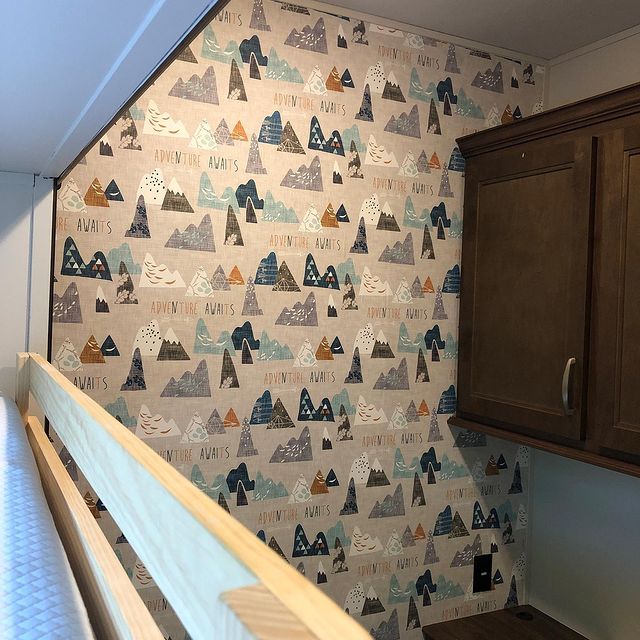 Lighten up those walls with some cheery wallpaper. We love the adventure themed wallpaper @5th_wheel_fam chose for their bunk area. It's fun and colorful. If hanging wallpaper the old fashioned way doesn't sound super appealing, I feel you and you're in luck. Peel and stick wallpaper. Cut, peel, stick. Done!
19. Curtains For More Than Just Windows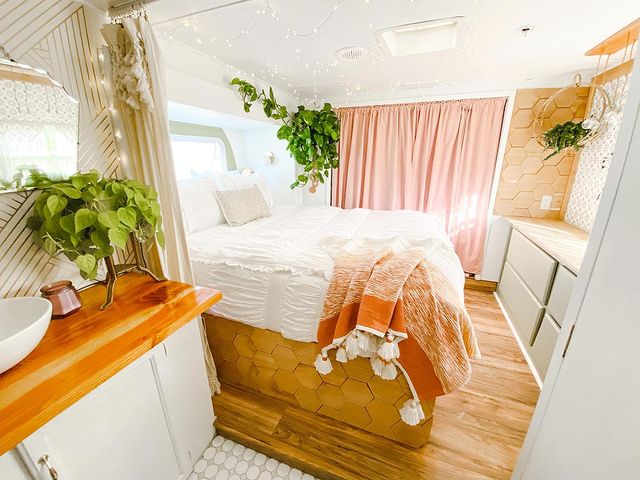 Whether you have a separate bedroom, or you want to create your own makeshift bedroom (like us), curtains can be a great room divider and alternative to regular ol' doors. These pink curtains/room dividers from @leeannieblivin are not only functional, they add to the style. We used the same concept to create a master bedroom area in our one room camper, but now I'm thinking maybe pink curtains are the way to go.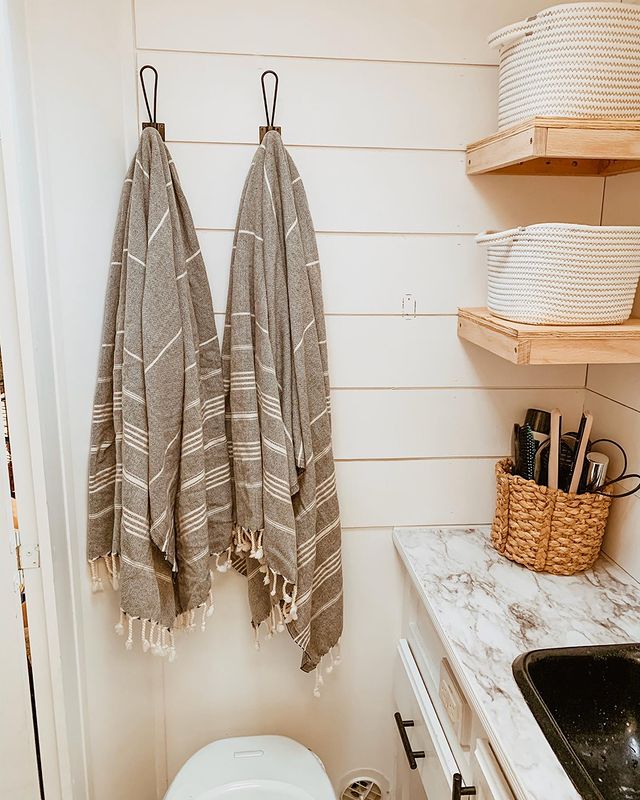 Who knew something as simple as bath towels could make a strong design statement? @wearedanandsam use Turkish towels in their bathroom and we're in love. They totally complement the vibe. And if you're not ready to part ways with your fluffy bath towels, you can always squirrel them away somewhere for non display purposes.
21. Strategically Placed Framed Art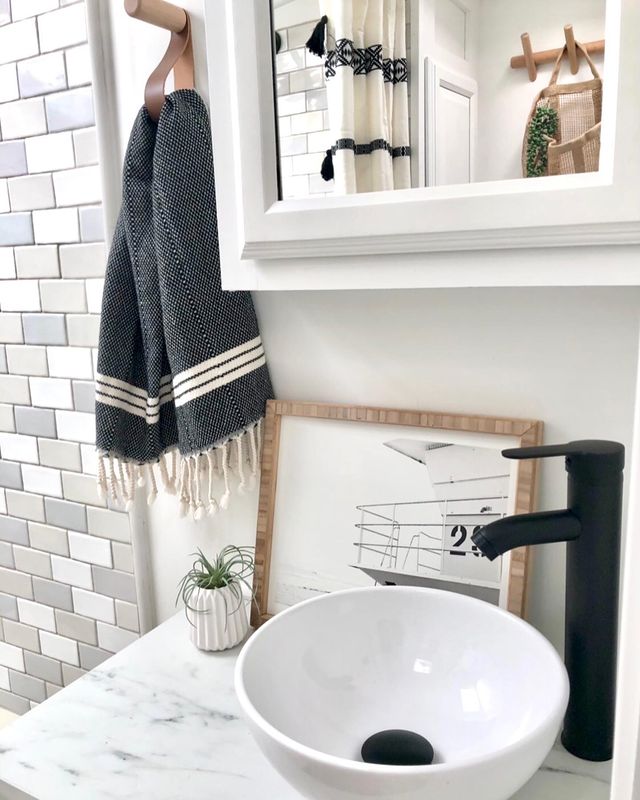 You can put art there? Behind the bathroom faucet. Apparently, @rvfixerupper does and other people who know how to energize a room. If you want to liven up your space with art, try placing it in some unconventional spots. It's a great use of space and it will give your room new life. Plus, it's easy to switch different art in and out whenever you need a change.
22. Blankets Are Decor Too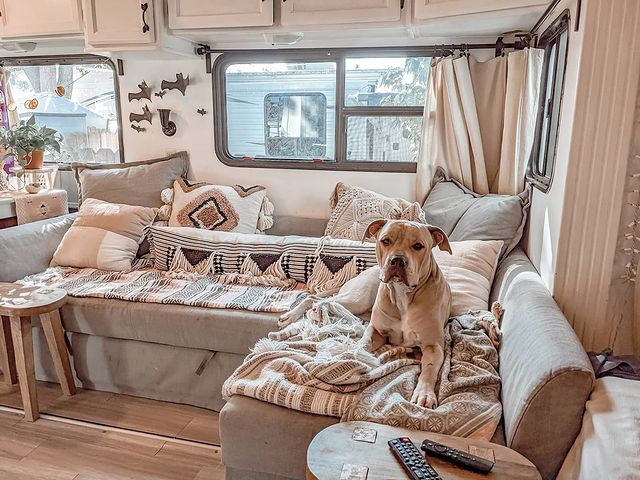 If you need an excuse to buy just one more blanket, this is it. The simple act of throwing a blanket on your couch or bed can transform the room. We love how @twinning_in_our_5thwheel uses blankets to accessorize. They are perfectly matched to the color scheme and add texture to the space. A big fan here.
23. Set the Table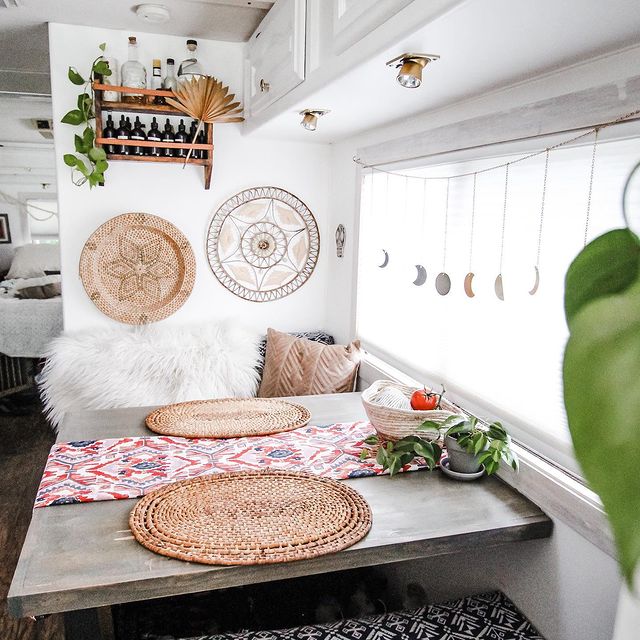 If you have kids, good luck getting this one to stick. But it's worth a shot. @the_ramblr_rv uses a patterned tablecloth and pair of placemats to kick their table decor up a notch. I almost want to set the table for once.
24. Seasonal Decor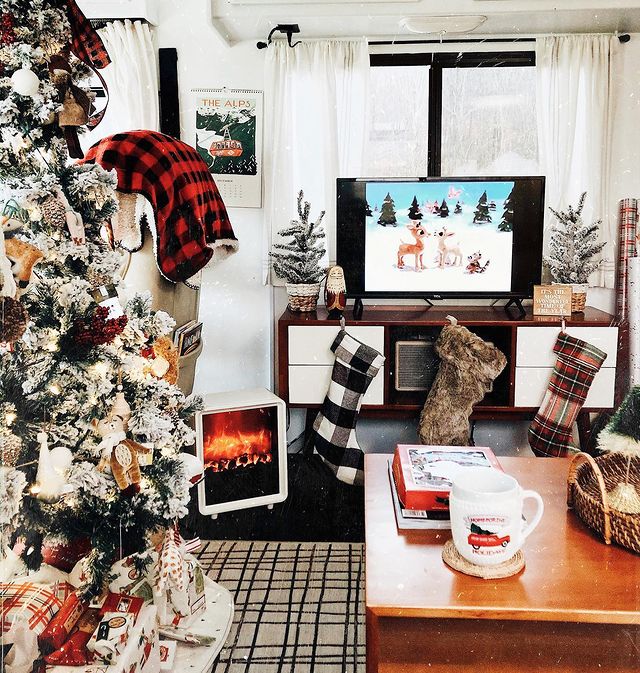 The most festive of our camper decor ideas – bring on the holiday cheer. Whatever the holiday, your little home on wheels is the perfect canvas. @allisongoesplaces knocked it out of the park with their winter wonderland. This doesn't even look like an RV, it's so good. *Instantly falls in love with that fireplace*
25. Give Your Front Door a Facelift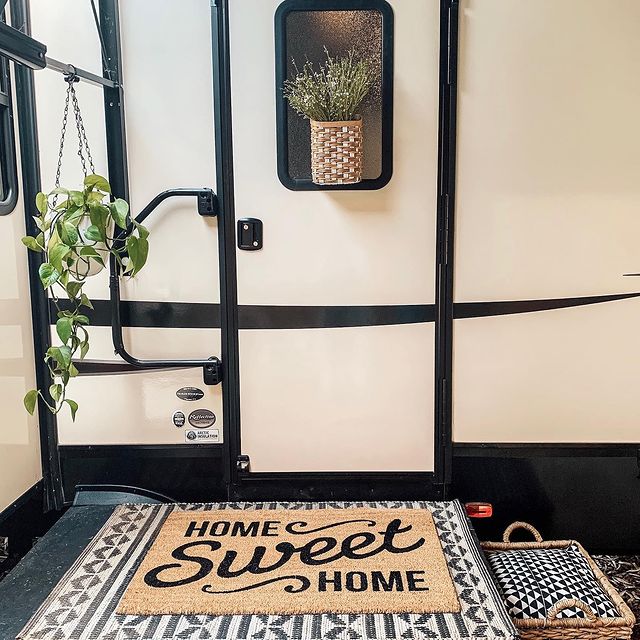 Why stop at the interior if you can create some serious curb appeal right outside the front door? The most obvious design choices here involve a welcome mat and some kind of wreath. But @slo.gathered.home took it a step further by adding a hanging planter on their awning. Genius! Also, we just recently discovered Etsy designers have some of the coolest plants. So that's another thing we're in love with.
26. If All Else Fails, Spray Paint Your Countertops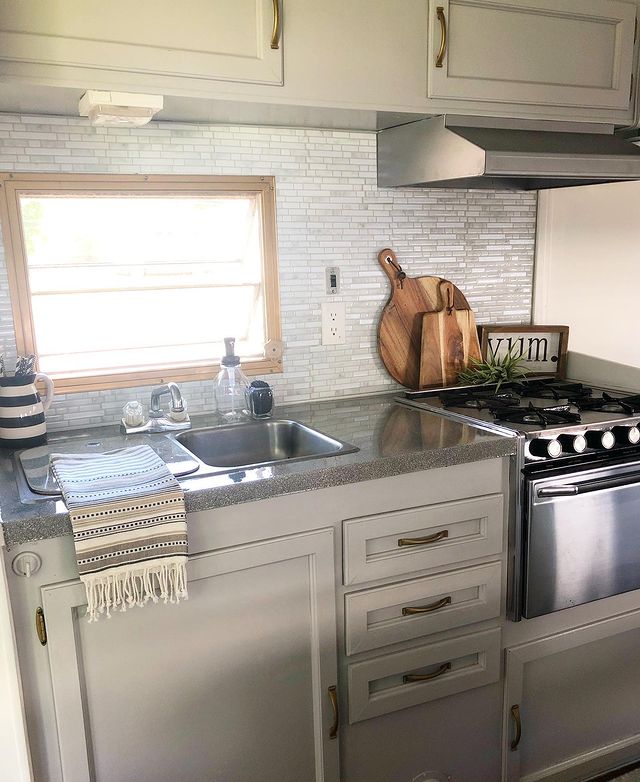 So…just learned spray painting countertops is a thing – mind blown. Thanks to some brilliant design inspo from @flippingfarrell, you can revitalize your kitchen counter without a massive overhaul. All you need is a little stone coat spray paint – with a coat of epoxy for good measure. It looks upscale. It's affordable. And it won't take nearly the time investment as removing old countertops and completely replacing.
27. Use the Fancy Command Hooks
One of the things you'll quickly discover as an RV owner – command hooks are the solution to everything. They can be used for basically any scenario and if you're like us, you'll be buying them in bulk. But, the key is to splurge on the decorative command hooks. Exaggerating a little bit here, because they don't cost much more than the standard white ones. But they will look a heck of a lot better and this is one of the easiest upgrades you can make. In this example from RV Inspiration, command hooks are used to hold up curtains!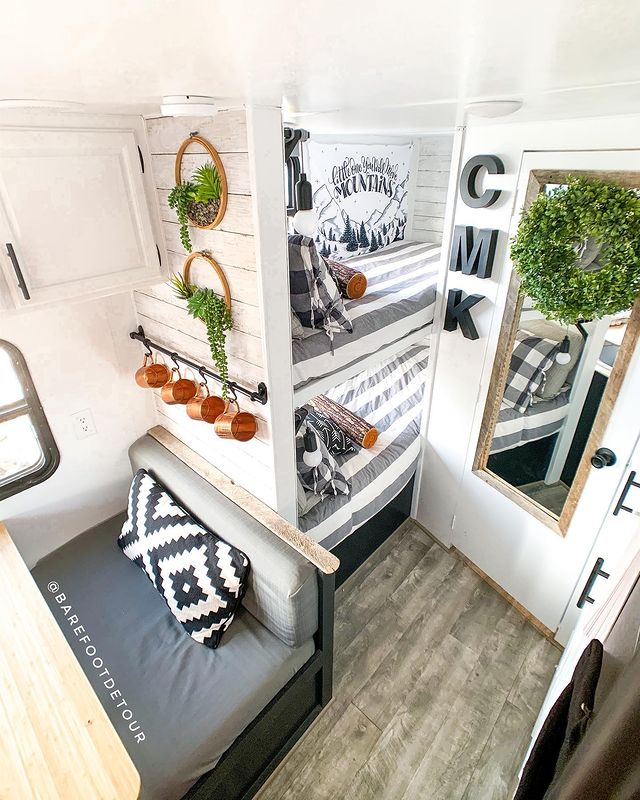 Shiplap is a trendy way to up your design game. But, heavy wood planks don't always translate well into RV life when lighter is often better. Enter shiplap wallpaper. Not only is it super lightweight since it's paper, it's much quicker to hang. @barefootdetour used it in their camper remodel (behind the fun copper cups) and it adds texture to the space – without actually adding texture…if that makes sense.
29. Shelving to Keep Clutter Off Tables and Counters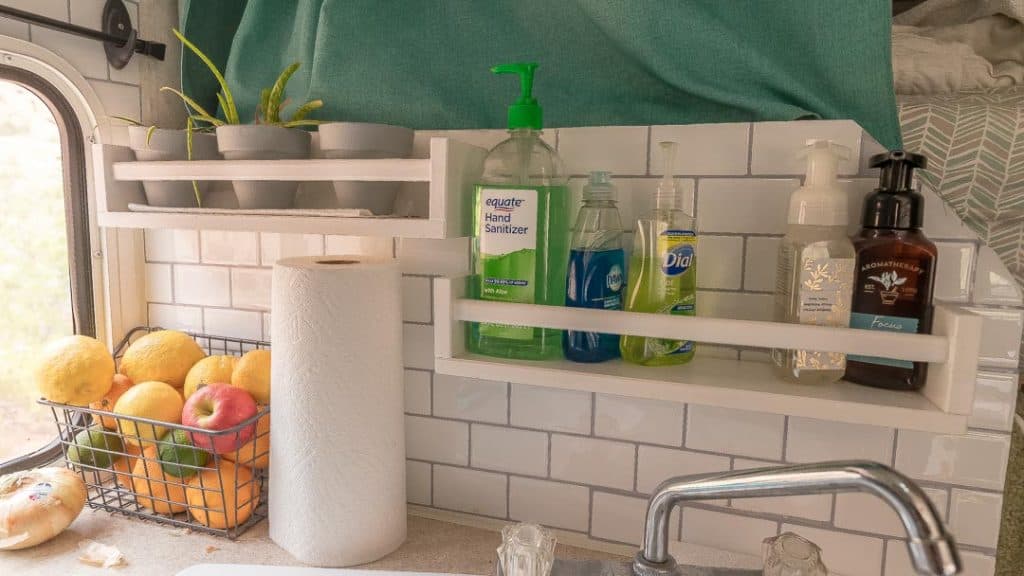 Guilty confession…if we don't have a spot for everything, it will find a home on our kitchen table. We can't be the only ones with a kitchen table that doubles as a mailbox, right? Our solution, make sure everything has a spot so it can't pile up all over. Called to Wander uses simple ikea shelves over the sink for their soaps, which keeps them off the countertops. Any chance you get to put up some shelving, do it! It can add to the decor while keeping clutter at bay.
30. A Pretty Little Rug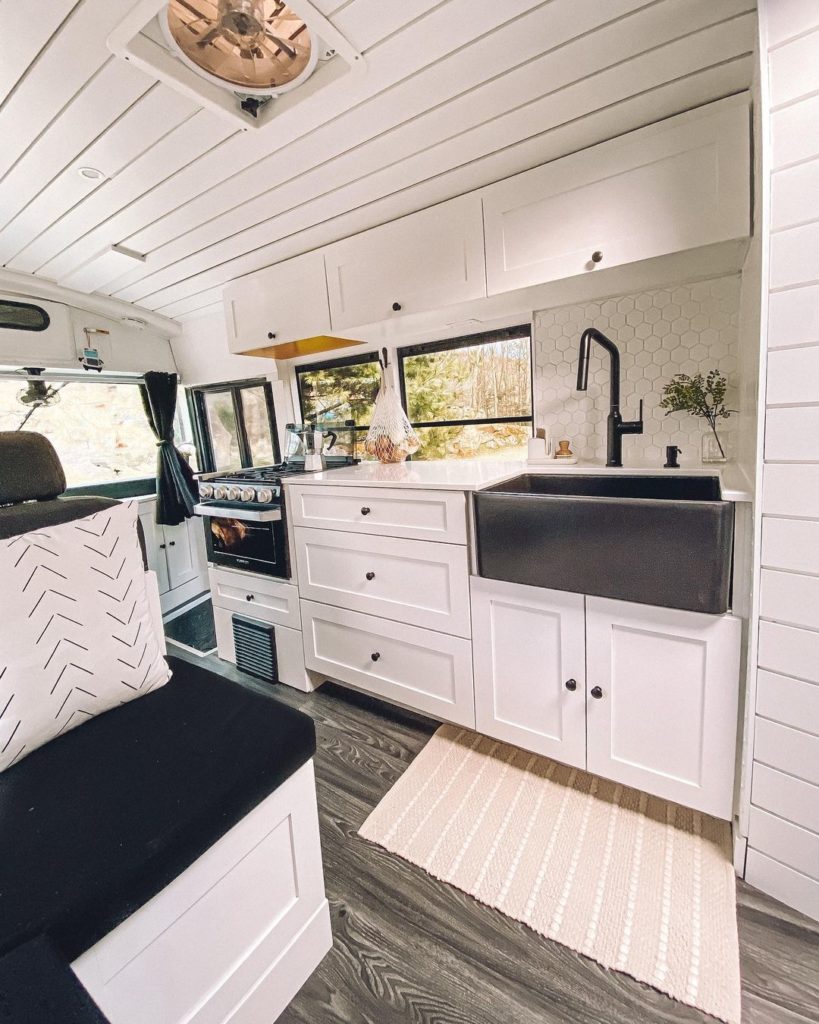 Rugs can make a space. They add color, texture, pattern, and are never a bad idea. Finding the perfect rug can be difficult for a camper, especially a small camper when space is at a minimum. But when you find it, that rug will complete your look. @ourvanquest uses a rug in front of their sink and it's perfectly sized for the space. A stylish addition to your design that's as easy as shopping on Amazon.
If you're anything like us, the idea of remodeling an RV is just plain overwhelming. Never ending projects. You're already busy. Maybe kids are running around and it's impossible to get anything done. You are most certainly not alone. We're right there with you and that's why we looked for only the camper decor ideas that can be done in short order. Like an hour or less. We felt all these ideas fit the bill while making an impact. But we want to hear from you.
Which of these camper decor ideas do you most want to try?
And check out these other top RV posts
[grid_plus name="RV Grid"]