How often do meals for kids and meals for adults really line up? The things you most enjoy probably aren't chicken nuggets and applesauce. Though who are we kidding, we're known to enjoy a bowl of mac n cheese from time to time. But camping can be a little different. We searched high and low to find tasty and easy camping meals for kids, that we as adults also enjoy eating. This list includes meals we prepared during out recent camping trip, along with some of our favorites from other camping families. And boy do we recommend planning your meals in advance. It will make your trip go much smoother.
Naan Pizzas
These are one of our favorite meals that we cook at home, so naturally we brought it along for camping. Reasons we love naan pizzas:
You can experiment with different toppings so everyone in the family can put their own spin on it. Though, our go to is pesto, mozzarella, and tomato (sometimes with sausage). Adult and kid approved.
They are super low effort. Here's the recipe: Buy naan bread. Buy toppings. Assemble pizzas. And throw them on the grill (or in this case – over the campfire).
The kids can participate in the cooking process. Our 4-year old loves to make them because she gets to put her own toppings on. And then eat the fruits of her labor. Plus, we're very pro camping meals that are hands on for kids.
Breakfast Burritos
If you have the time to plan ahead, this one is a real winner. Of course you can assemble them at the campsite too, but it will make your life 100x easier by preparing in advance. You can use any fillings you want (and we do, which is why I don't have our own recipe to give you) but a good place to start is this recipe from A Thrifty Mom. One tweak we usually make is for the meat mixture we combine italian sausage and chorizo. But the beauty of it, you can use whatever you fancy – even bacon is a delicious option. In a nutshell, our process (or really Nana's process as she's the breakfast burrito chef) is to cook the meat, cook the potatoes, cook the eggs. Mix it all together with some cheese. Stuff and roll up the burritos. Wrap in some aluminum foil and store in a gallon size ziploc bag. Freeze them until you're ready (they also did fine stored in our cooler with ice until we were ready to eat them). Then you can heat them up over a grill or campfire. Mmm a delicious and easy camping meals for kids (and adults!).
Pancakes with Mason Jar Blueberry Sauce
Here's another semi-make ahead meal. One of our favorite recipes for blueberry sauce is from Hungry Enough to Eat Six. Prepare their easy blueberry sauce recipes and store it in a mason jar (synonymous with camping). When you're in the wild, we throw together some bisquick pancakes. You could also mix up your own with eggs, flour, sugar, milk, etc. but we're about taking shortcuts where to can to lessen the ingredients you need to bring.
So grab some pancake mix and whip them together. Cook them over the fire on a skillet or frying pan – whatever you have. And then heat up your blueberry sauce in a saucepan over the fire. Voila! A delicious and kid friendly camping breakfast.
Camp Pies (AKA Pudgie-Pies)
Call us traditionalists, but you can't go camping and skip the camp pies. This is one camping meal your kids will go crazy for. And it goes kind of like this:
Purchase a campfire cooker (this is an integral part of the process). If you want to make a bunch of pies fast, you can get multiples, but honestly we only used one and I think that's all you really need.
Purchase pie fillings and bread: cans of apple pie filling and cherry pie filling are probably the most popular
Don't forget to bring the can opener with you (unless you have some real boy/girl scout skills to Macgyver the can open)
When you are ready to make the pies, the two important first steps: season your cooker by letting it rest in the campfire for 5-10 minutes. And afterward spray both insides of the cooker with some spray butter or oil (and actually this should have been on the grocery list above). If you forget this step, you'll have some sticky messy pies.
Put two slices of bread in the cooker and your choice of filling in between. Close up the cooker and set it in the campfire to cook. You can periodically check and when it's toasty, golden brown looking, it's done!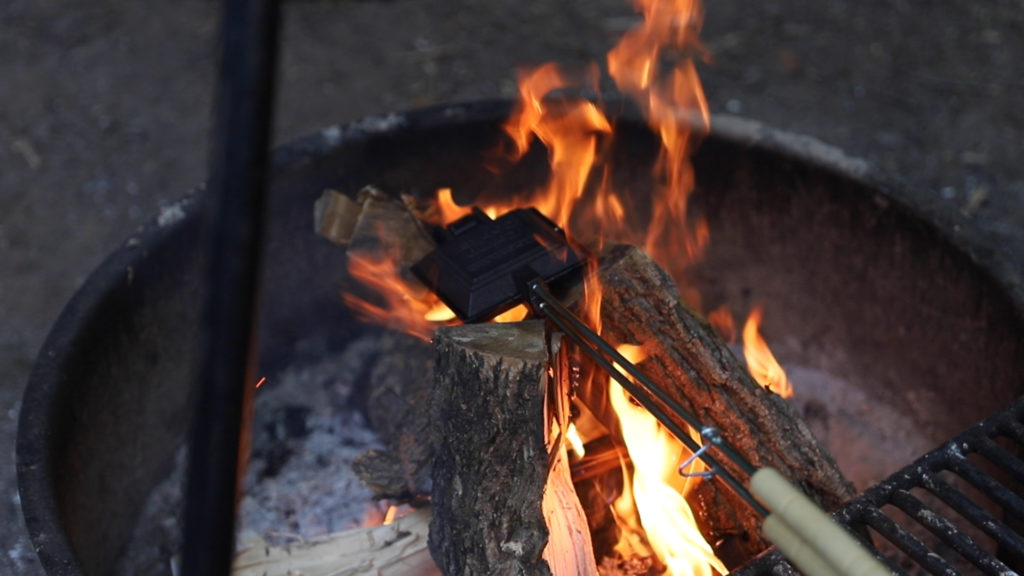 This is another recipe kids love to help with. And it's incredibly easy. A twist on this – especially if you're not sure you want to buy a camp cooker for one meal – is to use pizza toppings instead of pie filling. This will give you a nice little pizza sandwich, perfect for lunch or dinner. You could also use this for a good old fashioned campfire peanut butter and jelly sandwich.
Sausages with Campfire Mac-n-Cheese
To be honest, we don't have a lot of dinner recipes on our list because we ended up grilling burgers, sausages, chicken, insert meat, etc. most nights. But the sides are where you can get creative. We did foil packet cheesy potatoes with some grilled italian sausage.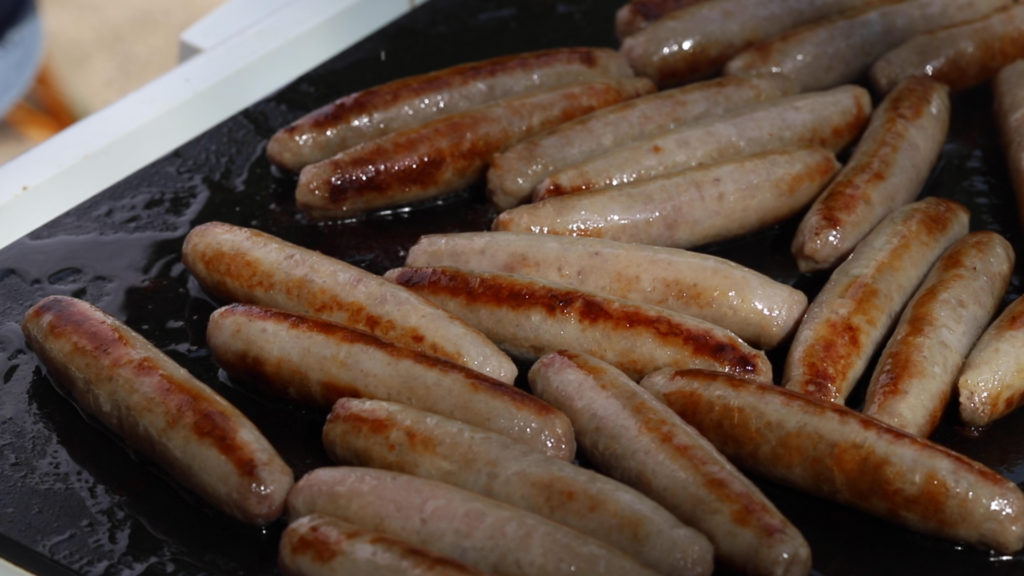 But we also love the idea of campfire mac n cheese – which will no doubt be a hit with the kids. This recipe by Laurens Latest can be made ahead and we love that they are stored in individual pie tins. It makes it easy to heat them up and you can get out as much or as little as you want during your meal.
Patty Melt Burgers with Chili Cheese Fries
A summer cookout staple: burgers and fries. We make ours with bread instead of buns because bread can be used for a wider range of food. Bring along some pre-assembled burger patties along with your preferred toppings. This is also a chance for you to get fancy: avocado, basil. Who said camping had to be unhealthy? Well we're about to get a little comfort food-y because we serve it with some foil packet chili cheese fries.
You take some foil and spray it up real good with your cooking oil. Toss some fries in, fold it all up, and cook. After the fries have cooked, you can pour on some chili and cheese and cook for a bit longer. Then boom! They are ripe for the picking. Of course, you can see the full run down here from The Kitchen Magpie, which is where we got the recipe. Bonus tip: bring along some pickled jalapenos and after you separate yours from the kids, throw a few on there.
Monkey Bread
Have you ever had this stuff? I mean the oven-cooked version. It's delicious. And to be straight, when we were looking at dessert options on the ol' camping meals for kids list, a lot of them were super involved. Like we aren't going to bring our entire pantry camping with us. I came across this monkey bread recipe by Say Not Sweet Anne and love that it requires less than 5 ingredients. I think traditionally monkey bread is a brunch type meal (and if not, heck, you're camping so go ahead and eat it for breakfast). But if you are celebrating a special occasion while camping, this can be made in place of the traditional cake. It's really easy and guaranteed to be kid approved.
Campfire Cones
Another of the fast and easy dessert options that is perfect for camping. And this is one of those hands on recipes for kiddos. You start with an ice cream cone. And then you fill it with any and every one of your favorite s'more/candy toppings.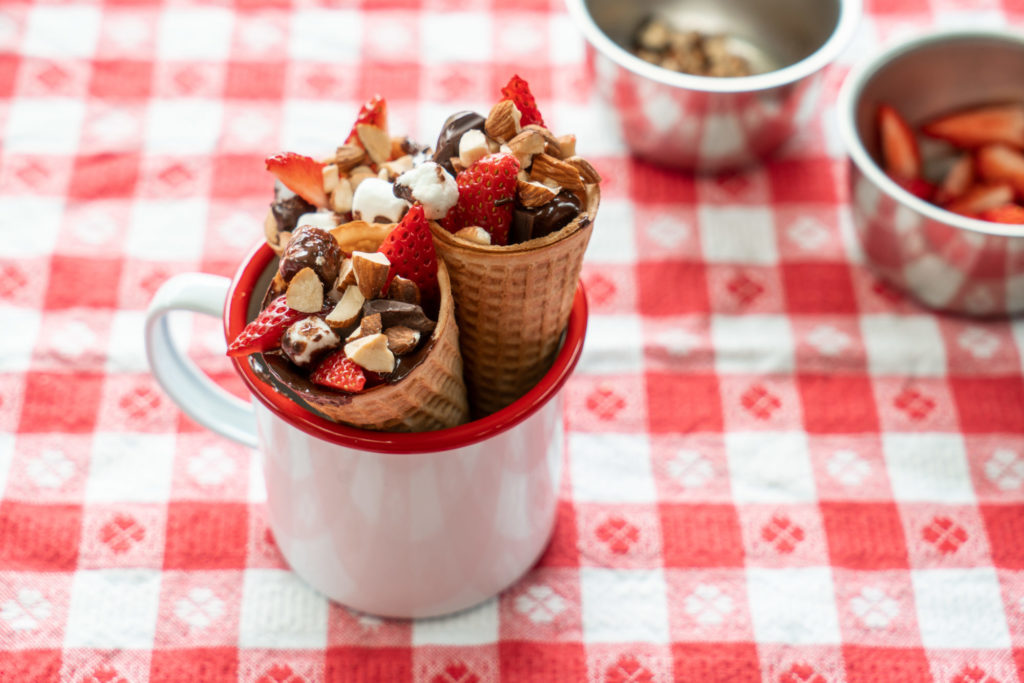 If you're going the s'more route, fill it up with mini marshmallows and chocolate chips. But you can also go off grid and fill it with other things like M&Ms, crumbled Oreos, peanut butter cups. Or you can healthy it up and put some bananas, blueberries, strawberries, raspberries, etc. in there. I'm not sure we would sugar the kids up with this every night, but it's a fun special treat for them. Wrap the cones in foil and cook over the campfire until melted. The Girl Who Ate Everything has a nice recipe page.
Grilled Pigs in a Blanket
Maybe it's the name. Maybe it's the hot dogs. But our kids love pigs in a blanket. And it makes for a good camping meal because it changes up your standard grilled hot dog. If you are staying longer than a day or two, you'll probably be eating a lot of grilled hot dogs.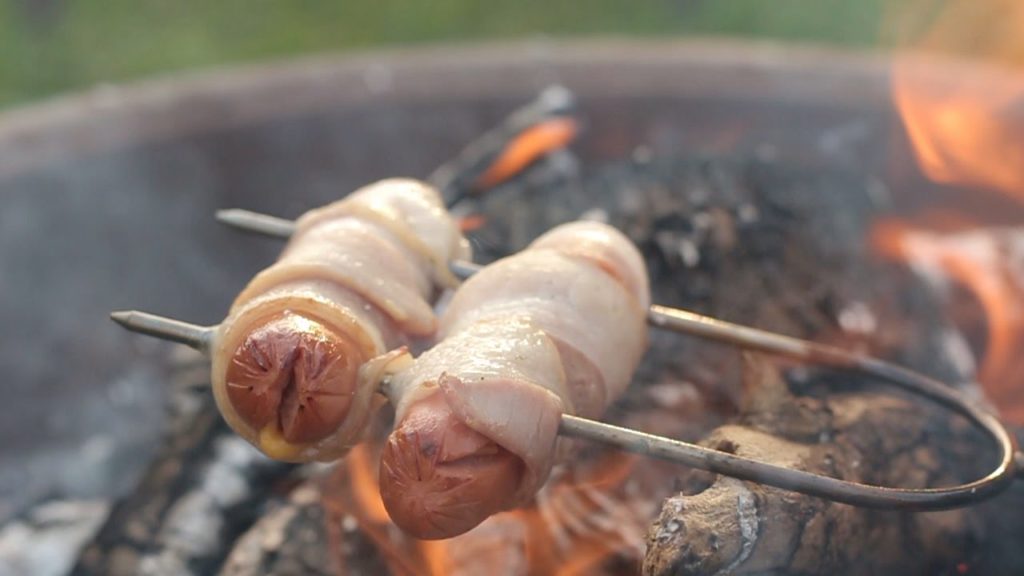 The Dyrt has 8 ways you can make them (apparently there are that many different ways).
Leftover Campfire Quesadillas
If you can't tell – we are all for camping meals for kids that also involve you choice of toppings. And campfire quesadillas fit that bill. Here is one recipe by Dirty Gourmet, but really you can use whatever toppings you would typically put in a quesadilla. The only essential is tortillas and cheese. But this also makes the perfect end of the trip recipe to use up your unused ingredients (you know, the everything but the kitchen sink approach). Top a tortilla with cheese and whatever leftover food you have: bell pepper, lunchmeat, onion, salsa, beans. Fold it up in a nice foil packet and cook over the campfire until nice and melty. And now, less you have to bring home!
Fudge Striped Cookie S'mores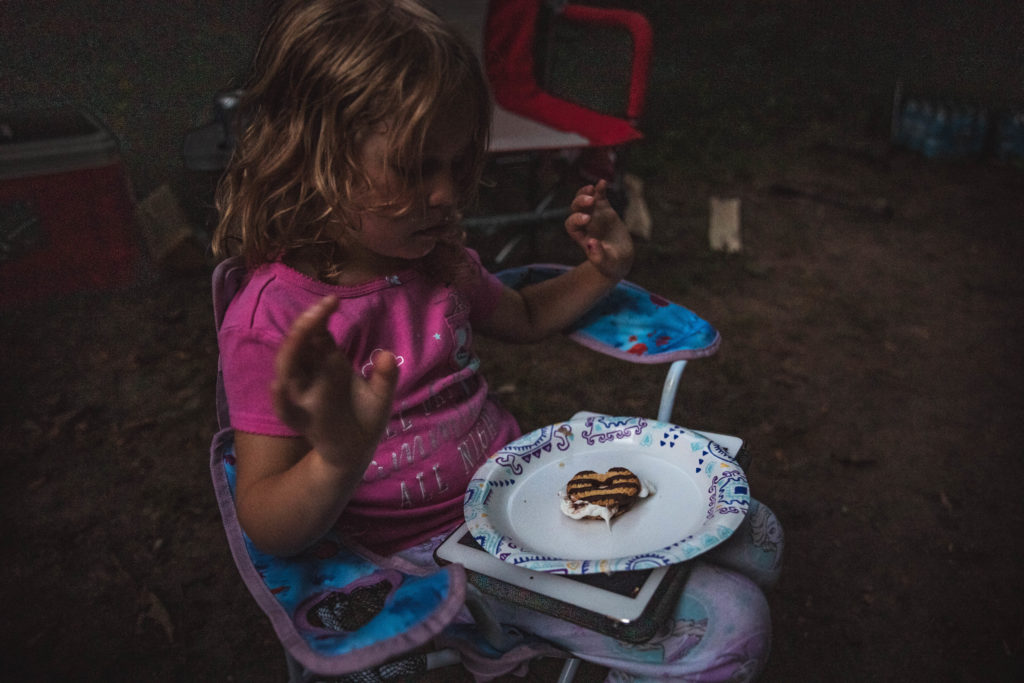 Back to dessert. And this one is super easy that no recipe is even required. It's a take on the classic s'more. You started by cooking your marshmallow over the fire until it reaches the desired level of doneness. Completely charred is typically our recommendation. And then place it between two fudge striped cookies. Yum yum! Kids love it, but keep the wipes nearby because this one can get messy.
Swirl Bread French Toast
Moving right back in to breakfast, this swirl bread french toast is something I wanted to try, but we just didn't have the time. Though I figured I'd share anyway because it's a great camping meal for kids. Check out Potato Rolls for the full recipe.
But to give you the cliff notes, you place a loaf of bread in a foil packet and then over the bread you pour a mixture of eggs, milk, sugar, vanilla, and salt. Most of these ingredients you are probably already bringing with you. And I'm sure you could leave the vanilla off. Wrap it all up and cook it over the campfire for 40 minutes. You can serve it with some fresh fruit for a little extra pizzazz.
Walking Tacos
Is there any better way to prepare a taco? Ok yes, but this one just happens to be super convenient AND delicious. Which is the combination you're going for while camping. Plus, kids go crazy over it. Adventures of Mel has a nice recipe. And if you don't want to chop up a bunch of ingredients, you can use as many or as little as you want. You could even make these with just ground beef, salsa, and shredded cheese if you don't want to do any chopping. The fact that it's served in a bag of chips alone is enough to make this one of the most popular camping meals for kids (hand-picked by kids).
Banana Boats
If your kids tend to eat one too many s'mores, sneak some fruit in by using a banana. It's pretty simple and you can even use ingredients you may already have on hand.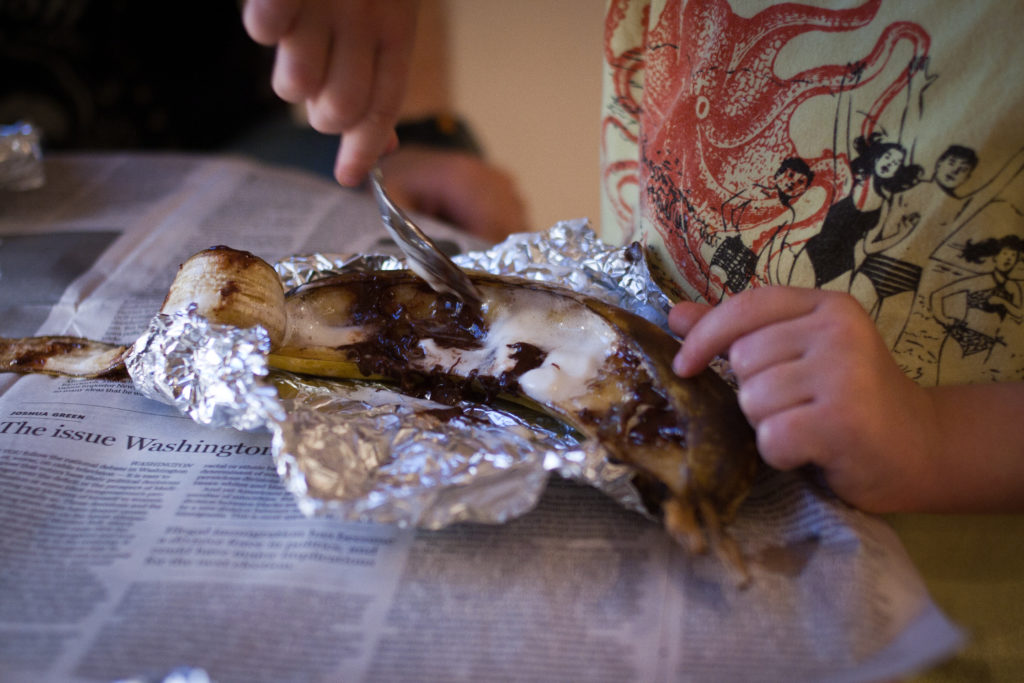 The technique here is to take a banana with the peek still on, cut it down the center, and stuff it full of yummy ingredients. Then wrap it in some foil and cook it on a grate over the fire. Fresh Off the Grid has alot of flavor combinations that will make your mouth water (currently dreaming of the Strawberry Hazelnut). They even recommend the double stuffed banana boat. And while tempting, try not to stuff in too many toppings. It will create a big ol' mess after everything melts and overflows (speaking from experience on this one).
Chicken and Waffles
It may not be your traditional camping meal, but chicken and waffles is an easy camping meal for kids because, well it involves waffles. Sneak some chicken in there to turn this into a dinner option. For the chicken all you need to do is season and cook (on the grill, over a grate on the fire, or a skillet).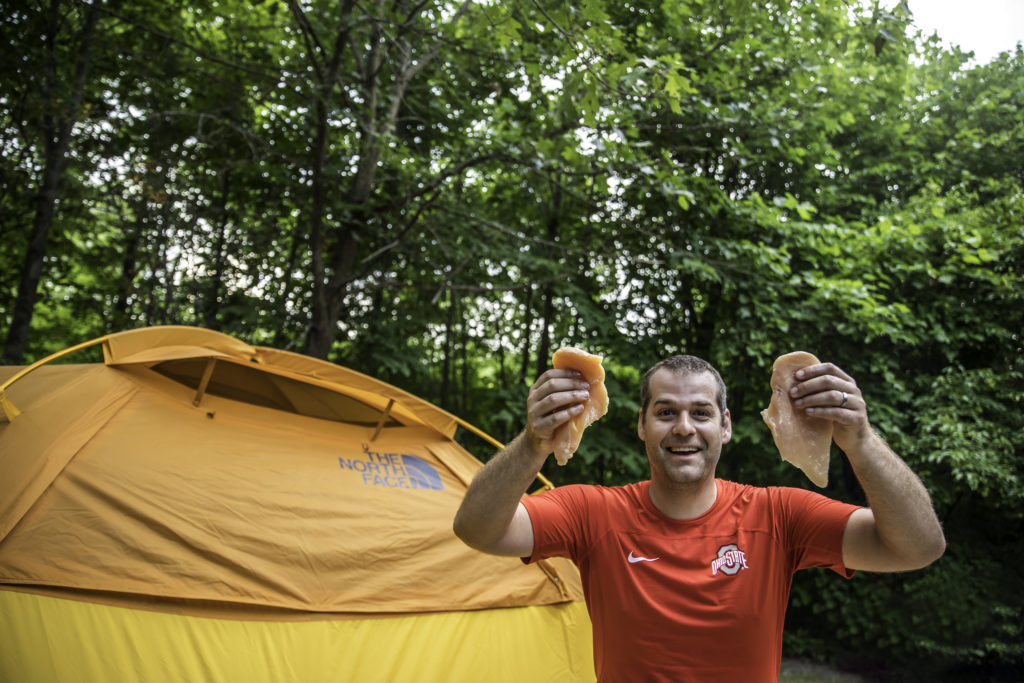 For the waffles, if you have a waffle iron from home and a camping spot with electric, bring that. To do it the campfire way, use one of these campfire waffle irons. For the waffle batter, you can prepare your own using a recipe like this one from Wild Tide or use your pancake/waffle mix for the quicker method.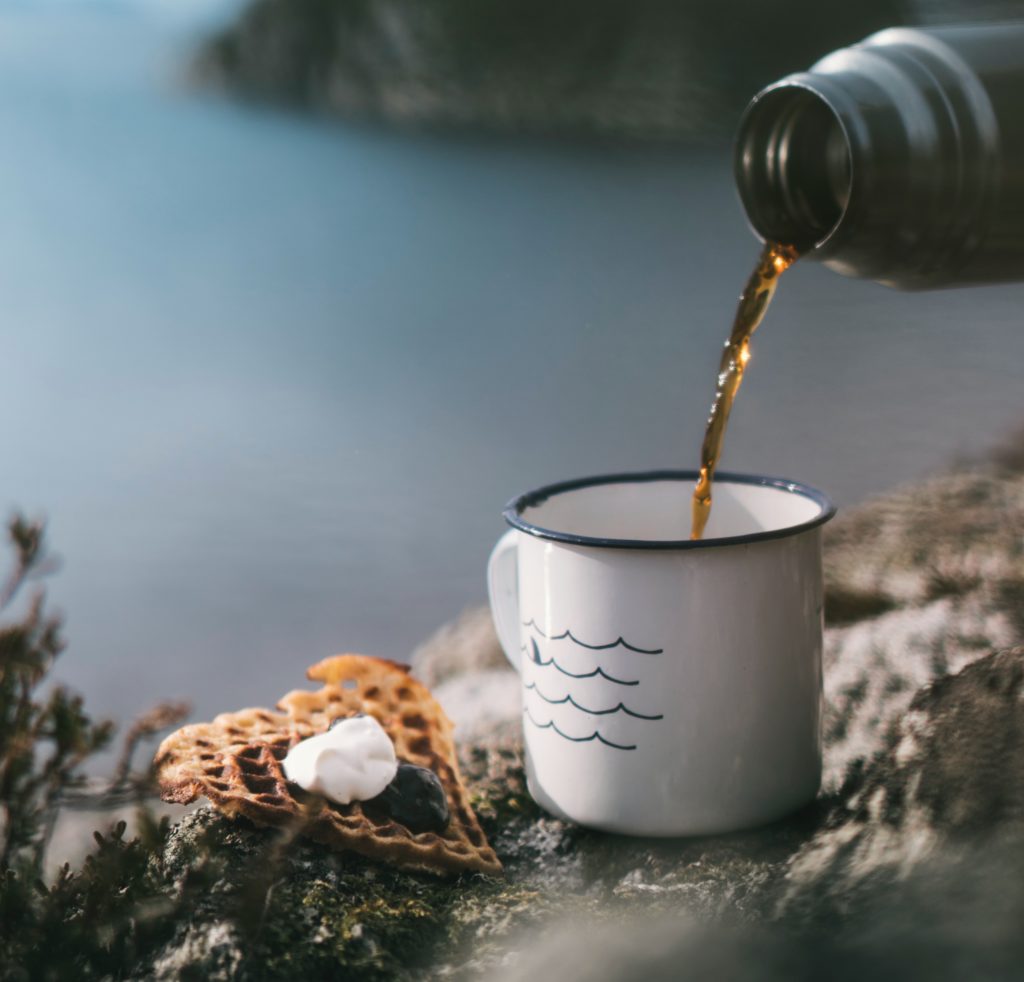 Your waffle maker can even double as a cinnamon roll maker using this recipe from Dirty Gourmet.
What is your go-to camping meals for kids? Do you like to stick to the classics or experiment with different culinary masterpieces?
For more on camping with kids: check out the 14 things we learned camping with toddlers for the first time.