The toddler age is arguably the most challenging time to fly with kids. They're nailing the whole walking thing, so they don't want to sit still. Instead they'd rather show off the newly acquired skill to half the plane. Plus, they're becoming social butterflies and want to see literally everyone but you. But don't let that discourage you. You can absolutely crush flying with a toddler. It just takes a little more preparation. So we've assembled our list of the best travel toys for toddlers that will make you plane ride "fly by" (couldn't resist).
By the way, with two kids of our own and over 100 flights, we've tried TONS of toys. Literally, our home looks like a freakin' plastic factory exploded in our living room. But if you're reading this…. surely you can relate. These toys made the short list for their ability to keep them busy and fit inside a carry on bag.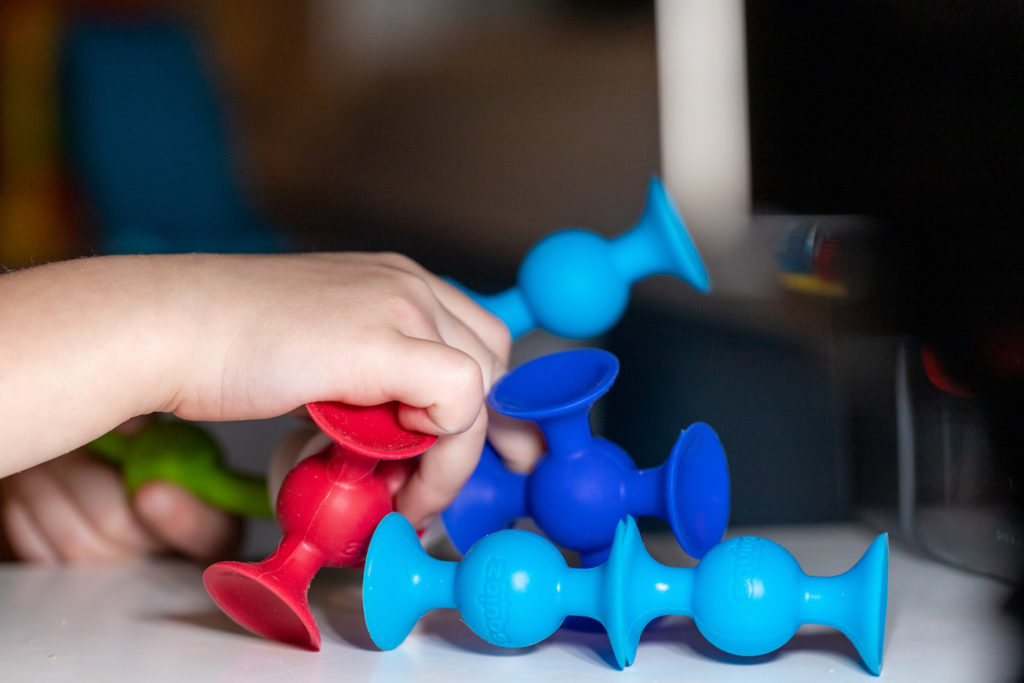 Building toys aren't typically thought of as being airplane friendly. They get lost in the black hole of your bag. And yes, they roll off the tray table six rows back – gone forever. That's where Squigz come in. They use suction to stick together (and are really easy for a toddler to pop on and off). So your kiddo can build on windows and tables. And because of all the creative ways you can use them to bend, build, and plop, they keep em' entertained for a good percentage of the plane ride. Once you get to your destination they also work for hotel rooms, bathtubs, and restaurants.
We literally bring these things on EVERY plane trip.
There's just something about buckles that toddlers can't resist. Perhaps cause-and-effect plays a part. Along with the fascinating click sound, according to this article. This buckle toy doubles as a backpack, which takes it to the next level.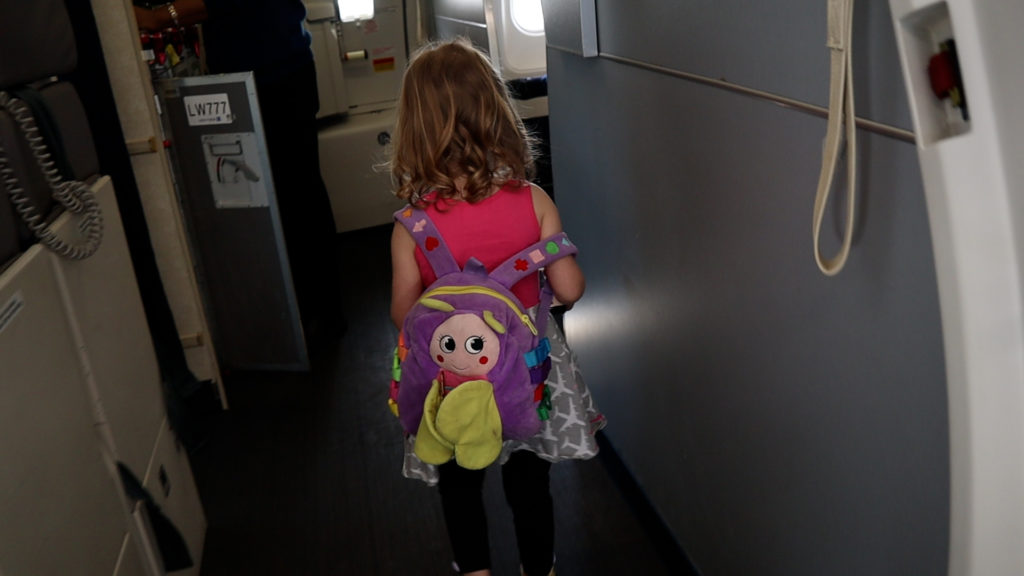 While all the travel bloggers are over here using the trendy Fjallraven backpack, we've been rocking this backpack since our little girl was just over a year old. And for awhile there, it's all that would entertain her on the plane. It's simple, it's durable, and it buckles. Three years later, not only does our 4-year-old still use this backpack, but we now have the green backpack for toddler #2.
Bonus tip: tell your kids they can fill their backpack with the toys they want to bring. And draw the line there. One of the best travel toys for toddlers because it's also very practical.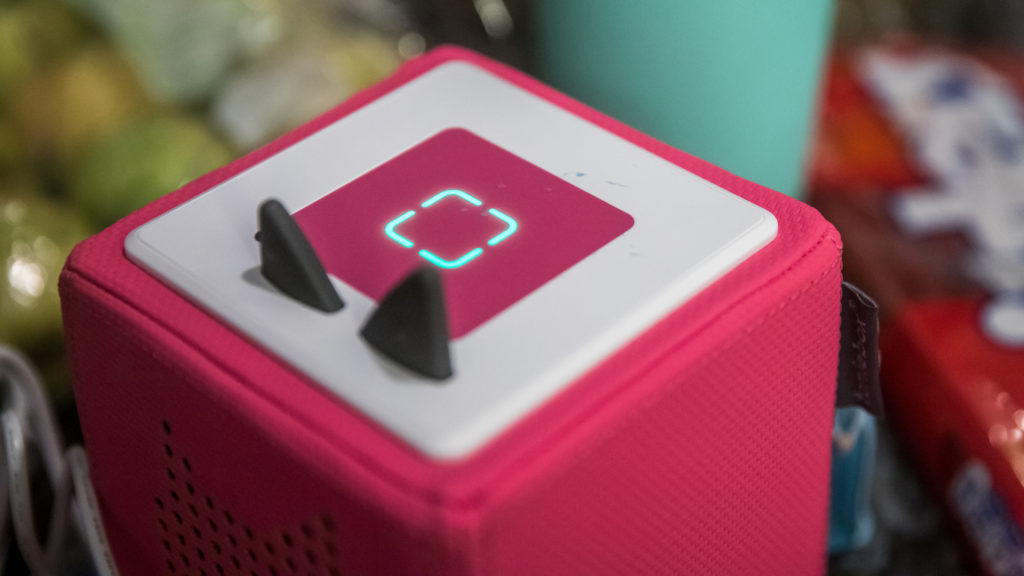 Music and story time without the screen? That's Toniebox in a nutshell. You get the box (in your choice is color of course) and then you can get all kinds of different characters to go with it. Most come with at least one character to start.
Each character has some songs and stories. You set the character on top of the box and it starts playing. Super simple and no wifi needed after the initial set up! It's also compatible with headphones if you don't want the music blaring for everyone to hear. Great for planes, cars, hotels, RVs. Wherever your travels take you.
Fun tip: get one of the creative tonie characters and you can record stories, messages, and songs in your own voice for your kiddos.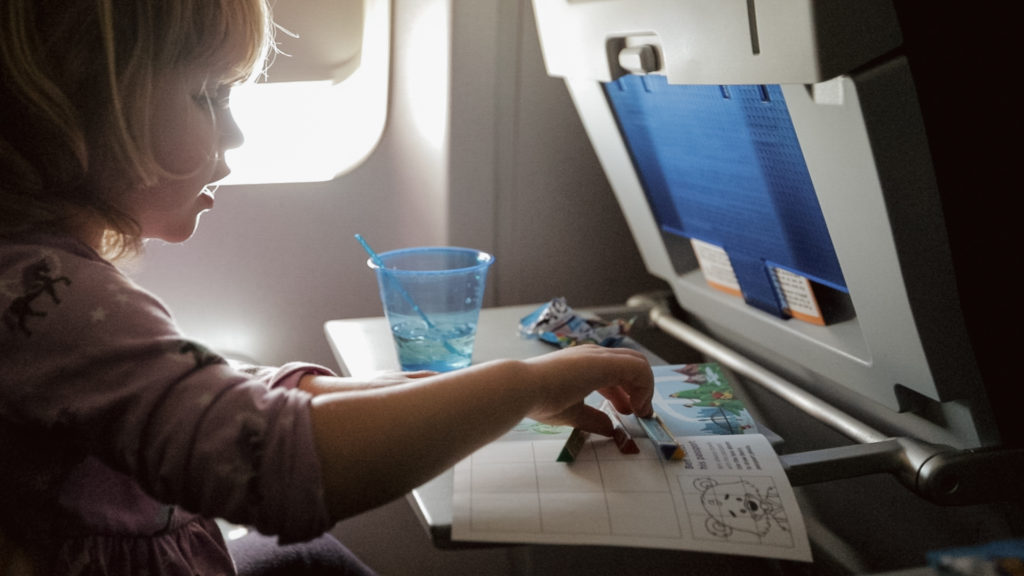 Crayons are the easy, go-to activity for parents. All toddlers love crayons. But they roll around and get lost. When we first found out about triangular crayons, we were sold. They are perfect for airplanes, cars, restaurants, wherever you don't want crayons to roll away. There are several different brands, but we love Crayola for their toddler sized grip. Worth it.
Fun Fact: These crayons were "free" for us because they came in the Ben Flyin' kids snack box we bought on some previous flights. And the coloring book, too. Kinda genius…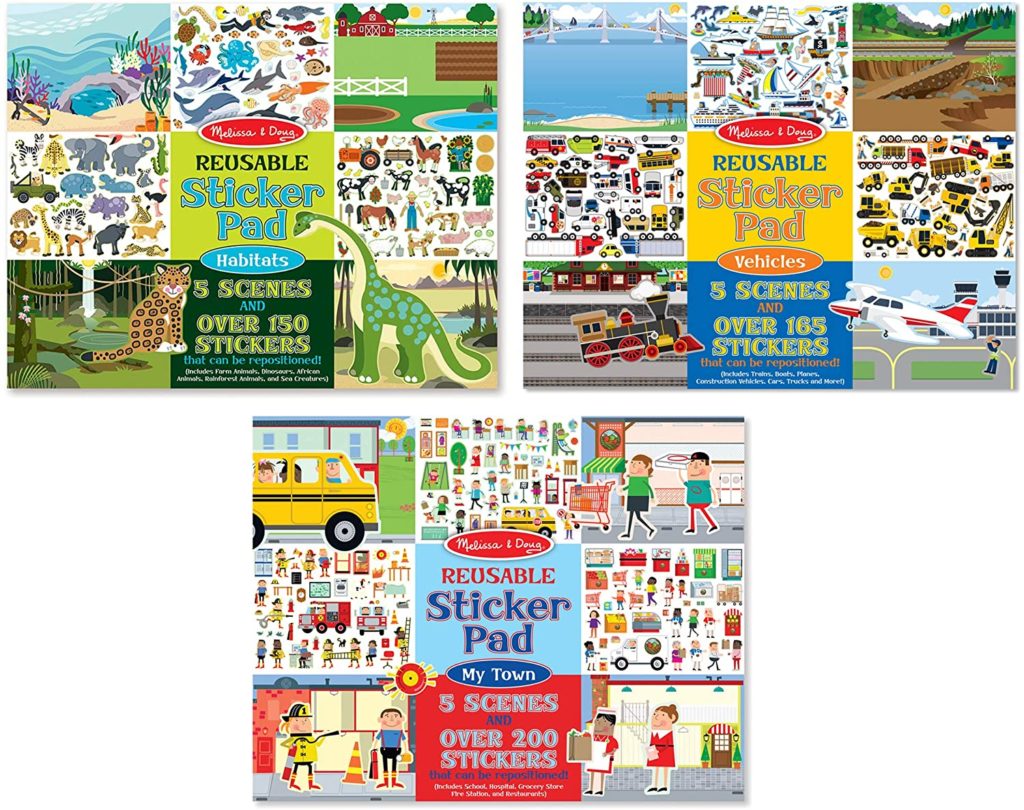 Have you ever tried to peel stickers off an airplane window? I can confirm – not a fun task. Skip the standard stickers and go directly to reusable stickers. We've always used the Melissa and Doug sticker pads for the sheer amount of stickers you get. And they never fail us. No more tediously scraping stickers from every airplane seat nook and cranny.
If you have a car lover like we have a car lover, this one's for you. It's a play mat (that doubles as a storage bag) with roads and a town scene. It comes with 9 soft vehicles that crinkle and rattle. A good choice for younger kiddos without all the added lights and noise.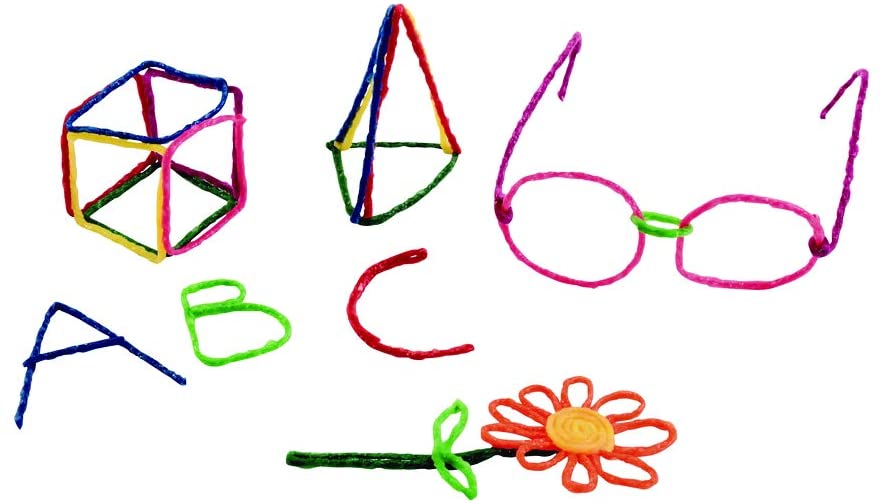 Little sticks of wax as a travel toy. Who knew. These little sticks can be bended and molded to form all kinds of creations. They stick together just enough, but are easy to tear apart so they can be reused – keeping your toddler busy for hours (or at least minutes). An inexpensive, mess free travel toy that comes in a convenient case.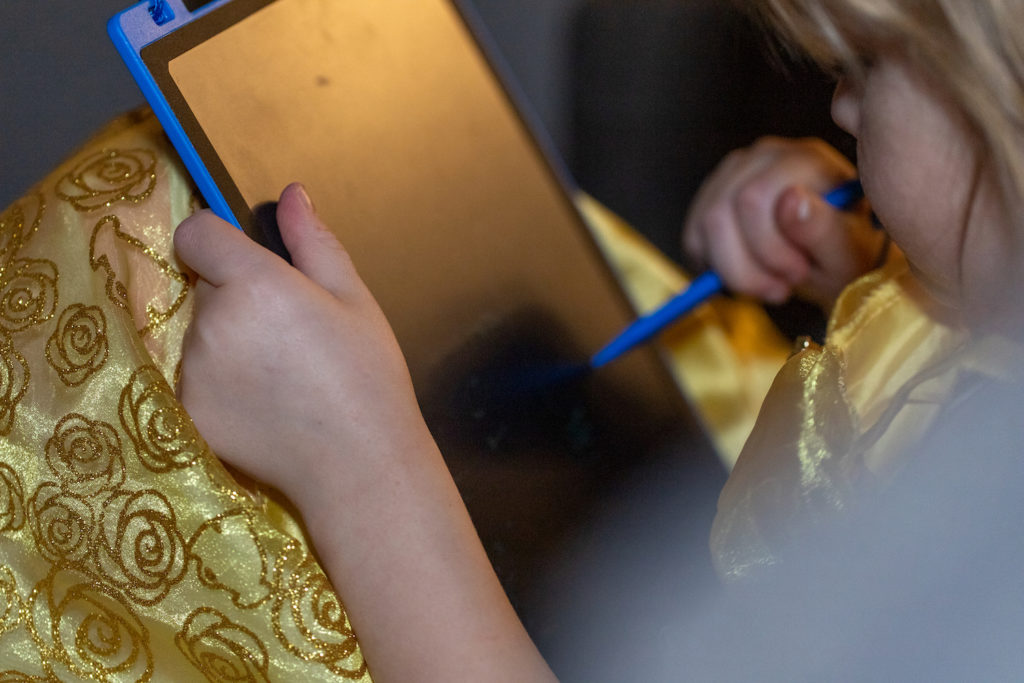 Art class without the mess – this is one of the best travel toys for toddlers. It's slim, incredibly lightweight, and doesn't require a charge (like an ipad). We've done the dry erase thing, but the markers are messy and not as easy to clean up.
With this tablet, kids draw and then with the press of a button, the screen erases and you're back to a blank canvas. Toddlers can use it over and over again. There are lots of brands out there, but we like this one because the stylus can be attached so you don't lose it. And it comes with extra batteries.
Crayola Color Wonder is another mess free option, but the downside is that you'll have to keep restocking the special paper.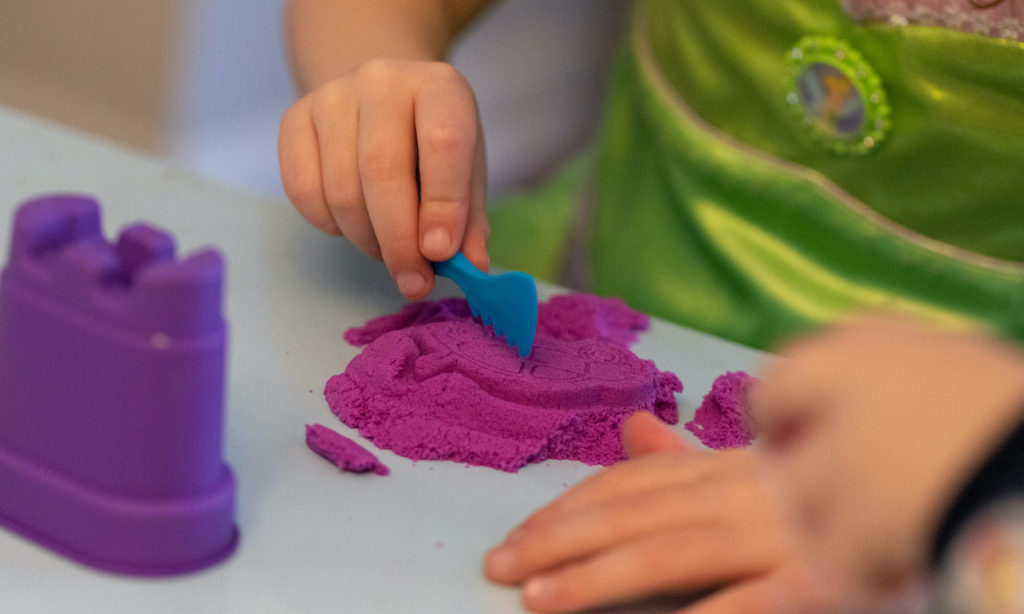 I debated including this one because it has the ability to entertain for long periods of time. But it also has the ability to end up on the floor of the plane. You've been warned. But I chose to include it because we've always had positive experiences keeping it off the floor. It's kinetic sand so it sticks together and comes in a handy travel container. If the idea of putting this on the tray table makes you cringe, just give it a good wipe down before playing.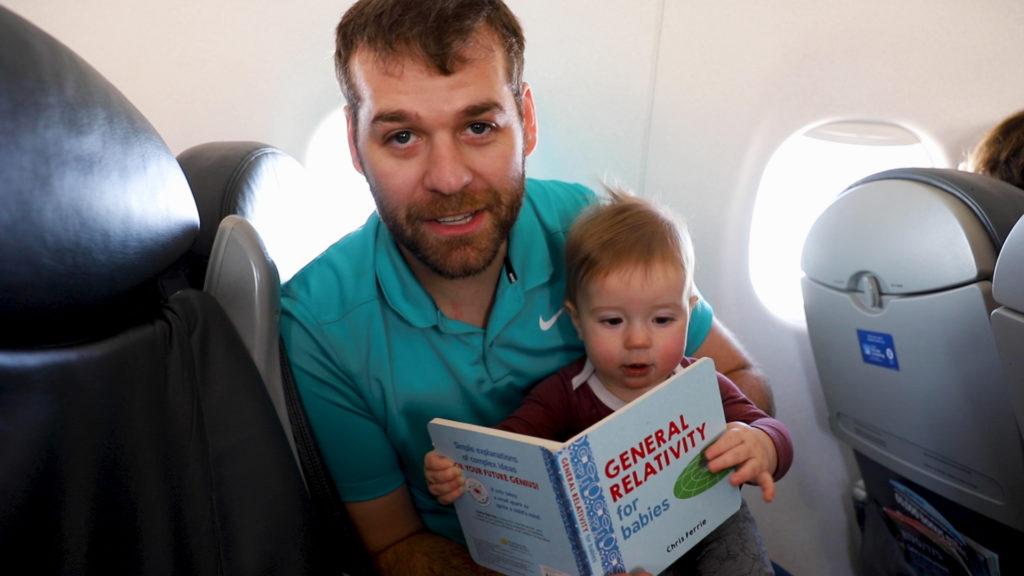 Books are one of the best travel toys for toddlers because they can easily fit in a bag, they're durable, and kids love flipping through the pages. The Little Traveler Board Books are some of our favorites. But just as easy to grab whatever you have at home.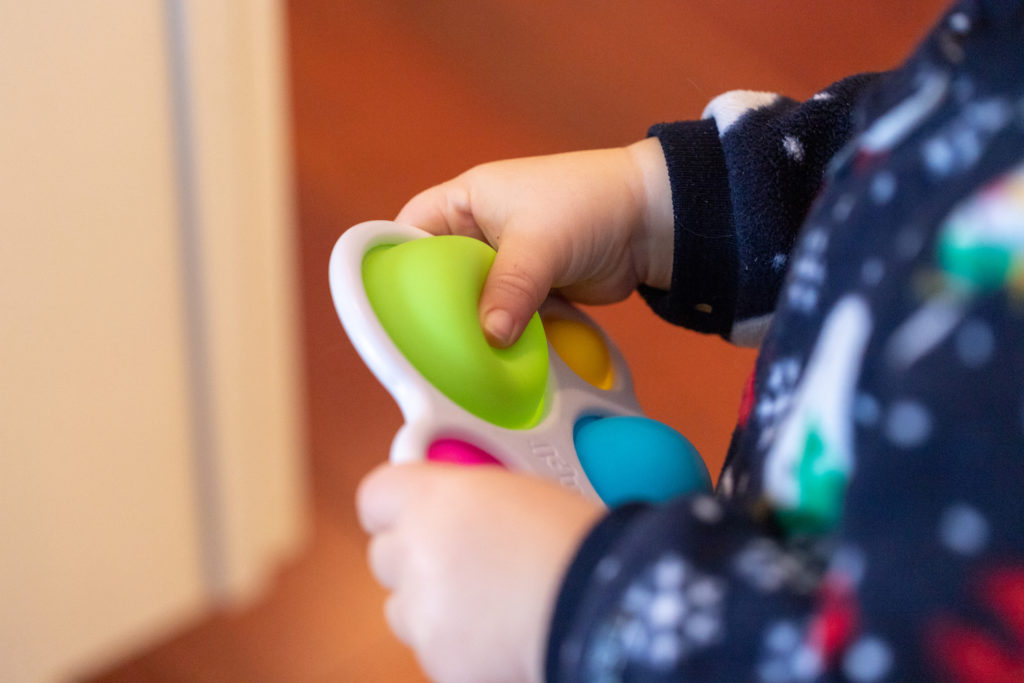 Sometimes the simpler, the better. One of the best travel toys for younger toddlers is the Dimpl. In a nutshell: it's a small silicone toy with colorful bubbles that you push and pop. And for small toddlers that can't yet do…much, this is the perfect take along toy. We gave it to our 1-year-old for long car rides (like 7+ hours) and it kept him busy for shockingly long periods of time.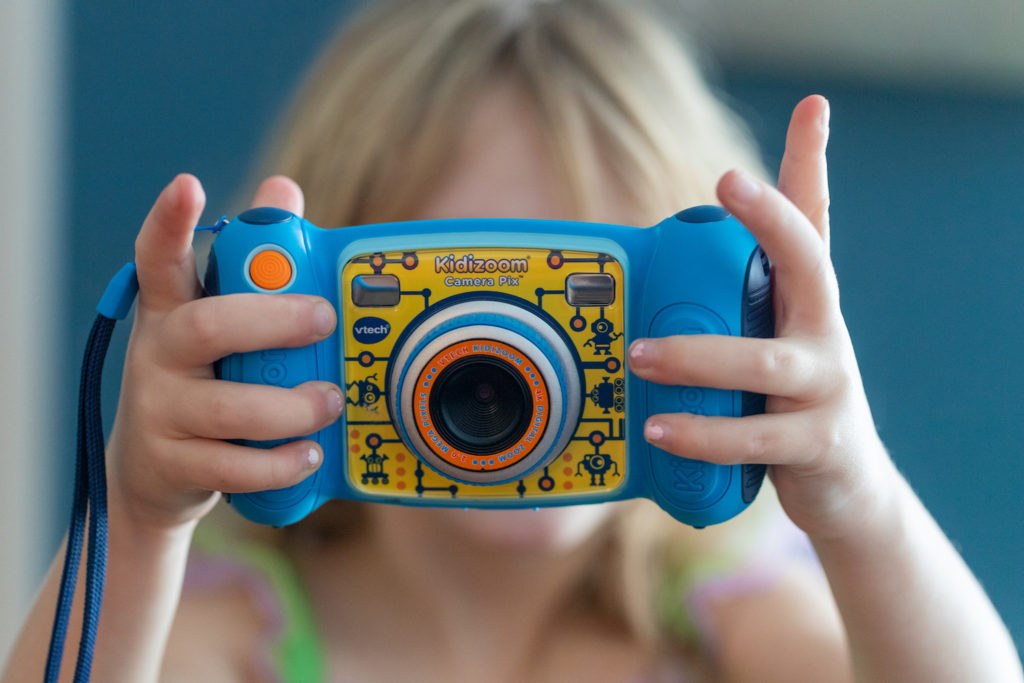 For little budding photographers, the Vtech Kidizoom Camera makes a great travel toy. It's a real working digital camera. And has some fancy functions like games, selfie mode, photo collages, and a voice recorder. It'll keep them busy during transit and at your destination.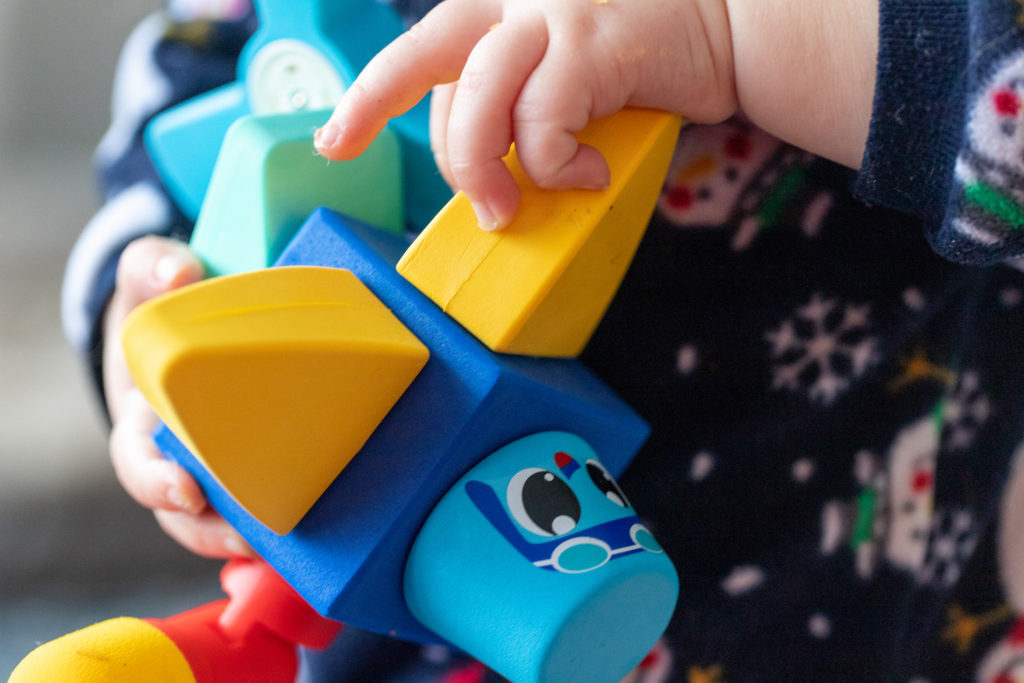 This is a good toy to not only keep your toddler entertained on the plane, but also get them excited about riding in an airplane. Blockaroo makes these soft, magnetic blocks that pop together with ease. They come in all kinds of themes, but of course, we love the airplane set for upcoming trips. Each set comes with 10-15 large pieces, which is nice for toddlers of all ages (and they are harder to lose). Great for imaginative play to keep them busy. And they can even go in the bath when you get to your destination.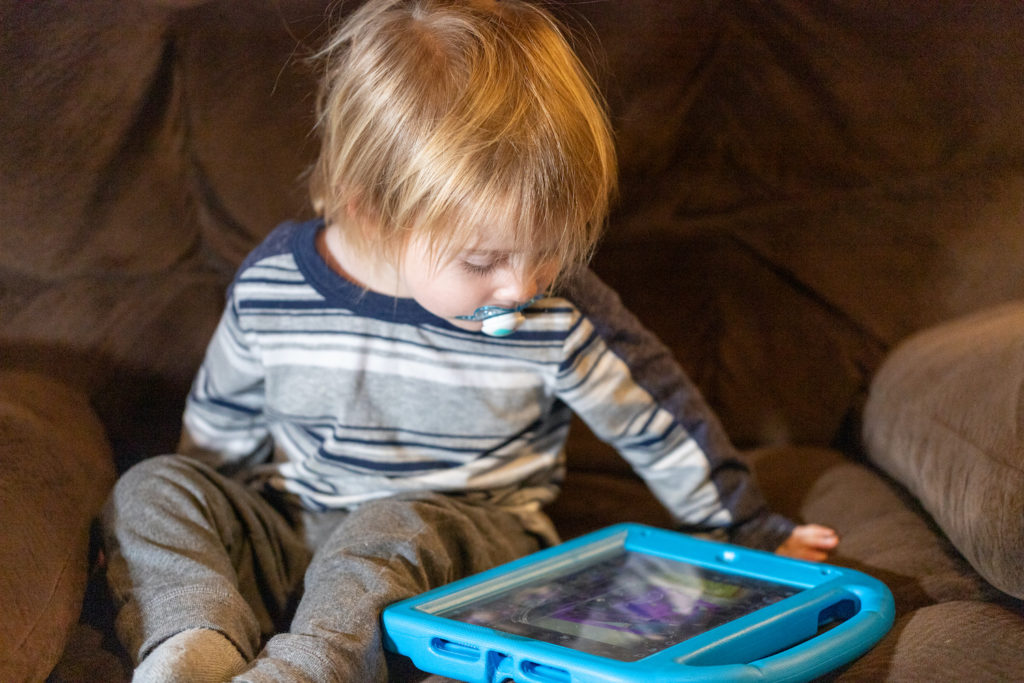 Some love tablets, some try to avoid them at all costs. We use them when we fly so I'd feel horribly hypocritical not including them on our list. We use iPads and my biggest recommendation would be to invest in a quality case. They get tossed around quite often during travel days, so it's worth it to have a handle and screen protector. This one we use also has an adjustable built in kickstand. Maybe its just the mom in me, but I cringe watching their little necks slumping over, and the stand helps.
Many people prefer the kids editions of the Amazon Fire tablet for the lower cost. The Fire tablet is also compatible with Netflix, Disney+, etc., making it a more affordable option.
What are some of your favorite plane toys for toddlers?
Let us know what you've tried!
If you enjoyed this article, you may also be interested in
✈ Family RV Trips For Kids Who Love Being Outdoors