It sounds pretty easy. You buy a tent. You pack some food. Dust off your sleeping bags. And you're all set. Let's just say – if you're going tent camping with toddlers or a baby, or heck even older kids, it's not that cut and dry. When we first decided to go camping (not RVing, but actual tent camping), these were some of the comments we got:
You'll do fine

Good luck – I'm sure the kids will do great

Just bring lots of snacks
We're used to this kind of commentary; after all, it's why we started this Family on Standby in the first place! We were thinking this is no different.
So, what did we learn from tent camping with toddlers?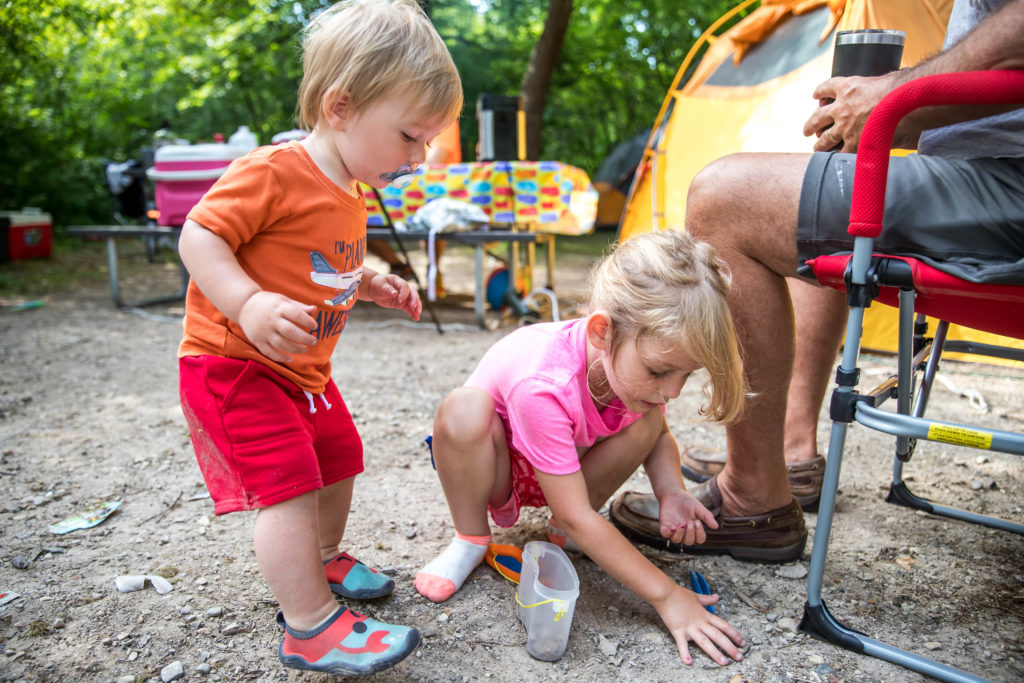 I mean maybe I was just naive about the trip (it had been years since either of us had been camping), but it doesn't exactly put you at ease when people make these comments to you. I was thinking it would be a nice relaxing getaway and then shortly after those comments, the fear set in a little bit and I went into research mode. And that absolutely is not meant to scare anyone out of camping with toddler aged children, because we went and we had a blast! But it also wasn't "kick your feet up and relax the whole time" status either. There were some tips we learned while camping with our kids that I want to pass on to others in the same boat – or in this case, tent. By the way, our kids are 1 and 4 years old if that helps.
1. Have a plan to stay cool
This one hits the top spot for a reason. And you don't even have to be camping with toddlers for this to apply. This is for literally everyone going tent camping in the middle of the summer or let's just call it temperatures above 80 degrees. You need, need, need a way to stay cool. Whether that's a portable fan or a blow up pool or a lake front campsite. It doesn't matter. If there isn't room in your car, move something out to make room. Our campsite was in a wooded area with lots of shade so we thought we'd be good. Turns out, we thought wrong. Full disclosure: recency bias may be playing a role here as all I can remember is the blazing heat.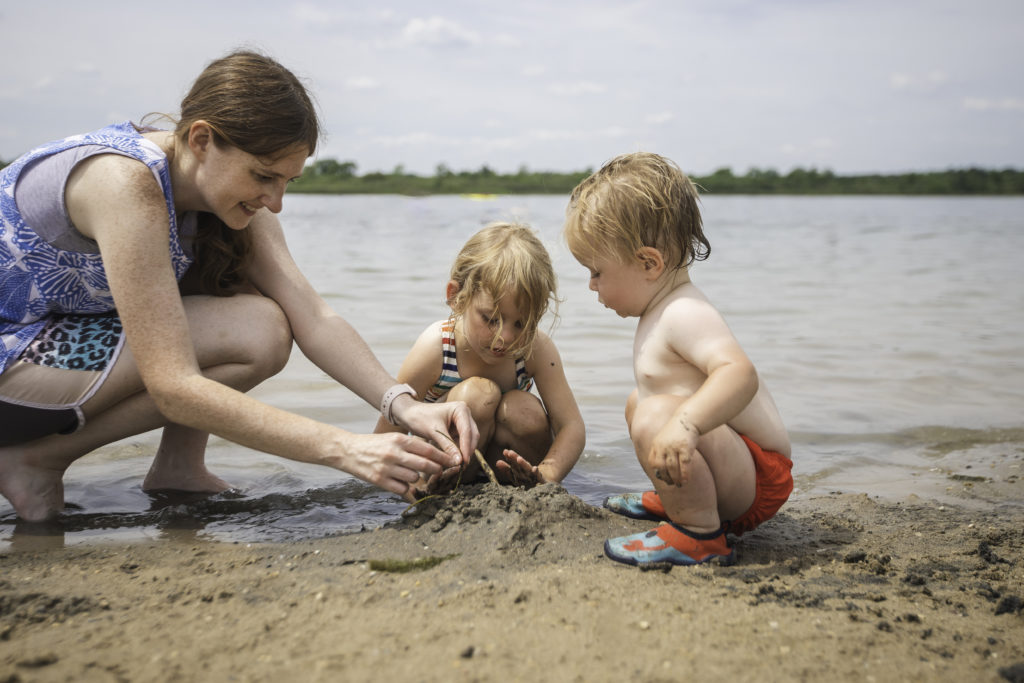 We had planned on bringing our inflatable pool, but didn't have room so we left it behind. And that turned out to be our biggest regret of the trip. We actually had to leave one day early because we didn't want the kids to overheat. If you have a toddler or baby that naps during the day, bring a fan to put in the tent during the day because they get SO hot. We had to put our 1 year old in the stroller for nap time to walk around and create some breeze because we didn't have a fan. Plan ahead! And bring lots and lots of water!
2. Daily surprises are like magic
While packing, one of the biggest questions on my mind was what to bring for entertainment. You may be able to go swimming, or bike riding, or canoeing, or hiking. When you're tent camping with toddlers, there are lots of fun nature activities, which we definitely took advantage of. But you'll also spend a lot of time at your campsite and want some activities to keep the little ones entertained.
Aside from inflatable pools, beach toys, buckets, etc. to keep around the campsite, one of our strategies was to have a little surprise ready each day. We picked up some things that were super inexpensive, but got so much use out of for the entire trip. Some things that both our 4 year old and 1 year old loved – a bug catcher kit, headlamp, necklace making, rock painting, and glow sticks. The first night we got there, we were on the verge of a meltdown with our 4 year old. BUT we quickly learned having these little surprises in our back pocket kept the tantrums at bay. It's one of our secret strategies for traveling with kids.
3. Have a chill space
One thing we didn't consider before we got to our campsite, was where we could just lounge. If you have moderate temperatures, this could easily be inside your tent. But your kids will likely want a place to hang out and they may not want to be away from everyone in the tent (unless you have older kids, that is). A fun surprise for us, the other family members with us brought an extra air mattress. We plopped it down in between the tent and this became the lounge space for this kids. It was perfect – a space just for the kids.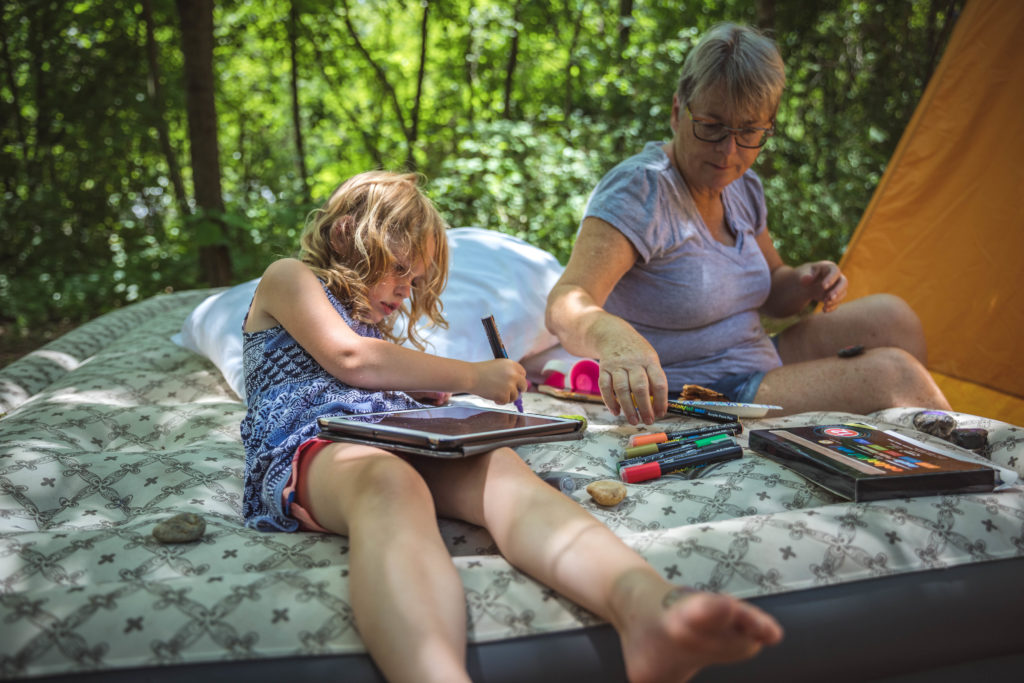 4. Relax the routine a little bit
Our kids are very much on a routine, but it's not super easy to stay spot on your routine when you are camping in a tent with toddlers. Our mealtimes were also later, which meant nap time was later. We went swimming in the lake and debated whether to leave for nap time. And probably the biggest blocker was being in a tent, you pretty much can't keep the light out entirely. At home, you can just shut the curtains to make your kids room dark. And maybe if you're in an RV. But if you're in a tent, you are much more limited. So if it stays light out until 9PM, you may need to adjust. Our 1 year old got tired on his own about an hour after his normal bed time, so we went with it. This actually applies to most all types of traveling. In our experience, we let the routines go and the kids generally are able to get back on their routines when we get home just fine. But by worrying less while away, it removes a lot of the stress.
5. A flashlight may not be enough
Unlike when you're hanging out at home, on a family camping trip you can't just flip on the light switch when it gets dark outside. We brought a flashlight with us, but when it's pitch dark outside and you can't find it, the flashlight doesn't do much good. You can also make light the natural way with a good old fashioned campfire. But the fire won't help you much when you're trying to quietly get dressed in the tent with a sleeping toddler 2 inches from you. We ended up using the flashlight on our phones, but who are we kidding, holding your phone while trying to put pajamas on basically means everything in the tent is going to get knocked over. Looking back, we would have brought a little camp lantern to keep in the tent and use at nighttime. We had all intentions of bringing our 4 year old's nightlight from home. It would have been perfect for her to keep with her. But there's always next time!
6. Your kids are the boss of mealtime
If we're being totally honest, we're most in our element when we have snacks. Whether it's airplane snacks. Hotel room snacks. Car snacks. And now camping snacks. If you love snacks like we love snacks, you'll be living your best life when you go camping. But snacking all day means you may not have the conventional mealtimes. If your kids aren't hungry yet and it's 12PM, there's nothing wrong with waiting until they get hungry for lunch.
This kind of goes with the whole routine thing, but kids will always let you know when they're hungry. Like, you'll definitely hear about it. And then the expectation will be to have food on the table in 30 seconds (thankfully camp food doesn't take long to prepare). At the end of the day, if everyone eats at different times, that's totally acceptable on a camping trip. Luckily, indulging in a s'more every night of your camping trip is also perfectly acceptable, if not recommended.
7. Early to bed, early to rise
For those of you night owls, you may want to rethink your strategy while tent camping with toddlers. Or just be ok with the sleep loss. Unless your kids are super champ sleepers, they are going to be up at the crack of dawn. If you're camping in warmer months, you have the impossible choice to keep the tent flaps up in an attempt to block some noise and light. Or draw them back to keep some much needed air movement in there. Either way, it's pretty much not an option to keep sunlight out of the tent in the early morning. And not only that, but birds are loud. It sounds nice in theory – except when you want to sleep and it wakes your kids up at 5am. So get to bed early in preparation for tomorrow's early start. Don't make the same mistake we did on our first night.
8. Bring different types of bug repellant
There are an overwhelming amount of bug repellant options out there. And frankly, you can spend hours scouring reviews on which are safest for kids, which are best for certain types of bugs, which last the longest, etc. But when you actually get to your campsite, it's trial and error. Unless you have your one bug spray you know will never fail you, bring a couple options so you can see what works best. We brought with us several cans of Off spray for mosquitos and Picaridin lotion which is supposed to be easier on kids skin (and protects against ticks). And a Thermacell mosquito repeller, which we were so glad we had. You can use this website to determine the best bug repellent for you. But we were definitely glad to have multiple options and learned while we were there which were actually most effective.
9. Air mattresses and portable cribs will turn camping into glamping
Maybe you are a traditionalist and a sleeping bag on the floor is for you. For us, we went a different route. We brought along a queen air mattress for us, a twin air mattress for our 4 year old, and a pack n play for our 1 year old.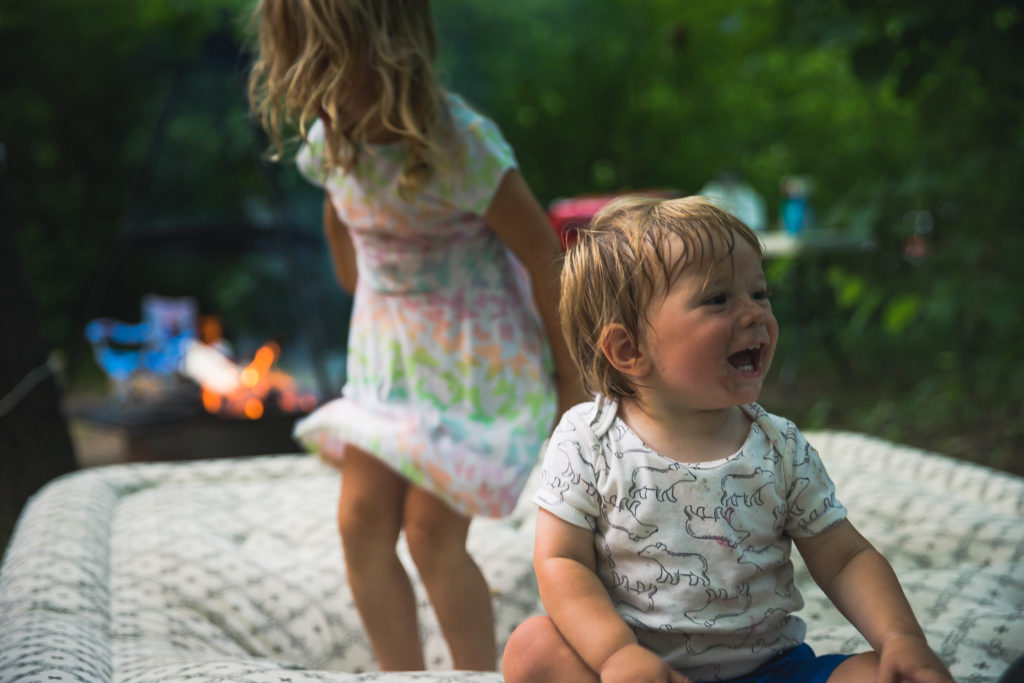 And we wouldn't change a thing about it. An air mattress (or some type of camping pad) will take your sleep to a whole different level. It will make your kids more comfortable too, which will lead to less middle of the night wakings. Even kids can get sore sleeping on the ground, so consider planning your space in advance. You can also get camp cots designed for kids. It will make tent camping easier on your toddlers. And it's a decision you won't regret.
10. Make your toddler the sous chef
The cool thing about cooking over a campfire is that a lot of the cooking duties are kid friendly. In most cases when you're tent camping, you have limited utensils to prepare and cook food. What better time to teach and involve your kiddos in the process.
Midway through the trip our daughter asked if she could help with lunch, which was a total yes from us. We let her assemble her own pizza using the classic sandwich cooker (highly recommend bringing one of these guys with you – they are great for hands on cooking with kids!). It's a great opportunity to talk about fire safety, cooking skills, and the added bonus of making them feel like a super big kid.
11. How to handle dirt and packing
As much as we love the concept of comfort (see point 9), you go into tent camping knowing messy, muddy toddlers are an inevitable outcome. You're living in the dirt. They are interested in nature and exploring. We are all for that and we never stopped them from diving in. We always say "a messy kid means the day was a success". And we also packed lots of extra clothes which I would strongly urge you to do. Maybe it was because we aren't used to having that much space in our suitcases, so we made full use of it. But one area where we learned our lesson is that we didn't have a great way to wash them up at the end of the day. And I'm not talking full showers and baths here. We had to pour jugs of water over their hands as our only cleaning method (before we got this camp shower on the last night).
Looking back we would have brought a small inflatable pool, not only for keeping cool, but also washing up at the end of the day. Let your kids get messy, but have a plan for some makeshift rinsing.
12. Show them your excitement over nature
One of the most obvious benefits tent camping with toddlers is that you can get them interested in nature (if they aren't already!). At this young age, they are curious little guys and gals. And if you show your fascination with something, they will follow suit. We learned early on in our trip, if we would make a big deal about every animal we saw, they would become super interested and engaged. If you see a butterfly or caterpillar, or in our case a hoppy little frog, bring the kids over to take a look. They will talk about it for literal days.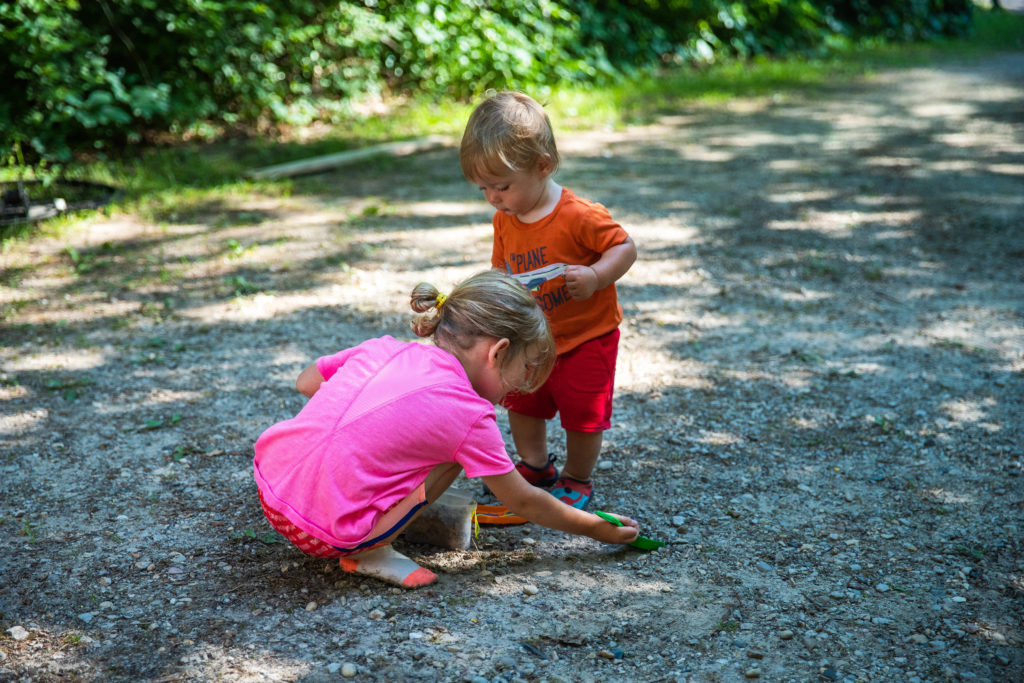 13. Keep activities away from your campsite short and sweet
One thing about tent camping that you may or may not anticipate is that it can be tiring. You wouldn't necessarily think that about an activity that revolves around sitting by a campfire. But with toddlers running around exploring and a hot sun beating down on you, it can wear you out. Another camping with little people tip we learned from the start is to plan activities that are short. Whether that's a hike, a trip to the lake, a stroll around the campground – try to not make a day of it.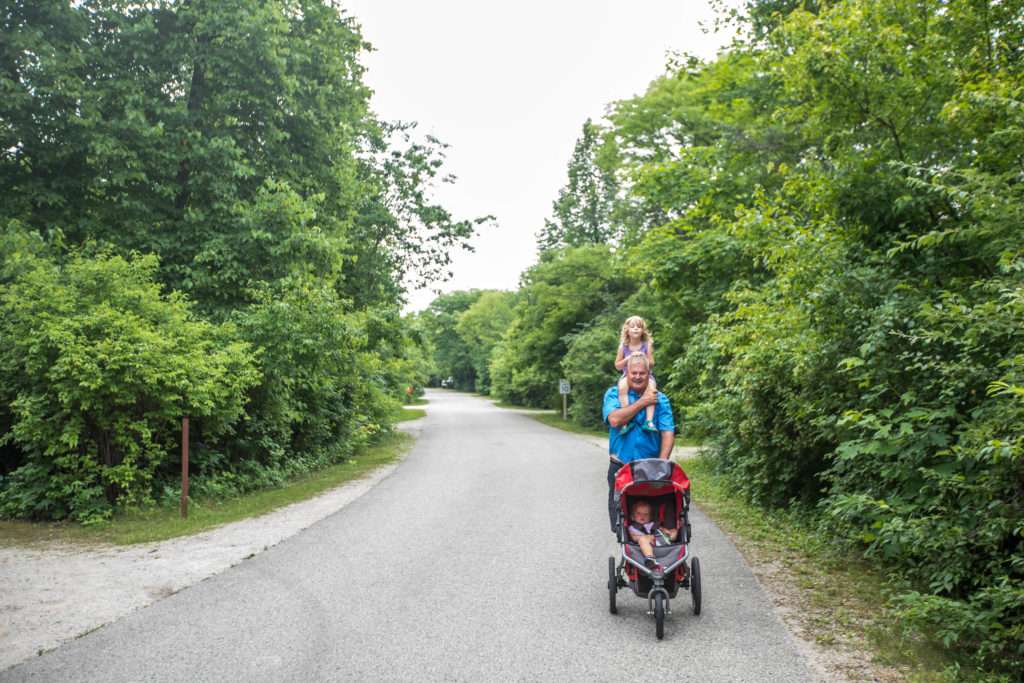 Or make a day of it, but come back to the campsite for little rest breaks. Your kids may want to keep going like little energizer bunnies, but they really need those time outs to recharge. This is actually a general rule we have for our family on all of our trips (not exclusive to camping). It really makes a difference in moods!
14. Set up your new home before dark
This probably sounds obvious, but we were up against the clock. It takes a couple hours to get a campsite totally set up and your car unloaded. We got to our site around 6PM and we had to scramble to get everything done before the sun set. Plus, inevitably some things will go wrong and you may need to account for a store run. Or you may still need to get firewood. Or your kids will run in all different directions and slow your progress. So plan extra time for things to come up and make sure you don't stress yourself out getting everything done before darkness hits.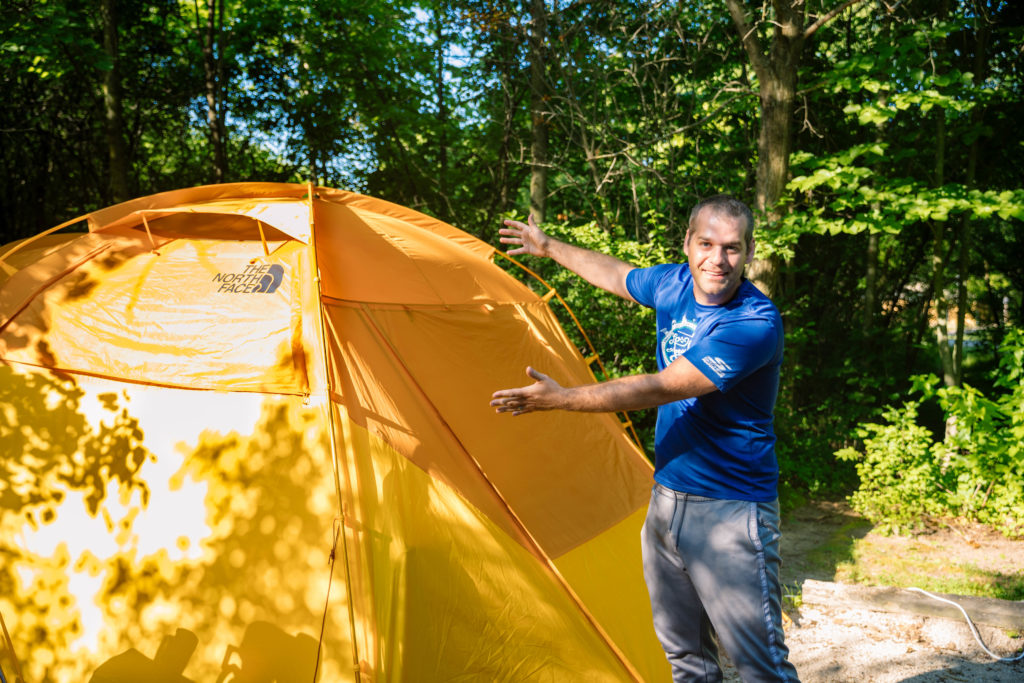 One little bonus tip for you: think about the type of campground and specific site that will work best for your family. A lot of the state parks we looked at had pictures of the actual site number. That will help you gauge which have shade, a breeze, space, etc. Choose the best camping site to pitch your tent that will meet your needs and that of your toddlers.
And if you want to know a little more about our our tent setup – we went with The North Face Wawona 6. We chose it for it's size, the ceiling height, and the cool patio feature. Our video shows the full tour along with our first 2 days camping with our toddlers.
And don't forget to let us know how your trip goes! We are strong believers in getting kids outdoors as much as possible and would love to hear your stories!