After we bought our first RV (quite the process – one we made a whole video about), we were like "ok, now what?". That question turned into a lot of extensive research and a buying spree of fun RV accessories. But quite honestly every list was the same: sewer hoses, surge protectors, leveling blocks. All very much essential for first time RV owners, don't get me wrong – but boring. That's why we created what we'll call the "fun RV accessories checklist". It can't be all work and no play, right?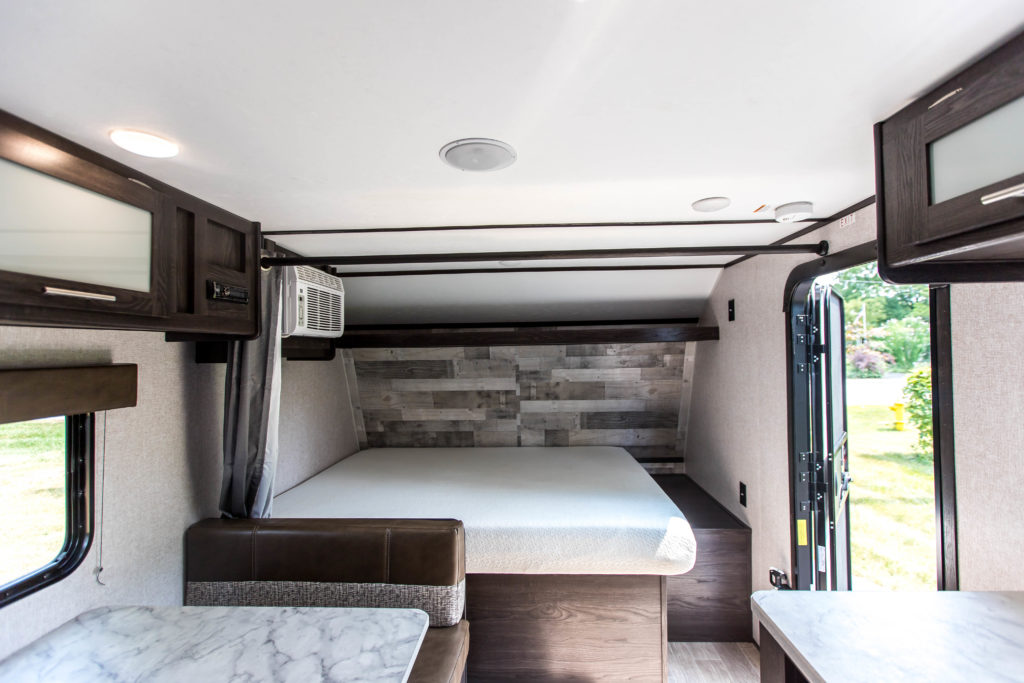 If you have spent any amount of time in an RV, even if 5 seconds, you'll immediately notice the mattress (is that what they're calling it?). They are about 2 inches thick and guaranteed to give you back pain unless you're a champ sleeper on thin, non supportive mattresses. I know, I know, you're camping and that sounds more glamping-esque. You decide for yourself, but after the sewer hoses, a mattress was the first camper purchase we made. And we're not looking back. If you don't count the several episodes of the kids waking up in the middle of the night, that first night of sleep in the camper was glorious.
2. Command hooks for everything
Honestly at this point I feel like we should own stock in the 3M company for the sheer amount of these we purchase. They are essential because you can use them for literally anything. The hooks themselves may not be the most thrilling of our fun RV accessories, but the things you can put on them are. Our camper didn't have a good place for a kitchen towel – command hook. We wanted to hang some wire baskets in each of the bunks for toy storage – command hook. Bathroom mirror – command hook. An ipad holder for the wall – command hook. You get the idea. Buy these in bulk because you'll use them nonstop so you don't damage your walls with a hammer and nails.
After command hooks, tension rods will be your new best friend. And you can make use of them starting in the shower. We purchased this shower storage that uses a tension rod to hold it in place. It keeps your shower walls damage free and is a little more durable than trying to get suction cup storage to stick.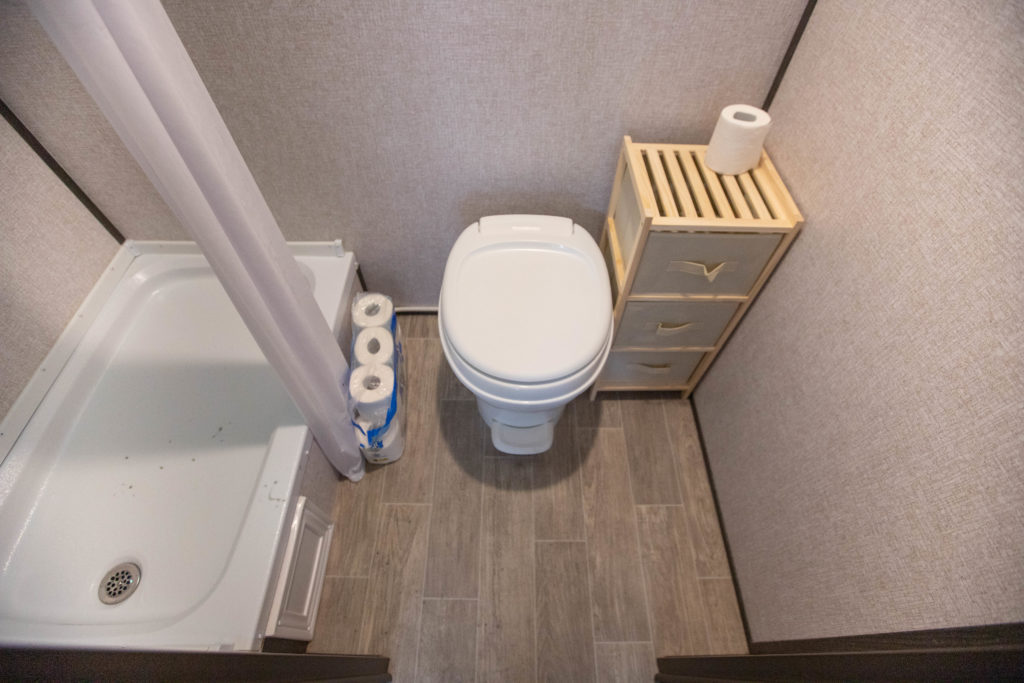 Unless your bathroom already has a good amount of storage (ours didn't) you may also want to consider some extra bathroom storage for all your essentials. The only problem is most camper bathrooms are teeny tiny, so you'll have to find a slim storage cabinet. I searched high and low and found this 3 drawer wood cabinet that fits just perfectly in the bathroom. An inch wider and it wouldn't have made it.
A little storage will level up your RV bathroom game.
4. Privacy curtains
Unless you are taking a solo RV trip, you may want to consider privacy curtains for your camper. We consider it one of the things you need for a new camper especially if you are traveling as a family. If you put the kids to bed at 8 and you aren't worn out from a day of exploring, you may want to stay up later. If your RV has a separate bedroom, you can probably skip to the next one on our list. But our camper is all one big room so we needed some curtains (you could also consider putting curtains around bunks if your camper has them.
Our affordable hack was to buy a long dowel rod and cut it to fit the width of the camper. Use some command strips to stick these wood sockets to each end of the camper, and the dowel rods will slide right in. A quick, inexpensive way to make a custom curtain rod. Pick out your curtains of choice and now you can watch tv or do some work on our computers without waking the kids.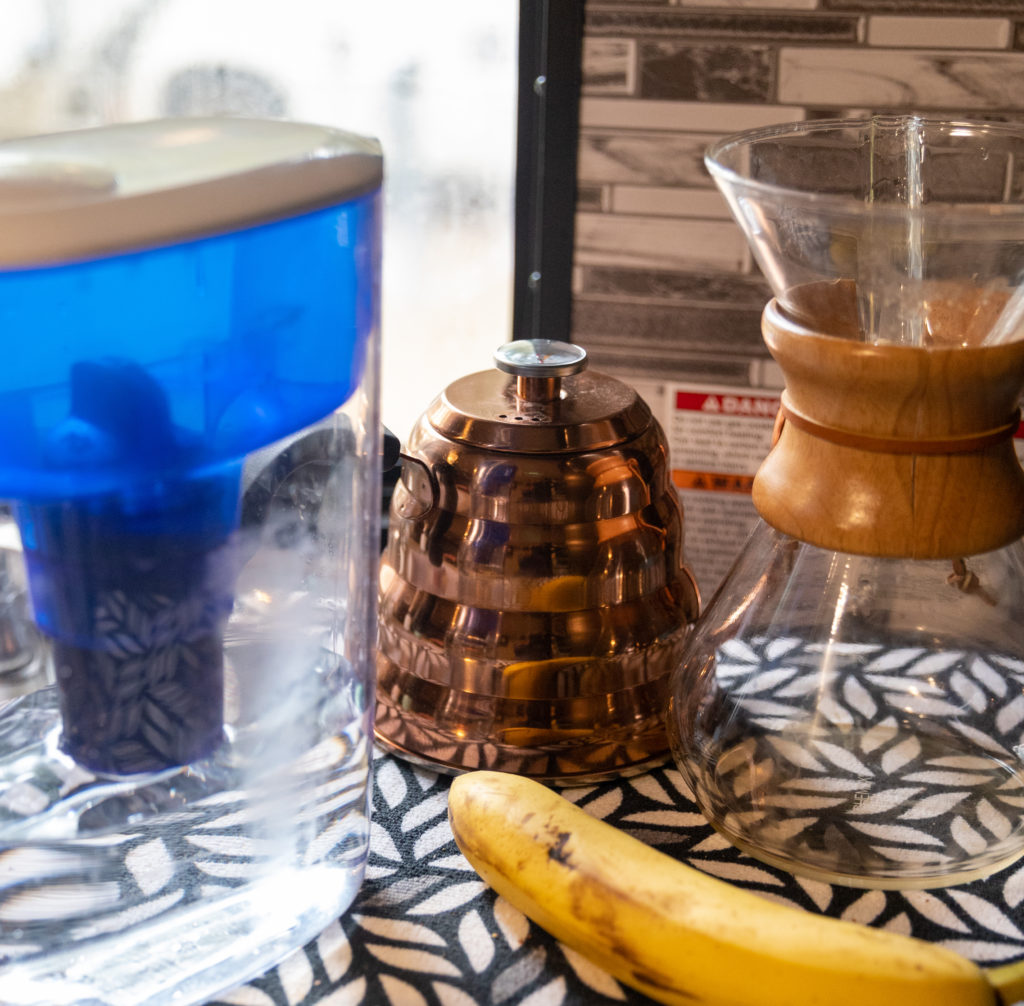 I don't want to ruin the rest of the list, but I think this is our favorite of the fun RV accessories. Boy do we love our Bunn coffee maker. It's fast. It's efficient. But whoa is that thing bulky AF. It just wasn't in the cards without giving up our one and only precious countertop available for food prep. So we had to think smaller. Luckily, we are in love with our new coffee maker. We splurged on this one and got a Chemex so we can put it away when not using it. It's slightly more work, but everything they say about it is true. It really does make for a better cup of coffee. And you can make coffee even when you're not connected to electricity, which is a huge win!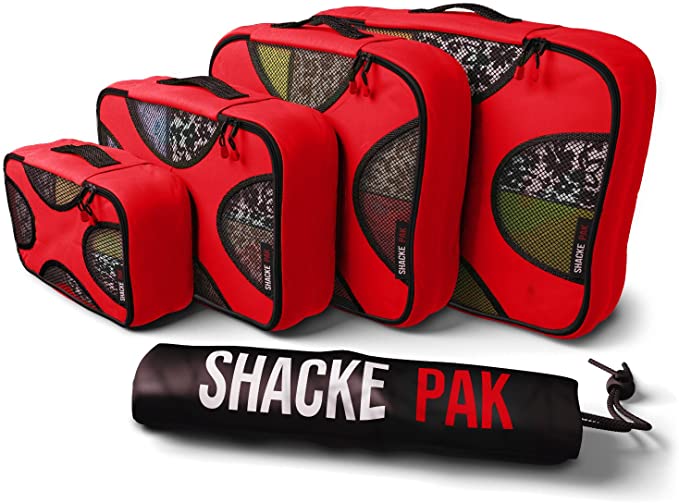 Packing cubes most commonly get their fame for being stuffed into suitcases. But we also consider them a fun RV accessory. Why? Well, unless you were lucky enough to get a camper with tons of closet space and a Marie Kondo level organization, you'll need something to help you keep your clothes organized. Otherwise it could very quickly start looking like a college dorm room. Some people use the collapsable cloth storage cubes to make shelves a little tidier or to tuck away in underbed storage. We chose to use packing cubes because they are a little more compact and then we can double up and use them for our other travels too.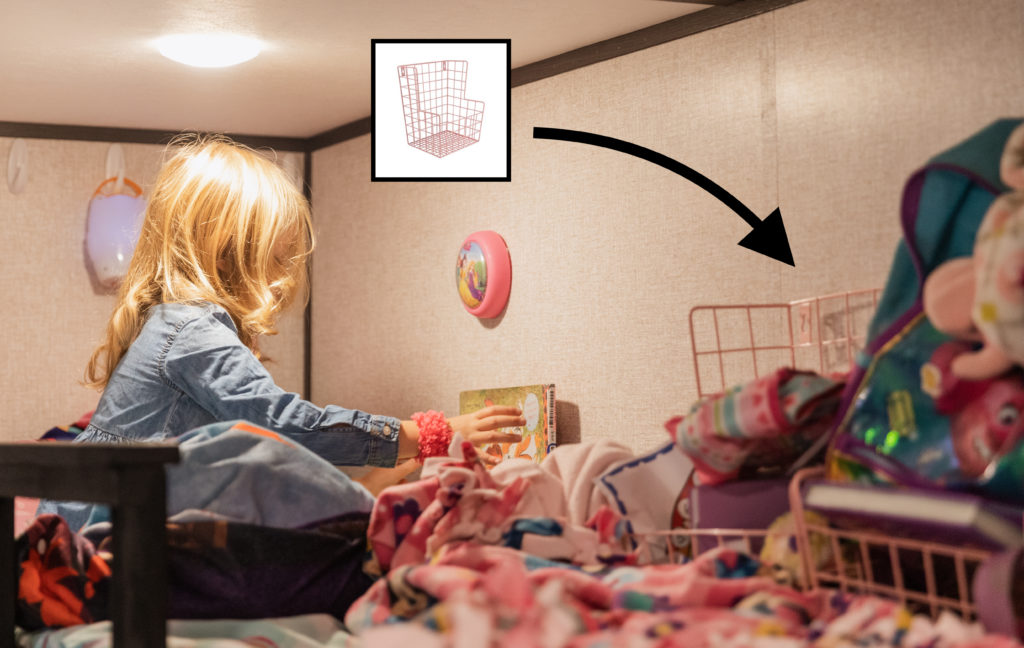 When you are living out of a tiny home on wheels, you want to use every inch of space to your advantage. The walls are mostly unused space so I got 4 of these affordable wire baskets from Target and we use them for toy storage in the bunk area, as well as fruit/veggie storage in the kitchen. Hung courtesy of the command hook to avoid totally wrecking our walls.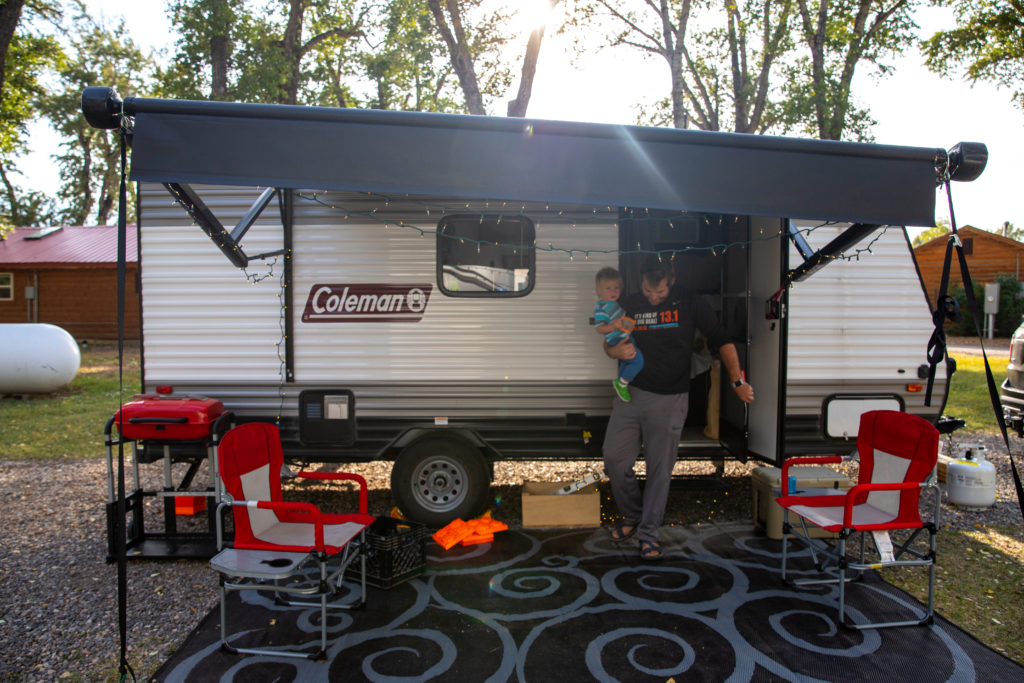 There's a long list of reasons why this is one of the top things you need for a new camper. They help keep dirt out of the camper. They give you another living space (and one that is comfortable). And they are a nice place for young kids to crawl/play/sit/do their thing on. It's one of those things you could probably get away with not having, but it will certainly kick your RV life up a notch. We were given the advice to not spend a fortune on one because they don't last forever. A 9′ x 12′ or bigger should meet your needs. These reversible mats allow for water drainage when it rains and are easy to clean.
I don't know if you would categorize this one "fun RV accessories" per se, unless you have a Monica Geller level love for cleaning. But it is one of those travel trailer must haves for newbies, in our opinion at least (though maybe that's because we have messy kids). Anyway, we are also bringing along a travel sized broom set. But to expedite the process, the cordless handheld vacuums can make the cleanup a breeze. This is something we didn't find on many lists, but campers get dirty very quickly. And if you don't already have one of these, you can use it around your house and car, so you'll more than get your use out of it.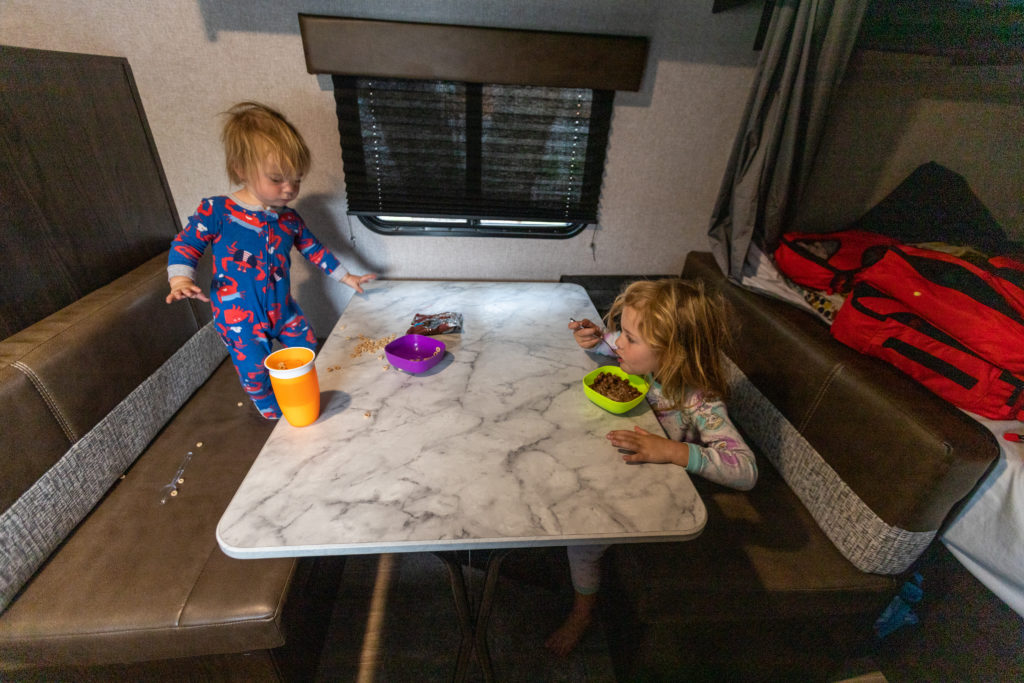 No matter if you have kids or not, camping and fancy dinnerware don't mesh very well. You'll be eating outside a lot and carrying your plates in/out. It's best just to go with the no frills option, even if they are made for kids. Target makes plates, cups, bowls, the whole works and they are surprisingly durable. Plus very easy to to clean.
Speaking of easy to clean, think through the kitchen gadgets and utensils you want to bring too. We have a mesh colander that we were planning on repurposing for the camper, but it's not the easiest to clean. The dishwater may do a decent job at home, but for your camper consider kitchen tools that not terribly difficult to clean after each use.
Our travel trailer has AC, but sometimes you just need a little something extra. Especially if you have bunks, they can get super hot. And that's why a fan is on our list of things you need for a camper. In a dream world, a bladeless fan like the Dyson Air Multiplier is most ideal. But it's also spendy. So if you're anything like us, that stays on the wish list. For a more reasonable option, a bendable personal fan can do the trick just the same. And even if your AC just absolutely crushes it, you still probably want to bring along a fan. You can bend this around the arm of your chair when you're outside, a stroller, the car, or plop it in your bag when you're going for a hike.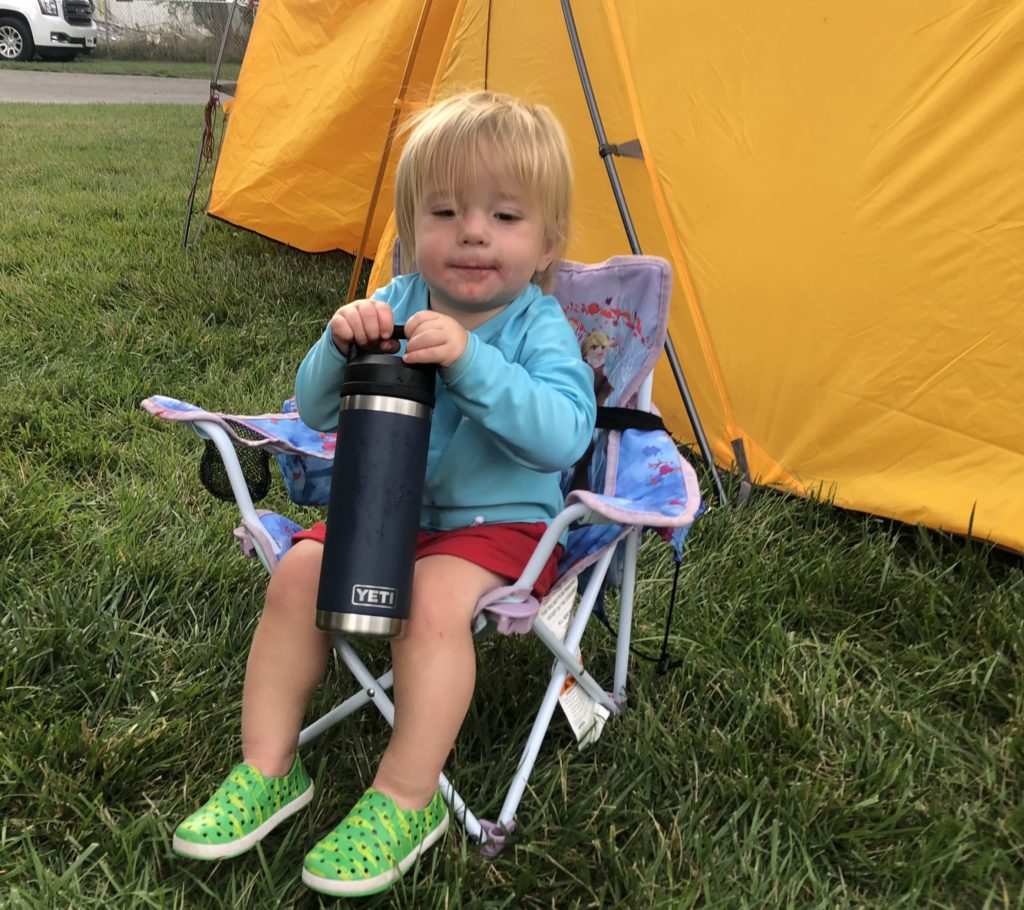 There's a reason the Yeti Rambler has 5 stars and over 22,000 reviews on Amazon. It's one of the most popular camping items out there (though we take ours everywhere: home, car, camper). If you think this isn't one of the things you NEED for a new camper, you're probably right. It's not as essential as some of the more technical equipment like wheel chocks and water hoses. But after you use one, you'll understand why it's on our list of fun RV accessories. You could pour a cup of coffee, leave it for like 7 hours, come back to it, and it will still be piping hot. It blew my mind for at least the first 15 times. I think it still blows my mind.
We expanded our collection into Yeti wine (and by that I mean we were gifted it by a super awesome sister in law). And if you are looking for a new camper gift to buy yourself (other than the camper itself of course) check out the Yeti Tundra cooler. They are for sure a splurge item, but we've seen them in action and they are ah-mazing.
If you don't already have one in your kitchen, a cast iron pan should be on your list of things for your new camper. Reason being – you can use them inside on your camper's stove, but also outside on the campfire. They are dual-purpose and SUPER durable. Lodge cast iron pans are the gold standard. The two piece set is a dutch oven and skillet all in one. And the silicone hot handle holder will make cooking over the fire that much easier.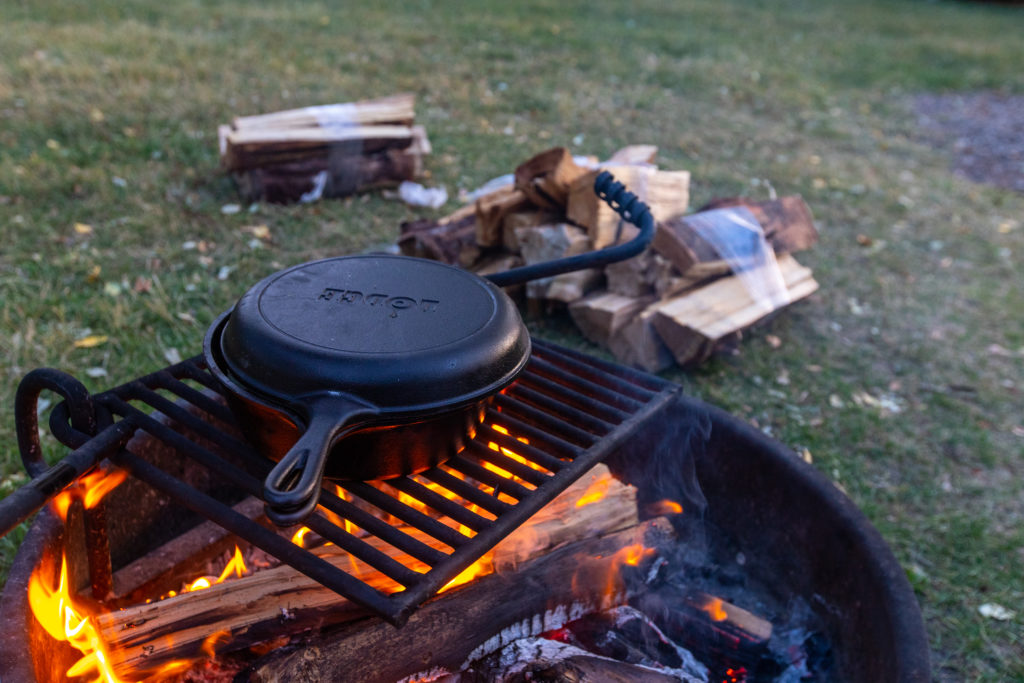 We also created a whole post on fast and easy camping meals. Many of them use our cast iron pan, so check that out for some fun recipe ideas.
If your RV doesn't come with an oven, this will significantly expand the meals you can cook. They make everything from BBQ chicken and chili to cakes and yogurt. Of course most of these things can be made over the campfire if you're willing to get a little creative, but an instant pot will certainly simplify the process. It's also another of those "you can use it at home" multipurpose items.
We recently bought these and it was one of those "how did we ever cook without this" moments. They can make everything. Everything. And they can also thaw foods mind-blowingly fast for those times you forget to get it out ahead of time. Definitely a fun RV accessory for all the scrumptious dishes you can now create.
Hopefully you'll have a place to do your laundry while you're out and about in your RV or travel trailer. Or even if not, you'll probably still want a place to keep your dirty laundry from your clean laundry. It's easy enough to use something you have from home. But you may want to consider getting something compact or collapsable with space inside your RV being at a premium. We have this 3 Sprouts hamper that folds flat when not being used and also has handles. We got it for our nursery, but I love it so much, we ordered a second one for the RV. It's durable, easy to carry to the laundry facilities, and is compact for easy storage. The cute little animal design is just a bonus. We also 3 Sprout hanging wall organizer to go over the bathroom door for extra bathroom storage. So clearly our RV is turning in to one big nursery. Not mad about it.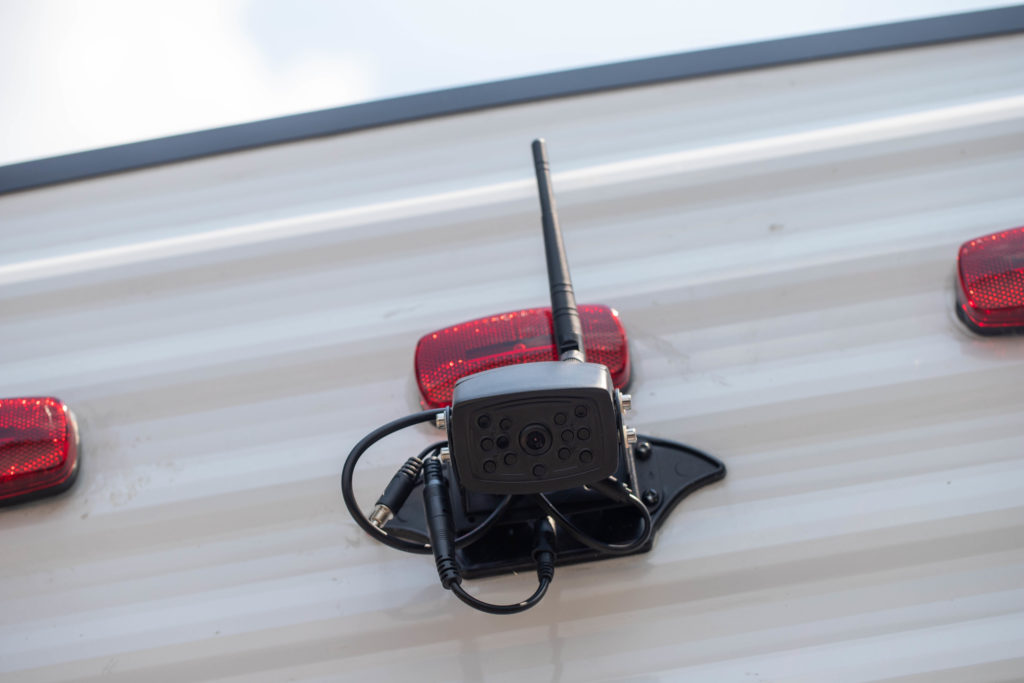 If you are a newbie travel trailer owner, there's a good chance you aren't 100% confident in your backing up a trailer skills just yet. And that's where the back up camera can help. But honestly, this is handy to have even when you do become a pro travel trailer backer upper. It was one of our initial purchases and can help if you do a lot of driving with your camper. There is a video display that you put in your car and you can see behind your trailer or RV (a serious perk for switching lanes too).
One protip: if your travel trailer or RV comes prewired for a specific brand, you likely can get a way with using a more affordable brand. Our Coleman Lantern LT 17B comes prewired for the Furrion backup camera, but after doing research, we saved tons of money taking advice from others and purchasing the AMTIFO backup camera. It was a fraction of the cost of a Furrion camera, and the only extra thing we needed to do was purchase this bracket adapter to mount it on.
If this list were in priority order (which it isn't), this would be toward the top. A first aid kit is not only one of the things you need for a new camper, but a good idea to travel with no matter how you get around. Especially when you plan on adventuring out in nature, this is even more important.
While not the most fun RV accessory on the list, toilet chemicals are a must. The Porta-Paks make the job pretty dang easy. You just drop it in the toilet at the beginning of each trip and flush some water down with it. It prevents all the icky clogging and things. It basically on our list because it will make all the other fun RV accessories not so fun if you have potty troubles. Eek.
Even if you don't plan on watching much TV during your RV trip, rainy days can put a damper on plans. And it helps if you have a backup plan for those days. Amazon's Fire TV Stick to the rescue. You plug it in and can watch all your favorite shows as long as you have a wifi connection. It's also a lifesaver for kids when you can't depend on campground cable.
Campers don't always come pre-assembled with outdoor lighting. And when night falls, if you want to keep the good times rolling, you'll need some form of exterior lighting. One good option is a solar powered and motion activated light you can affix near the camper door. Or if you prefer, you can take the easy and more economical approach that involves hanging Christmas lights from your awning.
What are your favorite fun RV accessories?
These are some of our picks, but we want to hear from you. Do you have any recent discoveries to add to the list?
[grid_plus name="RV Grid"]